"Bar Month" at OnMilwaukee.com – brought to you by Stoli Vodka, Altos Tequila, Fireball, OR-G, Jim Beam, Plymouth Gin and 2 Gingers – is back for another round! The whole month of February, we're serving up intoxicatingly fun articles on bars and clubs – including guides, the latest trends, bar reviews, the results of our Best of Bars poll and more. Grab a designated driver and dive in!
Edgar Perez knows cocktails. He started working at Bryant's, 1579 S. 9th St., more than seven years ago, before it was purchased by the current owner, John Dye, and works at the celebrated South Side lounge again now.
Perez also tends bar at Central Standard Craft Distillery, 613 S. 2nd St., and Ugly's Pub, 1125 N. Old World 3rd St.
Recently, we stopped in at Central Standard for a couple of whiskey punches and a chat with Perez about cocktails, fatherhood, low riding, the perils of cube jobs and more.
OnMilwaukee.com: Bryant's has hundreds of drinks available and no menu, so the bartenders have to commit most of them to memory, right?
Edgar Perez: Yeah. In all honesty, I probably only have 80-some memorized, but a lot of the others are variations of the drinks I know, so I can make pretty much anything anyone wants.
OMC: How was working at Bryant's years ago different from working there now, aside from the new ownership?
EP: It was a completely different world back then. I was allowed to smoke behind the bar while making drinks. It was awesome making flaming drinks with a cigarette in your mouth.
OMC: When did you start working at Central Standard and what's your favorite drink on the menu?
EP: I started here in late October. My favorite is The Ned Yoder. I'm not much of a gin drinker, but I love this drink. It's made with our gin, falernum liqueur, grenadine and lime.
OMC: What's your favorite drink at Bryant's?
EP: The Raygun – it's a whiskey cocktail with a citrus-y note to it. Still a bit of bitterness but very well balanced.
OMC: Were you born in Milwaukee?
EP: My parents were born in Mexico but yes, I was born and raised in Milwaukee – lived on the North Side and then South Side. I still live on the South Side today, in Lincoln Village. I love Milwaukee. Especially in the summer when it feels so alive. When I was a kid, I was really into low-riding and I drove around a lot and got to see the city in a different light. This romanticized the city for me.
OMC: Have you visited Mexico recently?
EP: I went in December for the first time in about eight years. I would like to live there someday, or in Argentina. My wife's Spanish is not perfect yet, and so we would like to be immersed in the culture for awhile.
OMC: Where do you recommend for local Mexican food?


EP: I don't, because well, my mom's food. Her enchiladas are amazing. Amazing. If I do eat Mexican to go, I get it from the Cielito Lindo taco truck.
OMC: What do you like about tending bar?
EP: I worked in a cubicle for many years between my first time working at Bryant's and my second. Just thinking about it gives me panic attacks. Bartending is very natural for me. I feel like I can be myself. It's not even like working for me.
OMC: What do you like to do when you're not working?
EP: I hang out with my daughters – they are 11 and 7. They like to play pretend a lot, so there's a lot of dressing up like fairies and witches. I'm usually the "bad guy." It's fun.
OMC: What is one thing you'd like to accomplish in the future?
EP: I would like to start a non-profit for young, single fathers. I became a dad at 18 and there weren't the same resources like there are for single mothers. The only advice I got was, "Go to work. Man up." But nobody told me how to be a man, they just said, "Be a man."
OMC: Where do you like to hang out other than the bars where you work?
EP: I used to hang out at the Hi-Hat; these days, I like Boone & Crockett, Hotel Foster.
OMC: That's a large rosary tattoo on your arm. What's the story behind that?
EP: My mom told me that when I was younger, my grandmother walked around with the rosary, praying for me so I wouldn't get into trouble. I got this tattoo for her. My mom doesn't like it, but my grandmother saw it and said, "That's beautiful."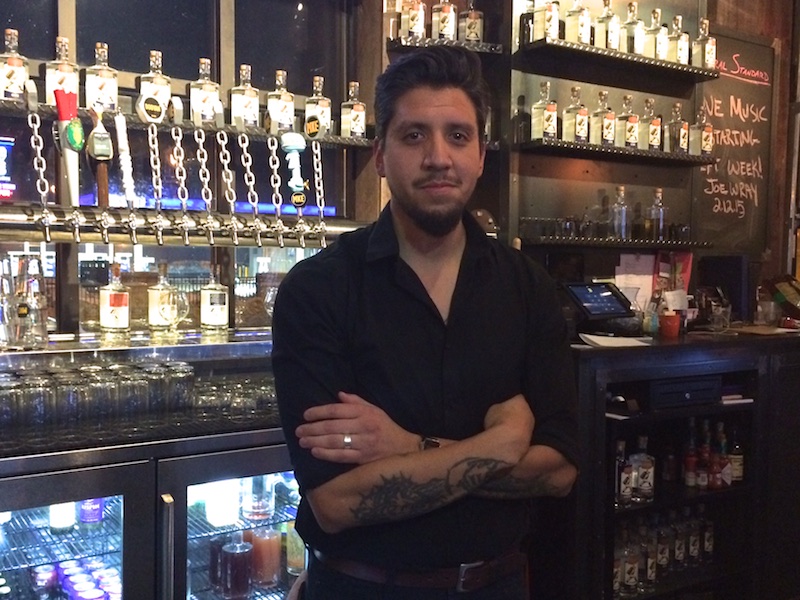 Molly Snyder started writing and publishing her work at the age 10, when her community newspaper printed her poem, "The Unicorn." Since then, she's expanded beyond the subject of mythical creatures and written in many different mediums but, nearest and dearest to her heart, thousands of articles for OnMilwaukee.

Molly is a regular contributor to FOX6 News and numerous radio stations as well as the co-host of "Dandelions: A Podcast For Women." She's received five Milwaukee Press Club Awards, served as the Pfister Narrator and is the Wisconsin State Fair's Celebrity Cream Puff Eating Champion of 2019.