Even as the weather cools down, The Corners of Brookfield is heating up with cozy outdoor dining options and more.
Thanks to its stringent safety protocols, abundant outdoor space and wide range of shopping, dining and entertainment options, the popular town center has been bustling with activity. And even as autumn winds blow, things continue to heat up.
"At the Corners, we think everything is better in a sweater and we want to embrace the cooler weather to come," said Chelsea Roessler, director of marketing and events. "Whether you feel content dining inside or prefer to stay outside, The Corners is seamlessly transitioning to be sure every patron has a safe seat at the table and a fun experience."
Fall-fresco dining
Outdoor dining at The Corners will remain cozy, thanks to dozens of patio heaters being installed at dining destinations including BelAir Cantina, Café Hollander, Goddess and the Baker, Grimaldi's Pizzeria, Silverspot Cinema and Wahlburgers. Four fire pits with lounge furniture are also being installed at the town center to provide added seating and comfort for guests.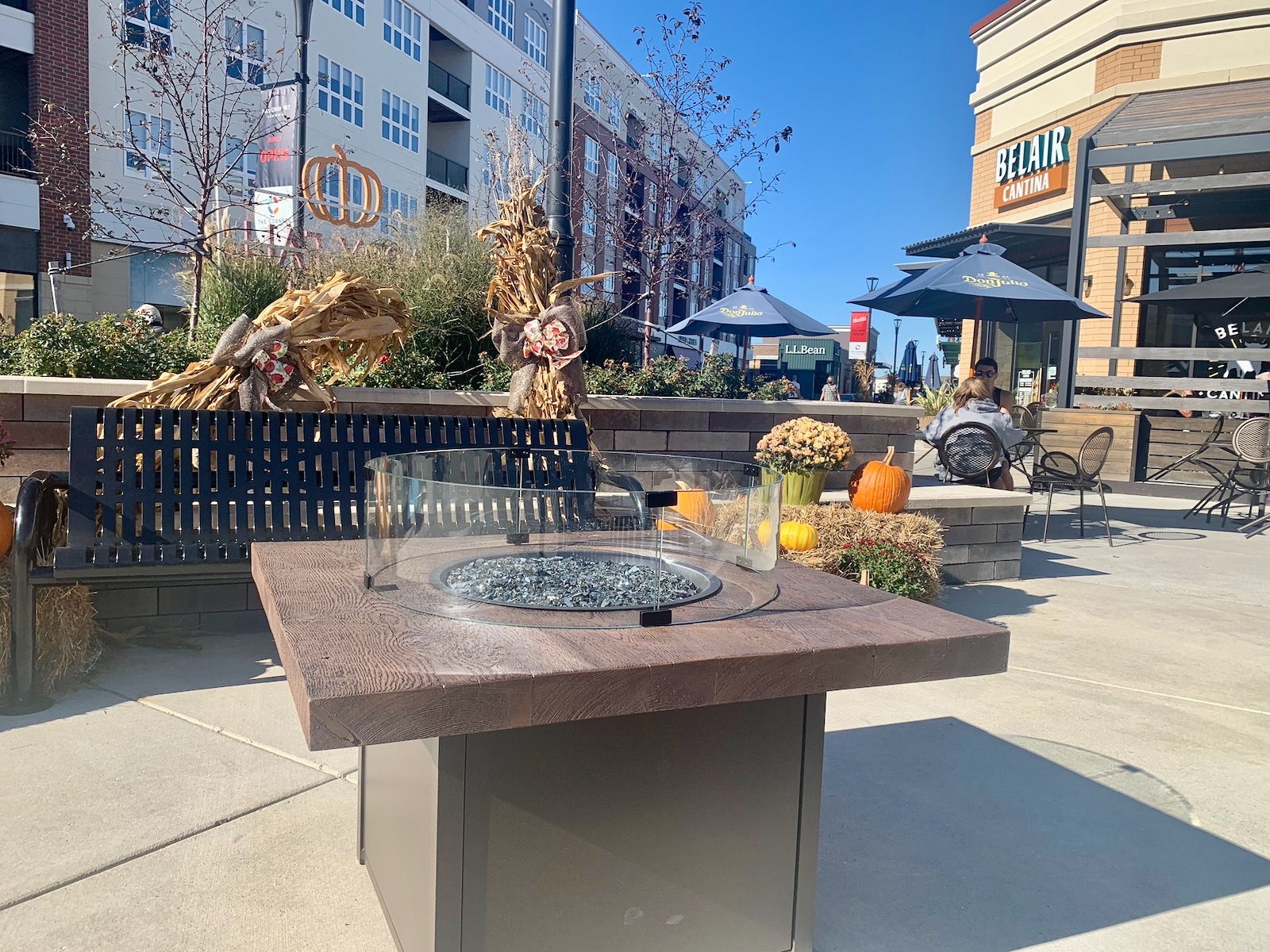 New workspace lounge
Guests looking to utilize the town center as a workspace will be happy to note that Goddess and the Baker and The Corners are partnering on the "Goddess Lounge – Work & Study Space," a new lounge space located on High Street just south of the cafe. The lounge will feature food and drinks as well as a cozy workspace environment with socially distanced couches and tables.
Private movie screenings
Silverspot Cinema has also extended their private screening experience through October, offering guests the opportunity to rent the theater to view content from a streaming service or purchase tickets to see the latest releases. Read more about the Silverspot private screenings here.
Hours for the town center have also been extended to accommodate shoppers Monday through Saturday from 10 a.m. to 8 p.m. and Sunday from 11 a.m. to 6 p.m.
Lori Fredrich (Lo) is an eater, writer, wonderer, bon vivante, traveler, cook, gardener and girlwonder. Born and raised in the Milwaukee area, she has tried to leave many times, but seems to be drawn to this quirky city that smells of beer and alewives.
Some might say that she is a little obsessed with food. Lo would say she is A LOT obsessed with food. After all, she has been cooking, eating and enjoying food for decades and has no plans to retire anytime soon.
Lo's recipes and writing have been featured in a variety of publications including GO: Airtran Inflight Magazine, Cheese Connoisseur, Cooking Light, Edible Milwaukee, Milwaukee Magazine and the Milwaukee Journal Sentinel, as well as on the blog Go Bold with Butter, the web site Wisconsin Cheese Talk, and in the quarterly online magazine Grate. Pair. Share.