Congratulations! You partied your way through two wild and wonderful weekends at Summerfest – with a third to come! The forecast is supposed to be gorgeous, the Skyglider is back to gliding again, the sampler platters are fried golden and delicious, and the festival grounds are back to rocking.
For some bonus Big Gig excitement, here are the OnMilwaukee staff's picks for their favorite Summerfest shows of all time. Because what better way to get excited about the great Summerfest shows that are to come than to look back at the great Summerfest shows that have already been.
Carolynn Buser
Editorial Director
The beautiful thing about this show was it held something for us all. No matter which Usher you fell in love with – old, new – he brought it all that 2014 night at the Amp. It was sexy, sauntering and just plain effing hot. Everyone in the place was melting, including Usher, so no one had any issue at all with him cooling himself down by pouring a bottle of water down his chest. He kept amping up the heat in the night, and damn if it wasn't one of the best shows I've ever seen.
Usher at the Amp in 2014 (PHOTO: David Bernacchi)
Lori Fredrich
Senior Writer, Food & Dining
There are so many shows at Summerfest that have blown me away, including this year's performance by Leon Bridges, which – in all of its soulful grace – reminded me that there's hope and the possibility for change, even after one of the most challenging two years ever.
But, I'd be remiss if I didn't mention P!nk's grandiose performance in 2017, which marked her return to live performance after a three year hiatus. Not only did the show have all the bells and whistles you'd expect from a beautifully produced (and acrobatic) concert, it also struck me as being among the most genuine, true and soul-filled performances I'd ever seen. Cap that off with a personal tweet the morning after from P!nk herself (plus a Milwaukee press club award for the review, to boot).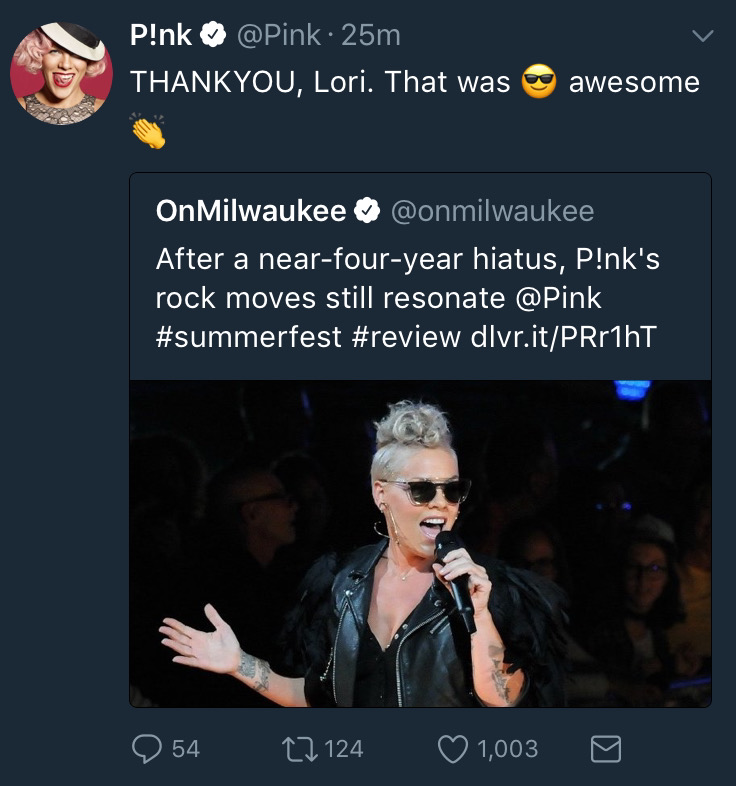 Of course, I have to include a particularly sentimental memory of mine. And that was a performance by The Lemonheads that now dates back at least 25 years. It was in the '90s ... because I'm old. I don't recall the year, but I'm fairly sure it was the "Come on Feel The Lemonheads" tour in '94, and they performed at what's now the UScellular Connection Stage. I'll admit upfront that I had a thing for Evan Dando. Sure, he had a pretty face, but what I really loved were his quirky, naively witty lyrics.
There was a joyful angst in their music – and joyful angst was the story of my life at that moment in time. I went to the concert with Paul, my now husband. We weren't even dating at the time – and wouldn't for another three years – but there had been a slow-smoldering, unacknowledged chemistry between us for years. He was my best friend and my concert buddy, and live shows with him were always a blast. We sang every tune. We shot one another knowing glances. Dando was top of his game: silly, witty and fun. And there was magic – on stage, off stage, everywhere that night. Unforgettable.
Matt Mueller
Culture Editor
Well, the obvious answer is, of course, DJ Paris Hilton, but I'll go in a slightly less predictable direction. The Chris Stapleton half of 2016's Amp double-feature with Alabama Shakes is a major contender, not only because he's a terrific performer but also because I knew relatively little about him going in, so it felt like I was just discovering him that night. Plus, I'd brought a friend who knew even less, so we both got to share in the delightful bliss of a musical epiphany. Thankfully, his 2021 return was equally as impressive.
Chris Stapleton in 2016 (PHOTO: David Bernacchi)
But the real winner is the All-American Rejects at the U.S. Cellular Stage in 2006. It probably wasn't really the best concert, but it was my first concert. See, when I was younger, live music was RUINED for me years earlier after watching then-idols Smash Mouth sound utterly terrible during a televised live concert. And if you can't trust pop rock legends Smash Mouth to put on a decent show, who can you trust?!
But then I saw All-American Rejects, on the high of their hit "Move Along" that summer. I don't remember exactly how I got home, but I'm pretty convinced I floated back, high on the newly affirmed belief in the power of live music.
Molly Snyder
Senior Writer/Editorial Manager
I'm not sure I can pick one favorite Summerfest show because I've seen so many gems, but if I clear my mind, the concert that immediately surfaces is Public Enemy in 2010. One of my all-time favorite bands, PE's performance was inspiring on so many levels for me: creatively, emotionally and even spiritually. I was going through a lot at the time – a divorce, the death of a parent – and their energy and messages made me feel more positive about my life and the world in general.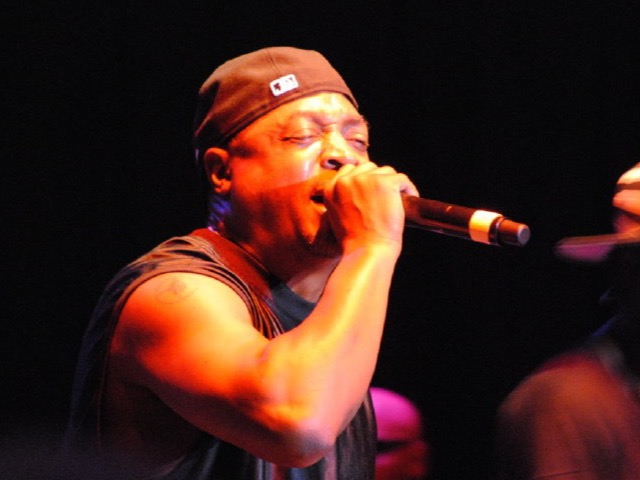 Public Enemy in 2010 (PHOTO: Royal Brevvaxling)
Bobby Tanzilo
Senior Editor/Writer
For many years, my favorite show was an afternoon performance by Madison's Michael Stone, but not for the gig as much as for the fact that I got to spend some time hanging with one of my favorite drummers of all time, Leroy "Horsemouth" Wallace. While that's still perhaps the stand-out Summerfest memory for me, seeing the Rolling Stones in 2015 and Paul McCartney in 2016 have made this a tough choice. So, I'm going with all three.
Andy Tarnoff
Publisher
After all the years, the shows start to blend together, but a few stick out: Devo, Spacehog, Squeeze, Weezer, the Pixies, Amadou and Mariam – those jump immediately to mind. But on weird levels, I really enjoyed the spectacle of Katy Perry, the silliness of Sir Mix-a-Lot and the first time I saw a reunited Violent Femmes in years. Going farther back, I loved seeing Tom Jones and Santana. And the Red Hot Chili Peppers can be added to list of legendary performances at the Big Gig after their show at Summerfest 50.