The Great Milwaukee Summer is HERE! Your guide to what you'll be doing, where you'll be drinking, who you'll be hearing and how you'll be getting a sweet tan this summer is on OnMilwaukee. The Great Milwaukee Summer guide is brought to you by Educators Credit Union and Harley-Davidson Museum.
It's been 23 years since I saw Foo Fighters play at the old Marcus Amphitheater. Opening for the Red Hot Chili Peppers, they absolutely, completely, unequivocally stole the show. I knew then that they were on their way to becoming a legendary rock band.
And it's been exactly 20 years since I last saw a show at Milwaukee's Veterans Park, when Elton John bombed at the Harley-Davidson 100th reunion. That was a legendary performance, too, but mostly because it highlighted a tone-deaf booking for what was hyped to be the best secret concert of all time.
So, it only made sense that I returned tonight to work for the culmination of this motorcycle rider's Venn diagram come true.
I'll just cut to the chase. The Foo Fighters gave Harley visitors and Milwaukee rock fans exactly what they wanted. They would've blown the roof off Veterans Park – if there was a roof.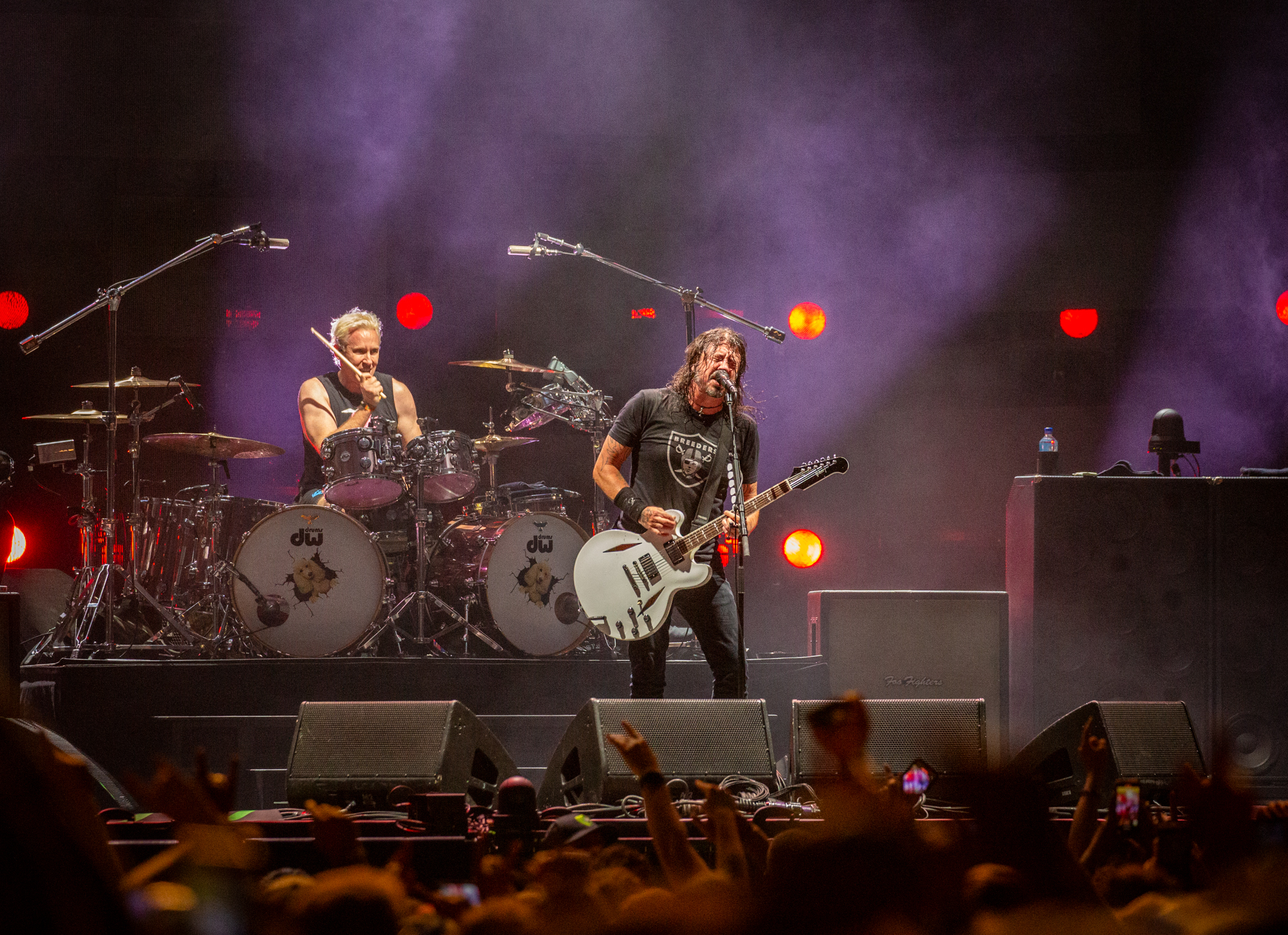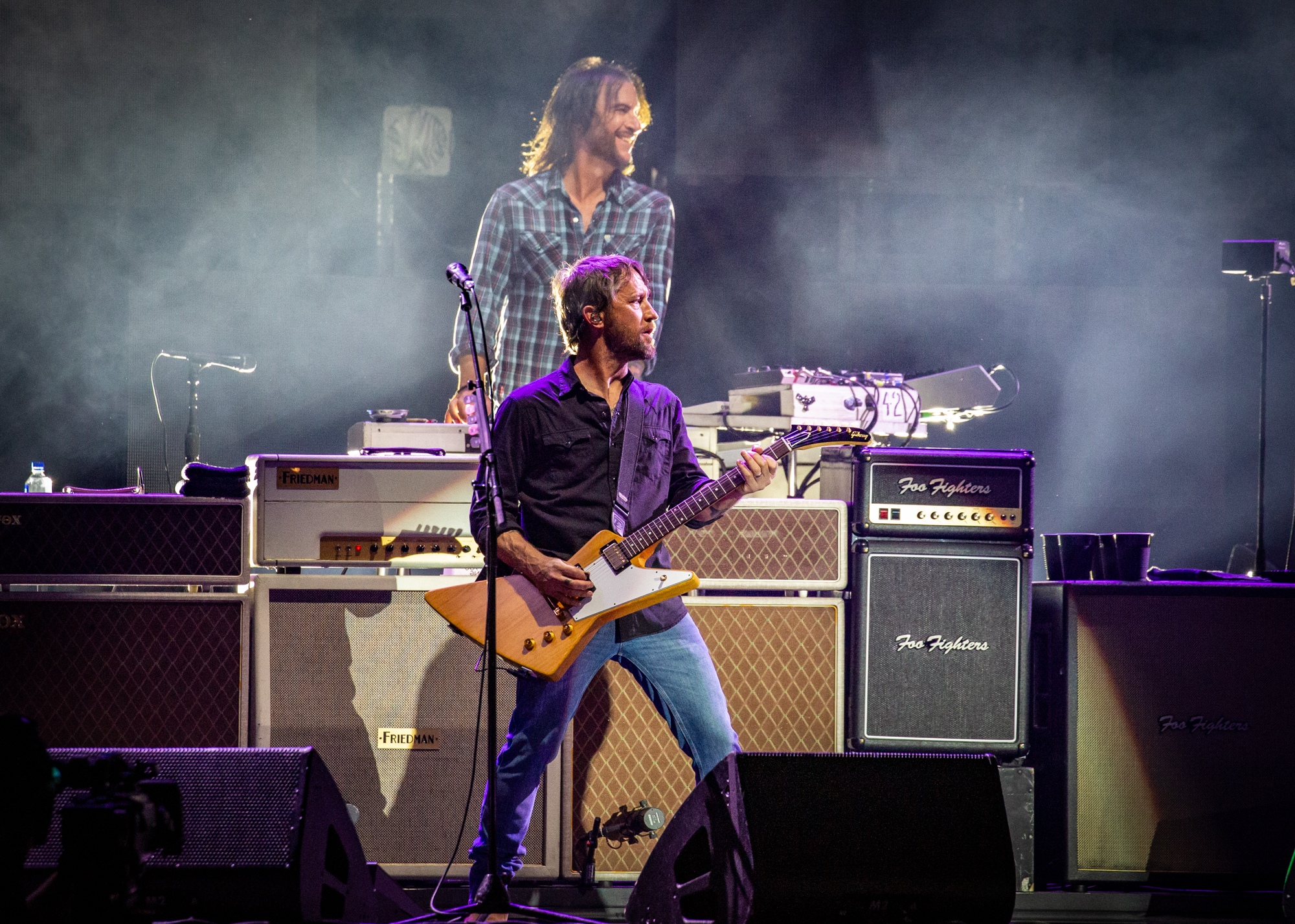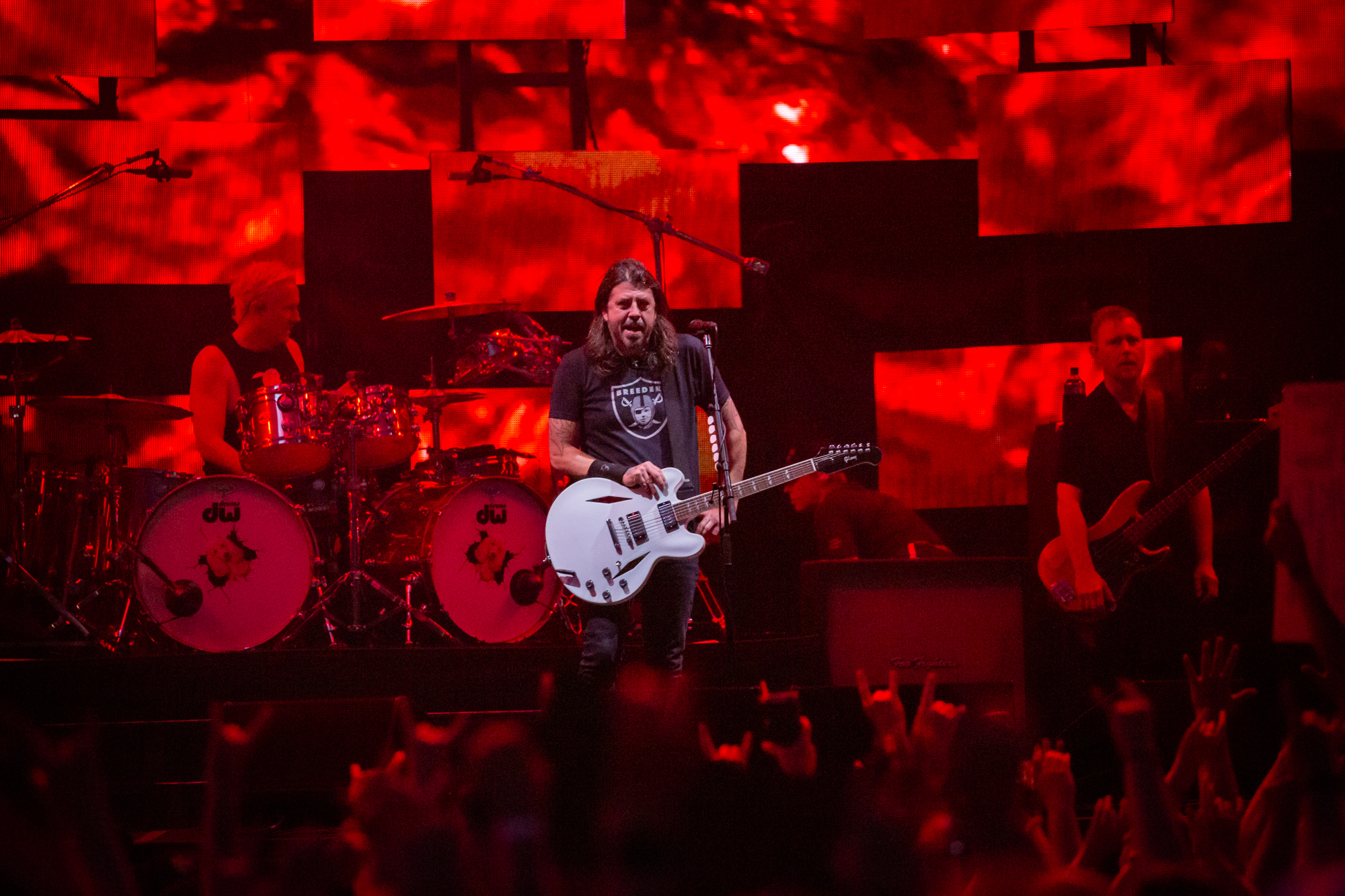 On a sultry, sweaty night, Dave Grohl and his band busted out an exactly two-hour performance that was fully on-brand for both Harley and one of the biggest rock bands in the world. The gigantic sold-out crowd fully soaked up the energy with thousands of horsepower of gratitude.
Strap your helmet on: This is going to be a long review, and one of the most glowing ones I've ever written.
For my part, I should mention that currently, I respect Foo more than I enjoy their new music. I really believe that Grohl is one of the coolest people on the planet, and I wish he was my friend. Clad in what I thought was a Raiders T-shirt, but was actually a Breeders shirt, I imagined that Grohl is pals with the similarly cool Kim Deal. I know he's friends with Jack Black, and his speaking style is hilarioulsy similar.
"All right, motherf*ckers," Grohl implored in what I can only describe as a unintentional Tenacious D impression. "Wanna dance? Let's dance!"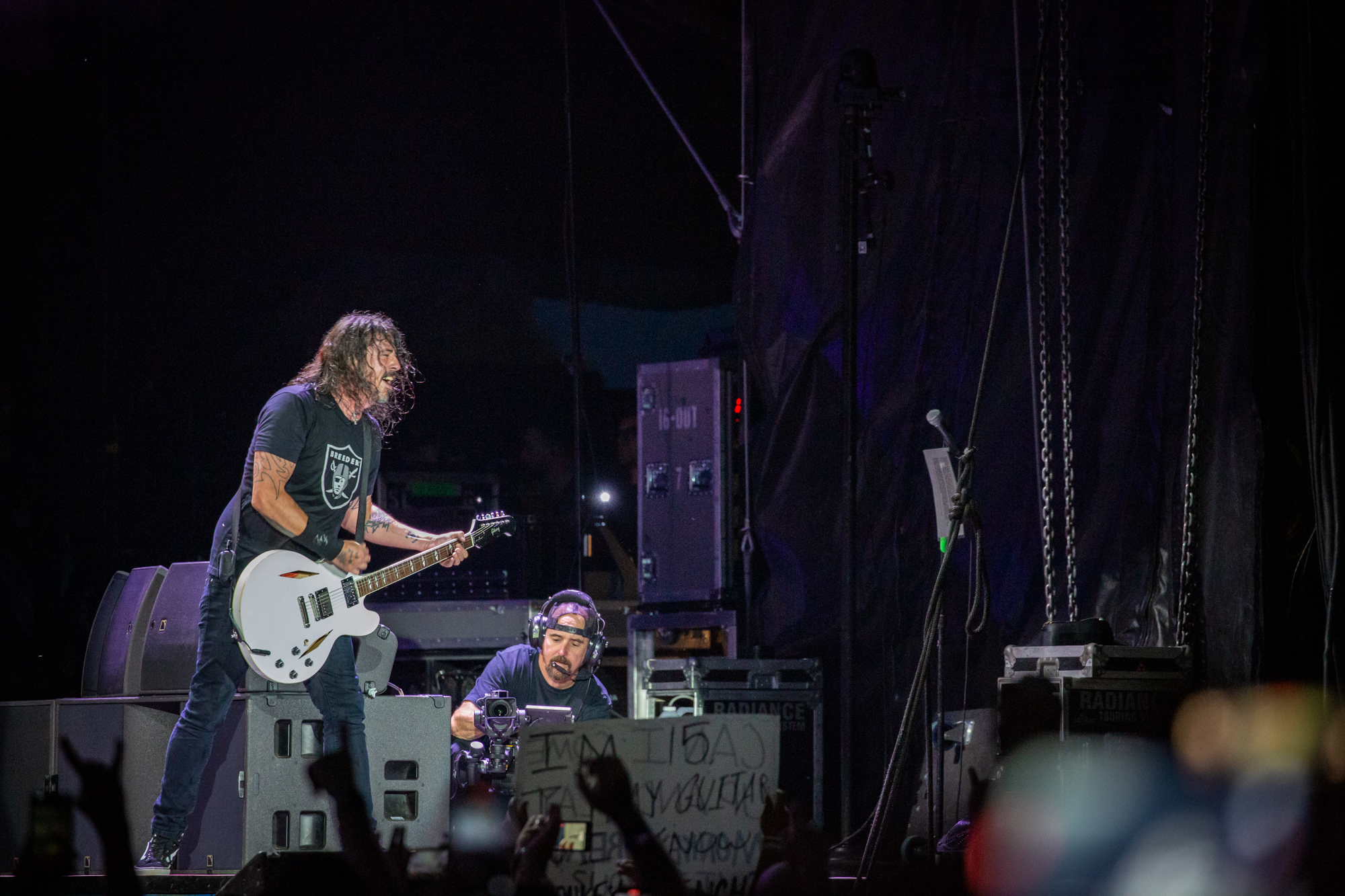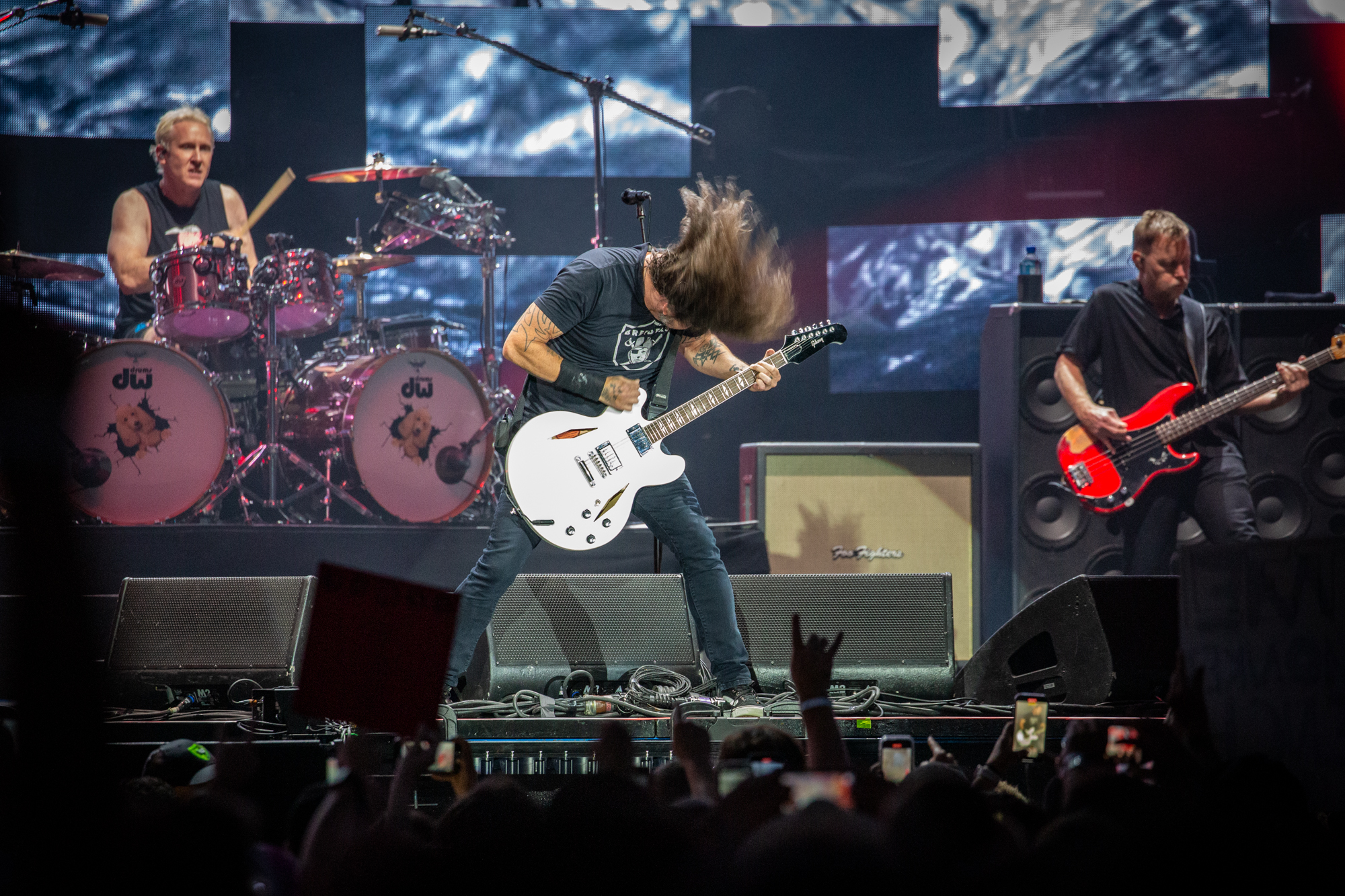 Let's get this out of the way, too. Even as a casual fan, I have paid attention to Foo through the years.
I followed the sad spiral that led to drummer Taylor Hawkins' death, and I felt the pain that both Grohl and fans experienced with his passing. And I watched with amusement when Foo Fighters recorded their unironic renditions of the Bee Gees (known as the Dee Gees), as well as Grohl's fun quarantine drum battles with Nandi Bushell.
There was none of that tonight, however. In front of the biggest general admission concert I've ever seen in Milwaukee, and perhaps anywhere, Grohl brought a colossal amount of energy from the start. "We have too many f*cking songs," he admitted. "We're gonna play as many f*cking songs as we can before they kick us f*cking out."
That turned out to be 20, give or take, because a few of them were short medley cover tunes, like "Enter Sandman," "Sabotage" and "Whip It."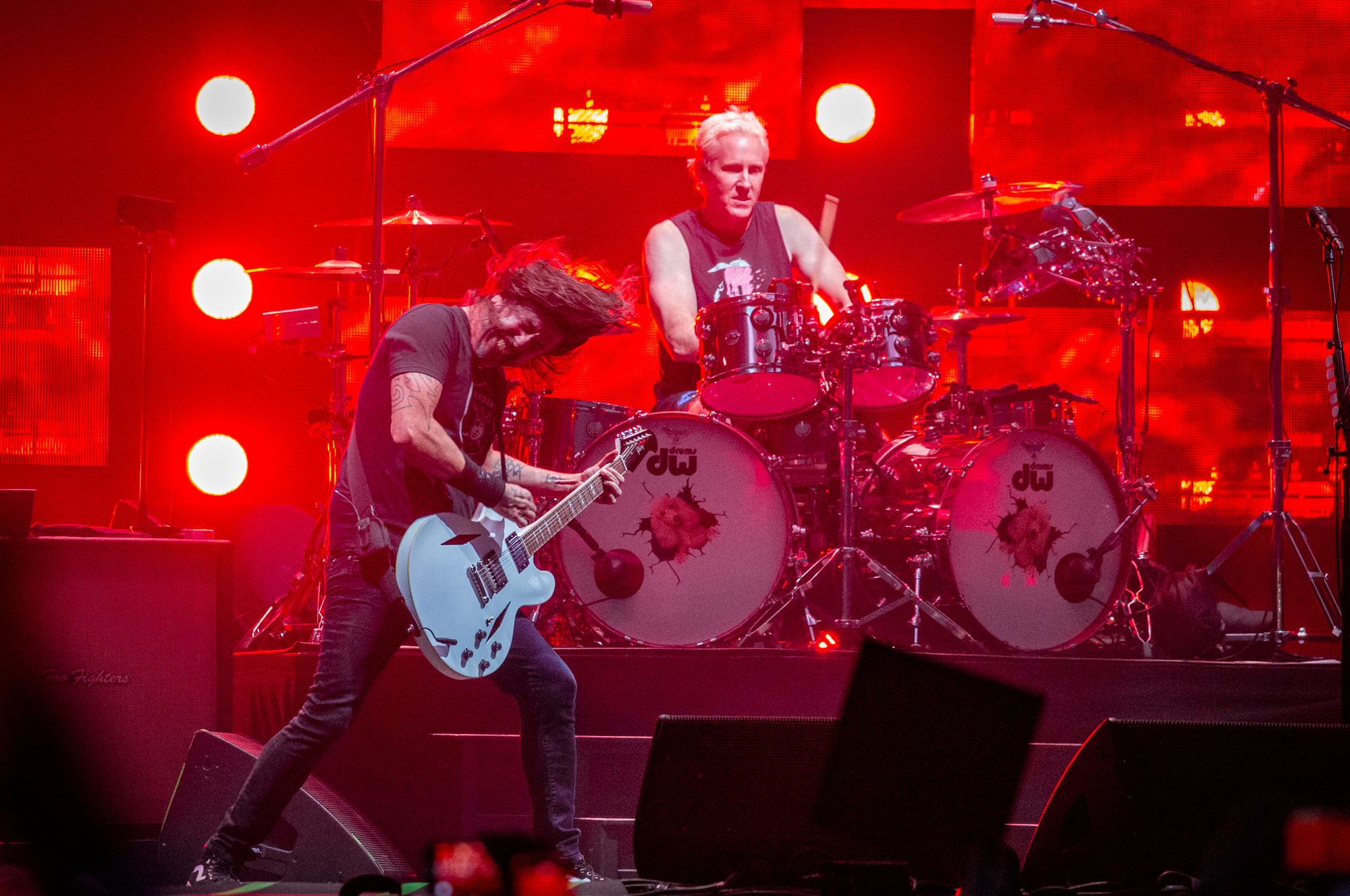 With a looooong version of "The Pretender," I was quickly reminded that Grohl is a tireless showman, ripping through one intense song after another, chewing gum and drenched in sweat throughout. While a cool lake breeze kicked in as the sun set, it probably didn't help Grohl at all. I have no idea how this man, five years older than me, maintains this kind of stamina. I didn't have it at half his age.
As a listener, when they were coming up in the post-Nirvana, pre-soldout arena era, I was really awestruck by their first few records. Having seen them live, I was astounded at Summerfest how Foo could cover Pink Floyd's "Have a Cigar" and make it sound better than the original.
Well, tonight served a reminder that even though their studio work is good, it doesn't hold a candle to the Foo Fighters in person. In concert, they are just exponentially better. It's hard, in fact, to even find anything negative about tonight's performance. I thought Grohl was a little off key at the start, but he dialed it in quickly. During the first part of the performance, I found the drums too loud and the vocals to be quiet, but that, too, evened out. It wasn't incredibly loud, surprisingly.
Lest you think I'm poo-pooing his band, I am not. I still smiled for "Everlong," "Monkey Wrench," "My Hero" and especially "Learn To Fly" and "This is a Call."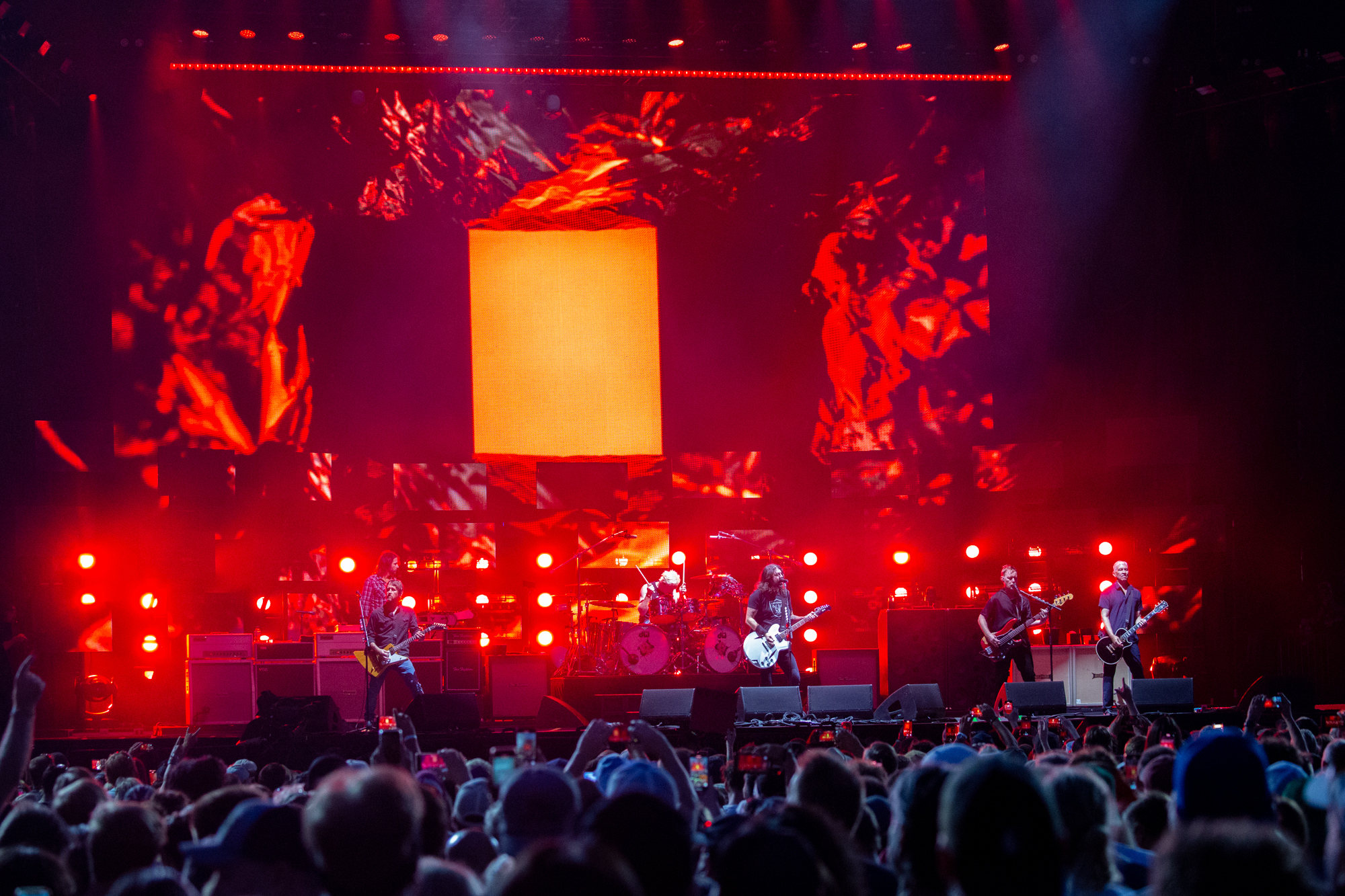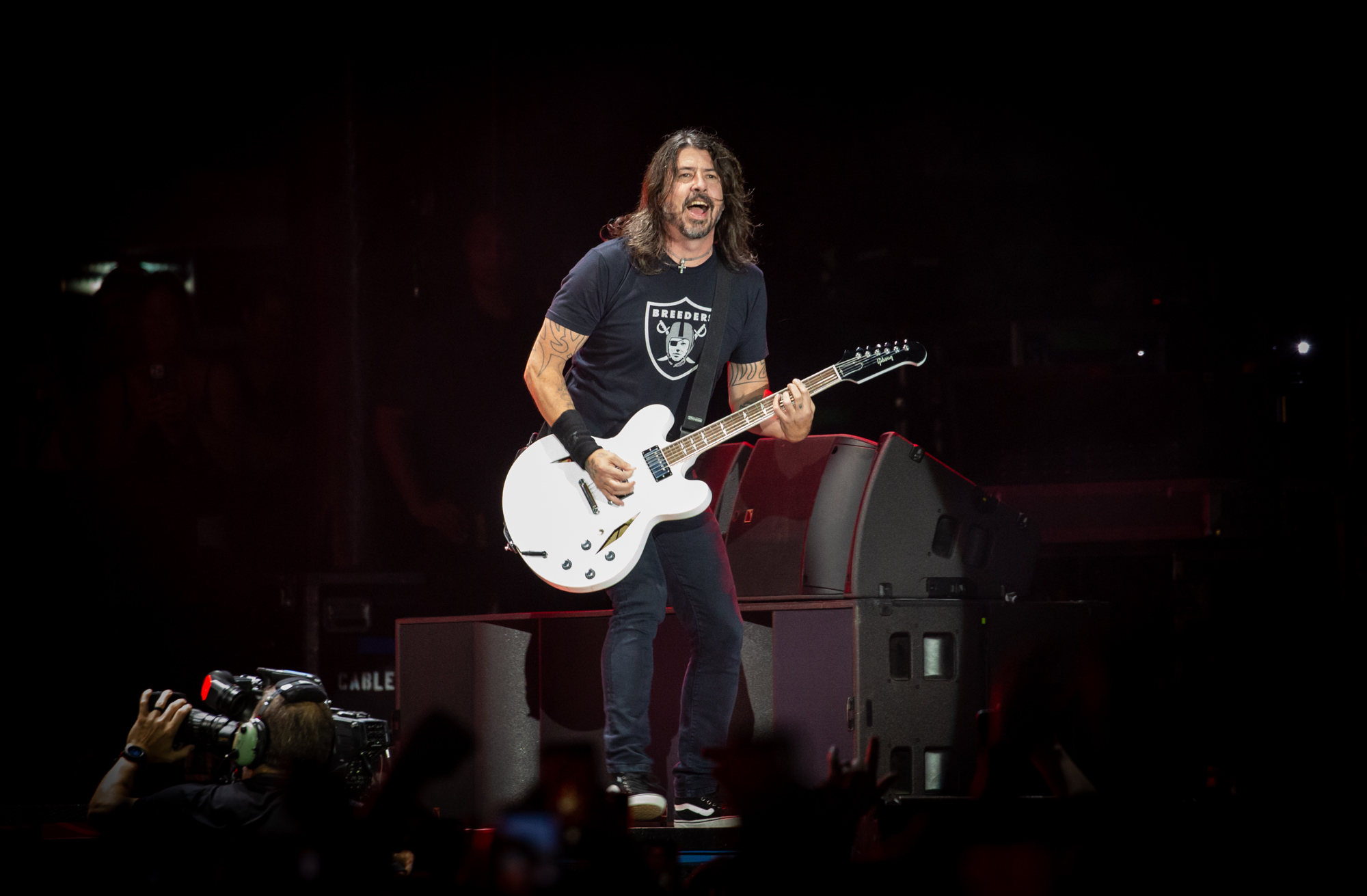 Of course, they played all these songs, and not too many new ones, which was good: I find their latest works to be somewhat generic, at least the recorded versions. However, they're also remarkably consistent: I'm all for bands doing what they do well and continuing to do so. I wish some of my other favorite groups would make new music just like their old music.
Still, I didn't watch this show as a fanboy. Rather, I soaked in the experience of watching the enthusiasm on stage and in the crowd, and what it meant for Milwaukee and Harley riders to witness it.
"This is a big-ass show," noted Grohl. "I like it."
That was quite an understatement. It's hard to estimate how many people were in attendance for the 8:45 p.m. show that started at right on time, but I'm told Veterans Park had a 46,000-person capacity on Saturday. It sure seemed like that many people were present, and they liked it, too.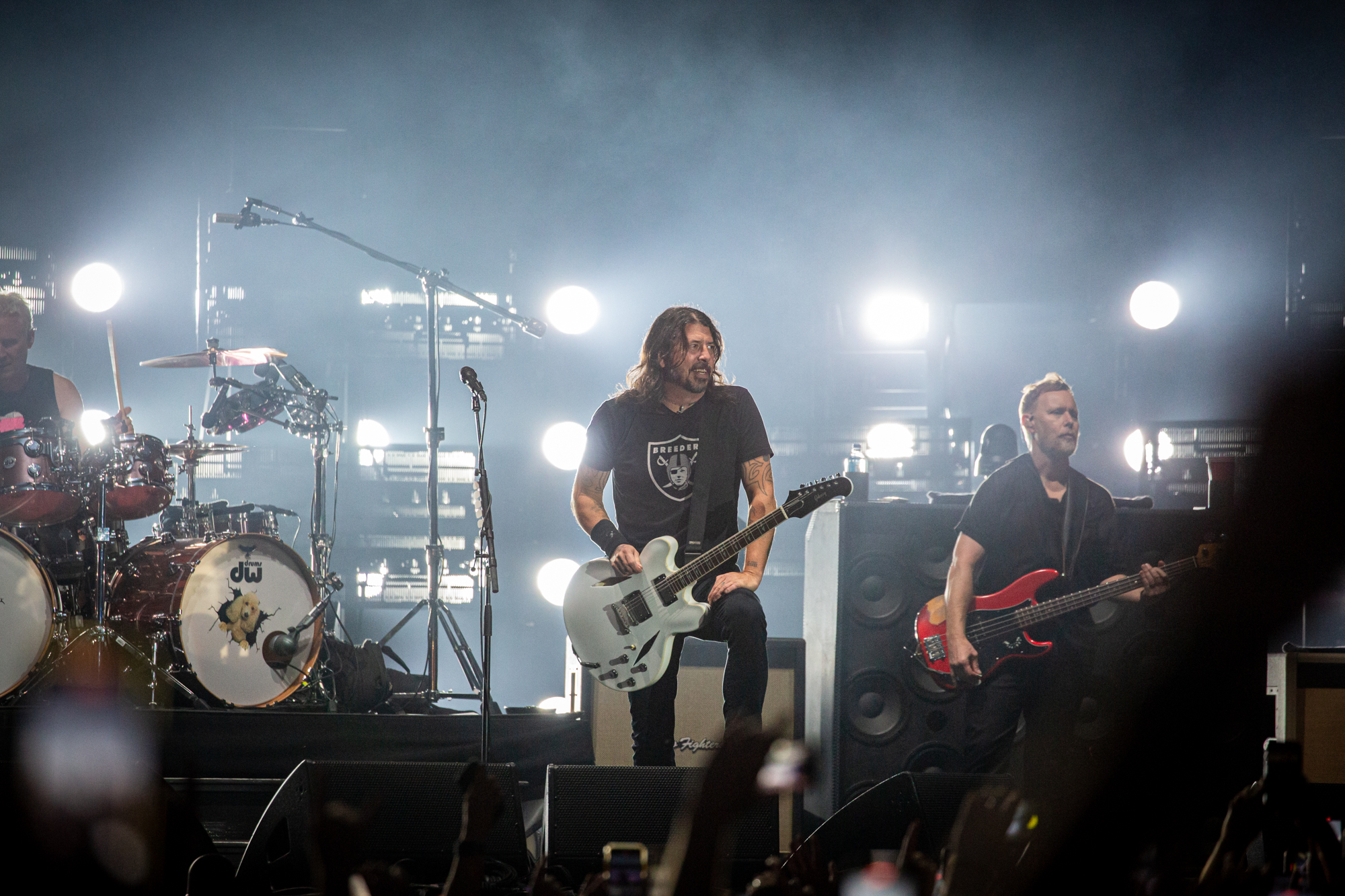 Now, if I may, I'd like to pause for another personal aside.
I have such vivid memories of the 100th anniversary show in 2003 that I don't even need to go back and reread my words about Elton John. At the time, OnMilwaukee was only five years old, and we spent a lot of time trying to guess who would be the headliner. Many speculated The Rolling Stones or U2 would show up, but Bobby Tanzilo and I did our homework. We cross-checked tour dates, spoke to the lighting tech company and knew Elton would be the guy well before it happened.
We watched the debacle together, which started after hours upon hours of awkward stalling by the drunken emcee of sorts, Dan Aykroyd. He rambled for what seemed like forever, bringing on his "co-stars" from the "Coneheads" movie.
Years later, I chatted with Carole Caine about the entire experience, as she and Dave Luczak were the official hosts of the event. Apparently, it was even worse behind stage than it was in front of it. Musically, my favorite part of the night strangely came from Kid Rock, which sounds insane when I write these words now. Keep in mind that this was slightly before he presented himself as an unhinged lunatic.
I also remember many other details of that night. How thousands of furious Harley riders literally turned their backs on Elton and walked away, muttering homophobic slurs as the British artist admitted that he knew nothing about motorcycles or Milwaukee.
How the kick-ass fireworks display was so low and intense that I worried ashes would land in my eyes a week after my LASIK surgery. How Bobby and I practically sprinted back to our East Side office to post the review. (This was before smart phones could help.) How that concert capped an otherwise awesome weekend of partying, and much like it did with the motorcycles it produced, it forced Harley to go back to the drawing board to connect with its customers.
I remember vowing to myself that I'd learn how to ride a motorcycle before the next big Harley reunion I attended, and in fact, I did: I took the Harley riding academy course in 2016, and I'm on my second bike (which is a Triumph, not a Harley), but I believe that the Harley reunion is a celebration of all motorcycle culture, not just one brand.
And finally, there was another surprising parallel to 2003. While the 100th was somewhat disorganized (I recall a friend sneaking in wearing an orange t-shirt that said "security") this was a much smoother party. The stage, now oriented north and not west, had tons of room. Tents with food, drink, Harley stuff and other experiences, were well organized along the ring around the park.
But, and this is a major but, one big and unacceptable flaw brought it all home for me. Cell phone service was intermittently non existent, regardless of your carrier, starting around 6 p.m. My phone sank from five bars of 5G to nothing, eating my battery and making it impossible to communicate with others in attendance.
I'm surprised that no one anticipated this with almost 50,000 people on site. Anecdotally, people were pissed, holding up their phones to the sky in dismay. Magically, I found three friends in the crowd, but it destroyed my ability to do live social media from the show. In fact, I wound up in SOS mode at about 6:30 p.m., and cell service never returned. So at the end, I just started walking toward North Avenue like it was 2003 all over again, except this time in hopes of finding a $90 Uber.
Circle of life, I guess.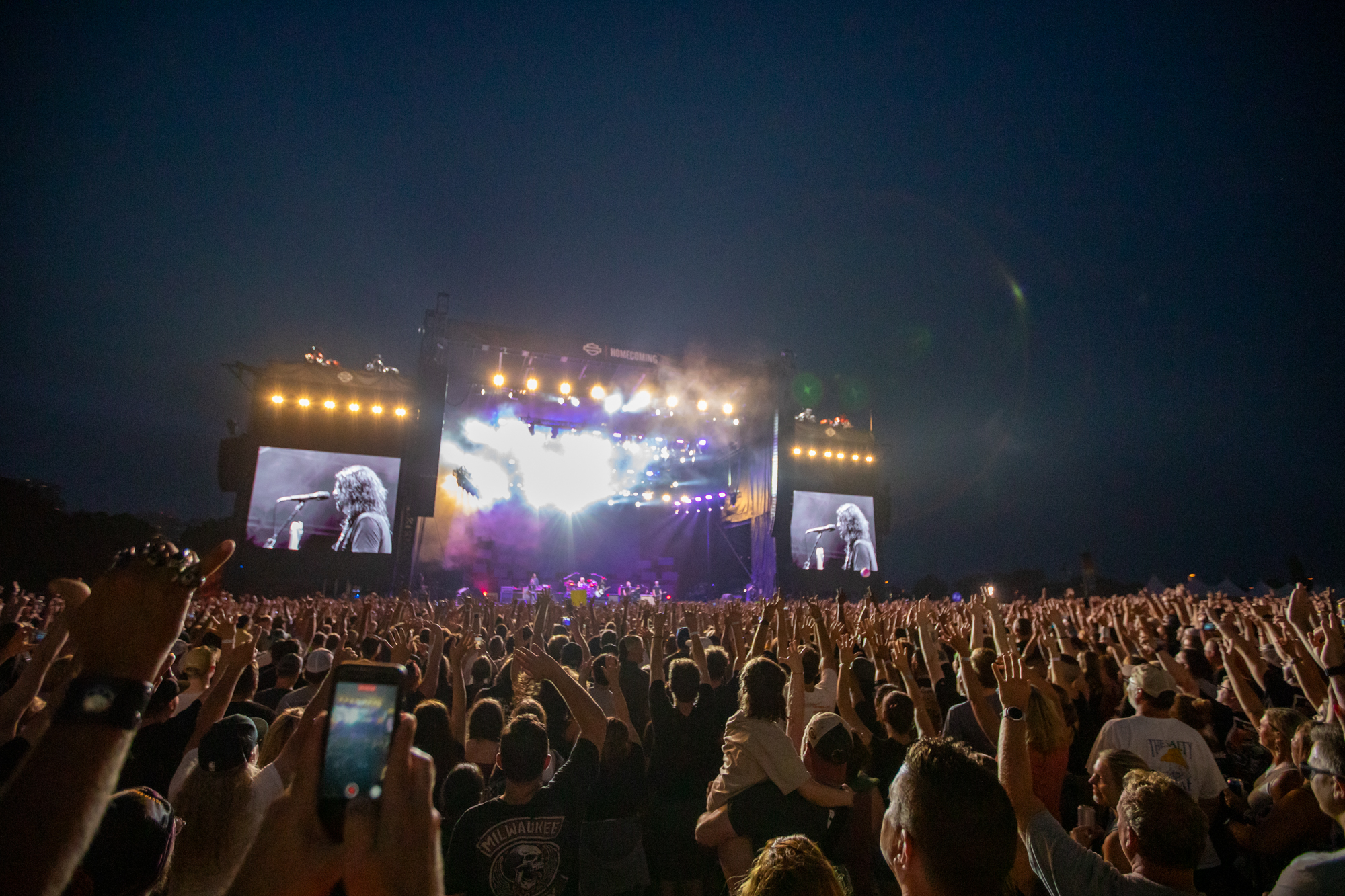 Anyway, back to the review.
Minus this hiccup, Harley obviously learned its lesson about booking the right bands. In fact, Foo Fighters played at the 105th reunion in 2008. So, this was a reunion within a reunion. Odlly, Grohl didn't acknowledge either Harley or Milwaukee in his copious banter, other than an apparent mention of his Tri Glide (which I personally didn't hear), yet no one really cared.
I enjoyed all the little touches, too, from the stage graphic of a UFO (literally a foo fighter) and bringing a kid named Nicholas from the audience to butcher a Michael Buble song.
And, when some sort of crowd incident briefly stopped the show, Grohl checked in on the audience member in distress. As if to soothe the situation, he played a slow solo version of "Big Me," which was not included in their recent set lists.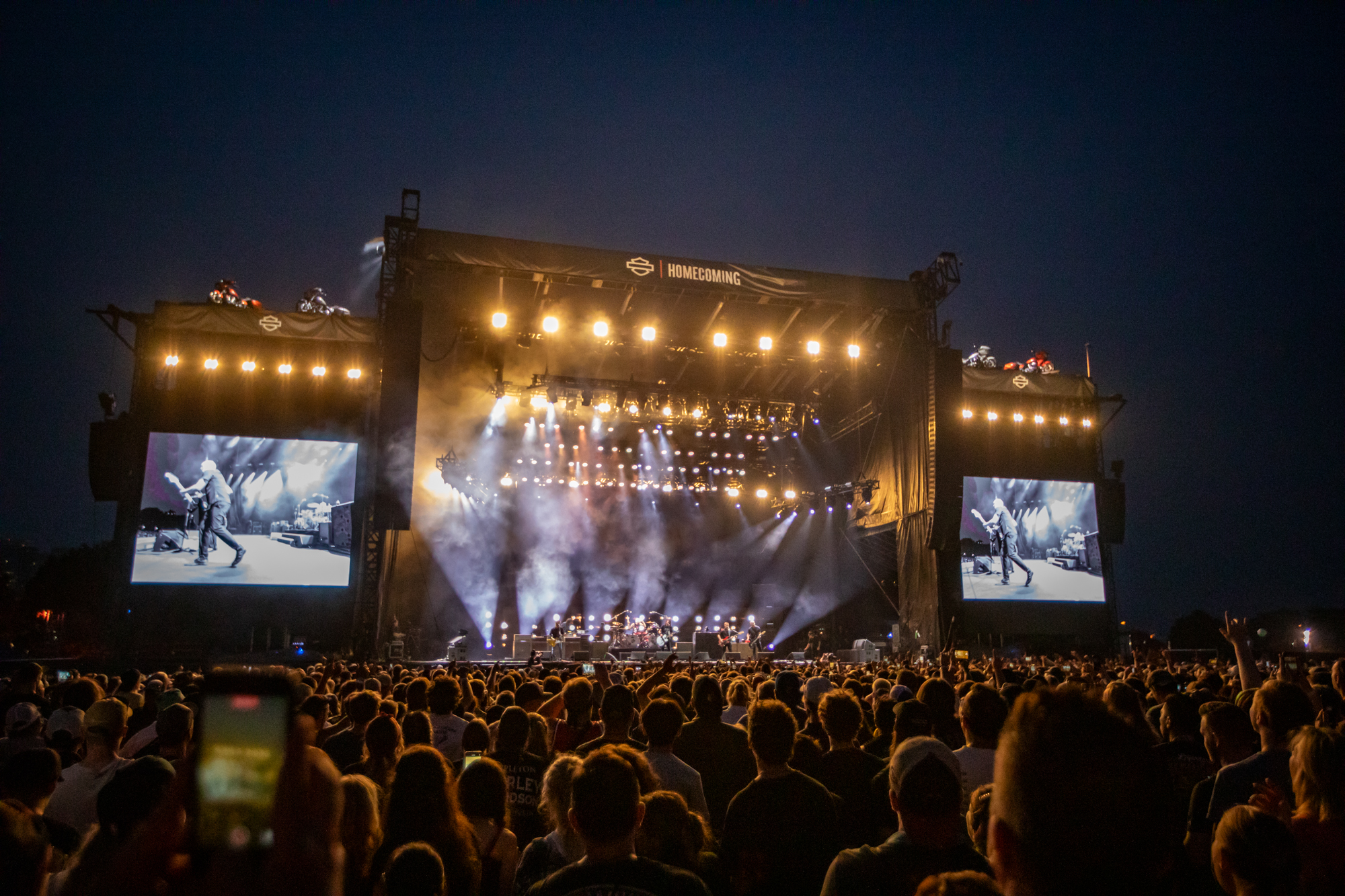 The whole experience left me contemplative of the passage of time. We're all a lot older than we were on July 2, 2000, when we watched that Foo Fighters show in a deluge of rain. Yet, I just can't overstate this: You wouldn't know Grohl has aged a bit by watching this band perform. It's crazy to think they were already six years in when I saw them, still an opener, because Foo is already a member of the Rock and Roll Hall of Fame and the recipient of 15 Grammy awards.
Of course, it makes sense to me that Grohl would surround himself with spectacular talent. Josh Freese is a phenomenal replacement for Hawkins on drums. With his double bass pedal and Neil Peart-like fills, he simply tore it up. Grohl paid extra attention to welcome him to the band and praised his 20 years playing drums with bands from Devo to Nine Inch Nails.
The other members are no less gifted. In fact, when Grohl introduced the band, each member took time to pound out some insanely intricate solos. I laughed, however, when Pat Smear played a little bottleneck guitar with a bottle of Veuve Clicquot and a cigarette dangling from his mouth.
Some say as the the band is stitched back together, their vibe has shifted subtly. Friends told me to pay extra attention to lyrics and how the tone changed considering the events since Hawkins' death. They said the tunes chosen for the set provided catharsis for those still mourning, while taking a beat to revisit the very beginning of Foo's journey. I therefore expected a somber tone, but I didn't feel one at all. Instead, I witnessed two hours of raw energy and boundless optimism.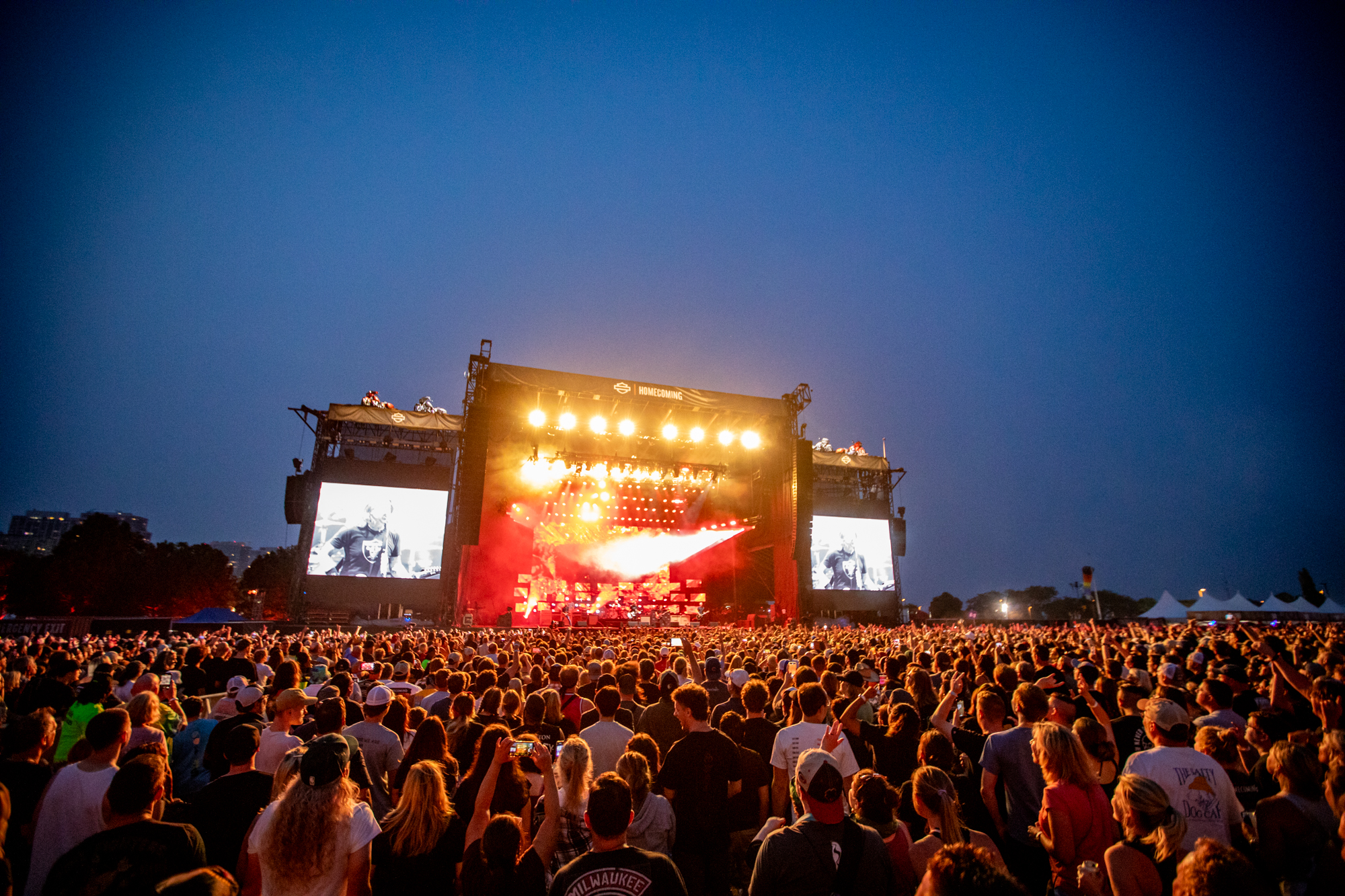 To those who don't know, Grohl didn't just inherit greatness as the drummer from Nirvana. In the days before the internet could answer any question ever, I was under the impression that Grohl learned how to play guitar when he formed Foo … but that's not accurate. He actually started playing at age 12 and contributed a riff to Nirvana's ""Scentless Apprentice." While he didn't stray from guitar tonight, there's no doubt his skills as a multi-instrumentalist and vocalist have skyrocketed.
We all knew there would be a dedication to Hawkins, and indeed, Grohl performed a stirring rendition of "Aurora," Hawkins' favorite Foo Fighters song.
When the curtain closed at 10:49 p.m., the exhaustion of an intense weekend swept over the crowd … or at least it did for me. The slow, mass exodus was tough on my achy back. These Harley reunions are loud and wonderful (except to dogs and babies) but they take a lot out of Brew City. Again, we're all older than we used to be.
Still, it's an opportunity to put our city's best motorcycle boots forward, and capping the party with Foo Fighters felt perfect. In fact, according to Milwaukee Business Journal this will now be a yearly event. "The 2024 Homecoming has its dates fixed for July 25 to July 28 ... The weekend will include a tribute to Willie G. Davidson, the 90-year-old former Harley-Davidson executive popular with the Harley-riding community."
"This has been such a beautiful f*cking night," said Grohl as he wrapped with "Everlong."
For a man prone to hyperbole, Dave was not exaggerating one bit.
Setlist:
All My Life
The Pretender
No Son of Mine /Enter Sandman riff / Paranoid medley
Rescued
Walk
Learn to Fly
Times Like These
Under You
La Dee Da
Breakout
Sabotage / Whip It / March of the Pigs / Haven't Met You Yet
My Hero
This Is a Call
The Sky Is a Neighborhood
Shame Shame
Big Me
Monkey Wrench
Aurora/Best of You
Everlong
Andy is the president, publisher and founder of OnMilwaukee. He returned to Milwaukee in 1996 after living on the East Coast for nine years, where he wrote for The Dallas Morning News Washington Bureau and worked in the White House Office of Communications. He was also Associate Editor of The GW Hatchet, his college newspaper at The George Washington University.
Before launching OnMilwaukee.com in 1998 at age 23, he worked in public relations for two Milwaukee firms, most of the time daydreaming about starting his own publication.
Hobbies include running when he finds the time, fixing the rust on his '75 MGB, mowing the lawn at his cottage in the Northwoods, and making an annual pilgrimage to Phoenix for Brewers Spring Training.