Walking around the Marquette campus, you can see a glimpse of the Potawatomi Hotel & Casino. When I first came onto campus, I let the sight of this building slide by. Now that I've been on campus longer – and now that I can legally gamble – my curiosity of what's inside the building has grown immensely.
When my family and I went on vacation, during family time, we would always play cards. It started with learning the simple game of Go Fish and soon grew into more advanced games like Texas hold 'em poker. My family got so into poker that we started having our own tournaments – with actual money. Needless to say, it didn't take long for me to become a pro at gambling.
I knew soon enough I needed to take my skills beyond my family tournaments and out into the real world – and now that I call Milwaukee home, why not try my skills out at Potawatomi? I mean, Potawatomi has been a staple in the Milwaukee gambling world for years, offering 3,000 slot machines, a bingo hall and plenty of table games for anyone ready to spend some cash and hopefully win big. No other place really compares.
After getting some extra casino pro tips from a friend – and veteran of Potawatomi – one weekend night, my friends and I headed over to the building. Right from the start, we were in awe. As soon as you enter, the lobby just makes you feel fancy and sophisticated. Of course, we walked in looking very inexperienced since we didn't exactly know where to go, but we still tried to play it cool.
Once we found the right door, I looked around the casino only to be overwhelmed by bright lights and colors filling my eyes. Seemingly tons of people milled around the casino, making us feel like a small fish in a shark tank. The only noise I could hear was the sound of slots and cards shuffling.
Feeling intimidated, I decided to not just dive in to the big time gambling and instead start with the slots. I took out a crisp twenty dollar bill and threw it in the first machine that caught my eye. It had a panda on it, so I was pretty much sold. There, I pulled the lever only twice because it didn't take long for me to shockingly realize how fast your money can evaporate – and being a poor college student made me only more aware. I cashed out and moved on to the next couple machines. Unfortunately, luck did not join me.
That is, until I spotted the Britney Spears machine.
The great memories of growing up, singing "...Baby One More Time" and "Oops, I Did It Again" around my bedroom as a grade schooler, flooded my memory, instantly drawing me toward it.
And call me "Lucky," I actually started to make money on it. I went from $13 to $18 – sure, only five dollars, but it felt like an incredible million-dollar rush. Right there, I firmly decided to cash out of the machine before I lost any more money ... but maybe after one more spin. And one more. And a few more after that. By the time I was done, my voucher only had seven cents on it.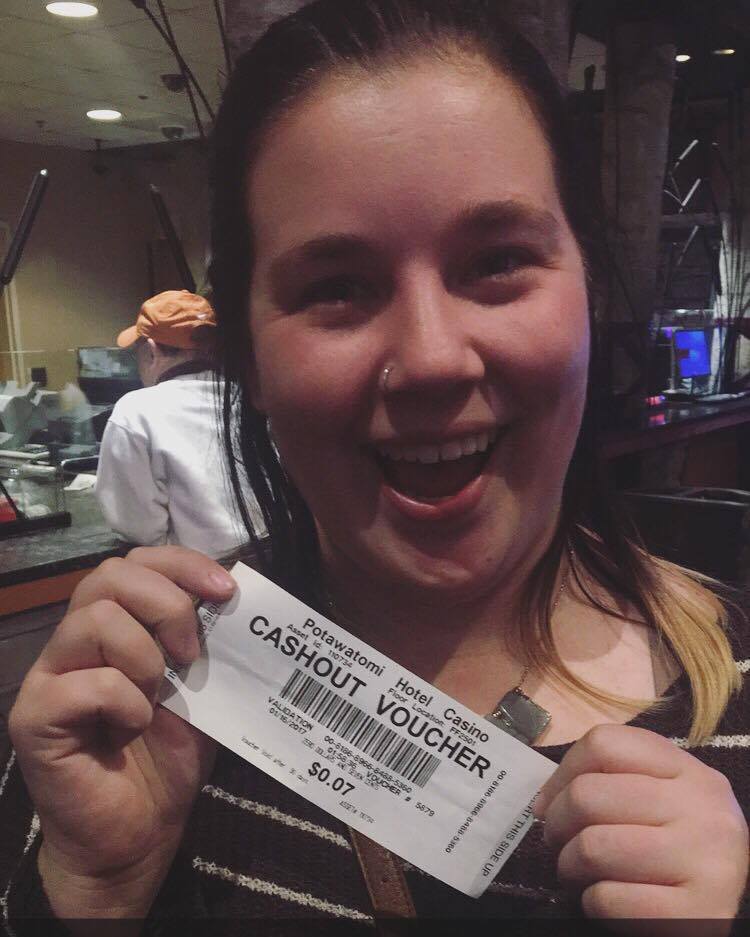 Although I didn't win big on my first trip to Poto, I did have a good time and learned some important lessons. First, you can lose money fast, and second: Stop when you're ahead – or at least not that behind. Maybe my next trip will result in winning some cash.