For generations, folks have thought of the long, low brick building that starts at 2100 N. Farwell Ave. and rambles north almost to the former Northwestern Railway Co. cut (now part of the Oak Leaf Trail) as having an automobile focus. And that's true, as it's been home to businesses that sell, fix, maintain and wash cars over the years.
When Dan Katt, Andy Jones and David Dupee opened Good City Brewing in June 2016, they had no idea they were tapping into a building that also had a beer connection, albeit a pretty minor one.
But now with the kind of success Good City has had in less than two years, the three young entrepreneurs have already moved this sturdy and handsome building into the annals of Milwaukee brewing history.
The entire block had been owned by the railway company when, according to city permits, a small office, just 15x16-feet and 10-feet tall was erected on the northeast corner of Windsor and Farwell in 1903 for the Winston Brothers Co., which appears to have been a Minneapolis-based construction firm that built railroads.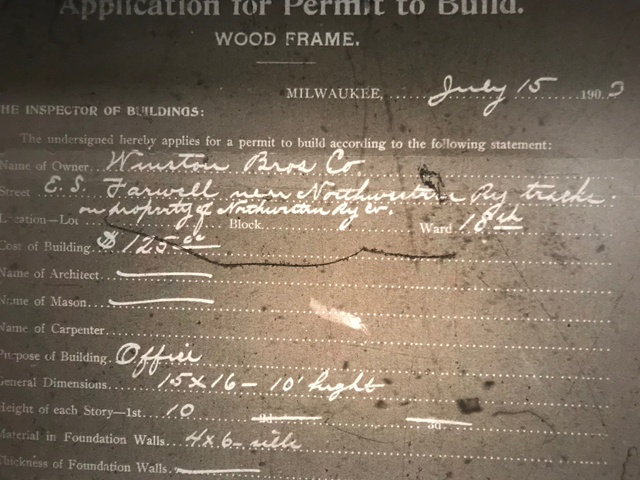 That place disappeared by 1910, when fire insurance maps showed the entire square block – bisected by the track cut – as vacant. The first section of the current building – designed by Martin Tullgren, who designed familiar structures like George Watts & Son, the Shorecrest Hotel, the Bertelson Building just across the parking lot on Windsor and Prospect and the former home of Izumi's around the corner, to cite but a few – was erected near the same corner in 1913-14.
An addition was made later in '14, followed by another to the north two years later and a final one on the far north end was completed in early 1920.
The buildings were all built to match, creating what appears to be a single harmonious look, executed in brick accented with interesting designs between the tops of the windows and the roof line (which the brewery riffed on for some of its label art). Though it rarely draws much attention, it is quite an attractive building.
Stand across the street and you can see it all in a single view. But you'll also notice that one of the additions was constructed of brick of a color that doesn't quite match the rest. And get up close and you can easily see where all four buildings meet (see photos above).
These were all constructed by Thompson & Harriman for its Farwell Sales Co., an Oldsmobile sales and service center. As you might expect, such a sprawling place, easily divided, has hosted a variety of businesses.
A heating company rented garage space there in the 1920s, Garrelton Bros. printing was there in the '30s, Al Stein Motors and Victory Cola Sales' warehouse were there in the '40s, which is when Joe Puccio had a barber shop in the building, too.
In 1944, a 120x100-foot space on the north end of building was used as a Schlitz Brewing Co. warehouse for the storage of paper beer cases, cartons and the like.
Mercury Engineering Corporation – owned by the Baumgartner family, which also owned Paper Machinery Corporation and Reliable Tool – occupied the building and had another building directly across the street, too, from the 1940s until the early 1960s.

(PHOTO: Courtesy of Milwaukee Public Library)
A discount store occupied three spaces in the building in the 1960s, sharing the building with the Colonial Car Wash (you can see a permit drawing of a Colonial-era sign below), and in the '70s, '80s and '90s, there was a variety of auto repair shops, filling stations and car washes (some us remember Lorino's and, later DiBrito's).
Crank Daddy's bicycle shop later moved in before heading over to Prospect Avenue in 2011. Then, the Farwell building sat vacant, awaiting the perfect tenant.
Enter Katt, Dupee and Jones.
"When we decided to start a brewery, like one of the prerequisites was it had to be in our neighborhood," says Katt. "And so we were fairly limited with spaces that would actually fit the equipment.
"David and I have lived on East Side for probably, me, five years and him, probably eight, and we were just very familiar with the building because it was empty for five years. I bought a bike here. Seems like a lot of people bought bikes here."
Katt says the Farwell Avenue building had everything the trio needed to open a public-facing brewery.
"We had had our eye on this because one, it was everybody knew what Crank Daddy's was. You couldn't really believe that this was empty for five years because it is a great looking building. The inside was not pretty, but the outside kind of has a great character to it.
"But then (we needed space for) loading and unloading and everything that goes into brewing, but then also to have a tap room and a customer piece to it."
They also liked that the current building has no basement (other than a small one toward the back).
"We took a couple (other location) options pretty far and then they fell through just because, honestly, they had basements. So we would've had to reinforce the floor to put a brewery in because of the weight of all the tanks and everything. So this kind of became a no-brainer when we found out we'd have a kick at it."
Before opening Good City, they had to remove decades of paint and repaint some things, like the ceiling. They left the brick walls unpainted, though if you look closely you can see clues to the former colors.
They decided they liked the industrial look of the floors, so they grinded and polished them. In the event space you can see a couple of interesting spots on the floor where hoists or similar auto repair equipment was likely installed at some point.
They had to reconfigure a few walls and openings, but mostly, the interior was a blank canvas. And it's a canvas that's been growing. Last year, Good City expanded into a space on the corner and rebuilt the roof and built a staircase to allow for a deck, which opened in late summer.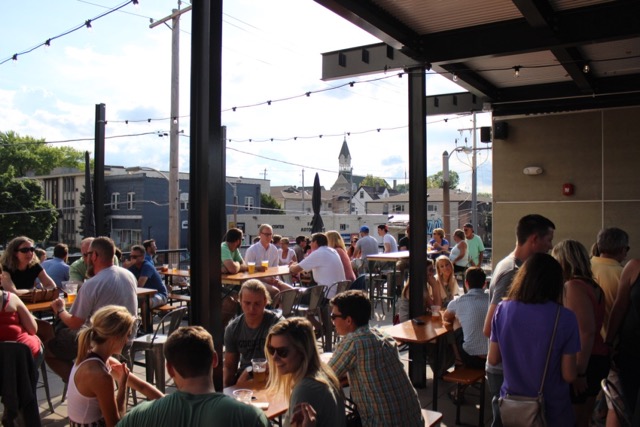 (PHOTO: Lori Fredrich)
With beer in bars and retail outlets all across town already and a tap room that's often packed to the gills, even after the expansion, on weekends, it appears Good City has filled a niche.
"We're really happy with the reception that we've had first off in this neighborhood," says Katt, "because we certainly felt as residents in East Side that we needed a brewery. It's a very historic neighborhood and there wasn't anything. We've sort of become a little neighborhood pub here and a community place. We get lots of events that are community-based and you see a lot of people you know in here from the East Side, which is awesome.
"Milwaukee-wide, statewide, we've been thrilled with the reception we've gotten for the beer, and then that ends up bringing people into this space and getting people into Milwaukee, which is great. It's a rollercoaster owning a small business, but we're certainly busier than I think we ever could have anticipated."
A few of the beers – like the most popular, Motto IPA – are available in cans, distributed by Beechwood Sales – and some limited releases are bottled. The portfolio can be seen here.
Good City opened with the capacity to brew 1,500 barrels of beer annually, and the brewery has been regularly adding tanks. Four more recently arrived and two more are on the way, Katt says. Now, Good City's capacity has nearly doubled.
"We want to have some working capacity, because last summer we sort of ran out of beer," Katt says. "Last July 1, we opened the roof and the Monday after, there were like two beers on tap. Fortunately, it comes back quickly, but people literally walked in here and there was like no beer left, at least not much. People drank us out of beer."
Good City offers tours at 1 and 2 p.m. on Saturdays and Katt says that they draw roughly 10 people per tour. It's definitely worth doing the tour, but Katt notes that the brewery doesn't concentrate heavily on them.
"Our focus is much more on the taproom experience people are having so tours intentionally take a back seat. We figure there are plenty of places in town where people can get a tour and a couple of beers."
What makes Good City so popular is the variety (and quality) of styles. While Motto IPA accounts for roughly a third (or more) of sales in cans – and there are two other canned IPAs, one called Risk, and a Reward Double IPA – Good City also offers its pilsner in cans now, and Katt expects that beer, which is the No. 2 seller in the tap room, to do quite well.
"We have four seasonals, including the Film Fest Lager that'll be back out this year in draft and cans. It is the official beer of the Milwaukee Film Festival," says Katt. "That's a partnership that we're really proud of and we certainly getting behind (even more) with them moving a block away.
"Then in the tap room, it's just always something different. We're experimenting a lot. We have a varietal series, which is not all IPAs, but it's all experimentation with different hop varieties. So everything from triple IPA to a Belgian wit to darker beers and we kind of batch serve this sort of an incubation for developing seasonals and year-round beers.
"I think our identity is still developing, but we definitely all love hops," says Katt (pictured above in the brewery). "We tend to be hop heads, but at the same time, Andy, whose our brew master and one of the co-founders, is really versatile. So we're probably one of the only new breweries that's making lagers.
"Milwaukee is still a lager town in a lot of ways. So it's fun to have a new take on kind of a old style."
Born in Brooklyn, N.Y., where he lived until he was 17, Bobby received his BA-Mass Communications from UWM in 1989 and has lived in Walker's Point, Bay View, Enderis Park, South Milwaukee and on the East Side.
He has published three non-fiction books in Italy – including one about an event in Milwaukee history, which was published in the U.S. in autumn 2010. Four more books, all about Milwaukee, have been published by The History Press.
With his most recent band, The Yell Leaders, Bobby released four LPs and had a songs featured in episodes of TV's "Party of Five" and "Dawson's Creek," and films in Japan, South America and the U.S. The Yell Leaders were named the best unsigned band in their region by VH-1 as part of its Rock Across America 1998 Tour. Most recently, the band contributed tracks to a UK vinyl/CD tribute to the Redskins and collaborated on a track with Italian novelist Enrico Remmert.
He's produced three installments of the "OMCD" series of local music compilations for OnMilwaukee.com and in 2007 produced a CD of Italian music and poetry.
In 2005, he was awarded the City of Asti's (Italy) Journalism Prize for his work focusing on that area. He has also won awards from the Milwaukee Press Club.
He can be heard weekly on 88Nine Radio Milwaukee talking about his "Urban Spelunking" series of stories.