We're cruising the Great Lakes on the Viking Octantis, which visits Milwaukee every couple of weeks this summer as part of its ongoing journey around the inland seas.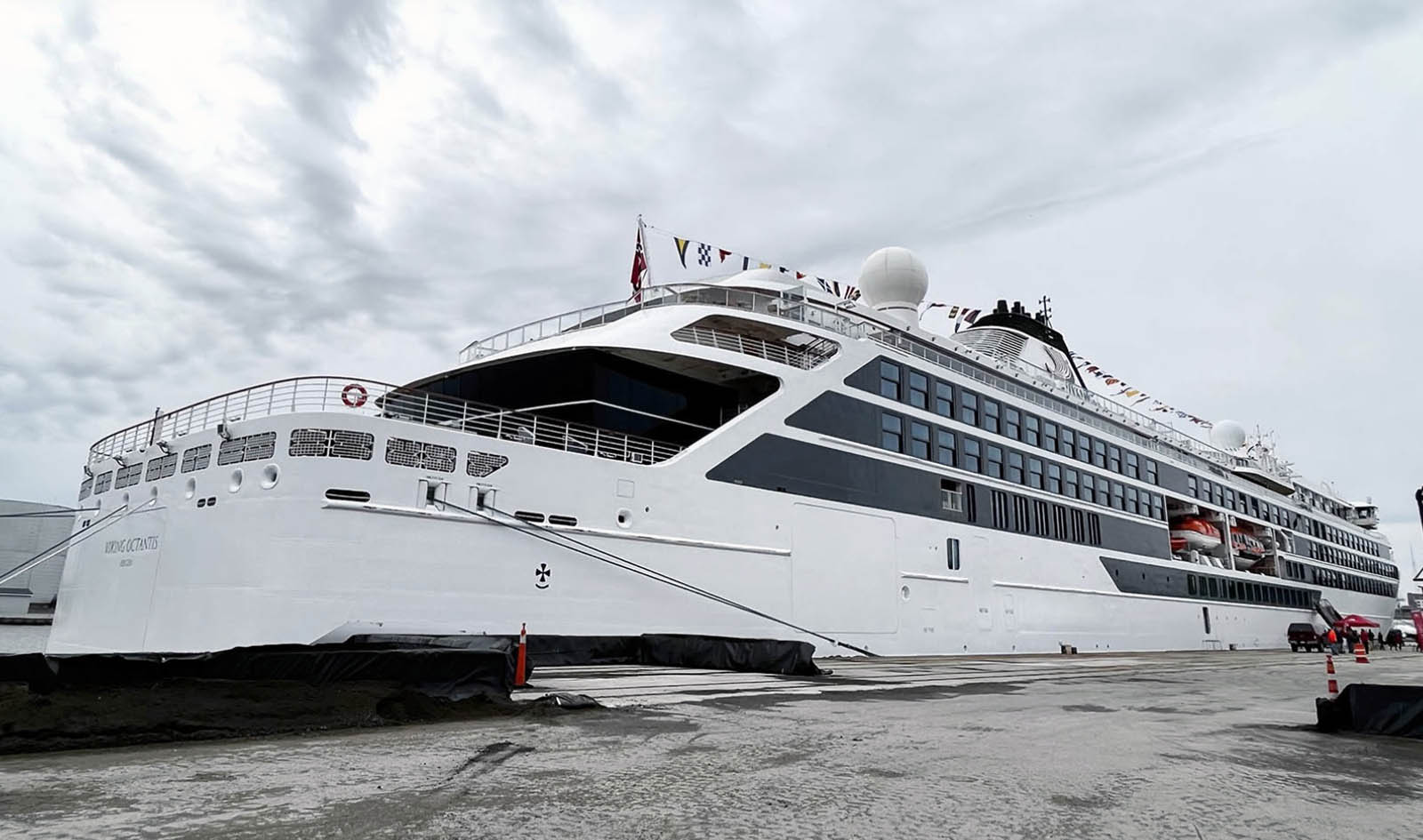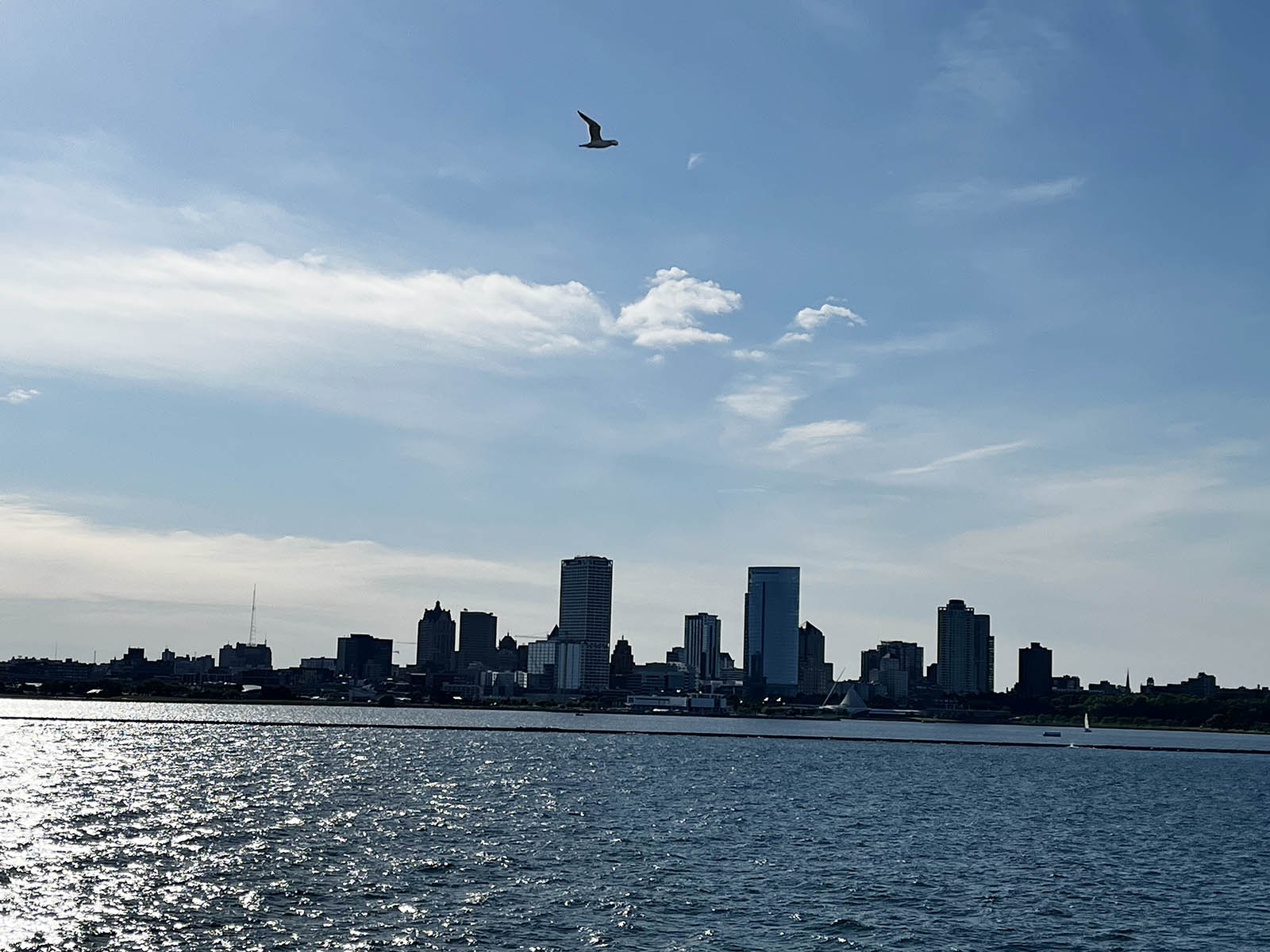 To read updates from Day 5 onward, click here.
Day 1: Milwaukee to Mackinac Island
It's a beautiful Saturday in Milwaukee and the rivers are alive with boat traffic of all kinds: partiers on pontoons, the Paddle Taverns, lunch cruises, police patrols, and I'm in a theater first listening to Loreen Niewenhuis talk about her 1,000-mile walk around the entirety of Lake Michigan and then watching a documentary about humpback whales.
This after I visited a marine studies lab staffed with scientists from NOAA (National Oceanic and Atmospheric Administration), Scott Polar Research Institute at Cambridge University and the Cornell University Lab of Ornithology.
No, I'm not at a conference at UWM's School of Freshwater Sciences, I'm sailing the Great Lakes on Viking's Octantis.
Sure, I had a great meal in the on-board Italian restaurant and I departed Milwaukee under the Hoan Bridge with an Old Fashioned in hand, but touring the ship with Dr. Damon Stanwell-Smith, Viking's head of science and sustainability, really opened my eyes to how cruises can be more than just bottomless glasses of wine and never-ending dining options, as fun as those are.
Hours before the ship departs the City of Milwaukee's heavy lift dock at Port Milwaukee on Jones Island, Viking CEO Torstein Hagen talks for 90 minutes about the history, mission and plans for the company (which include a second ship on the Great Lakes, coming soon).
Luxury, he says, is simplicity, not opulence, and it shows on the Octantis, which is clean, comfortable and attractive, but not a swanky overblown hotel on the waves (though it surely comes pretty darned close).
He then explains how Viking came to be in Milwaukee.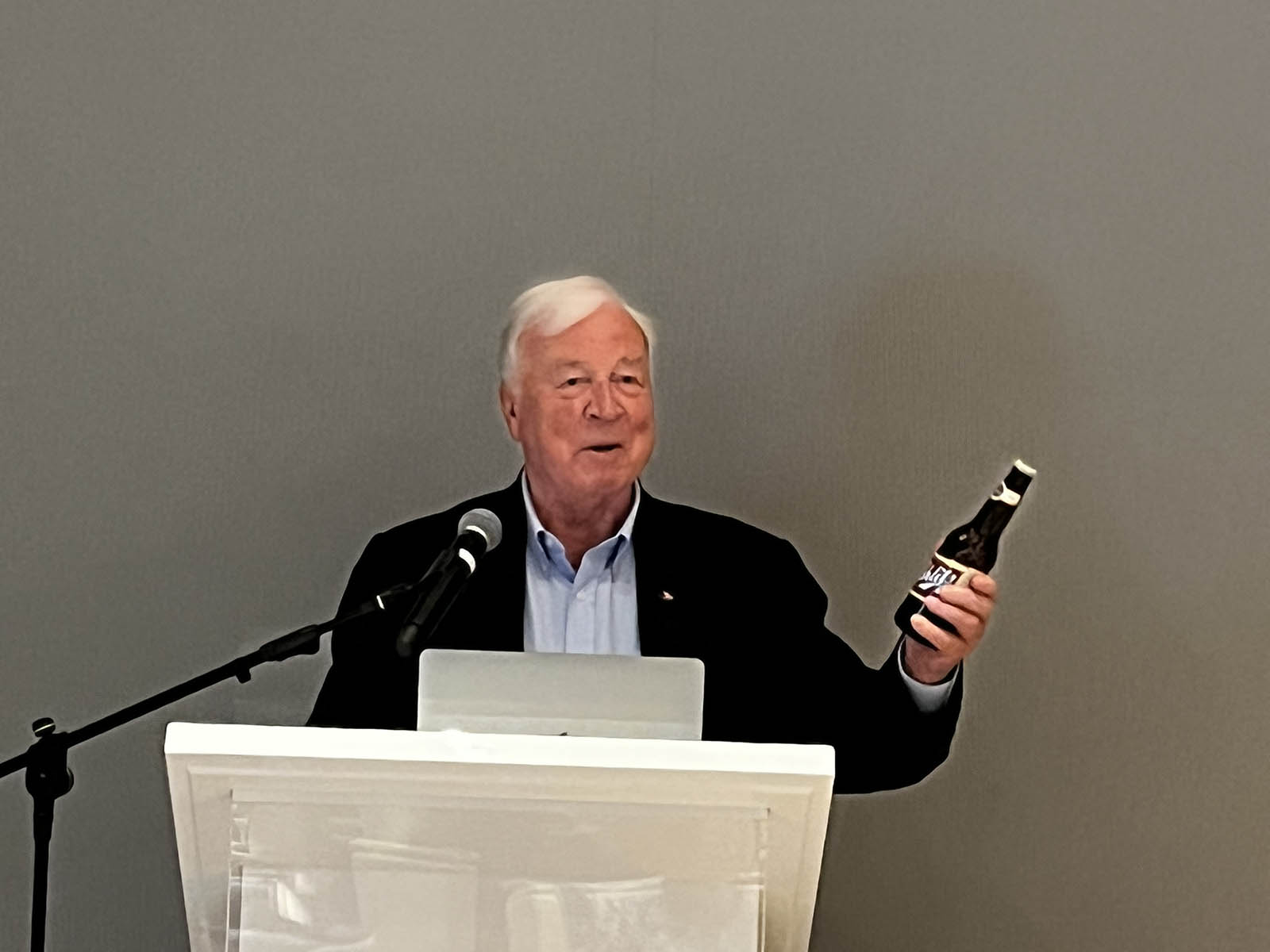 As a 20-year-old in 1963, Hagen – a Norwegian native – earned a Fulbright scholarship and studied in Connecticut.
"And what do 20-year-olds do," he asks rhetorically. "They drink beer. And beer is why we're here. Schlitz was the beer of choice.
"It said on the bottle, 'the beer that made Milwaukee famous,' and now it says no such thing. So we want to make Milwaukee famous for something else. Maybe we can make it the Miami of the Great Lakes."
And, of course, at lunch afterward, every place setting is graced with a brown bottle of Schlitz.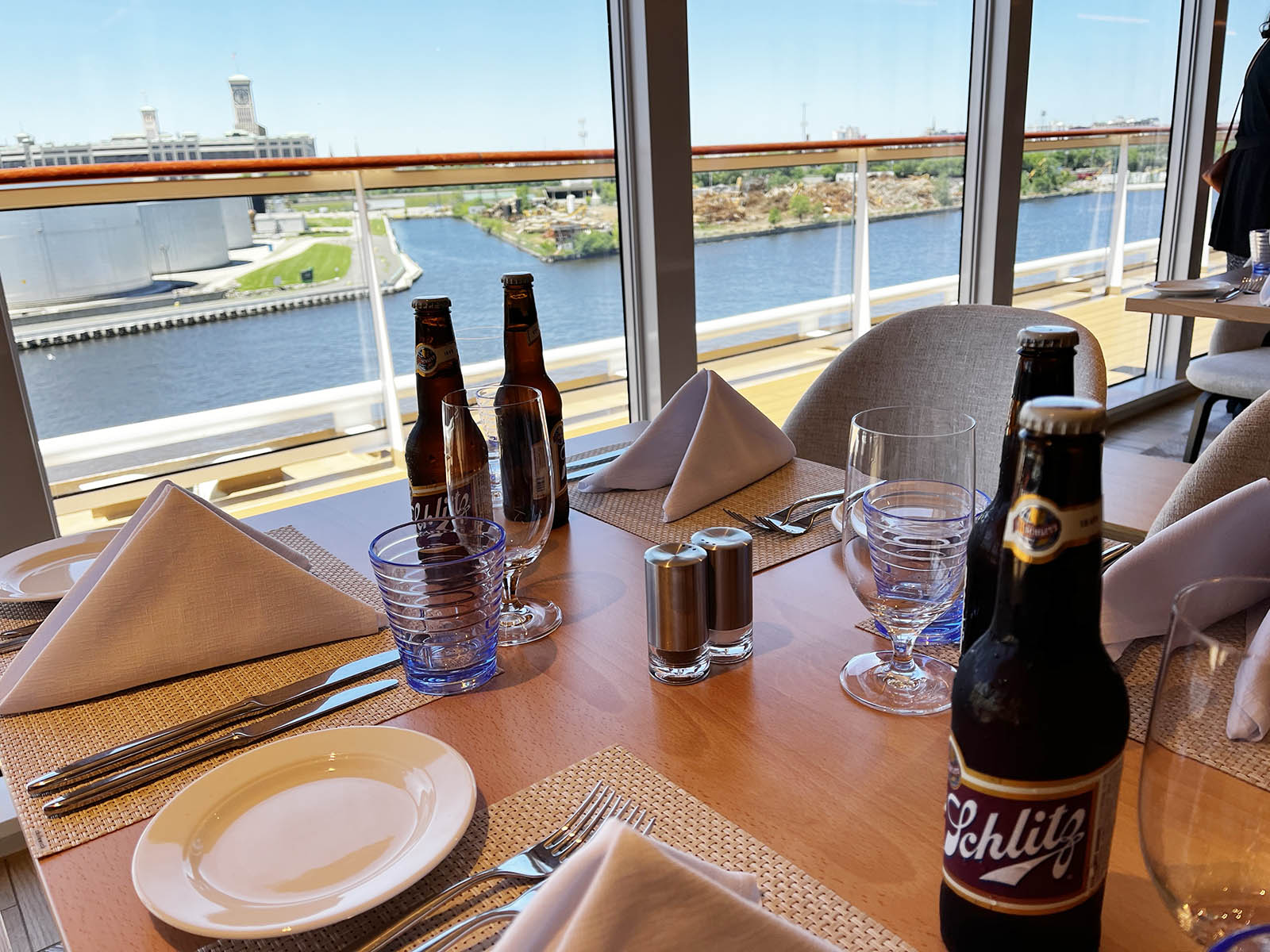 It's on the tour of the vessel later, however, that I'm most impressed.
Dr. Stanwell-Smith shows us the dining areas and the spa and a variety of bars and lounges, but he really lights up when he takes us below to the lab, where scientists do proper research on Octantis' journeys.
"We don't do edutainment," he says. "What we do is real science, sustainable and scalable because what happens on that side (meaning selling tickets to travelers), pays for this (research).
"I spent 27 years (of a 30-year career) in marine biology on that (academic) side of the fence and it's a grind of chasing grants on a two- or three-year cycle. It's not conducive to ongoing research. But here we don't have that problem. That's why researchers (in academia) are watching what we're doing closely."
Best of all, perhaps, the folks who are funding it by paying to cruise on the Octantis, which during the winter travels south to Antarctica, can also take part in the research, whenever possible.
Octantis collects water samples as it sails and analysis of those samples tracks data on microplastics in and acidification of the water, for example. And Octantis is the first civilian vessel to serve as a NOAA weather station.
As an excursion vessel, the Octantis has two special operations boats, 17 zodiac boats, two submarines for dives as deep as 300 feet and 15 kayaks, which are used for both passenger excursions and by researchers.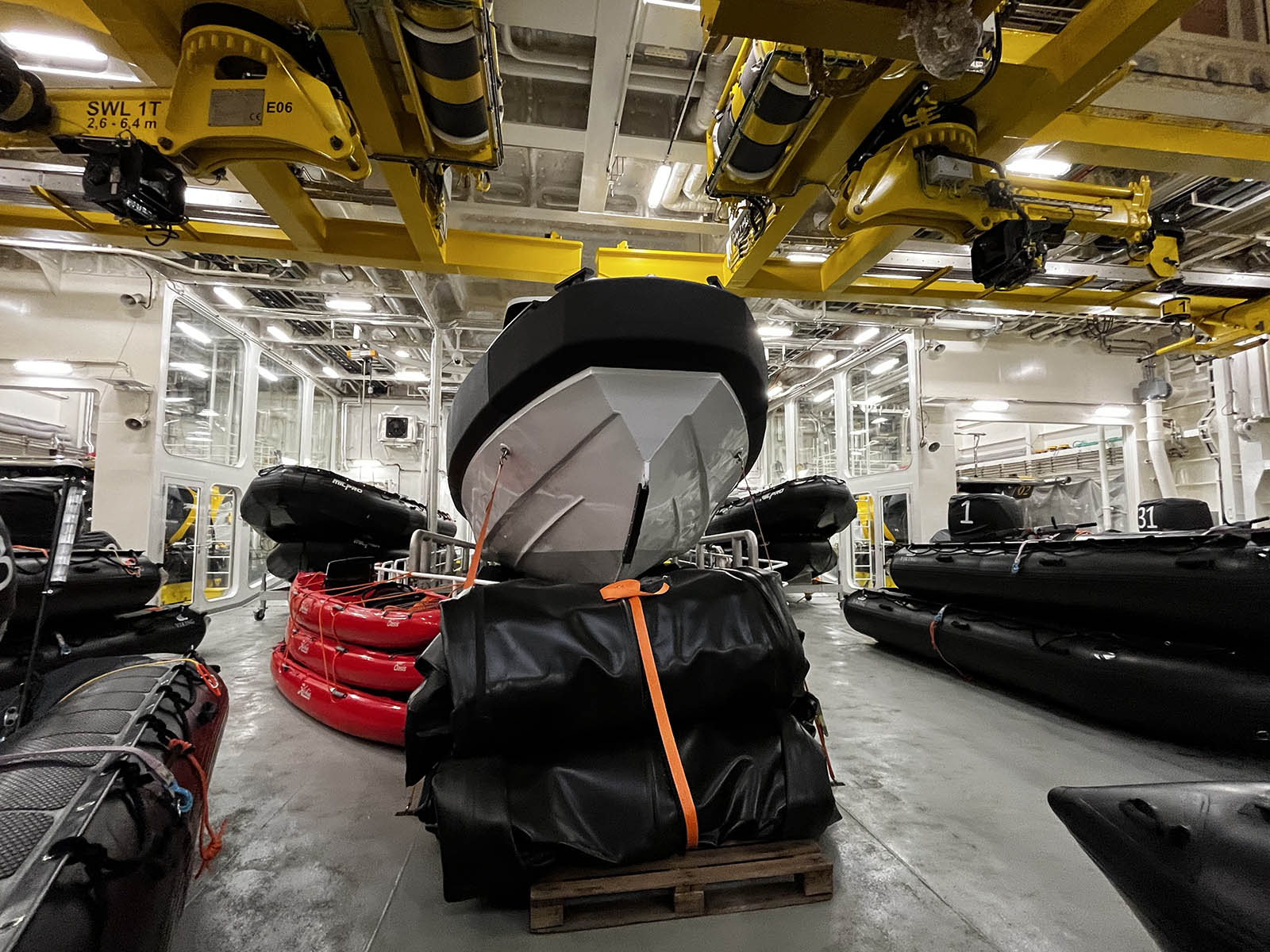 I hope to take part in as much of that research work as I can on this journey, and I'm pleased to report that on day one, I saw as many people attending Niewenhuis' lecture and the whales documentary as I saw in the ship's bars and restaurants.
While we might assume we know what motivates the average cruise ship guest, I'm not sure the Octantis crowd fits that preconceived notion.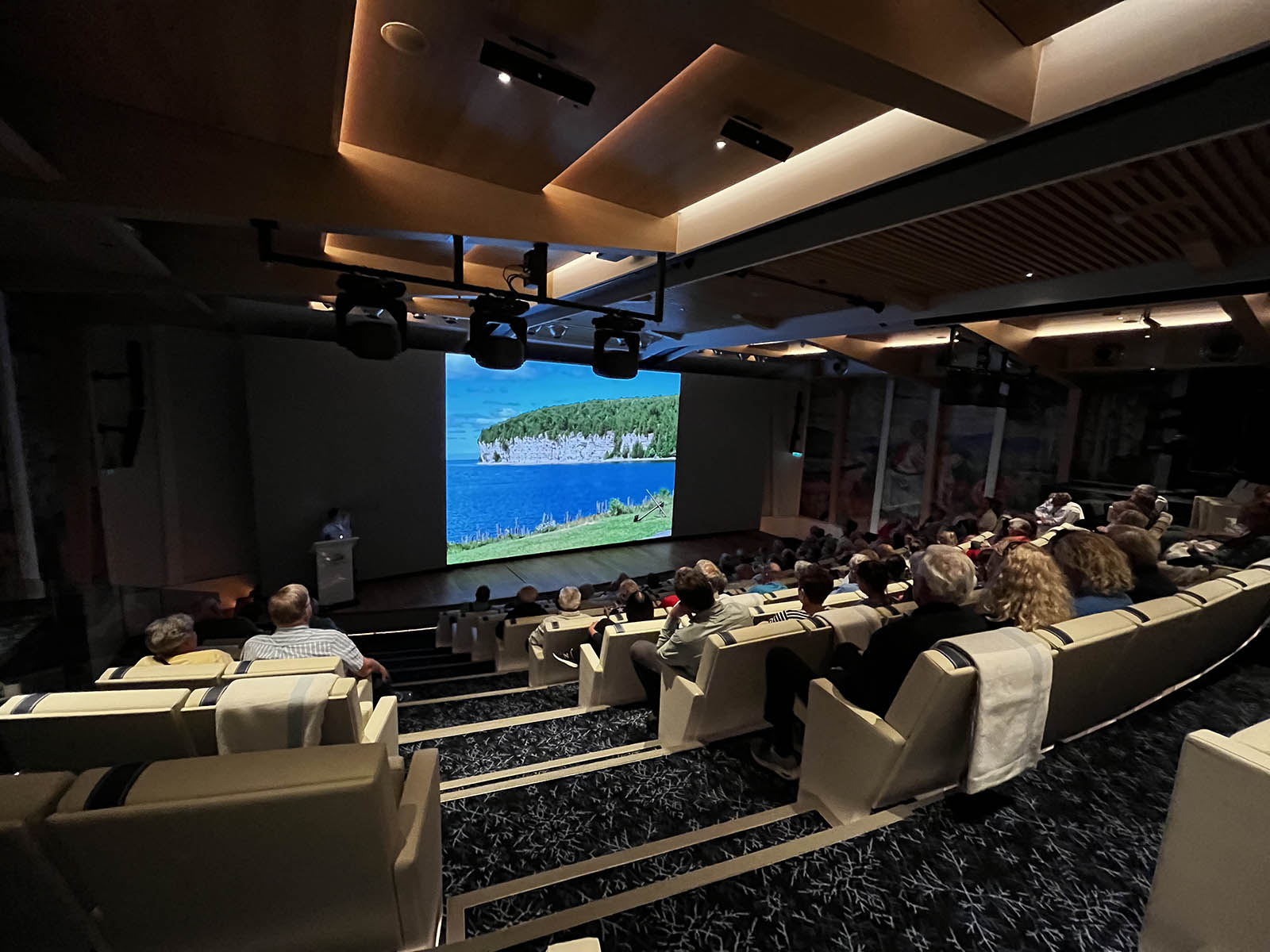 On Sunday, we will reach Mackinac Island, where I'm heading out into the Straits of Mackinac on a kayak, so stay tuned.
In the meantime, I leave you from the dark skies of northern Lake Michigan.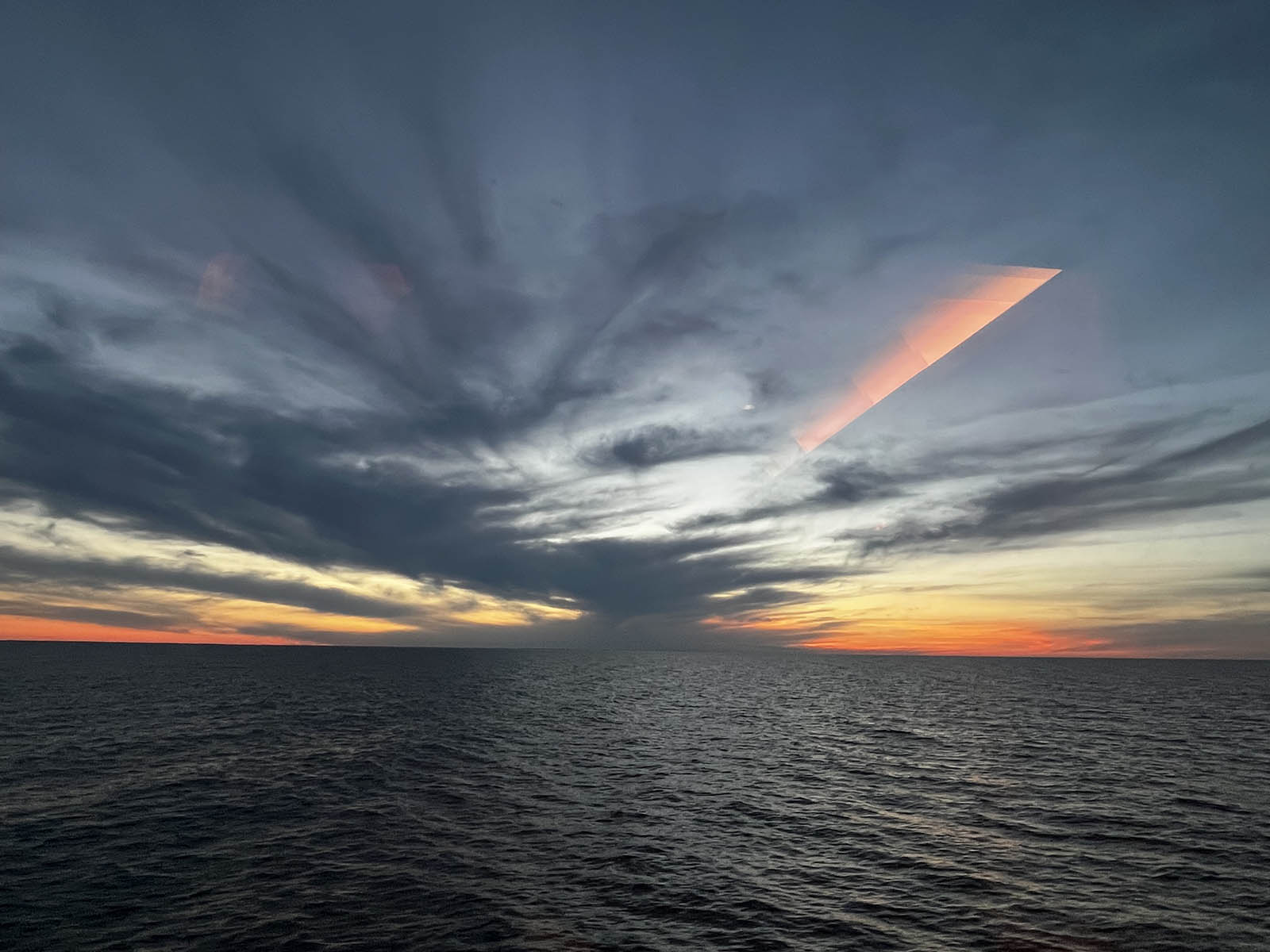 Day 2: Mackinac Island
We're at anchor today off Mackinac Island. This morning, I awoke to find us passing a couple solitary lighthouses and then entering the Straits and passing beneath the impressive five-mile long Mackinac Bridge, which took three years to build.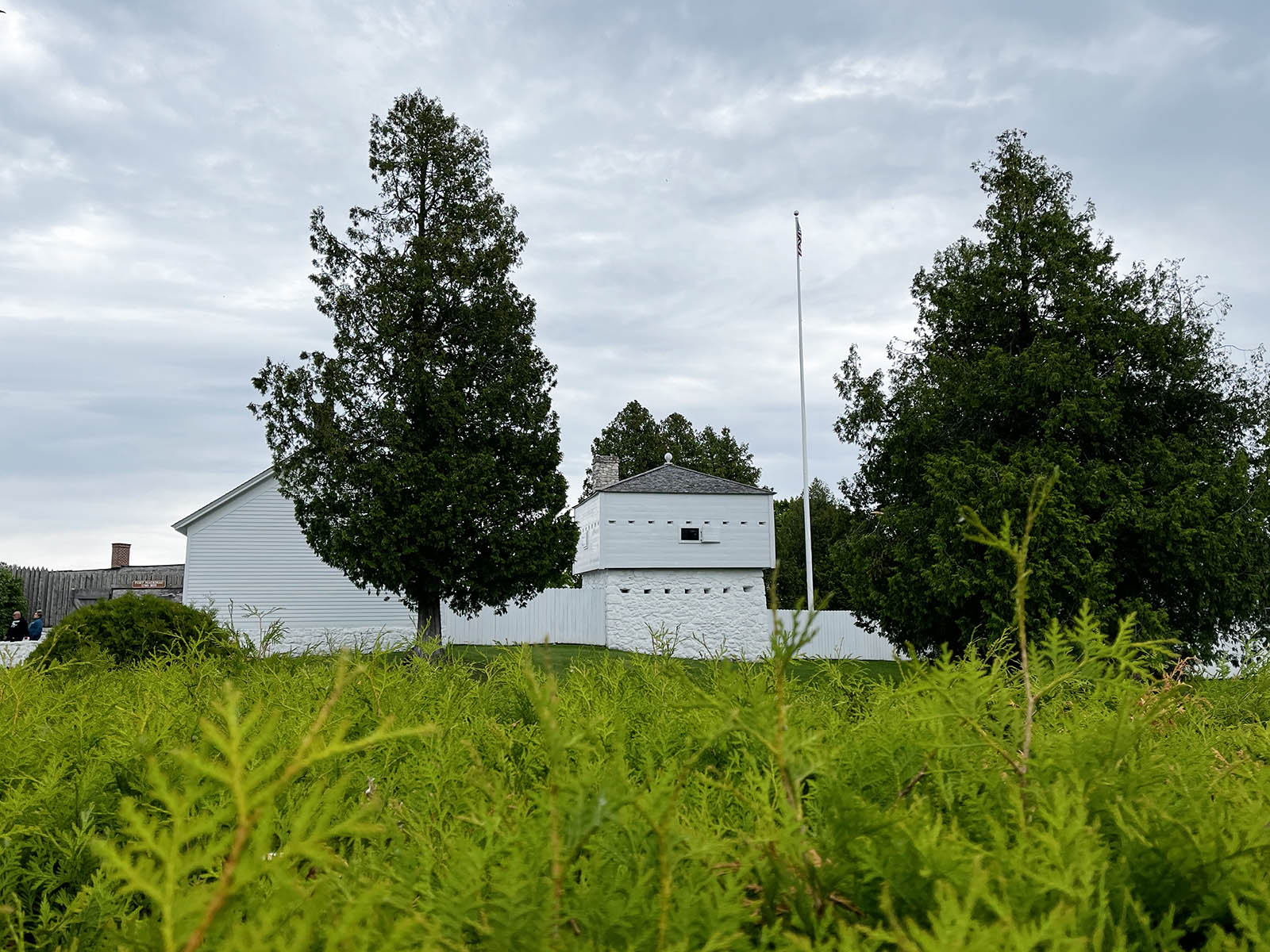 I regret that I missed Beaver Island – where much of Miles Harvey's fabulous book, "The King of Confidence: A Tale of Utopian Dreamers, Frontier Schemers, True Believers, False Prophets, and the Murder of an American Monarch," is set – while sleeping. I'd have loved even a peek at it in passing.
Mackinac Island feels a bit like a mix of Door County and Key West, with fudge shops and a vast array of sweatshirts for sale.
But there is also some interesting architecture and history and because no cars are allowed (though, interestingly, lots of houses have driveways and some even garages) you can still find men pushing carts around the streets sweeping up horse dung.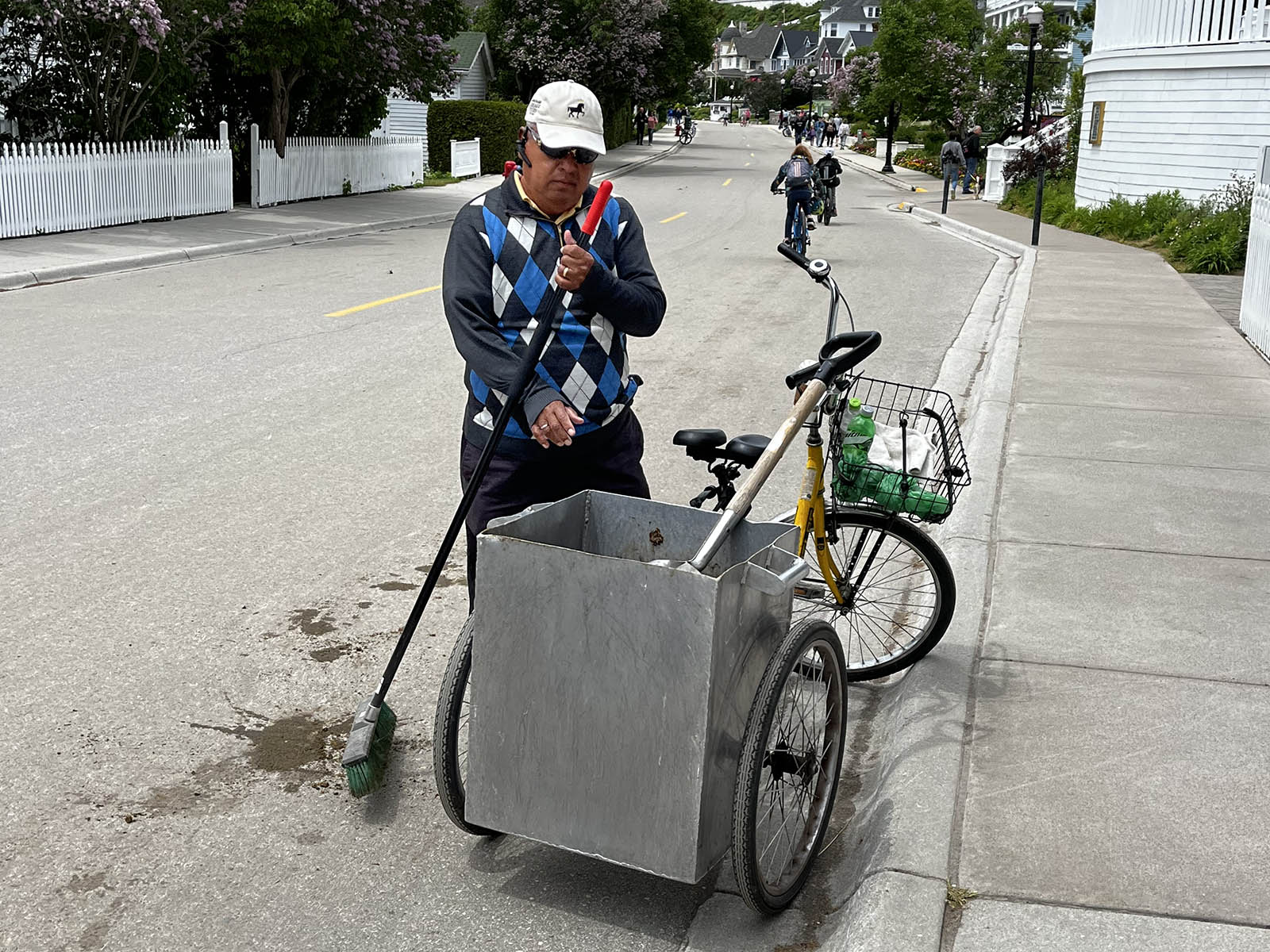 There are two forts here, both with connections to the War of 1812. One of them was reconstructed in 2015.
Eschewing the horses, various horse-drawn conveyances and the copious bicycles, I set out on foot and logged about 6 miles covering a large chunk of the eastern half of the island.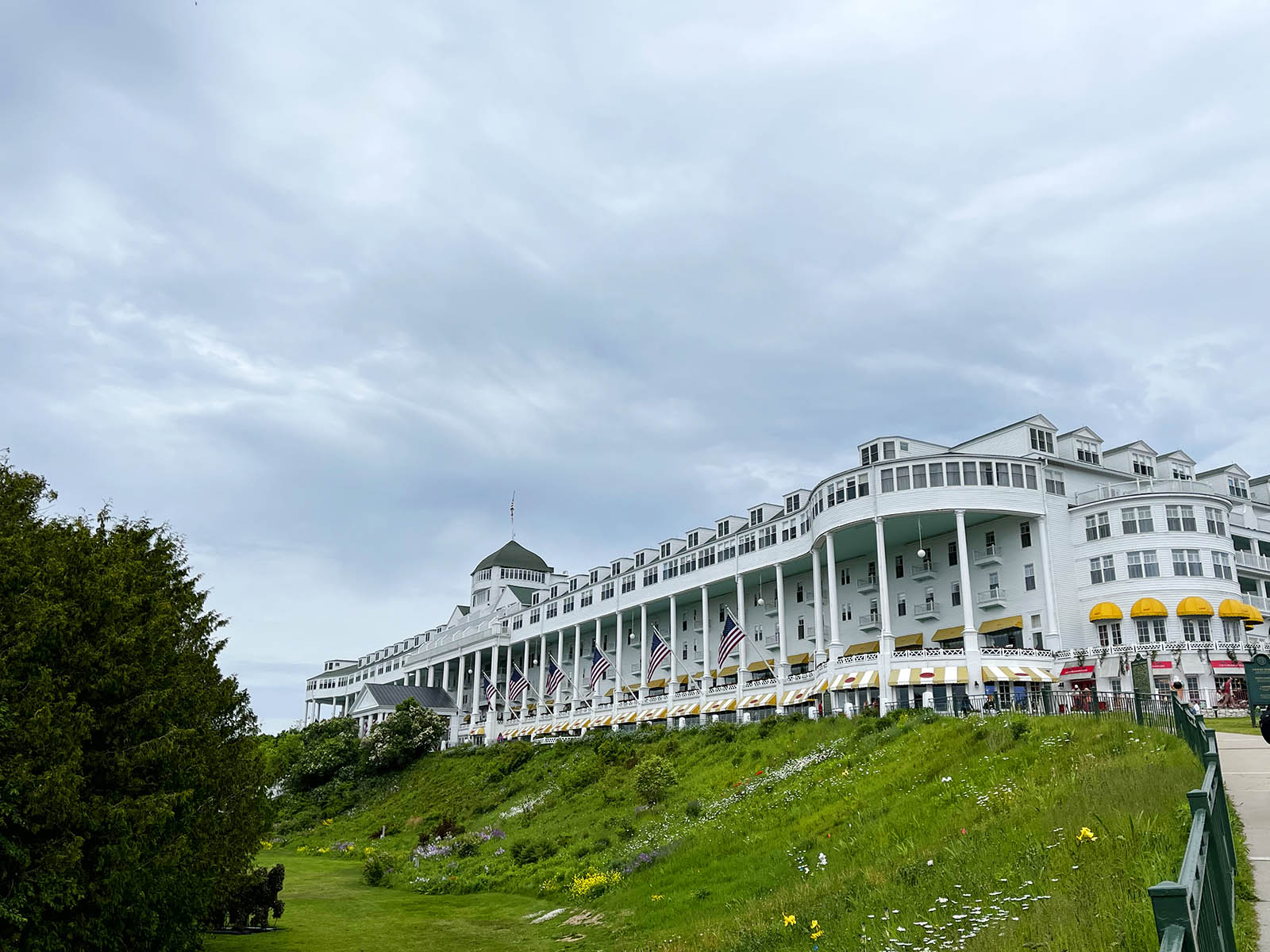 I saw giant limestone formations (like the Sugar Loaf), the incredible 1887 Grand Hotel, which is the sort of sweeping, monumental resort hotel you've seen in old movies. There's a fee to peek inside, so I just admire the Queen Anne exterior and keep walking.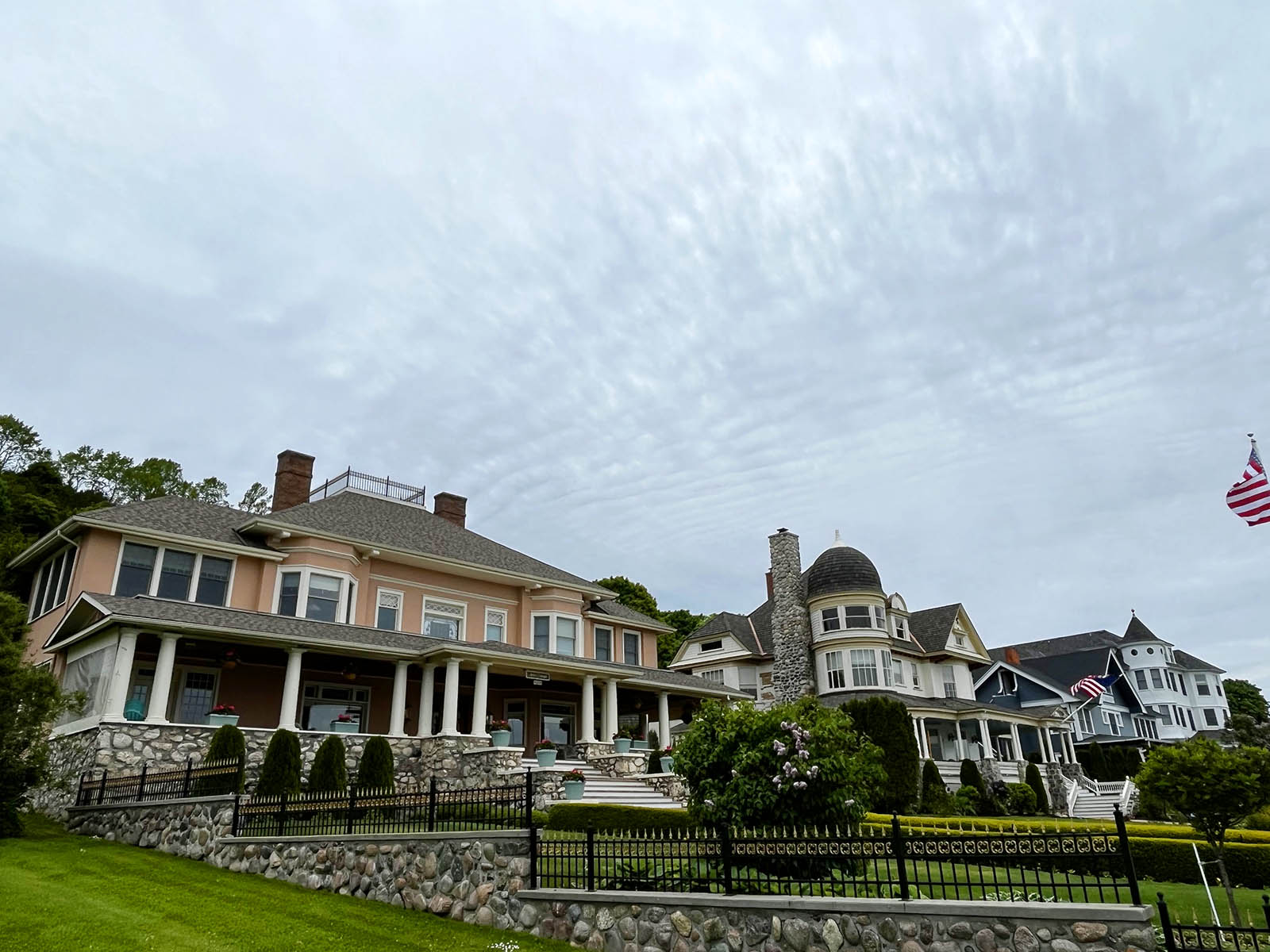 In the "city" there are gorgeous turreted Victorians, but my favorite house was one that looked like a Scottish Hebrides cottage on the west end of the city, right on the water, hidden behind thick hedges.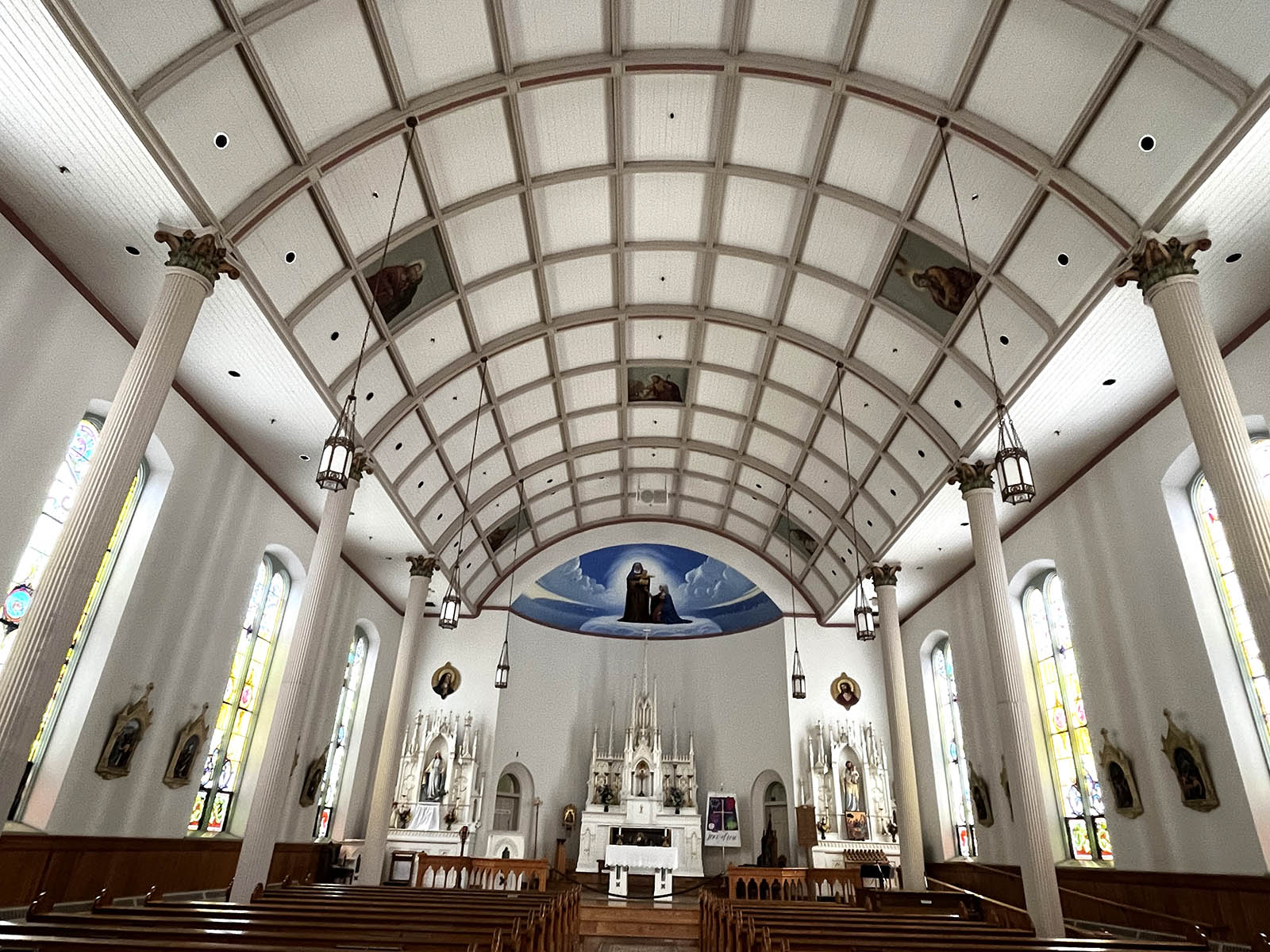 There are also some interesting churches, including the barrel-vaulted Sainte Anne, which was built in 1874 to replace the log church where Father Samuel Mazzuchelli was the first resident priest in the 1830s.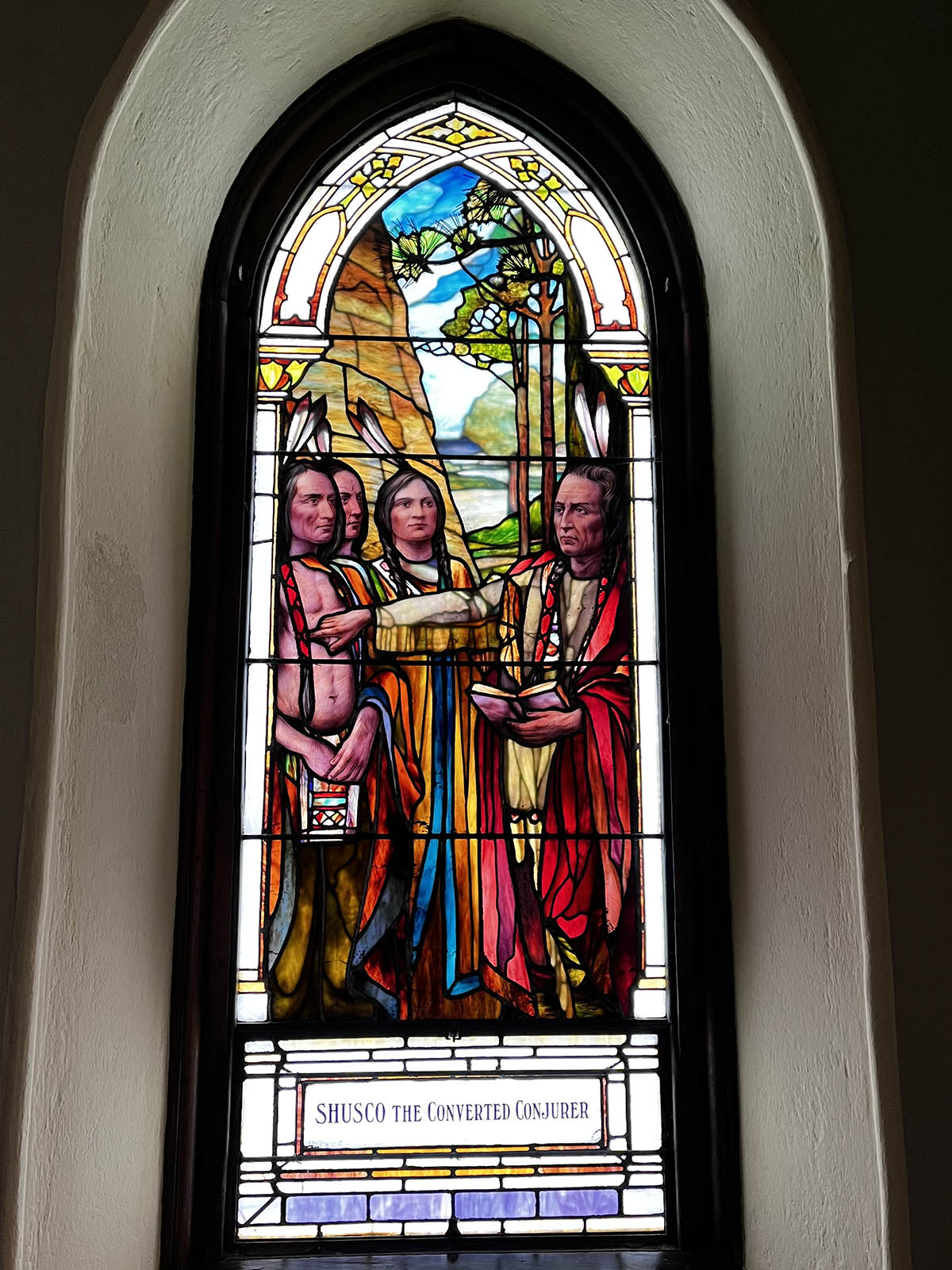 Equally interesting is the small rustic Gothic "Little Stone Church," which dates to 1904 and has some interesting stained glass windows depicting missions among the area Native American peoples.
One of them is dedicated to Shusco, The Converted Conjurer.
Over near the fort is the building that housed the American Fur Company Store and immediately put me in mind of the fur traders – like Jacques Vieau and Solomon Juneau – who settled Milwaukee after making their way down from Canada via this area.
But the historical marker out front doesn't speak of them – or of Pere Marquette, who also was here in his day – but instead about Alexis St. Martin, who was shot in the store, leaving a hole in his stomach that his doctor put to use studying digestion and "gastric juice."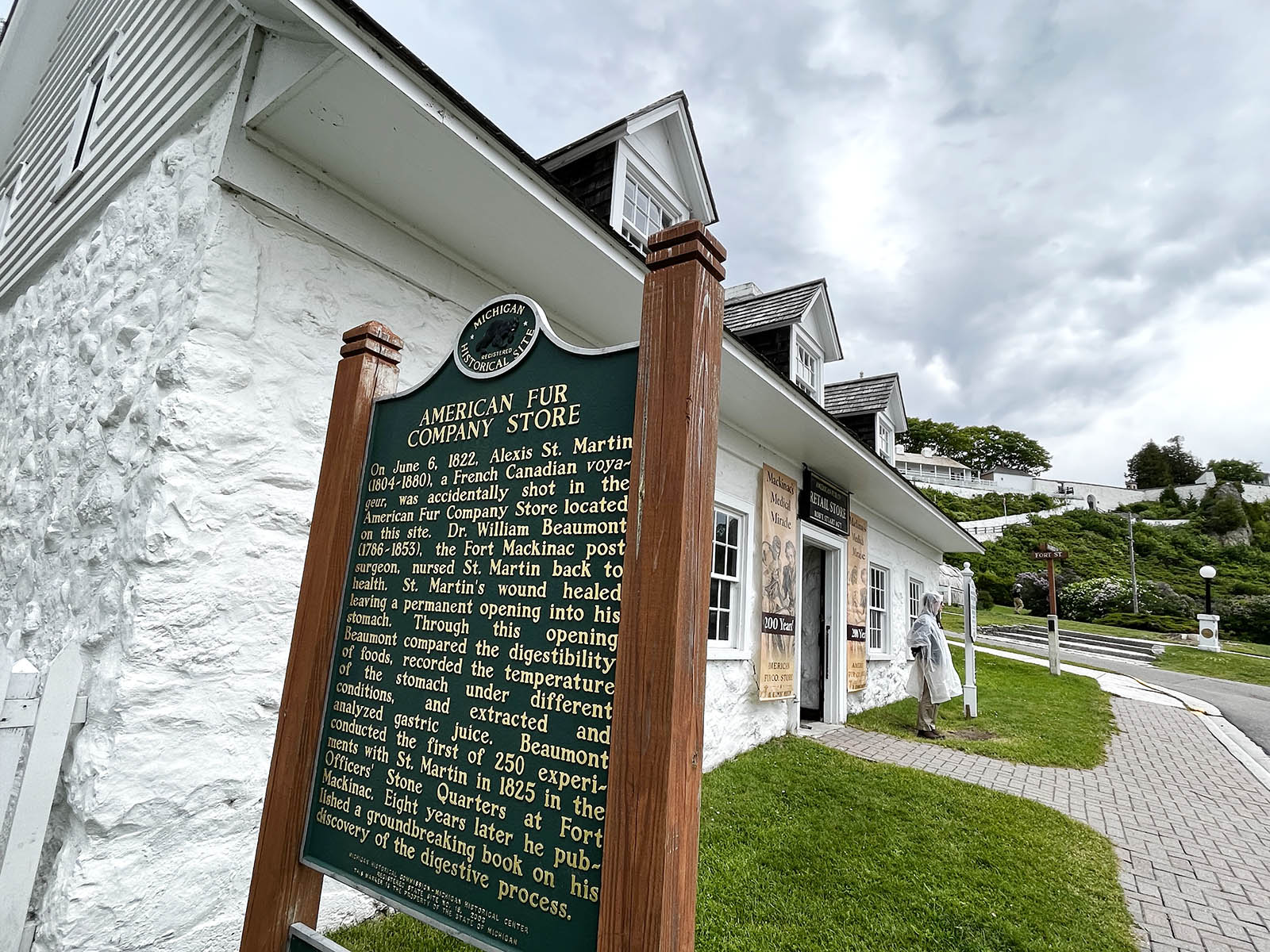 I hiked some trails, passed some old cemeteries, the evocatively named Skull Cave and searched, without success, for the remains of an 18th century lime kiln, before regrouping with some fellow Octantis passengers to take a two-hour kayaking excursion out into the Straits of Mackinac, where our guides shared stories about the island and neighboring ones like Round and Bois Blanc Islands.
With some mildly choppy waters, sometimes due to passing ferries, it was the most intense kayaking I've ever done (which isn't saying much), but it was fun and great to be out on the water, at times nearly back out at the Octantis.
Back on board, I grabbed a cocktail and a seat with a view out over the straits and the beautiful bridge to write this. As I prepare to hit "save," we weigh anchor and it's "Addio, Mackinac" and "Georgian Bay here we come."
In the morning, I signed up for a Great Lakes submarine journey later in the trip and got an update on the science work being done on this excursion and I'll share more about those as the week progresses.
Day 3: Parry Sound, Georgian Bay, Ontario
We arrived in Canadian waters early this morning and so all the toys came out. Even the submarine was deployed, likely for testing before passengers get on board.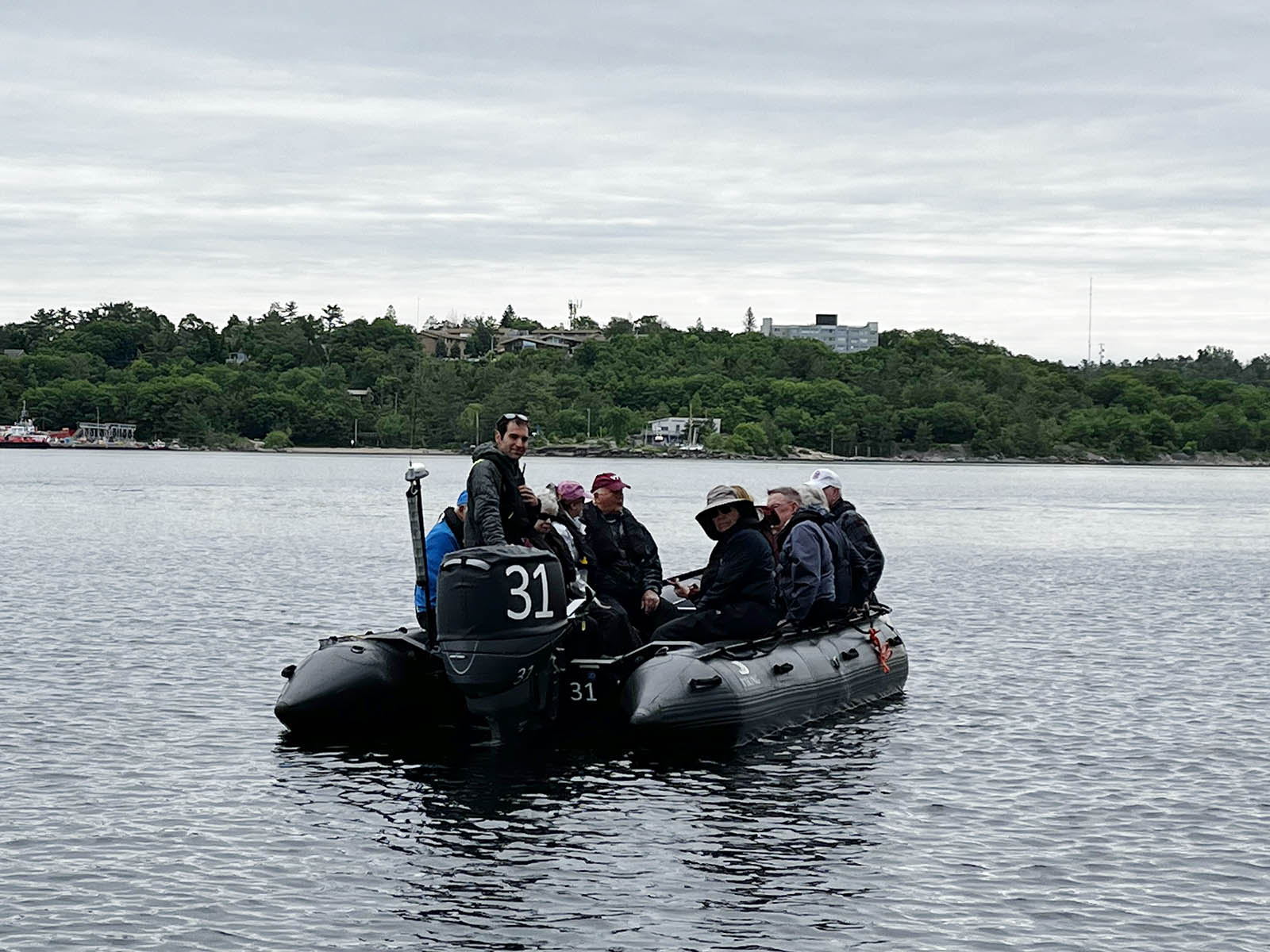 Because of the Jones Act, Viking – which flies a Norwegian flag – cannot operate its sub, Zodiac boats and other expedition craft in American waters. For its new Mississippi River cruises, it's working with an American partner and that vessel sails under a U.S. flag, but that's not the case with Octantis.
Even for our kayak trip yesterday at Mackinac Island, Viking employees could not lead the group, instead it was contracted to a Michigan kayaking business.
But today was different. At least four inflatable Zodiacs were launching right from the ship and taking folks around Parry Sound, which is a popular vacation area for folks from Toronto, which is a couple hours south. We saw some interesting rock formations, a cormorant and a few fishermen out in boats.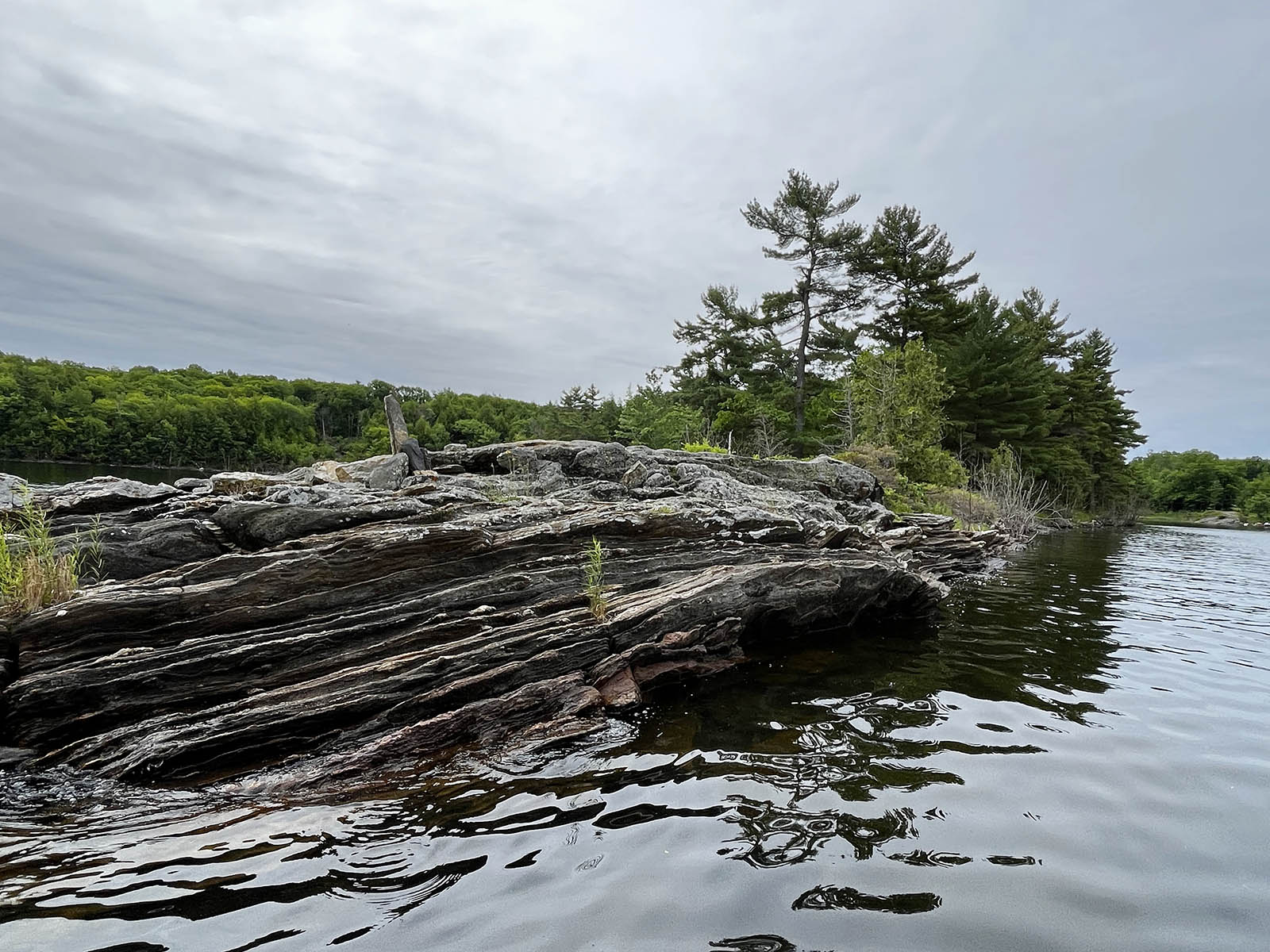 For a more hair-raising adventure, some took rides on the SOB (Special Operations Boats), which can reach eye-watering speeds.
I did a Zodiac run and it was much more leisurely, though our captain did open the throttle and give us a few speedier moments.
In the afternoon, I took a tour out to Killbear Provincial Park, were we learned about the threatened rattlesnake population and what rangers are doing there to help.
Fences have been run along roadsides to prevent snakes crossing the road. Cars cause many rattlesnake fatalities there. They also built underground passageways to allow snakes to cross safely and they've found that many other animals also use the underpass, which is covered with a metal grate, allowing rain and sunshine in, so that the animals don't fear entering it.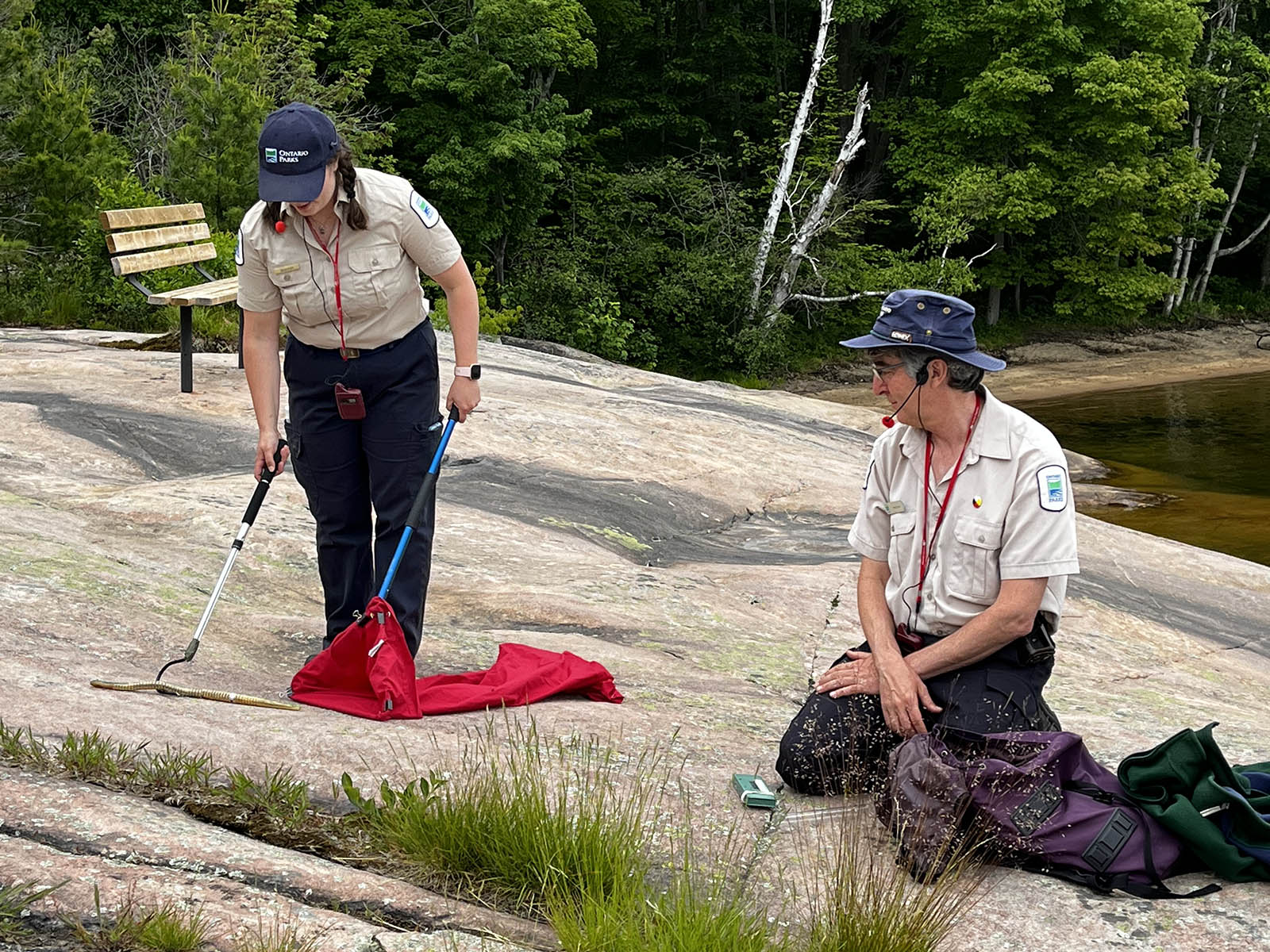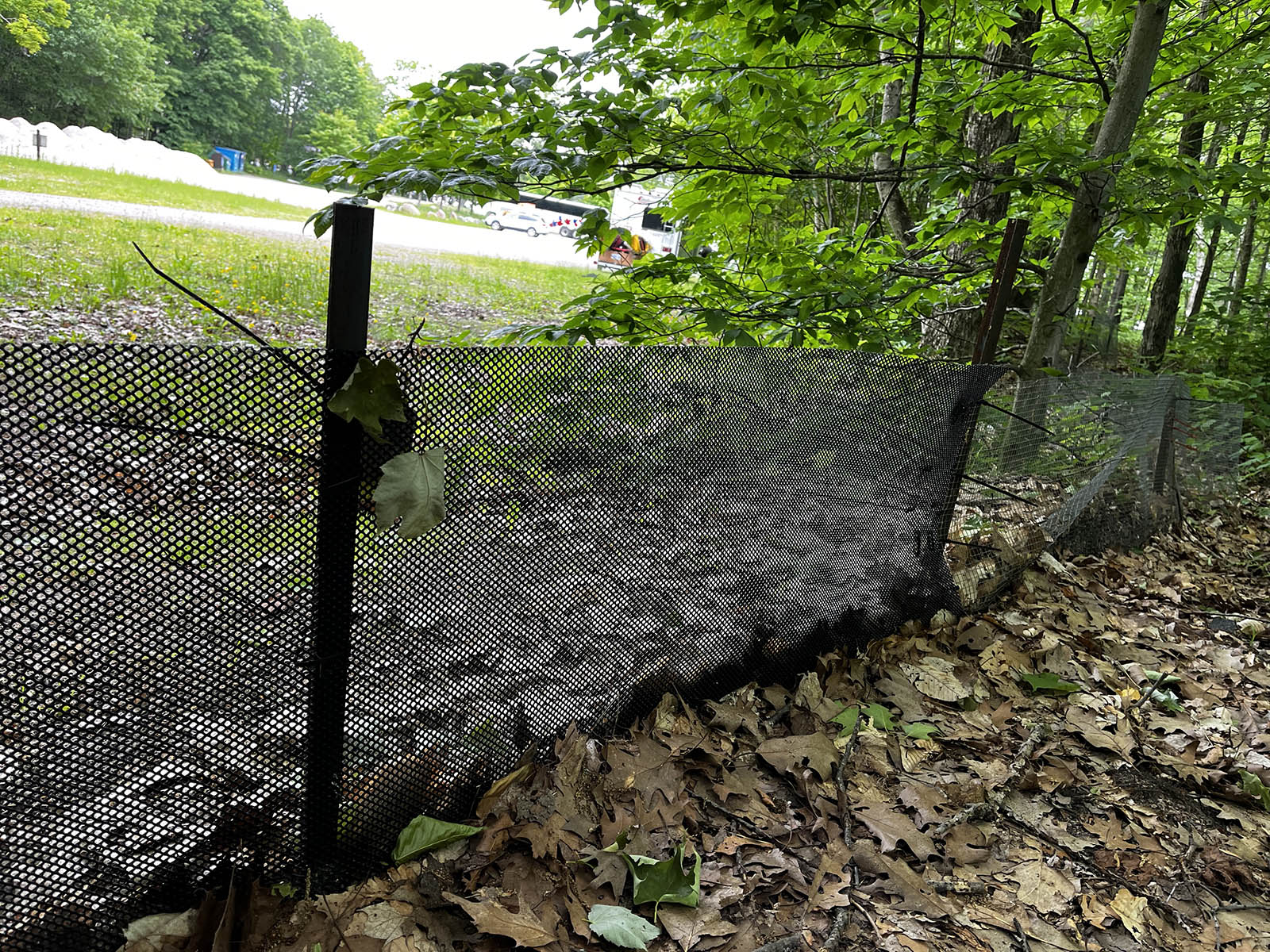 We walked out to one of the points made of the stone that pops up all through the area, metamorphic gneiss that is the remains of a former mountain range that was here a billion-odd years ago.
I'd have liked a little more hiking, but it was interesting to learn about rattlesnakes in the Great Lakes.
I should add that while we did see a snake, it was a common garter snake, not a rattler.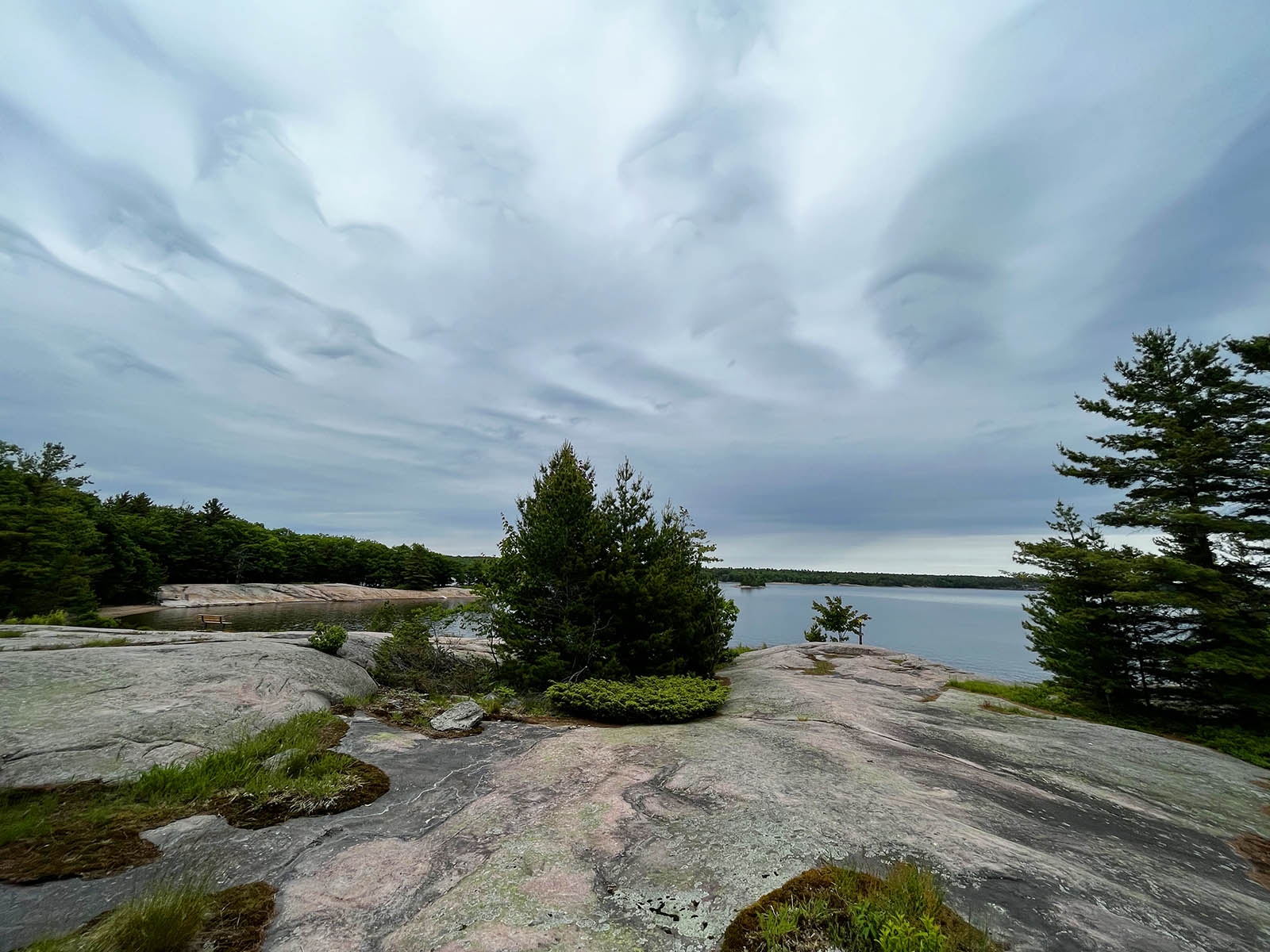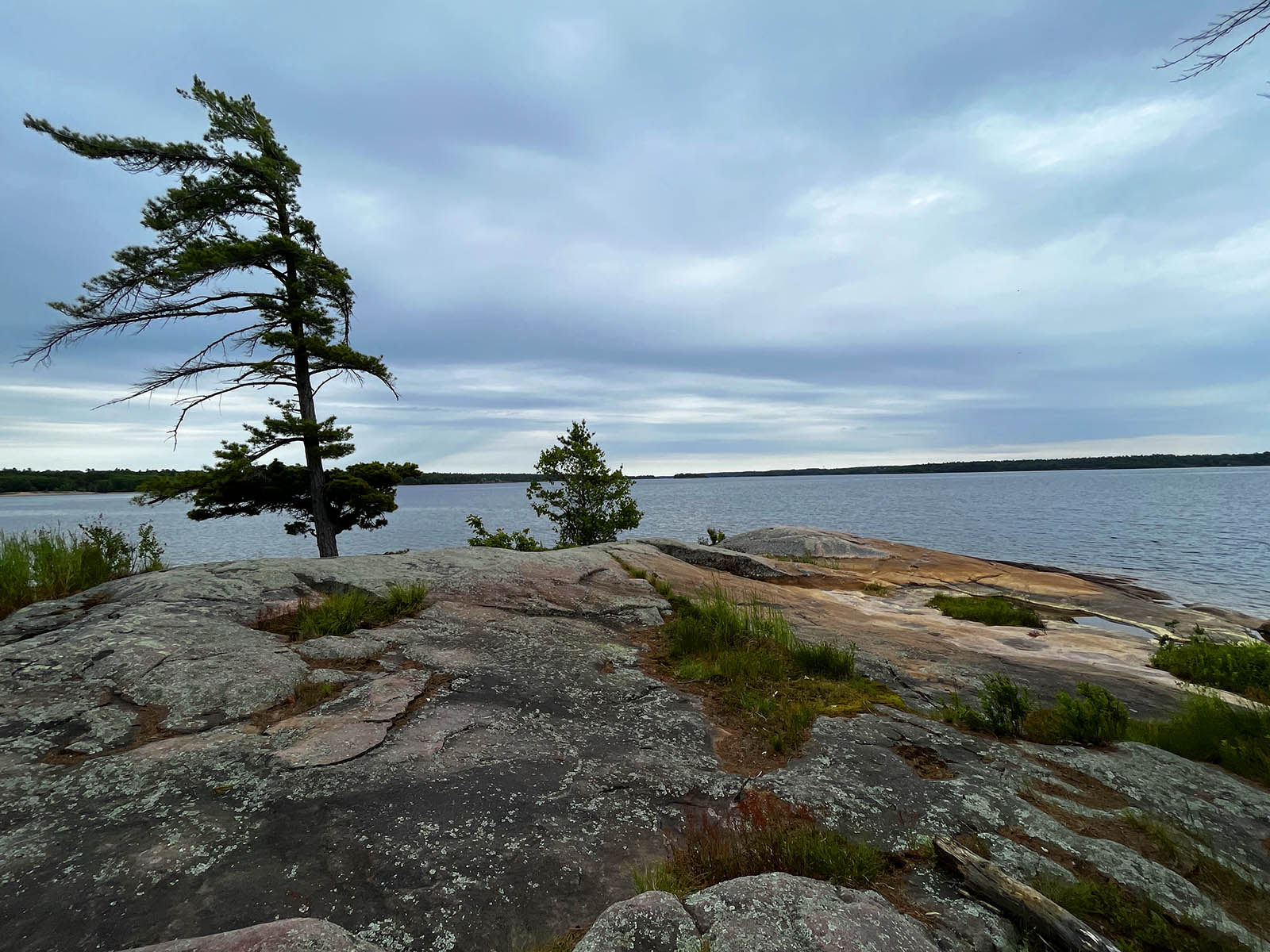 Some folks explored the small town of Parry Sound, but I wasn't able to squeeze that in. I did see some of it from the bus that took us to the park, including this 1897 Oddfellows building. I did not, however, make it to the Bobby Orr Museum.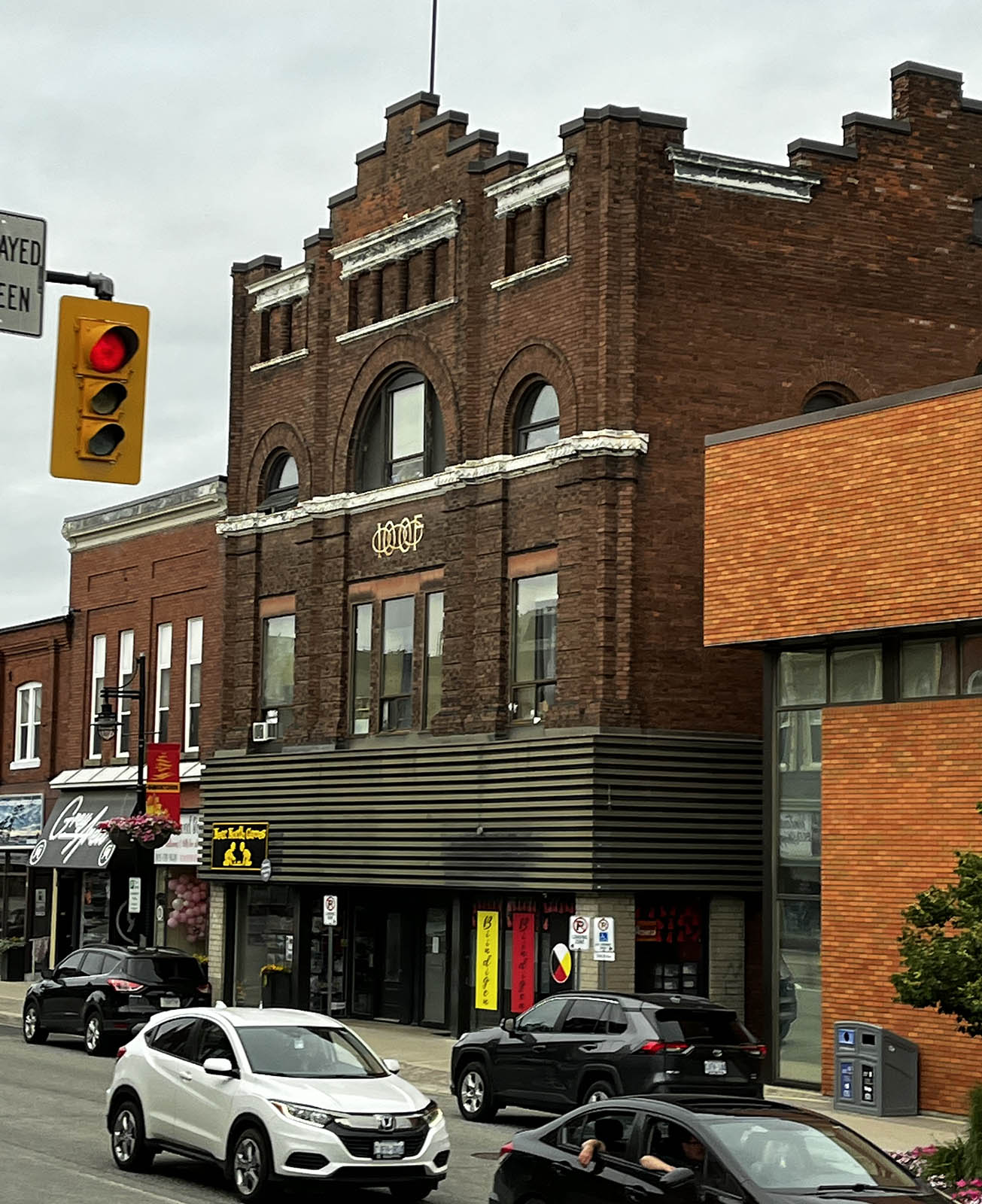 Back at the ship, I ran into some colleagues who reminded me we're all meeting for dinner at 8 p.m. at the on-board Italian restaurant, which is great news. It is one of the best dining venues on Octantis.
But that was hours away and the sushi chef had just unveiled his wares for the evening and so I may be eating two dinners tonight.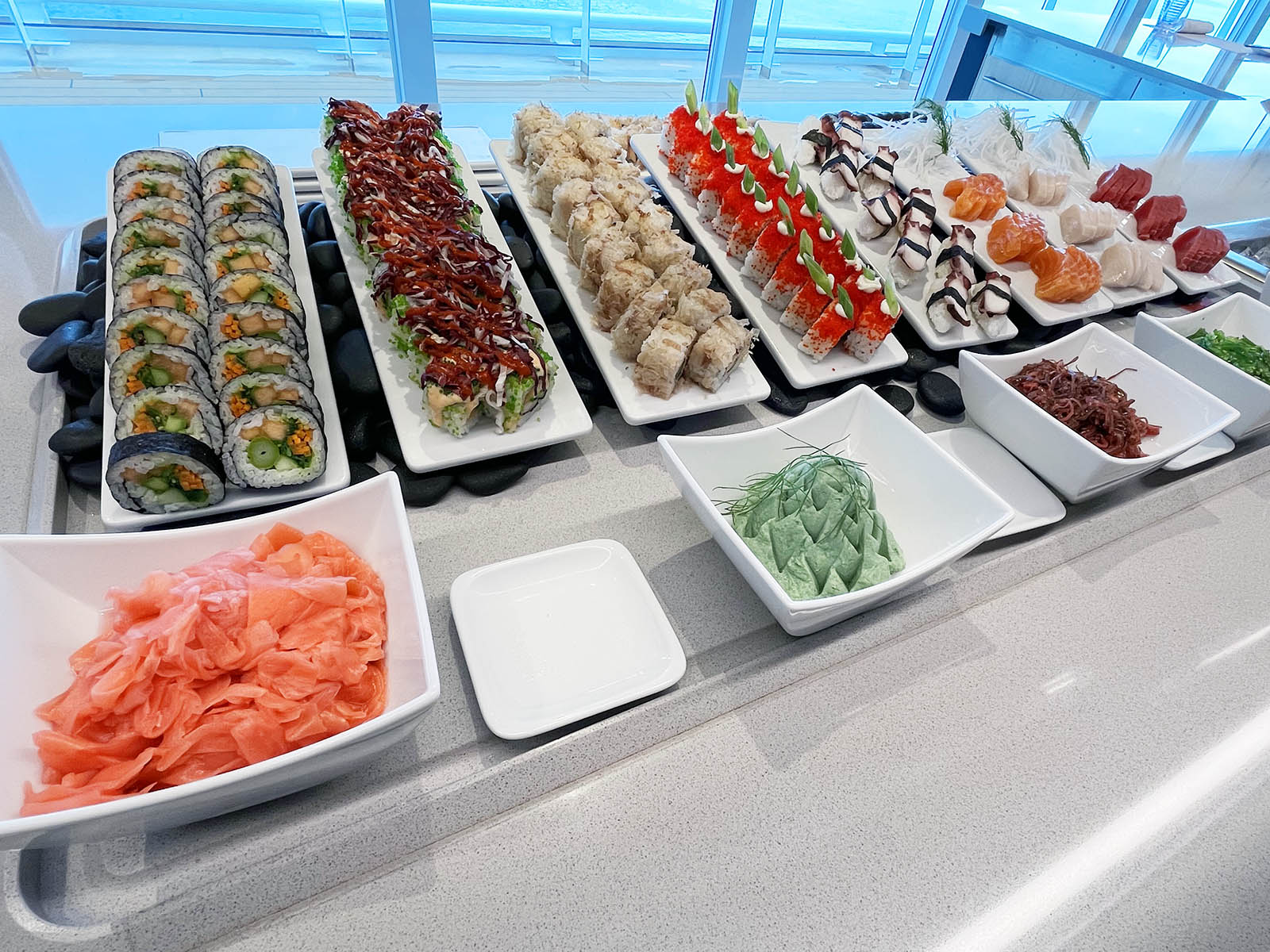 Unfortunately I'll miss the talk about the past, present and future of the Great Lakes, which is at 8 p.m., but I plan on making it to the speakeasy-like space called The Hide afterward, where some of the ship's working scientists will be sharing stories of their work on this and other expeditions. The Hide has also quickly become the place the traveling journalists all end up each night to reconnect and compare notes over whiskey. I've found a tribe.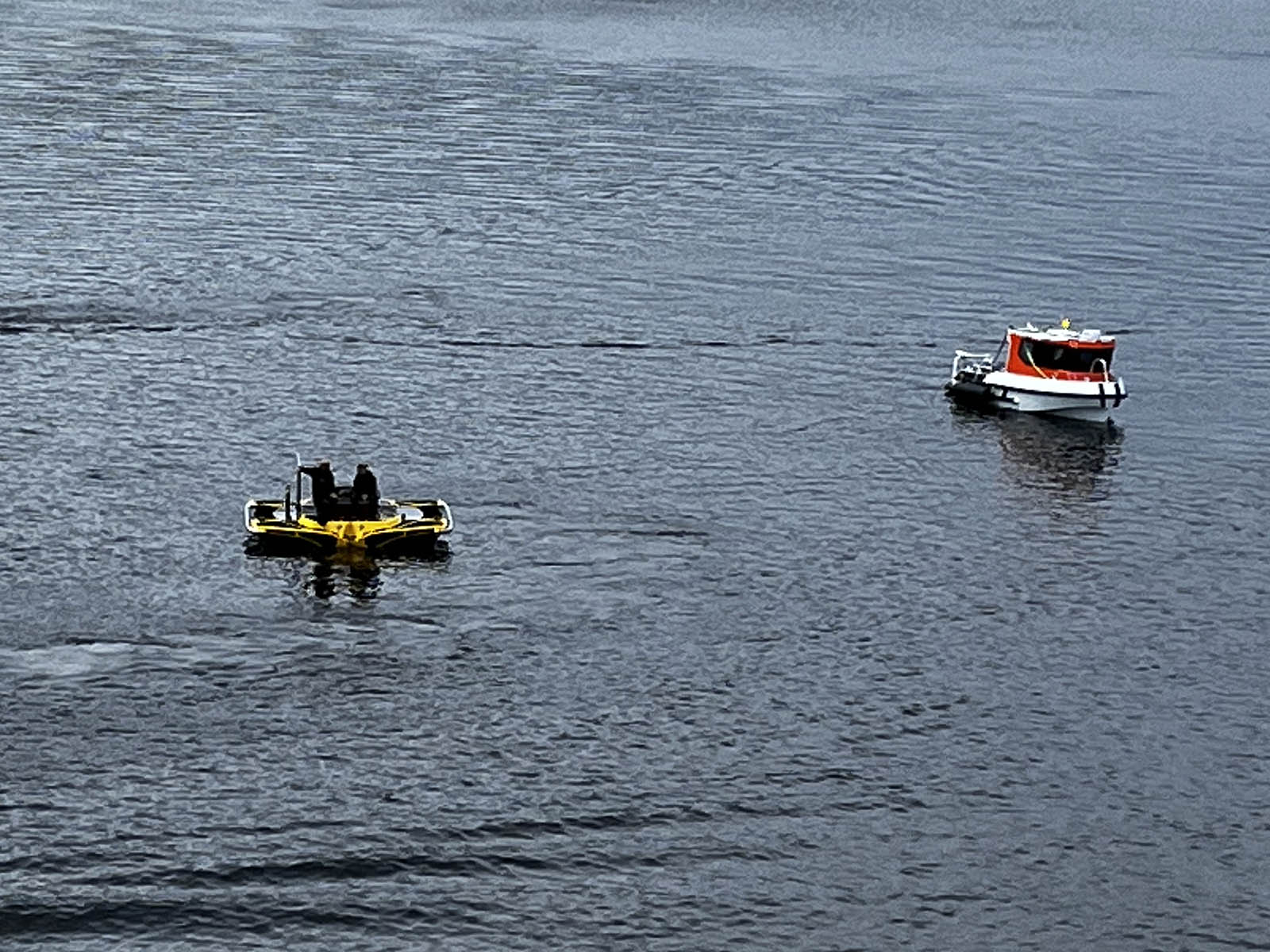 I'm still awaiting my submarine dive assignment but I did sign up to help with microplastics research in the lab on Thursday, which I'm excited about and on Friday, there will be a launch of the weather balloon. Octantis is the first civilian ship to be designated an official NOAA weather balloon station.
An announcement was just made about a famous fish fry tomorrow at a lodge in Killarney, so that's lunch sorted! Then I'm off to hike a lighthouse trail.
Day 4: Killarney, Ontario
This morning I again woke to find us anchored off Ontario, in Lake Huron, this time near Killarney (no, not that one, the one in Canada).
It's a rather sleepy no-nonsense town with some blocks of lovely homes, a stretch of a few shops and a "world famous" fish and chips stand – run by the same company that catches the whitefish in these waters – and a small museum tracing Killarney's roots as a fur trading outpost.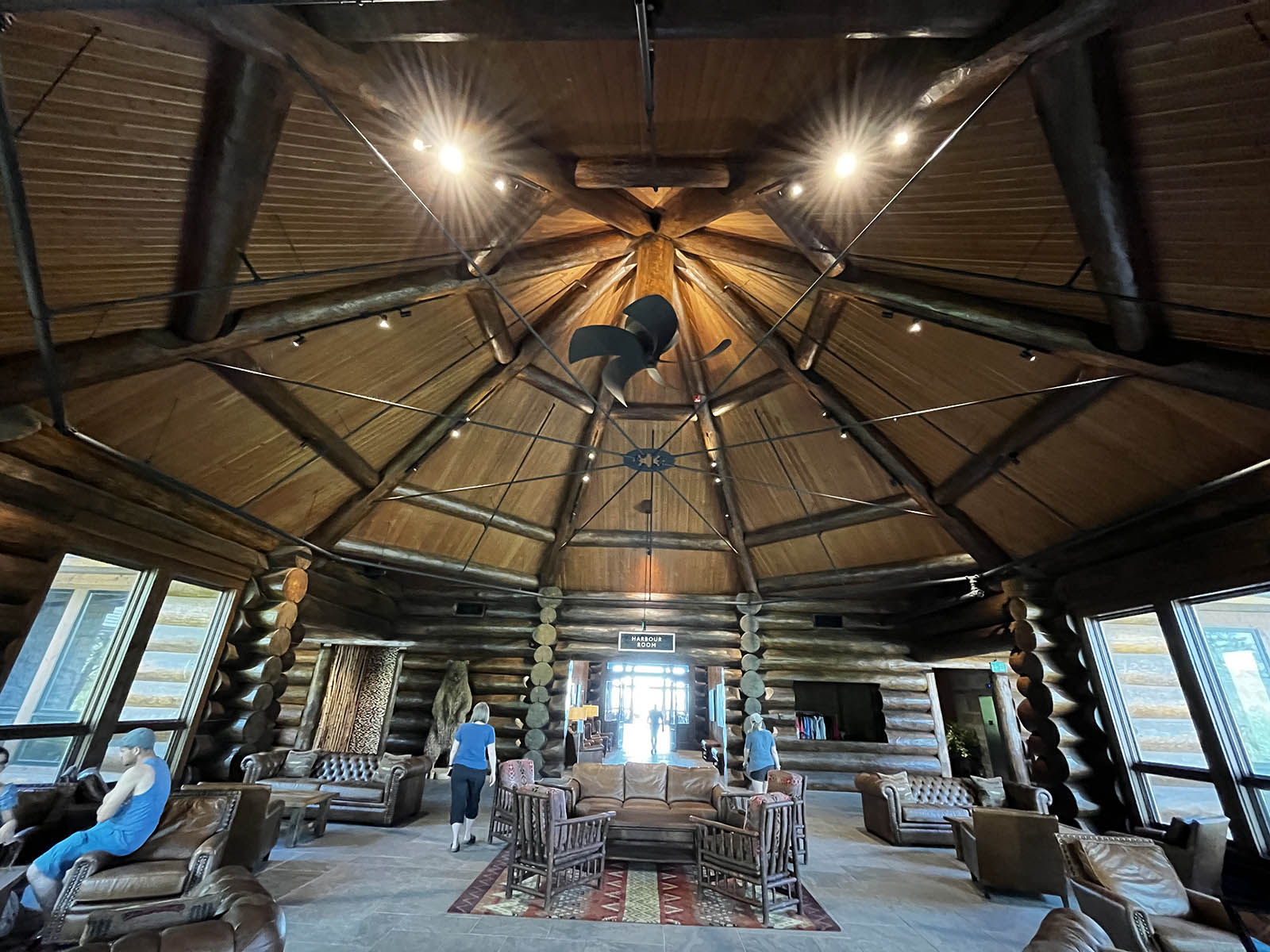 Since this is beautiful country, with forests and, of course, endless lakeshore, Killarney is also popular in summer and there are a number of resorts, including the Killarney Mountain Lodge, with its stunning classic wooden main lodge (which looks old, but isn't) amid an array of log cabins. Next to the lodge is a more midcentury modern take on "Up North."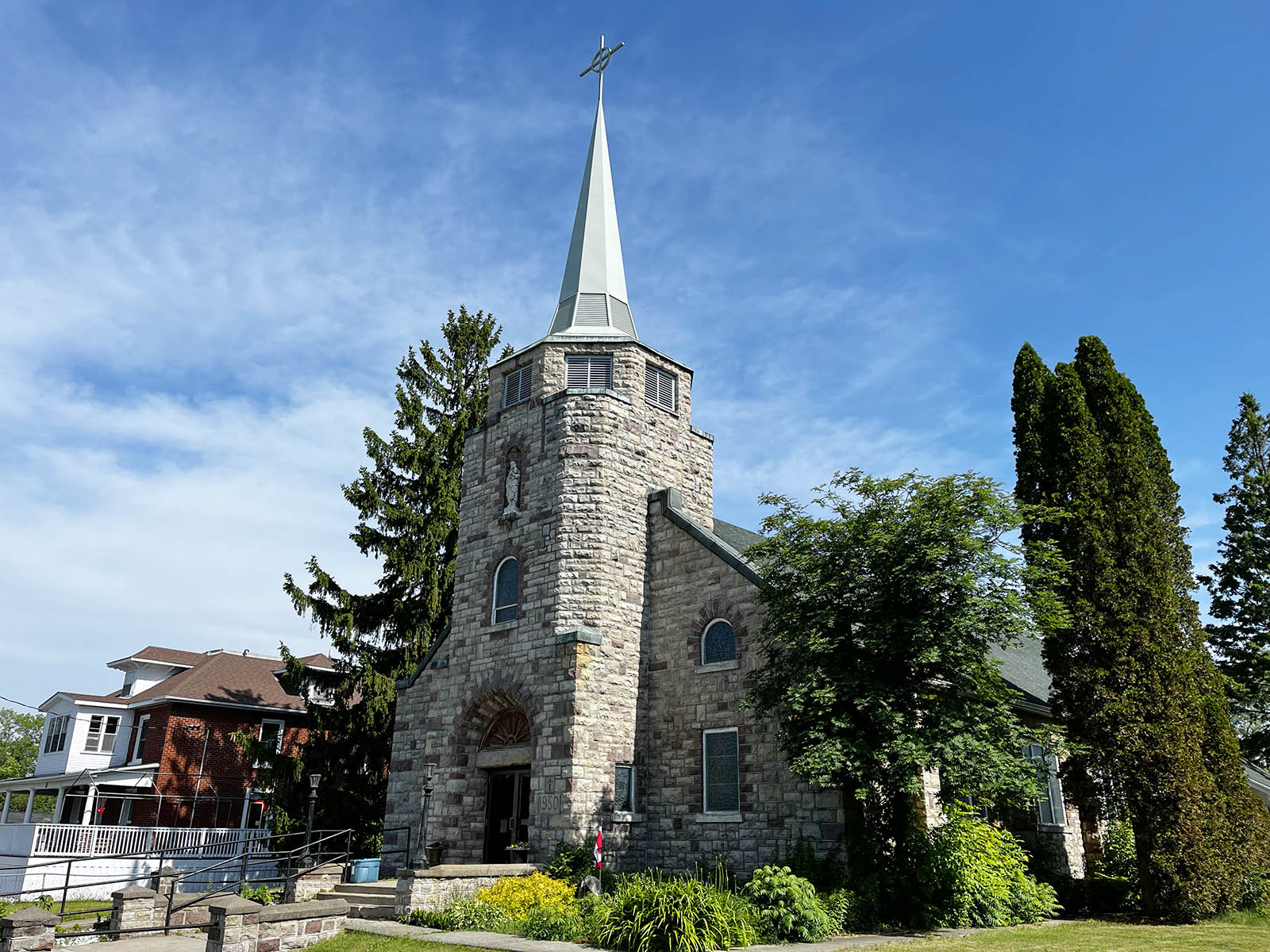 After I strolled the town and popped into a nice stone church (pictured above), I had some of those fish 'n' chips at the Killarney Mountain Lodge. The food was great, and the giant log construction lodge setting, a Toronto-based musician playing out on the patio and some super, super friendly Killarneyans made it a really memorable experience.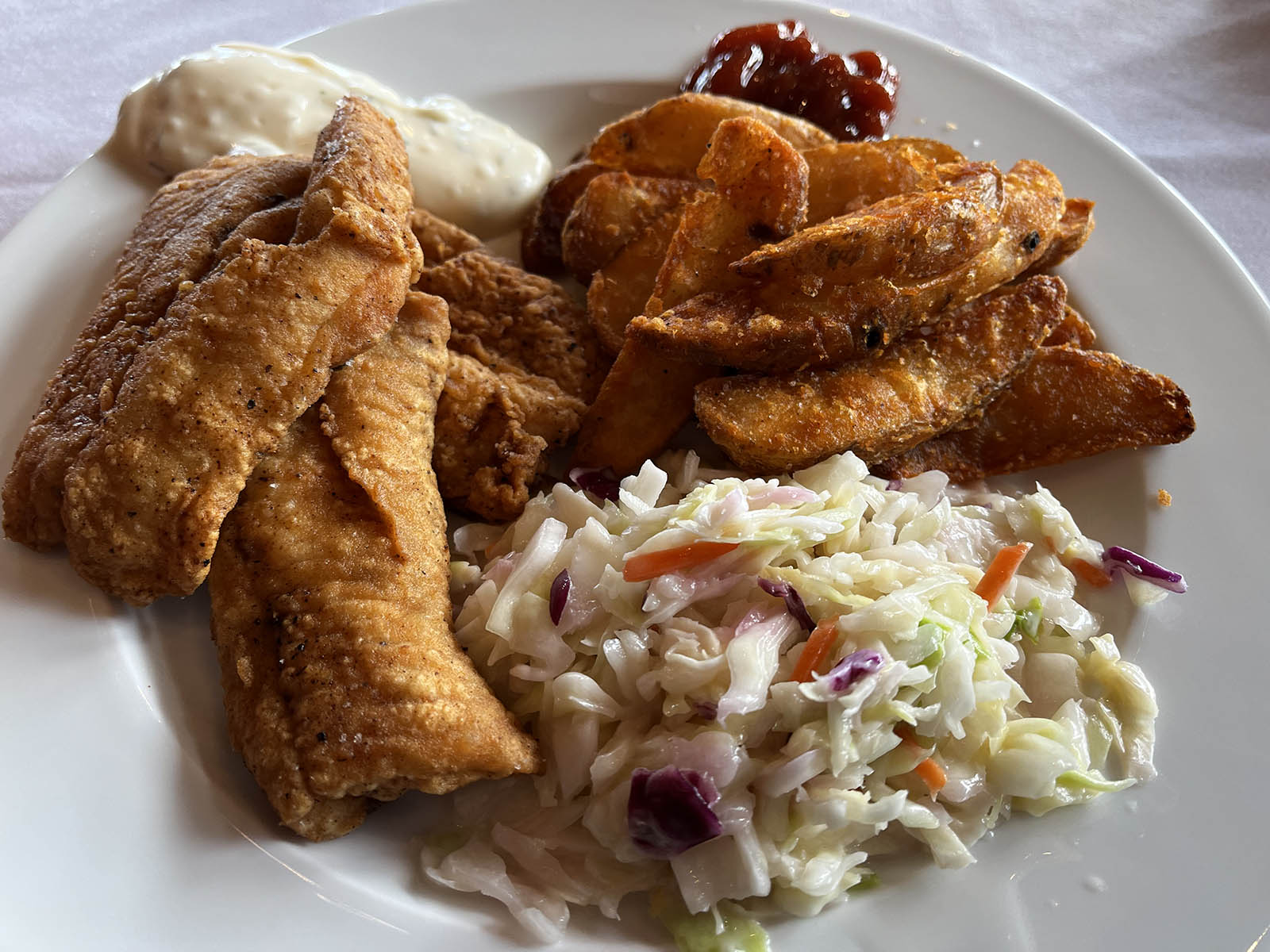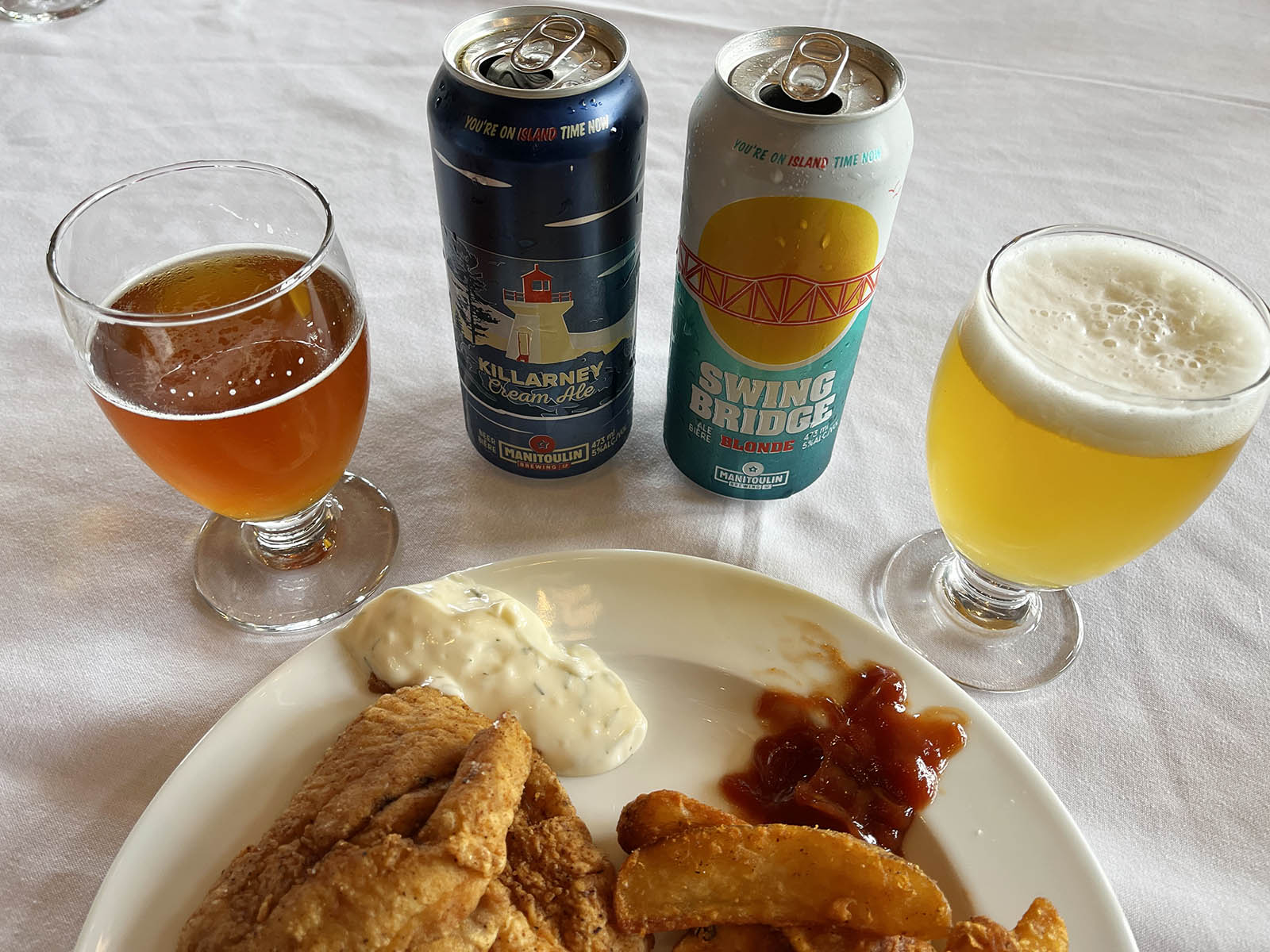 It was also my first chance to taste some truly local beer. I'd had a locally branded beer at a "brewery" on Mackinac but it was actually contract brewed in Traverse City.
But today I tried a nice amber-hued Killarney Cream Ale and a Swing Bridge Blonde, both brewed at Manitoulin Brewing Co. on nearby Manitoulin Island, which, I learned today, is the world's largest freshwater island.
Properly nourished with fish, chips, malt and hops, I joined a group for a hike out of the Killarney lighthouse, a small automated light near the harbor entrance.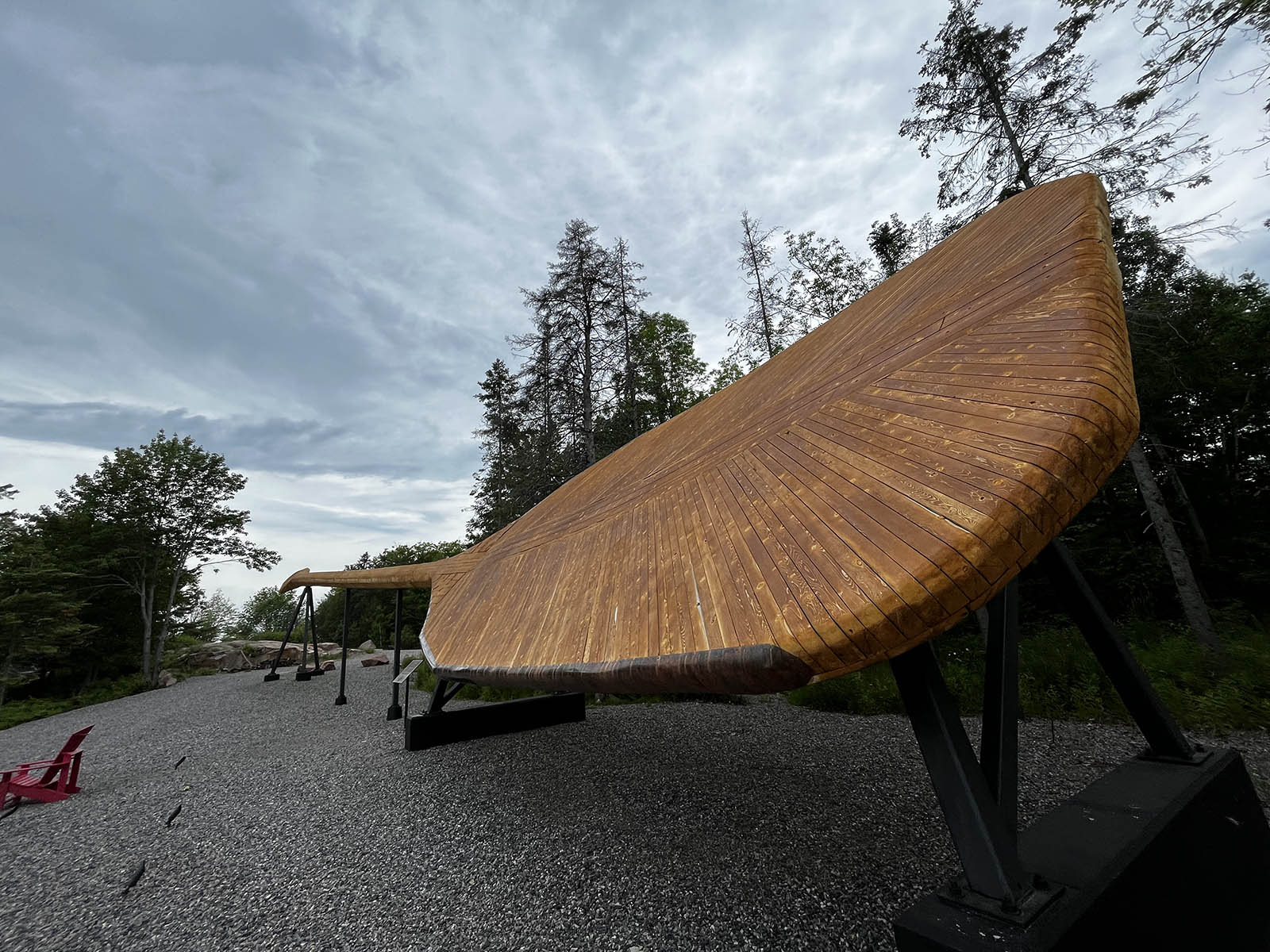 To get to the path we had to pass the "Big Dipper," a 110-foot canoe paddle, built by a local guy who makes ... wait for it ... canoe paddles. Last year the Guinness folks came by to take a look and some measurements and have since declared it the world's largest.
The path was only 2.5 miles, but it had a lot of the local red granite as well as some of the gneiss we saw in abundance on our hike yesterday in Killbear Provincial Park.
We had to clamber up and over a pretty impressive outcropping that I realize in my photograph might not look like much, but felt like more of a test in person.
But afterward we came out to a point of land covered in the stone that was simply gorgeous, creating incredible patterns, colors and textures.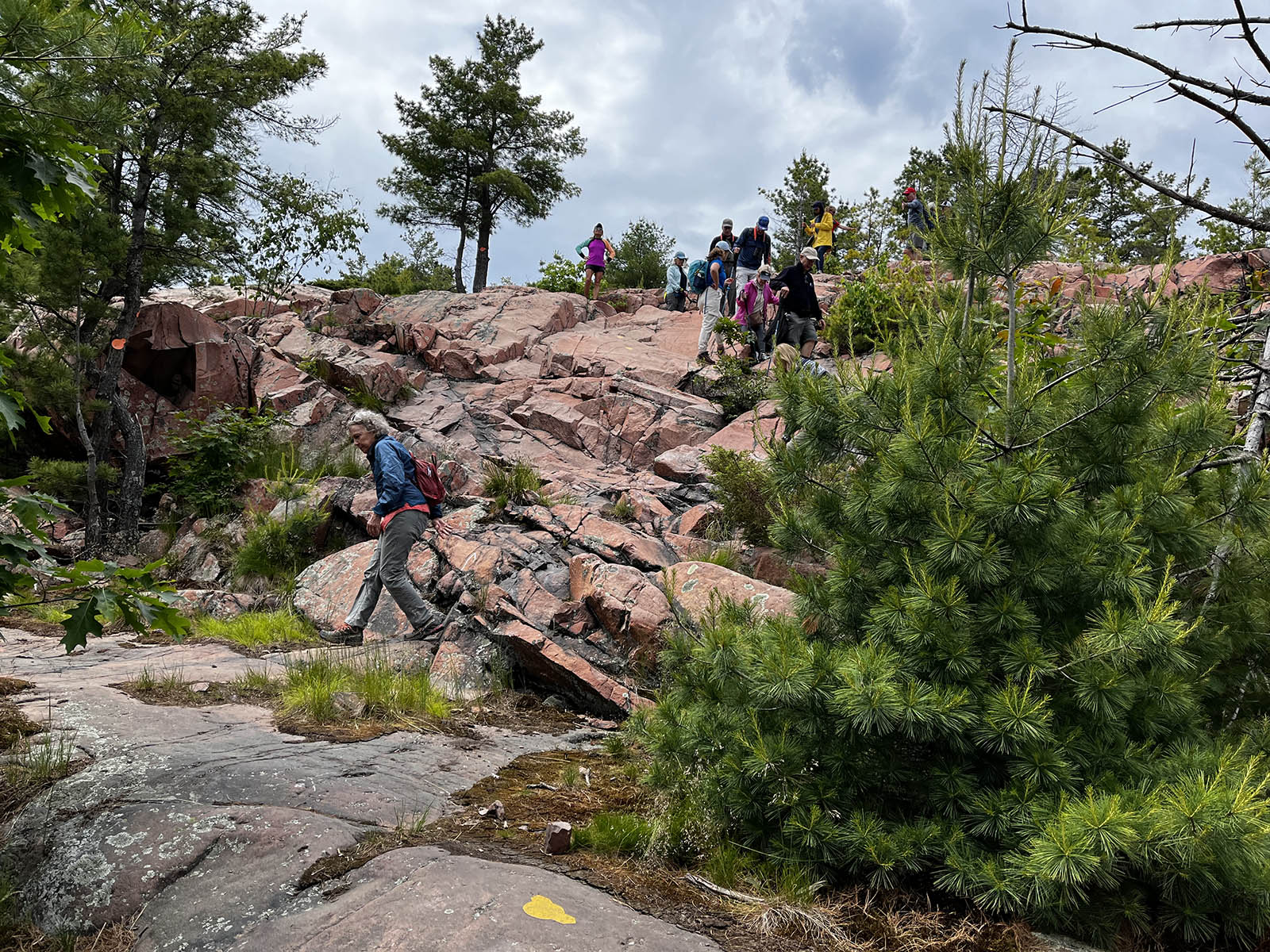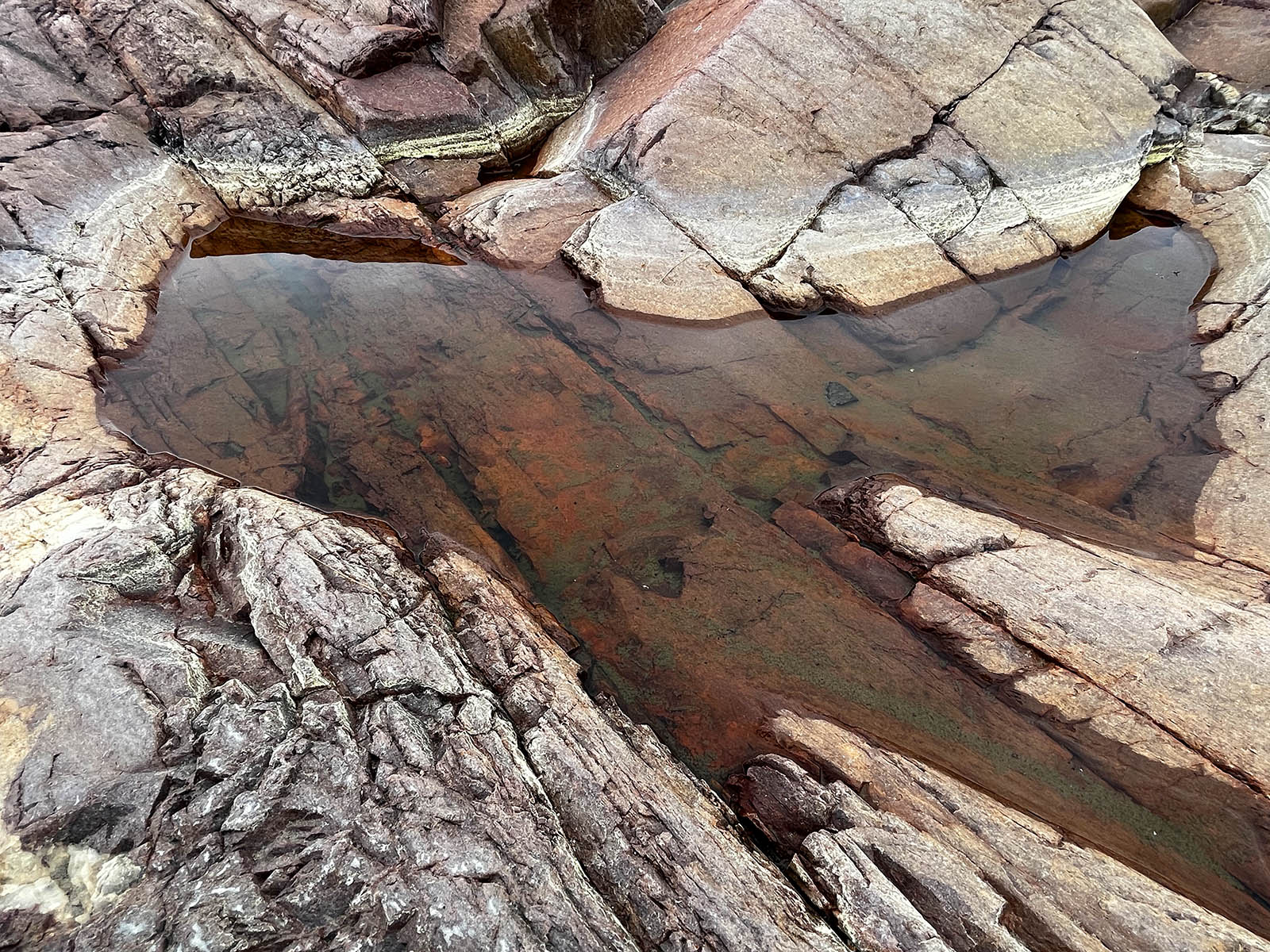 Taking photos of some of it, I realized that many of my images looked like aerial shots down into the Grand Canyon or Painted Desert.
At the lighthouse, we climbed the rocks again for a panoramic view out over Georgian Bay, including the Octantis right out in front of us.
On this Summer Solstice and Canada's National Indigenous Peoples Day it felt just right to be out and about in this beautiful wilderness even for just a few hours.
Back in town I head for the tender that will ferry us back to the ship but the water is the roughest I've seen so far on the trip all of a sudden and it takes us a while to be able to make a safe landing and get back on board. But the crew here are not only friendly, but clearly also skilled at their work and we all got back on safely and remarkably easily considering the chop.
I spent some time outside on the cushy Finse Terrace with its sunken seating arrayed around heaters. Finse is the name of the CEO's daughter's dog – a lab – and his paw prints dot the decking out here.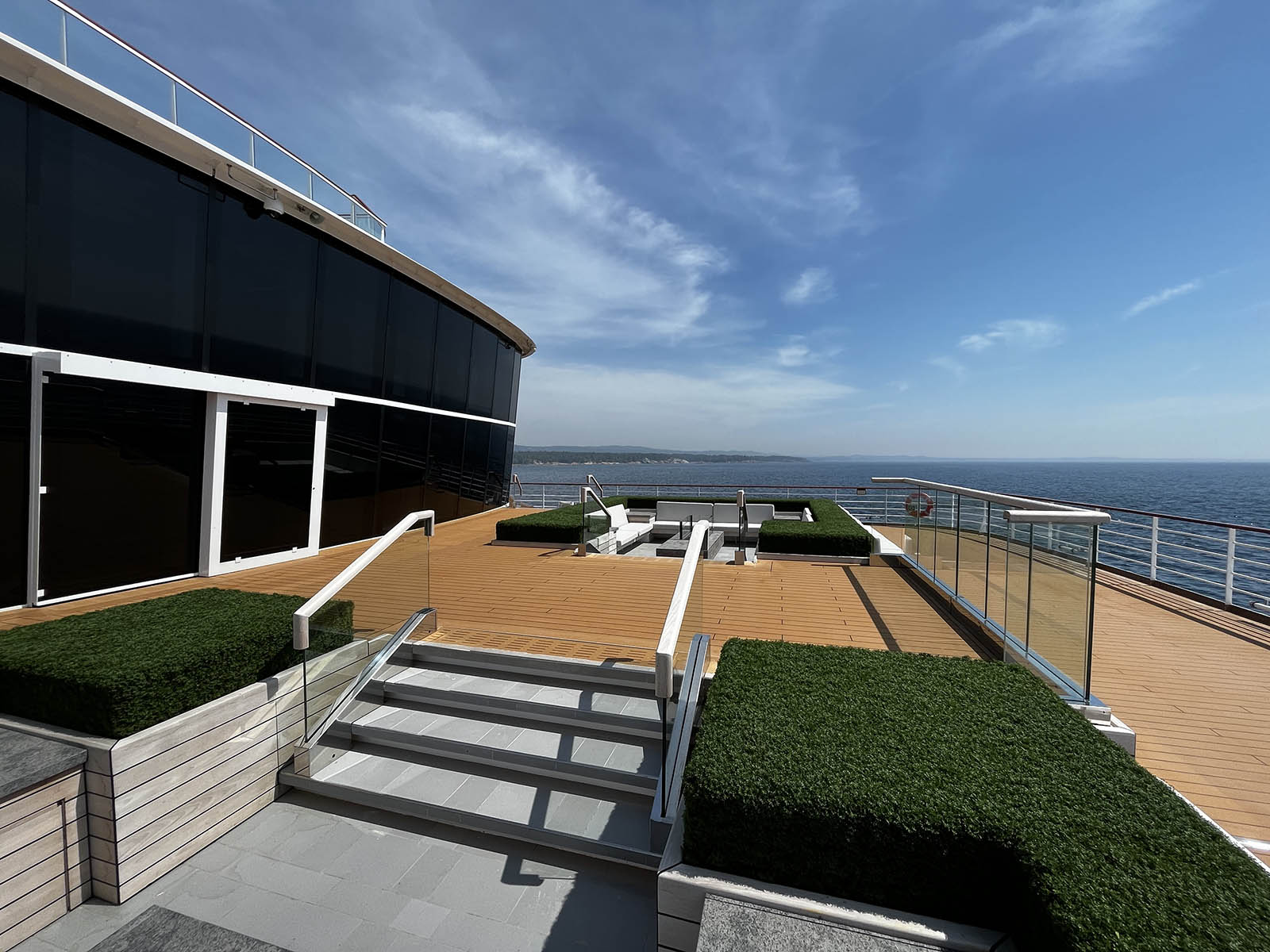 It's worth noting that Finse was born at Highclere Castle, which you may know as the setting of television's "Downtown Abbey."
The other day I noted that Viking employees hail from 84 countries, but it seems most of the travelers are Americans, albeit from every corner of the 50 states. Today I encountered folks from Hawaii, Maine and Florida, and I've also chatted with folks from Kansas City, Detroit and elsewhere.
But not all are Americans. On one tender today, a group of three couples seemed to be from Spain (if my Spanish comprehension is anything to go by ... and likely it's not) and a couple sitting next to me had British accents.
The best part is that most – perhaps all – will travel through Milwaukee on one or both ends of their journey. One woman I spoke to today is on the ship for three weeks and will hit Milwaukee at least twice.
I'm still waiting for my submarine assignment and I hope it's coming soon, but tonight I'll rest my weary legs, eat some dinner and make it an early night as tomorrow morning the weather balloon launch takes place promptly at 7 a.m.
That's because all the world's weather balloons are apparently launched at the exact same time, so they're not going to wait for some sleepy eyed writer to get up to Deck 7.
Octantis, I may have mentioned earlier, is the first civilian vessel to be designated a NOAA weather balloon station, which is something of which Viking is rightly proud.
Born in Brooklyn, N.Y., where he lived until he was 17, Bobby received his BA-Mass Communications from UWM in 1989 and has lived in Walker's Point, Bay View, Enderis Park, South Milwaukee and on the East Side.
He has published three non-fiction books in Italy – including one about an event in Milwaukee history, which was published in the U.S. in autumn 2010. Four more books, all about Milwaukee, have been published by The History Press.
With his most recent band, The Yell Leaders, Bobby released four LPs and had a songs featured in episodes of TV's "Party of Five" and "Dawson's Creek," and films in Japan, South America and the U.S. The Yell Leaders were named the best unsigned band in their region by VH-1 as part of its Rock Across America 1998 Tour. Most recently, the band contributed tracks to a UK vinyl/CD tribute to the Redskins and collaborated on a track with Italian novelist Enrico Remmert.
He's produced three installments of the "OMCD" series of local music compilations for OnMilwaukee.com and in 2007 produced a CD of Italian music and poetry.
In 2005, he was awarded the City of Asti's (Italy) Journalism Prize for his work focusing on that area. He has also won awards from the Milwaukee Press Club.
He can be heard weekly on 88Nine Radio Milwaukee talking about his "Urban Spelunking" series of stories.