We're cruising the Great Lakes on the Viking Octantis, which visits Milwaukee every couple of weeks this summer as part of its ongoing journey around the inland seas.
To read about Days 1-4, click here.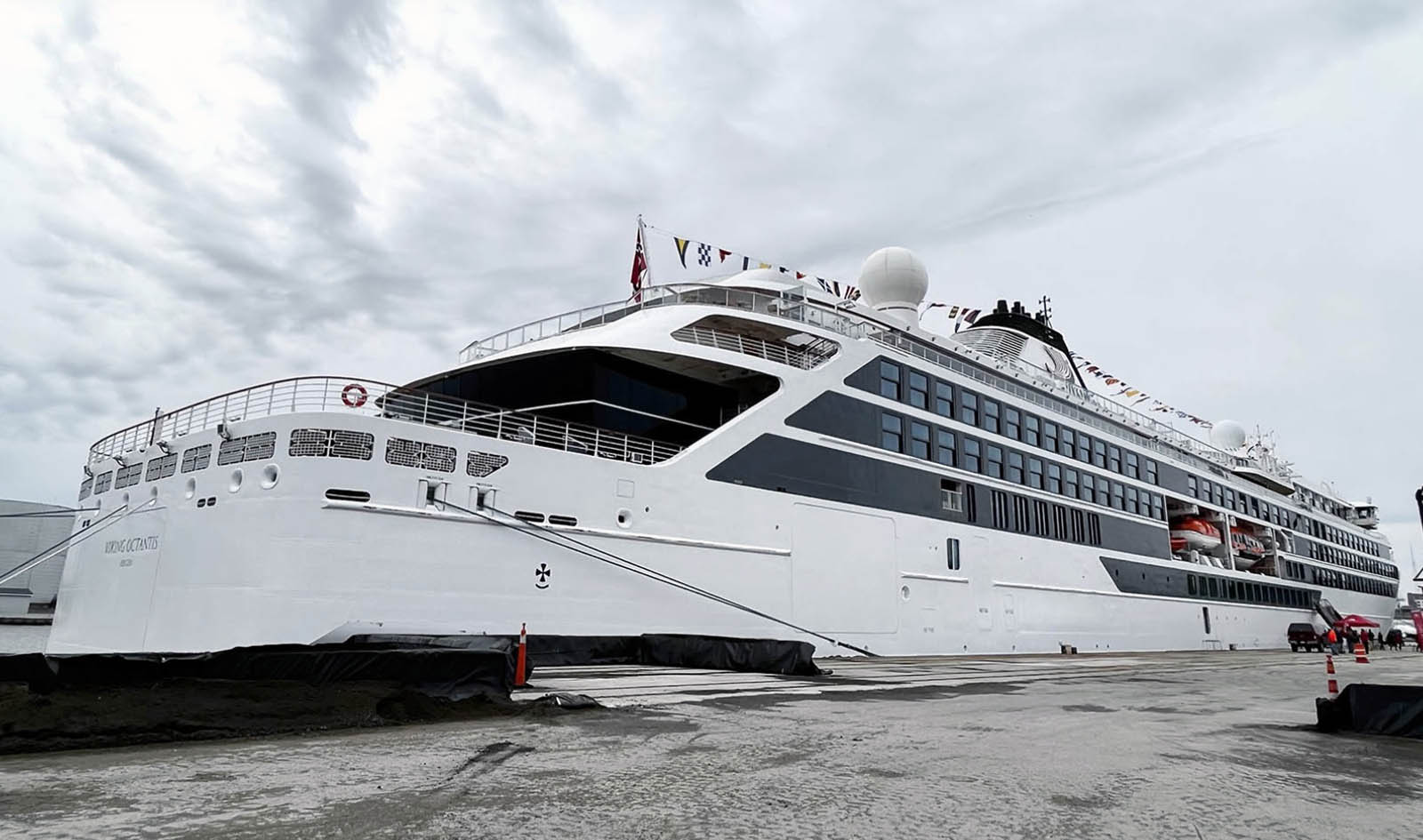 Day 5: Frazer Bay, Ontario
On on our last day in Lake Huron, we're anchored in Frazer Bay off the Okeechobee Lodge, famous as a hideout for gangsters in the 1940s and for having hosted two U.S. presidents.
First, we rose early to watch the launch of a weather balloon, which collects data that's sent to NOAA to be packaged with data from around the world to create models used for weather forecasting.
The ship is the first civilian vessel to serve as a NOAA weather balloon station and in addition to collecting useful data, the balloons are also a draw, says Viking's Head of Science and Sustainability Dr. Damon Stanwell-Smith.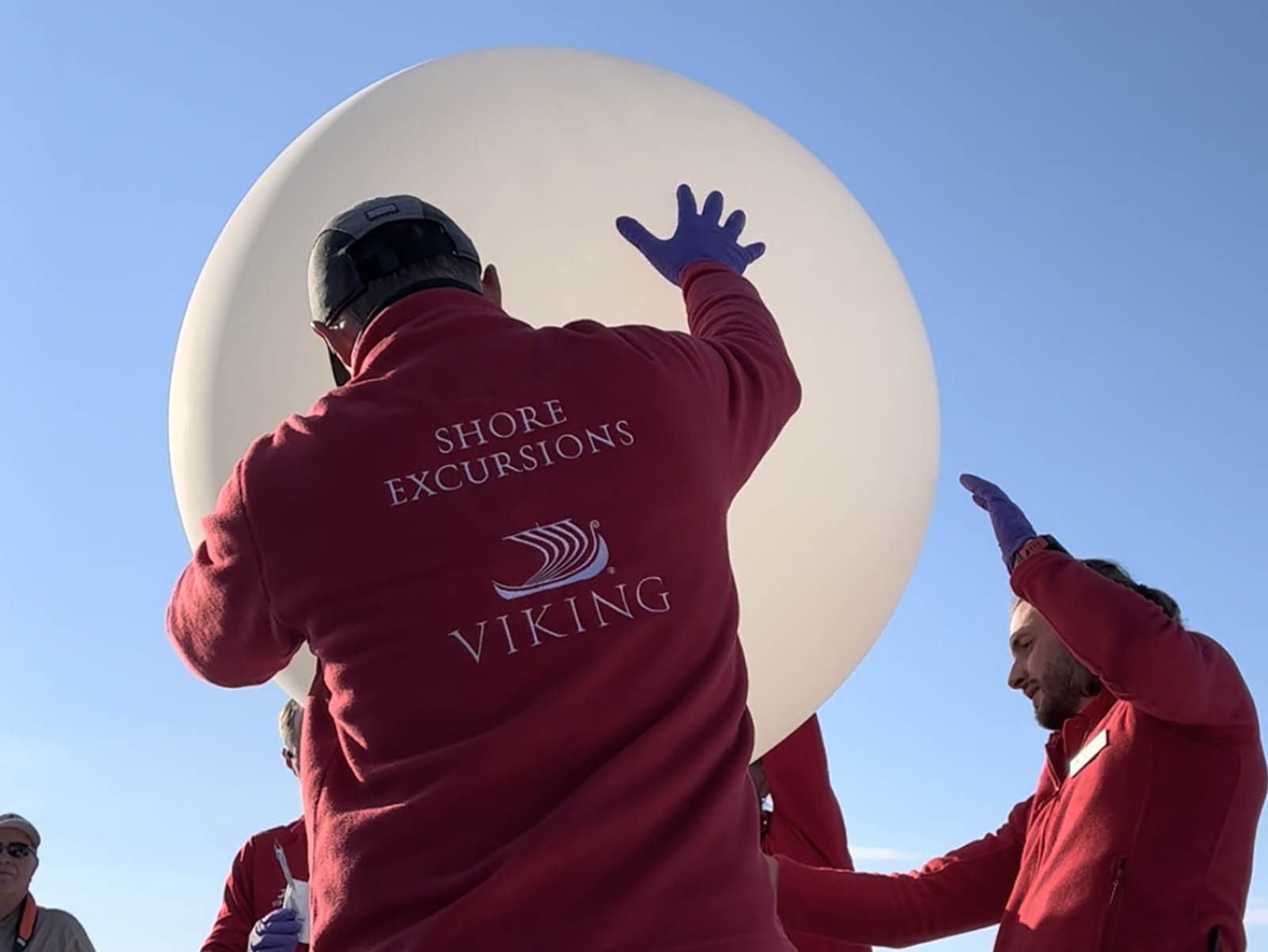 "When we started talked to NOAA three years ago, we that found thatne of the most popular things in North America is the launching of weather balloons. There's something very tactile about connecting with the stratosphere."
I shouldn't have been surprised then at 6:45 a.m. to find a big group of hardy passengers up on Deck 7 to watch the launch.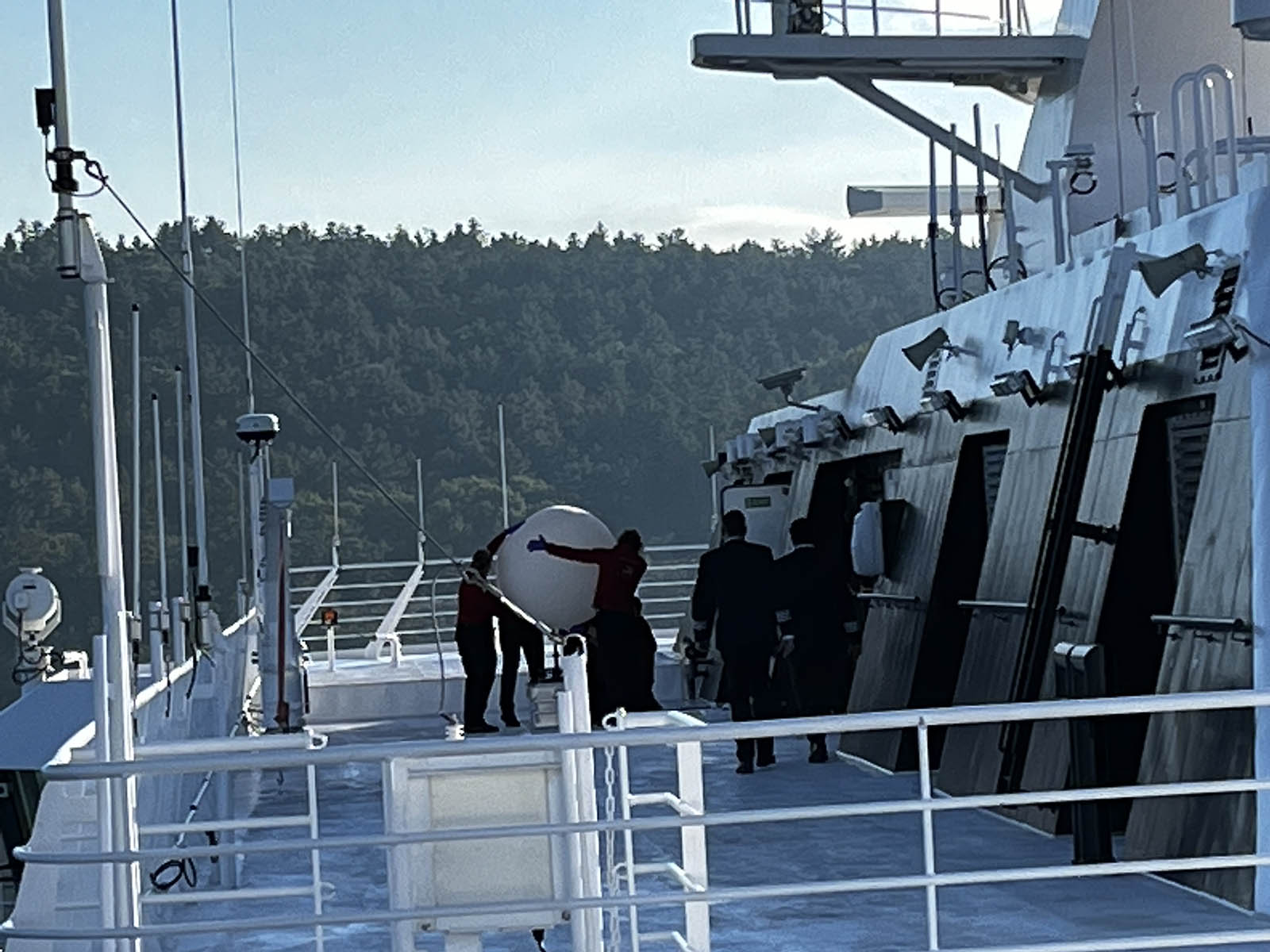 After Stanwell-Smith explained the program, we watched his crew inflate the balloon.
It's made of latex, from a company called Totex in Japan.
"It's very fine and delicate and biodegradable," says Stanwell-Smith.
The balloon ultimately bursts from the rising pressure.
There's only a tiny amount of non-biodegrabale materials, he adds, among the circuit board, sensors and transmitter that are tied to the balloon.
One major concern is the helium used to fill the balloon, considering the global shortage of the gas.
"Every balloon has to count," says Stanwell-Smith. "(In science) we have to be sure that everything that we do is not just for there sake of it. We have to make sure that it's adding to the global picture."
We watched the balloon rise until it was barely a pinprick of white in a gorgeous blue morning sky, the scent of pine wafting across the water from the pine forests lining the shore nearby.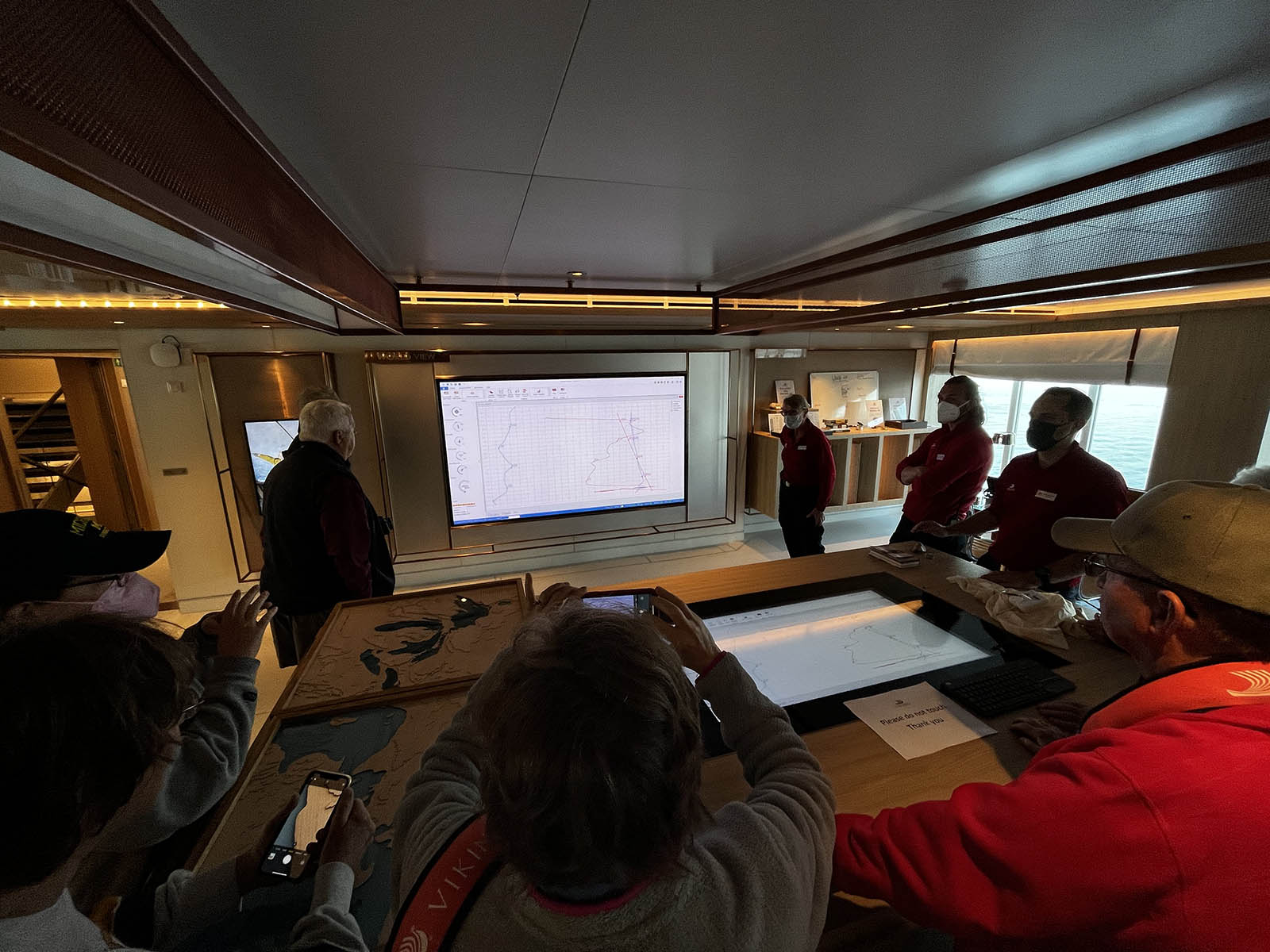 Then we headed to Expedition Central, where we watched data being charted in real time, sent from the balloon's transmitter every 30 seconds or so.
Dr. Daniel Moore and some of his colleagues explained what was going on as we saw changes in altitude, wind speed, humidity and other data points.
It was extremely fascinating and another reminder of the kind of science that's happening on Octantis every day.
Tomorrow I'm taking part in a microplastics lab session and am eager to see it and it lend a hand.
Just before lunch, I took my first ride on a Special Operations Boat, which despite attempts to coin other nicknames, everyone calls SOBs.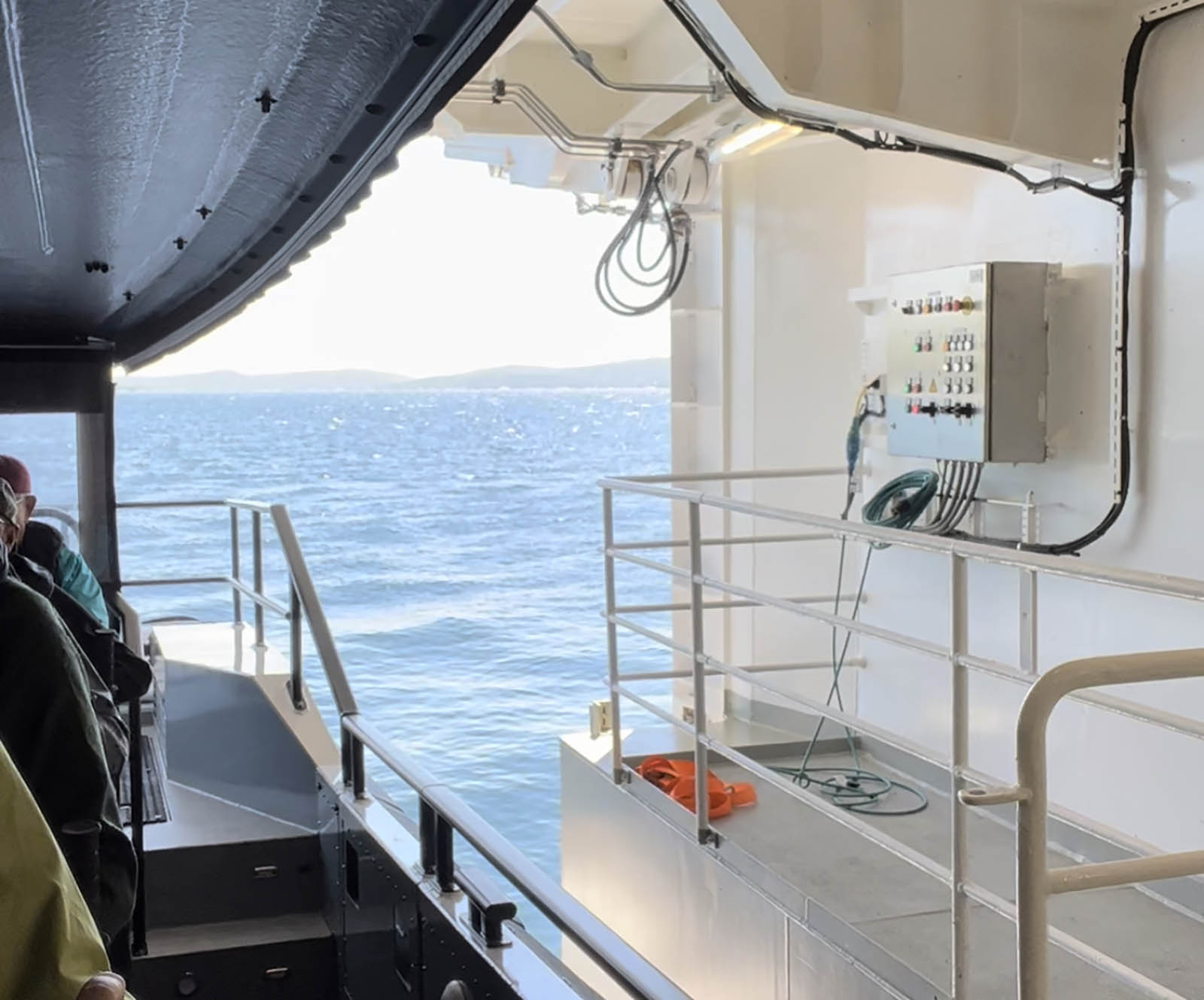 These agile boats can move sideways, turn on a 360-degree axis, are very stable and can go super fast.
We went exploring in Frazer Bay, seeing not only stunning, pristine pine forests and broad vistas with views off toward distant mountains, but we also passed a salmon farm, a quartzite mining facility – as well as a giant pile of the stuff, which is used in road construction – and countless little islands.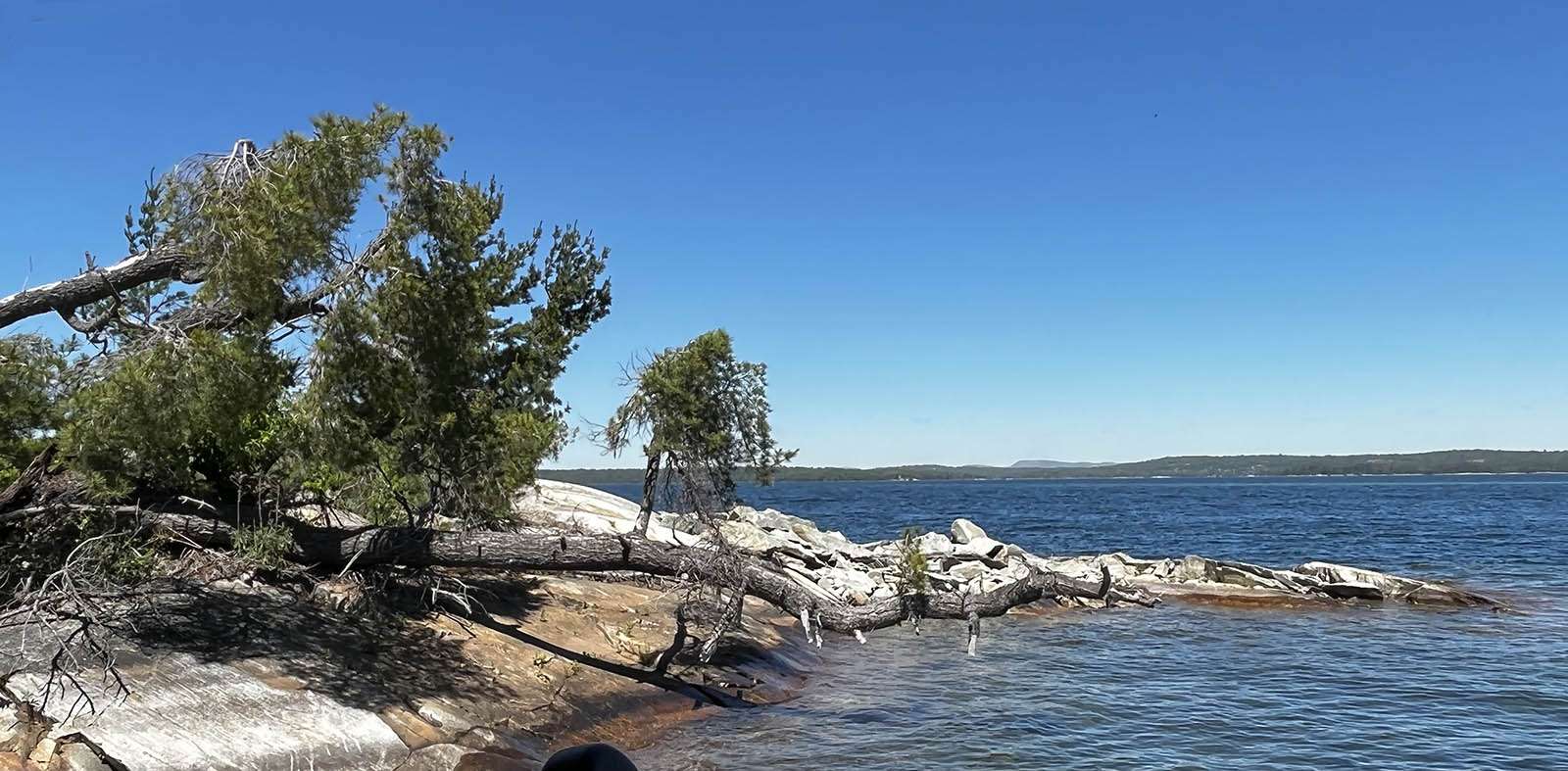 I learned that according to one definition, an island has to have at least one living tree growing on it. Otherwise, up here, it's just a rock.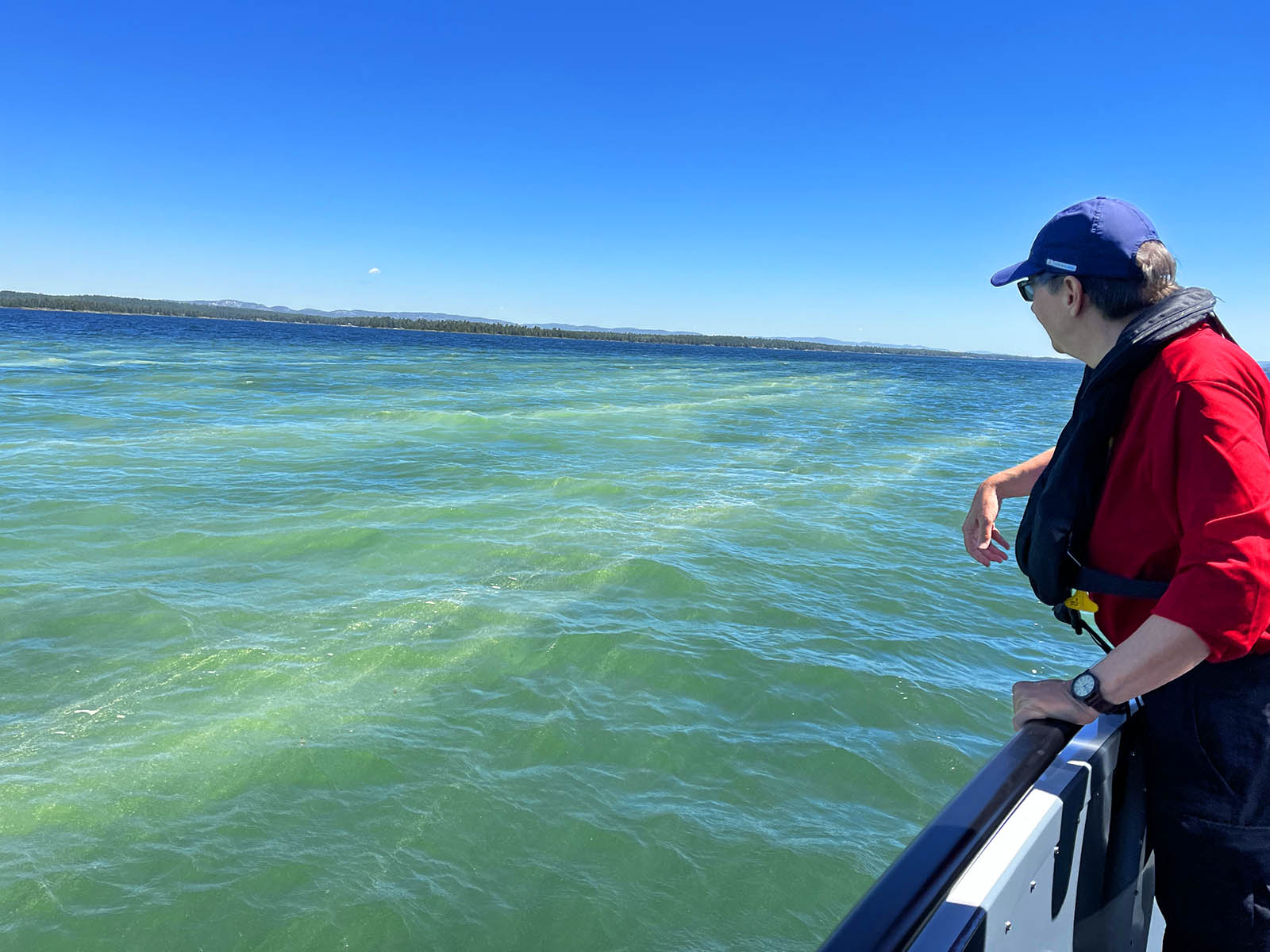 Green streaks in the water – like ones I'd seen out my stateroom window this morning when I awoke – are pollen from the trees. In fact, many early risers today saw fogs of pollen rising in the air out of low spots and valleys.
In addition to the speed, part of the fun is that the SOBs are boarded inside the Octantis and then the boats backs out into the water. When the trip is done, we ride back up a conveyor belt of rubber tires to disembark.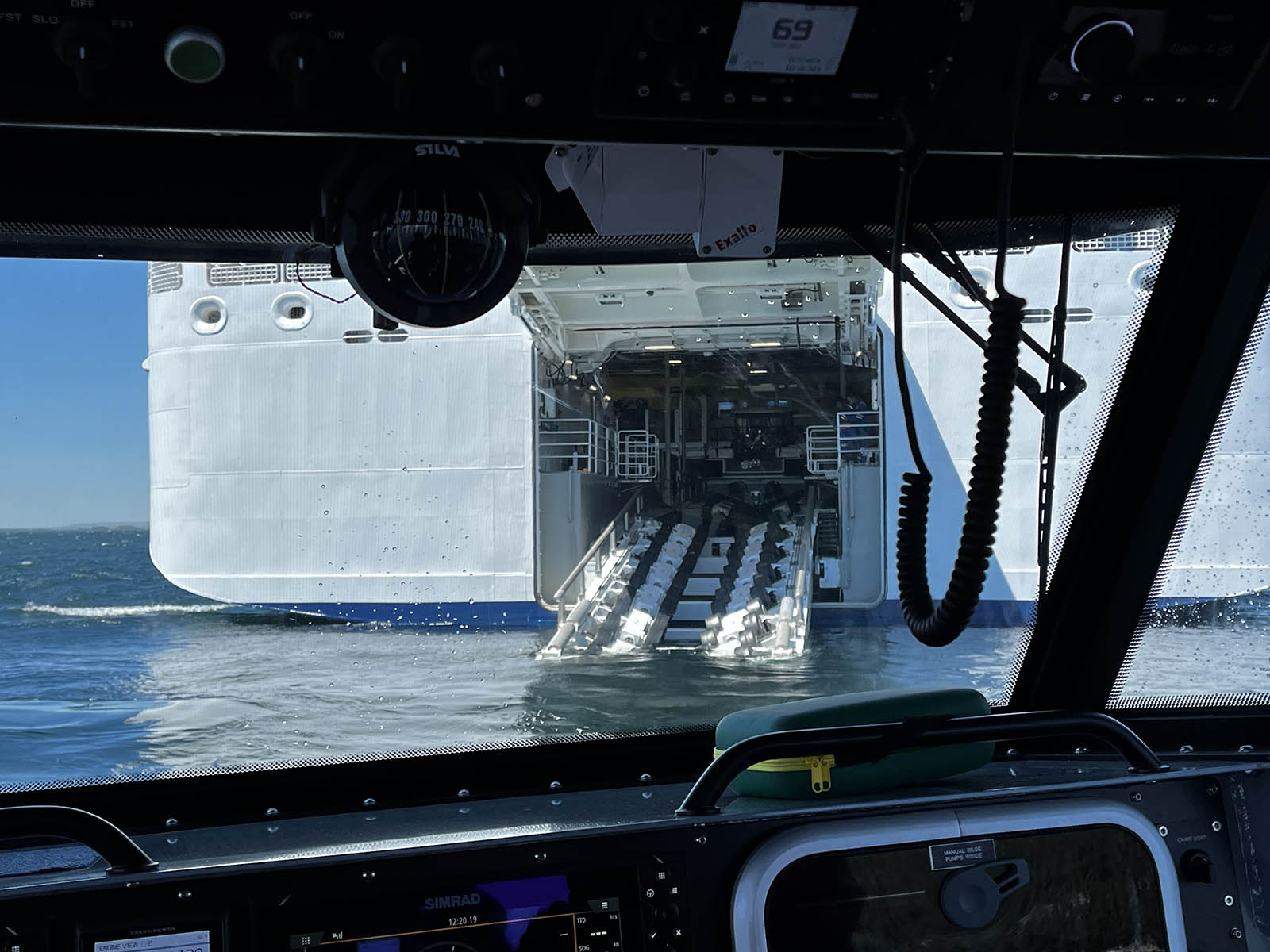 After lunch Captain Hakan Gustavsson invited some of us for a tour of the ship's bridge, which was exciting and extremely interesting.
Here we saw the massive amounts of technology that power, guide, stabilize and navigate the Octantis.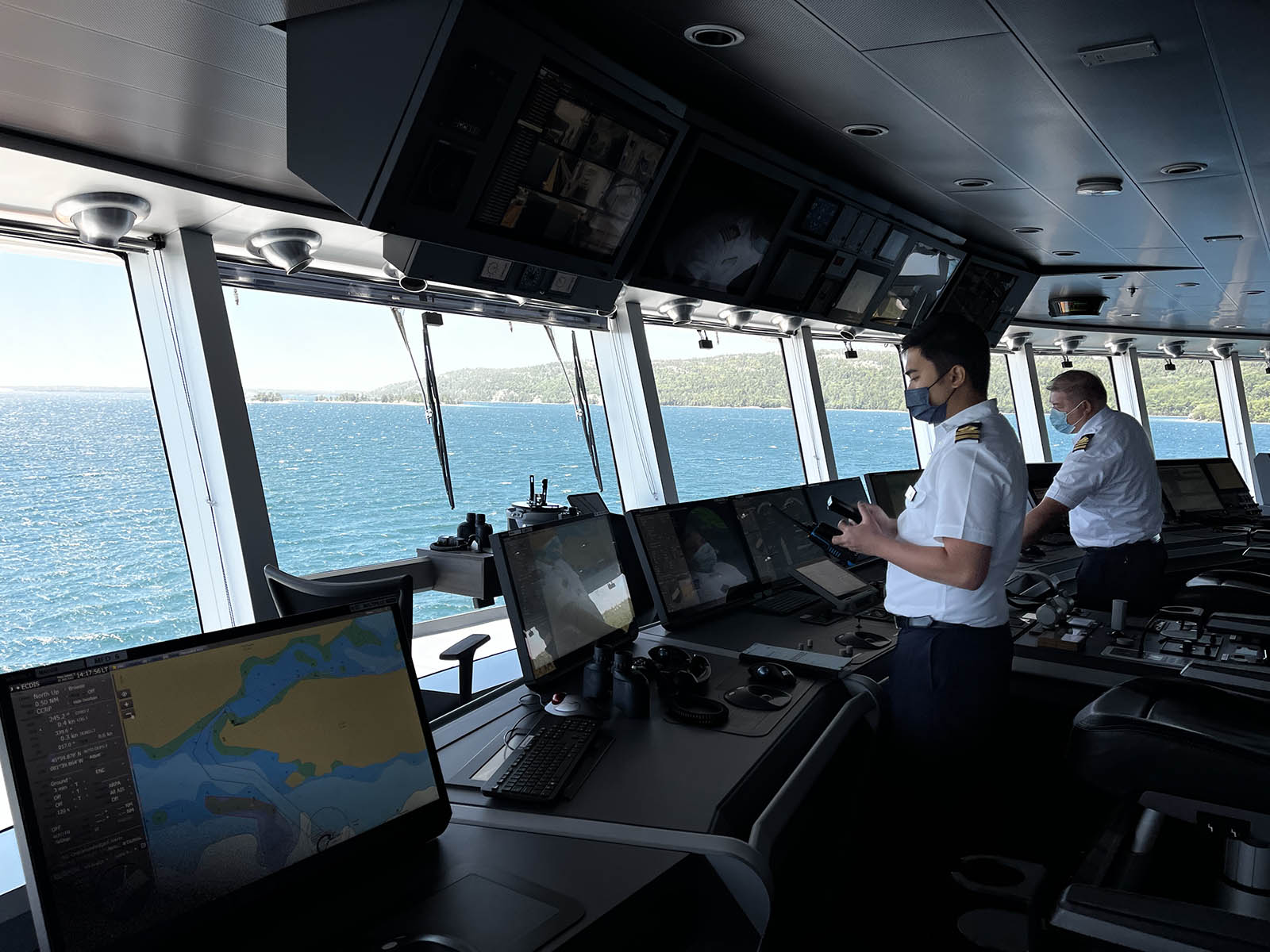 Captain Gustavsson elaborated on safety systems, mapping technology, the stresses of navigating the Soo Locks – which we'll do tomorrow morning. Getting through the locks can be hair-raising for the captain and his team because the ship has only about a foot's worth of clearance between the concrete walls on either side.
It's not something that technology can be trusted to do, so the captain is hands-on the entire time ... and without the benefit of the external cameras that have to be folded in to avoid being sheared off in transit through the lock.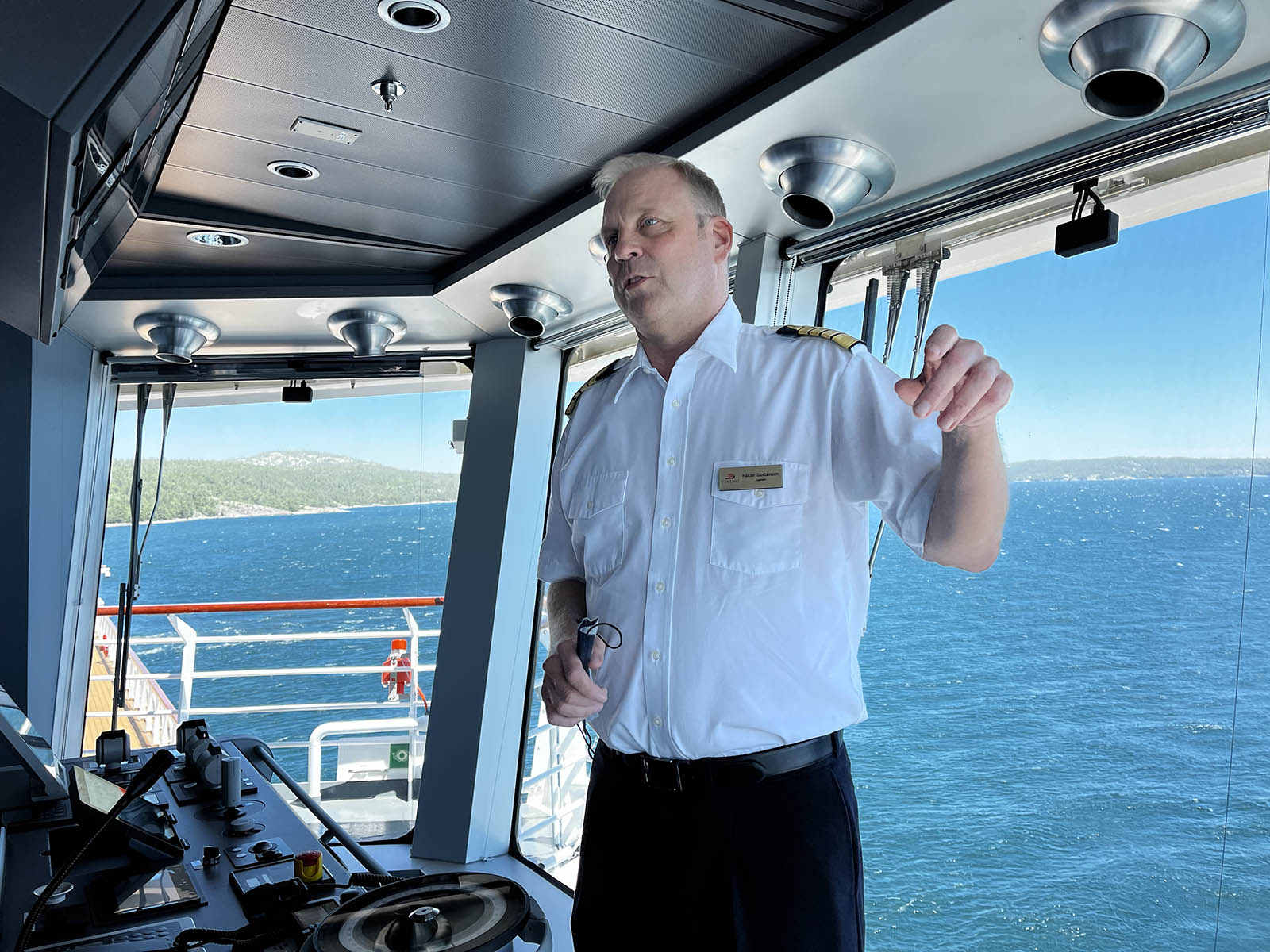 Folks were extremely interested to hear about the system that stabilizes the ship, because even with 30-plus-knot winds, you can't even tell you're on water when you're on board the Octantis.
That's because a system of thrusters is constantly working in tandem with GPS to keep the vessel perfectly situated, and the same system allows Gustavsson to avoid dropping anchor.
So even when the ship is "anchored," the anchor is not actually engaged, which is a good thing he says because the anchor not only disturbs the lake bed and its ecosystem, but its connecting chain also affects passing wildlife, etc.
Because the winds have really picked up throughout the day making ferrying passengers precarious, the afternoon excursions were all canceled.
Instead of my hike, then, I listened to Loreen Niewenhuis – who was on our SOB today to explain the geology of the bay – talk about one of her three books on hiking around the Great Lakes.
Earlier in the week I heard her talk about her hike around the entirety of Lake Michigan and this time she discussed her 1,000-mile hike that touched all five Great Lakes.
There were lots of great slides and interesting stories, plus this great map, which explains how long it takes for water to move from one Great Lake to the next.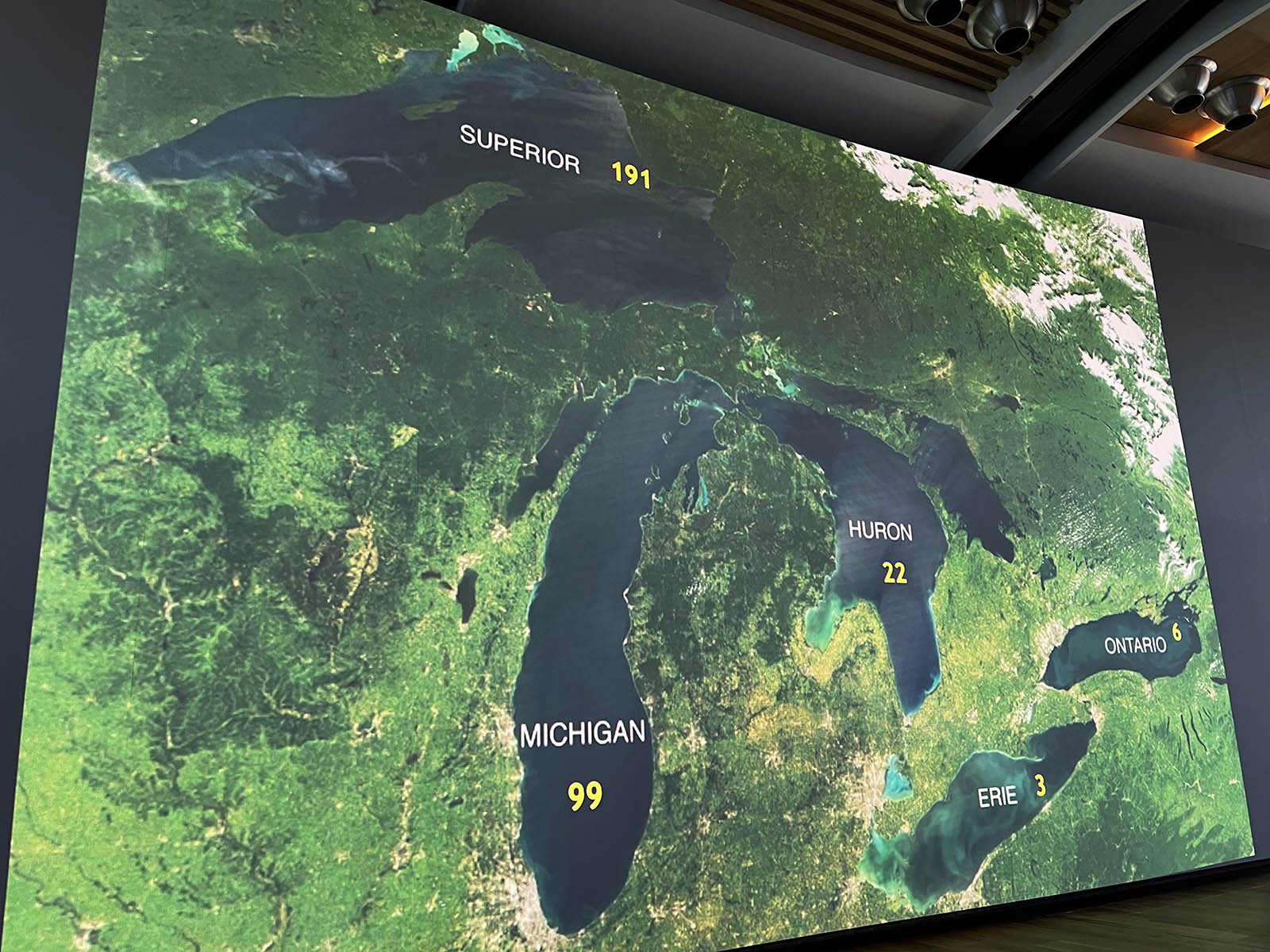 Lakes Michigan and Superior empty into Huron, which empties into Erie, which then passes through the Niagara River and "falls" into Lake Ontario which ultimately empties through the St. Lawrence River into the North Atlantic.
Lake Superior water (on the mean) spends 191 years there before moving on to Huron, and for water in Lake Michigan it's 99 years. Because it's so shallow, Lake Erie water only hangs around for about three years.
Day 6: Soo Locks, Lake Superior
And just like that we're onto Lake Superior. OK, so it wasn't that quick. We spent more than two hours approaching, passing through and exiting the Poe Lock at Soo Locks in Sault Ste. Marie.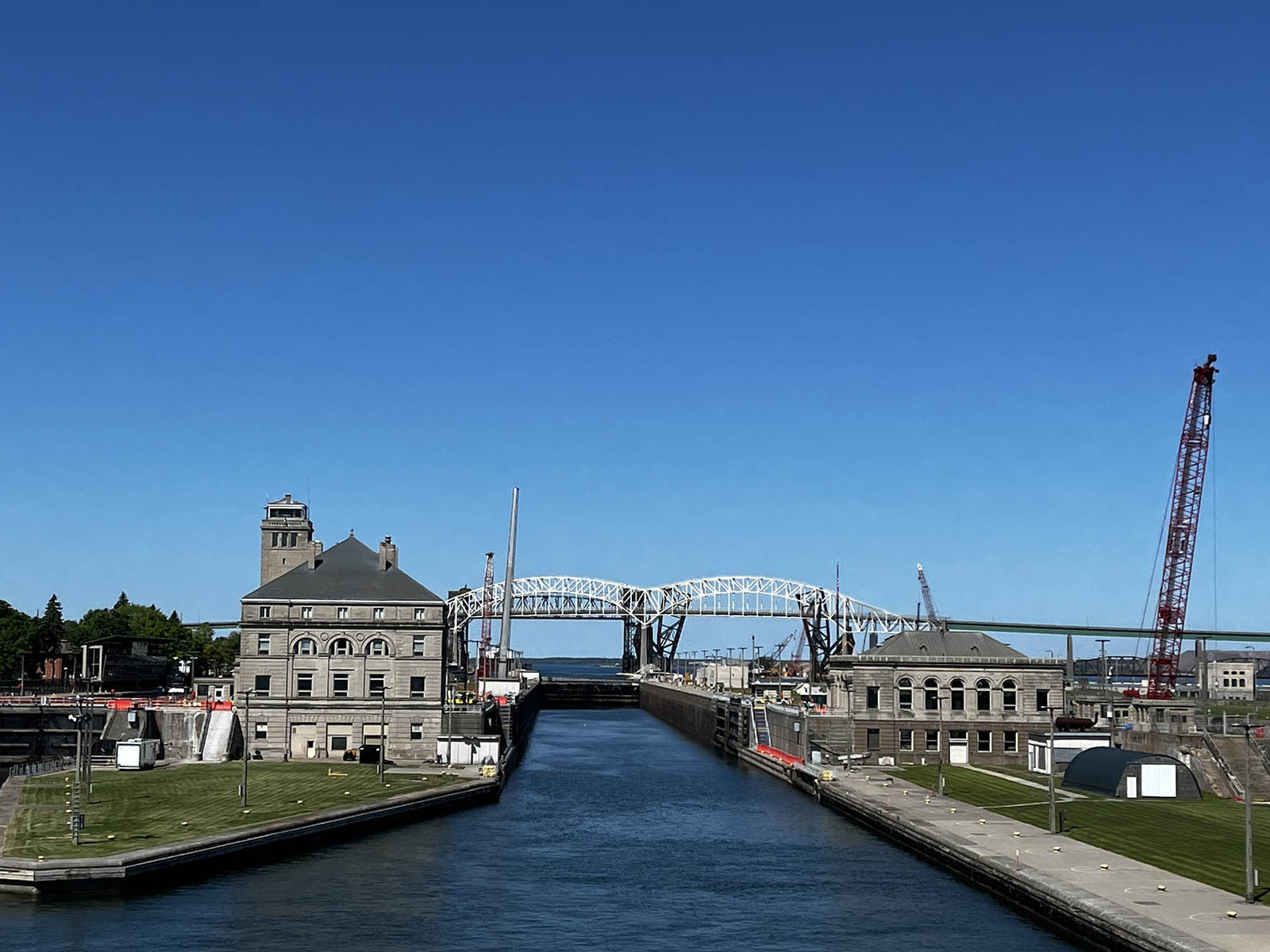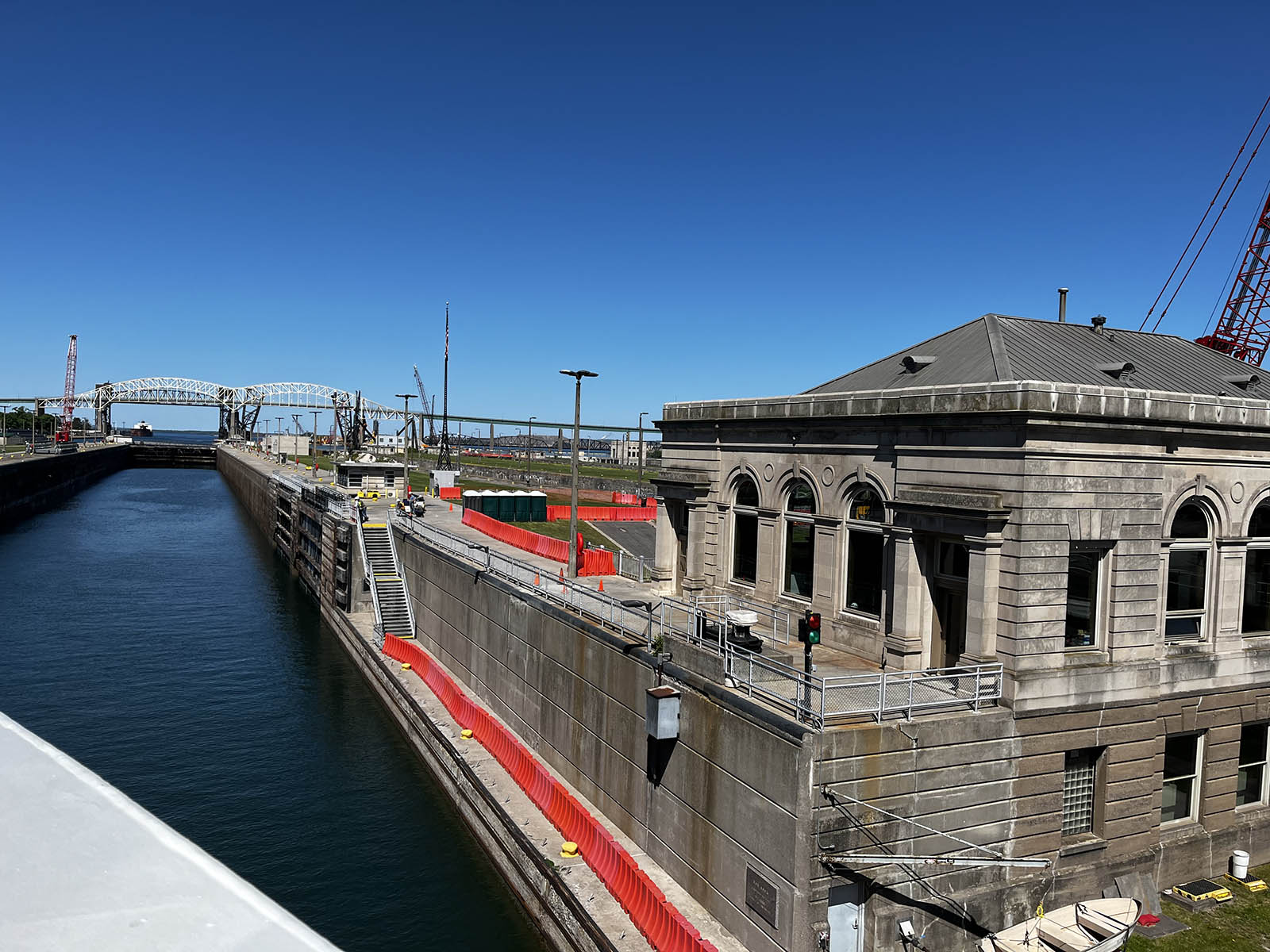 It's the largest of the parallel locks – for now; a new, longer one is under construction – at Soo, where the first locks opened in 1855, allowing vessels to traverse the 21-foot difference in levels between Lakes Superior and Huron.
It seemed like most of the passengers were on the bow to watch this slow event, which took place on a beautiful sun drenched morning.
The Octantis – which is the largest cruise ship on the Great Lakes – has to use the Poe due to its size. In the 1,200-foot Poe it has some wiggle room, since it's a bit under 400 feet long, and there's a couple meters clearance on either side.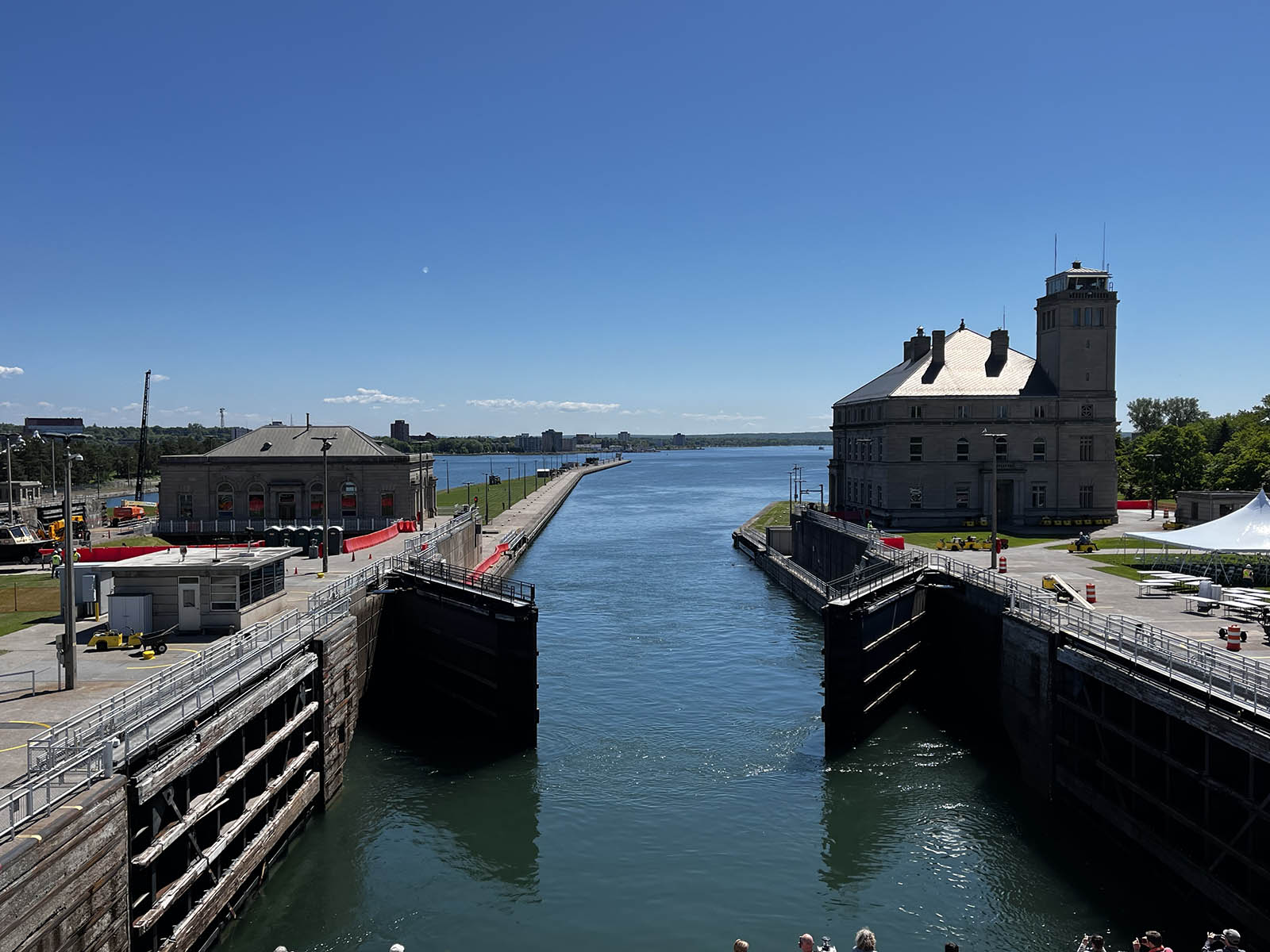 That's not the case when it passes through the Welland Canal lock, where there's barely a foot of clearance on either side.
Once the ship is entirely in the lock, the back gates close and water begins to fill the lock via a system of pumps. When the ship is raised the 21 feet required to reach the level of Lake Superior, the front gates are opened and the ship moves on.
It's a remarkably simple and effective technology. In some places there are multiple locks in a row, but here one is enough. Still it takes about two hours from arrival at the lock to departure.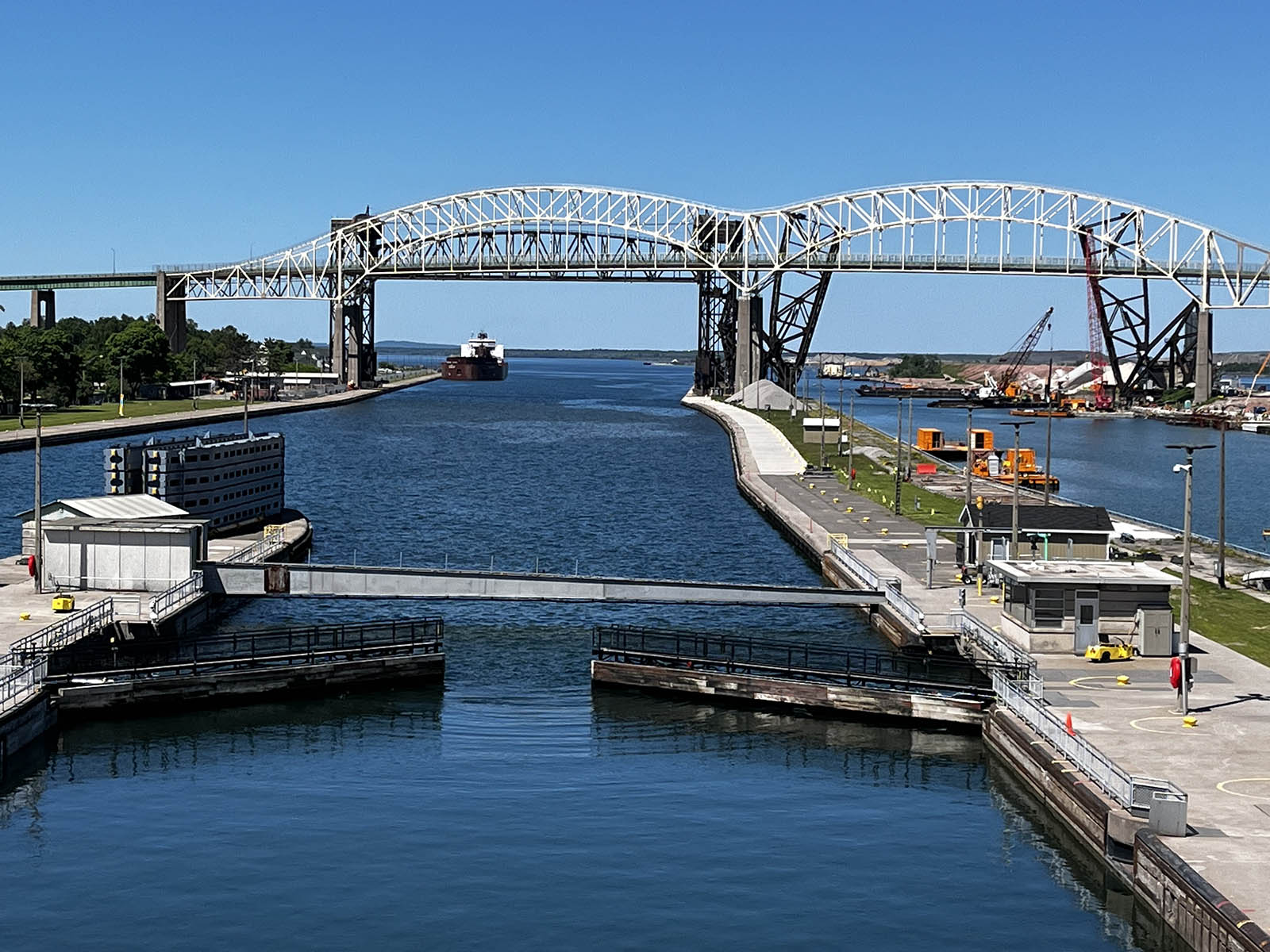 Most nights on board, in a sort of speakeasy-ish hard-to-find whiskey bar called The Hide, the onboard scientists share their stories of expeditions past and I attended those the past two nights.
The compelling stories not only serve to illustrate the level of scientists that work on the Octantis, but just how many folks are out there every day, combing every corner of the globe for data and stories to try and help us better understand this world in which we live.
Today we are "at sea," which means that we're not stopping anywhere, as he head toward Silver Islet, Ontario, where we will disembark for some hikes and other adventures in this area that is home to the Sleeping Giant Provincial Park.
Then it's on to Thunder Bay and on Saturday, a return home, via the just-resumed Air Canada nonstop service between Toronto and Milwaukee, which Mitchell International Airport just announced.
That service – along with 40 other routes to 10 other cities across North America – was halted two years ago due to the pandemic and is now back to operating seven days a week on CRJ-200 planes.
"We're very pleased to welcome back Air Canada and all the travelers who enjoy the popular Toronto route," said Airport Director Brian Dranzik Thursday in a statement.
"Many people are traveling this summer for the first time in two years. This relaunched nonstop service gives travelers easy access to Canada's largest city."
I'm pleased, too, as it means I don't have to make a connection on my journey back to Brew City.
Tomorrow is our last day and it's a packed one, with my submarine launch scheduled, along with a micro plastics lab session and a walk on Silver Islet. Let's hope the weather cooperates.
Day 7: Silver Islet / Thunder Bay, Ontario
Today is the final day of the cruise for many of us, though some folks will continue on with Octantis, heading on to Duluth, the Apostle Islands and back to Milwaukee before the ship heads back out toward the eastern Great Lakes.
On the first day, I met a woman who had already been on the ship a week, having been in Detroit, Niagara Falls and Toronto and will stay on for a third week after I've disembarked.
And with the second ship, Polaris – a sister ship to Octantis – also headed for Milwaukee and the Great Lakes next year, there may be future journeys to explore, too.
Milwaukee's new cruise ship terminal could be complete by next summer, which means travelers on the ships – which also include the Great Lakes Cruises Pearl Mist that arrived in Milwaukee this week – won't have to embark and disembark at the city's heavy lift dock next to the water treatment plant on Jones Island.
"Milwaukee is growing into the destination of choice for international cruise lines operating on the Great Lakes. That's why Port Milwaukee is grateful for the leadership of Governor Tony Evers and the State of Wisconsin in providing $3.5 million in Tourism Capital Grant funding that will help Milwaukee accommodate and host the largest international cruise vessels built to operate on the Great Lakes," says Adam Tindall-Schlicht, Director of Port Milwaukee.
"With this investment, Port Milwaukee will ensure that Milwaukee's cruise industry will continue to grow for years ahead, and in turn, support freshwater tourism in Wisconsin for decades to come. We are looking forward to construction at South Shore Cruise Dock starting soon."
Last night on Octantis there was a farewell ceremony and today has a quieter feel than previous days.
Sadly, my submarine adventure and the microplastics lab were canceled for a variety of reasons that come with the territory on an expedition journey where some of the activities are based on scientific research and, on most cruises, I assume, the weather.
I took the unexpected downtime to do a second trip out on a Special Ops Boat (SOB) and it was especially fun. My first ride, on Parry Sound, leaned more to discussion of habitat and geology and wildlife, with a dash of speed.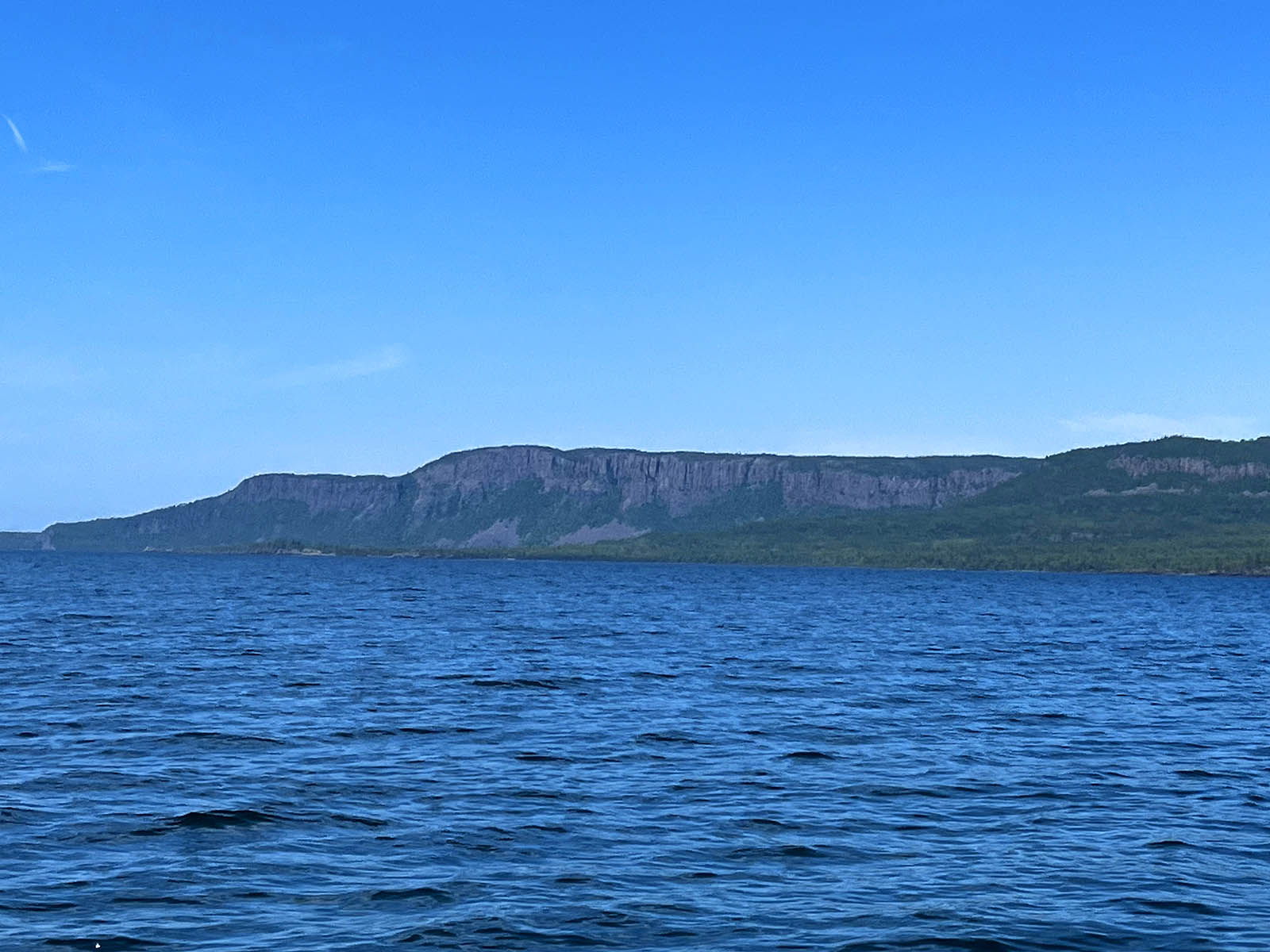 This time – while the guide had interesting information to share – the pilots really ramped up the unexpected stops, the hairpin turns and velocity for a different experience.
I also took the opportunity to tender over to Silver Islet, a tiny community with six year-round residents and, of course, many more who come for the summer, mostly from Thunder Bay.
Nestled next to the breathtaking Sleeping Giant volcanic stone mesas, the town has a general store that dates to the time when a silver mine operated on a tiny islet not far off shore (hence the name).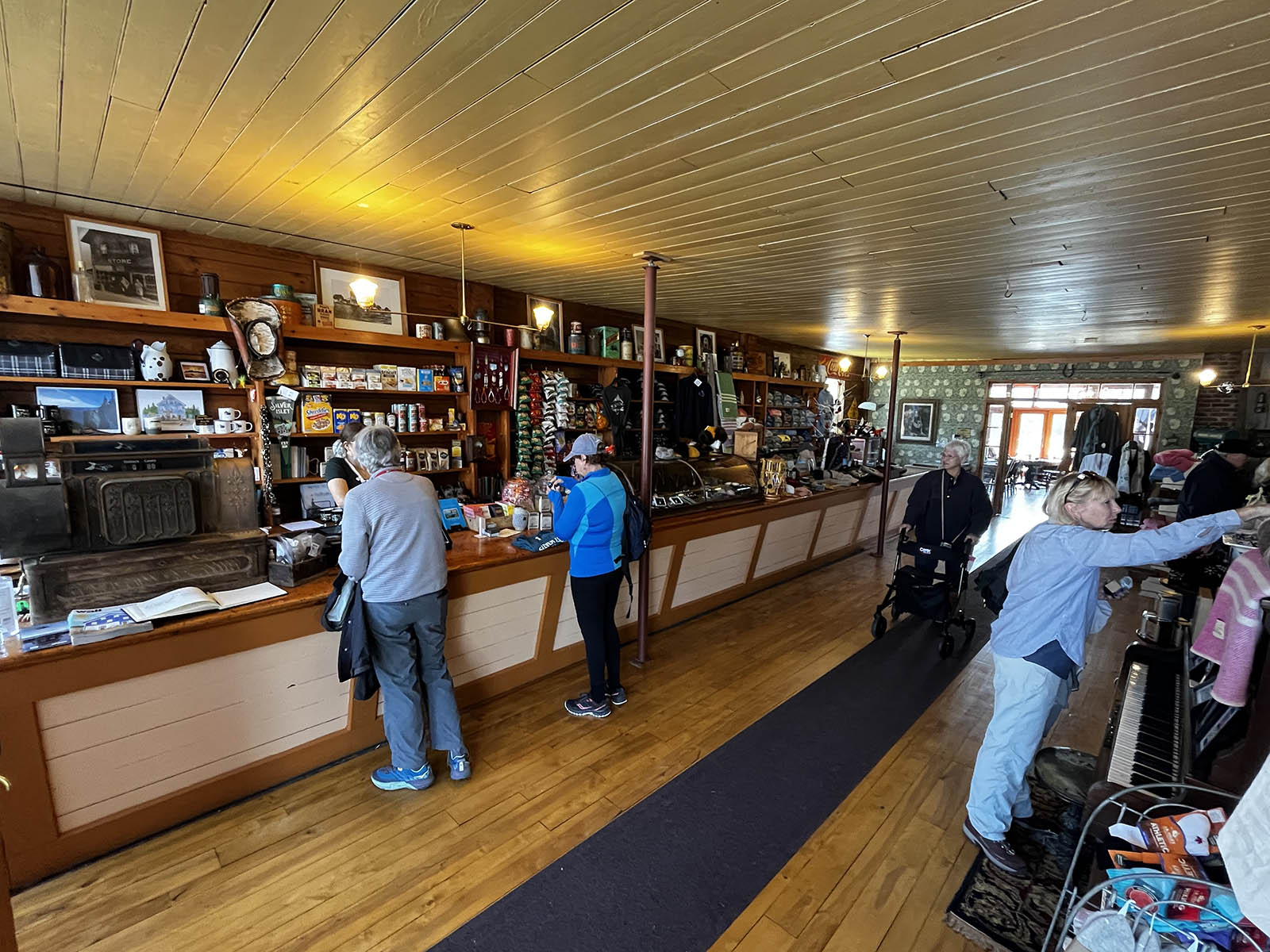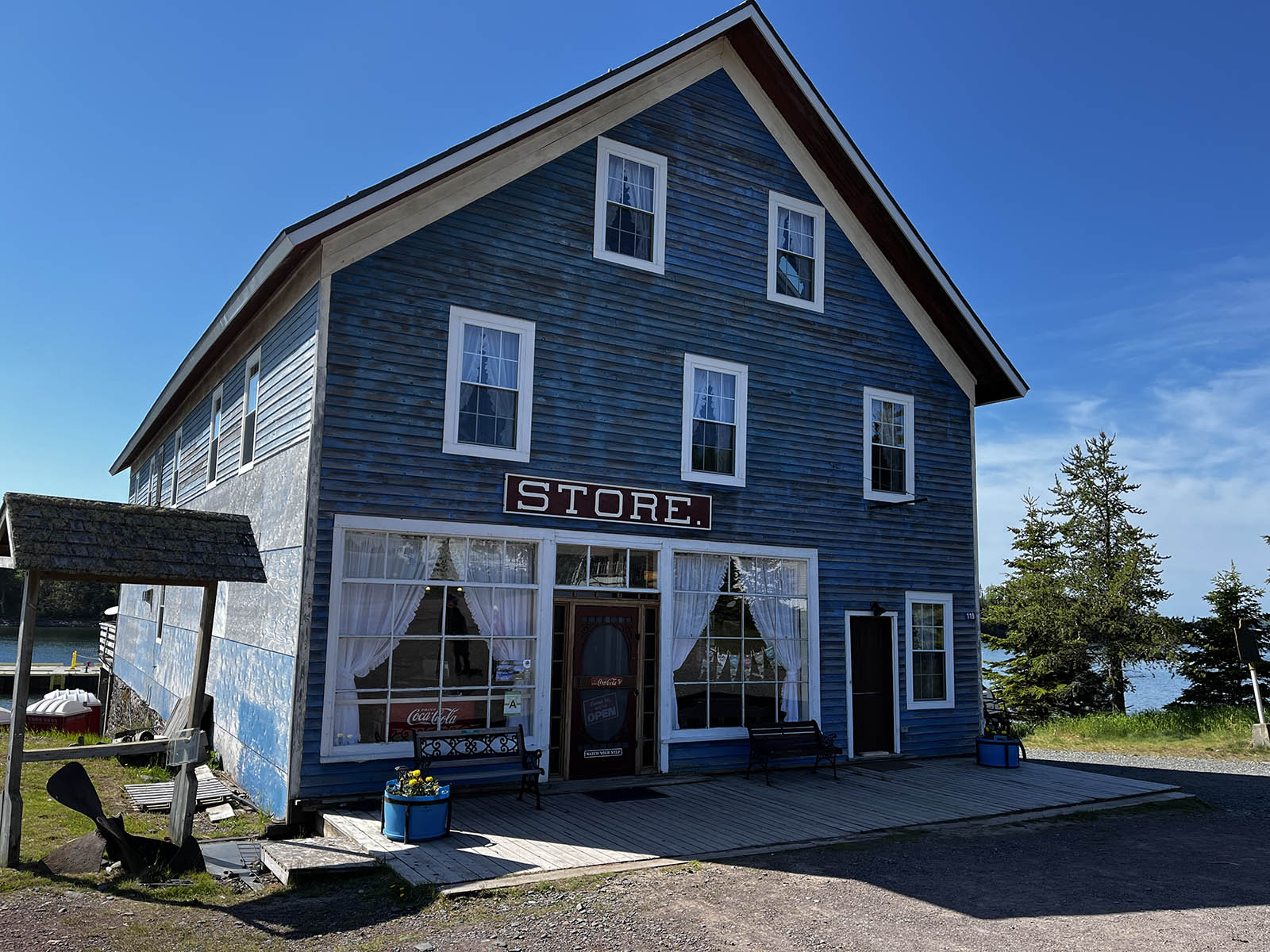 The shop is a classic general store with provisions and cafe, but also lots of artifacts and old photos of the town and its mining past. There's a fortress-like safe, a 150-year-old snooker table and, in the back, a bakery that turns out perhaps the best cinnamon roll I've ever had.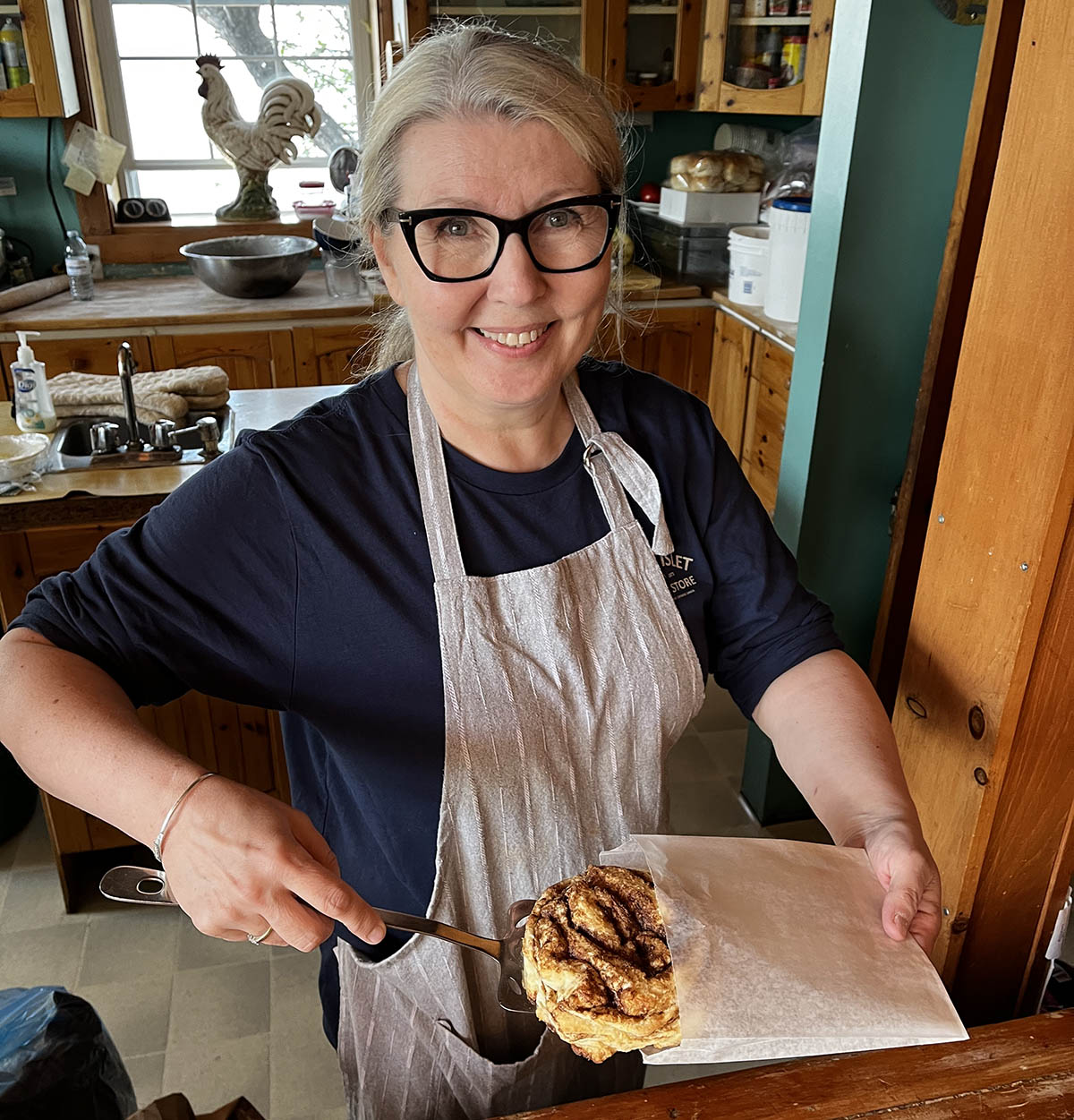 I walked along the main road, checking out the cottages of the men who worked in the mine and built these homes for their families. Single men lived out in a dormitory on the islet, only a small bit of which still exists. The rest has been carried off by Lake Superior.
A gentleman sitting on the porch of an 1870 miners' house, told me the mine closed in 1883. The silver deposits had been found in the 1860s, but when the Montreal Mining Company couldn't figure out a way to extract them, the company sold in 1870 to the Silver Islet Mining Company owned by Alexander Sibley.
Sibley found a way to basically build a giant wooden box around the island and pump out the water using coal shipped from Marquette, Michigan. The men worked torturous hours, in shafts dug into the lake bed to extract the silver with the constant threat of collapse of the wood "box" in which they worked.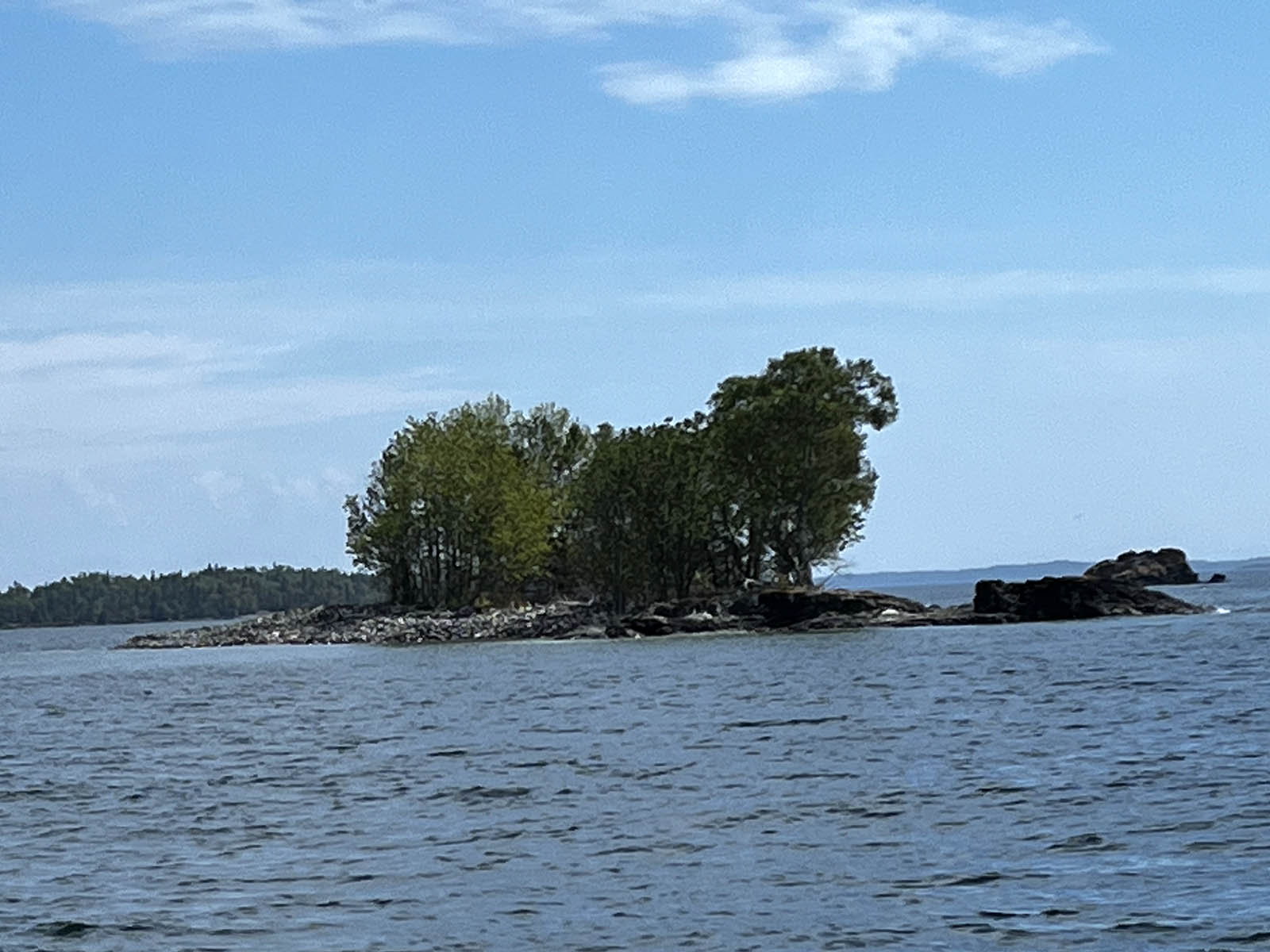 The mine, however, closed abruptly in 1883 when coal did not arrive from Marquette and the pumps stopped and the box filled with water. This is plainly illustrated by an old register at the store.
After a final coal delivery entry that notes, "not arrived," the register's pages are blank.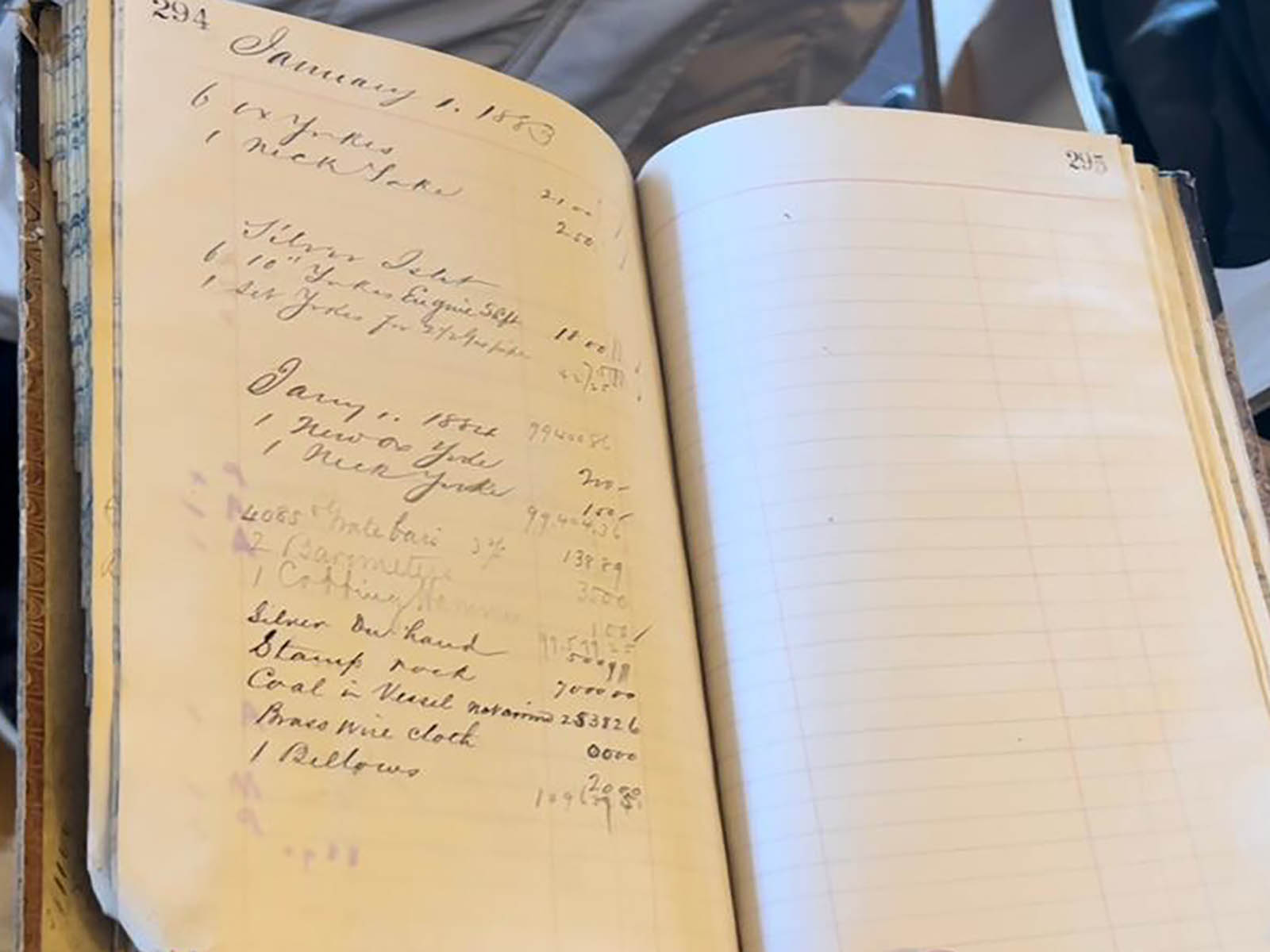 A geologist who spent his summers in the town since 1960s – and whose brother is one of those few year-round residents – said that after the mine closed, most everyone left and the town was overseen by a resident caretaker.
In the 1920s, he said, Thunder Bay folks who would come down to the area started buying the old cottages and converting them into summer homes. Even now, homes are added, though it's still quite small.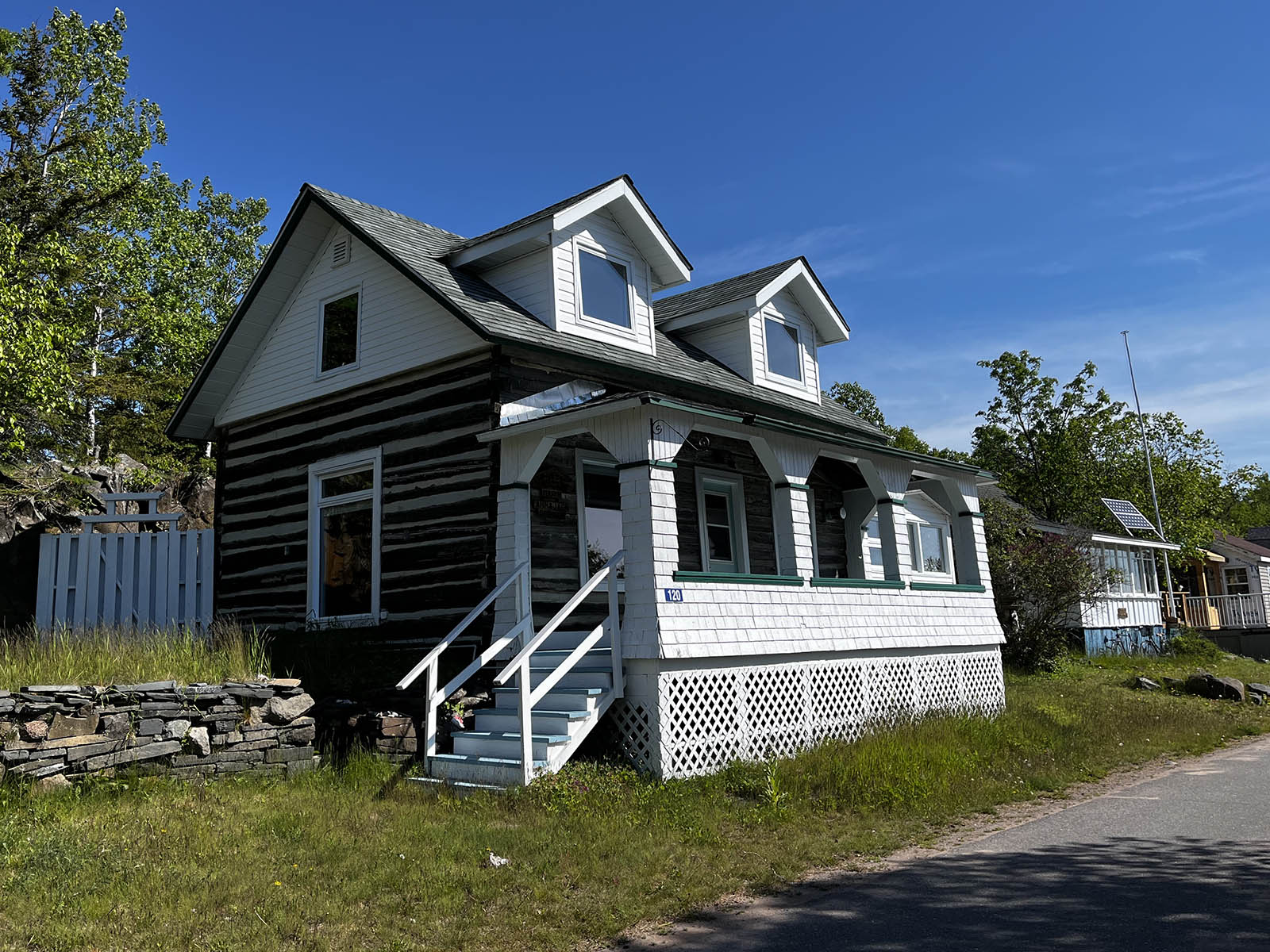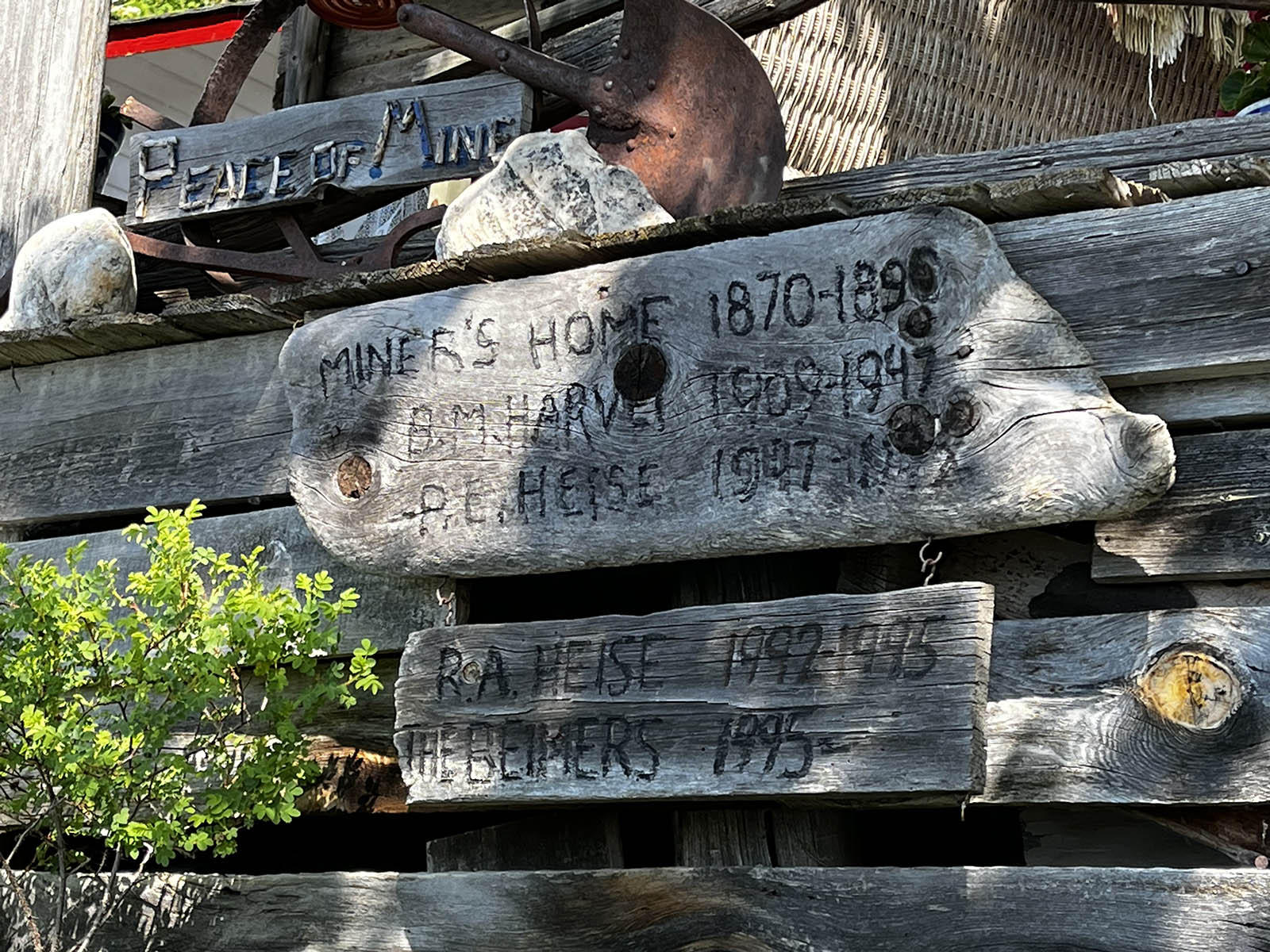 In a little while, we'll head over to nearby Thunder Bay and I hope to get on shore and wander a little before thunderstorms (it IS Thunder Bay, right?) roll in. We'll remain on the docked ship overnight before heading to the airport to return home.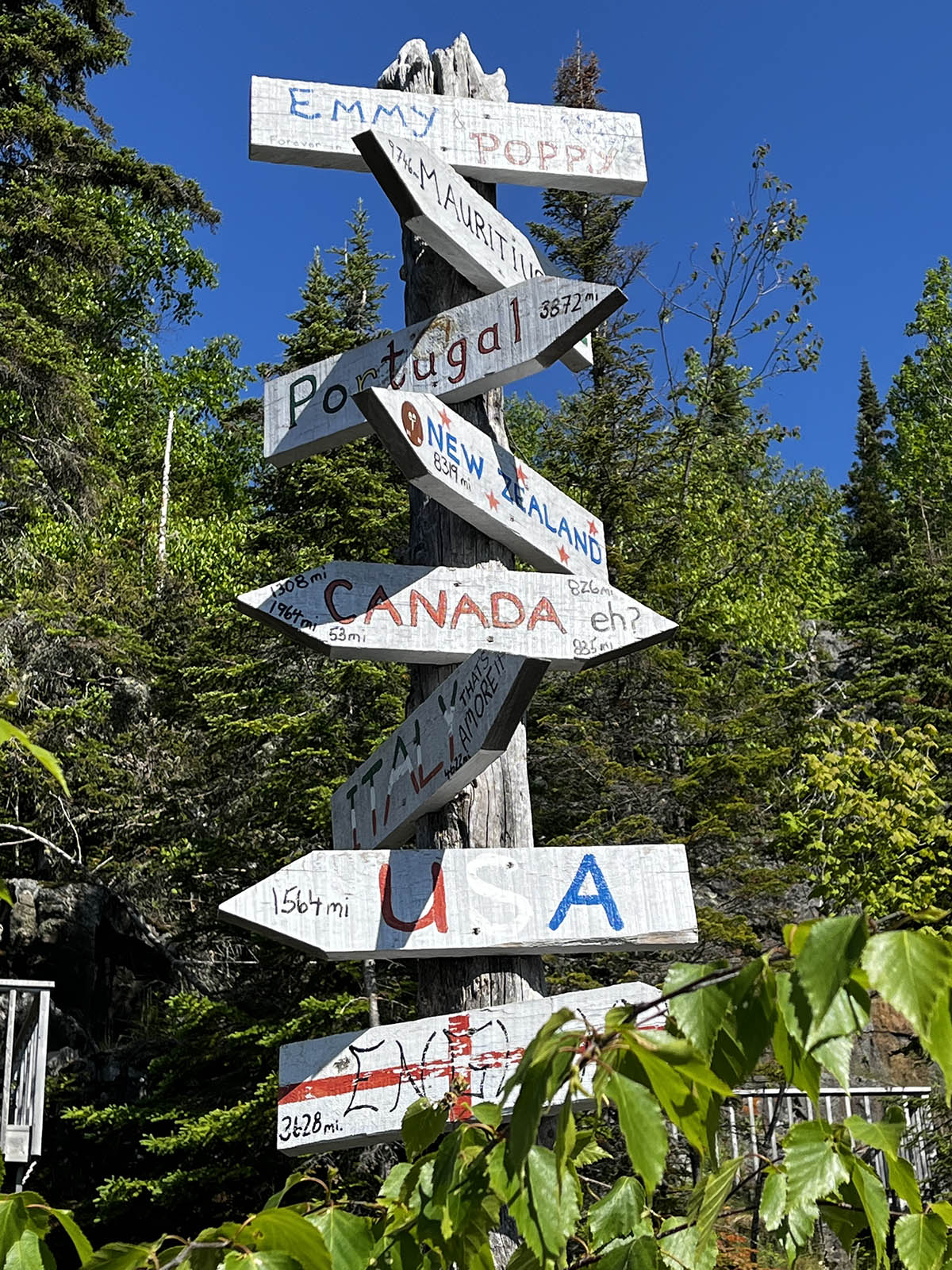 It's been an eye-opening week, not only to experience the lifestyle on the ship, with its endless top-notch food and amenities, but also to learn about all of the science that's funded by fares.
It was exciting, too, to see so many Great Lakes places I've heard or read about but have never had a chance to visit.
In a world in which we're increasingly aware of the footprints we leave behind when we travel, it's intriguing to consider how a ship like Octantis – which not only uses leisure travel to fund scientific research, but also brings leisure travelers into labs and talks and documentary film screenings, spreading the word about the ecology and climate change – can alter the way we experience the world around us in the future.
Is it scalable? I sure hope so.
And that Milwaukee gets to be a major turnaround for Octantis and soon Polaris is exciting for Brew City, indeed.
Born in Brooklyn, N.Y., where he lived until he was 17, Bobby received his BA-Mass Communications from UWM in 1989 and has lived in Walker's Point, Bay View, Enderis Park, South Milwaukee and on the East Side.
He has published three non-fiction books in Italy – including one about an event in Milwaukee history, which was published in the U.S. in autumn 2010. Four more books, all about Milwaukee, have been published by The History Press.
With his most recent band, The Yell Leaders, Bobby released four LPs and had a songs featured in episodes of TV's "Party of Five" and "Dawson's Creek," and films in Japan, South America and the U.S. The Yell Leaders were named the best unsigned band in their region by VH-1 as part of its Rock Across America 1998 Tour. Most recently, the band contributed tracks to a UK vinyl/CD tribute to the Redskins and collaborated on a track with Italian novelist Enrico Remmert.
He's produced three installments of the "OMCD" series of local music compilations for OnMilwaukee.com and in 2007 produced a CD of Italian music and poetry.
In 2005, he was awarded the City of Asti's (Italy) Journalism Prize for his work focusing on that area. He has also won awards from the Milwaukee Press Club.
He can be heard weekly on 88Nine Radio Milwaukee talking about his "Urban Spelunking" series of stories.