Check in early and stay late during OnMilwaukee's "Hotel Week" sponsored by VISIT Milwaukee. These seven days will be packed with stories about historic area hotels, reviews, history, food and drink, staycations and more. Find out what it's like to be a tourist in this town. (Chocolate on your pillow not included.)
It's an hour before the Bucks game on a Saturday night in November, and the SpringHill Suites Milwaukee Downtown is bumping.
The lively lobby is filled with a diverse and upbeat array of BMO Harris Bradley Center-bound guests eagerly chatting with each other and zipping up their coats over Giannis Antetokounmpo jerseys; the aromatic attached restaurant, Doc's Smokehouse, is packed with happy fans devouring barbecue and watching the pregame TV coverage; encouragingly, there are only two people wearing yellow Los Angeles Lakers gear.
On the way out, I talk to a woman who says she's going to "the game," without specifying that it's a Bucks game, because in a town that's suddenly caught Fear the Deer fever and at a hotel that's literally a three-minute walk from the arena, there is no question.
SpringHill opened in July 2016, making it one of the newest hotels in Downtown's fast-growing hotel landscape, and the centrally located, all-suite establishment – a Marriott franchise but a new brand for Milwaukee – picked a prime time and place to join the city's increasing development and add to Westown's revitalization.
The Shops of Grand Avenue are a block south, the Wisconsin Center is right across the street – and directly connected via skywalk – and the new Bucks arena is 4/10 of a mile north. And while it's undoubtedly convenient for a conference and great for business travelers, too, SpringHill Suites makes a case for being most successful as the spot to stay for a Bucks game.
Besides its excellent location, 744 N. 4th St., SpringHill offers functional (and comparatively for Downtown lodging) spacious rooms, a cool-yet-casual lobby that operates as both a free hot-breakfast area and a sociable lounge – especially before a Bucks game – and one of the best hotel restaurants in the city.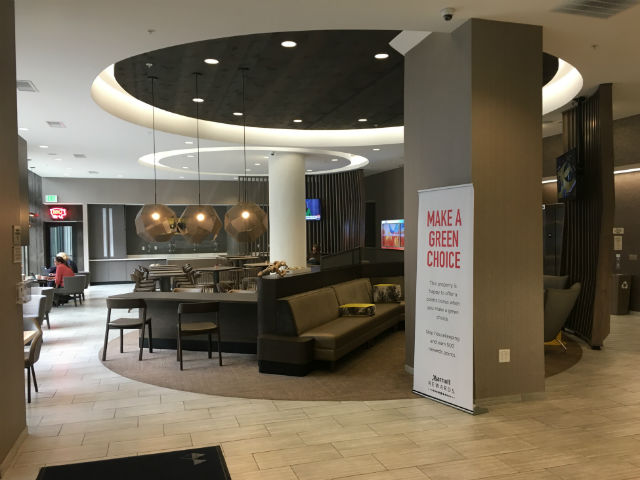 I spent two evenings at Springhill for Bucks games – staying overnight on a Saturday and then returning a few days later to eat at Doc's Smokehouse during a contest against the Pistons, both of which Milwaukee won; all hail Giannis – and each time the environment and experience were fantastic.
I've hung out at Aloft's W XYZ bar before a Bucks game and two years ago stayed at the Hyatt Regency – along with the Intercontinental, Hilton Milwaukee and, if you're a visiting NBA team, The Pfister and Kimpton Journeyman, they are the core Bucks hotels – and, while those also-close places are also good, SpringHill felt the most like where I want to be as a fan/spectator/person on assignment to cover a game and review a hotel.
Springhill Suites was developed by the local Jackson Street Holdings LLC, which bought the historic, six-story Commerce Building – built in 1927 but underused for years – and, with help from state and federal historic preservation tax credits, renovated it in 2015. Fresh and upscale, Springhill looks sleek and feels hip, with a muted interior design that's neither antiseptic nor over-the-top, as many new hotels seem to be. (There are also Springhill Suites locations in Wisconsin Dells and Green Bay.)
All of its 155 rooms are classified as suites, though, it being a Downtown hotel, they are certainly not huge. The units include Wi-Fi and ample work space for business travelers, a pull-out sofa, mini fridge and microwave, ironing board, plenty of outlets and, crucially, 42-inch flat-screen TVs with built-in access to Netflix, Hulu and other streaming services.
There's coffee and a complimentary hot breakfast buffet in the lobby, which sufficiently serves eggs, sausage, pastries, waffles and oatmeal with a toppings bar. For those needing to work off their Doc's dinner, there's a 24-hour fitness center with state-of-the-art cardio equipment.
For those disinclined or uninvited to the Wisconsin Center, Springhill has two meeting rooms totaling around 2,000 square feet. For those who – unlike me – don't live Downtown and need a place to put their car, there are 140 underground and surface parking lot spaces and valet service.
But what really separates SpringHill – both as a hotel and generally as a go-to spot for a Bucks game – is the restaurant. Doc's Smokehouse is massive, relaxed, down-home-chic (if that's a thing) and delicious.
It serves myriad craft beers and cocktails from the white oak-topped bar and bare-meat Southern barbecue at the tables, which are properly equipped with a roll of paper towels that come in (literally) handy for cleaning up the variety of five finger-licking regional sauces – spicy Texas style, tangy Memphis style, vinegary Carolina pepper style, savory white Alabama style and sugary Doc's signature sweet sauce.
Doc's has appealing happy hour and NFL game-day specials, and on a random weeknight before a Bucks game there are about 50 people at the restaurant – some travelers sitting alone, some groups of friends sitting at large tables, many watching sports on TV. On weekends and some other nights, there is live music in a stage area at the east end of the restaurant, otherwise closed off by a door with a gigantic American flag painted on it. The service is prompt and friendly, and the food – well, let's just say the food is quite tasty.
Given its Downtown location and upscale amenities, SpringHill Suites is a perfectly good option for business and convention guests. But, whether for local Milwaukeeans stopping in to get some beer and barbecue or out-of-town visitors staying the night, it's particularly great for Bucks fans.
Born in Milwaukee but a product of Shorewood High School (go 'Hounds!) and Northwestern University (go 'Cats!), Jimmy never knew the schoolboy bliss of cheering for a winning football, basketball or baseball team. So he ditched being a fan in order to cover sports professionally - occasionally objectively, always passionately. He's lived in Chicago, New York and Dallas, but now resides again in his beloved Brew City and is an ardent attacker of the notorious Milwaukee Inferiority Complex.
After interning at print publications like Birds and Blooms (official motto: "America's #1 backyard birding and gardening magazine!"), Sports Illustrated (unofficial motto: "Subscribe and save up to 90% off the cover price!") and The Dallas Morning News (a newspaper!), Jimmy worked for web outlets like CBSSports.com, where he was a Packers beat reporter, and FOX Sports Wisconsin, where he managed digital content. He's a proponent and frequent user of em dashes, parenthetical asides, descriptive appositives and, really, anything that makes his sentences longer and more needlessly complex.
Jimmy appreciates references to late '90s Brewers and Bucks players and is the curator of the unofficial John Jaha Hall of Fame. He also enjoys running, biking and soccer, but isn't too annoying about them. He writes about sports - both mainstream and unconventional - and non-sports, including history, music, food, art and even golf (just kidding!), and welcomes reader suggestions for off-the-beaten-path story ideas.