I marvel at stores that sell very specific goods or services and are able to survive in light of big box stores and online shopping. In 2015, I identified some of these places – a store that only sells lamp shades, another that solely stocks scuba gear – and sadly, a couple have closed since the story posted.
Recently, I was stopped at a red light on Oklahoma Avenue in the Polonia neighborhood, and I looked to my right at a large, weathered sign that read "Economy Color TV ... We repair all makes." I had seen the sign many times before, but this time I had a minute to photograph it.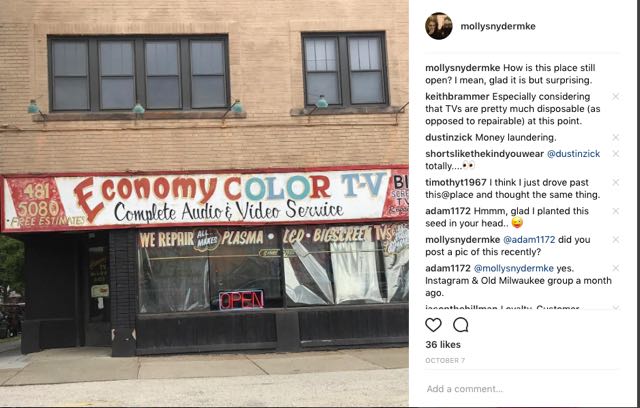 I later put the photo on Instagram with a comment about how I was surprised but glad such a shop still exists. The concept seems so outdated. In our disposable world, do people really repair TVs anymore?
Well, 99.1 The Mix's Elizabeth Kay did – and it saved her more than $400. Kay and her husband were literally in the process of replacing their 3-year-old Samsung Smart TV (which they had dropped) when she saw my post on Instagram and called Economy. Within a day, they diagnosed the problem and fixed the TV's control panel for $190.
"The warranty on it was expired, so it would have been $600 to buy a new one," says Kay. "I'm so glad I saw your post!"
Ah, the power of social media. And reliable, old-school services. I continue to marvel.

Molly Snyder started writing and publishing her work at the age 10, when her community newspaper printed her poem, "The Unicorn." Since then, she's expanded beyond the subject of mythical creatures and written in many different mediums but, nearest and dearest to her heart, thousands of articles for OnMilwaukee.

Molly is a regular contributor to FOX6 News and numerous radio stations as well as the co-host of "Dandelions: A Podcast For Women." She's received five Milwaukee Press Club Awards, served as the Pfister Narrator and is the Wisconsin State Fair's Celebrity Cream Puff Eating Champion of 2019.