Check in early and stay late during OnMilwaukee's "Hotel Week" sponsored by VISIT Milwaukee. The next seven days will be packed with stories about historic area hotels, reviews, history, food and drink, staycations and more. Find out what it's like to be a tourist in this town. (Chocolate on your pillow not included.)
There is an abundance of elegance in the InterContinental Hotel, 139 E. Kilbourn Ave., but perhaps the true beauty is how complete an experience a person – or couple – can have without leaving the building.
During our recent visit, it was easy-breezy from the moment we walked in the door. There were a few people ahead of us in line to check in, but the swift desk service resulted in a less than five minute wait. We took the few minutes while queued up to appreciate the lobby, which was filled with light, fresh flowers and energized guests with rolling suitcases in tow.
It immediately felt like a vacation.
The InterCon features 221 rooms, two of which are Pink Rooms. These unique rooms are decorated primarily in pink hues and a portion of the rental proceeds go to the After Breast Cancer Diagnosis (ABCD) Foundation.
"The InterCon has partnered with this great organization for six years," says Omar Naimi, InterContinental Hotel's general manager.
The Pink Rooms were designed by three hotel employees, all of whom had a personal connection to breast cancer. There is also a Pink Room blog, to which guests are invited to contribute.
Luckily, the rooms are not too pink, but rather a blend of rose, blush, fuchsia and magenta. No one wants to feel like they are sleeping inside a Pepto-Bismol bottle.
We stayed in one of The Pink Rooms and found it to be small, but not too small, and very comfortable – from the pillowy-yet-firm bed to the relaxing chair to the perfect water pressure in the shower.
Our only complaint was that the room served as a melancholy reminder of the women in our lives we've lost to breast cancer. Although we believe in awareness, it was a bit of a buzzkill at times.
The view from our room, however, was Milwaukee spectacular.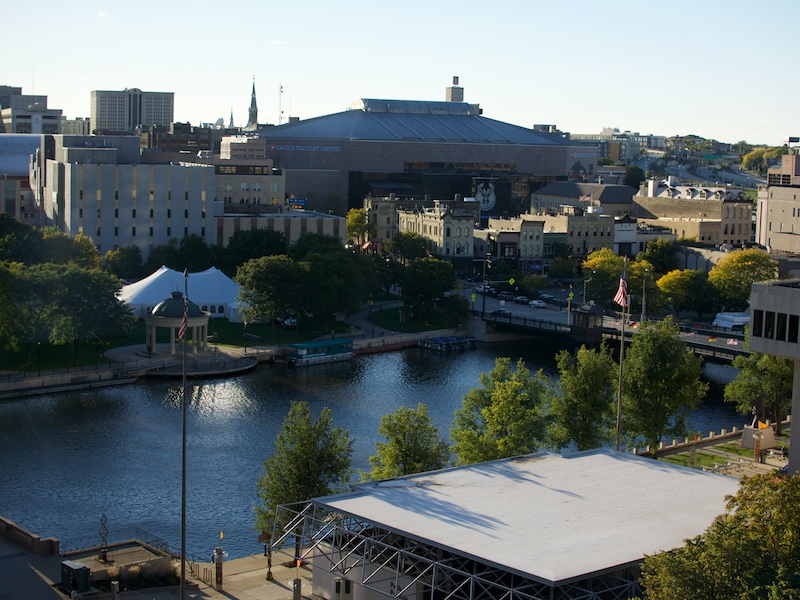 During Happy Hour, we knocked back a couple drinks at Clear, the hotel's lobby bar which is smartly situated slightly outside the hotel hustle. The left-of-center placement allows drinkers to observe the coming-and-going of guests while still being in a comfortable, relaxed environment. It feels vivacious and chill at the same time.
We appreciated how the bartender took his time to craft our drinks, but was also very efficient and quick to nod or make eye contact with waiting customers so they knew he was aware of their presence.
(On a side note, the next morning, we tried to buy a cup of coffee at Clear and were given one for free because the bartender felt we had waited too long.)
There's also a quirky aspect to the lobby bar. Every Tuesday from 5:30 to 7:30 p.m. the lounge offers bocce ball on an indoor court; midweek brings WineCrazed Wednesdays and there's live music on Fridays. The lounge will also set up table tennis and hosts a "Clear Your Mind" happy hour every Friday from 4:30 to 6:30 p.m.
Later in the evening, my partner and I dined at Kil@wat, which is one of the city's most aesthetically warm restaurants. The low, ambient lighting and deep orange suede chairs, orange walls and orange flowers make the dining experience feel cozy in a largish space.
We enjoyed our meals immensely – I had the cavatappi and my partner ordered the center-cut pork chop. The cavatappi was beautifully presented – a seafood showpiece almost too pretty to eat – and included sautéed shrimp, mussels and scallops in a saffron tomato broth. The portion was perfect. I ate every bite and felt sated, not stuffed, afterward.
The beer-brined pork chop was also a delight and a much richer dish than the more-savory cavatappi. It was served with caramelized Brussels sprouts, apple honey butter, smoked bacon and sweet potato gnocchi.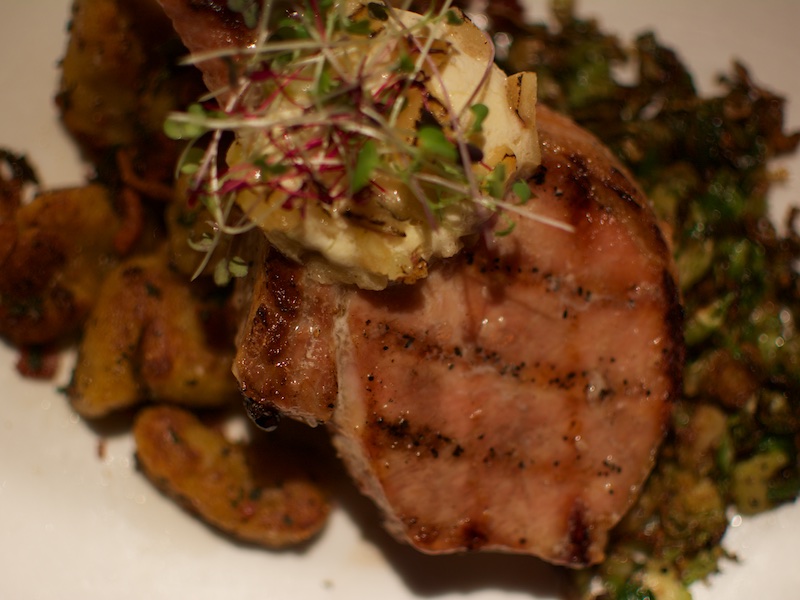 The InterContinetal Hotel also offers private dining for up to 125 people in the ZenDen and room service with a menu that ranges from hearty meals to romantic snacks.
Mmmm ... romantic snacks.
There are numerous events scheduled at the hotel for Thanksgiving, Christmas Eve, Christmas Day, New Year's Eve and New Year's Day. There's also a holiday lights celebration that will kick off the festive fun on Thursday, Nov. 19. And, take note, there are some good deals on rates during November and December.
After our dinner at Kil@wat, we walked down Water Street for a drink at the Safe House, which is half a block away from the hotel and also owned by the Marcus Corporation. As already mentioned, guests could easily spend their entire evening in the hotel, but it's fun to slip out for one, too – especially considering how centrally located the hotel is to the RiverWalk, restaurants and bars.
The next day, we stopped by Gallerie M, an art gallery featuring national and local artists. The art varies in genre and rotates every six weeks. We checked out the lively, pastel paintings by Natalija Yatsuka, who is also an employee of the Well Spa and Salon inside the Pfister Hotel, also owned by the Marcus Corporation.
In the past, we've stayed at the opulent Pfister, and this was our first overnight at the InterContinental. Although the InterContinental does not have the high profile of the historic Pfister, it's every bit as luxurious and, at the same time, as down to earth.
"Everyone has their own philosophy on how to run a hotel, but for me, and the rest of our staff here, we believe that a hotel is not just a place to stay," says Naimi. "It's a place where needs are understood."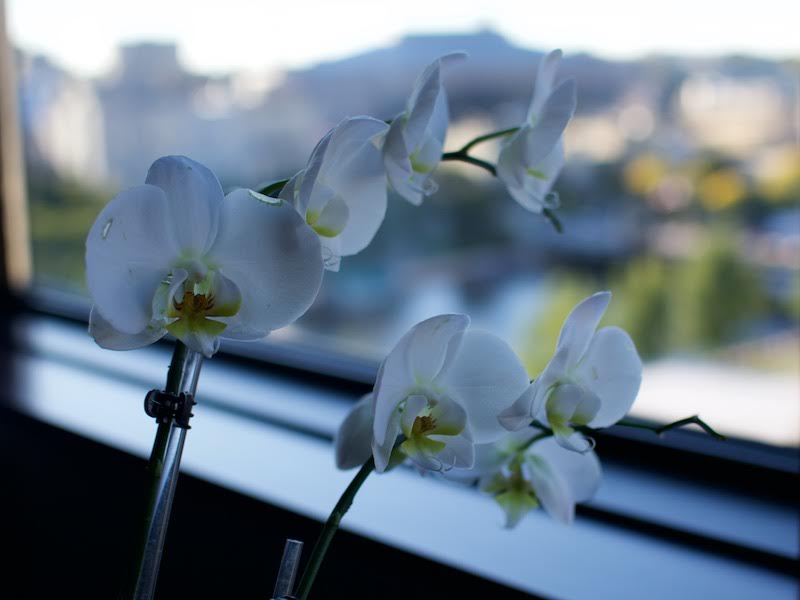 Molly Snyder started writing and publishing her work at the age 10, when her community newspaper printed her poem, "The Unicorn." Since then, she's expanded beyond the subject of mythical creatures and written in many different mediums but, nearest and dearest to her heart, thousands of articles for OnMilwaukee.

Molly is a regular contributor to FOX6 News and numerous radio stations as well as the co-host of "Dandelions: A Podcast For Women." She's received five Milwaukee Press Club Awards, served as the Pfister Narrator and is the Wisconsin State Fair's Celebrity Cream Puff Eating Champion of 2019.