Of all the places I've visited so far for the ongoing Urban Spelunking series, only one has been surrounded by water. And that one – the Breakwater Lighthouse – is anchored to the lake bottom (I think!).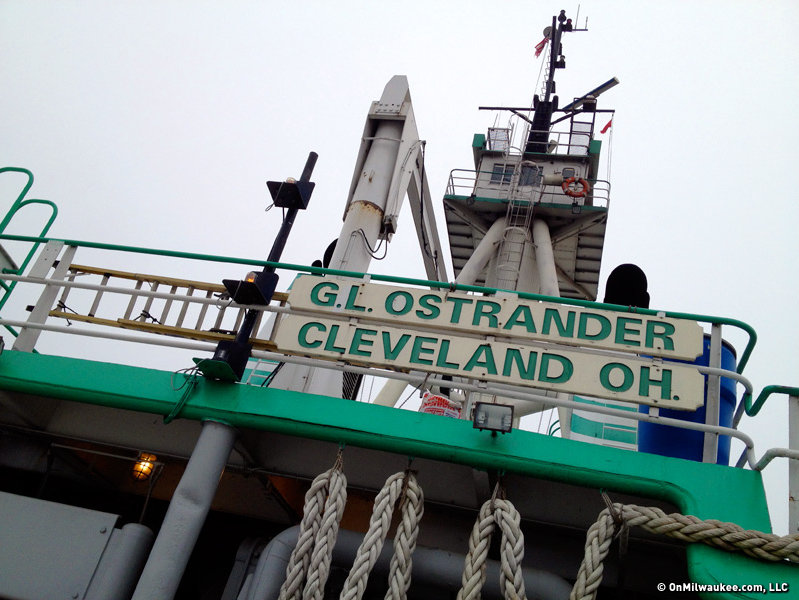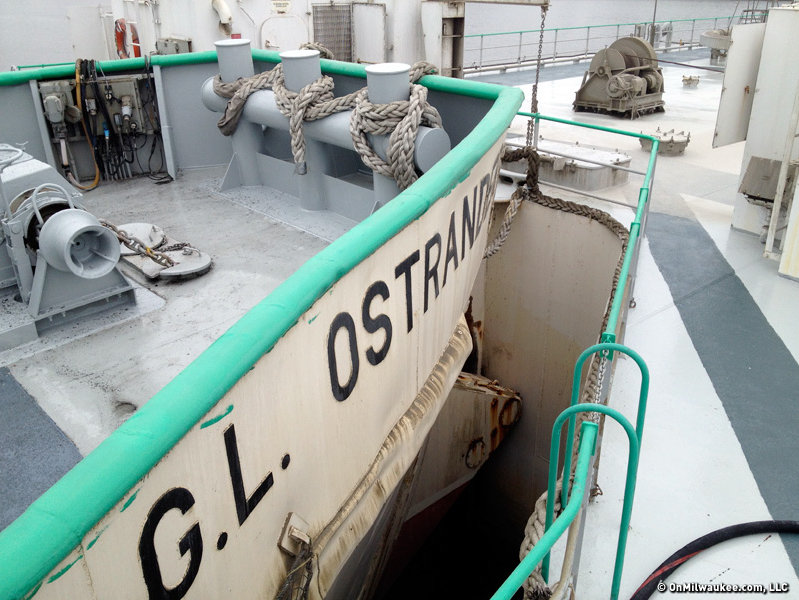 We really took to the drink when we got a tour of a Lafarge cement ship docked at Jones Island in the Port of Milwaukee to unload "powder" from Lafarge's cement operation in Alpena, Mich., before heading out onto the lake for a stop at Grand Haven on its way back up to Alpena.
After a stop in the Lafarge office, located inside a tall cement powder silo near Kashube Park on Jones Island that offers a glimpse into how the powder is directed into waiting semi trucks in the base of the silo, we went out to board the "Integrity."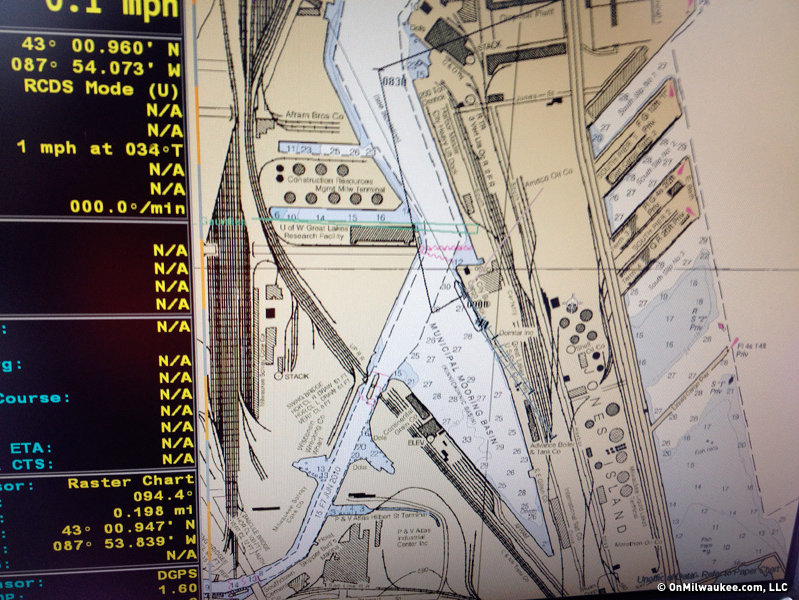 To the naked, untrained eye, the Integrity – built in 1996 – appears to be a ship, but it is really a barge connected to a powerful tug boat, the G.L. Ostrander, which locks into the barge to create a lake-going vessel that is easier to maneuver and requires a much smaller crew than an actual ship.
Captain Jerry Kralevic likens the system to coupled train cars.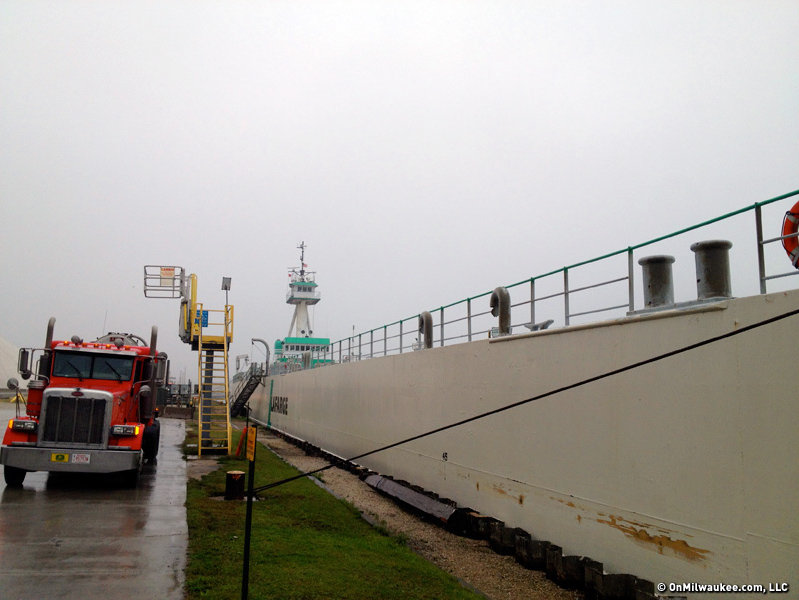 "It's an articulated type of bar, and a slot," he tells me in the control room under the foc'sle near the bow of the barge. "It's like, lets say you have a train (car), and there's a big bar there, and you've got hydraulics with a disc on each side, and it sort of locks in like that there and what it does is, when you're pushing and you get a sea that makes you roll – you'll roll together like that, and you'll then hitch independently."
Kralevic says that a standard tug pushing a barge has a lot less control than the articulated system that Integrity and G.L. Ostrander use.
"These things here, they are out in the open sea, too. And they are pushing 30-foot seas. Everything is going that way," in large part because of cost savings, the captain says.
"Well, there's manning, for one thing," he adds. "We've got 10 guys on here, one of our ships, smaller than we are ... they've got 21 guys on it. Some of the bigger ones have got 26, 28 crew members on it. It's a financial consideration, (and there's) insurance."
The articulated barges are a bit slower than a traditional ship, running about 13-14 knots, compared to 16 or 17.
Kralevic has been doing this work for 40 years, he says, first out on the East Coast and out on the ocean and, for the past two decades here on the Great Lakes, and clearly he enjoys it.
The captain lives in Muskegon, but he has crew members from all over: Arizona, Texas, Baltimore. Every two weeks the crew changes a bit as the rotation sends some guys home and brings new crew members aboard.
There's always work to be done. Kralevic says the painting almost never stops and the engineers are always working in the engine room to keep things clean and in working order.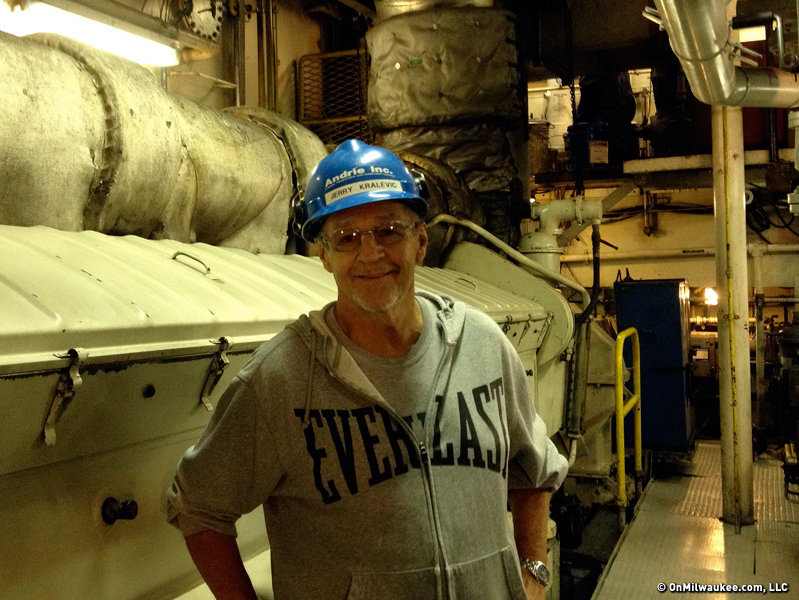 During my visit, I saw some crew members taking on oil to lubricate the engines, but mostly things were quiet.
The ship makes a circuit from that ranges from Chicago to the south all the way back up to Alpena, with various, changing stops in between, and even out into Lake Huron, down to Detroit, and into Lake Erie, to Cleveland. When winter comes, it lays over here in Milwaukee where maintenance is performed across six or eight weeks. Though they're not on the open water, the staffing schedule continues.
"We sit in here every winter and do all of our maintenance, so you know we tie up here. Last year was a little later, up until January, but usually we tie up a little bit before Christmas time and then we're here until probably – we do a winter run in February down in Chicago. We come in here loaded, so they lay some cement down there, and we'll help these guys with the rest of it, and then we'll go back to work sometime in April or something like that."
Winter, of course, makes shipping impossible on some parts of Lake Michigan.
"You get ice everywhere. You get shore ice down here. Lately it's been kind of warm. The whole lake doesn't freeze up. You can get all the way down to Chicago, but there are a lot of patches of it anyway," the captain says.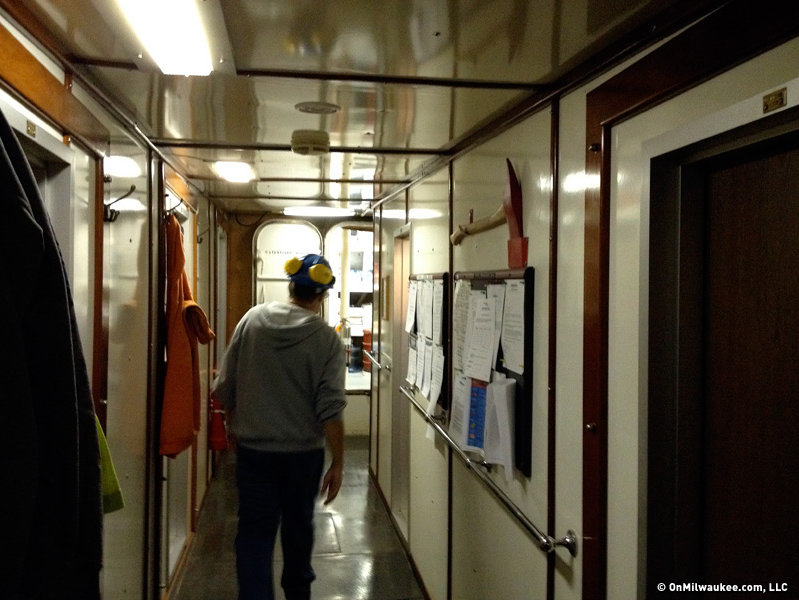 "Further up, that's where you get all your ice, up in the straits, that's two or three feet thick. Then when it starts to break up and everything, you get ridges that can get up to 10, 12 feet high. So anytime we go through there, you know, we've got a Coast Guard cutter, they put a tracking that shows all the way down to the Mackinaw Bridge, and they kind of maintain that. When we need it. Most of the time we need it.
"Toward the end of March, that's when everything starts to get real stiff. Then it starts to move around a little bit. That's when we get some rocks, and then if it breaks off of that shore, that's where you can be set in the ice, where you get stuck. The whole shelf's moving."
After talking for a while in the control room, I follow the captain out onto the deck of the barge and he points out the different access points to the eight tanks below our feet, which can hold cement powder of various types and slag in different tanks, which, combined, can hold up to 36,000 tons.
Above our heads flexible hoses connected to the silo bounce as "product" is pumped out of the tanks and into the silo on Jones Island.
We stop and beyond the hoses the Milwaukee skyline rises. I asked the captain if he and his crew get some time to spend in the streets of the cities where they tie up.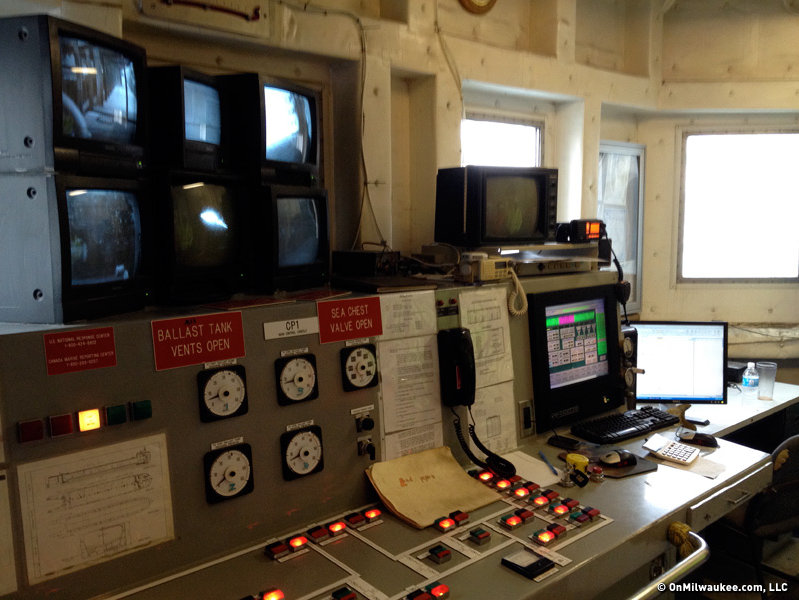 "Well, being that you don't have much time – you only have about four hours – guys will go around in Cleveland here and there, you know," he says. "Green Bay."
But it's not like the old days when ships were in port for days at time. Now, there's rarely even a full day to go out exploring. And, again, there's always work to do.
When we get to the far end of the barge Kralevic shows me how the tug connects to the barge.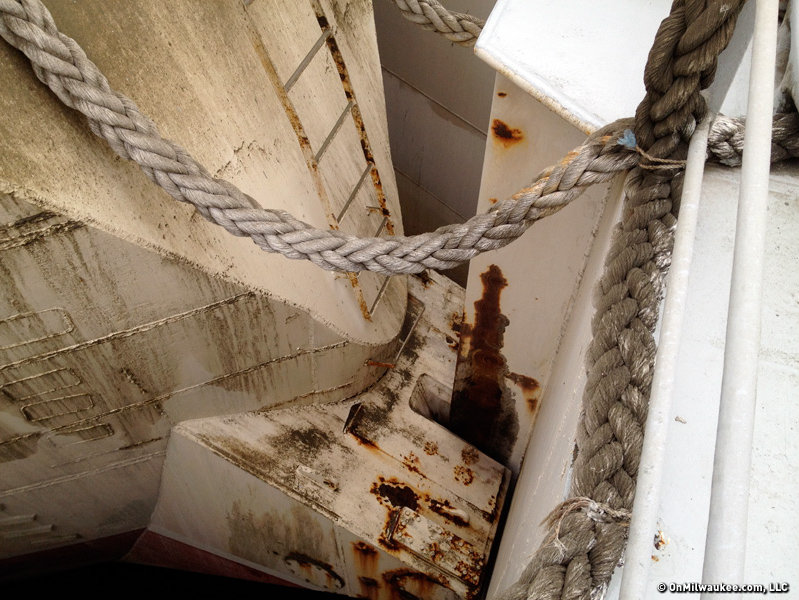 In addition to being able to pivot a bit on that rod he mentioned earlier, it can also move up and down to accommodate the fact that the barge sits higher or lower in the water depending on how much cargo its carrying.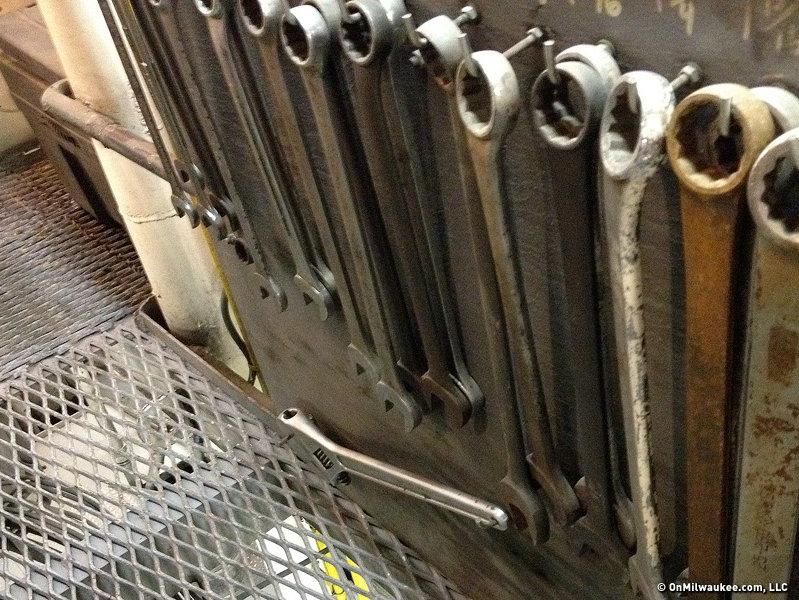 Then, we go inside, where I get to see the engine room – which is impressive for its huge motors, complex grids of pipes and hoses, and array of over-sized wrenches and other tools, to say nothing of the heat and the overwhelming noise, despite the fact that we're docked – and the places where the crew passes its time.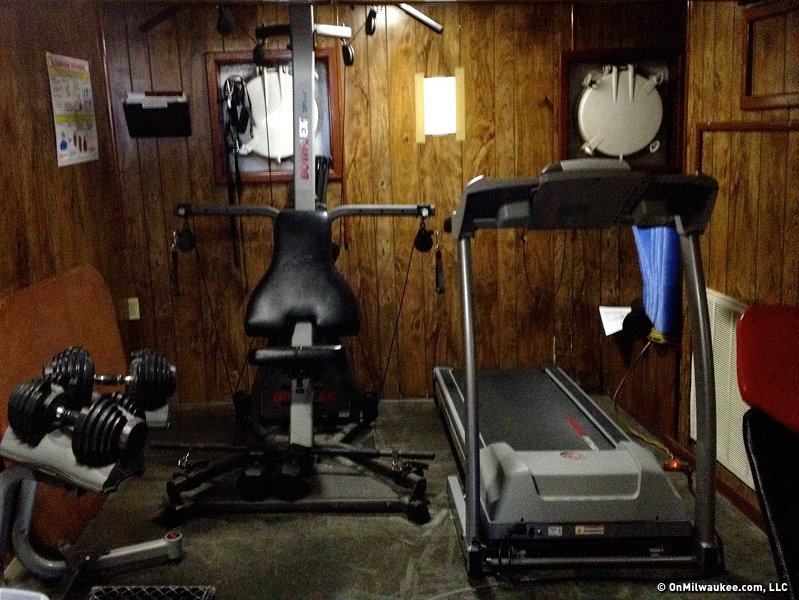 There's a small gym with wood paneling like we had in our family den in the 1970s. There's a TV and a video game console in there, too. The captain's quarters are part bedroom and part office, and a monitor like the one up on the bridge stares down at the bunk as a reminder that the captain is never really off-duty, even when he is.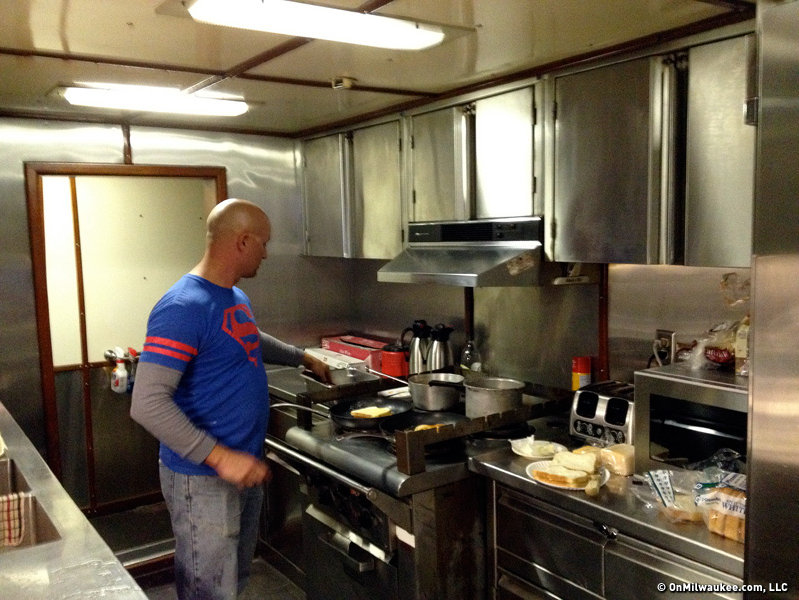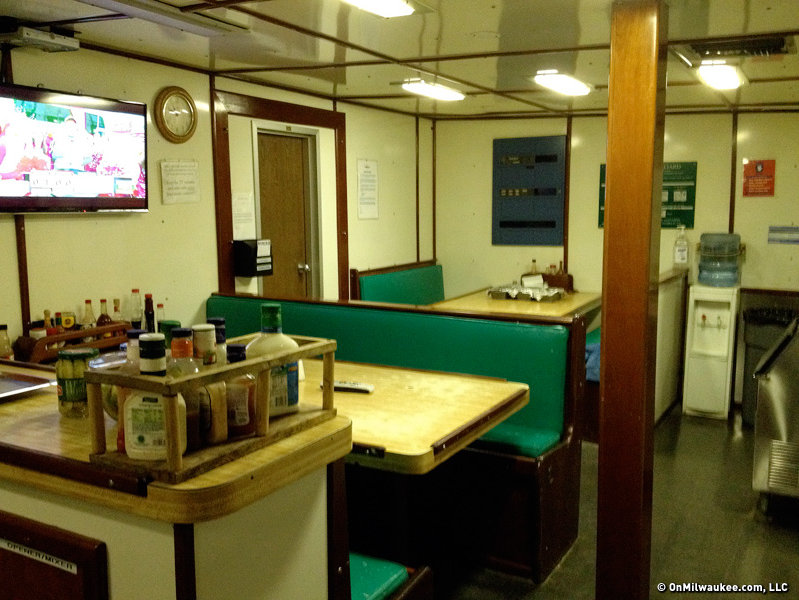 There's a tight galley kitchen and a mess that looks like a super-compact diner, and down a narrow hall, there are crew members' individual quarters and what Kralevic calls, "the head," with a sink, a shower and a couple toilets.
Off this hallway is a storage area that has a freezer that the captain calls the ice cream freezer. It is, he jokes, the reason he and his crew need the workout room.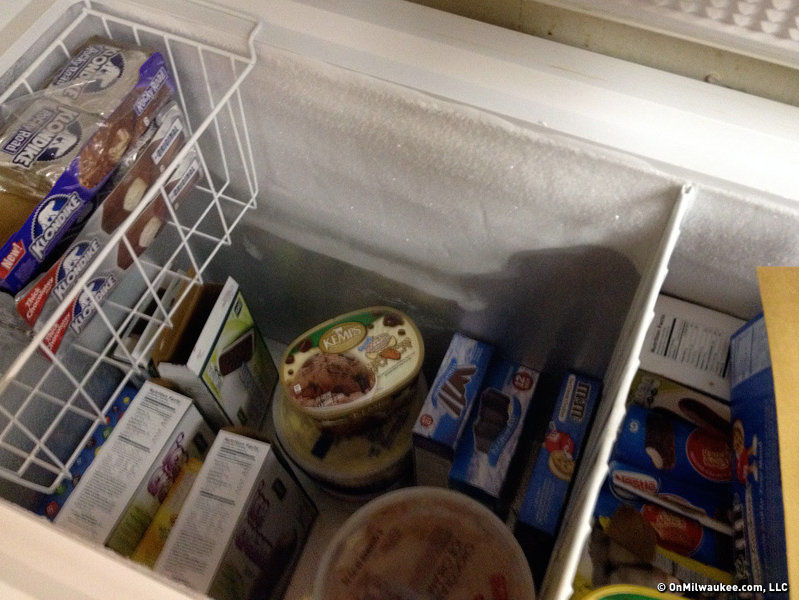 He flips open the lid to reveal stacks of Klondike Bars, gallons of Kemp's ice cream and other frozen treats.
We climb a spiral staircase to get to the bridge, which offers panoramic views of the vessel, but also the Port of Milwaukee and landmarks like the Allen-Bradley Clocktower and the U.S. Bank Building.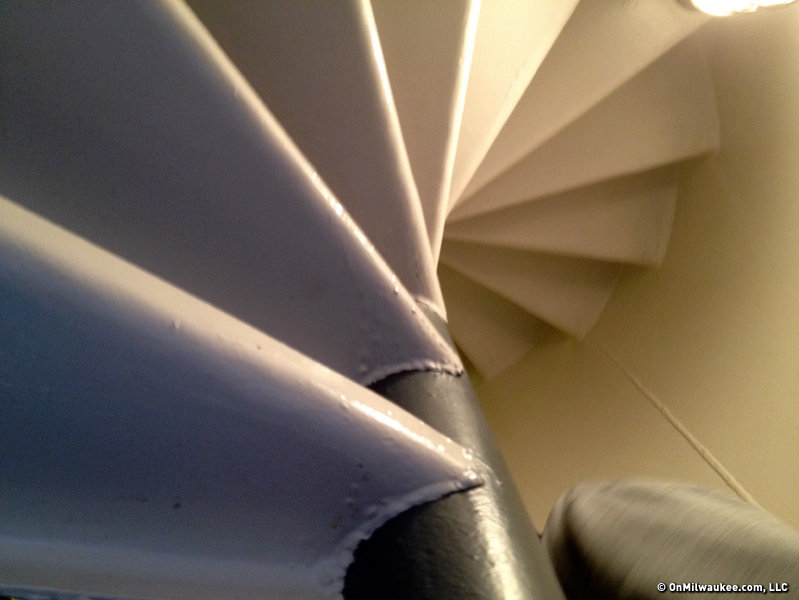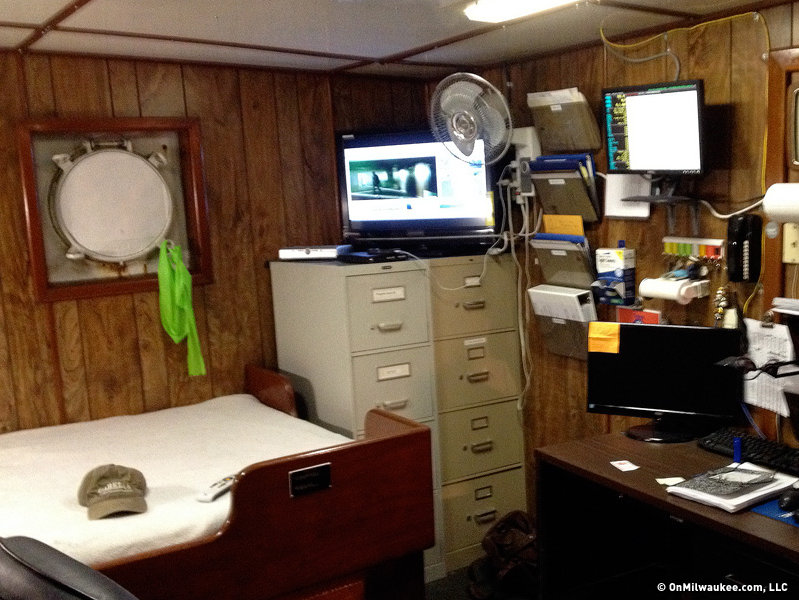 Kralevic explains the various controls and points out some features of the printed charts and we find ourselves on the map on the computer display. I ask him if after four decades he's used to the 28 days on, 14 days off schedule.
"My kids (would) come up to me, when they were small (and) say, 'so whose birthday are you going to be home for? Which birthdays are you going to miss? What holidays are you going to miss?'
"Usually you know your schedule, 'I'll be home for this, I won't be home for that.' So there's a lot of that. We put out our schedule annually, but it's always subject to change.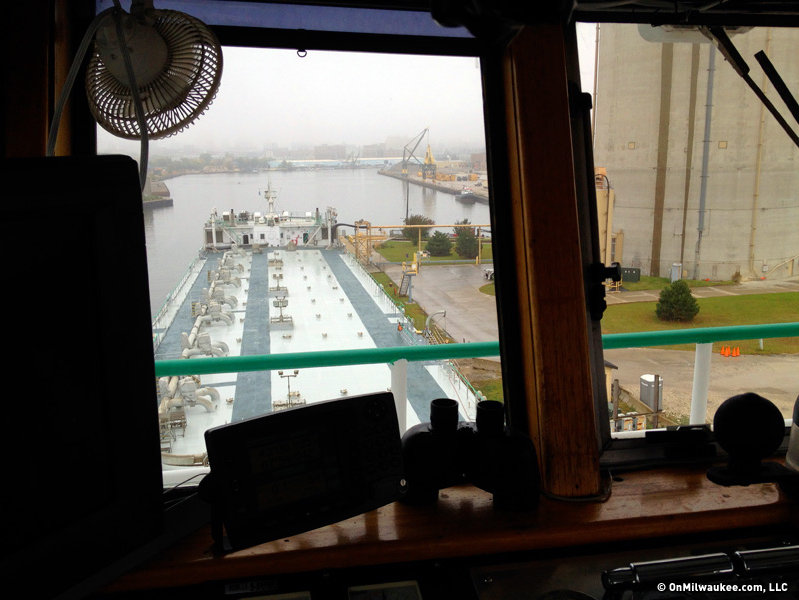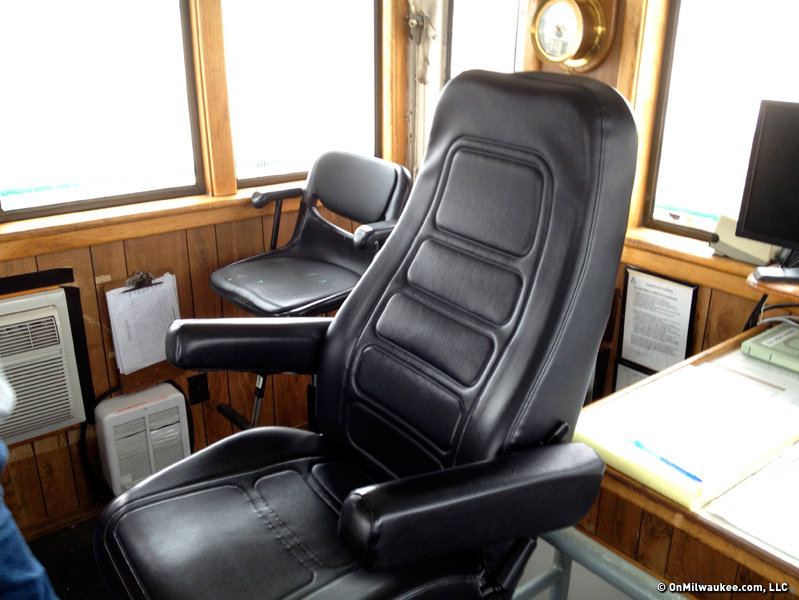 "Some ships, they're working 60 (on) and 30 (off), and that's too long," he says. "You guys go home every night, you know? (After) 28, we're ready to go home."
Born in Brooklyn, N.Y., where he lived until he was 17, Bobby received his BA-Mass Communications from UWM in 1989 and has lived in Walker's Point, Bay View, Enderis Park, South Milwaukee and on the East Side.
He has published three non-fiction books in Italy – including one about an event in Milwaukee history, which was published in the U.S. in autumn 2010. Four more books, all about Milwaukee, have been published by The History Press.
With his most recent band, The Yell Leaders, Bobby released four LPs and had a songs featured in episodes of TV's "Party of Five" and "Dawson's Creek," and films in Japan, South America and the U.S. The Yell Leaders were named the best unsigned band in their region by VH-1 as part of its Rock Across America 1998 Tour. Most recently, the band contributed tracks to a UK vinyl/CD tribute to the Redskins and collaborated on a track with Italian novelist Enrico Remmert.
He's produced three installments of the "OMCD" series of local music compilations for OnMilwaukee.com and in 2007 produced a CD of Italian music and poetry.
In 2005, he was awarded the City of Asti's (Italy) Journalism Prize for his work focusing on that area. He has also won awards from the Milwaukee Press Club.
He can be heard weekly on 88Nine Radio Milwaukee talking about his "Urban Spelunking" series of stories.