Every Milwaukeean has a Lake Michigan story and for the next seven days OnMilwaukee will share as many as possible during "MKE Lake Week," sponsored by the Harbor District. Love our lake? You're in the right place.
This week, we've been writing about Lake Michigan, posting photos, sharing memories, hearing from readers and generally appreciating this great big body of water we have right here in our backyard (or is it the front yard?).
We're certainly spoiled in Milwaukee with our miles of scenic urban shoreline, easily accessible and open to all, offering picturesque views, bountiful recreational activities and a place to commune with nature and history. Everyone has a Lake Michigan story, and our most valuable, recognizable resource means something different for everyone.
For me, it's a running route, a spot to think and an emotional escape from city life or stress or personal problems. It's a landmark, a local compass and a wonderful way to feel like I'm somewhere else. Like any proud Milwaukeean, I've no doubt taken hundreds of photos of Lake Michigan over the years – from different locations and vantage points, at sunrise and sunset, when it's peacefully placid or dangerously choppy, blue or green or in between, reflecting a brilliant sky or covered with ice – always trying to capture its essence and its beauty.
And, really, the lake doesn't take a bad picture; every shot is pretty and memorable and good. Surely, you've got your go-to favorite spot for a Lake Michigan photo (and we've been sharing many of them on our Instagram account this week). For me, it's the Texas Rock overlook in Bay View, which beholds Downtown and the lake from the northwest.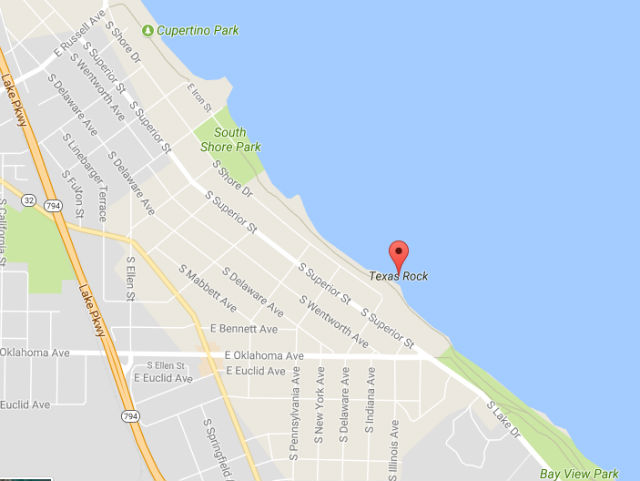 South of South Shore Park and north of Bay View Park, at the far-east end of Texas Avenue, atop the still-operational Texas Avenue Water Pumping Station, it's a truly terrific hidden-gem vista.
My dad brought me there years ago, and I've loved it ever since. It's become a destination for a long jog and a nice little site to stop at when I'm passing through Bay View, as well as a place to take out-of-town friends. It's a public area, but the dead-end South Shore Drive, posted "No Loitering" sign and incredible private houses nearby help keep it secluded.
The panorama is unbeatable; the Hoan Bridge and Milwaukee skyline in the background, sailboats dotting the harbor in the foreground, the sometimes-visible – depending on the water level – Texas Rock for which the location is named and the vast, endless expanse of water beyond the breakwall.
This is my preferred place to marvel at, photograph and experience Lake Michigan. What's yours, Milwaukee?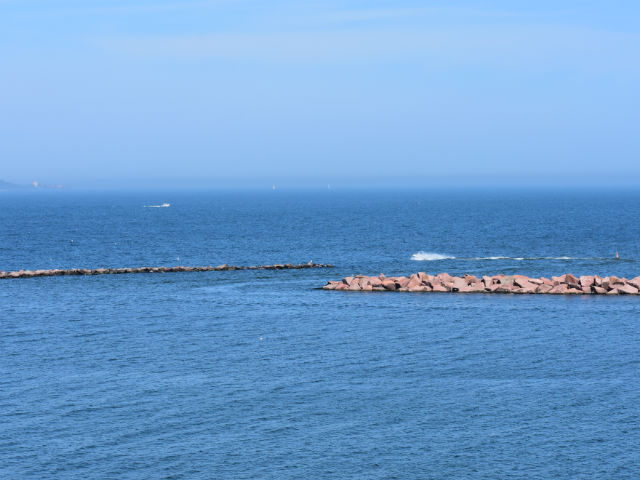 Born in Milwaukee but a product of Shorewood High School (go 'Hounds!) and Northwestern University (go 'Cats!), Jimmy never knew the schoolboy bliss of cheering for a winning football, basketball or baseball team. So he ditched being a fan in order to cover sports professionally - occasionally objectively, always passionately. He's lived in Chicago, New York and Dallas, but now resides again in his beloved Brew City and is an ardent attacker of the notorious Milwaukee Inferiority Complex.
After interning at print publications like Birds and Blooms (official motto: "America's #1 backyard birding and gardening magazine!"), Sports Illustrated (unofficial motto: "Subscribe and save up to 90% off the cover price!") and The Dallas Morning News (a newspaper!), Jimmy worked for web outlets like CBSSports.com, where he was a Packers beat reporter, and FOX Sports Wisconsin, where he managed digital content. He's a proponent and frequent user of em dashes, parenthetical asides, descriptive appositives and, really, anything that makes his sentences longer and more needlessly complex.
Jimmy appreciates references to late '90s Brewers and Bucks players and is the curator of the unofficial John Jaha Hall of Fame. He also enjoys running, biking and soccer, but isn't too annoying about them. He writes about sports - both mainstream and unconventional - and non-sports, including history, music, food, art and even golf (just kidding!), and welcomes reader suggestions for off-the-beaten-path story ideas.