Ahoy Milwaukee mateys! OnMilwaukee declares May 24th as the official "Talk Like A Milwaukee Pirate Day." This fake Milwaukee holiday provides an excellent opportunity to don pirate wear while expressing Brew City pirate phrases like "Yarrrr der hey!" "Walk the Plankinton!" or "Shiver me winters!" And remember: the foam cheesehead is the original trifold hat.
Just because we live on the Third Coast, and just because there wasn't a shipworthy route from the high seas to the Great Lakes until the the Welland Canal and the St. Lawrence Seaway, doesn't mean Lake Michigan didn't have pirates of its own.
Whether or not these freshwater buccaneers were as dreadful as their slave-trading equals – known for their inhumane, brutal attacks on people in the Caribbean, including cutting unborn babies from their mothers' bellies – isn't clear, but they sure weren't altar boys.
Calico Jack
A woodcut of Rackham from Charles Johnson's 1725 edition of
"A General History of the Pyrates." (Wikipedia)
The first one I found was Jack Rackham, who boasted a pretty great pirate nickname in "Calico Jack."
Rackham was born in England in 1682, and although he made his name for attacks on the north coast of Jamaica – where he was ultimately captured and hanged for his crimes in 1720 – Calico Jack apparently also spent some time terrorizing fishermen and lumber ships near the Upper Peninsula. Details on that era haven't proved easy to find, however.
James J. Strang
An 1856 daguerreotype of James Strang. (Public doman/Wikipedia)
Next up is James J. Strang, who gets a mention in "The Death and Life of the Great Lakes," a recent book by Milwaukee's Dan Egan, who describes Strang as a "fiery rival of Brigham Young for leadership of the Mormon church."
I guess you might quip that Strang was more "Brigand Young."
Egan says that after Joseph Smith was killed by an Illinois mob, Young headed toward Utah and the polygamous Strang took his followers to Beaver Island in Lake Michigan, where he ruled his flock with an iron fist.
Beaver Island is roughly equidistant from Petoskey on Michigan's lower peninsula and Manistique in the U.P.
Egan quotes a 1940 newspaper article that draws on the memories of a survivor of Strang's camp: "(Strang) killed any number of men and women, and had others tied up and flogged 'til they bled. He sent men to loot gentile (non-Mormon) stores and even had pirates sailing around the island to rob fishing boats."
Strang was shot in the back on a dock at St. James, on Beaver Island, but it's pretty hard to feel bad for him.
Roaring Dan Seavey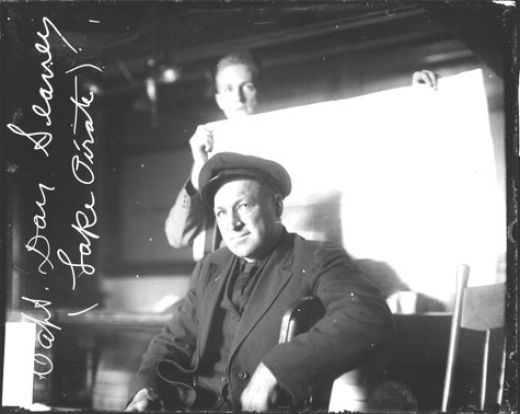 Roaring Dan Seavey, circa 1920. (Public doman/Wikipedia)
Last but not least is the most famous of them all, thanks in part to Great Lakes Distillery's eponymous quaff.
Roaring Dan Seavey is, Great Lakes' Guy Rehorst tells me, the only man arrested for piracy on Lake Michigan (a fact I've found in other sources, too).
The burly Seavey arrived in Wisconsin at Middle Inlet but made his way to Milwaukee, where he ran a tavern near the lake. Seavey was quick to use his fists, "never shirking a fight" – according to Dr. Richard J. Boyd's in-depth article on Seavey – who also didn't shirk using his fists on his first wife, either, leading to divorce.
Seavey was also an "entrepreneur" with a series of businesses, legal and not, including lumbering, bootlegging, poaching, trapping and, in the definitely not legal column, operating a floating brothel on the lake. So, add human trafficking to his rotten resume.
He was known for getting schooner crews drunk and stealing their ships, as well as for moving or extinguishing marine warning and guide lights – a dastardly deed dubbed "moon cussing" – leading ships to crash into rocks. Seavey would then steal the grounded vessels' cargo.
On at least one occasion, Seavey fired cannon on a ship, killing everyone on board.
Ironically, after he was captured, Seavey joined the U.S. Marshals Service and worked to fight piracy on Lake Michigan. Did he hope make up for his transgressions? Who knows?
Seavey died in a Peshtigo nursing home in 1949 and is buried in Marinette.
Born in Brooklyn, N.Y., where he lived until he was 17, Bobby received his BA-Mass Communications from UWM in 1989 and has lived in Walker's Point, Bay View, Enderis Park, South Milwaukee and on the East Side.
He has published three non-fiction books in Italy – including one about an event in Milwaukee history, which was published in the U.S. in autumn 2010. Four more books, all about Milwaukee, have been published by The History Press.
With his most recent band, The Yell Leaders, Bobby released four LPs and had a songs featured in episodes of TV's "Party of Five" and "Dawson's Creek," and films in Japan, South America and the U.S. The Yell Leaders were named the best unsigned band in their region by VH-1 as part of its Rock Across America 1998 Tour. Most recently, the band contributed tracks to a UK vinyl/CD tribute to the Redskins and collaborated on a track with Italian novelist Enrico Remmert.
He's produced three installments of the "OMCD" series of local music compilations for OnMilwaukee.com and in 2007 produced a CD of Italian music and poetry.
In 2005, he was awarded the City of Asti's (Italy) Journalism Prize for his work focusing on that area. He has also won awards from the Milwaukee Press Club.
He can be heard weekly on 88Nine Radio Milwaukee talking about his "Urban Spelunking" series of stories.