Ahoy Milwaukee mateys! OnMilwaukee declares May 24th as the official "Talk Like A Milwaukee Pirate Day." This fake Milwaukee holiday provides an excellent opportunity to don pirate wear while expressing Brew City pirate phrases like "Yarrrr der hey!" "Walk the Plankinton!" or "Shiver me winters!" And remember: the foam cheesehead is the original trifold hat.
It was a few years ago, at the Miramar Theatre on the East Side, while covering the Deadman's Carnival – an eclectically eccentric monthly variety show that is definitely worth checking out at least, and probably only, once – when I first heard the lively, funky, seemingly discordant-but-somehow harmonious and utterly unique accordion-infused rap beats of the world's first (and foremost) non-ironic polka hip hop band.
The November Criminals took the stage that night in 2013 dressed as pirates – including eye patches, pistols and a hooked hand to hold the microphone – and opened the set with their catchiest, and, at the time, best-known song, "Ahoy." With eight other costumed pirates dancing behind them, and through an impromptu on-stage sword fight that had the house band bent over laughing, the three group members initiated a full-throated call-and-response with the audience of their song's chorus, "Ahoy! … Arrr! … Ahoy! … Arrr!"
Formed in 2011, The November Criminals comprise Keith Gaustad, who calls himself the Brumeister, the ponytail-ed poet and founder who does a little bit of everything in the group; Tahrim Tatum, aka Spade One, the 40-something African-American rapper who's been on the Milwaukee hip-hop scene for more than two decades; and Evan Maruszewski, known as NTSC, a newsboy cap-wearing hipster in his 30s who raps and plays the melodeon.
The band's name is a nod to their ages (all over 30) and shared heritage (each has German ancestry), and references the pejorative nickname given to surrendering Germans who signed the Armistice that ended World War I.
"Our name means a lot to us because our brand of criminality is the kind that may be shunned or reviled by the mainstream and the culture at large, but it is the right thing to do despite the way it is received," Maruszewski told me at the time, rejecting any Nazi connection. "The November Criminals was a movement against tyranny and the monarchy, which was famously corrupt and fatted at the time. We take inspiration from those that begin just fights and end unjust ones."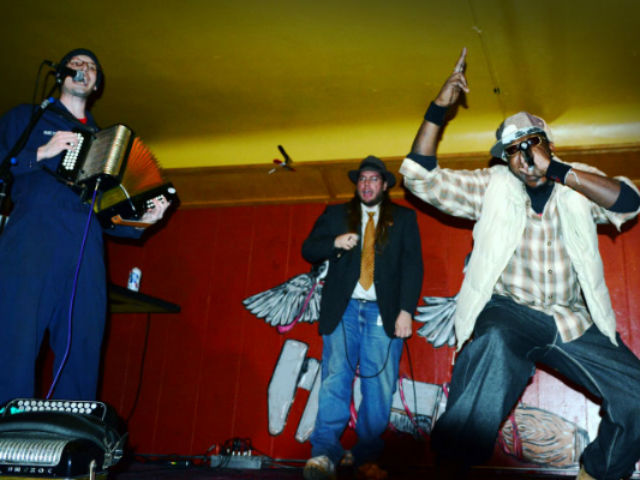 Unsurprisingly given the weight and thoughtfulness that went into the name, many of The November Criminals' songs are politically minded and socially conscious, touching on themes of class struggle, segregation and government. That's especially true on its latest album, the recently released "Great War," the band's second full-length record. A bit of a departure, sound-wise, from their previous work, but still certainly polka-hip-hop, the title alludes to World War I but the lyrics are a call to fight contemporary forms of "nationalism, fascism, escapism, anti-humanism and all forms of POOP" (or, power over other people, as Maruszewski explains).
But it's not all outcry and revolt; The November Criminals' catalog spans such lighthearted topics as beer, sports, sausage, sex, more beer and, of course, pirates.
"Ahoy" remains one of The November Criminals' most popular tunes. (Watch an audience-shot video of their performance at the Deadman's Carnival here.) When the band played it during a recent show at Nomad, the absurdly sincere, unconventionally authentic and undeniably fun tribute to scallywags on the seven seas had the same effect on the audience that it always does: head-bobbing smiles.
Take a listen to The November Criminals' new album and go hear them live June 4 at the Cactus Club.
Born in Milwaukee but a product of Shorewood High School (go 'Hounds!) and Northwestern University (go 'Cats!), Jimmy never knew the schoolboy bliss of cheering for a winning football, basketball or baseball team. So he ditched being a fan in order to cover sports professionally - occasionally objectively, always passionately. He's lived in Chicago, New York and Dallas, but now resides again in his beloved Brew City and is an ardent attacker of the notorious Milwaukee Inferiority Complex.
After interning at print publications like Birds and Blooms (official motto: "America's #1 backyard birding and gardening magazine!"), Sports Illustrated (unofficial motto: "Subscribe and save up to 90% off the cover price!") and The Dallas Morning News (a newspaper!), Jimmy worked for web outlets like CBSSports.com, where he was a Packers beat reporter, and FOX Sports Wisconsin, where he managed digital content. He's a proponent and frequent user of em dashes, parenthetical asides, descriptive appositives and, really, anything that makes his sentences longer and more needlessly complex.
Jimmy appreciates references to late '90s Brewers and Bucks players and is the curator of the unofficial John Jaha Hall of Fame. He also enjoys running, biking and soccer, but isn't too annoying about them. He writes about sports - both mainstream and unconventional - and non-sports, including history, music, food, art and even golf (just kidding!), and welcomes reader suggestions for off-the-beaten-path story ideas.