Welcome to the series "First to Wisconsin" featuring stories about businesses that we finally have in our state. Although there may be more locations to come, these premiere places are celebrated by OnMilwaukee and the Corners of Brookfield, a luxury shopping mall inviting guests to "Shop. Dine. Live. Be Entertained."

Although Wisconsin is sometimes perceived as a state filled with low-energy beer drinkers, L.L. Bean opened its first local retail store earlier this summer to reach the large sector of residents who are very much on the move.
"Part of the reason why we made the decision to expand our retail presence into Wisconsin is because the population base enjoys regularly engaging in a variety of outdoor pursuits," says Mac McKeever of L.L. Bean's corporate public affairs department. "Also, because of the store's proximity to several abundant natural resources there are multiple opportunities for many outdoor activities."
Wisconsin's premiere L.L. Bean store opened at the end of June at The Corners of Brookfield. The 15,000 square foot store employs 50 people and sells primarily active and casual apparel and footwear, as well as a wide variety of outdoor lifestyle gear including tents, backpacks, hiking and camping equipment, and more.
Some of the company's most popular products include the iconic Bean Boots, which started the company back in 1912. In 2016, L.L. Bean sold over 600,000 pairs and are projecting to sell over one million in 2018. Boat and Tote bags, hand-sewn and manufactured in Maine, are also huge sellers for Bean.
"All of our products are designed to keep folks happy and comfortable during their outdoor adventures," says McKeever.
The new Brookfield store will also offer ongoing demonstrations and clinics on outdoor topics – some free and some for a fee – through L.L.Bean's Outdoor Discovery Schools. Activities include snowshoeing, kayaking, stand-up paddle boarding, archery and fly casting. In 2016, over 150,000 people nationwide participated in these programs.
"All of these experiences are designed to make it easy for people to engage in outdoor activities for health, fitness and recreation," says McKeever.
The Brookfield store features many sustainability elements built into the design and construction, including an environmentally-friendly building management system which controls HVAC and lighting, LED lighting, windows designed to take full advantage of natural lighting, reclaimed barn board for many of the walls, recycled steel for many of the building shell components and occupancy sensors for lighting control.
"Our Brookfield location, like all of our stores, has an overall mission of sustainability," says McKeever.
Leon Leonwood Bean founded the L.L. Bean retail company in 1912 in Maine, where it is still based today.
"Being a company that's over 105 years old, one of the incredible things about L.L.Bean is that it's been able to maintain its authentic character, its soul and DNA amongst growth and changes in the retail landscape," says McKeever.
McKeever says Bean's initial mission remains deeply woven into the modern business model.
"Leon Leonwood Bean's original concept was to offer customers products of extremely high quality that satisfied certain needs or solved problems, delivered with superior customer service and that commitment is as strong today as it was in L.L.'s," says McKeever. "This has enabled us to foster a deep customer loyalty and a level of trust in our brand which is unique in the retail world."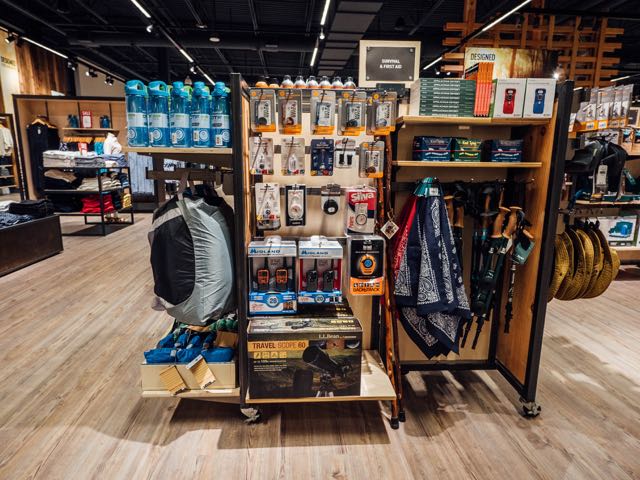 Currently, L.L. Bean operates 35 full retail stores outside of Maine, with the most recent store opening Sept. 1 on Cape Cod. They also have 10 outlet stores and three kiosks in the United States and 25 stores in Japan.
A second Wisconsin location will open in the spring of 2018 in Madison.
"Both stores allow the people of Wisconsin to experience first-hand everything that the legendary outdoor retailer has to offer, such as quality merchandise, a welcoming shopping environment and a large roster of ongoing demonstrations and clinics on a number of outdoor topics, which is a unique facet to all L.L.Bean stores," says McKeever.

Molly Snyder started writing and publishing her work at the age 10, when her community newspaper printed her poem, "The Unicorn." Since then, she's expanded beyond the subject of mythical creatures and written in many different mediums but, nearest and dearest to her heart, thousands of articles for OnMilwaukee.

Molly is a regular contributor to FOX6 News and numerous radio stations as well as the co-host of "Dandelions: A Podcast For Women." She's received five Milwaukee Press Club Awards, served as the Pfister Narrator and is the Wisconsin State Fair's Celebrity Cream Puff Eating Champion of 2019.