Welcome to the series "First to Wisconsin" featuring stories about businesses that we finally have in our state. Although there may be more locations to come, these premiere places are celebrated by OnMilwaukee and the Corners of Brookfield, a luxury shopping mall inviting guests to "Shop. Dine. Live. Be Entertained."
There is only one West Elm location in Wisconsin, and it really couldn't be in a more appealing and complementary location. Anchored on the corner of Water and St. Paul in the Mayer Building in the Third Ward, the corner space does not feel like a chain store and has a plethora of large windows which allow natural light to enhance and illuminate the wares.
However, the furniture and decor store goes beyond aesthetics; it also smells really fresh and slightly floral with soft, calming music in the background. An abundance of plants and succulents also contributed to a very peaceful shopping experience.
Born in Brooklyn in 2002, West Elm is a branch of Williams-Sonoma, Inc. There are more than 100 West Elm stores in the country, with the first and only Wisconsin location opened in June of 2015.
"When West Elm opened, we brought a new mix of style, design and affordability to Milwaukee," says general manager Brian Harris. "There's a lot of opportunity in this neighborhood, and I think we're making a nice contribution to it."
West Elm offers sofas, lamps, light fixtures, bedding, vases, dinner ware, terrariums, bar accessories, rugs, mirrors, wall art, holiday decorations and more. Bargain hunters will appreciate the discounted items in the back of the store.
Many of the items are handcrafted, fair trade, organic, sustainably sourced or local.
Multiple times a year, West Elm invites local artists to erect a pop-up shop and sell their work from inside their store. They also regularly stock items from local makers and designers.
Currently, West Elm features the work of six Milwaukeeans, including Janelle Gramling's ceramics and yarn work, screenprinted Packers pillows by Be Timeless (one of the best sellers in the store, according to Harris) and Weathered Wisconsin's cutouts constructed from reclaimed wood.
"It's all one of a kind," says Harris. "It's important that we shine a spotlight on local makers. They can show off their goods and there are no strings attached."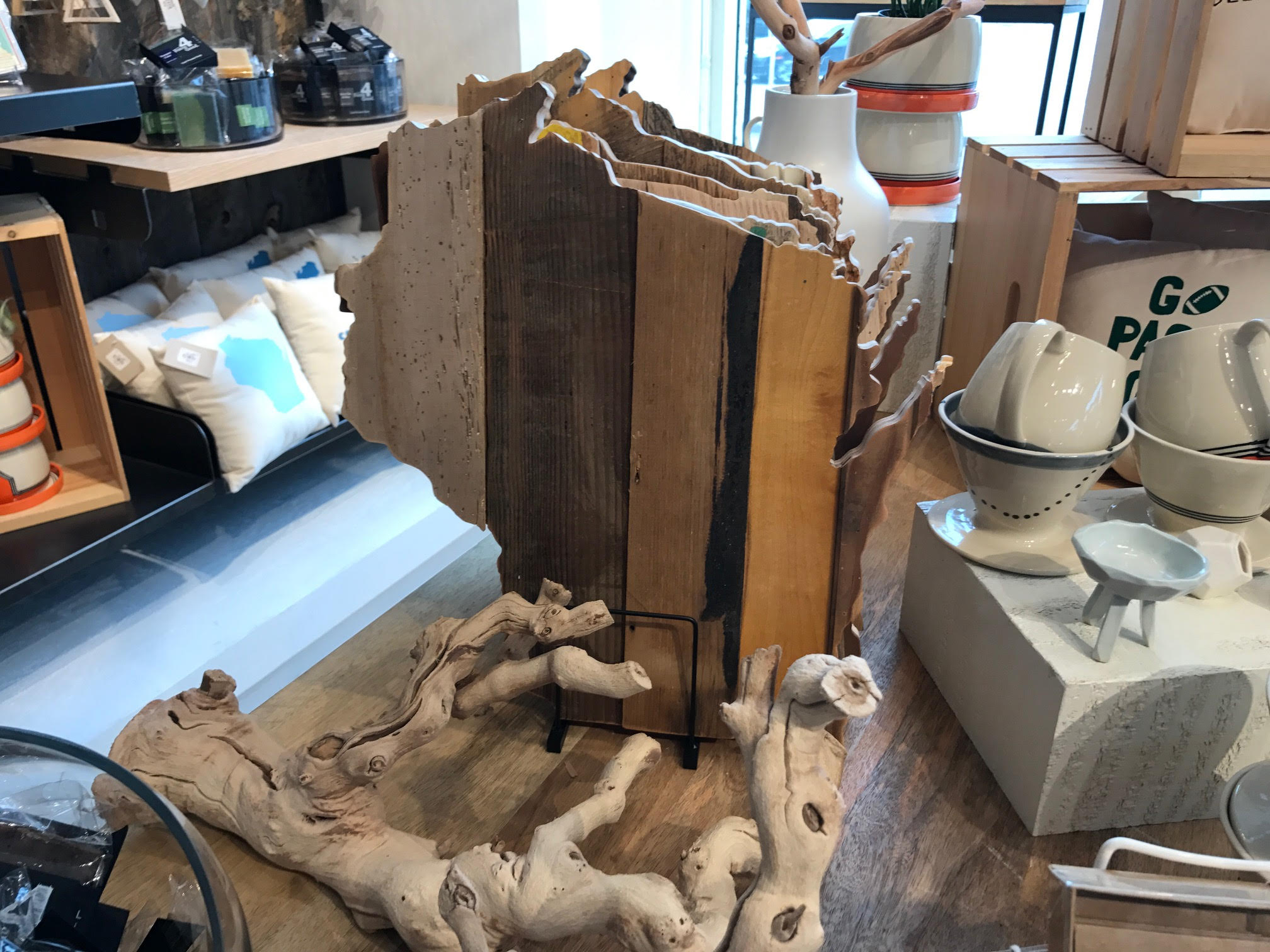 In 2018, the $6 million renovation of the Coakley Brothers Co. in Walker's Point will be completed and include an office furniture showroom that will serve as Wisconsin's only dealer of West Elm's commercial furniture.
Whether or not another West Elm retail store will open in Wisconsin is uncertain at this time; however, the company is building numerous West Elm hotels in 2018 including in Indianapolis and Minneapolis.
West Elm also offers free design consultations from a professional. Customers can plan their new decor in-store with a consultant or request to have someone visit their home free of charge. West Elm also offers installation services and painting services for a cost.
However, the company's customer service is perhaps its strongest offering. Both on the phone and in person, the staff at Wisconsin's premiere West Elm is friendly, genuine and helpful without being pushy or pretentious.
"We have a great team," says Harris. "And they make it a lot of fun to work and shop here."
West Elm is open from Monday to Saturday from 11 a.m. to 7 p.m. and on Sunday from 11 a.m. to 6 p.m.

Molly Snyder started writing and publishing her work at the age 10, when her community newspaper printed her poem, "The Unicorn." Since then, she's expanded beyond the subject of mythical creatures and written in many different mediums but, nearest and dearest to her heart, thousands of articles for OnMilwaukee.

Molly is a regular contributor to FOX6 News and numerous radio stations as well as the co-host of "Dandelions: A Podcast For Women." She's received five Milwaukee Press Club Awards, served as the Pfister Narrator and is the Wisconsin State Fair's Celebrity Cream Puff Eating Champion of 2019.