I might be biased, but when it comes to gift-giving, it's pretty difficult to go wrong with food-related gifts. After all, everyone needs to eat.
As usual, thousands of retailers across the nation are vying for your holiday dollars. But it's as important as ever to support the great small businesses in our own backyard. Plus you'll avoid all the headaches of supply chain issues and shipping delays.
So before you head online to order from a big box store or national gift box company, take a look at this list and see if you can find a local substitution. Most of the items are available for purchase online. So you can still do your holiday shopping from the comfort of your own home, while also doing some serious good for local establishments.
The following list will not only give you an overview of some of the amazing foodie gifts available from local retailers, it's also a curation of some of my own favorite items, all of which I'd be delighted to give (or to receive). If you have questions or need more suggestions for specific gift ideas, you can also feel free to email me at lori@staff.onmilwaukee.com I'm happy to hook you up with spots that sell great food-related items that meet your gifting needs. Happy holidays everyone!
Click to find gifts by category:
Books
Coffee & Tea
Culinary experiences
Edible gifts
Food themed gifts
Hands on / DIY gifts
Serveware and kitchen accessories
Subscriptions / Clubs
Books
All of these newly published tomes (plus probably a dozen more) are on my personal wish list this year, so my guess is they'd be great bets for any of the serious (or curious) cooks in your world. As a bonus, all are currently in stock at Boswell Books.
Boswell Books
2559 N Downer Ave., (414) 332-1181
boswellbooks.com
Order online for convenient local pick-up!

"Jam Bake: Inspired Recipes for Creating and Baking with Preserves" by Camilia Wynne ($28)
I love the process of preserving the flavors of summer through freezing, fermenting and canning. But, I stopped making jam years ago because I could never seem to find enough ways to use it up (there simply isn't enough toast in my world). This cookbook has me rethinking my approach. It not only includes recipes for preserves, but also more than 80 recipes for using them, including rye and coffee hand pies, angel biscuit donuts and Black Forest Torte. The recipes are simple and practical and the book itself is a delightful read.
"Black Food: Stories, Art, and Recipes from Across the African Diaspora" by Bryant Terry ($40)
Don't mistake this treasure for a mere coffee table book. Bryant Terry's "Black Food" brings together a wealth of beautifully curated essays, art, and recipes from over one hundred different Black visionaries. It's worth buying for the recipes alone, which range from cinnamon roll pound cake to cocoa-orange catfish and vegan dishes like creamy sweet potato grits and hot tamales with jackfruit and cilantro sauce. But the true beauty of the book is the way it weaves food into an overall homage to the contributions, history and future of Black visionaries around the globe.
"The Wisconsin Supper Clubs Story: An Illustrated History, with Relish" by Ron Faiola ($36)
If you know someone who loves supper clubs, don't sleep on the newest book by supper club expert Ron Faiola. This tome is jam packed with fascinating facts, photos, newspaper clippings and intriguing tales about the origin of supper clubs in London, the entertainers who gained acclaim performing in Wisconsin venues and the traditions that shaped the supper clubs of today.

"Pasta: The Spirit and Craft of Italy's Greatest Food" by Missy Robbins ($40)
In the mood for a love story? You'll find one in the pages of this remarkable tome, which takes cooks on a journey throughout the regions of Italy using flour, eggs and water. The book goes well beyond the usual cut pastas (though you'll find those too), delving nerdishly into local specialties like buckwheat-based bigoli from Veneto to potato stuffed Sardinian culurgiones. The accompanying recipes are equally as compelling from a knock-out four ingredient spicy bucatini alla'amatriciana and pappardelle with bolognese to espresso tagliolini with smoked ricotta nd chiles, offering home cooks plenty of inspiration for meals to savor with a great bottle of Italian wine.
"Death & Co. Welcome Home" by Alex Day, David Kaplan and Nick Fauchald ($32)
Drinking more at home? Yeah, me too. And so have many of my friends. And as we do, the yen to get more creative with everyday cocktails grows right alongside. That's where this book comes in. Not only does it contain more than 600 recipes from the well renowned folks at Death & Co., those recipes run the gamut from classic tipples to low ABV and NA cocktails. Even better, they're well organized and the book includes plenty of eye-catching photos and illustrations. Will this book prompt you to purchase some new spirits? Probably. Will it stretch what you already know about cocktails? Absolutely. And it's for those reasons (and more) that this book makes the perfect gift for a cocktail lover who wants to level up.
"Rodney Scott's World of BBQ: Every Day Is a Good Day: A Cookbook" by Rodney Scott and Lolis Eric Elie ($29.99)
Chef Rodney Scott is a legend in the world of whole-hog barbecue. And he's laying down his wisdom in this memorable book. But let's be frank, this beautifully illustrated book is about far more than recipes. Yes, you'll discover the secrets behind Scott's spare ribs, chicken wings, hush puppies and Ella's Banana Puddin'. But if you never made even one of those, you'd still win, thanks to the books remarkable storytelling, which offers insights into South Carolina's food traditions, and the (truly) compelling story behind a James Beard Award winning chef whose hope, optimism and hard work led him where he is today.
Coffee & Tea
Whether you're shipping off a taste of Milwaukee to a tea lover outside the city or simply providing some daily buzz for your coffee loving friend, you'll find great giftable options from both coffee roasters and tea purveyors all over town. Here are a good number of options to get you started.
Anodyne Coffee
224 W. Bruce St, (414) 763-1143
2920 S. Kinnickinnic, (414) 489-0765
7471 Harwood Ave., Wauwatosa, (414) 930-0469
anodynecoffee.com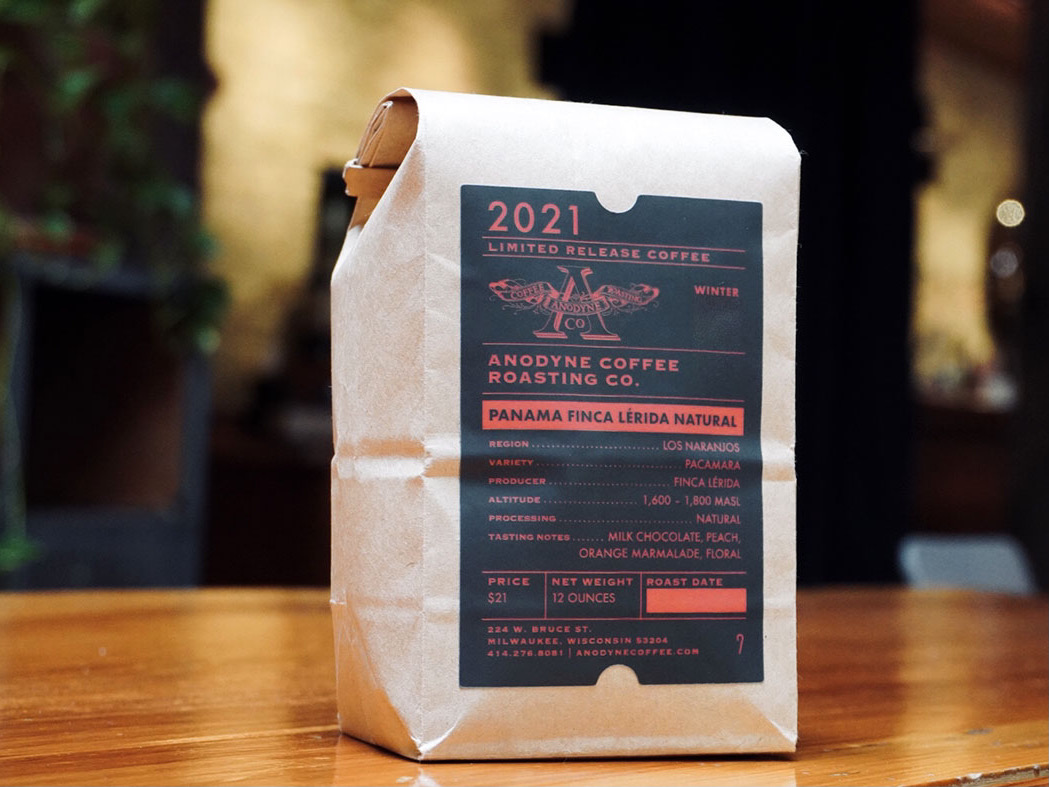 The coffee geek in your life is certain to approve of a gift of Anodyne's super limited release of Panama Finca Lerida Natural. It's a pacamara varietal (large bean) with notes of milk chocolate, peach, orange marmalade and a slightly floral finish ($21). It's set to be released in early December; but it won't be around long, so scoop it up while you can! Pair it up with merch like a classic Anodyne sweatshirt ($48.95), a new embroidered winter hats ($20) or an adorable new "Yee Haw" tee ($22) for the perfect gift.
Colectivo Coffee Roasters
Multiple locations
colectivocoffee.com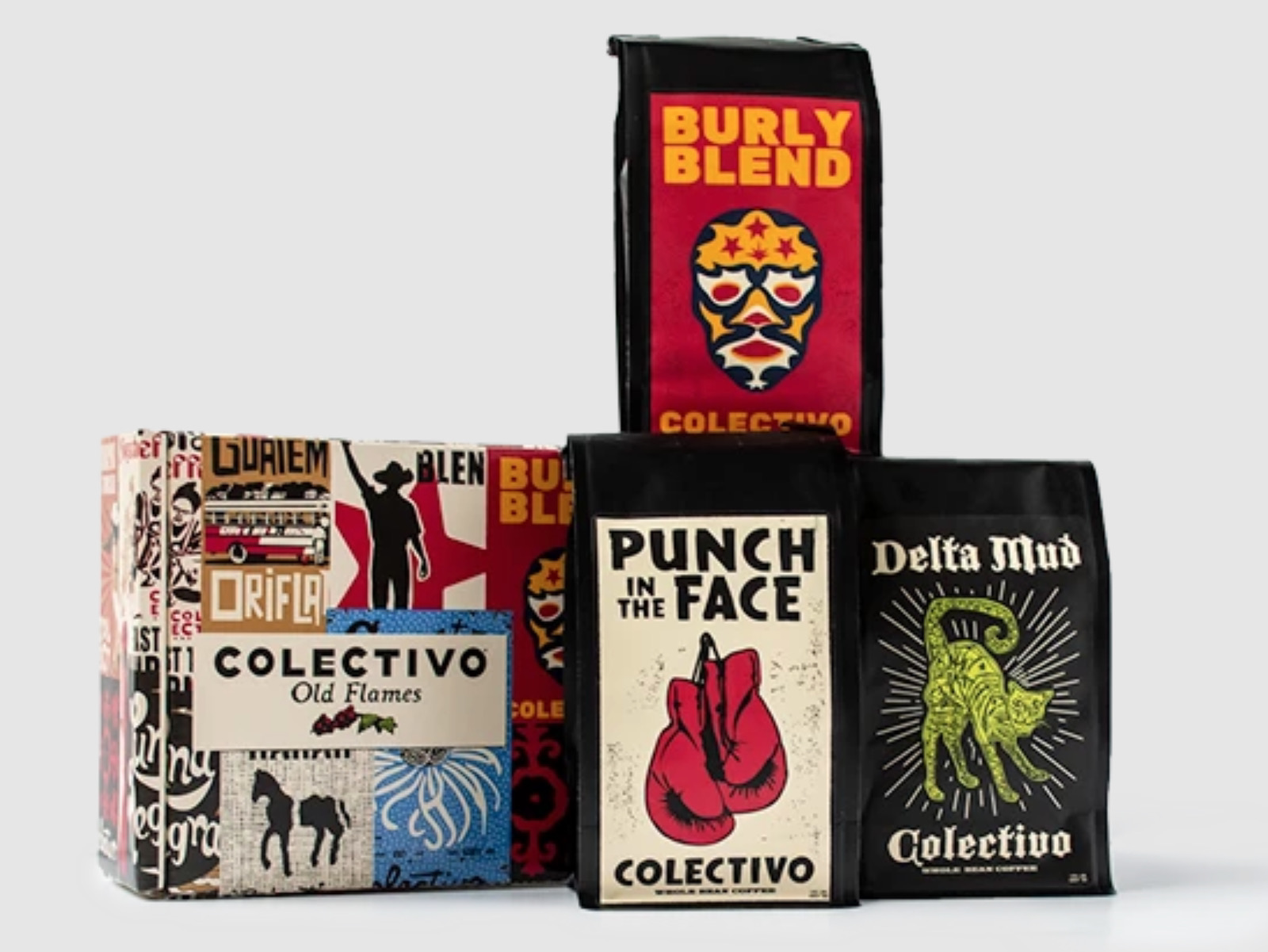 There's much to be said for a nice dose of nostalgia at the holidays, and you'll get just that with the Colectivo Throwback Sampler, a collection of vintage coffees from years gone by. This gift pack includes a half-pound of Delta Mud (deep and syrupy with notes of dark chocolate, caramel, dried cranberries and cherries); Punch in the Face (punchy dark roast); and Burly Blend (a mid-2000s blend that's full bodied, smoky and sweet all at once).
Fiddleheads Coffee Roasters
Multiple locations
fiddleheadscoffee.com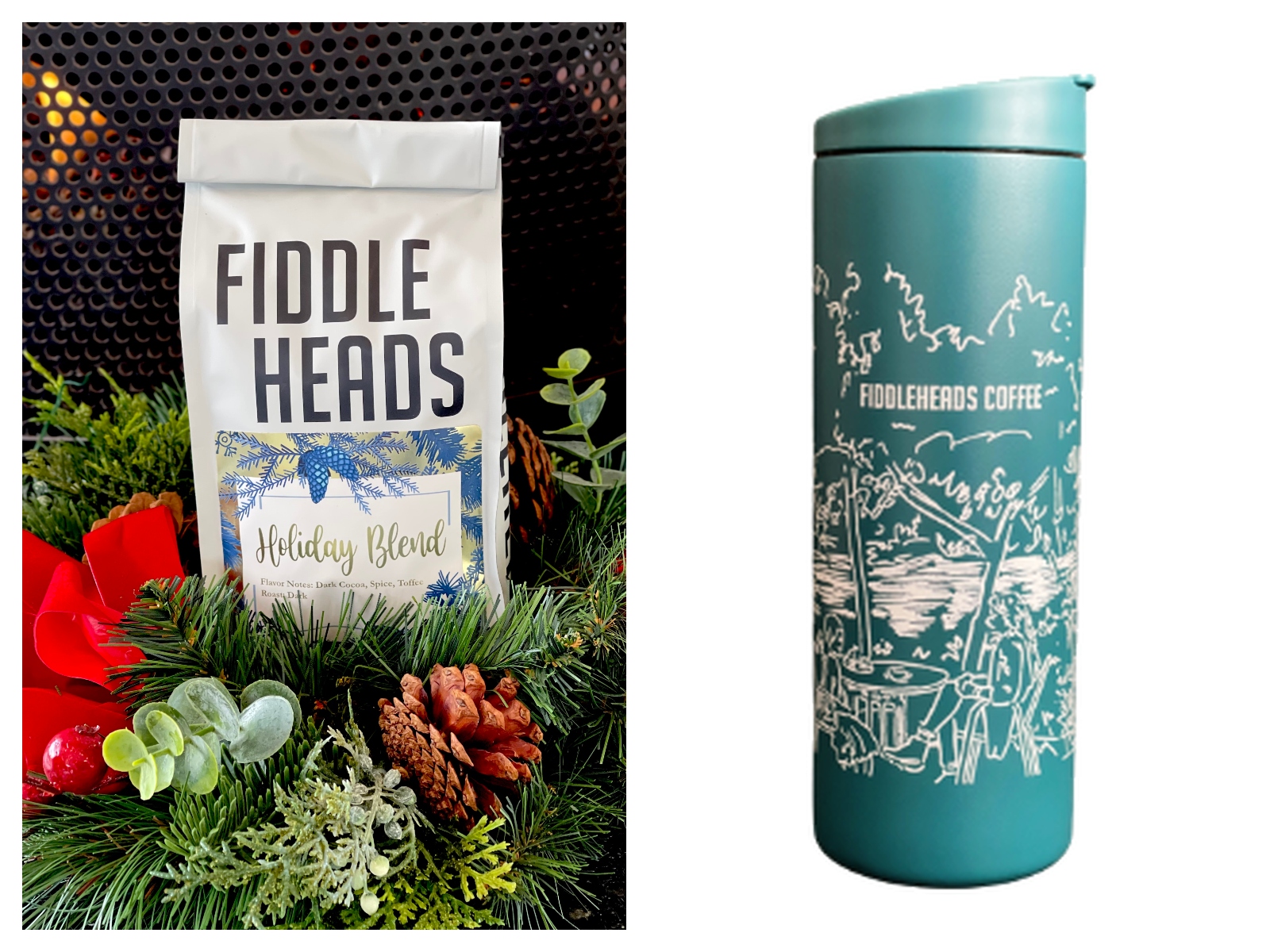 Dark roast fans will cozy up to Fiddleheads Holiday Blend, which offers up notes of dark cocoa, spice, and toffee ($17.95/lb). Pair it up with a gorgeous tumbler with a design inspired by the 360-degree mural at the Fiddleheads in Cedarburg. The 16-ounce stainless steel double-wall insulated travel mug will keep coffee hot for 12 hours or cold beverages chilled for up to 24.
Hawthorne Coffee Roasters
4177 S. Howell Ave., (414) 331-1382
hawthornecoffeeroasters.com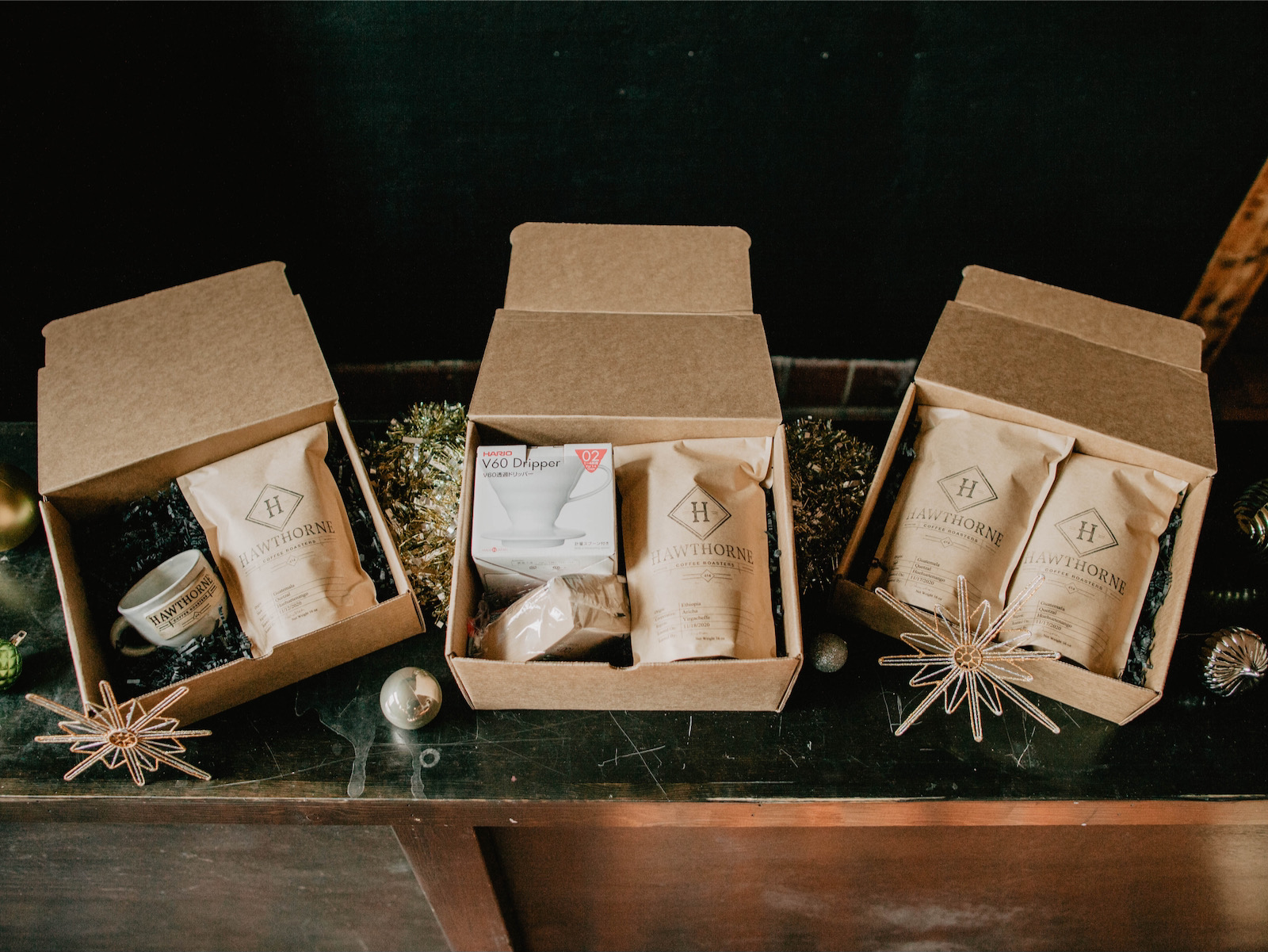 This year, Hawthorne will be rolling out three coffee gift boxes, each of which offers up its own set of charms. Choose from the Roaster's Choice Box featuring two pounds of Steve's favorite coffees (from Guatemala and Ethiopia, $34); the Home Brew Box with a pound of Guatamalan coffee, a Hario V60 Pourover dripper and a package of filters ($45); and the Mug Box with a pound of Guatamalan coffee and a handmade Hawthorne mug made locally by Kate Riley of Plate Collective ($40). All selections will be available both in the shop and online (nationwide shipping available).
Interval
1600 N. Jackson St.
Intervalmke.com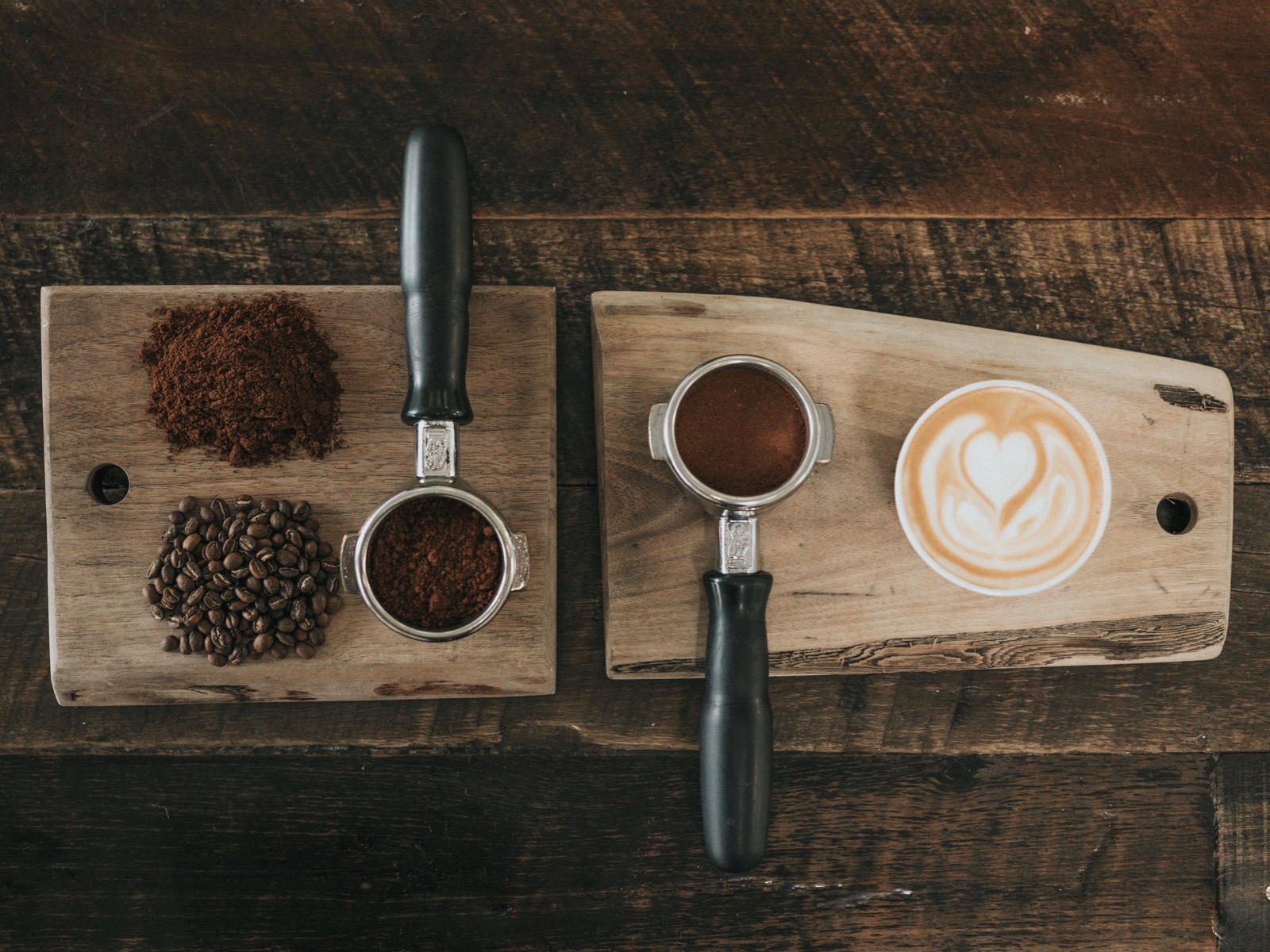 Treat a discerning coffee geek in your life to a special whole bean coffee at Interval. Holiday offerings will include Neighborly Blend Holiday Edition 2021 comprised of a blend of Guatamalen and Honduran coffees. But they will also be rolling out two very special coffees: a washed Gesha and natural processed Gesha. Both are from the world renowned coffee farm Hacienda Esmerelda in Boquete, Panama where the rare Gesha varietal was rediscovered and will be available in four-ounce quantities for $60 each or both for $100.
OutWoken Tea
outwokentea.com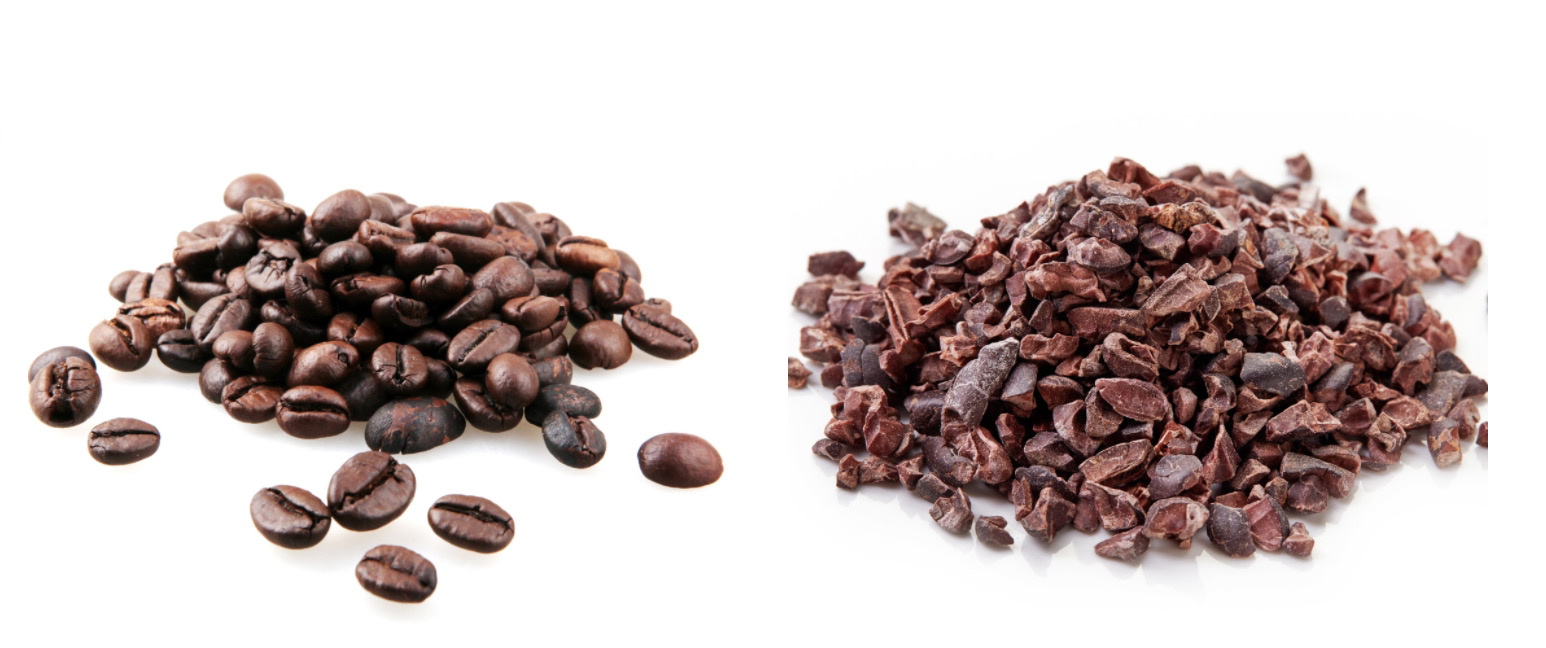 Among the newest tea brands in Milwaukee, OutWoken is an online eco-friendly tea purveyor which prides itself on being not only healthy for people but also healthy for the earth. Their shop also showcases truly unique offerings including Best of Both Worlds, a coffee and tea hybrid made with organic Colombian black tea and organic Arabica Colombian coffee ($22 for up to 25 steeps); and Chocolate Besos (a blend of Organic Colombian black tea, organic Tumaco cacao nibs and organic cocoa husk) that offers the rich, full-bodied flavor of black tea with a kiss of chocolate ($22 for up to 25 steeps).
Rishi Tea & Botanicals
185 S. 33rd Ct., (414) 747-4001
rishi-tea.com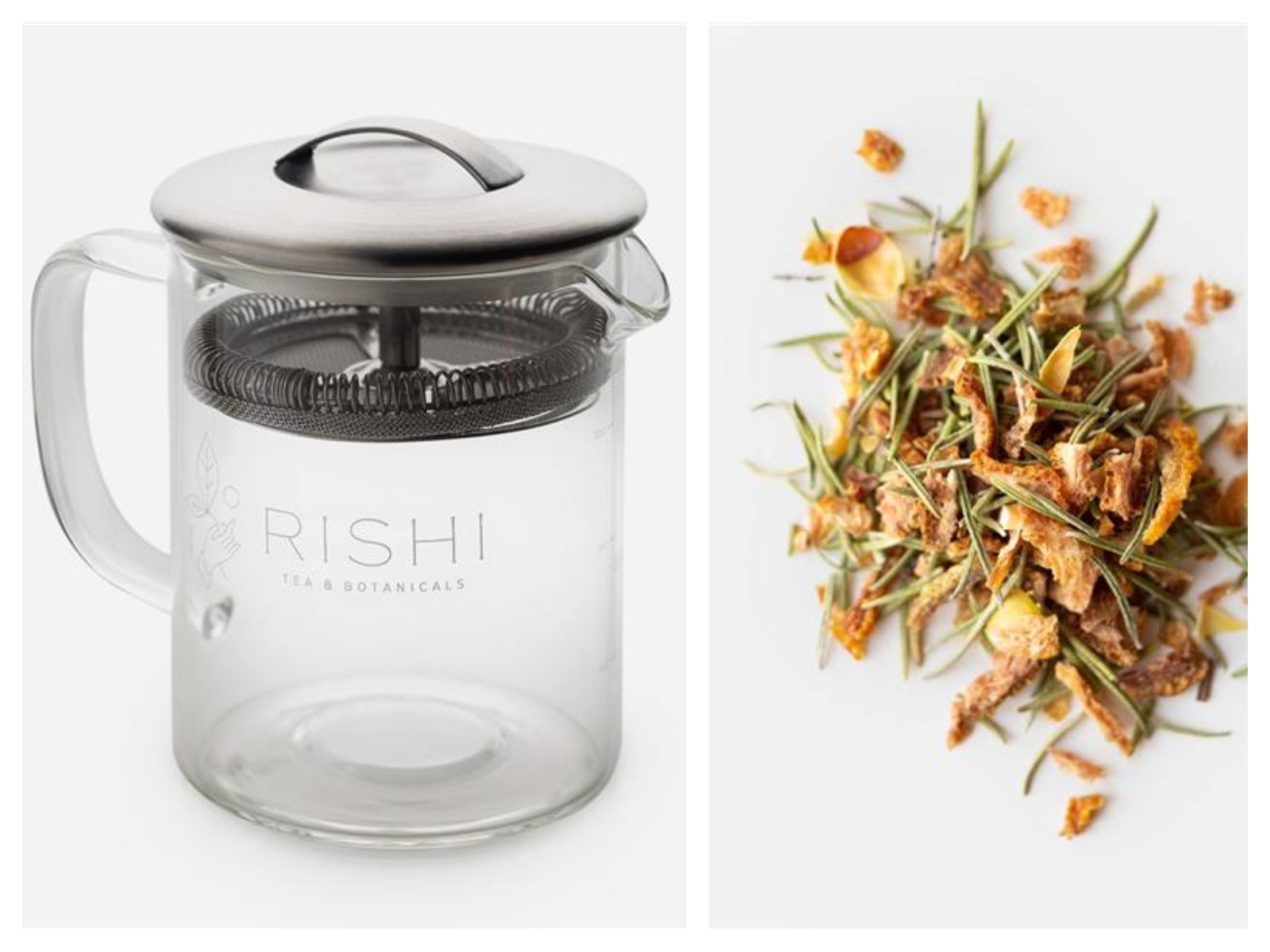 Rishi Tea has been a Milwaukee staple and tea industry trailblazer for over 20 years, well known for their balanced blends, commitment to organic production and careful, eco-friendly sourcing. They also offer some of the best teaware in the city, from simple tea pots to accessories fit to prepare ceremonial matcha. Personally, I couldn't live without their Simple Brew pot for everyday use (it's so much nicer than any tea diffusers out there, and the 600ml version is just $24). It's among my favorite items to gift, accompanied by a selection of cozy warming teas like Pu'er ginger or herbal tisanes like yuzu rosemary.
Stone Creek Coffee
Multiple locations
stonecreekcoffee.com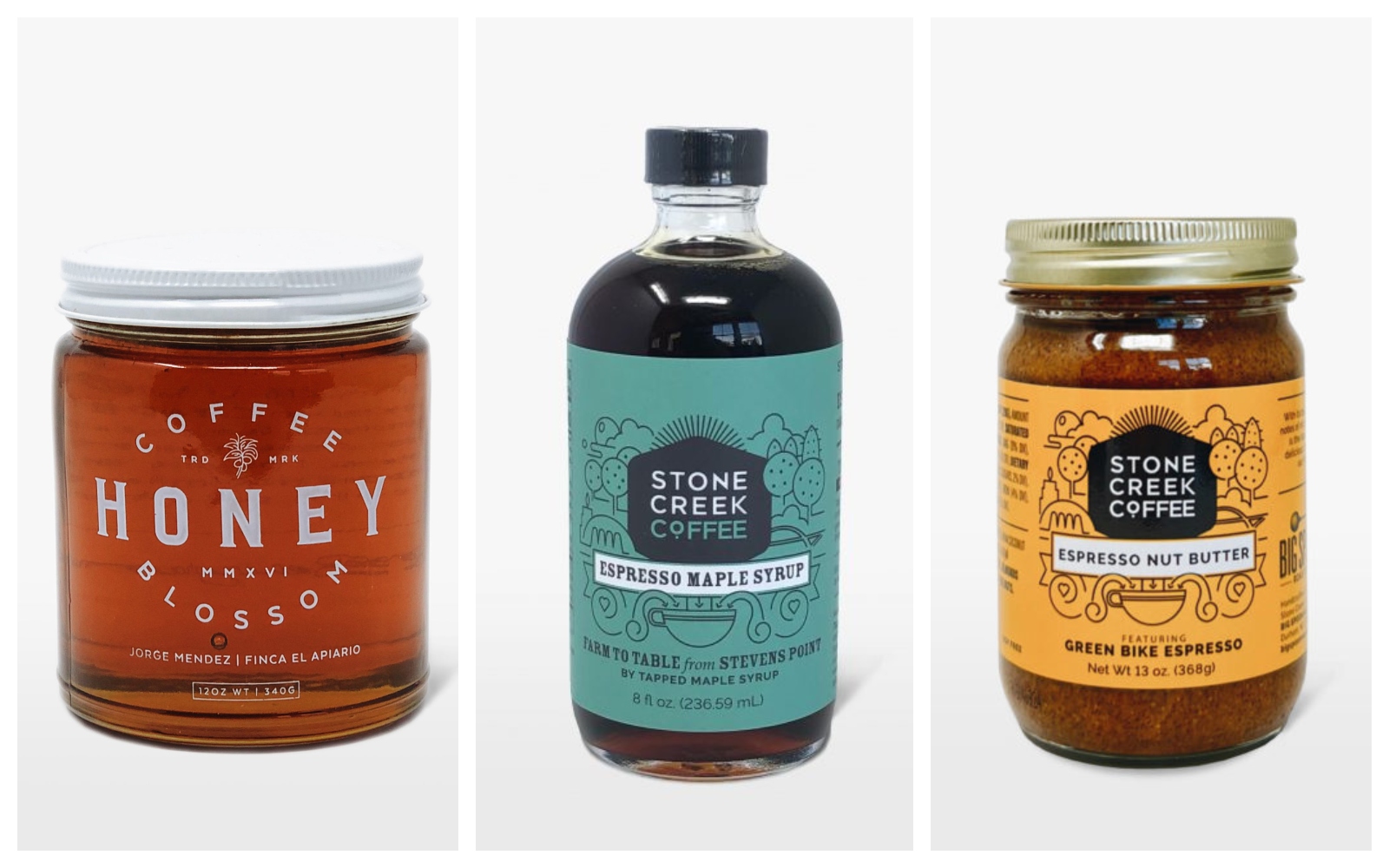 Stone Creek is stocking some interesting finds for coffee lovers, which would make beautiful gifts. There's coffee flower blossom honey, havested from Jorge Mendez's coffee farm Finca El Apiario in Guatemala, which is described as subtley sweet with notes of lavendar ($16), Tapped Espresso Maple Syrup featuring Northwoods Wisconsin syrup infused with Stone Creek Coffee's Cream City ($21 for two 8-ounce bottles); and Espresso Nut Butter featuring a mix of almonds, peanuts and Green Bike coffee beans ($15). I can already think of scads of things to do with all three.
Swaye Tea
7326 W. Greenfield Ave., West Allis, (414) 388-2798
swayetea.com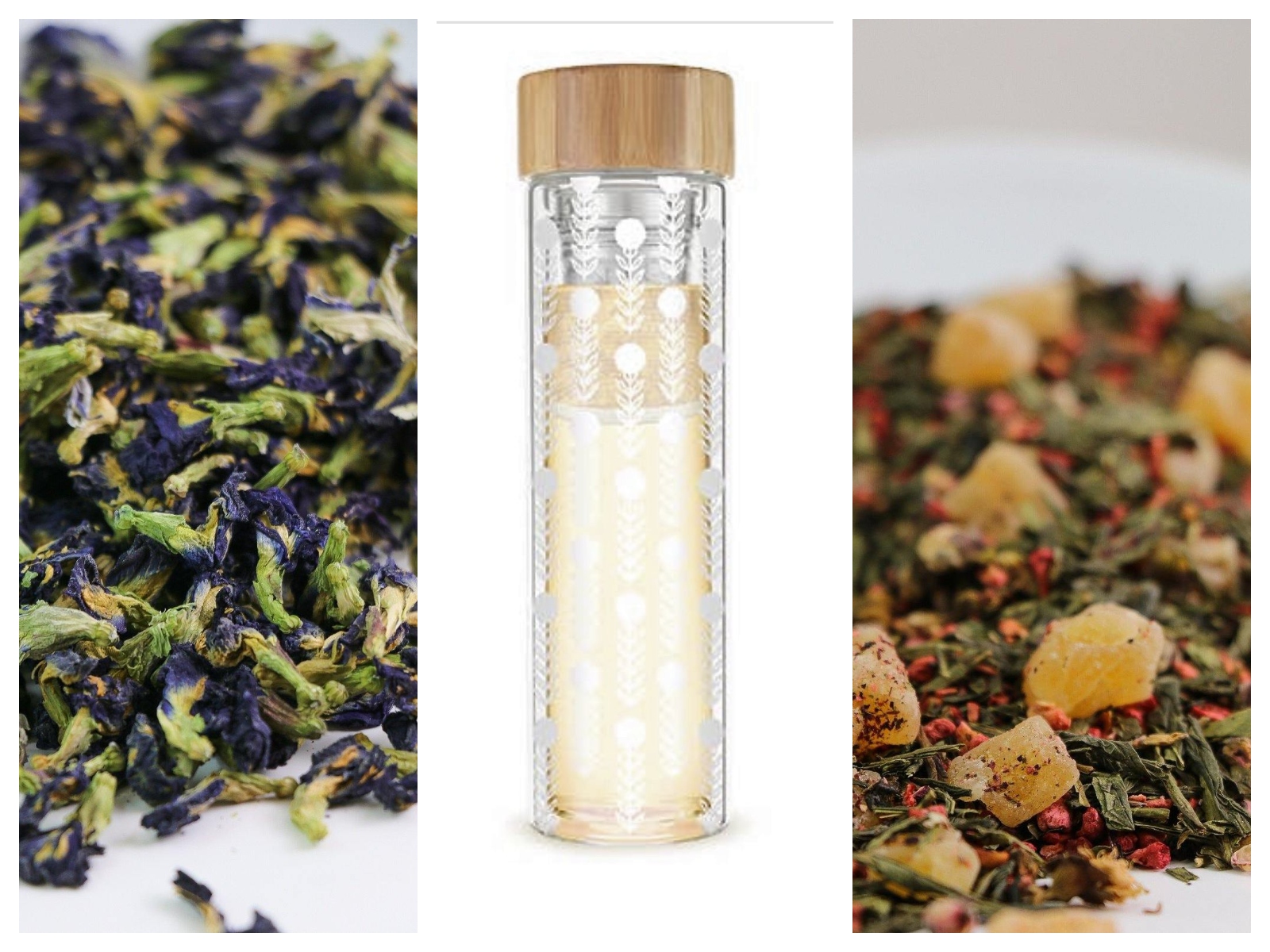 You'll find a wealth of loose leaf teas, plus brewing accessories at Swaye Tea. So, it's easy to create a gift box for the tea lover in your life. Choose from healthful blends herbal blends like butterfly pea flower or Peace Tea (ginger, bright lemon and coriander), plus indulgences like gingerbread spice, Matcha ice cream, cherry rhubarb cobbler and raspberry truffle. Pair the tea with one of their floral travel infuser mugs for the tea lover who "has everything" ($26.99).
Urbal Tea Co.
urbalhealth.com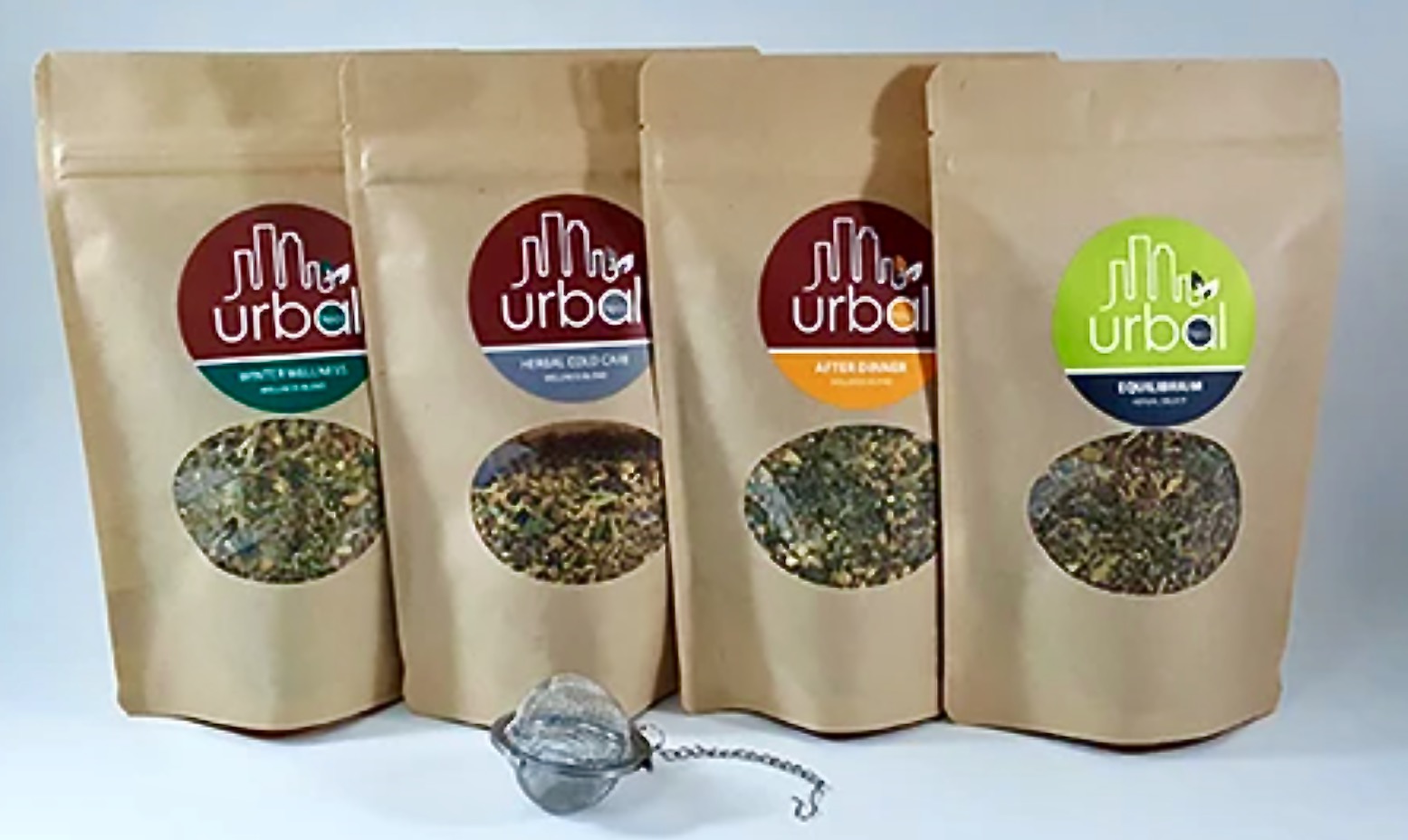 Wish them a winter of wellness with Urbal Tea's Winter Pack, a combination of caffeine-free teas that are not only warming, but immuno-boosting (and they taste good too!). Selections include Winter Wellness, Herbal Cold Care, After Dinner and Equilibrium ($32.49) for four full-sized Kraft bags).
Valentine Coffee
5918 W. Vliet St., (414) 988-8018
valentinecoffeeco.com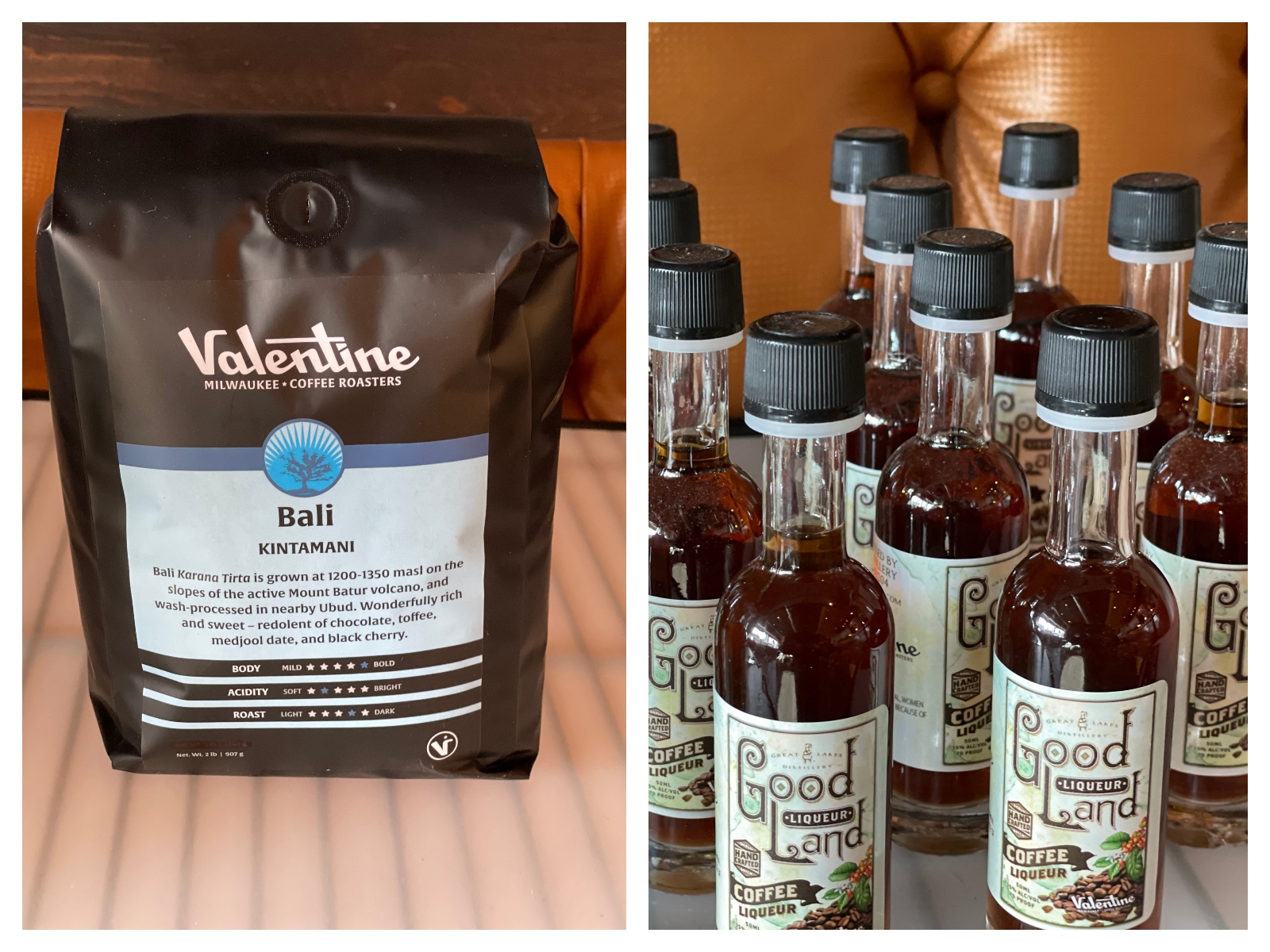 Coffee lovers will adore Valentine's Bali Kintamani. Made with beans grown on the slopes of the active Mount Batur volcano, this coffee is rich, sweet and redolent of chocolate, toffee, medjool dates, and black cherry ($10/12 ounces; or $22 for two pounds). Toss in a few mini Goodland Coffee Liqueurs ($3 each); they're great for White Russians and mudslides, but they also make a very memorable cabin coffee, perfect for the holidays.
The Glass Pantry
1039 S. 5th St., (414) 312-8213
glasspantrymilwaukee.com
Can't decide which coffees or teas you should gift? Here's a great DIY gift idea that's beautiful, useful and entirely customized to the recipient. Purchase a set of decorative jars and then fill them with bulk coffees and teas from Glass Pantry. They offer a good selection of offerings from spots like Anodyne, Rishi, Swaye Tea and Tippecanoe Herbs.
Culinary experiences
Gift cards
It's going to be a long winter for restaurants. Give them a boost by gifting a foodie you know with a gift card from one of our great locally owned bars or restaurants. It's among the best gifts you can give this season.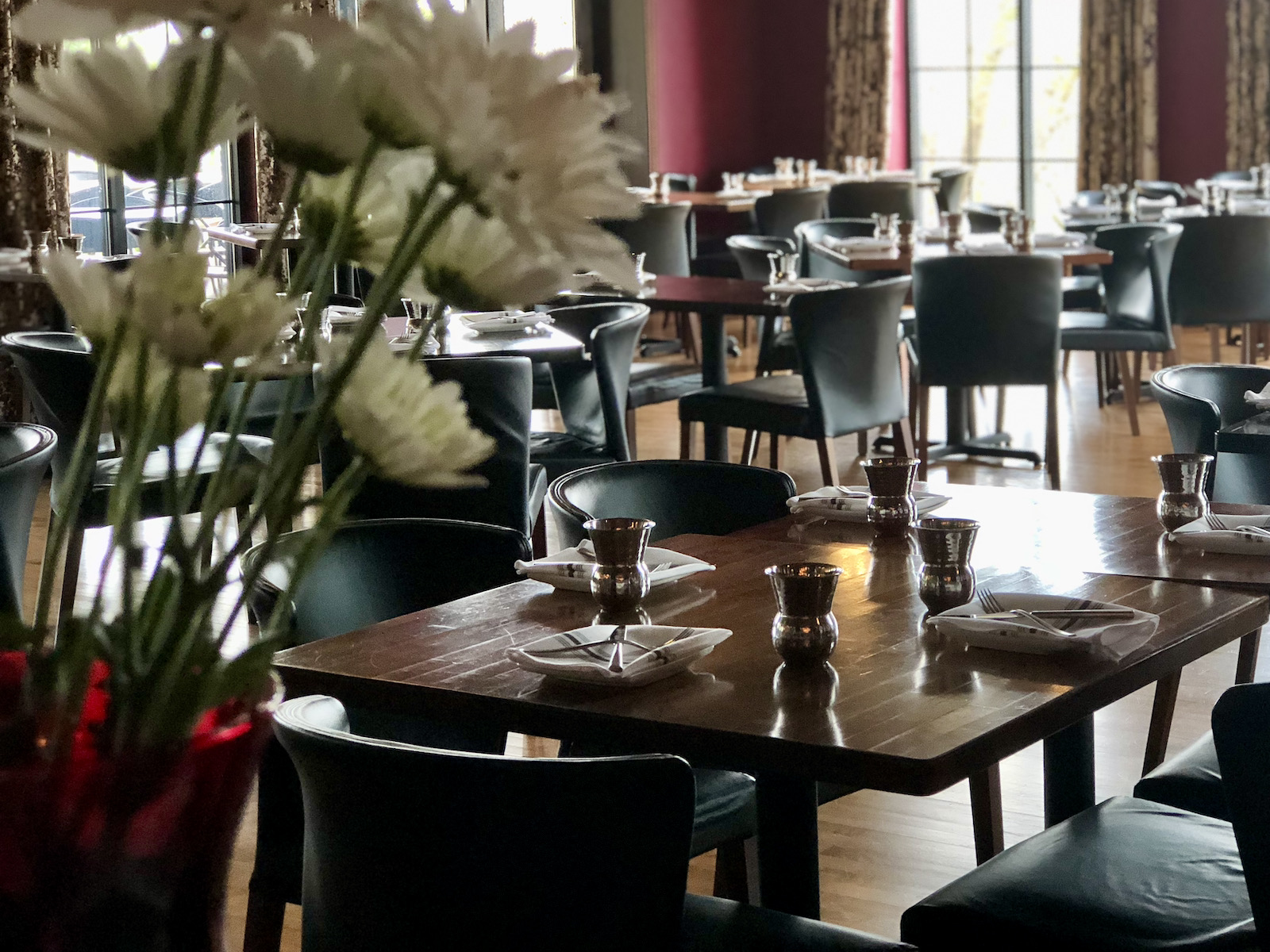 Chocolate pairings
Indulgence Chocolatiers
211 S. 2nd. St., (414) 223-0123
4525 N. Oakland Ave., Shorewood, (414) 332-2749
320 High St., Brookfield (now open)
indulgencechocolatiers.com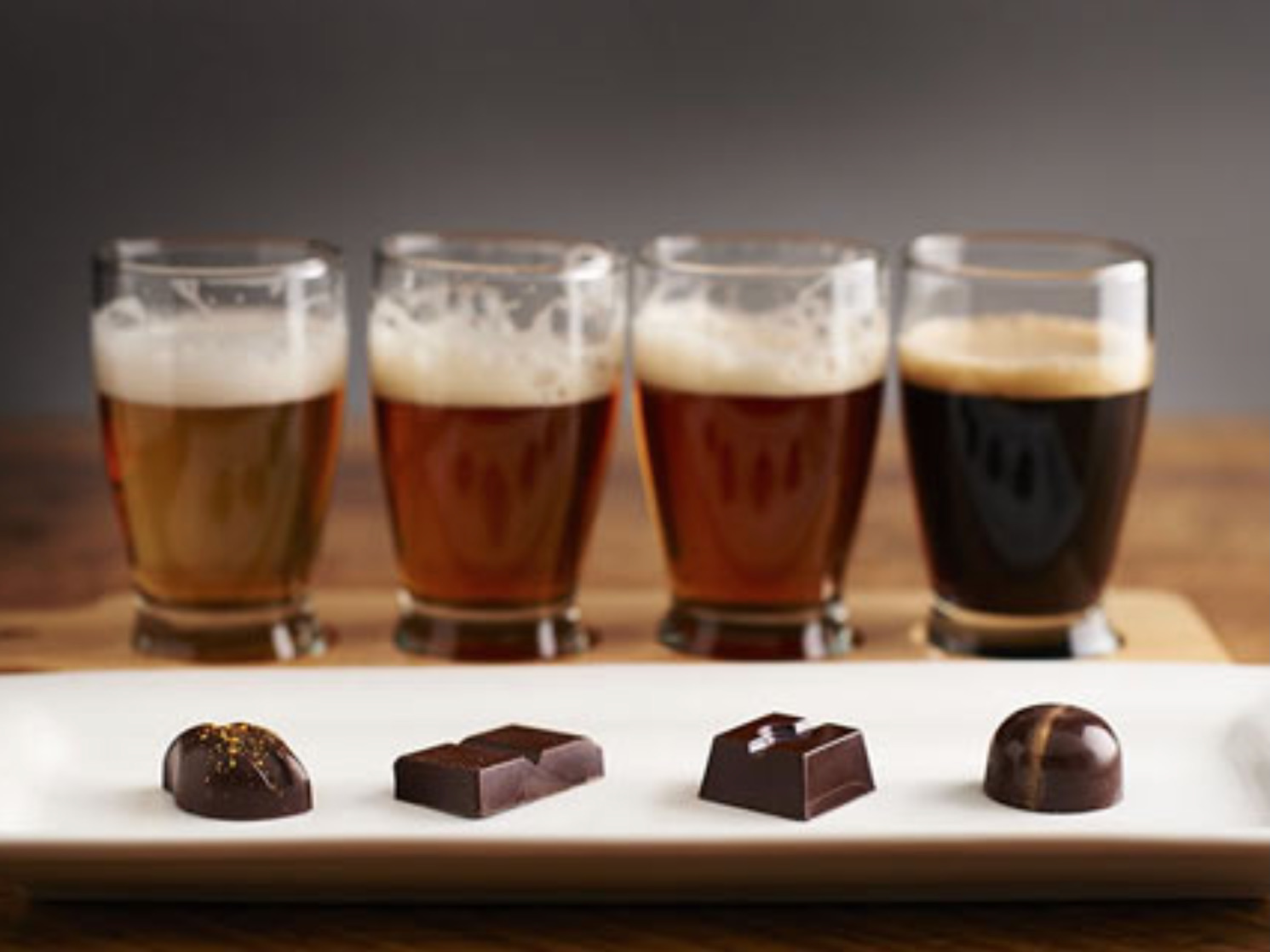 Chocolate is beautiful on its own. But exploring its flavors when paired with other foods and beverages offers an entirely new experience. Indulgence Chocolatiers regularly offers pairing classes, including virtual experiences that guests can enjoy from the comfort of their own homes; and they make amazing gifts for the chocolate lover in your life. Gift cards (which can be paired with a chocolate bar or other treat for gift giving) are available for purchase at Indulgence retail shops, as well as on their website.
Cooking classes
Cooking a meal at home is one of life's greatest joys, especially when you've mastered the techniques needed. For those interested in learning a new skill or how to make a new dish, cooking classes can be an amazing gift (and one that keeps on giving).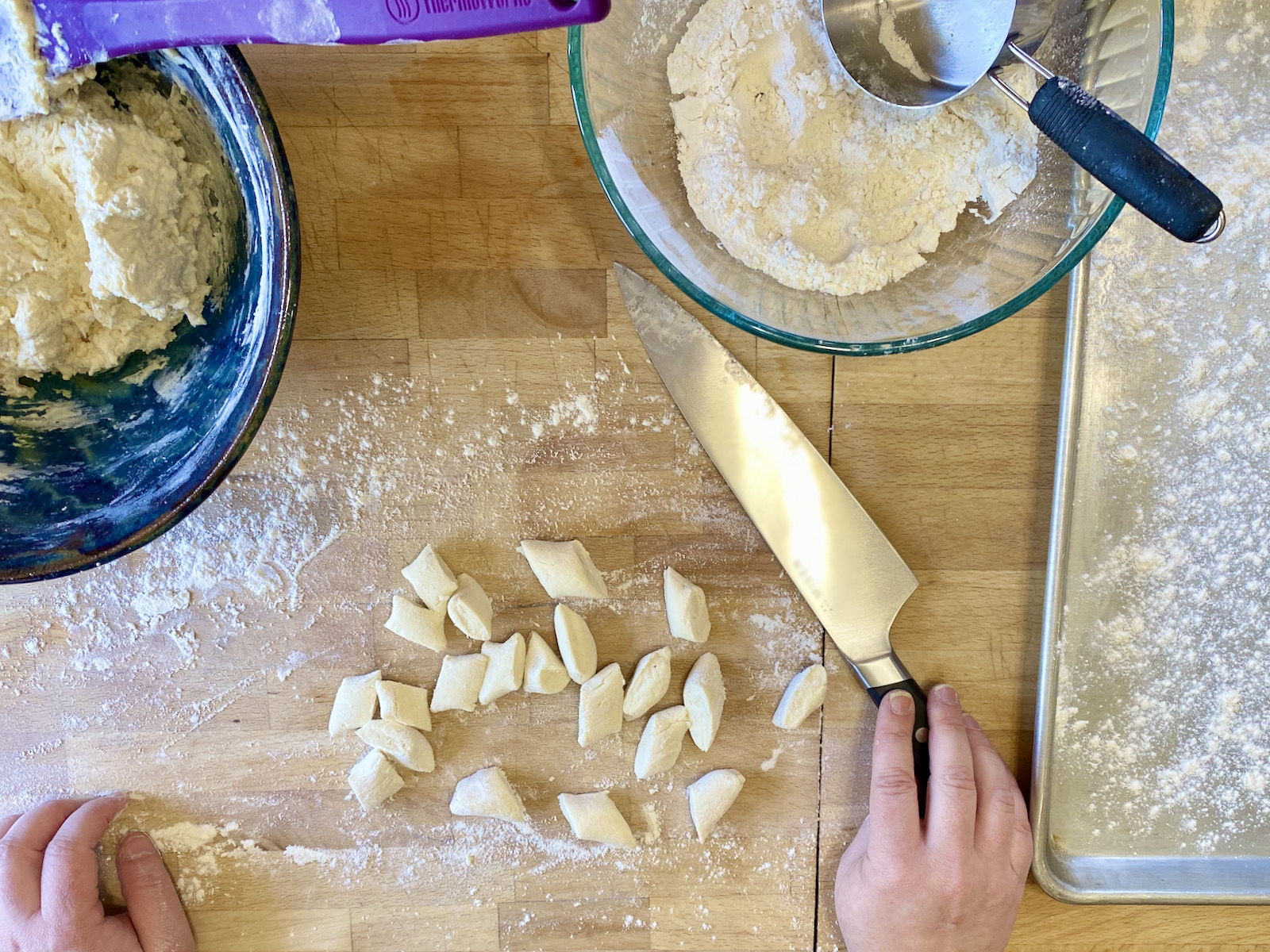 Want to spend quality time with someone you love? Purchase a class for two and plan to go and learn together. Here are a few spots that offer great classes on a regular basis.
Braise Culinary School
1101 S. 2nd St., (414) 212-8843
braiselocalfood.com
Braise offers some of the most varied cooking classes in the city, from basic cooking technique to classes that teach students how to make globally inspired dishes. You can peruse the current list of classes to get a sense of what they offer (pricing is $70 per person for a single course), then go to their online shop and purchase a gift card, allowing the recipient to redeem it for a class they'll love at a time that's convenient for them.
Glorioso's Appetito
1020 E. Brady St., (414) 291-5887
gloriosos.com/appetito
From cheese, wine and beer tastings to classes that teach you how to make classic Italian dishes, Glorioso's Appetito offers up lovely culinary courses for food lovers of all stripes. Classes run $75-$150 per person. To purchase a class to give as a gift, go online and purchase a gift card for the amount of your choice or stop by to make the purchase in person.
Semolina
2472 S. Kinnickinnic Ave., (414) 249-4472
semolinamke.com
Pasta making classes are slated to begin at Semolina beginning in early 2022. And you can offer the experience to a friend by purchasing a gift card at the shop beginning Friday, Nov. 26. Classes will be priced at $65 per person and include the class, a pasta sampling, a glass of wine and pasta to take home. While you're there, peruse the shop for other amazing food gifts, from excellent olive oils and preserves to housemade dried pasta, flavored vinegars and more.
DiversiTins
Give the gift of global fare with a DiversiTin, a collection of 20 coaster gift cards good for $10 off a dine-in purchase of $25 or more or $5 off of a $25 carry-out order at a variety of ethnically diverse local restaurants. The giftable tin, featuring art by Brad Anthony Bernard is just $30 with a value that's downright priceless. All coasters are redeemable through 2022. Purchase yours online at Diverse Dining.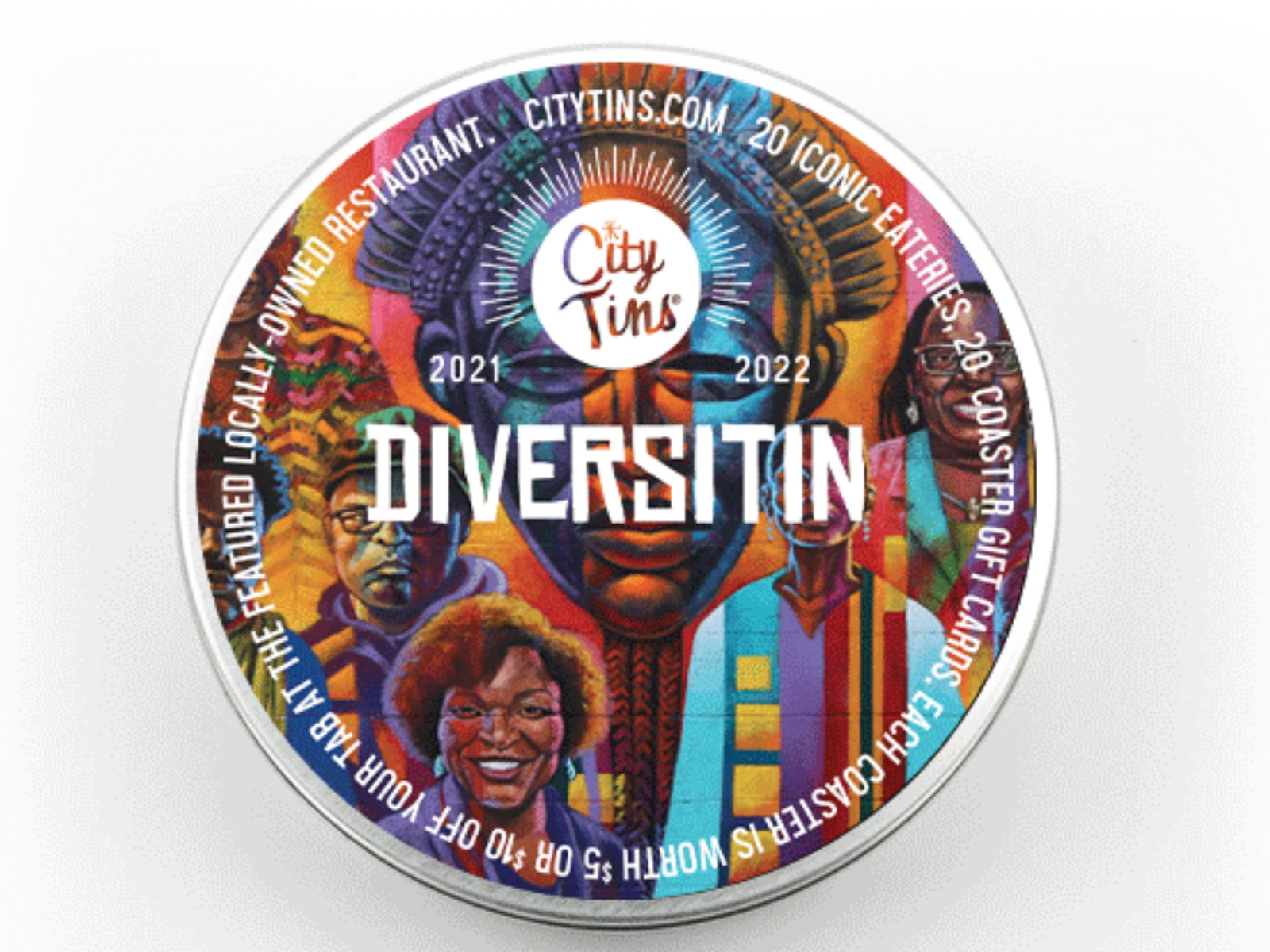 Wine tastings
Got a friend who's wine curious? Or someone who truly geeks out about wine? A gift card to a local wine shop, which they can use to pay for a tasting, pairing class or a few bottles to enjoy at home is a great gift.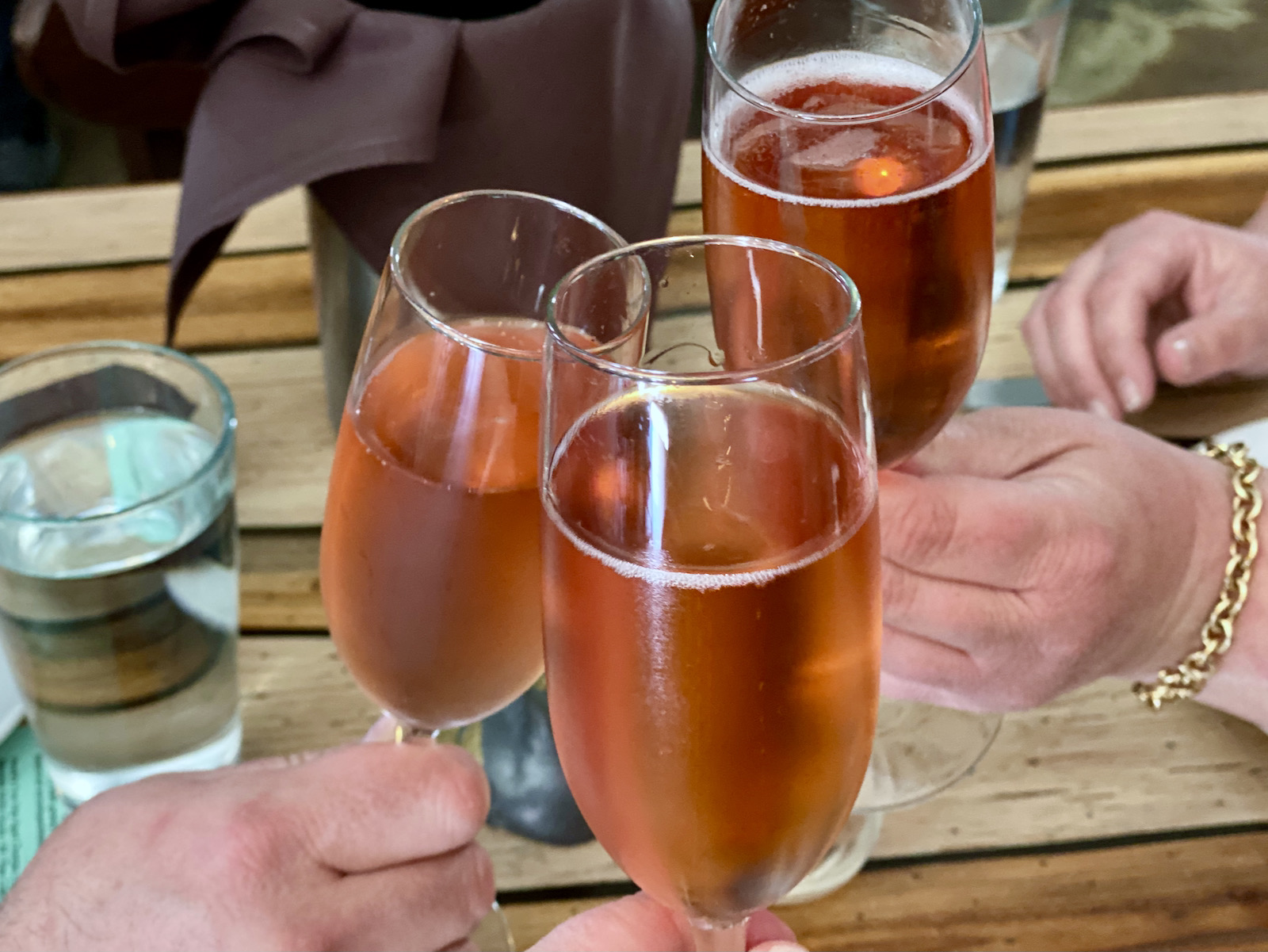 The Milwaukee area has countless wine bars that offer tasting experiences to match. Independently owned spots like 2A Wine Merchants in the Third Ward, Corvina Wine Company in West Allis and Scout Wine Merchants in Shorewood offer regular tastings and classes; and they are not the only ones. Need ideas? Check out this list of wine bars throughout the area, each of which offers something deliciously different.
Edible gifts
Chocolate bars, truffles, treats
Milwaukee is rich with chocolatiers and candy makers, each of whom create their own unique style of indulgent treats. And those treats are perfect for last minute gifting during the holiday season! Whether it's a stocking stuffer, hostess gift or a sweet treat for your significant other, you'll find something delicious at a local chocolate shop. Here are eight to get you started.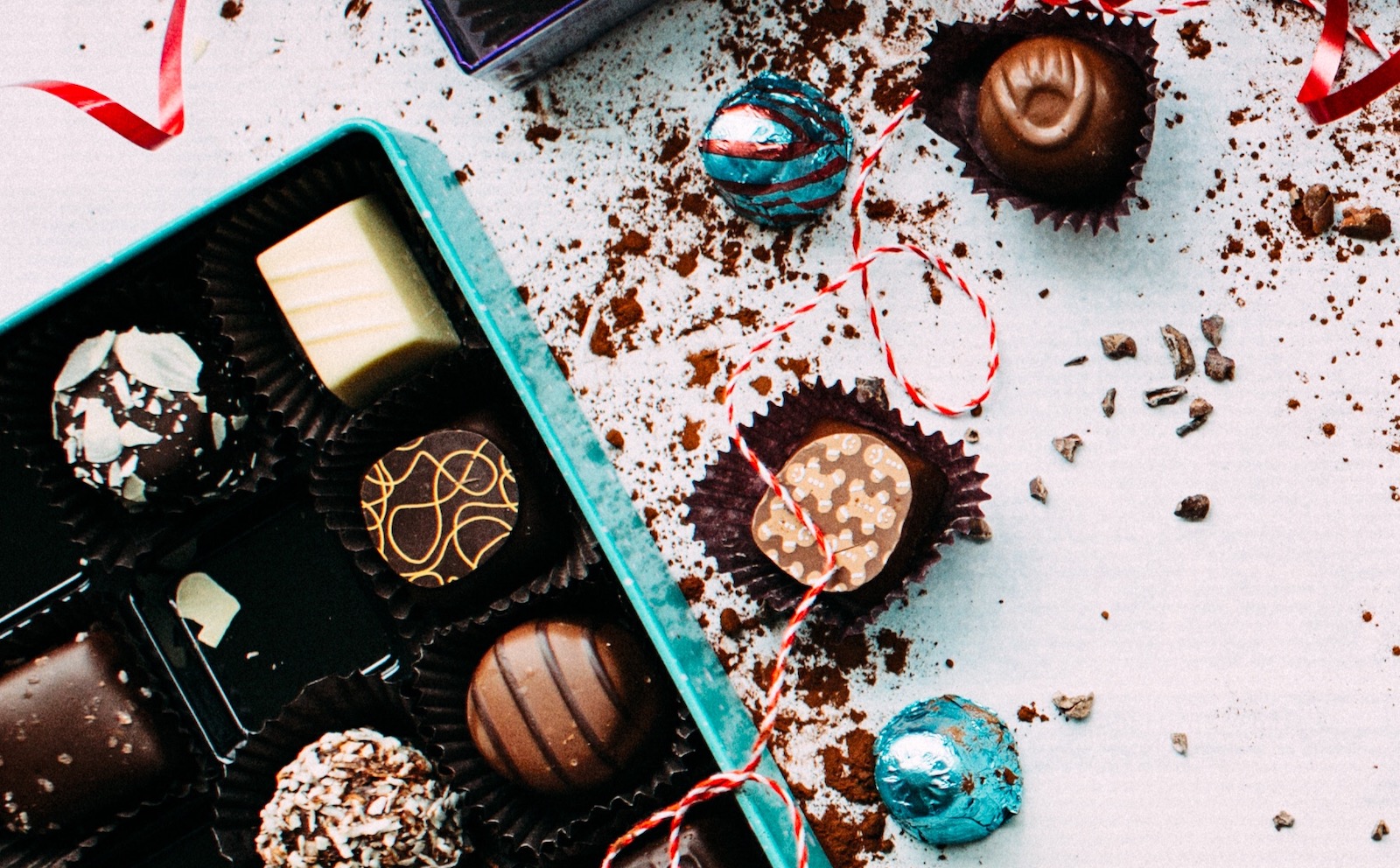 Chutney & serving set
SA Braai chutney is back, and it's as delicious as ever (paired with cheese, spread on a sandwich or It's also uniquely giftable. Give the food lover in your life this amazing serving set featuring a 10 ounce jar of SA Braai original chutney (made in Milwaukee), a handmade beaded wire art spoon by Angela Phiri (South Africa) and a ramekin by Kate Riley of Plate Collective ($49). The number of sets available are limited, so sweep one up!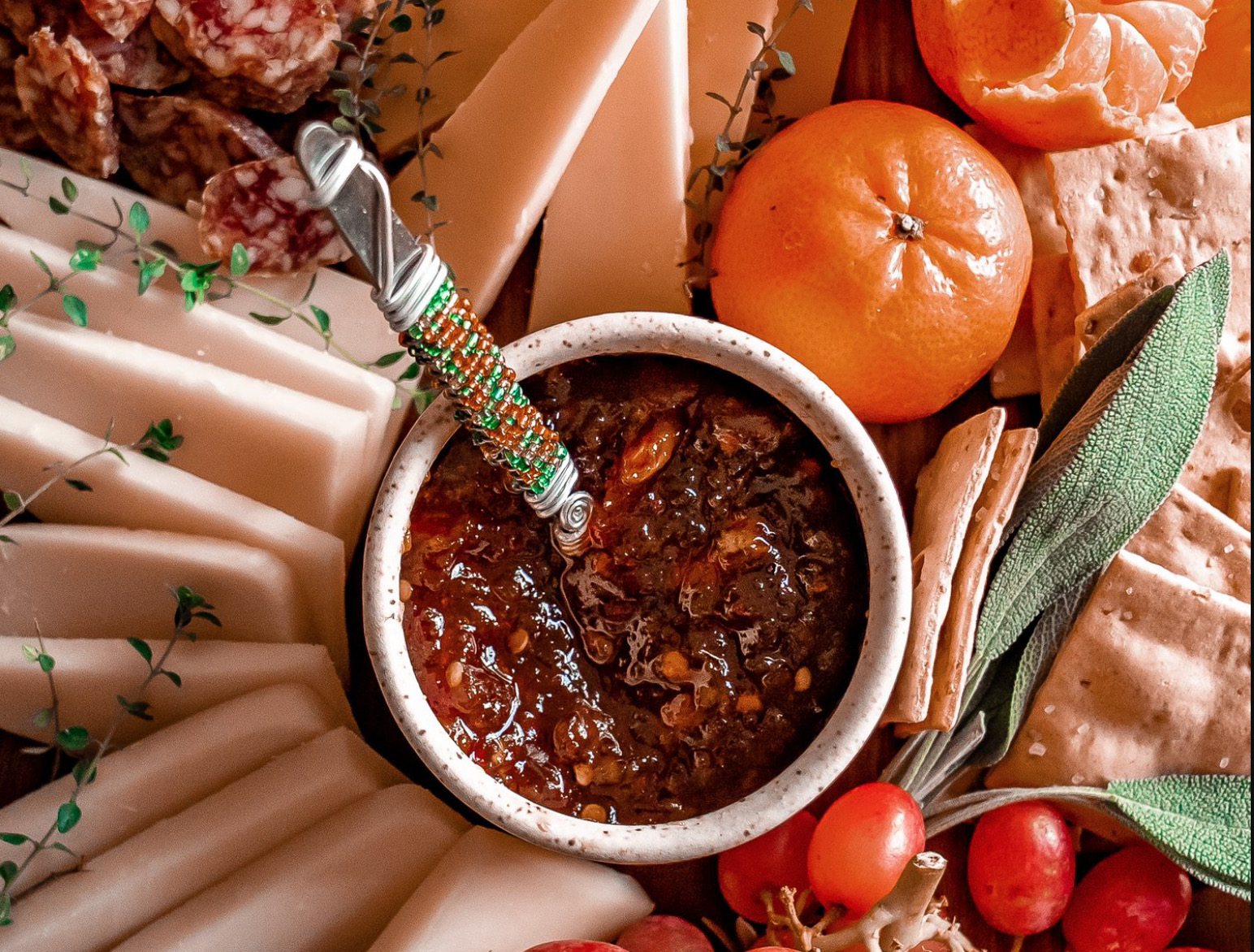 Hot Chocolate Bombs
Hot chocolate bombs are, at their simplest, a sphere of chocolate cleverly filled with a mix of powdered hot chocolate and marshmallows. To use them, you just place them in the bottom of a mug and pour hot milk over the top (you can use water, but it's not nearly as good) and watch as the exterior layer of chocolate melts and (almost like magic) releases a burst of mini marshmallows and powdered hot cocoa inside. They're not only fun for kids, the best of the bunch make indulgent gifts for chocolate loving adults. Give one or two as a stocking stuffer. Or pair a few with a locally crafted mug to give as a gift. [Here's a list of local shops where you can buy them]

Hot sauce
A collection of hot sauces from A&M Organics is sure to satisfy the heat-seeking foodie on your list. Offerings include Farmer Tan (a milder sauce with notes of carrot, ginger, coconut, and lemon) and Unholy Trinity (a flavorful all-purpose hot sauce made with Ghost, Trinidad Scorpion, and Carolina Reaper). One of my favorites is the Black Ribbon, a slightly smoky hot sauce made with chocolate habaneros that gets complexity and earthiness from black coffee grounds ($8 each). You can find A&M at the Milwaukee Winter Farmers Market.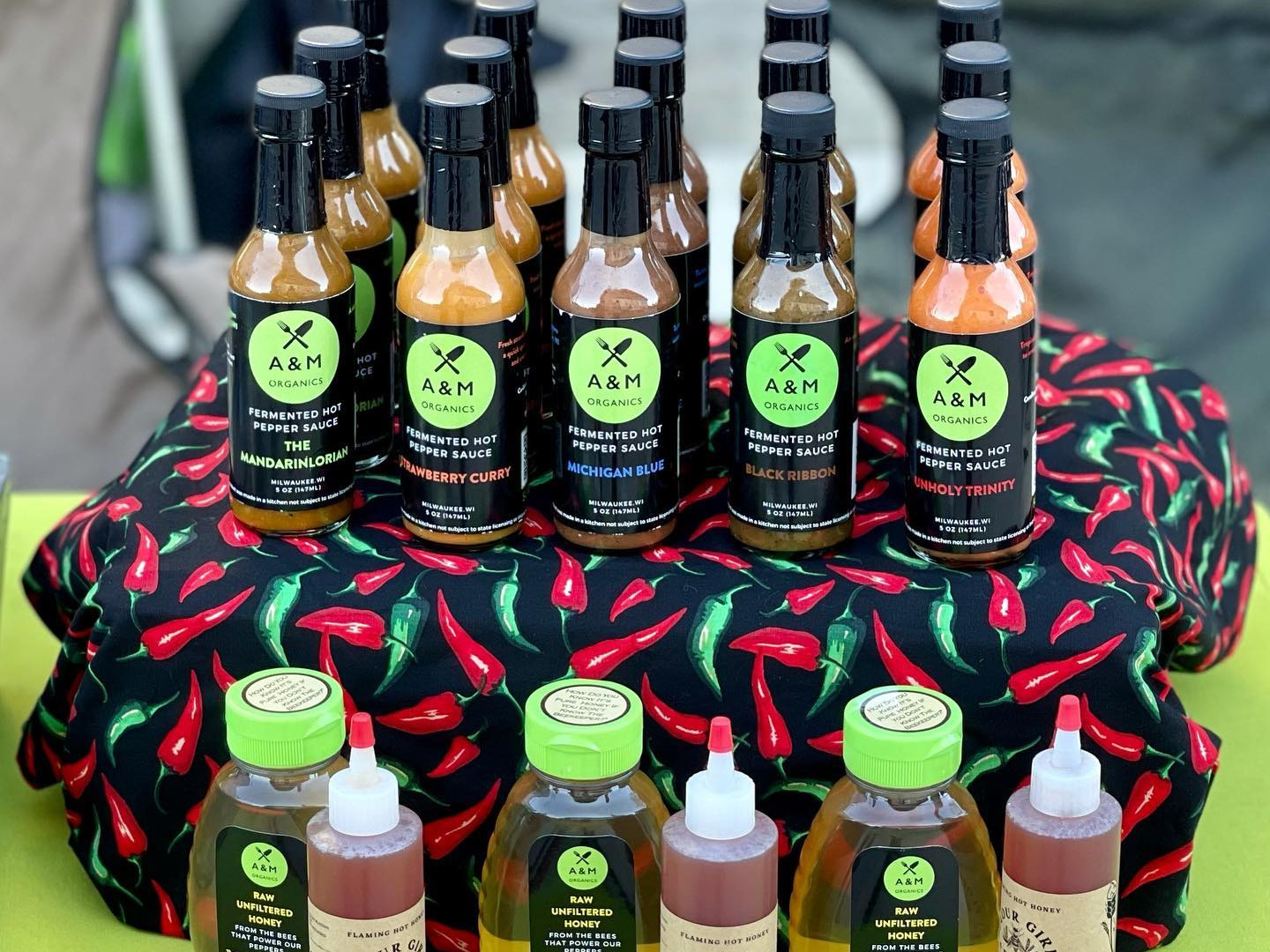 Milwaukee Pretzels
Milwaukee Pretzel Company
3950 N. Holton St., (414) 944-0849
milwaukeepretzel.com
What's more Milwaukee (or more delicious) than Milwaukee Pretzel Company pretzels? Choose from a variety of gifts including the Very Merry Bavarian Soft Pretzel Holiday Gift Pack with a one-pound 11-inch pretzel wreath, 10 3-ounce Bavarian soft pretzel twists, 50 Bavarian soft pretzel bites, four nacho cheese cups, one Sprecher mustard of your choice and pretzel salt ($55).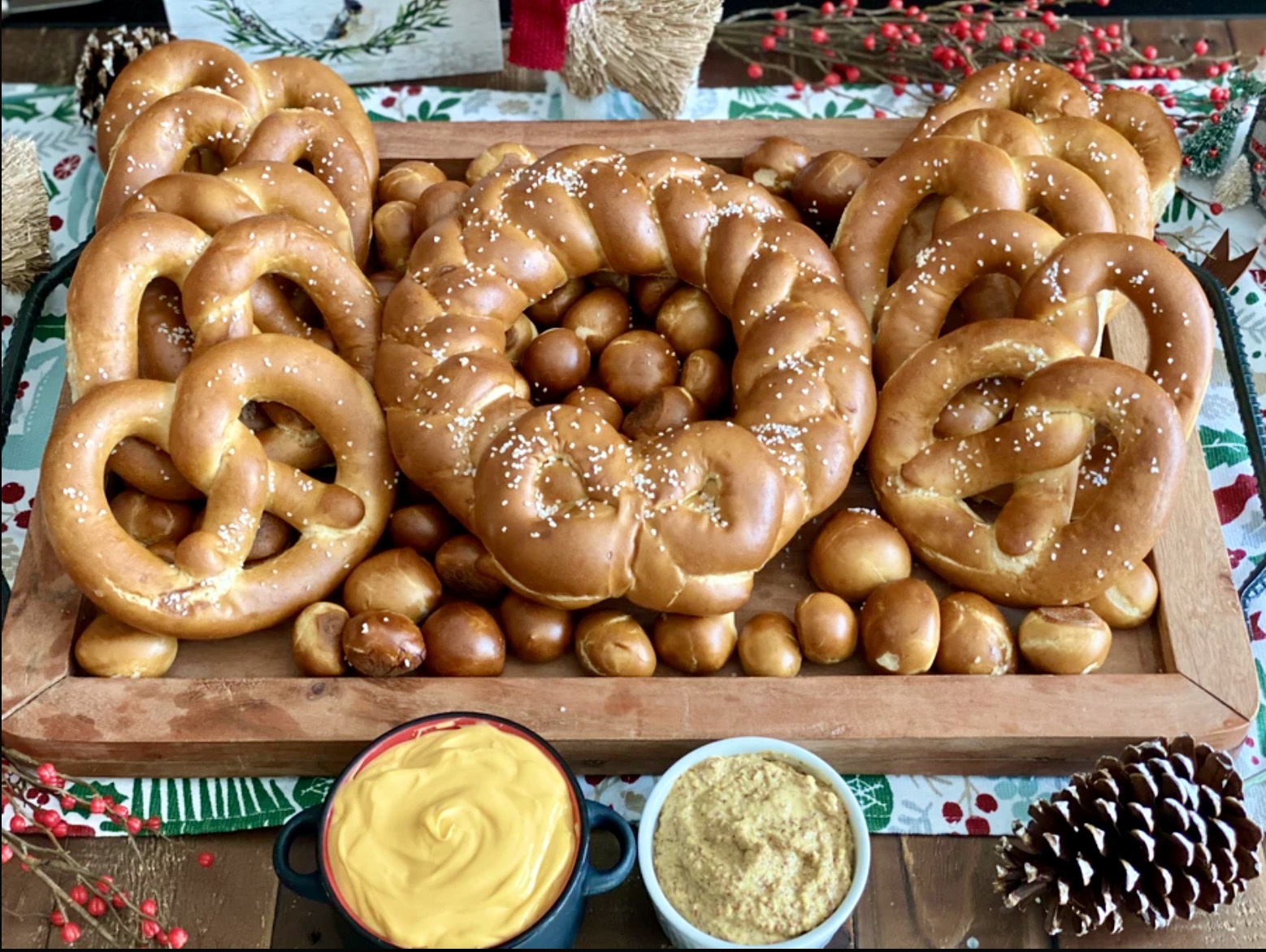 Popcorn
Remember the old days when big tins of popcorn (featuring buttered, cheddar and caramel corn) were a holiday tradition? Well, you can make that happen again with way better popcorn, thanks to the talented folks at Lush Popcorn. One gallon tins are $25 for two flavors (or $22 for one). Grab the two and a half gallon tin and you can fill it with three flavors of your choice for $45 (or a single flavor for $40). Popcorn flavors include maple bourbon, Wisconsin cheddar, chipotle cheddar, cookies and cream, white chocolate, chili lime margarita and more.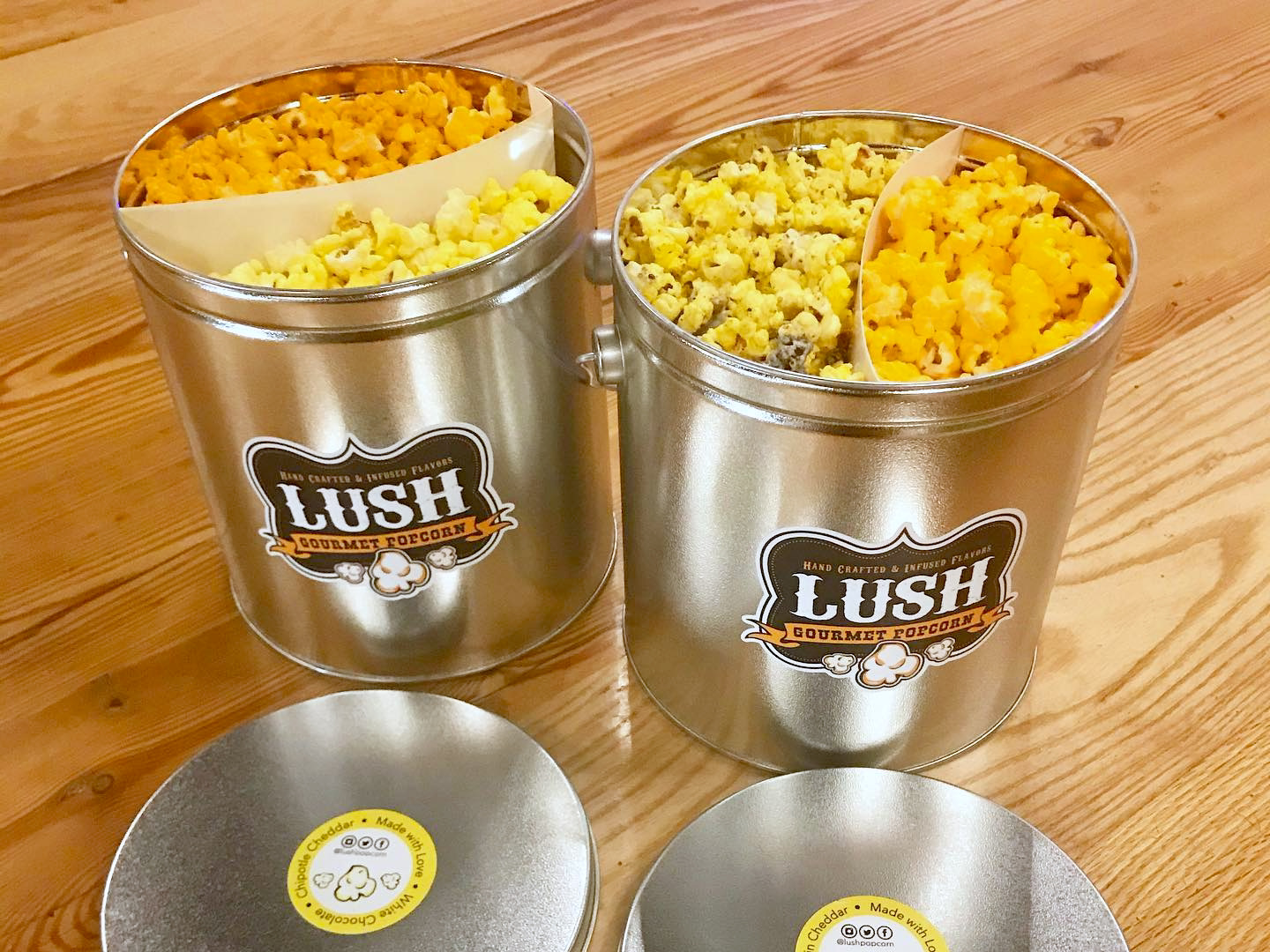 Food themed gifts
Not all gifts for food lovers need to be edible. In fact, I'm a big fan of fun food-themed gifts that are just plain fun. Here are some of my favorites this year.
Jewelry
Seems everyone loves a good cheese and charcuterie board these days. So how about charcuterie board earrings? These are made by Golden Hope Co. from polymer clay and sell for $21.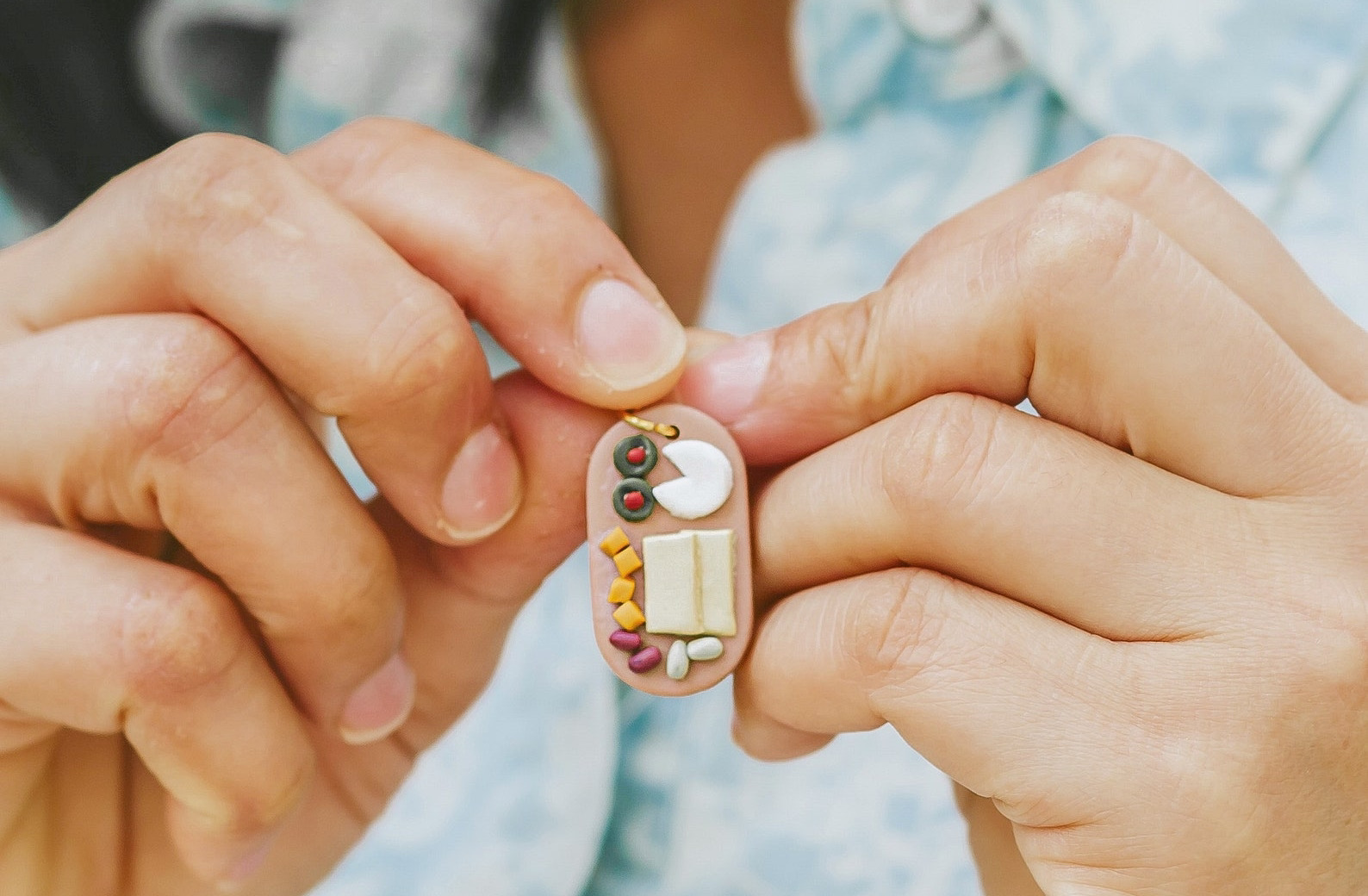 I'd say the same of these vibrantly quirky food truck earrings, which are perfect for your taco-truck-lovin' friend (you know the one). Buy them from PopTone for $28.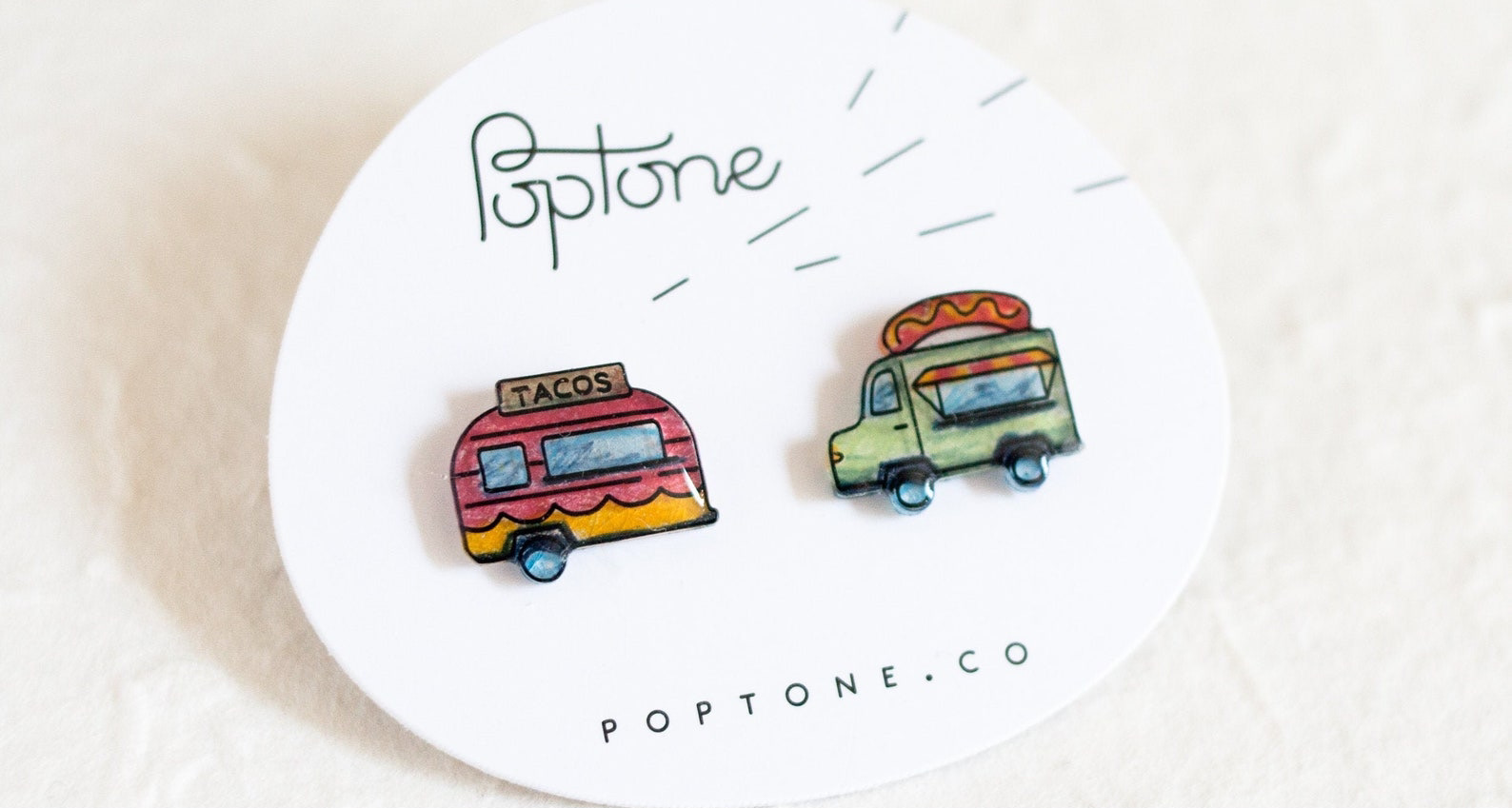 I came across some silverware pieces by J.J. Evensen on a trip to Door County a few years ago, and I'm a fan. I'm especially fond of this Rock on necklace made from an upcycled fork ($26.49), but there are plenty of similarly cool items in the artist's shop.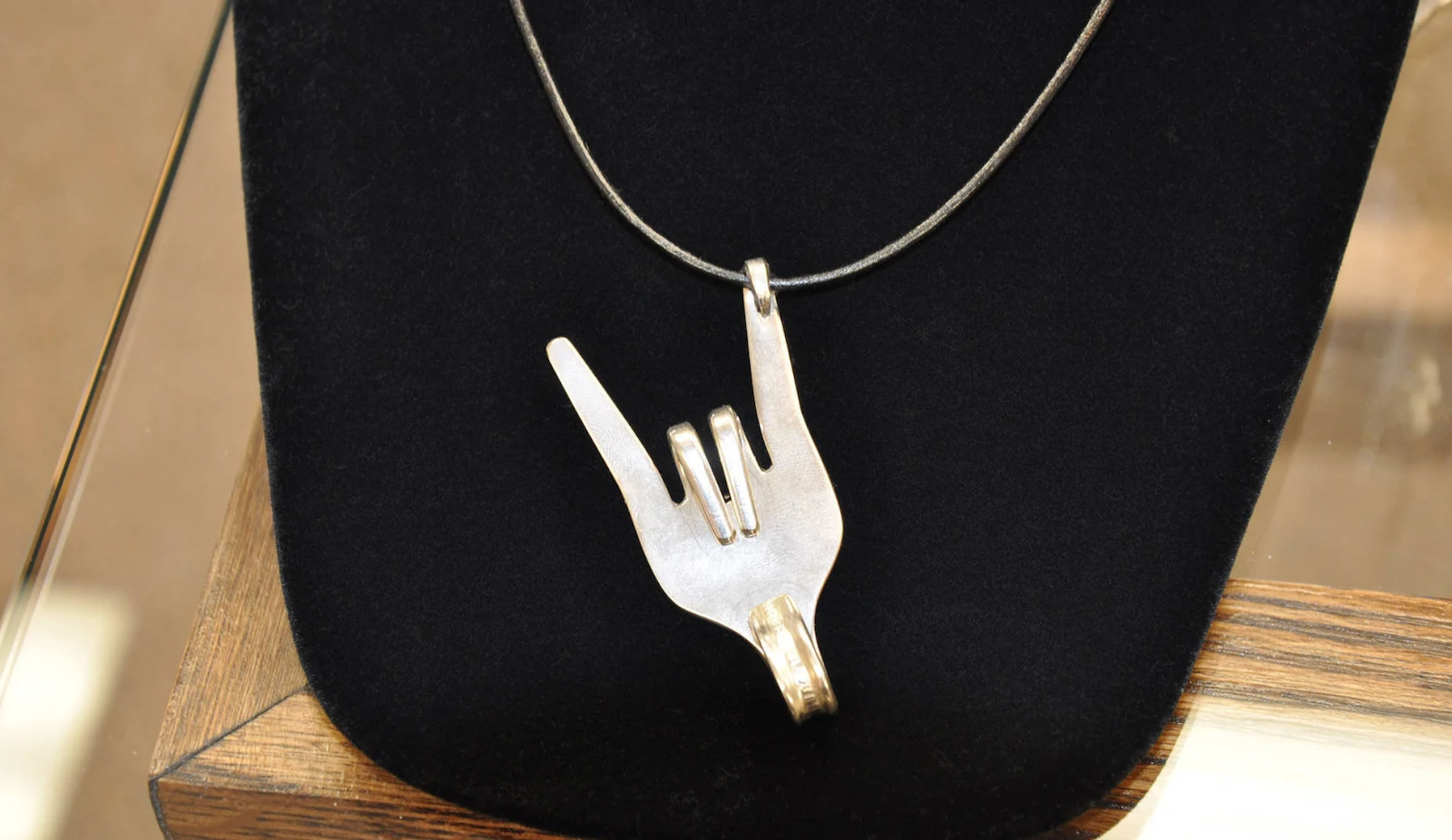 Games
You could also treat the puzzle-loving sugar tooth in your life to a pastel sugar high with the Smart Cookie 1,000 piece puzzle from Ursa ($36). It not only provides the perfect pastime for a brisk winter evening at home, but it's so pretty that they'll want to paint it with shellac and hang it on the wall.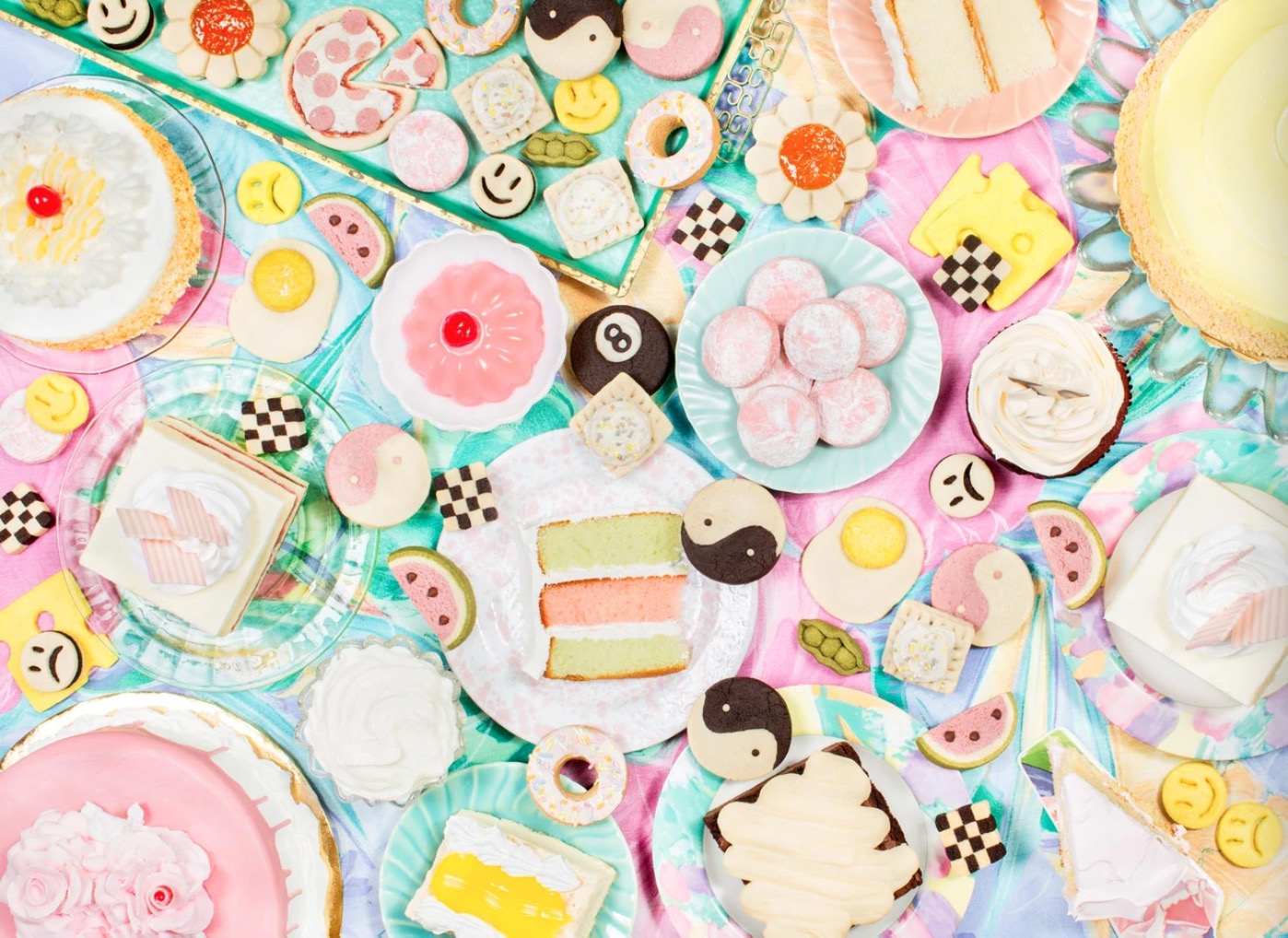 Clothing
This Wisconsin food tee is the perfect shirt for someone who wants to rep all the delicious things our state has to offer, from fish fry and kringle to cheese curds and cream puffs ($22). And you can get it in a number of different colors.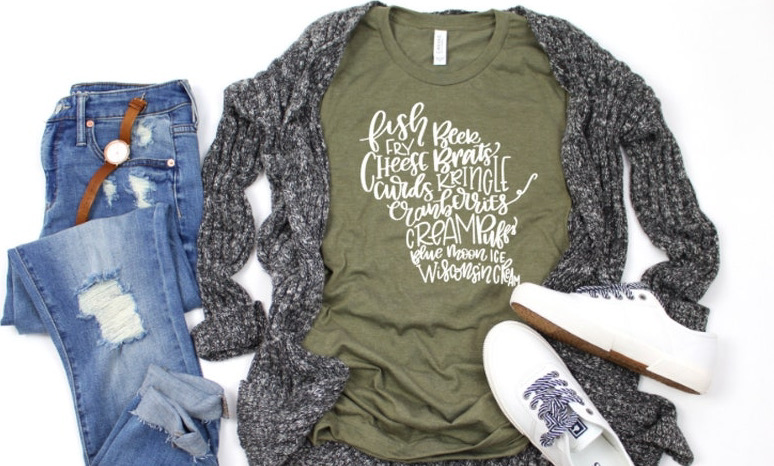 New food loving parents will also appreciate this one: an adorable long-sleeved onesie that reps Wisconsin cheese in the cutest way possible ($22).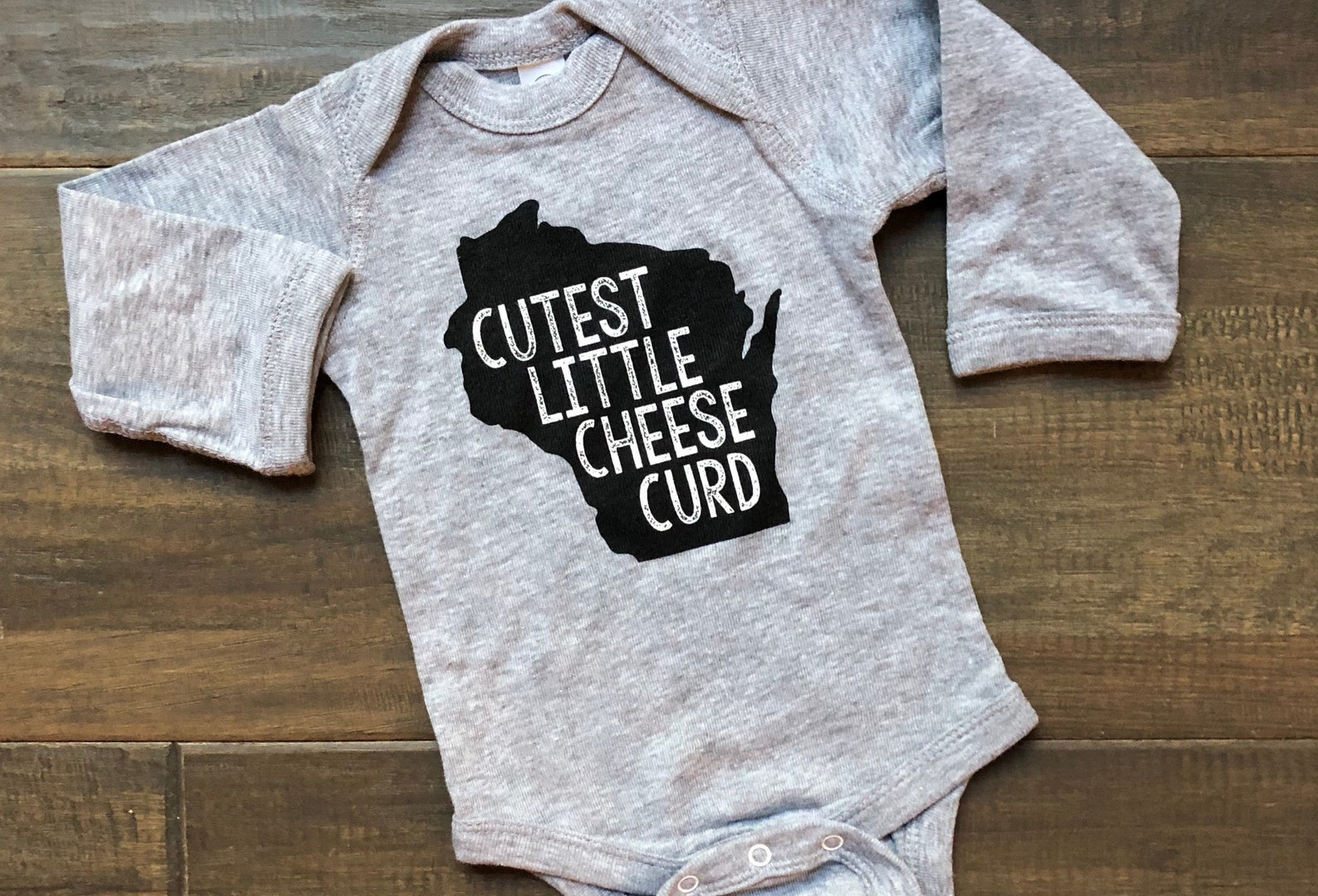 Hands on / DIY gifts
Bittercube
4828 W. Lisbon Ave., (414) 207-6262
bittercube.com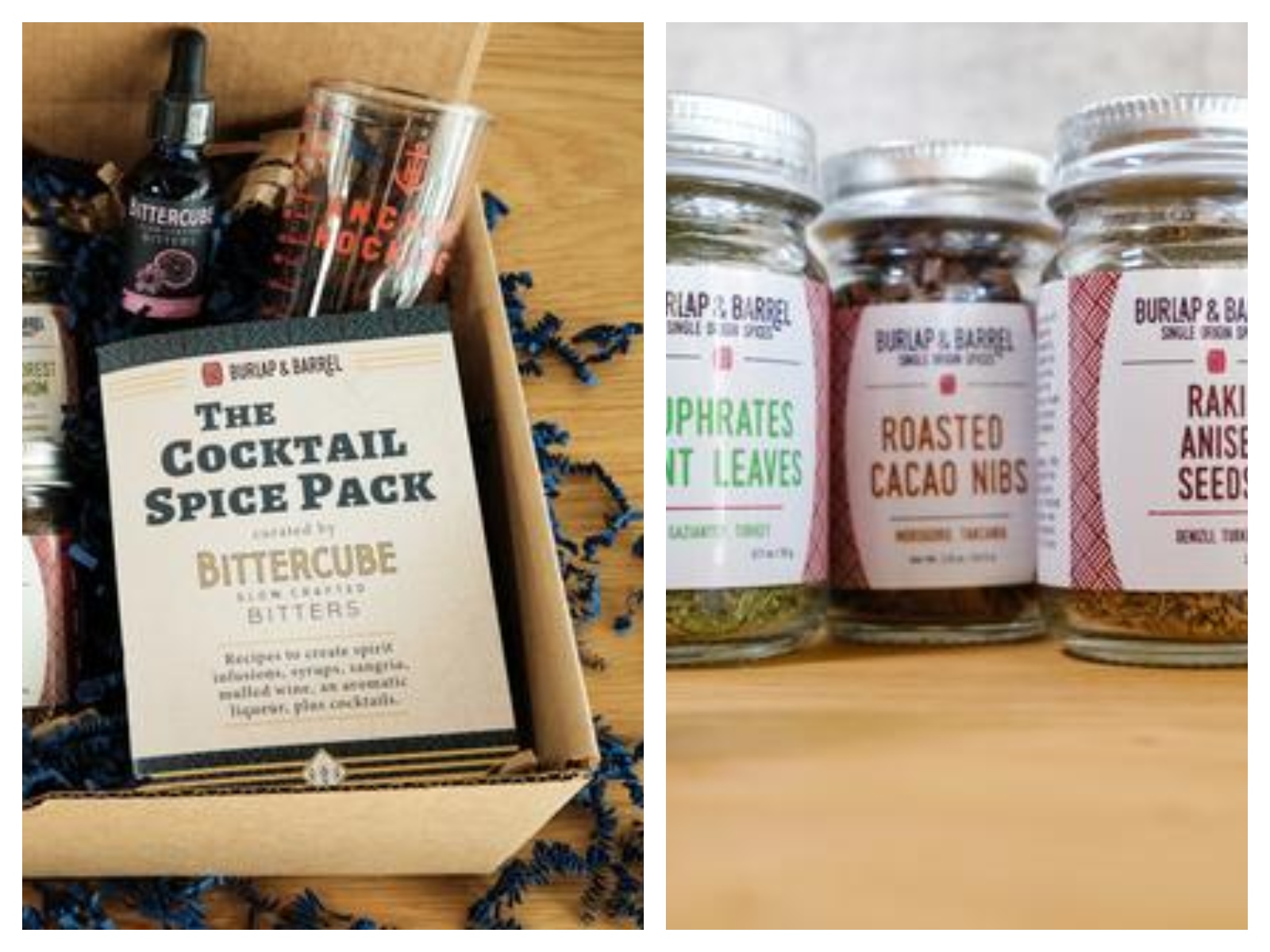 Know a crafty cocktail lover who'd like to spice up their game? Gift them the Spice Up Your Cocktail Kit from Bittercube featuring six jars of unique single origin spices, a one ounce bottle of Jamaican No. 2 bitters, a five ounce measuring glass and an 18 page recipe booklet featuring recipes for infused spirits, syrups, sangria, mulled wine, a liqueur and (yes) cocktails ($57).
Tippecanoe Herbs and Apothecary
2235 S. Kinnickinnic Ave., (414) 585-9279
tippecanoeherbs.com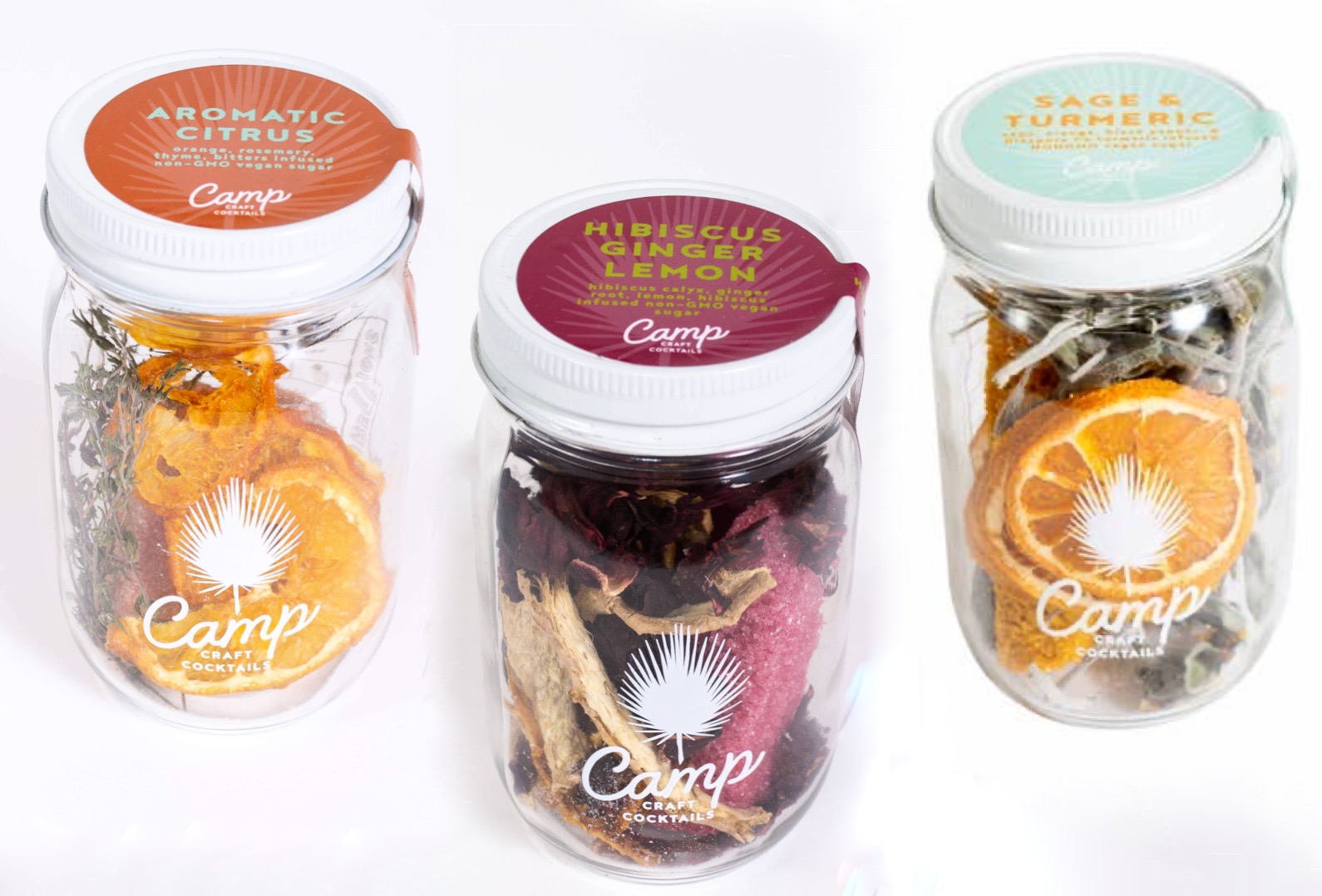 Know someone who likes to experiment with cocktails? Gift them one (or more) of these craft infusion kits with a bottle of high proof local spirits and let them play to their heart's content. Kits come in three flavor profiles: hibiscus ginger lemon, old fashioned and hot toddy ($24 each). If you're lucky, they'll invite you over for a drink.
Serveware and kitchen accessories
For cooks and those who love to entertain (in better times, of course), there's always room for another beautiful platter, mug or bowl. The same is true for standards like oven mitts, towels and kitchen-related accessories. Here's a number of beautiful (and even fun) options that caught my eye. Of course, there are plenty more where these came from, so if an item is sold out, peruse the site for similarly delightful finds.
Everyone needs a good bottle opener. And this elegant, handmade metal one, constructed by Western Star Welding from an upcycled railroad spike is also virtually indestructible. It can also be ordered in a variety of colors as well ($9).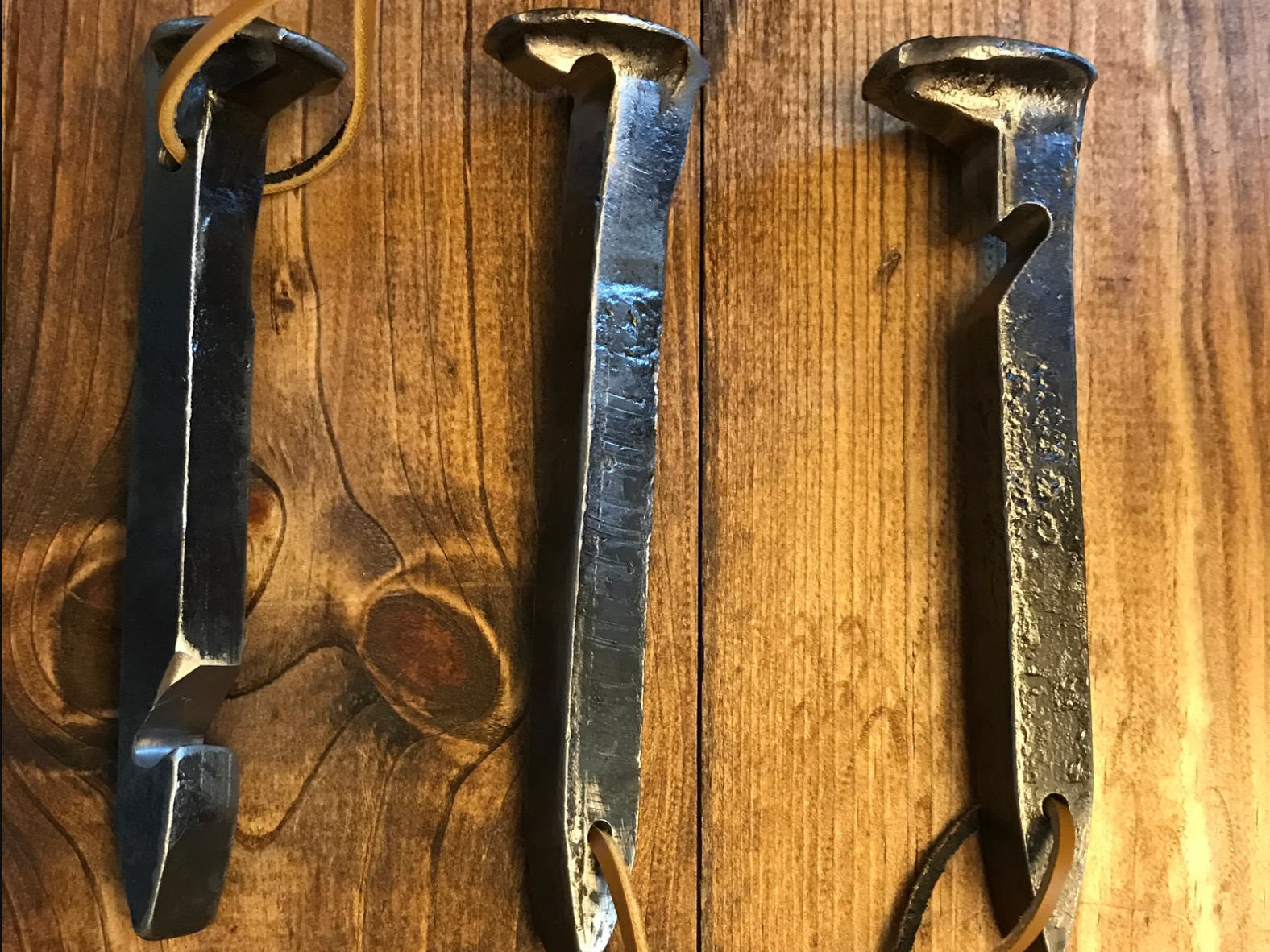 Give them a beautiful bold reminder to Be The Change every day, while treating them to a home filled with amazing culinary-inspired scents with the FlyBlooms "Be The Change" Candles from Bronzeville Collective. Scents include spiced honey, black amber and plum (my favorite) and chili pepper and mandarin ($22).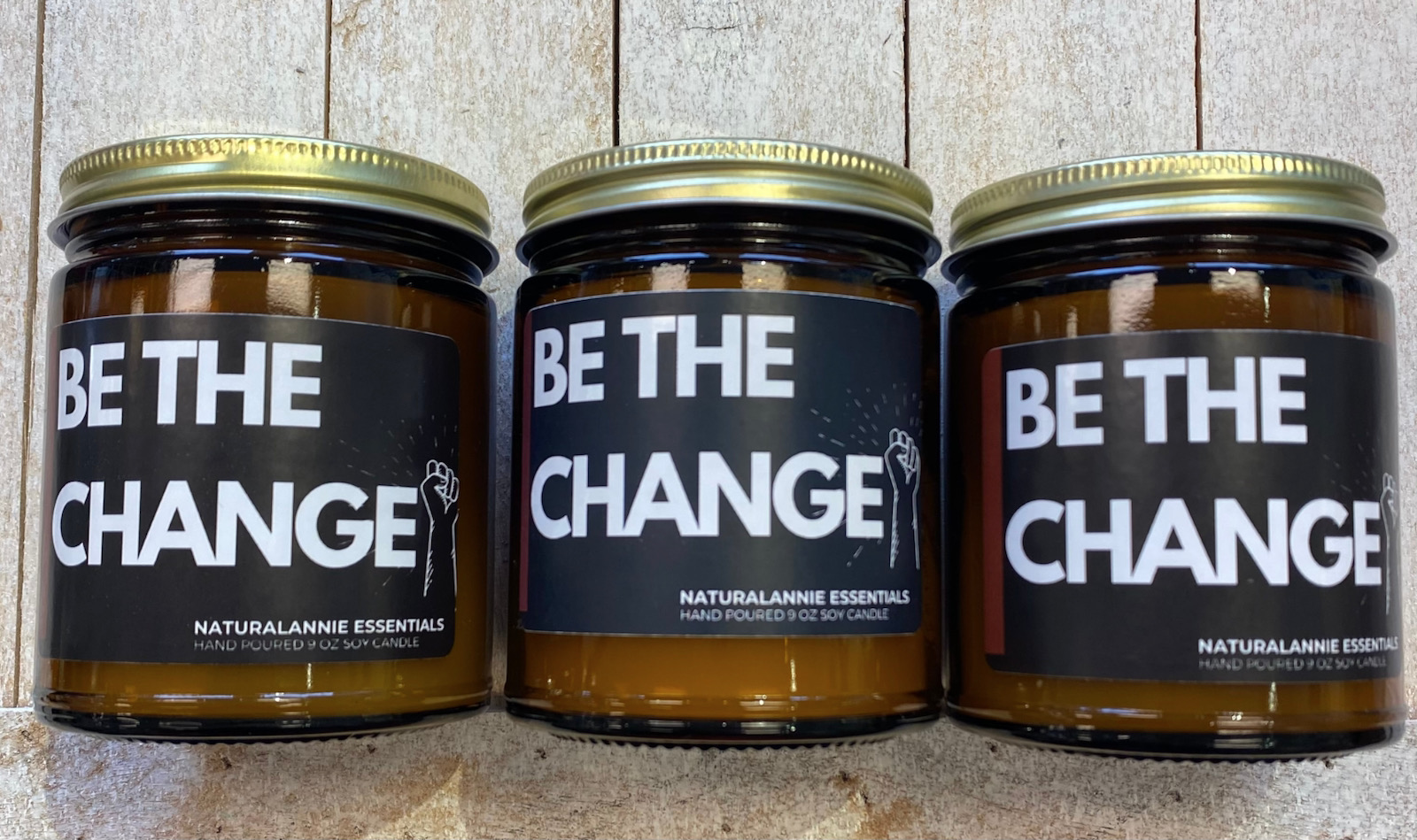 Cozy winter mugs double as hand-warmers at our house. And these winter themed mugs by local artist Jessie Schroeder Voss are some of the loveliest I've seen yet this year ($50-$60). You can order the mugs online and have them shipped or pick up at her studio in Mukwonago.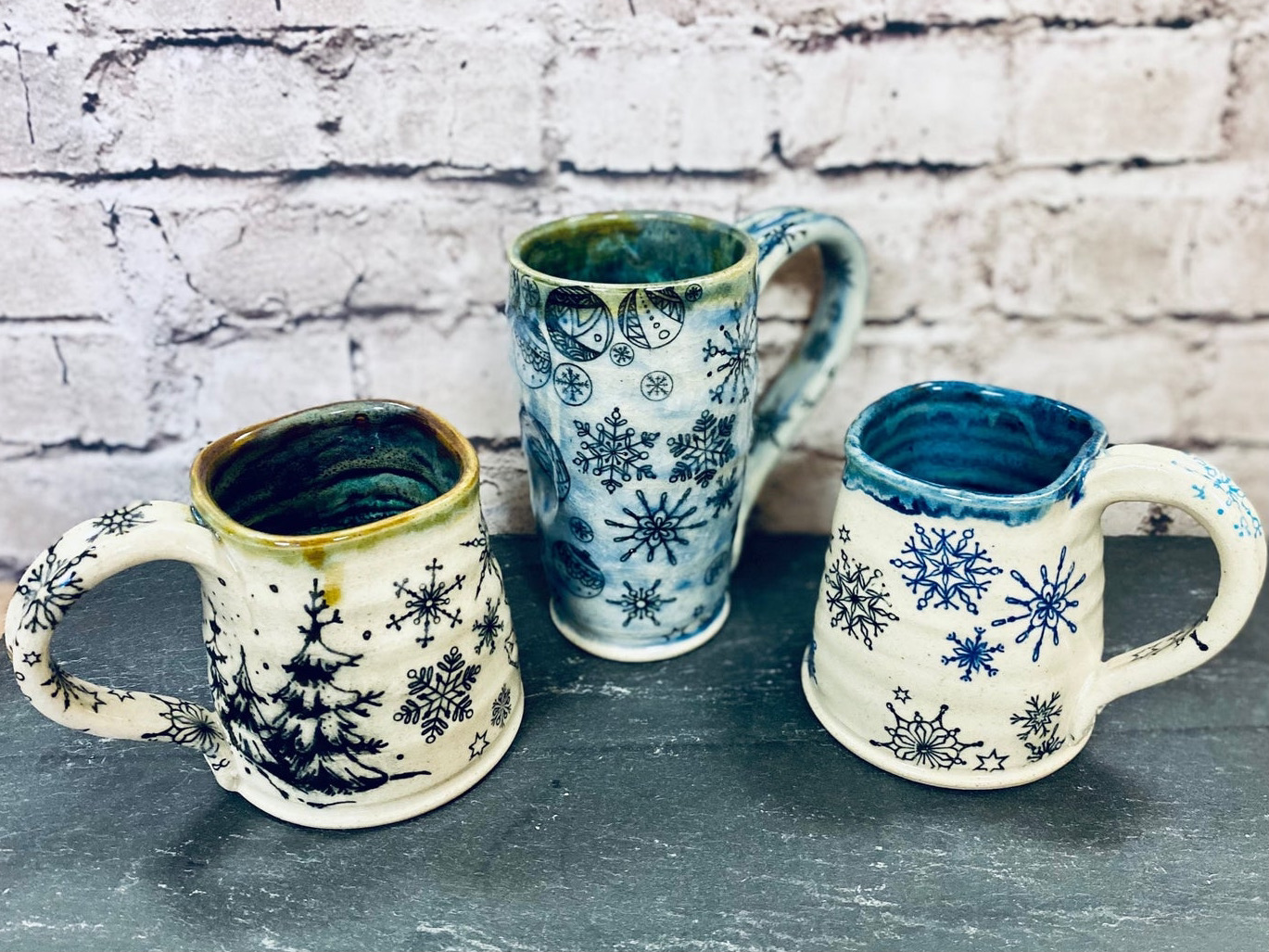 Wooden spoons are a staple in any kitchen. But these beautiful henna-inspired wood-burned spoons are as beautiful as they are functional. Made and sold by RakaBazaar, they come in a set of three for $15.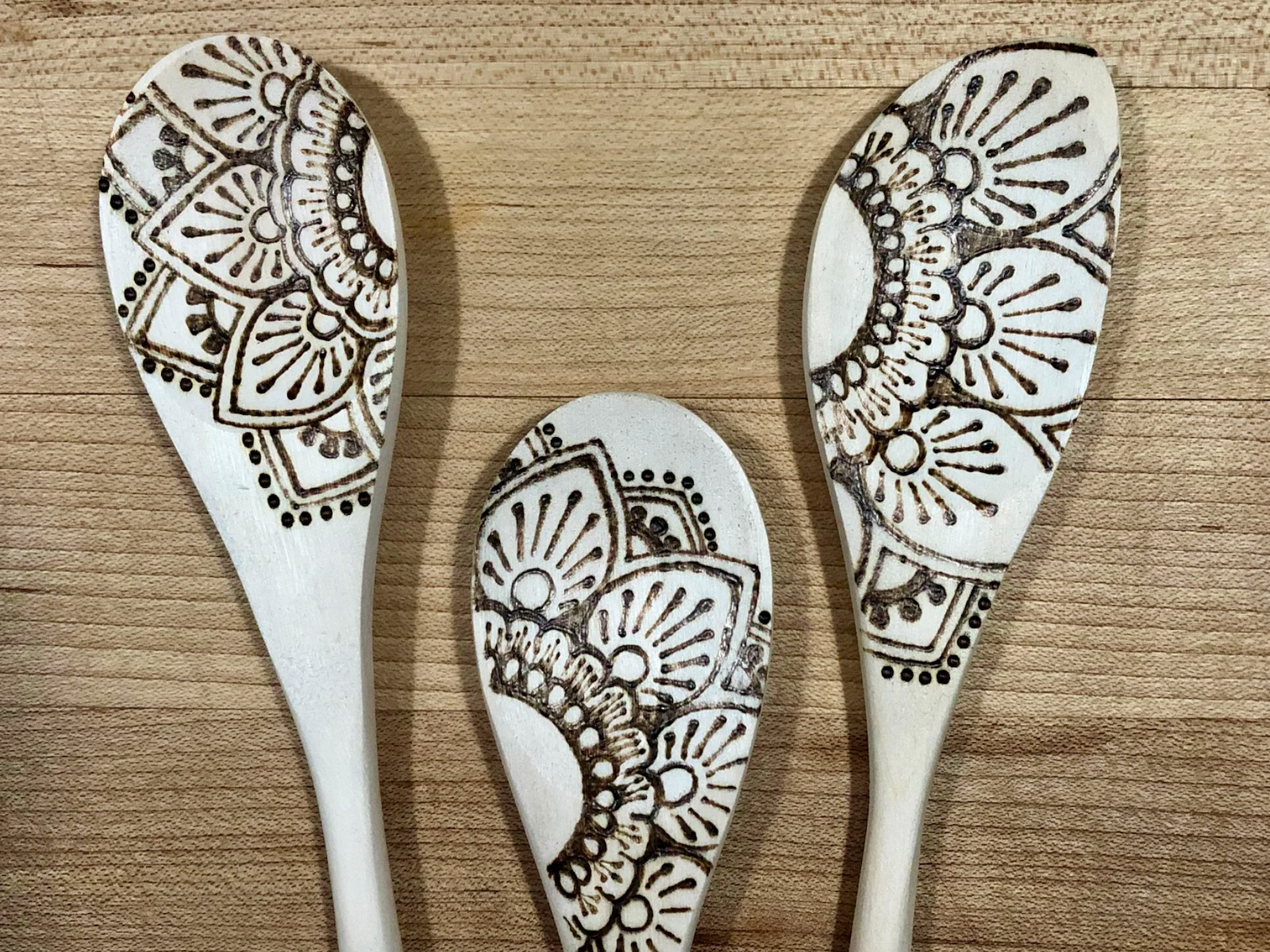 Know a Cream City ex-pat who could use a taste of Milwaukee? This treats box featuring a Milwaukee flag ornament, two chocolate bars and a Milwaukee Home mug (in ebony or ivory) is the perfect gift ($40, comes gift-boxed). Find it at The Waxwing.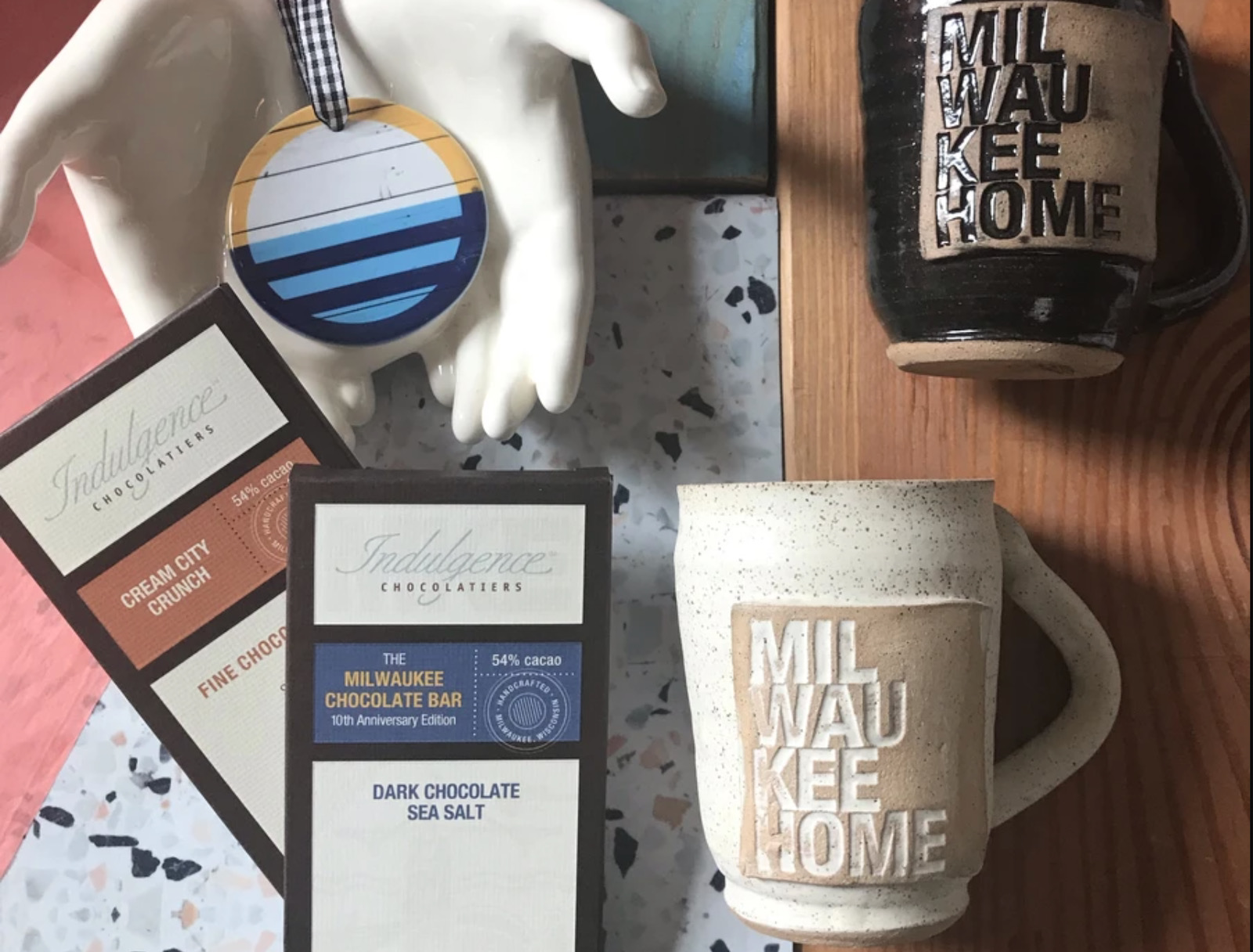 Make them laugh with whimsical towels from Fischberger's Variety, including finds like Eat Up, Bitches!, I Eat the Shit Out of Plants or My Way or Fast Food Off the Highway ($12.50 each).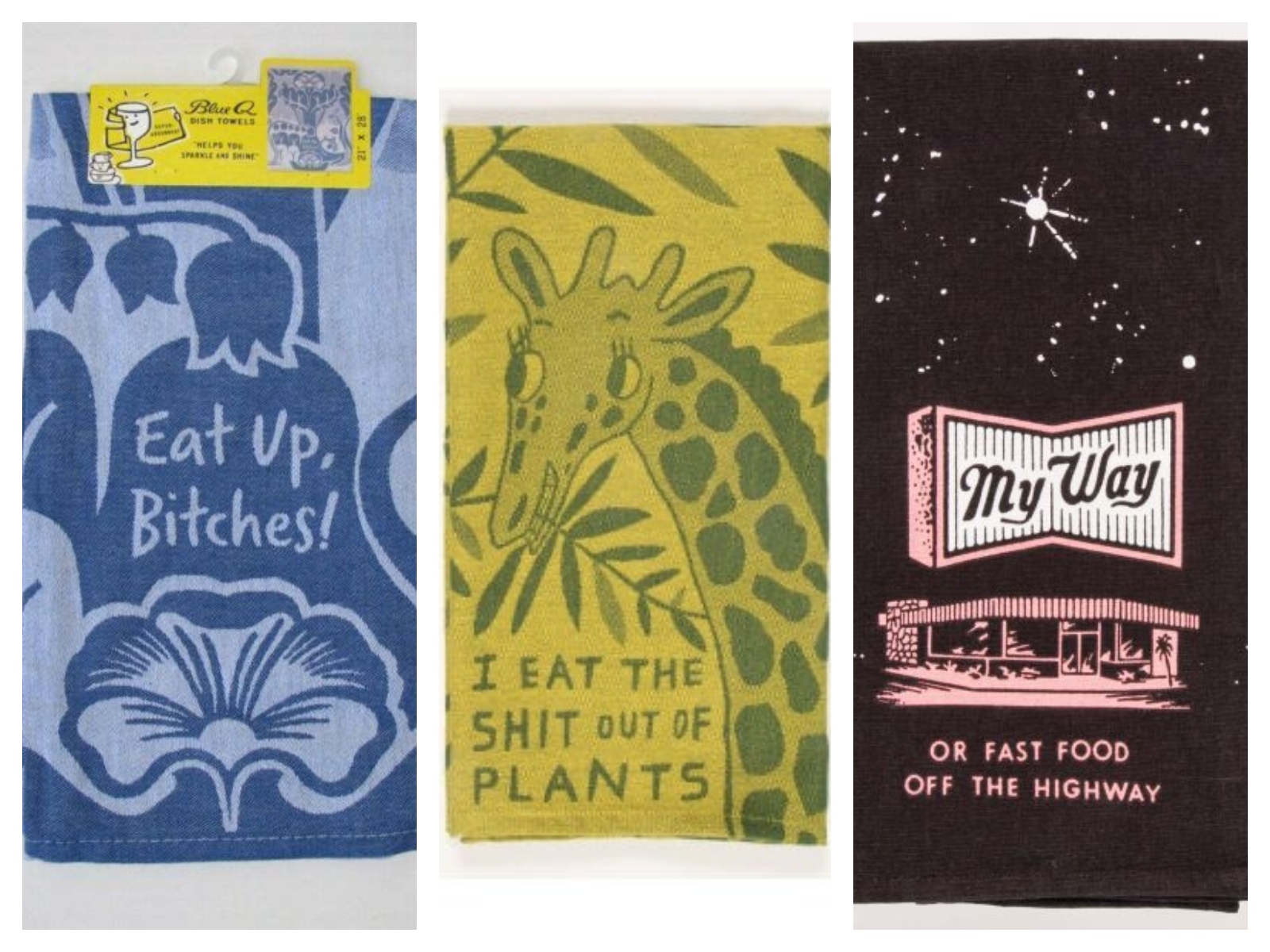 S'mores in the house? Or your own private Korean BBQ? Oh yes. This FLÎKR Fire indoor cement "fire pit" is safe to use indoors and offers 50 minutes of burn time using isopropyl alcohol ($99). Find it at Orange and Blue Co.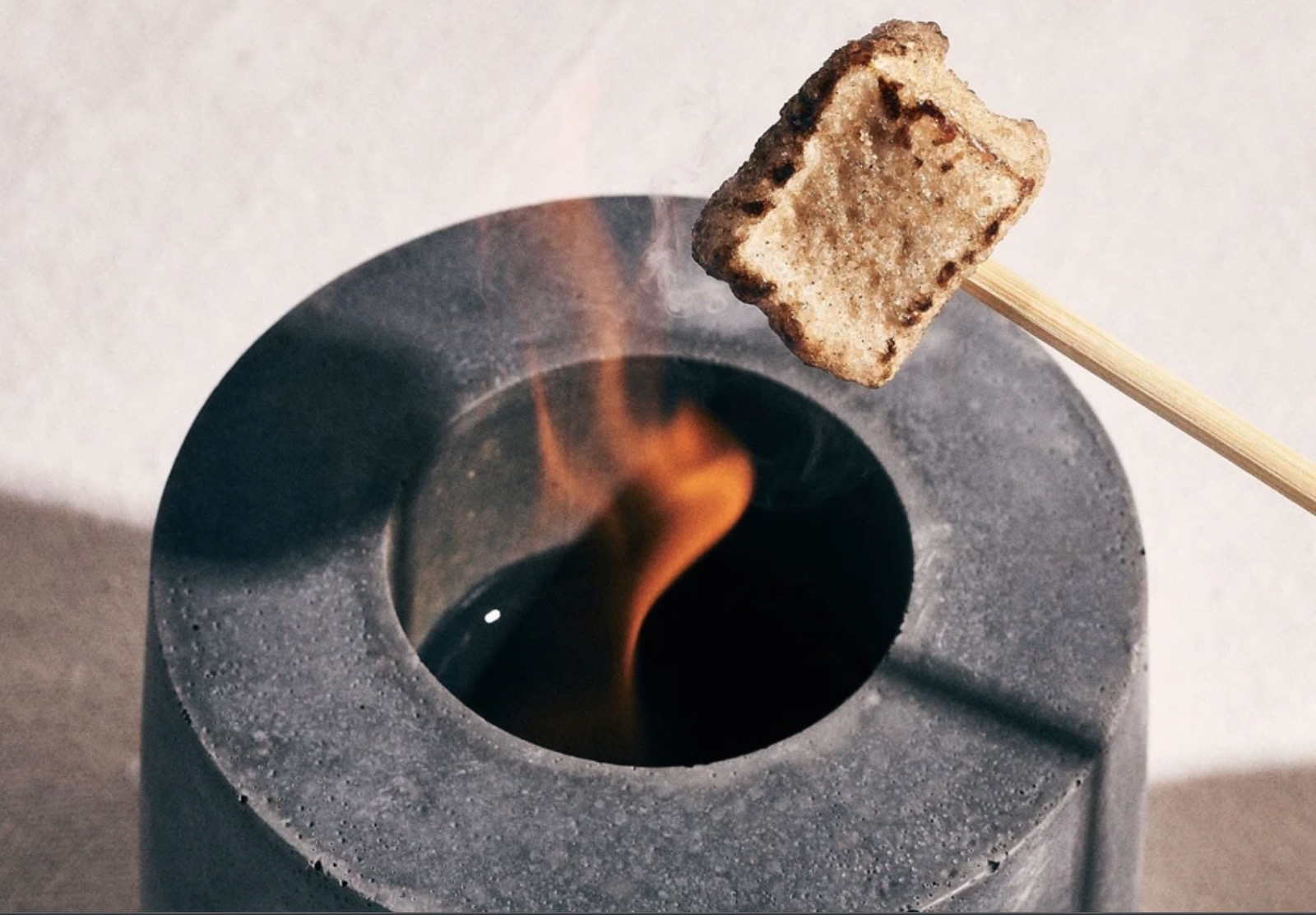 For some folks, cooking is like meditation. Remind them to stay in the moment with an At Peace Design apron. These practical pieces come in a variety of colors including red, green, black, navy and black and white pin-striped ($15).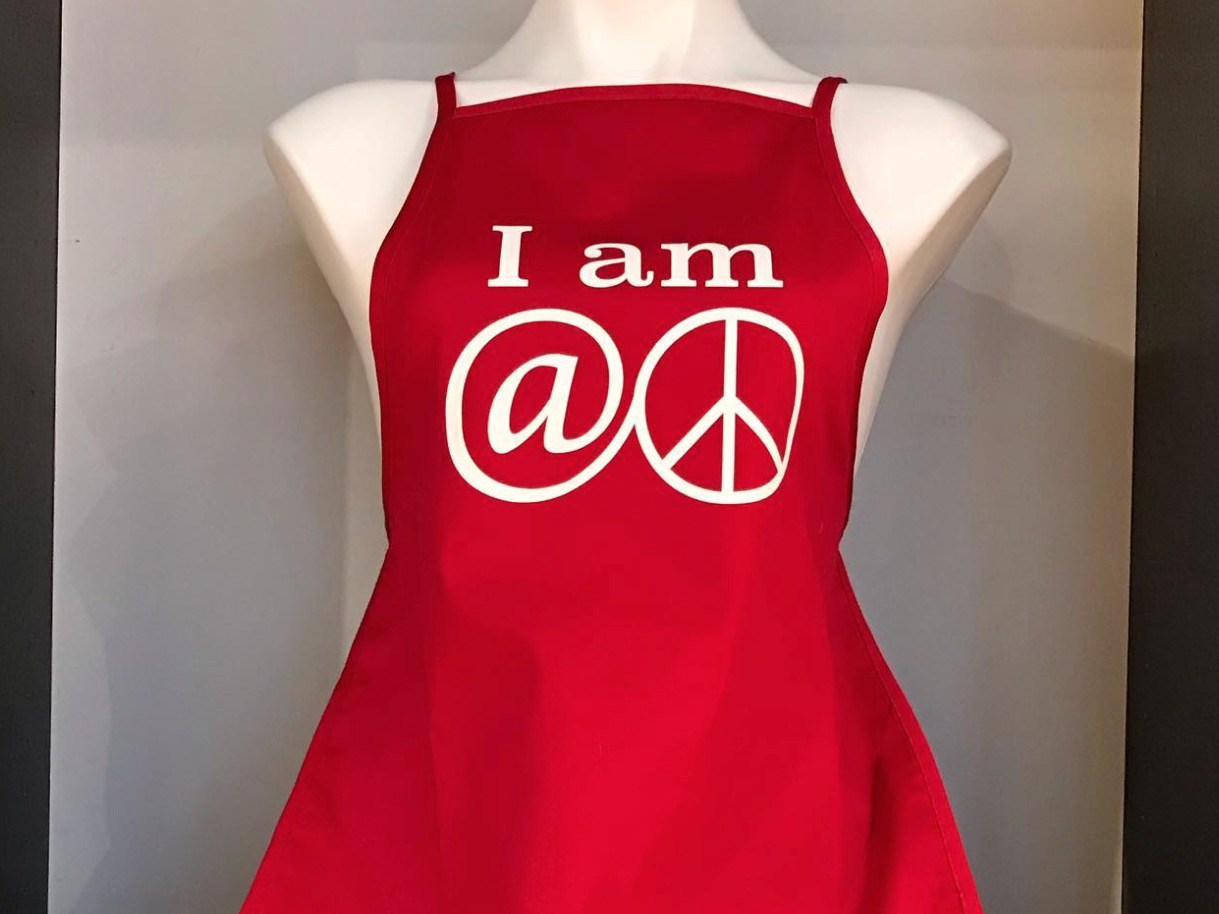 Laughter cures many ills. And you'll keep them laughing all winter with these chuckle-worthy candles, which also happen to smell pretty delicious. Choose from options like the sugared cranberry scented Christmas Movie Watching Candle (infused with "A Corporate Career Woman & An Underemployed Hot Guy," $22); or the peaches and cream scented Adulting Candle (infused with "Insufficient Funds," $22). Pair it up with a jar of nifty color-tipped vintage apothecary matches… because they're really cool (and they come in lots of fun colors from mauve and red to dusty blue and mint, $18). Find them all at Swoon.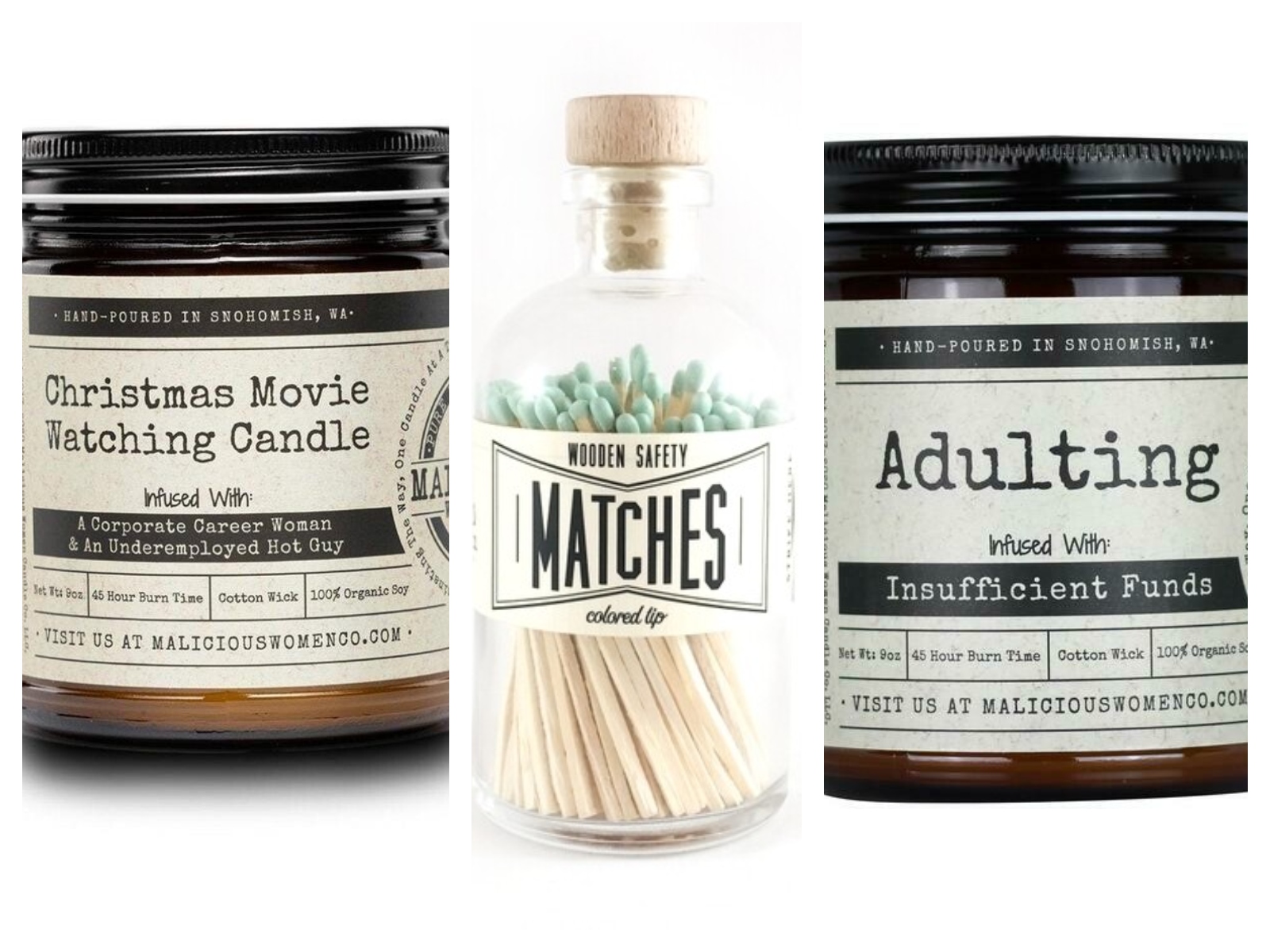 Everyone needs a beautiful vessel for their morning beverage. These 10 ounce jade mugs by Jennifer Lee Studios ($30) are practical and gorgeous. Get them from The Waxwing.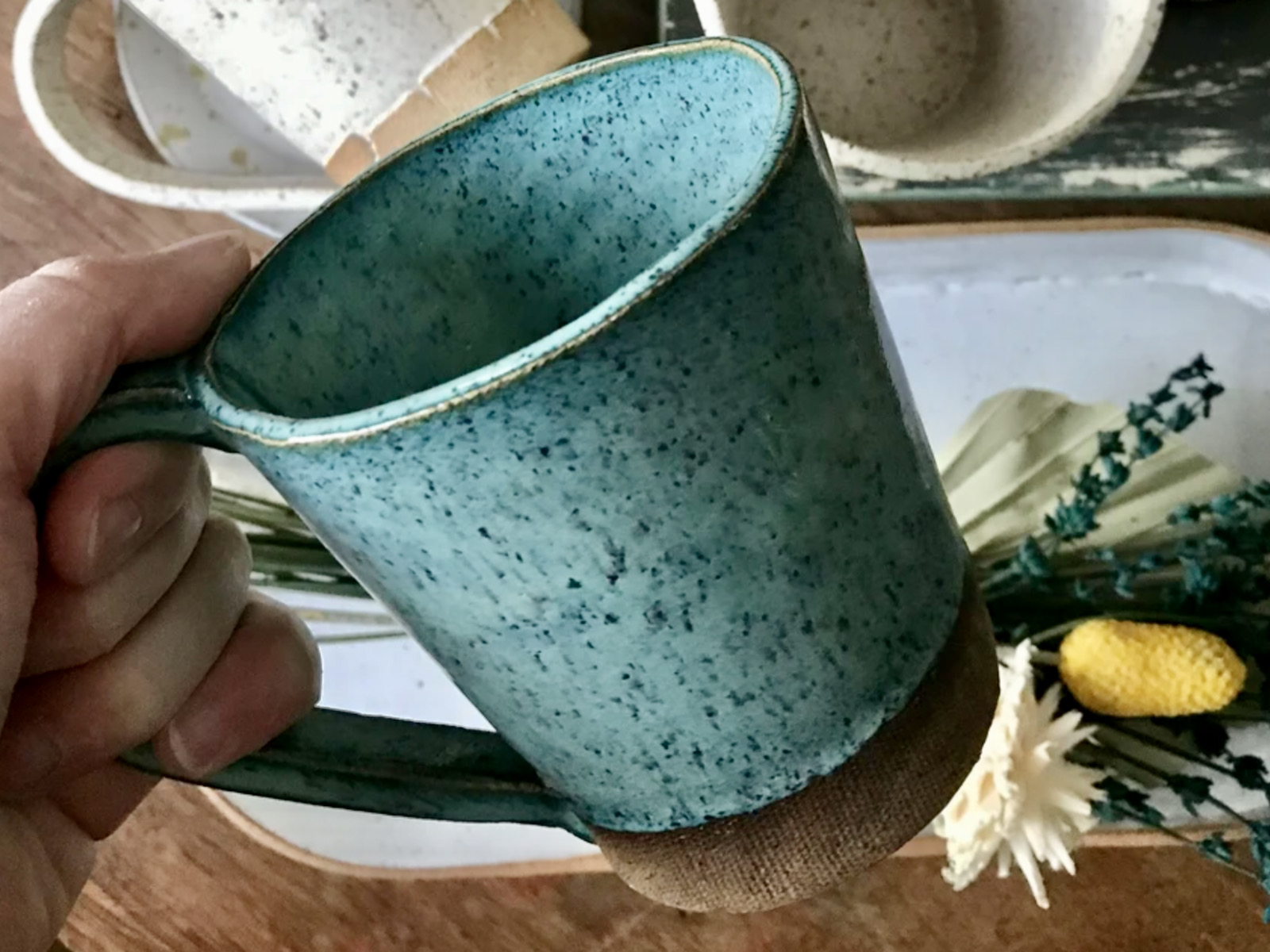 Camino Wood Shop produces gorgeous wooden items for the home, from tea and sushi trays to rolling pins, cutting boards and cheese and charcuterie boards. I'm partial to the round Ambrosia maple board, which would make a great gift paired up with a round of brie, a jar of jam and crackers ($59). You can find their goods online or at shops like The Village Cheese Shop (starting in December), Kind Oasis (East Side), Locally Inspired (Port Washington) or Frannie's Market (Cedarburg).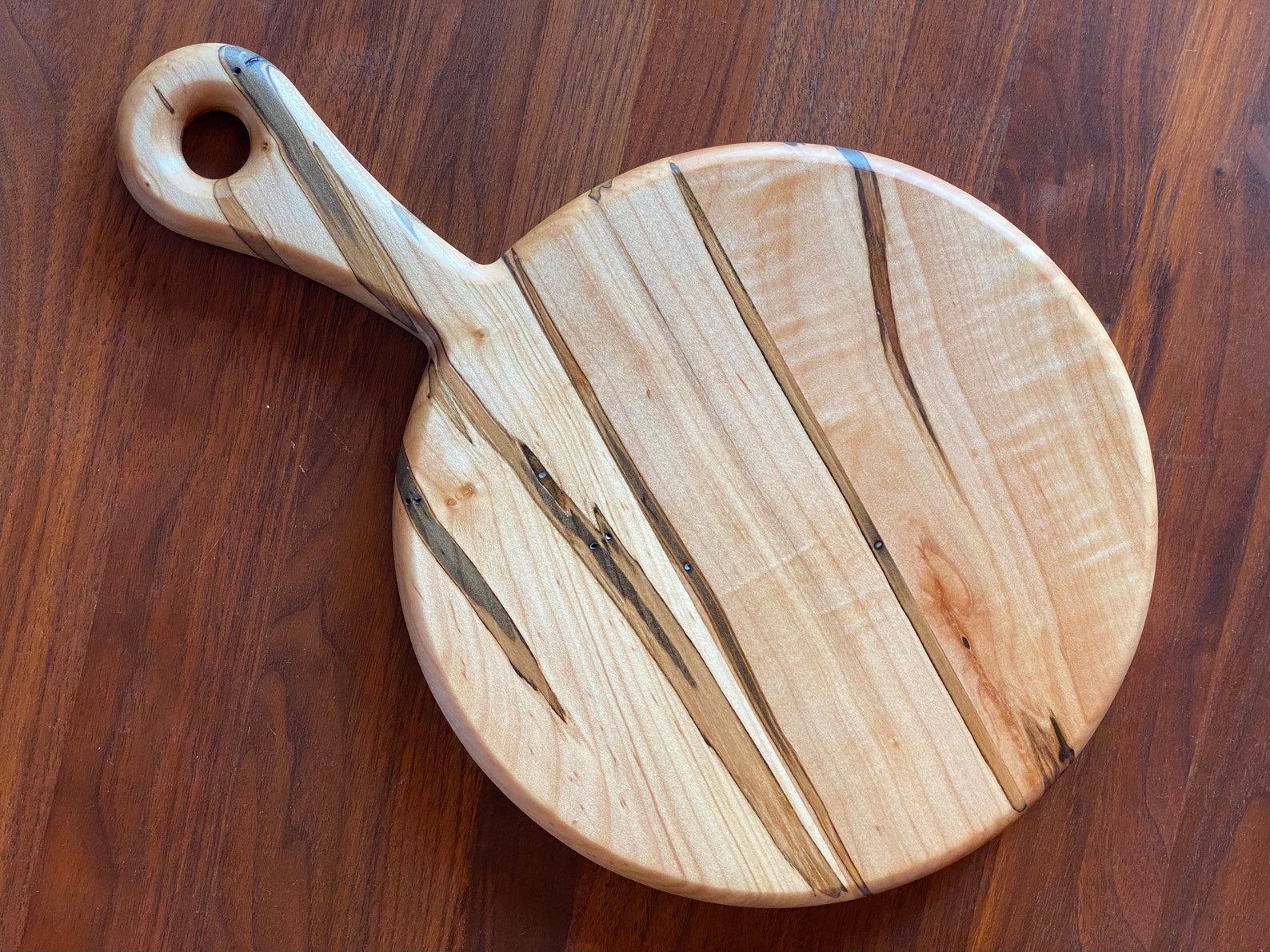 A new dish towel is always a welcome gift, especially for someone who lives in the kitchen. Give them something beautiful and practical like these 100% cotton hand-drawn Wisconsin nature towels ($12). They're lint free, so they're perfect for drying all those wine glasses. Find them at Sparrow Collective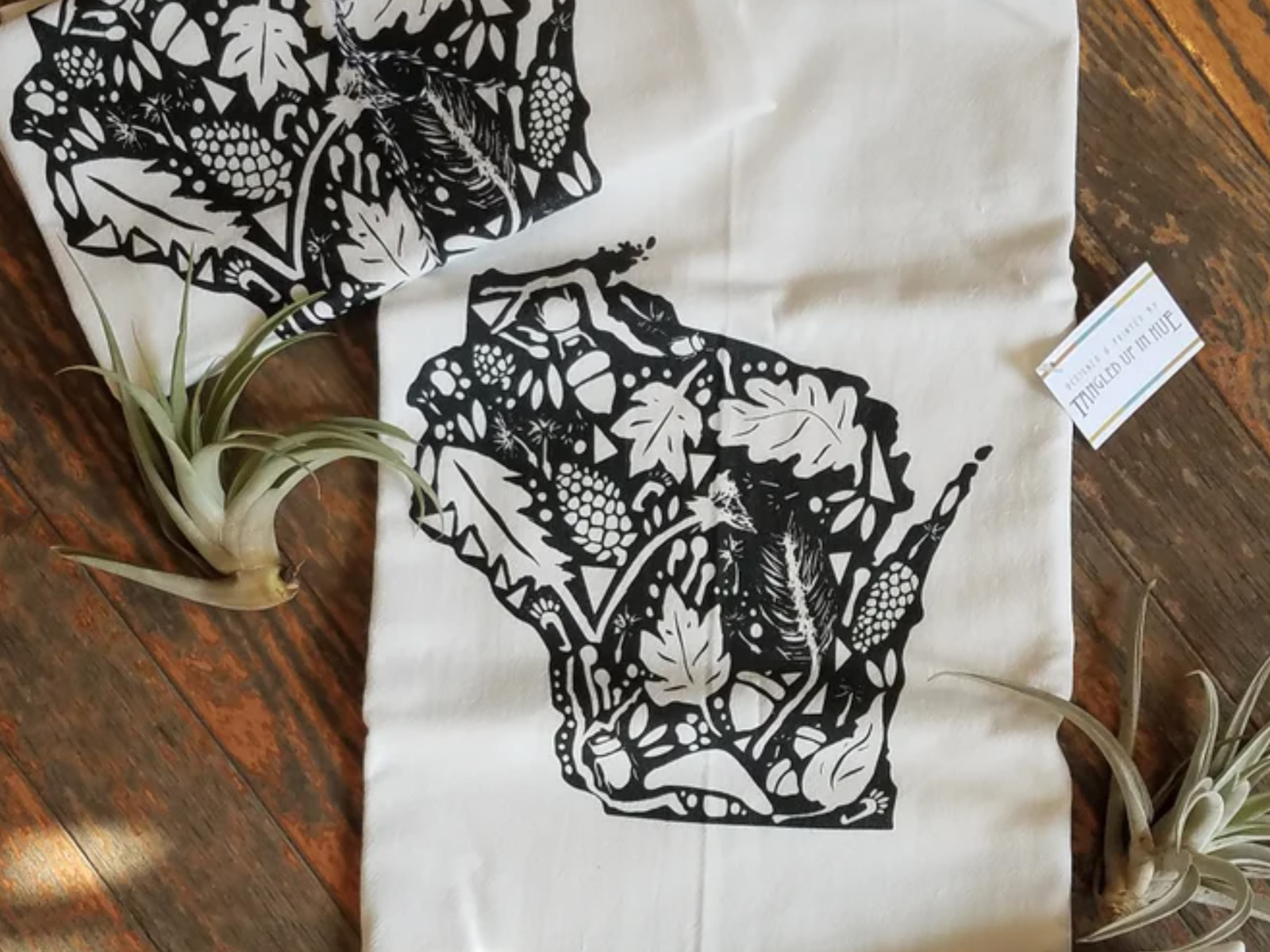 Is there anything more adorable than these honey bee napkin rings? Not really. Plus they're locally made by Stone Pony Pottery ($20). Match them up with some adorable napkins and you have an amazing gift for the entertainer in your life. Find them at Swoon.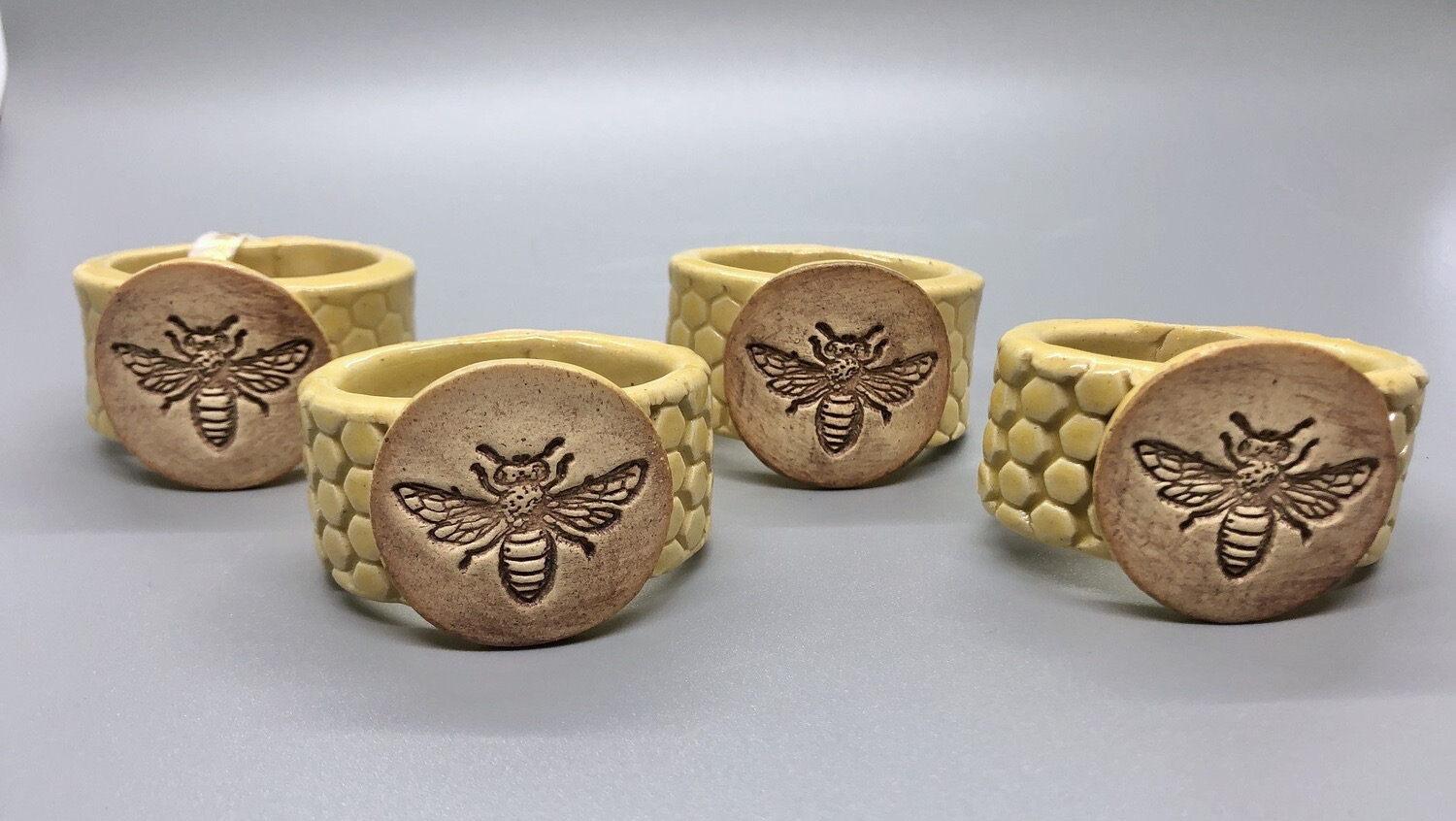 Subscriptions / Clubs
There are a lot of clubs out there, from chess clubs and book clubs to social clubs. But none of them compare to a wine, cheese or food club which offers the recipient a delicious surprise every month for a set amount of time.
Cheese of the month club
Village Cheese Shop
1430 Underwood Ave., Wauwatosa, (414) 488-2099
villagecheesetosa.com
Do you have an artisan cheese lover in your life? Give them three or six months of unique, delicious cheese love with a Cheese of the Month Club subscription from Village Cheese Shop. Each subscription includes a monthly box featuring two half-pound pieces of seasonal artisan cheese, a complementary specialty item (preserves, crackers or nuts), plus cheese descriptions, cheesemaker stories, and suggested pairings. Pricing is $150 for three months and $270 for six months.
Indulgence of the Month Club (chocolate)
Indulgence Chocolatiers
211 S. 2nd St., (414) 223-0123
indulgencechocolatiers.com
Chocolate delivered to your home every month without lifting a finger? Oh, yes. Give the Indulgence of the Month Club and every month (for a set period of time) the chocolatiers from Indulgence select a different combination of confections, which are shipped directly to the recipient's door. Pricing is $90 for three months, $180 for six or $360 for twelve months.
Kringle of the Month Club
O&H Danish Bakery
5910 Washington Ave., Racine, (800) 709-4009
ohdanishbakery.com
Know someone who could use a sweet surprise? Send them the gift of a Racine classic with O&H's Kringle of the Month Club, which offers a different seasonal kringle every month shipped directly to the lucky recipient. A three-month gift is $85.99, with six, nine and 12-month options available as well.
Purple Door Pint Club
Purple Door Ice Cream
Ice cream delivered? Oh, yes. Purple Door Pint Club recipients receive a surprise assortment of four best-selling ice cream and sorbet flavors on a quarterly basis (shipped in February, May, September and November). Club is $240 (includes shipping).
Tea of the Month Club
Urbal Tea Co.
urbalhealth.com
Know someone who'd swoon over a monthly delivery of antioxidant-rich herbal tea? Then Urbal Tea's tea of the month is a perfect gift. For $11.99 a month, the recipient will receive three ounces of a featured tea, shipped the first of every month.
Lori is an avid cook whose accrual of condiments and spices is rivaled only by her cookbook collection. Her passion for the culinary industry was birthed while balancing A&W root beer mugs as a teenage carhop, fed by insatiable curiosity and fueled by the people whose stories entwine with each and every dish. She's had the privilege of chronicling these tales via numerous media, including OnMilwaukee and in her book "Milwaukee Food." Her work has garnered journalism awards from entities including the Milwaukee Press Club.
When she's not eating, photographing food, writing or recording the FoodCrush podcast, you'll find Lori seeking out adventures with her husband Paul, traveling, cooking, reading, learning, snuggling with her cats and looking for ways to make a difference.