Mario Lanza currently tends bar at Fink's, 1875 N. Humboldt Ave., and Sabbatic, 700 S. 2nd St. Prior to working these locales Lanza spent almost four years behind the wood at Bel Air, 1935 N. Water St.
OnMilwaukee.com recently stopped in at Fink's for a brandy old fashioned and to talk music, travel, dogs and neck tattoos.
OnMilwaukee.com: Where did you grow up?
Mario Lanza: I was born in Milwaukee but grew up in Germantown and Menomonee Falls. I started coming to Milwaukee when I was 14 for shows and I fell in love with the East Side.
OMC: What kinds of shows did you go to at 14?
ML: Basement shows – punk shows, metal shows.
OMC: When did you move to Milwaukee?
ML: When I was turning 19. I came here to play music; college wasn't my thing.
OMC: What do you play?
ML: I sing, currently in the band Human After All. It's kind of a punk / heavy /emo mix. Hard to describe.
OMC: Do you have any upcoming gigs?
ML: We have two out-of-state shows at the end of the month. We played around here a lot this summer, so we're starting to reach out to other places now, like Madison, Chicago and Minnesota.
OMC: What bands have been influential to you?
ML: That's a tough question. There's a lot. Anberlin comes to mind. They were more of a rock band or a pop punk band than a punk band, but they were definitely an influence.
OMC: Do you want to open your own bar someday?
ML: That's "plan B" for me. My brother has been a business owner for a long time and we've talked about opening a bar someday, but I would really like to make it as a musician. I don't even need to make a lot of money – although that would be awesome – but enough to support me and my dog.
OMC: Why kind of dog do you have?
ML: He's a lazy lab, 5 1/2. His name's Dallas. He's my child.
OMC: If you did open a bar with your brother, what kind of bar would you want it to be?
ML: Kind of like this place. A neighborhood bar. Maybe with food. I like cooking a lot – my family is Mexican / Sicilian and really into food. I have some ideas and my mom does, too, but we would probably start as a bar first.
OMC: So, which of your parents is Mexican and which one is Sicilian?
ML: My mother is Mexican and my father is Sicilian. Big families. Lots of kids.
OMC: Have you ever been to Mexico or Sicily?
ML: I've been to Cozumel (Mexico) but that was on a cruise so I did not get to spend too much time there. I still have family in Mexico. I would really like to go to Sicily someday. My dad is 62 and he came to this country from Sicily with a lot of other people and so it feels like every one Sicilian knows each other here.
OMC: Do you speak Spanish or Italian?
ML: I understand a lot of Spanish, both of my parents speak it, but I don't speak it myself.
OMC: Where do you live?
ML: I just moved from Bay View to the East Side, near Yield.
OMC: Tell me about your two neck tattoos.
ML: This one says "Reckless" with a heart because I'm impatient and ambitious and when I want something, I want it now. This one is from the Mayan calendar and it means "live in the moment."
OMC: Did you have to give serious thought to getting neck tattoos because, unlike other places, it's hard to cover them up if you want to?
ML: A little bit, but I know I'm never going to regret them.
OMC: Do you have a specific tattoo artist?
ML: I have been tattooed by 11 different people. I'm really spontaneous about it. I wake up and decide I'm going to do it that day, so if one's not available, another is.
OMC: What's your favorite drink to consume these days?
ML: A gin fizz.
OMC: What is that exactly?



ML: Egg white, simple syrup, gin blossom water – it smells like straight flowers – and a little lemon juice.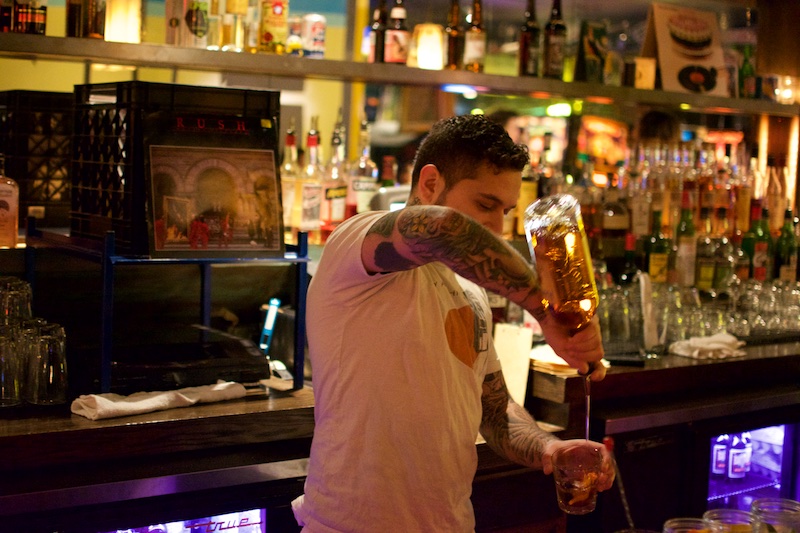 OMC: What bars do you like to go to when you're not working or playing music?
ML: I like visiting friends at bars. So, here. Hi-Hat Garage, Malone's, The Newport, Burnhearts. And any place with a pool table, I'm down.
OMC: What do you like about Milwaukee?
ML: It's "Smallwaukee" which can be a bad thing, but usually it's great knowing so many people. The summers here are amazing.
OMC: Summerfest – yay or nay?
ML: For the most part, nay. Not really into huge crowds and expensive beer unless it's a band I really want to see.
OMC: If your band could play anywhere in Milwaukee where would you pick?
ML: Turner Hall or The Pabst.
OMC: Does your T-shirt (which says "Say Anything") have to do with that John Cusack movie?
ML: No, it's a band. I've actually never seen that movie.
OMC: What kinds of movies do you like?
ML: I like scary, disturbing, twisted movies.
OMC: Do you have a girlfriend?
ML: No, I'm somewhat newly single. I'm going to be this way for a while, I think. It's easier being in a band and wanting to be on the road.
OMC: Any hopes, dreams, plans for the future?
ML: Just put me on a tour bus with a band and my dog and I could do that for years. I just want to travel and travel and travel and play music every day.
OMC: What do you like about touring so much?
ML: I've always loved it. Started touring when I was 16 – just a couple of broke kids in a sh*tty band. We did really short road trips and we didn't make any money, but it didn't matter. Every time I got back I just wanted to go right back out. I really like that you don't know what's going to happen that day or what the show's going to be like or who you're going to meet. Every day is a completely new experience and you get to see a lot of really cool things and a lot of crazy things.

Molly Snyder started writing and publishing her work at the age 10, when her community newspaper printed her poem, "The Unicorn." Since then, she's expanded beyond the subject of mythical creatures and written in many different mediums but, nearest and dearest to her heart, thousands of articles for OnMilwaukee.

Molly is a regular contributor to FOX6 News and numerous radio stations as well as the co-host of "Dandelions: A Podcast For Women." She's received five Milwaukee Press Club Awards, served as the Pfister Narrator and is the Wisconsin State Fair's Celebrity Cream Puff Eating Champion of 2019.