Freezing cold, gloomy gray and with a light snowfall, this was the kind of winter afternoon when you might not have been able even to see a small white ball whizzing at your head on the outdoor lacrosse field in the Menomonee Valley. But the drab, dismal, 20-degree day painted the perfect picture for exactly why Marquette wanted to – and then quickly did – construct a massive seasonal dome over part of the Valley Fields facility to provide a training venue for its intercollegiate athletes, as well as club and intramural participants.
The university officially opened the new dome on Monday, with a whooping and hollering Golden Eagles men's lacrosse team happily commemorating the occasion with its first indoor practice at what many players were calling "the bubble."
Climate-controlled at 60 degrees, brightly lit and with carpet-soft synthetic green turf, the dome's inviting interior offered a sharp contrast to the inclement and uninspiring environment outside. Marquette Vice President and Director of Athletics Bill Scholl and men's lacrosse head coach Joe Amplo were all smiles as they spoke with reporters about the project and what its completion meant not only for the current teams – primarily men's and women's lacrosse and soccer and men's golf – but also for future recruiting efforts and the university's overall commitment to its sports programs.
Scholl called it "a transformational day for athletics" and said the dome was a "huge recruiting advantage" for the Golden Eagles. Amplo said he was "just awestruck" by it, adding, "We strive for excellence in all we do, and then you walk in and this just speaks to that excellence that we're trying to all chase."
When asked about the reaction from his players, Amplo said, "It's 17 degrees out today, and they're in shorts and T-shirts in here, so the feedback is pretty obvious: they're thrilled."
Installed last week and adjacent to Valley Fields' natural-grass outdoor stadium, the dome is the culmination of three months of building, about nine months of planning and, prior to that, several years of nebulously hopeful discussion. Marquette partnered with Milwaukee-based C.D. Smith Construction on the project, with Sink Combs Dethlefs providing architectural services and Graef's local office lending engineering support. The university's Facilities Planning and Management team just recently put on the finishing touches, including turf repairs and hanging lights.
According to Scholl, the work cost $3.6 million and came from athletics surplus funds built up over the years, along with "a handful of donors" who wrote checks. He said the dome's development had been a collaboration, "a great marriage of all phases of the university."
The seasonal dome, which will stay up annually for about five months over winter and early spring, covers Valley Fields' synthetic-turf middle field, measures approximately 86,000 square feet and has a capacity of 999. An air-supported structure that consists of a sturdy polyester-fabric membrane treated with polyvinyl chloride, the "bubble" also comprises anchoring and footing elements, an inflation system, reserve power system, entry and airlock doors, lighting and some bleacher seating. The playing surface is long and wide enough for both soccer and lacrosse and lined for each field; there is also high netting on the west end for golf.
Check out the interior of @muathletics new seasonal dome facility. First indoor lacrosse practice is today. pic.twitter.com/DAwwSIic4N — Jimmy Carlton (@jimmycarlton88) January 30, 2017
"There's not many like it, specifically because the full field fits in it," Amplo said. "We can play a lacrosse game in here with no limitations, and there's not many programs that can say that."
Intended to reduce scheduling conflicts and congestion at Marquette's other indoor athletics facilities – including with rec sports – Scholl said that while lacrosse, soccer and golf will benefit the most from the dome, he believed "most of our teams over the course of an entire winter will use it, even if just for some conditioning work."
Scholl said there had been discussion about a dome prior to his arrival at the school in 2014, though the conversations never had the traction needed to get the project going. But the addition of men's and women's lacrosse programs as varsity sports in 2012 – and especially the rapid success of the men's team, which in four years went from nonexistent to NCAA tournament – gave the idea some needed momentum.
"Let me say this," Scholl said Monday, "the arrival of two lacrosse teams helped us make a compelling case for why this was important."
Late last spring, the athletic department renewed talks with university leadership about building a dome, and, despite some minor delays, it quickly came to fruition.
"It's not a complicated facility to construct – although it was a little tricky here because the ground is not the greatest to build on, so some of the footings took a little longer than we expected," Scholl said. "But really, from concept to today was about eight months.
"It's a very exciting day; it makes you feel really good. It's been a long time in the works, and to be able to provide quality indoor training space for our student-athletes this time of year in Milwaukee is just huge for us."
Amid a college sports landscape in which top-flight facilities are as important a factor as any in a prospective athlete's decision, Scholl said the dome's biggest impact could be on recruiting efforts, especially for the five most-involved programs. Coaches have been telling recruits since last summer that the dome is coming, and its construction signals a commitment from the athletic department.
"Certainly there are other domes, in the Chicago area and elsewhere, that are more commercially viable, but they're not necessarily for intercollegiate athletics purposes," Scholl said. "In terms of the schools we're competing against for recruits, it certainly gives us a leg up on a number of them or it catches us up to others."
Amplo echoed that sentiment.
"Our mission is to develop student-athletes, and it's a challenge to develop student-athletes in Milwaukee, especially on the athletic field, when you're trying to train in 17-degree weather," he said. "But now we've got a climate-controlled facility that is state-of-the-art and we're able to compete and train every single day, so from a recruiting standpoint, I think people look at this and say, 'Wow, Marquette really cares about the development of their student-athletes and providing every resource necessary for that development.'
Amplo said he could never have imagined, when the program was just beginning five years ago, that his team would have such a venue. "It's a testament to our administration and to our supporters for making this happen and in such a short period of time," he said. "And this is an indication for our outdoor sports that Marquette is supporting them at the highest level."
Golden Eagles senior attacker Kyran Clarke said the dome was "absolutely amazing" and as good as any indoor facility in which he'd played. Marquette lacrosse, which won just five games in 2012-13, went 11-5 last season and nearly pulled off an NCAA tournament victory, creating a buzz around the team.
"It's more than I could ever expect," Clarke said. "We're not going to have to be cramped in a small gym anymore, so just having this space allows us to work on our game even more and basically allows us to do anything we have to do to improve.
"This is going to bring huge excitement. We had recruits on campus this weekend and for them to be able to see this, you could see the excitement in their faces, so moving forward it's going to be huge for our recruiting."
The seasonal dome isn't the end of sports-related Marquette construction. The university is planning to build a $120 million Athletic Performance Research Center, south of W. Michigan St., east of the main campus on the west side of Downtown.
Here are 12 more photos of the new dome: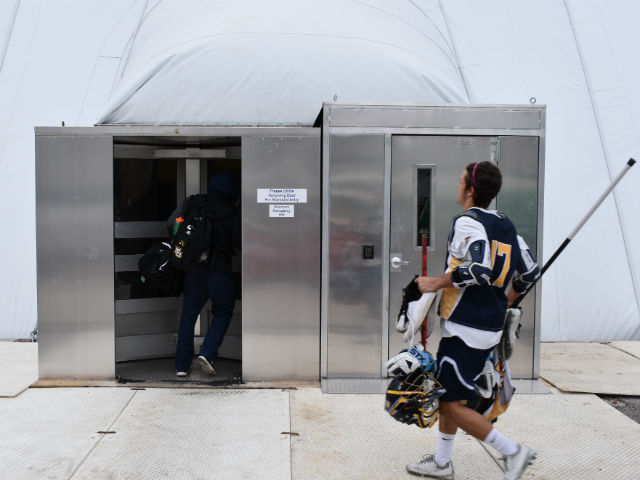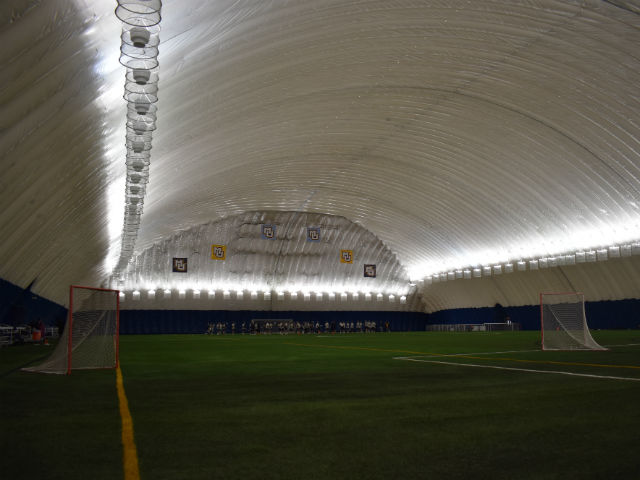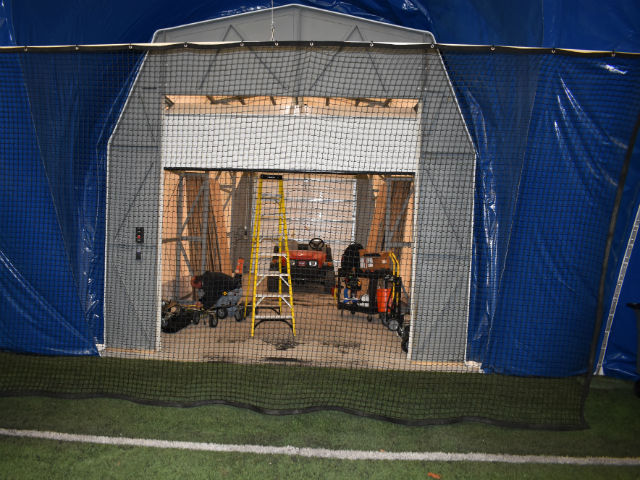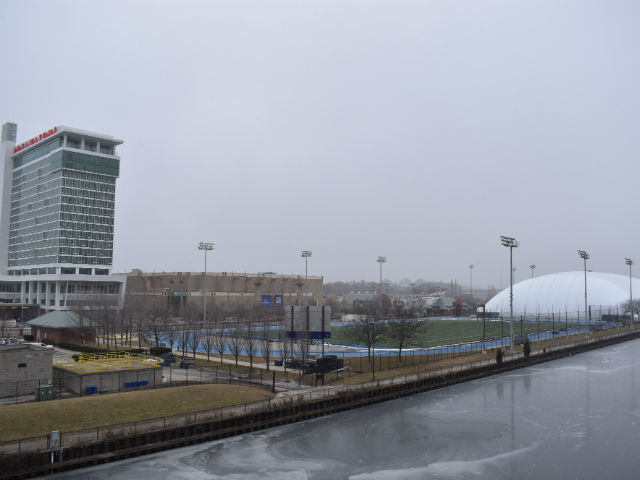 Born in Milwaukee but a product of Shorewood High School (go 'Hounds!) and Northwestern University (go 'Cats!), Jimmy never knew the schoolboy bliss of cheering for a winning football, basketball or baseball team. So he ditched being a fan in order to cover sports professionally - occasionally objectively, always passionately. He's lived in Chicago, New York and Dallas, but now resides again in his beloved Brew City and is an ardent attacker of the notorious Milwaukee Inferiority Complex.
After interning at print publications like Birds and Blooms (official motto: "America's #1 backyard birding and gardening magazine!"), Sports Illustrated (unofficial motto: "Subscribe and save up to 90% off the cover price!") and The Dallas Morning News (a newspaper!), Jimmy worked for web outlets like CBSSports.com, where he was a Packers beat reporter, and FOX Sports Wisconsin, where he managed digital content. He's a proponent and frequent user of em dashes, parenthetical asides, descriptive appositives and, really, anything that makes his sentences longer and more needlessly complex.
Jimmy appreciates references to late '90s Brewers and Bucks players and is the curator of the unofficial John Jaha Hall of Fame. He also enjoys running, biking and soccer, but isn't too annoying about them. He writes about sports - both mainstream and unconventional - and non-sports, including history, music, food, art and even golf (just kidding!), and welcomes reader suggestions for off-the-beaten-path story ideas.