Now that the conference season has begun, you'll see plenty of famous faces at Marquette men's basketball games.
Former Golden Eagles star Dwyane Wade is at the BMO Harris Bradley Center all the time. Pop singers Beyonce and Taylor Swift are there a lot, too. Fictional newsman Ron Burgundy has appeared, as well as video game character Yoshi, inanimate object The Leg Lamp and even Snooki.
Of course, those people and things – and whatever Snooki is or was – aren't actually in attendance. But their faces have been, in the form of Marquette's famous BigNoggins, fathead cutouts of pop-culture icons held aloft and waved by fans in the Golden Eagles' student section, especially during opponent free throws but also pretty much constantly throughout home games.
It's one of the coolest crowd traditions not only at Marquette, but in all of college basketball. The big heading started when the school joined the Big East in 2005 and wanted to make a splash in its new conference. Originally, according to the Marquette Tribune, it was San Diego State that concocted the celebrity cardboard-cutout concept. But the Golden Eagles, with their decade-long run of on-court success, have become the higher-profile paragon of BigNoggins know-how.
After former head coach Tom Crean went to Indiana in 2008, he ostensibly took the tradition with him, because the Hoosiers' student section was soon festooned with the big heads, too. To commemorate its ex-coach, who guided the Golden Eagles to the Final Four in 2003 but became massively unpopular after he left, Marquette should add Crean's head to the BigNoggins roster for 2016.
The athletic department website keeps a pretty terrific, detailed register of which famous faces have been used and what the team's record is when they were. The school even solicits suggestions from fans. There have been superstars like Chuck Norris (19-6 record), David Hasselhoff (26-3), Sam Cassell (13-4), Paris Hilton (13-3), Dave Chappelle (10-3), Chris Farley (17-5), Charles Barkley (33-5) and Harry Potter (16-4), plus dozens of others.
Starting with Marquette's Big East season opener against Seton Hall at home Wednesday night, we'd like to see some fresh, new BigNoggins added to keep current the pop culture likenesses. But also, we think there are celebrities enough in Marquette's backyard, our fair city of Milwaukee, to "honor" with large heads.
Here are our nominations for the Milwaukee-connected BigNoggins we'd love to see at Golden Eagles games this year.
1. Tom Crean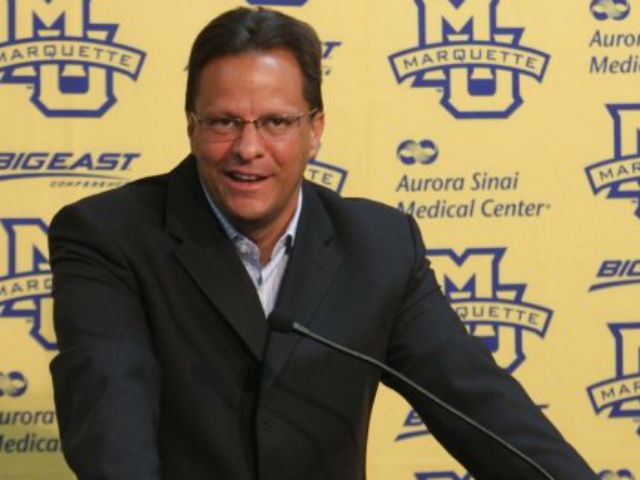 Indiana University Athletics Facebook
It's been seven years since he left to coach the Hoosiers because "It's Indiana." With his sweaty sideline gesticulations, slicked hair and, to some, unctuous personality, Crean's been an easy target of scorn for spurned Marquette supporters, especially since his Hoosiers teams haven't lived up to the program's high expectations. There have been questions about Crean's job security at Indiana and, if he should find himself out of work, the bigheaded ex-coach's big head could surely find a place in the Bradley Center.
2. David Gruber
Gruber Law Offices Facebook
His face is everywhere already, especially at the Bradley Center during Bucks games. Why not embrace the local personal injury lawyer's ubiquitous grinning mug and put it on a BigNoggin? One caul, that's all.
3. Father Jacques Marquette
One of the first Europeans to explore and map Wisconsin, the 17th-century French Jesuit missionary is the university's namesake. With his expansive bald forehead (a five- or even six-head) and shaggy side hair, Jacques Marquette's pre-photograph visage would make an artistic addition to the collection.
4. Scott Walker/Gwen Moore
Two high-profile state politicians and Marquette alumni attendees from opposing parties, it would be priceless to see BigNoggins of each in the Golden Eagles' student section on, literally, opposite sides of the (Bradley Center) aisle.
5. A frothy beer
Marquette's done Bob Uecker, Bernie Brewer, The Fonz and Mr. Potato Head, so it's already done human icons, mascots and fictional characters representing Milwaukee, plus a nonliving food item. Why not depict the quintessence of Brew City with a foamy beer head? Students surely wouldn't object, though they'd have to find a model that actually produced a decent head. Keystone and Natty Light won't work.
6. LaVern Dilweg
A Milwaukeean with an excellent name, Dilweg attended Marquette undergraduate and law school in the 1920s and was later a member of the U.S. House of Representatives. But that's not why students should want to give him a big head. He was also one of the best-ever players on Marquette's defunct-since-1960 football team, an All-American end who became a three-time NFL champion and is in the Green Bay Packers Hall of Fame. College kids love ironic, insider humor (see: most of the existing BigNoggins), especially when it concerns their school, and anyone who starred on the extinct Golden Avalanche football team deserves recognition. Plus, his name is LaVern Dilweg.
7. Olivia Munn
Olivia Munn Instagram
The celebrity girlfriend of Aaron Rodgers may be, to some Packers fans and reporters, the reason for the quarterback's struggles this season, but there's no reason the beautiful and hilarious Munn couldn't be an inspiration to success for Marquette. Her face might be one of the few that genuinely would distract the other team.
8. Marquette's soccer-playing robot
MU-L8 (pronounced "emulate") was constructed by students in Marquette's College of Engineering for RoboCup 2014, an international humanoid robot soccer competition held after FIFA's World Cup. It probably hasn't gotten much attention since then, so why not give the non-mortal android immortal reverence as a Golden Eagles BigNoggin.
9. Giannis Bieber
During a recent Bucks game, 21-year-old forward Giannis Antetokounmpo channeled his inner Justin Bieber and impersonated his pop-star contemporary for a Lip Sync Battle against Khris Middleton that he crushed. The Bucks and Golden Eagles share a building, Giannis is young enough to be a Marquette student and the image of him in gold chains and sunglasses, animatedly warbling the lyrics he doesn't know, is too perfect not to be included.
10. Doc Rivers
Marquette Men's Basketball Facebook
One of the program's biggest stars – in fact, the highest-ranked recruit to ever play at Marquette until freshman Henry Ellenson this year – Rivers maintains a connection to the university and is still very involved in basketball, as he's the head coach of the NBA's Los Angeles Clippers. Plus, his head is physically enormous and he's got a megawatt smile. BigNoggin the Doc!
11. Poop emoji
It's not Milwaukee-themed, but a smiling pile of poop is pretty funny, emojis are in and it has a precedent in the Angry Bird logo that was already used as a BigNoggin.
12. David Stearns
The fresh-faced general manager, who was hired by the Brewers in September at the age of 30, has belied his boyish looks with authoritative decisions, making myriad moves in his first few months on the job. Or if the Golden Eagles wanted someone similar but with a few more wrinkles, they could go with white-haired Packers GM Ted Thompson's austere yet unrevealing face.
13. Steve Rushin
Steve Rushin Twitter
The Marquette grad and Sports Illustrated wordsmith is one of the most popular sports writers in America. Rushin, who's married to former WNBA star Rebecca Lobo, was his alma mater's Commencement Day speaker in 2007. He's got a great, bald dome and a gifted wit and would probably have a good laugh while penning a wry column about the defacement of school property or something.
14. Jon Taffer
The "Bar Rescue" TV show host/screamer is an idol among drinkers, who love to shout his catchphrases like "shut it down!" The roaring, often red-faced Taffer transformed Milwaukee tavern Y-Not III into Nick's House in 2014, and his aura would infuse extra intensity into the Golden Eagles' student section.
15. John Gurda
Stacy Swadish/Historic Milwaukee Inc.
The Milwaukee historian and writer is a local treasure. Marquette fans should look past the fact that he went to UWM and cherish the erudite city expert's mustachioed magnetism.
16. John Kuhn
No athlete in this state gets people going quite like Kuuuuuuhhhhnnn does. Put the Packers' fullback up there and watch (and listen) as fans lose their minds. Plus, he grows a real strong beard.
17. Jim Gaffigan
Continuing in the tradition of giving white comedians BigNoggins (Conan O'Brien, Stephen Colbert, Chris Farley, Ricky Gervais, Daniel Tosh), why not give one to the whitest comedian there is? Gaffigan, who's from Indiana but married a Milwaukee woman and does annual New Year's shows here, has endless material about his own paleness and perhaps a hundred of his big heads might blind opposing free-throw shooters.
18. Ersan Ilyasova
Traded by the Bucks last summer, urban-legend Ilyasova is gone but never forgotten. A BigNoggin of Ersan would give everyone a chuckle and remind players on both teams that, with an inexplicable offensive-rebounding ability and a propensity to shoot sideways-fadeaway 20-foot jumpers, you can make it in the NBA.
19. Local celebrities
At some point, a Marquette game needs to be filled with BigNoggins of some of Milwaukee's most famous people. Heather Graham ("Boogie Nights"), Gene Wilder ("Willy Wonka and the Chocolate Factory"), Frank Caliendo (celebrity impressions), Liberace (pianist and entertainer), Jane Kaczmarek (the "Malcolm in the Middle" mom), Richard Riehle (the jump-to-conclusions guy in "Office Space"), Kathy Kinney (colorful Mimi from "The Drew Carey Show") and Screech (the "Saved by the Bell" character, not Dustin Diamond), among many others, could be featured. It would be a who's who of "who's that again?" in the Bradley Center stands.
Born in Milwaukee but a product of Shorewood High School (go 'Hounds!) and Northwestern University (go 'Cats!), Jimmy never knew the schoolboy bliss of cheering for a winning football, basketball or baseball team. So he ditched being a fan in order to cover sports professionally - occasionally objectively, always passionately. He's lived in Chicago, New York and Dallas, but now resides again in his beloved Brew City and is an ardent attacker of the notorious Milwaukee Inferiority Complex.
After interning at print publications like Birds and Blooms (official motto: "America's #1 backyard birding and gardening magazine!"), Sports Illustrated (unofficial motto: "Subscribe and save up to 90% off the cover price!") and The Dallas Morning News (a newspaper!), Jimmy worked for web outlets like CBSSports.com, where he was a Packers beat reporter, and FOX Sports Wisconsin, where he managed digital content. He's a proponent and frequent user of em dashes, parenthetical asides, descriptive appositives and, really, anything that makes his sentences longer and more needlessly complex.
Jimmy appreciates references to late '90s Brewers and Bucks players and is the curator of the unofficial John Jaha Hall of Fame. He also enjoys running, biking and soccer, but isn't too annoying about them. He writes about sports - both mainstream and unconventional - and non-sports, including history, music, food, art and even golf (just kidding!), and welcomes reader suggestions for off-the-beaten-path story ideas.