Just like your car, Milwaukee Fire Department vehicles need maintenance and repairs: new tires, oil changes, timing chains and all the rest. But then consider that – unlike yours, hopefully – they're either flat-out racing to an emergency or idling on the scene to provide power.
That's a lot of wear and tear.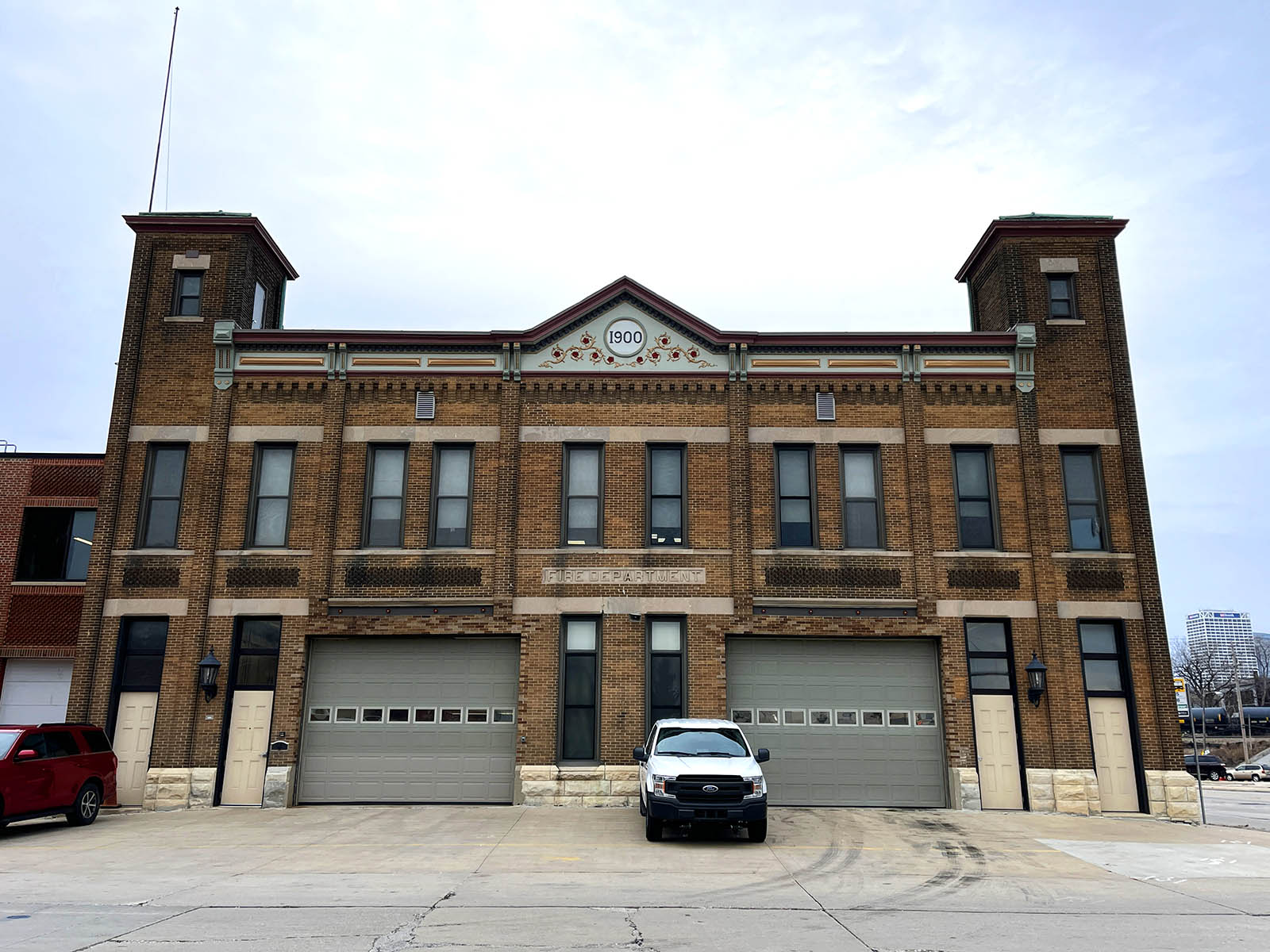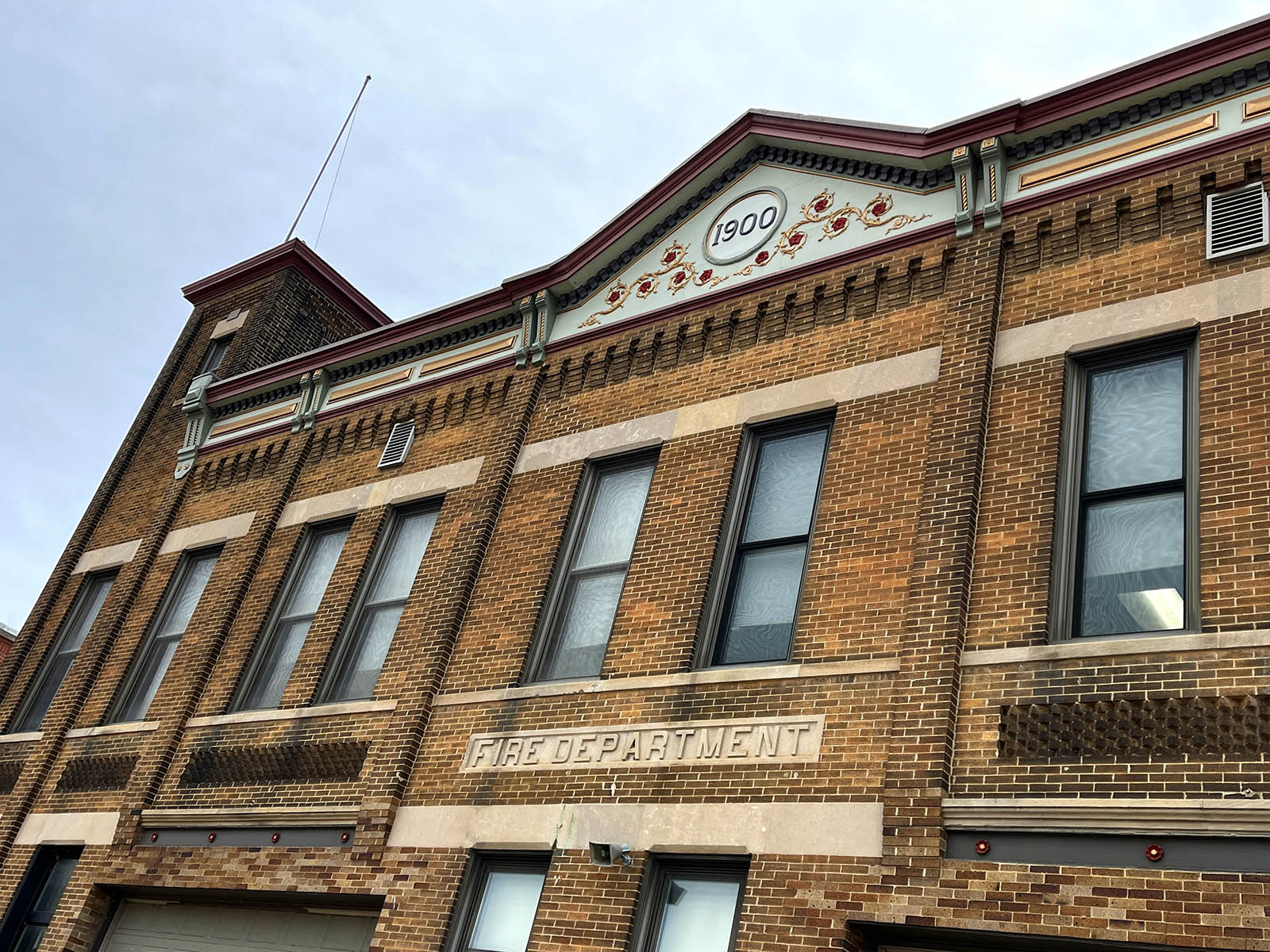 And firehouses – again like your house – need contact upkeep, too. From lawn mowing and snow blowing to roof repairs, furnace work, paint and all the rest.
But did you ever consider how and where and by whom all that work is done?
I did, and so I found myself in Walker's Point with MFD's Construction & Maintenance Division Deputy Chief Schuyler Belott, walking through the buildings occupied by the division – the two main ones being the 1928-29 repair shop building and a 1900 Sebastian Brand-designed firehouse next door.
The two are now connected by a loading dock and walkway and you just might be amazed to see what goes on here. I know I was.
While Milwaukee Fire Department no longer builds its own apparatus vehicles – the last one rolled out of this very shop in June 1931 – there is still fabrication work taking place here, as well as vehicle repair and maintenance; carpentry; oxygen tank repair, maintenance and filling; sewing of uniforms, upholstery and other items; and more.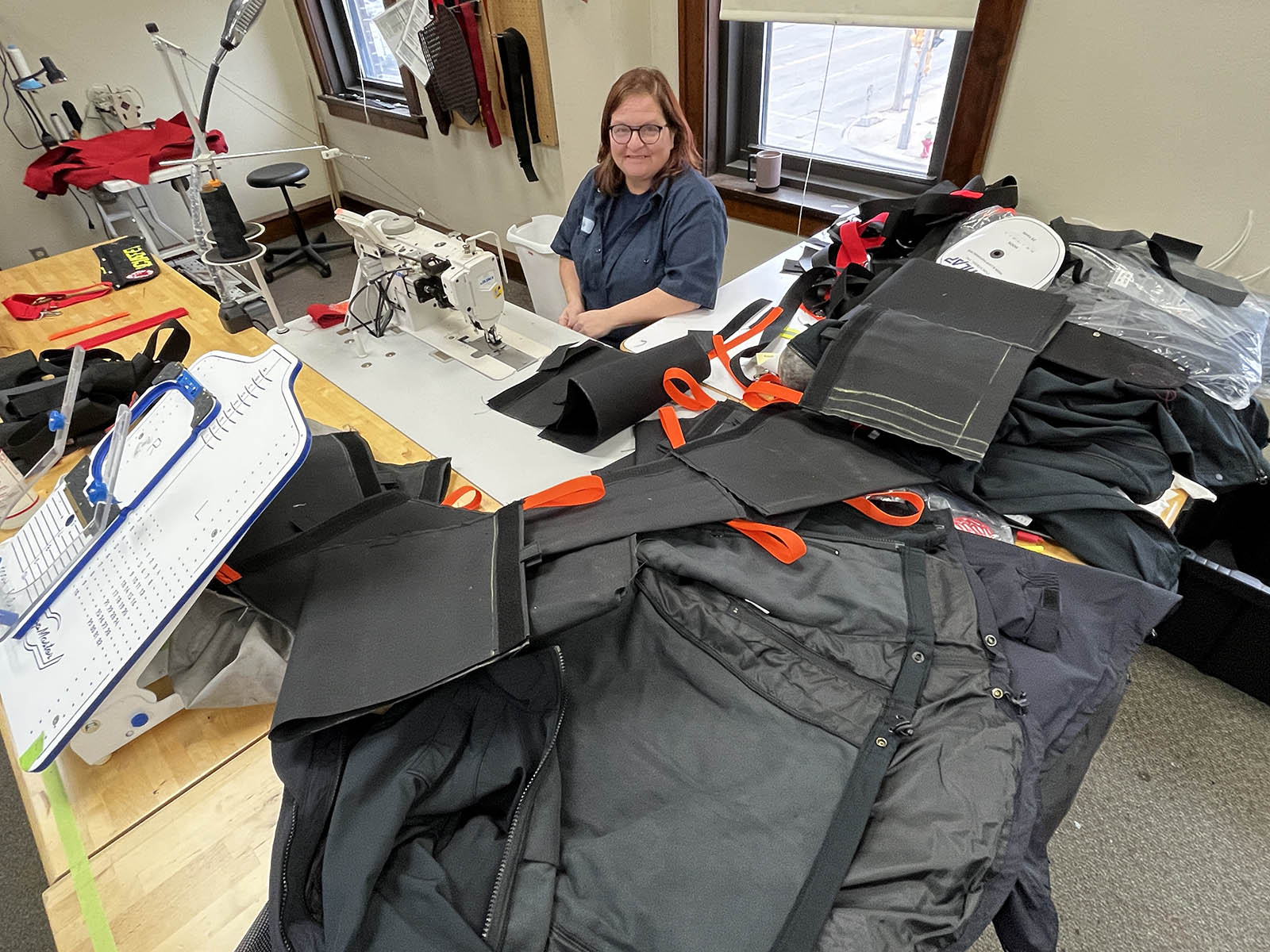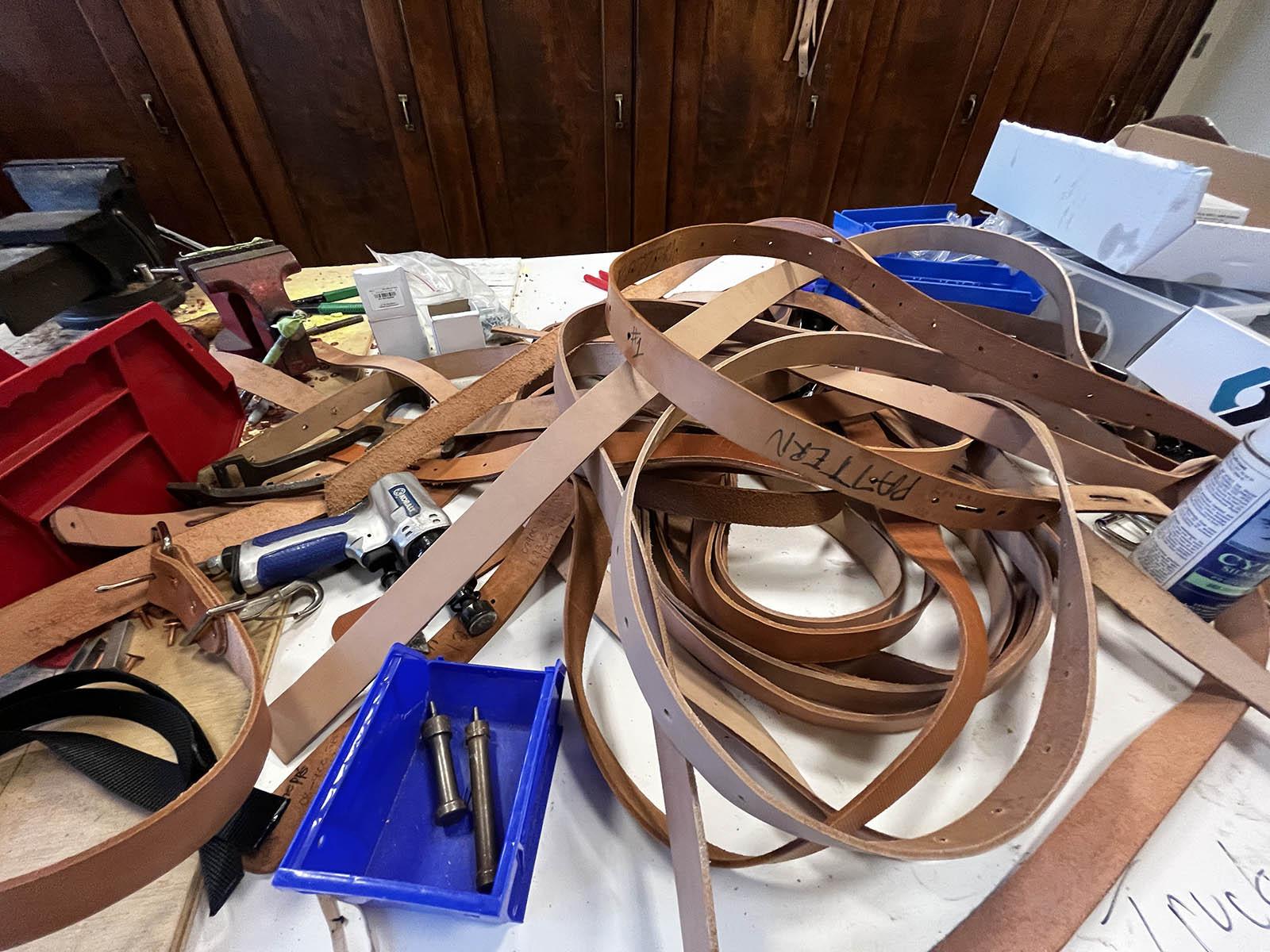 The day I visited, all of these types of work were underway, plus a line of snowblowers was awaiting maintenance in anticipation of the first big snowfall and I also saw a technician repairing extrication equipment (popularly known by the brand name Jaws of Life).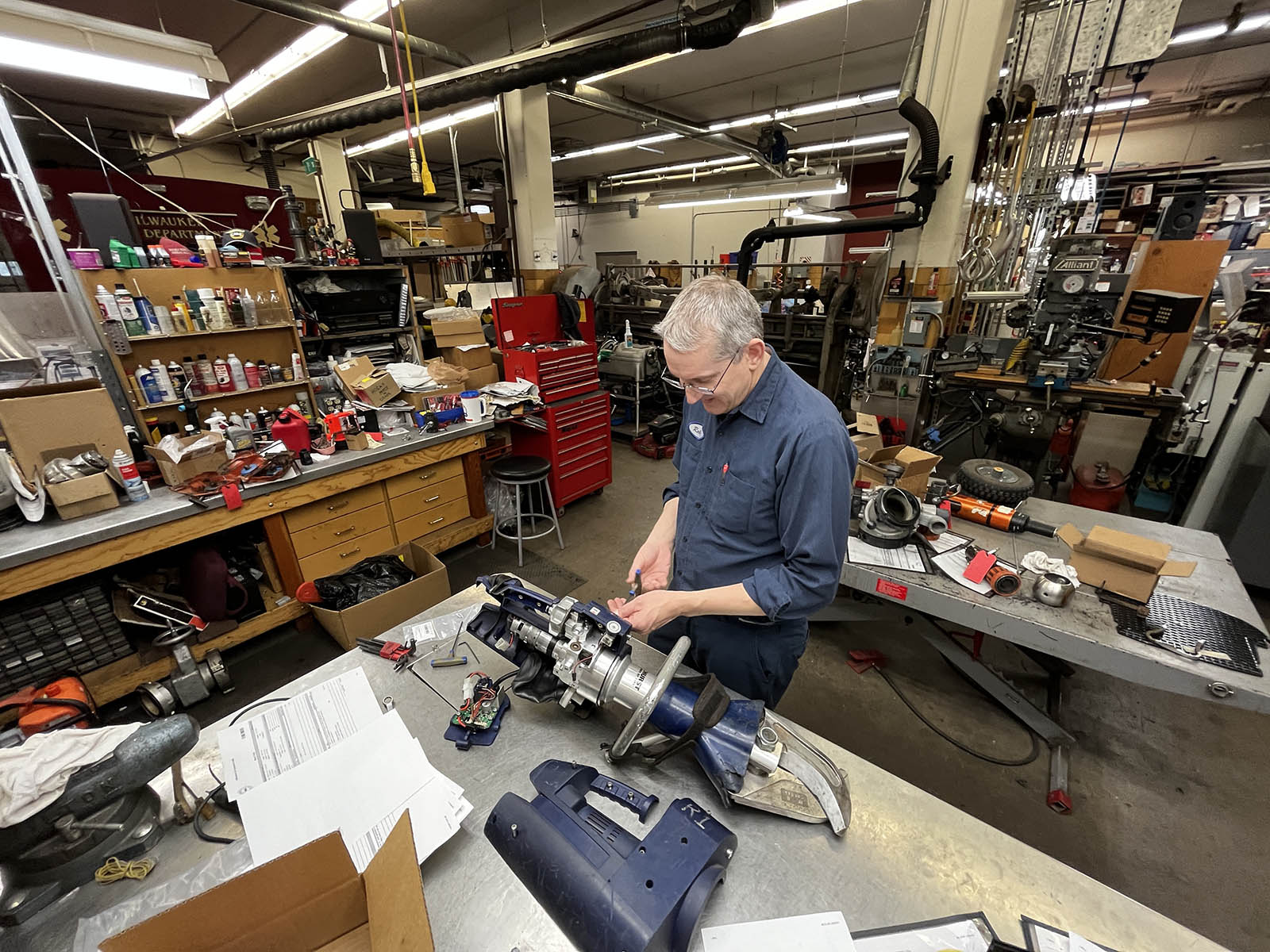 Belott, who was a firefighter for nearly 25 years before he was appointed deputy chief in charge of this division about a year and a half ago, leads a widely varied team of civilian employees who do all of the work.
"I'm fortunate to have people here that do their jobs really well as our managers, and then all the other staff here, as well, that do the day-to-day on the floor," he says as we sit in the kitchen of the old Fire Station 3, 100 W. Virginia St., which when it closed in 2017 had been home to Truck 1 and the Dive Rescue Team.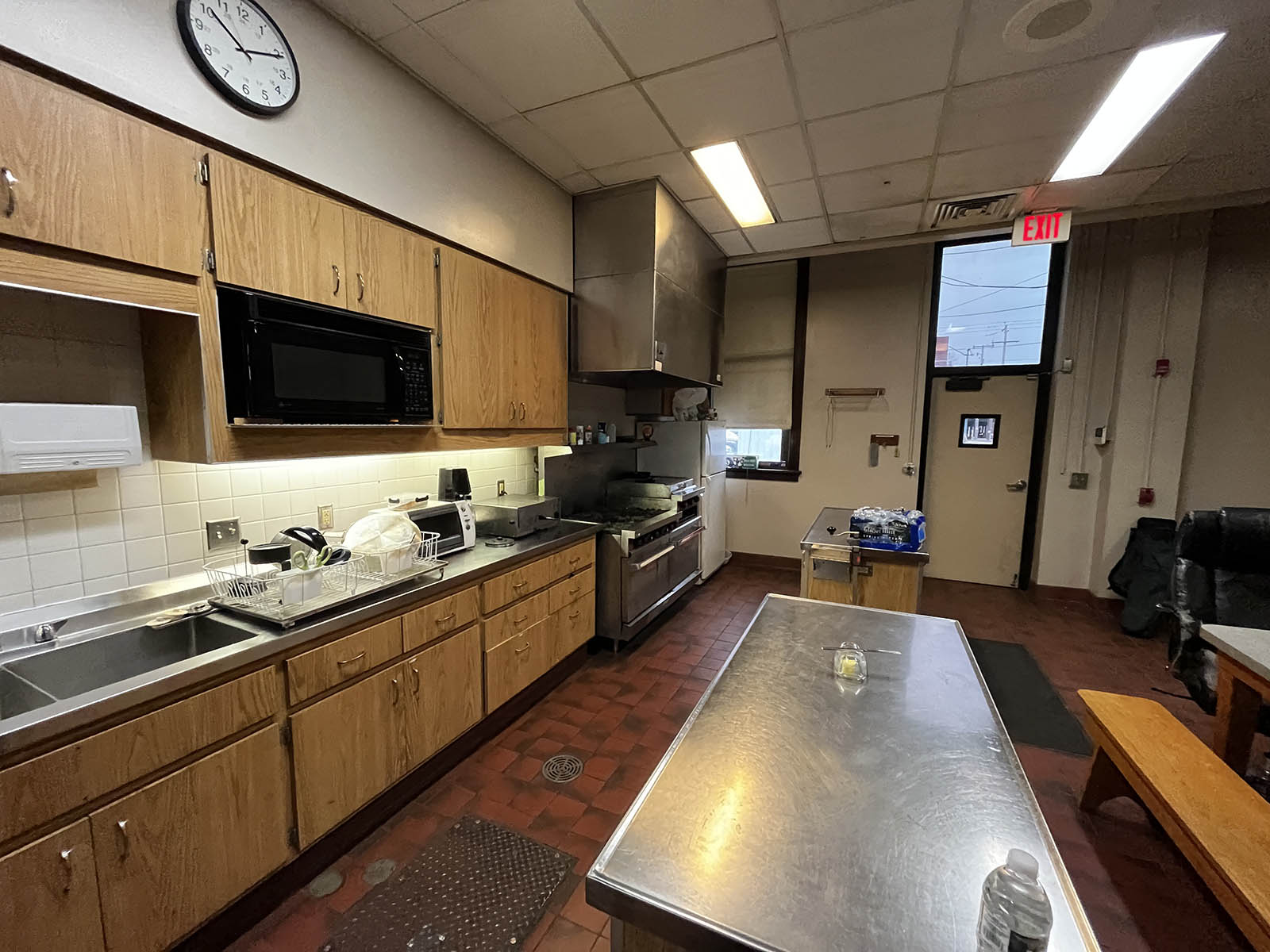 "We have nine mechanics here that physically are dealing with the apparatus. Probably anywhere from 25 to 28 other people, depending on vacancies and such, to support stations and fleet."
Even though they're civilians and not on the front line of firefighting, Belott says his team understands the critical importance of the work they do.
"We always tell people that they take pride in what they do because they understand it's the heartbeat of the department. (Firefighters need working) apparatus to respond.
"If their stations aren't safe or the things aren't working for them, whether that's a problem with heating and cooling or we have carpenters here. We have people that repair small engines, tools, things of that nature, the mechanics on the rigs.
"We try to address problems when they're small, if possible. There's always balancing time and personnel and the money and the projects. We've got to keep things functioning because if we don't have apparatus for the firefighters, they can't do their jobs. If they can't get in and out of the firehouse, if there's a door problem, or if the heat goes out, it's not livable, things of that nature. We cover everything as much as we can in-house to take care of our firefighters."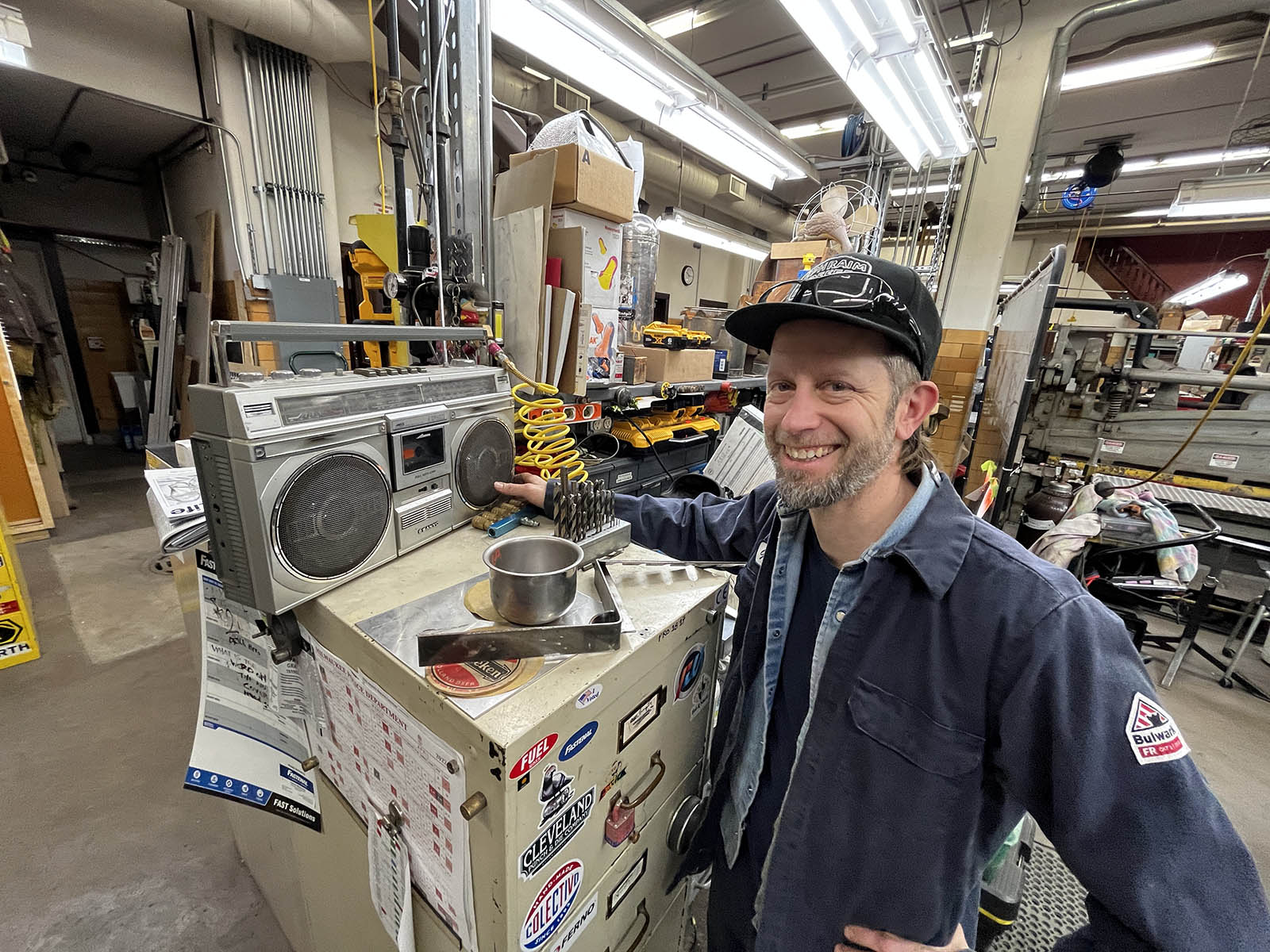 As we walk through, we meet an equipment welder who does all sorts of metal fabrication and similar work.
We see a duo manning sewing machines in the former firehouse dorm space.
We see mechanics working under fire engines on lifts and some leaning into engine compartments exposed by flipped-forward cabs.
We meet the carpenters who are building cabinetry and shelving for firefighters' turn-out gear.
We see the office folks that make it all hum.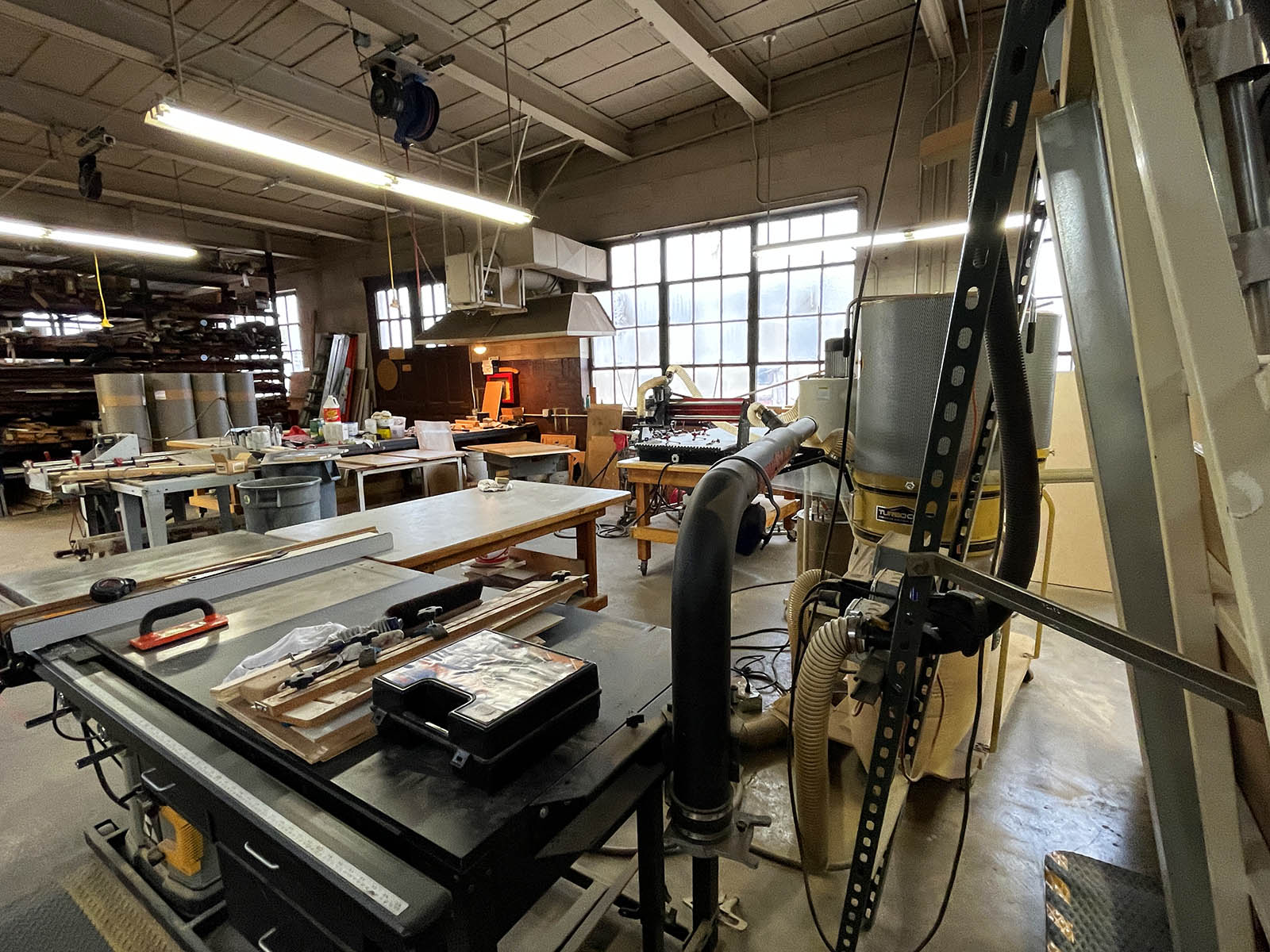 There are some folks we don't see, too, like the road mechanic who is out and about fixing little issues on vehicles so they don't bloom into bigger woes, and the folks who supply extra tanks to firefighters at the scenes of fires. They only come here to pick up and drop off tanks, etc.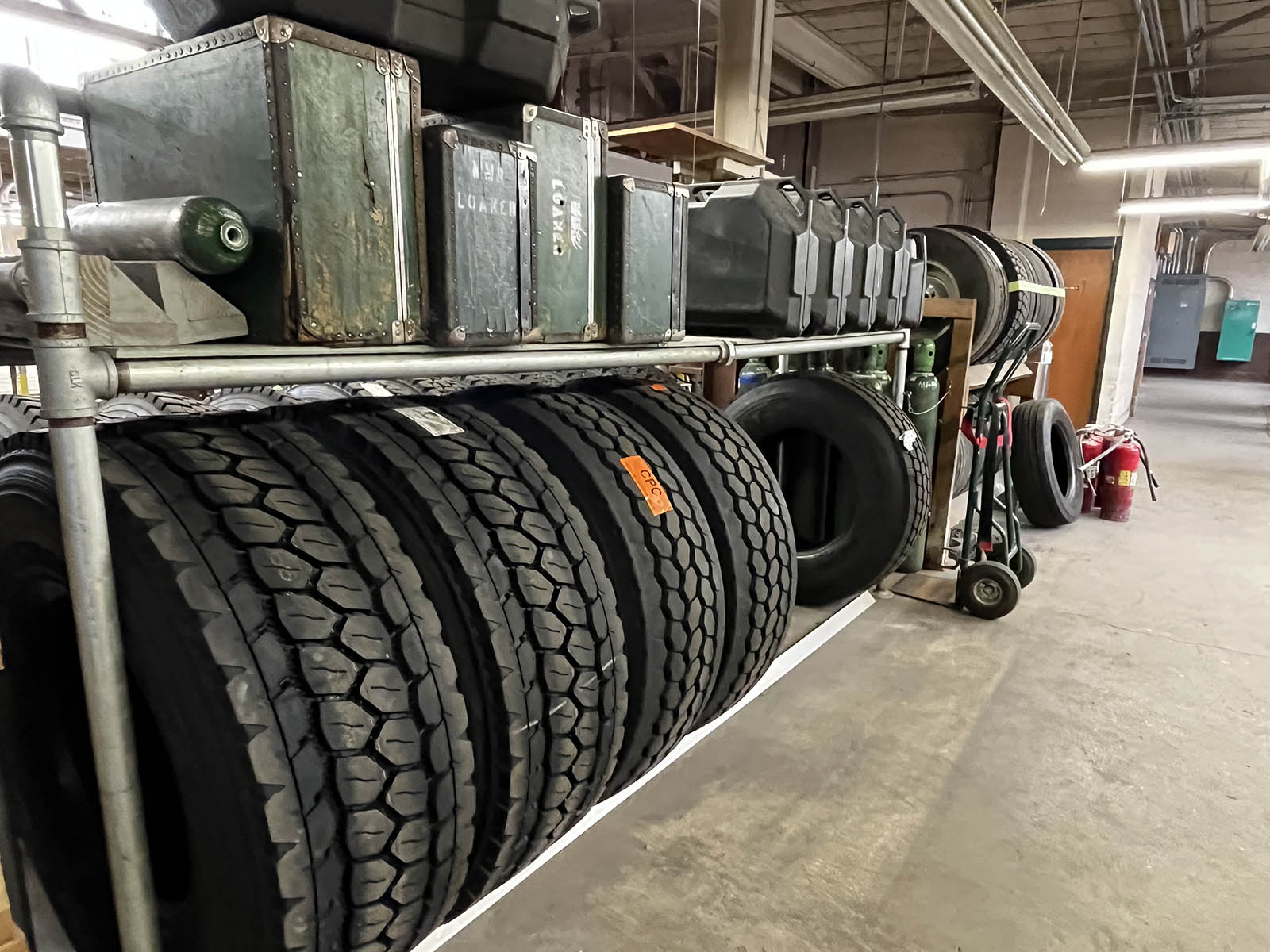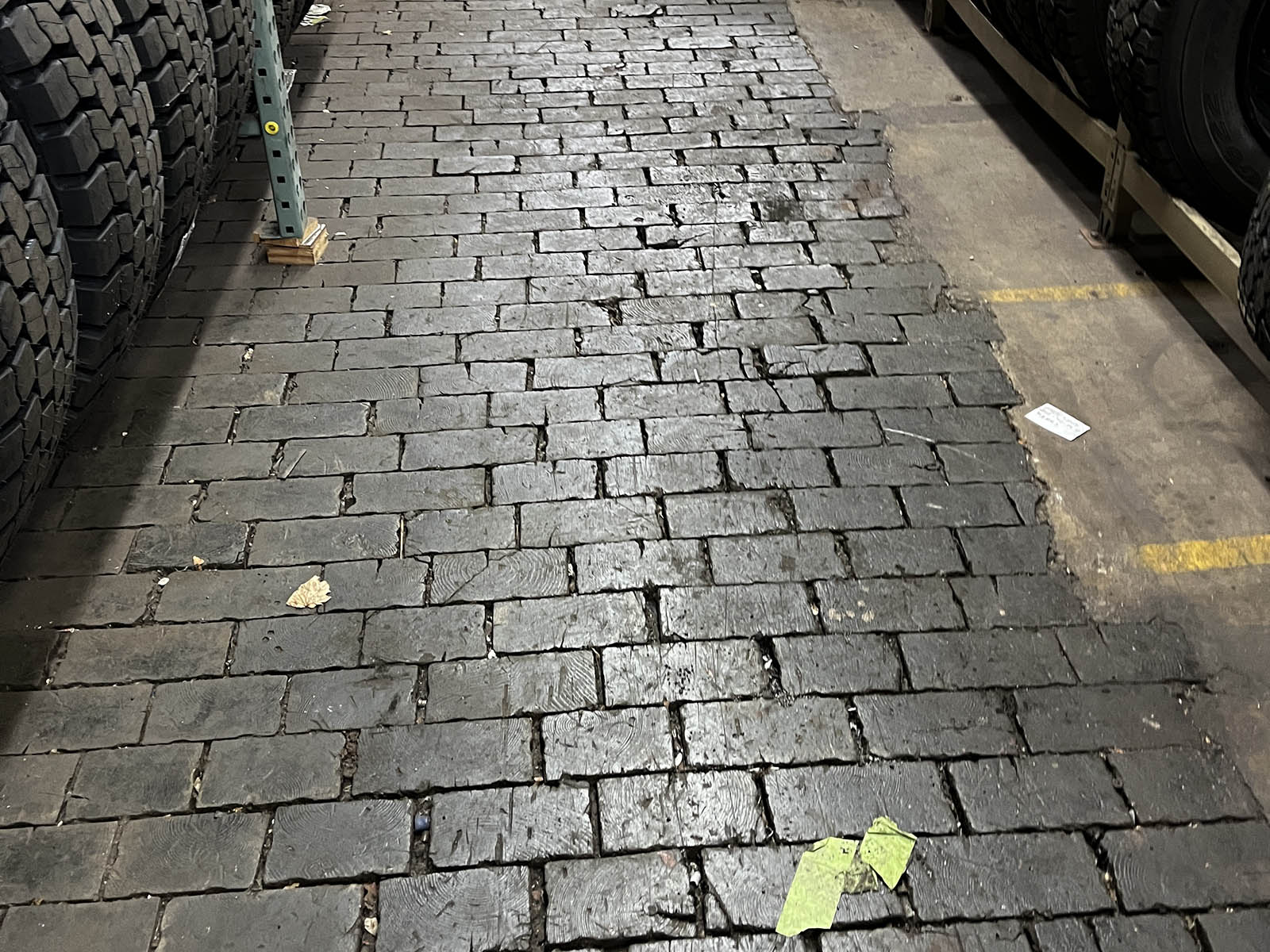 There are machines for fabricating metal parts, a complete carpentry shop, a parts "store" that would make AutoZone blush, rows of giant tires, a paint booth, racks full of SCBA and other oxygen tanks, a "soda fountain" of various fluids required for the vehicle repair shop, and, at the top of it all, with a panoramic view over the main shop floor, Belott's office.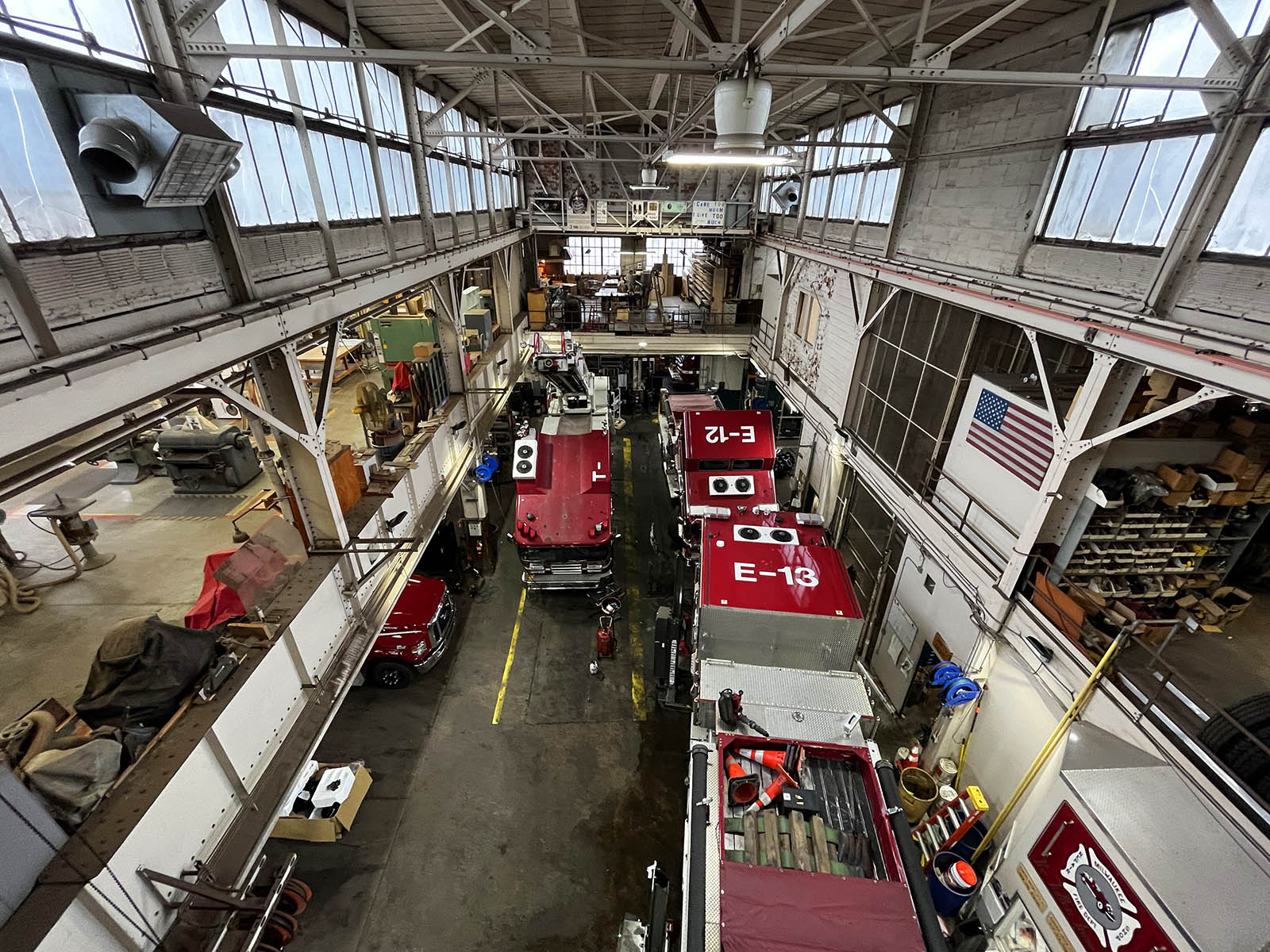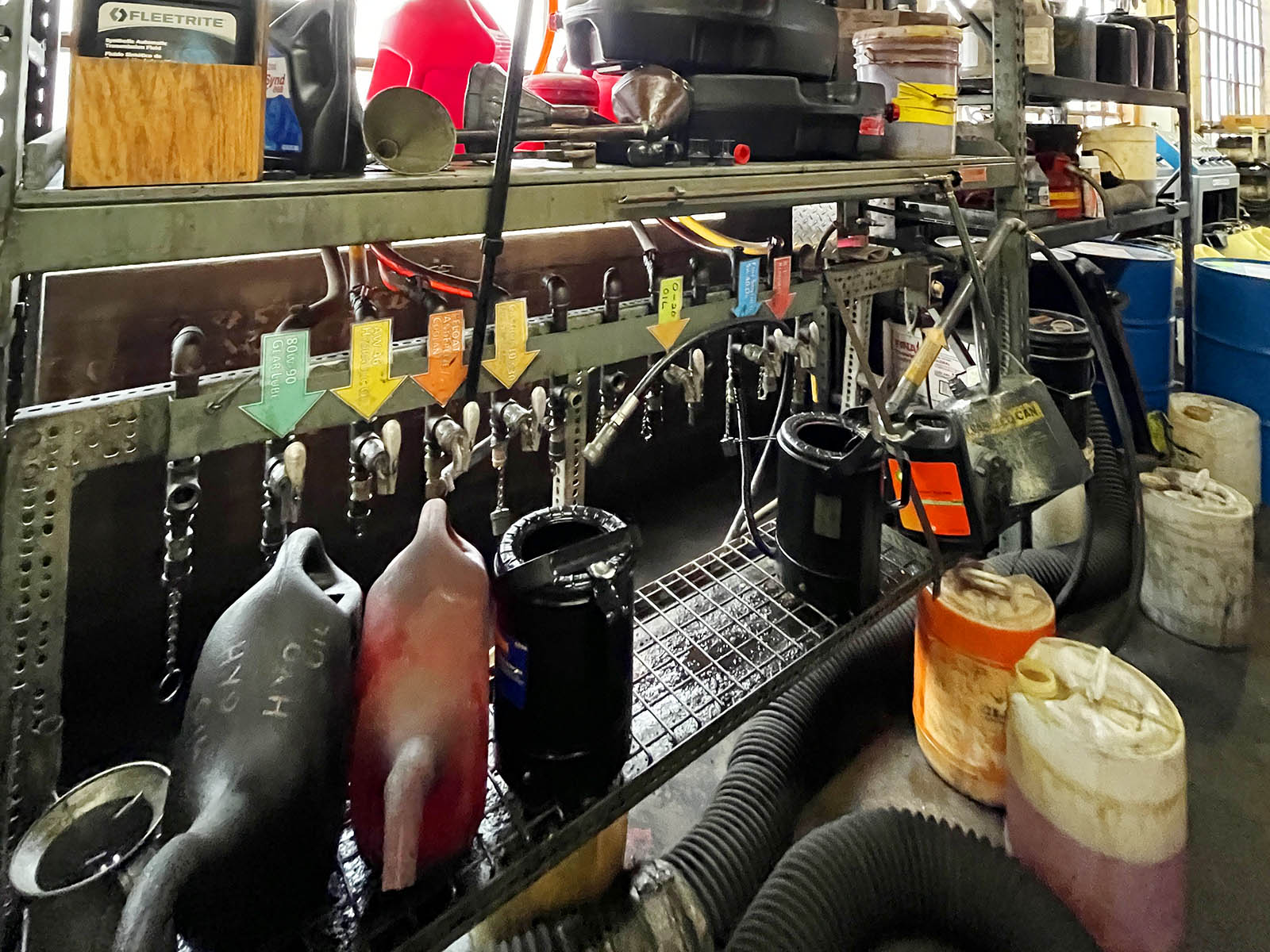 Belott says he doesn't spend much time up here.
"People don't just wander by," he says of his off the beaten path space, "so I like to be down where everyone is working."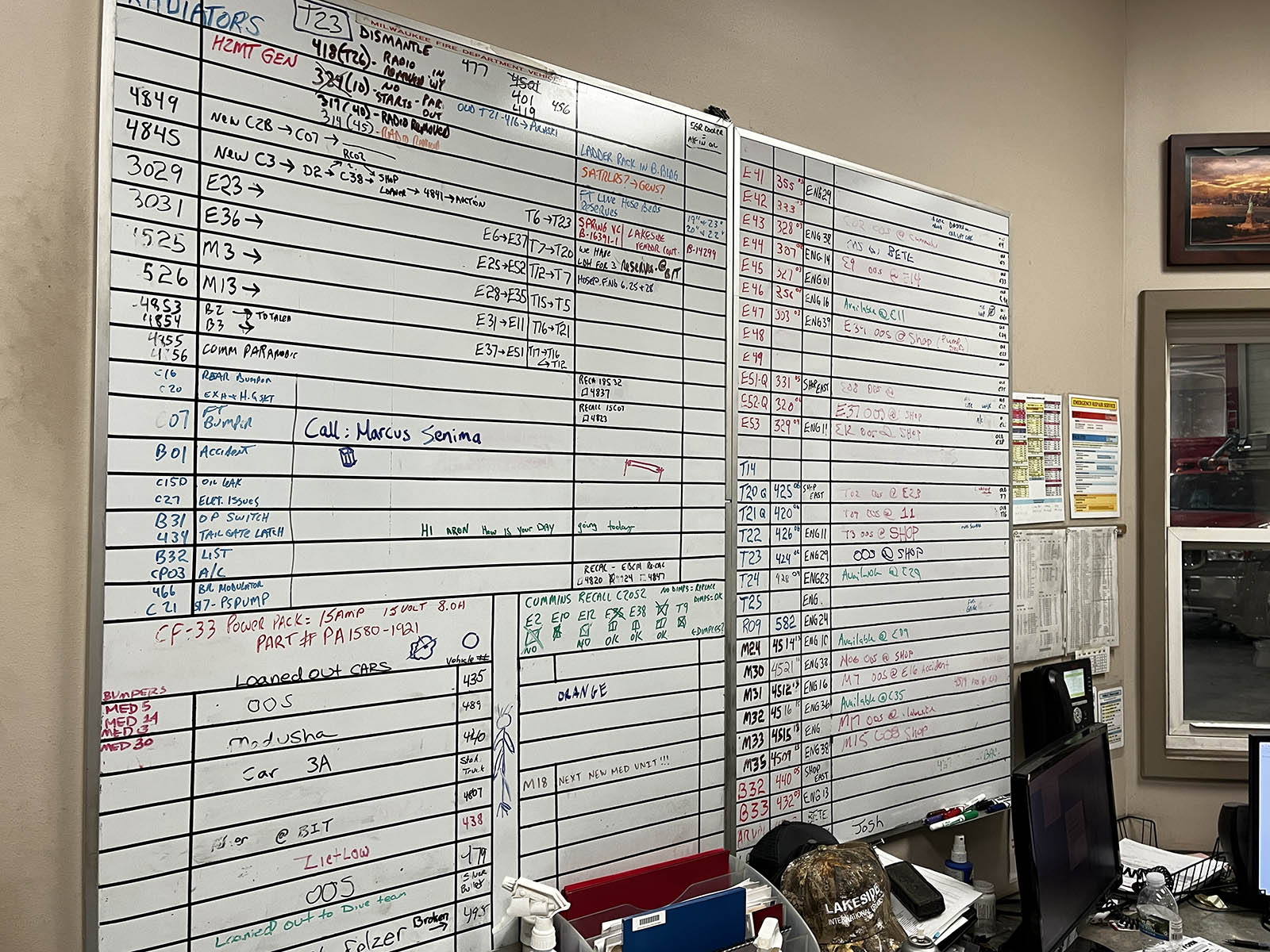 It makes sense that a guy who spent a quarter-century fighting fires isn't the type to be tied to a desk in a solitary office.
"(Firefighting) was always exciting and every day is different, and things certainly are different around here every day, but it's a different set of challenges," he says.
"When I was asked to come here, it was a different experience be in charge of all the repair and building of things for the department, it's an ultra shock trying to figure it out."
Doing the kinds of work that happen here helps the department lasso costs.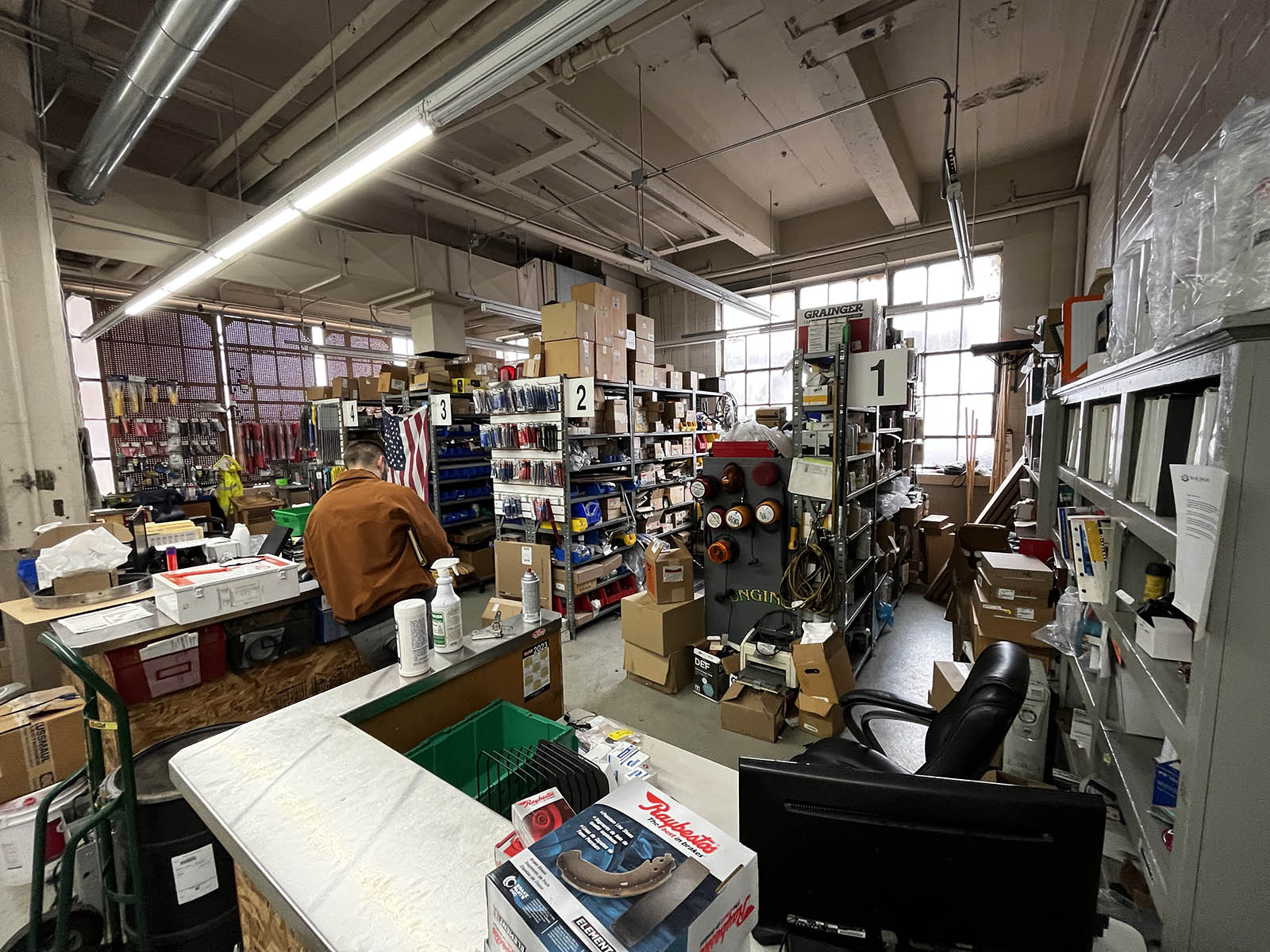 "We continue to expand and do more and more, so that we don't have to outsource or go pay other people to do it. People are getting trained and learning more things to continue to support what we do.
"Everything's in-house with the Milwaukee Fire Department. At times, based on what the nature of the (issue), we may contract out for some services. It just depends on the nature of what that is. So if we do major roof things, we'll contract out for those. But we try to do the regular general day to day stuff in house."
To get a sense of the scale of the work, MFD has more than 200 vehicles in its fleet, including 29 front-line engines, eight front-line trucks, two rescue units, 12 medical units, six batallion chief vehicles, other units like the dive team and heavy urban rescue, plus spare vehicles that can be used as backups.
There are about 40 total buildings, including 36 station houses, 29 of which are currently in use for emergency response. The remainder have been repurposed for community relations, recruiting, mobile integrated health and, of course, the academy.
Two of those buildings are right here on Virginia Street.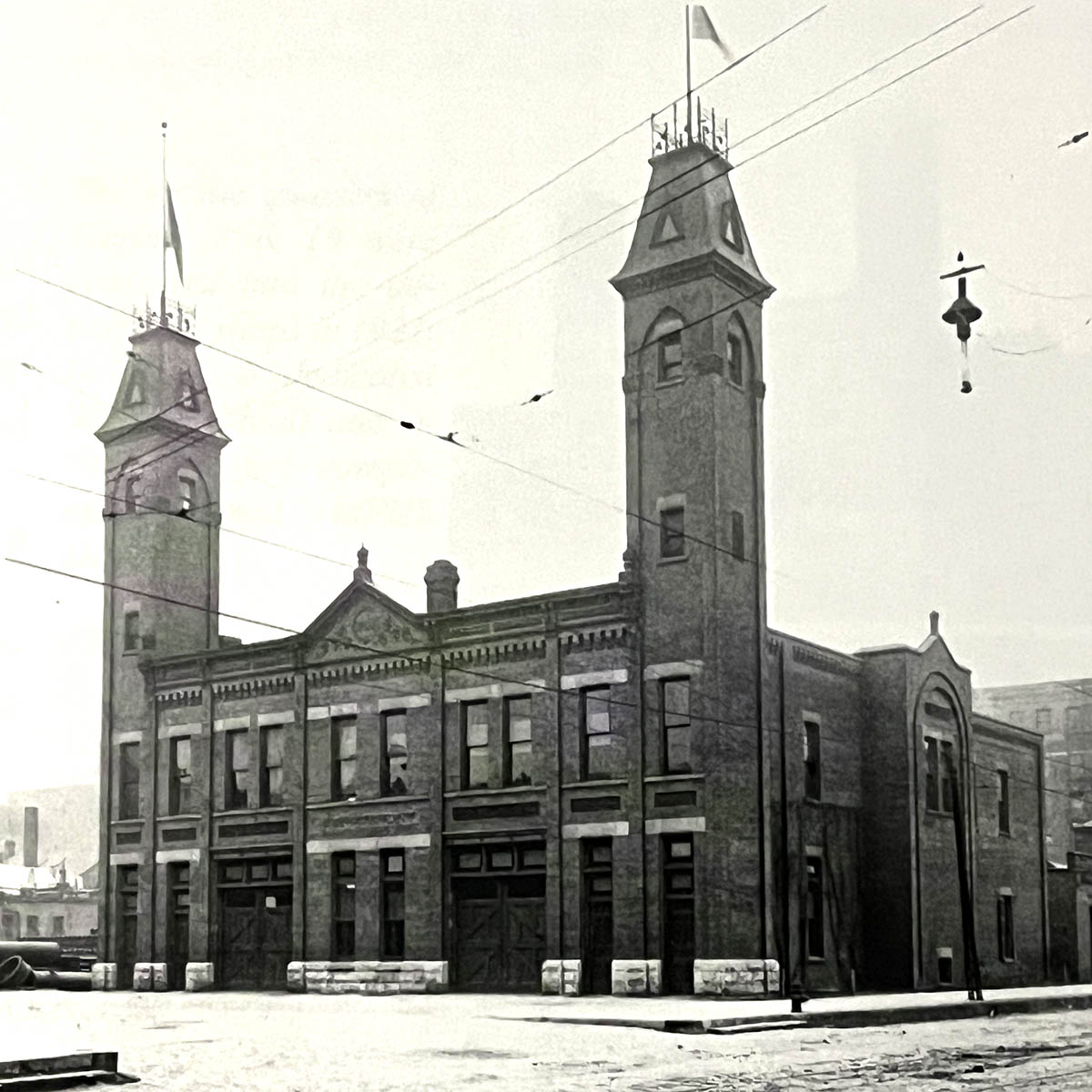 The older of the two is the two-equipment bay firehouse, designed by Brand, a former firefighter and mason turned MFD architect, who station houses – typically smaller than this one – can still be seen dotted all across the city's landscape.
The City of Milwaukee bought the land for this building in two phases – in 1867 from James Farr and in 1900 – and built the 80x98-foot station in 1900 at a cost of $27,426.05.
(I should note here that much of these kinds of historical details on firehouses can be found in retired Deputy Chief James Ley's encyclopedic book, "10-19 Return to Quarters: A History of Milwaukee's Fire Stations.")
Workers sank 387 pine piles – averaging 50 feet long – as a bed for a Wauwatosa limestone foundation on which which built a structure of cream city brick that was faced in its front with St, Louis terra cotta brick.
Two tall lookout towers flanked the facade.
Inside, there are two lovely curved staircases leading up to what was originally a dormitory for firefighters and, in back, a hayloft to support the horses that pulled fire engines at the dawn of the 20th century.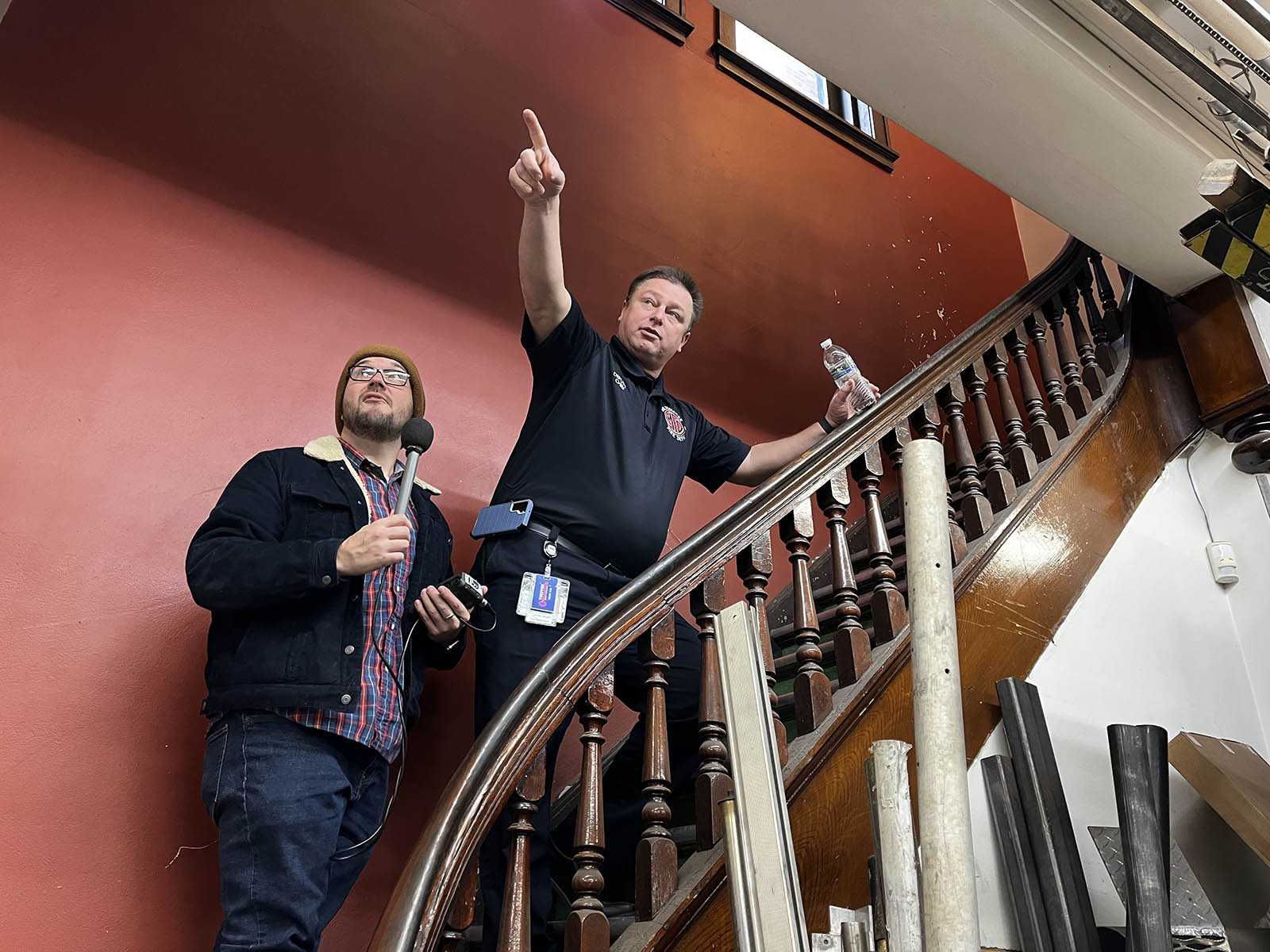 When I mention the staircases, Belott asks if I've heard the story about why they're so narrow and have a curve at the bottom.
"The story is that the stairways are narrow and curved to keep the horses from going upstairs, because they kept their hay up in the back," he says. "To keep the horses down on the apparatus floor they made a stairway that they wouldn't be able to climb.
"But I can tell you that sometimes for the firefighters up and down the stairs that much in the middle of the night isn't exactly very exciting, either. That's why if you see a new firehouse built they're rarely two stories."
(A pair of old brass firepoles that had allowed for quicker descent – and no ascending horses – have been removed.)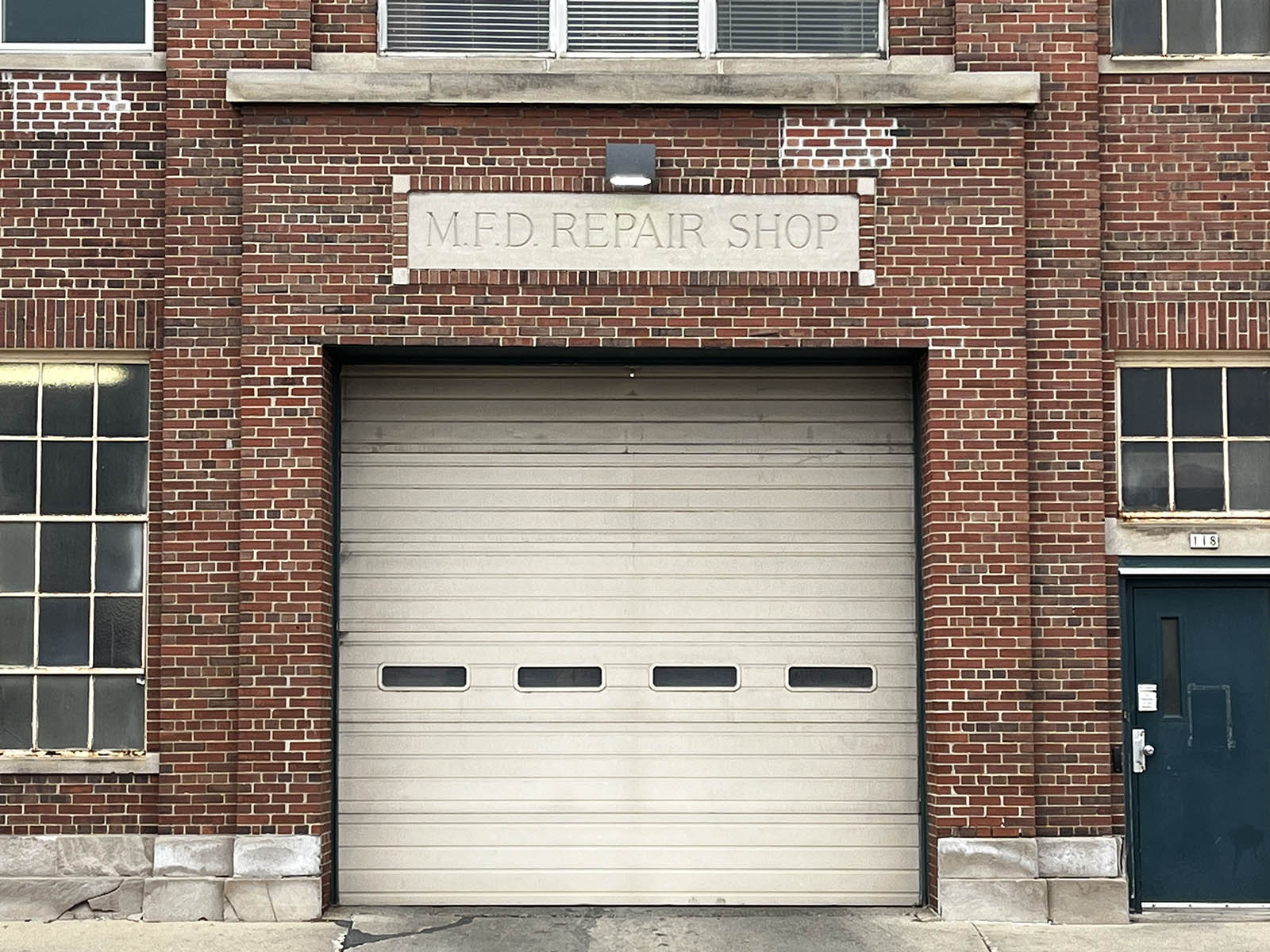 Whether or not it's true, it's a story I love and plan to steal for my own repertoire.
The station opened on April 18, 1901 as a home to Engine 19 and the newly established Truck 8 and temporary quarters for Engine 3, whose 1869 station on 2nd and National was being rebuilt.
Engine 19 had occupied quarters on 1st and Florida, a spot currently occupied by the repair shop parking lot.
In 1905, with its new quarters complete a few blocks away, Engine 3 left.
In 1917, the Virginia Street firehouse was wired for electricity at a cost of a whopping $59. Even adjusted for inflation that's a steal at $1,373.65.
In the never-ending effort to put resources where they are most needed, Engine 3 was moved a few blocks west to 7th and National in 1921 and Engine 19 and Truck 8 moved into the former Engine 3 on 2nd and National.
MFD spent $13,567.96 converting the Virginia Street firehouse into a maintenance shop. As part of that work, the two soaring lookout towers were shortened and converted into hose drying towers.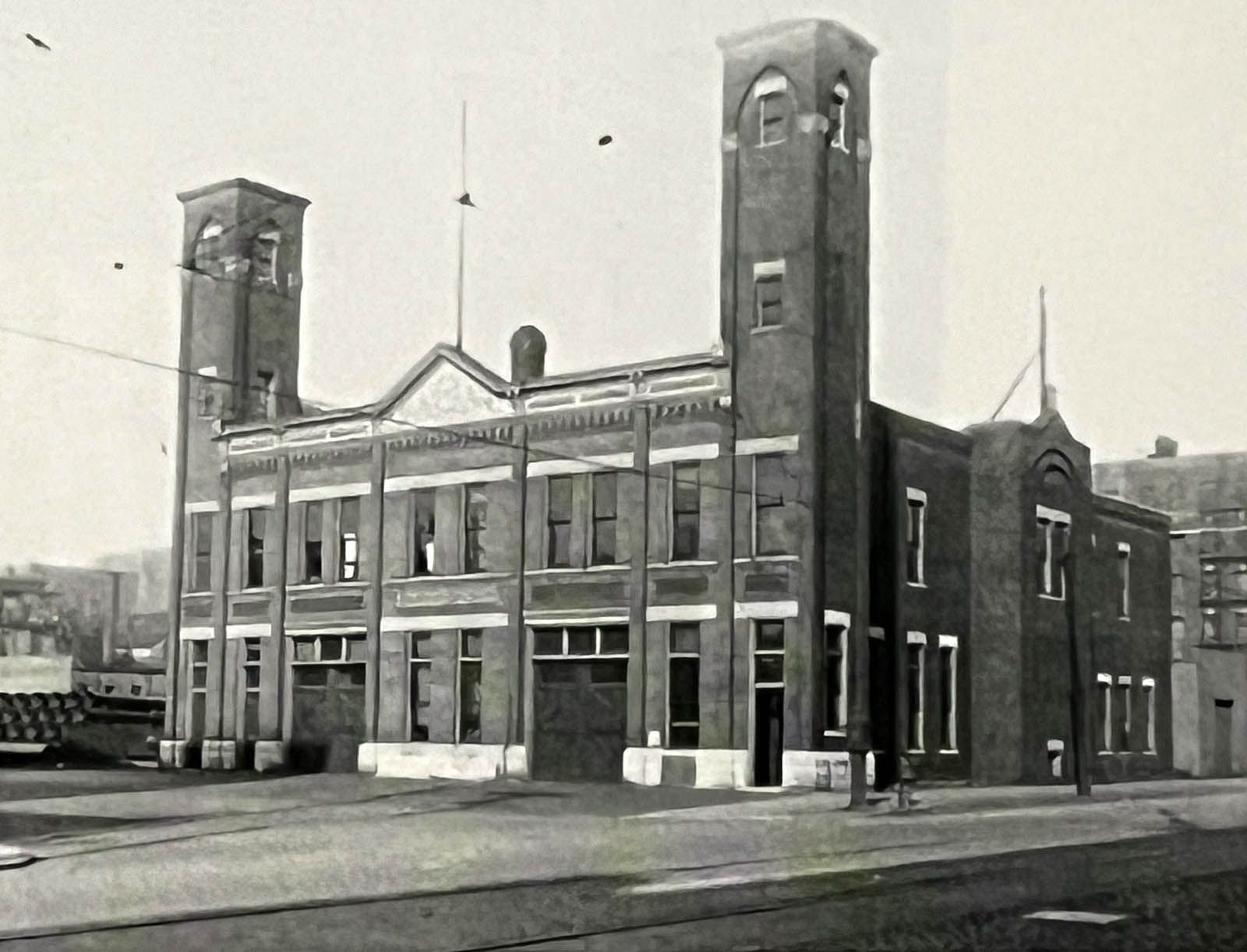 In 1929, with the new repair shop building underway next door, those towers each lost another 15 feet as they were shortened to how they now stand.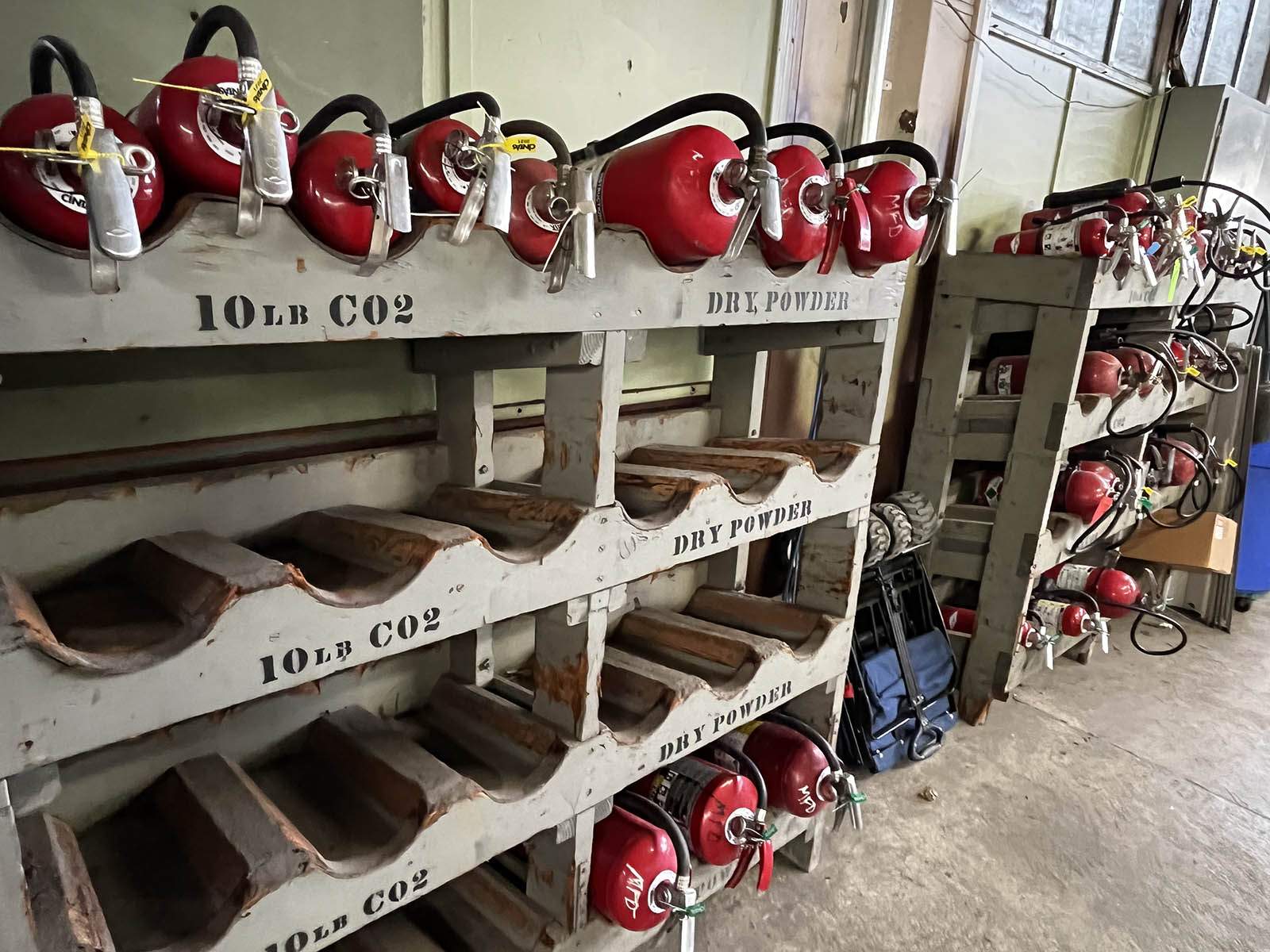 At the same time, in anticipation of the completion of the new repair shop – likely designed by city architect Charles Malig, who replaced Brand as the main firehouse architect (as well as designing many other city structures, including police stations, bridge houses and more) – the 1900 building was converted back into a firehouse.
Malig oversaw that $30,000 project, building quarters for the district chief and captain quarters and kitchen on first floor and upstairs a new dormitory, showers and, in the former hayloft, a handball court (which survives and has a small gym on a balcony).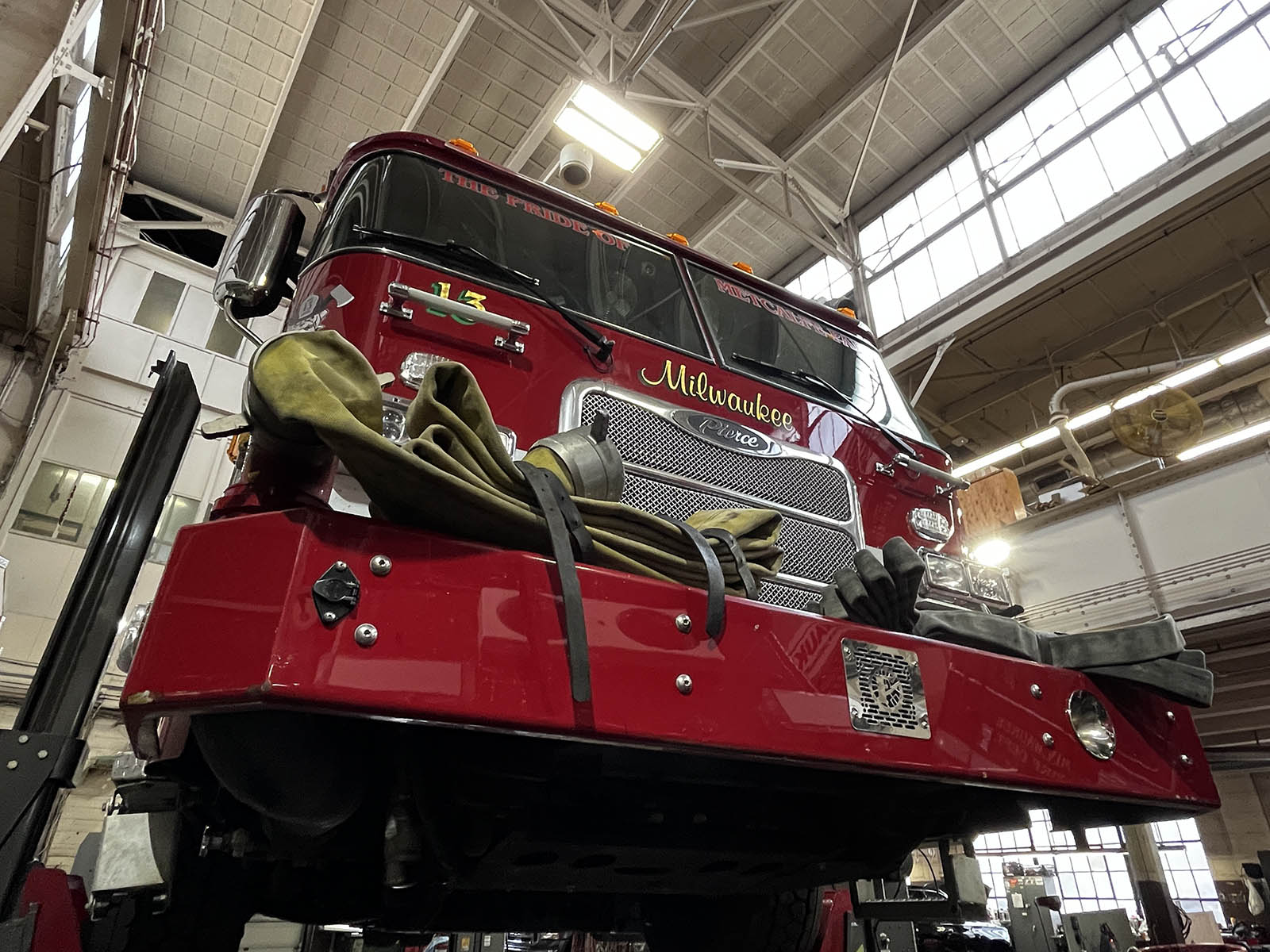 On May 1, 1930, the two-story, 100x120-foot repair shop at 118 W. Virginia Street was completed at a cost of $110,000.
Engines 3 and 19 and Truck 8 all reunited at their 1900 home.
Thanks again to Jim Ley, we have an interesting array of tidbits about the work at the shop. Truck 10 was the last of the MFD-built apparatus to roll out of the building, in 1931; in 1936, vehicles were equipped with pneumatic tires, replacing the old solid ones; in 1941, the shop's carpenters repaired 19 wooden ladders; and during the war, in 1942, shop employees added 67 dimmer switches to MFD vehicles for use during wartime blackouts.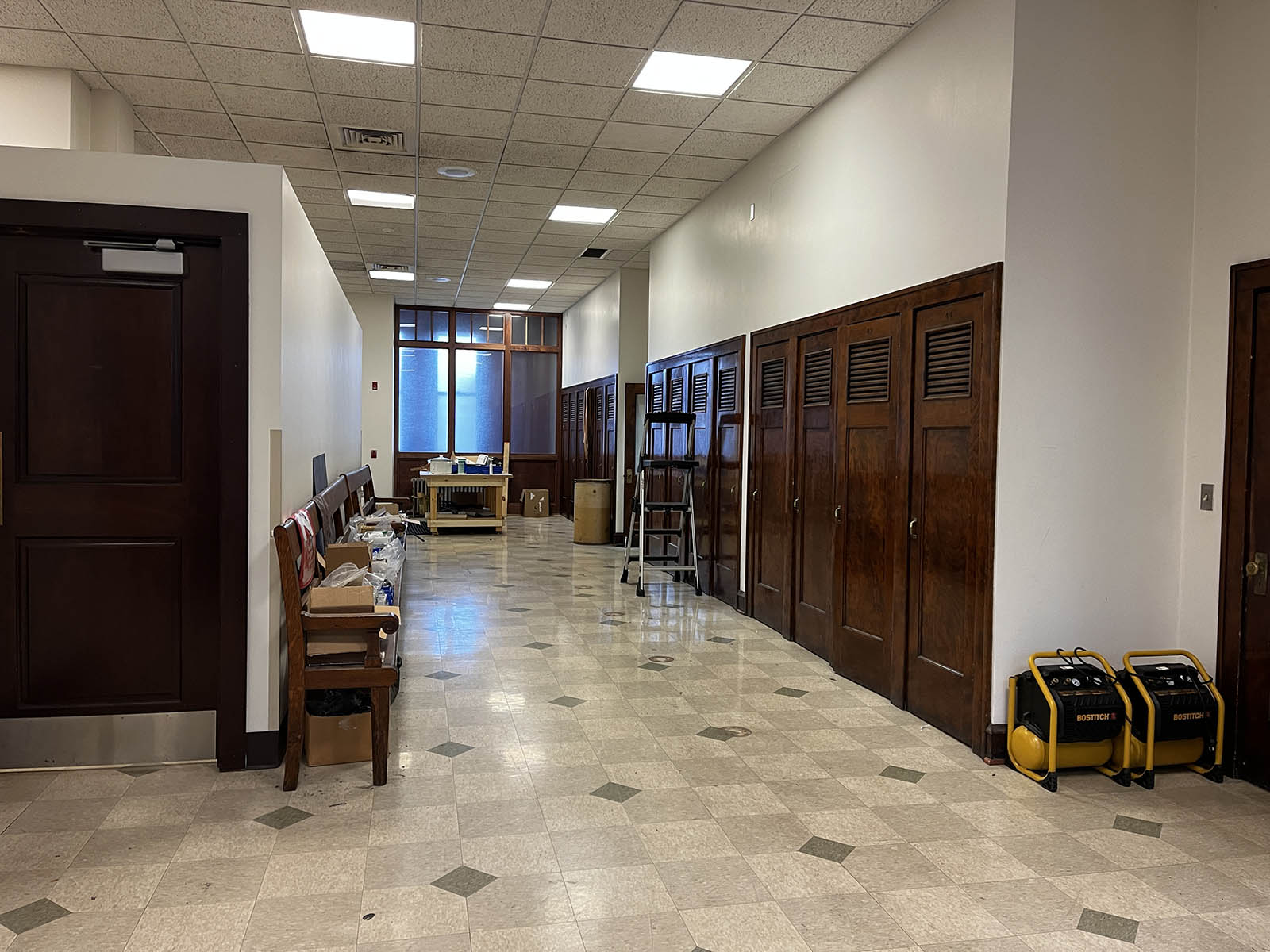 Both buildings had work done in the early 1950s as the second floor of the firehouse was remodeled and there were structural alterations to the repair shop building.
The first of two storage sheds that you see out back today – the one closer to 1st Street – was added in 1956. The second was put up in 1978.
Nine years later, Engine 19 was decommissioned.
In 1971 the repair shop was officially renamed Bureau of Construction and Maintenance and the following year, the shop's building and grounds work was taken over by DPW's Bureau of Bridges and Public Buildings.
In 1984, when MFD got a new amphibious firewboat, it was stationed here and firefighters from Engine 3 and Ladder (aka Truck) 8 manned it. But just four years later, Ladder 8 was decommissioned and Ladder 20 was renamed Ladder 8 and moved to Engine 17 on South 13th Street. (Is your head spinning yet?)
In 1992, the Dive Rescue Team relocated from Engine 1 and the next year the amphibious fireboat was taken out of service.
Beginning in December 2003, the building underwent a more than $1 million overhaul, to boost energy efficiency and ADA accessibility. During the 10 months of work, Engine 3 was housed at Engine 2 on James Lovell and Wells Streets.
In 2011, the repair shop was rechristened the Construction and Maintenance Division and in 2012, after 149 years of service, Engine 3 was decommissioned, and Truck 1 moved over from Fire Station No. 1 on Broadway.
Truck 1 worked out of Virginia Street for about five years and was shifted in early 2017 to 21st and Oklahoma. The Dive Rescue Team was moved to Lovell and Wells, and the old firehouse again became part of the repair shop.
"Imagine all of this," says Belott as we stand on the apparatus floor of the old firehouse, which is packed full of equipment, supplies and machinery, "also in the other building. Getting this space has allowed us to spread out a little."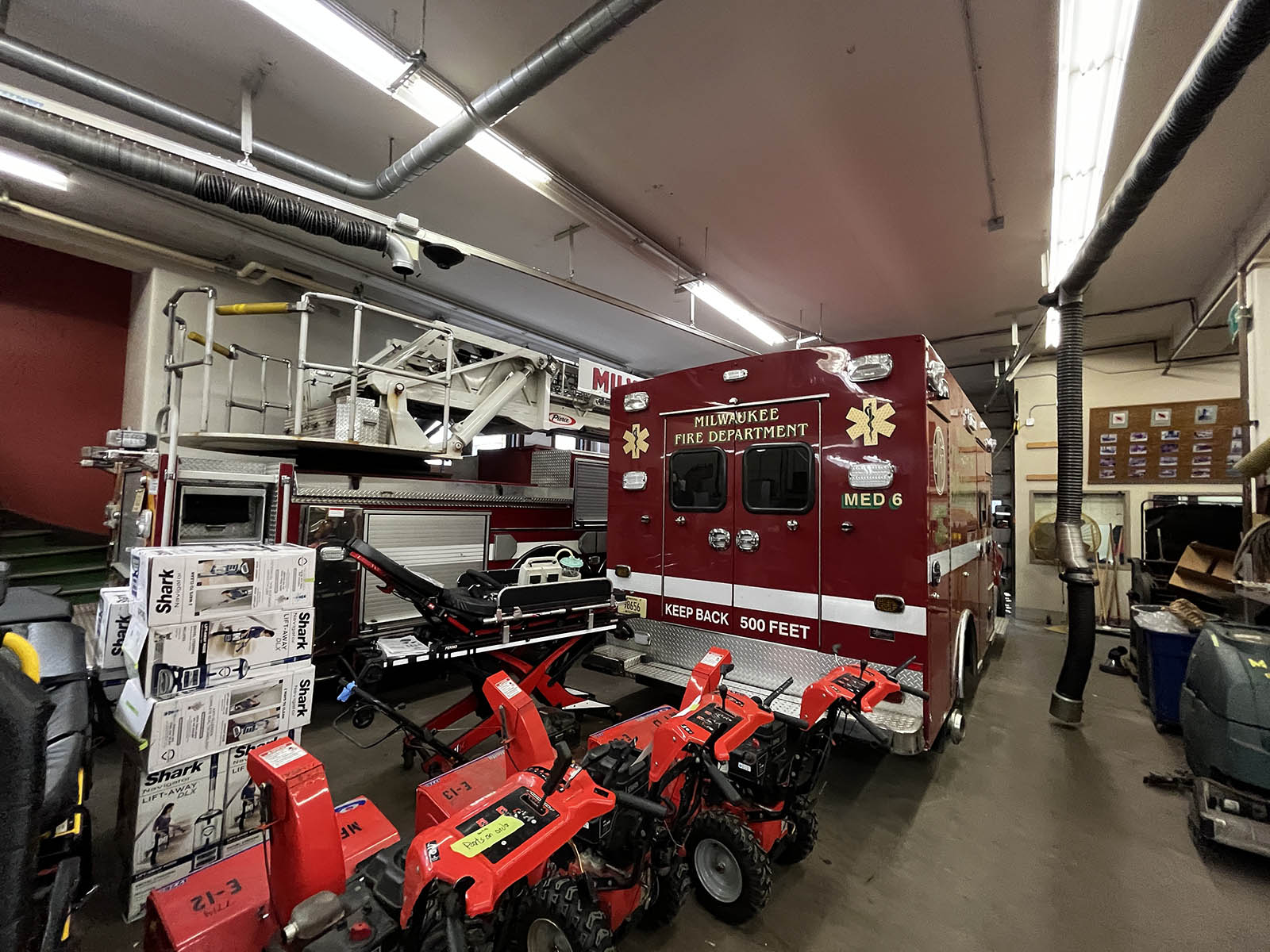 But, clearly, there's still not enough space for the work that goes on here.
"Apparatus have changed, the size, the weights of scale of what we do is different," says Belott, noting that the growth in size and weight of engines and trucks has also led to much structural work at active station houses.
"So having a little extra space has helped out with managing what we have to do. Unfortunately, that was at the expense of closing the company. Once that happened, it was just a way to repurpose it. We can use it here."
Even five years ago, when his book was published, Ley noted that there was talk of moving the repair shop to a new facility better suited to modern-day MFD needs. But that has not happened yet and, Belott says, there is no solid plan for it to happen now.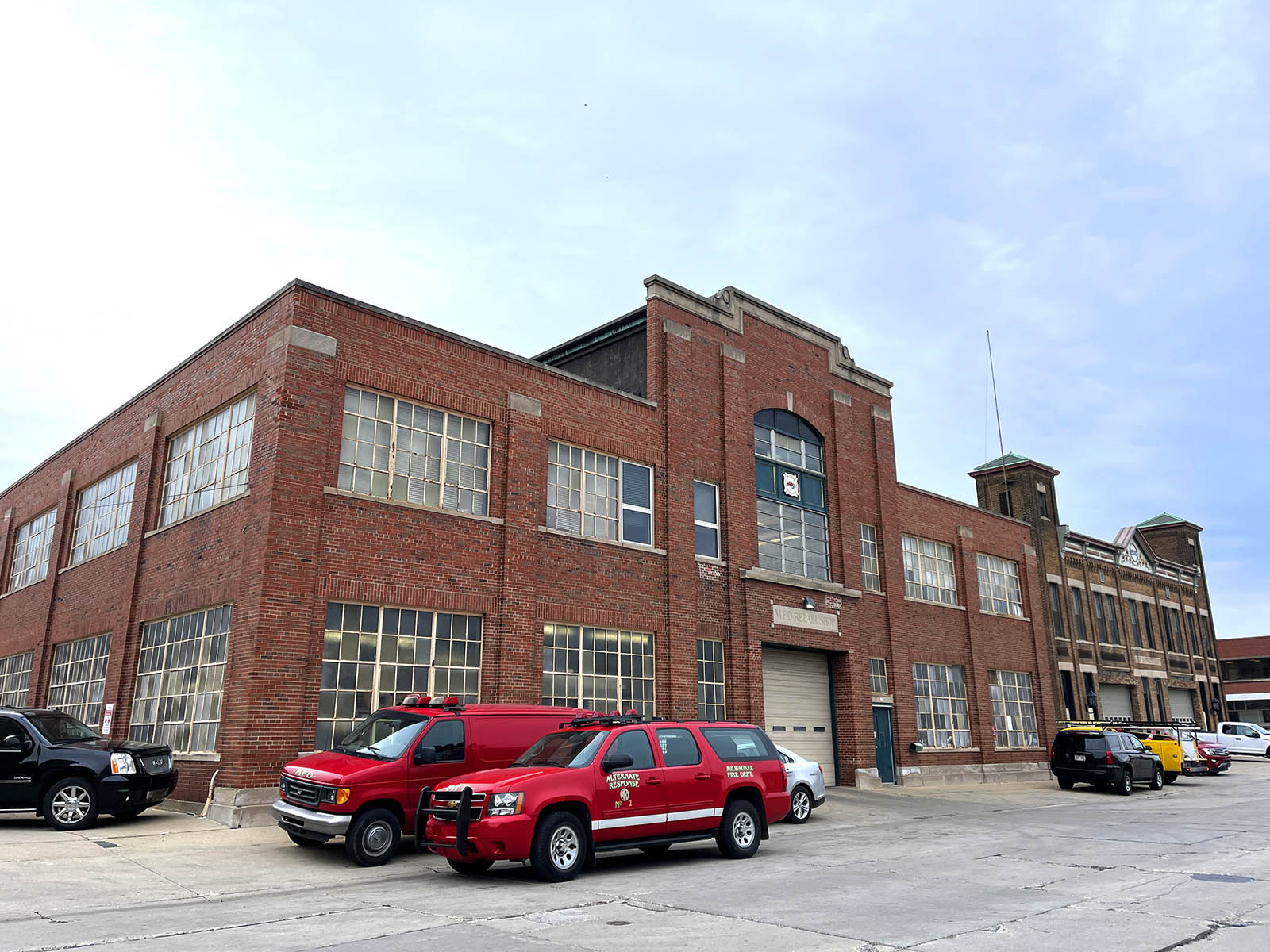 "That's something we've had in our planning," he says. "It's a long-term capital project. It's in our requests. Obviously, with the constraints of the city budget, they have to prioritize other things. We put in our request and then we'd certainly like to have something, but that has to get balanced with everything else that's needed in the city, too."
The plan is extremely basic at the moment.
"We don't have any specifics right now," says Belott. "We have a general idea of a building design and plan and functionality and square footage and space. Like, if we could go ask for everything we need, what does that look like for space? So we have that planned out and it just becomes a matter of does it make it through the budget cycle?
"It's a matter of balancing that against all the other needs of city departments. Everybody's got those things that they are trying to keep moving along and there's fiscal challenges that we all work with."
Born in Brooklyn, N.Y., where he lived until he was 17, Bobby received his BA-Mass Communications from UWM in 1989 and has lived in Walker's Point, Bay View, Enderis Park, South Milwaukee and on the East Side.
He has published three non-fiction books in Italy – including one about an event in Milwaukee history, which was published in the U.S. in autumn 2010. Four more books, all about Milwaukee, have been published by The History Press.
With his most recent band, The Yell Leaders, Bobby released four LPs and had a songs featured in episodes of TV's "Party of Five" and "Dawson's Creek," and films in Japan, South America and the U.S. The Yell Leaders were named the best unsigned band in their region by VH-1 as part of its Rock Across America 1998 Tour. Most recently, the band contributed tracks to a UK vinyl/CD tribute to the Redskins and collaborated on a track with Italian novelist Enrico Remmert.
He's produced three installments of the "OMCD" series of local music compilations for OnMilwaukee.com and in 2007 produced a CD of Italian music and poetry.
In 2005, he was awarded the City of Asti's (Italy) Journalism Prize for his work focusing on that area. He has also won awards from the Milwaukee Press Club.
He can be heard weekly on 88Nine Radio Milwaukee talking about his "Urban Spelunking" series of stories.