I started hating my eyebrows in the '90s. As an Italian-American, I had coarse dark brows that matched my coarse brown hair, but I was envious of the girls around me – most likely of a more northern European descent common in Milwaukee – who had feathery, light brows that matched their feathery, light hair.
So in the mid-90s, when I became smitten with the Riot Grrrl culture started in the Pacific Northwest by bands like Bikini Kill and Bratmobile, I adopted a fashion that included short, Bettie Page bangs, slips for dresses, metal lunch boxes for purses and combat boots. I started to notice other girls with this look, some of whom sported guitar-string thin eyebrows drawn on with black eyeliner.
Here was my chance to ditch my woodland creature brows.
And so I plucked 'em – every last wiry strand – and with black eyeliner drew whip-thin lines in their absence. This, too, was part of the Riot Grrrl look, but I quickly realized it wasn't a good look for this grrrl. I found my fake-browed face to resemble a balloon decorated with a Sharpie marker. And I looked crazy. Like "talking to my invisible poodle in front of Walgreens on Brady Street" crazy.
I quickly decided to let my brows grow back. Fast forward 20 years to last week and they still hadn't made a comeback. Instead, they remain wispy and confused, not growing where they used to but sprouting up in areas that have no business burgeoning brow hairs.
Thus, when Elicia Battaglia – a former Milwaukeean now living in Oakland, California – contacted me about her new business, SheWolf, that included a permanent eyebrow makeup service, I was – as they say – all ears.
Permanent eyebrow makeup – in short, "eyebrow tattoos" – is an art form called microblading or microstroking. It is a service usually purchased by women who have over plucked or want to have thicker, fuller brows which has been the style in the past few years.
Battaglia holds a Microstroking certificate from Daria Churpys Permanent Makeup Academy in Beverly Hills, California, and a diploma in Makeup Design for Television and Film from the Vancouver Film School.
Battaglia operates a full-time business in Oakland, but returns to Milwaukee every two months to provide microstroking services for Milwaukeeans at Tradecraft, a tattoo shop in Bay View owned by Lane Turowski.
"I also get to visit my friends and family," says Battaglia.
After checking out Battaglia's work on Instagram, I was impressed and inspired. I emailed her and told her about my unfortunate '90s pluck-a-thon and that I was interested in having the microblading procedure done myself.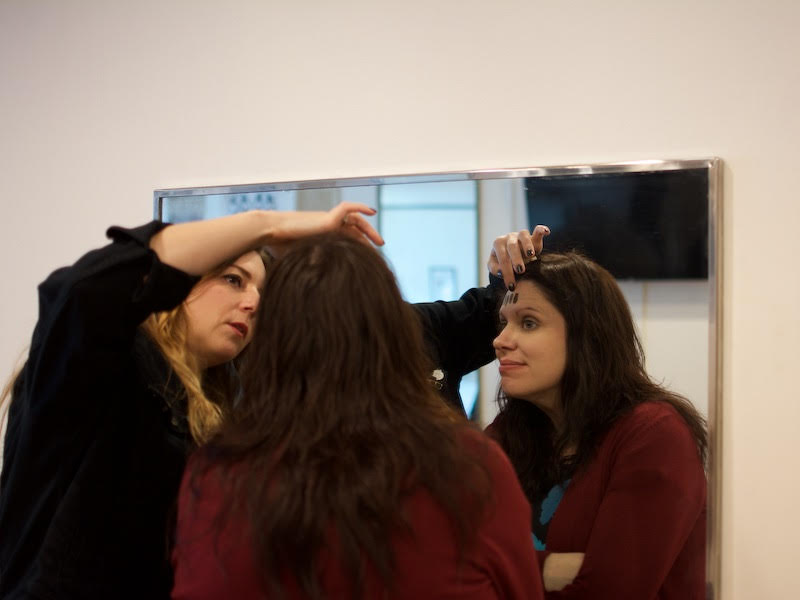 Microblading is offered in various different environments, including salons, nail / lash bars and tattoo shops.
"It really depends on which environment you are most comfortable in," says Battaglia.
The process includes two visits and costs $575. The first appointment is about three hours, during which there is a consultation, color matching and the uber-meticulous "drawing on" of the new brows.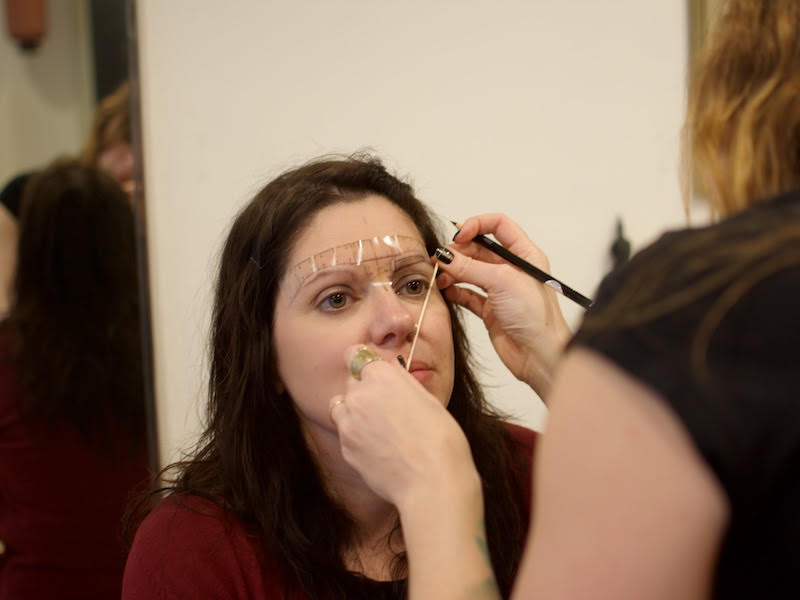 I was involved in every step of the process – the fastidious and creative Battaglia was adamant about making sure I was completely confident in the color and shape of my new brows before the procedure began. These are face tattoos, after all, and nothing to take lightly.
I made it clear to Battaglia that I wanted medium-sized brows that were somewhere between the caterpillars of my childhood and my current centipede-leg brows.
I then reclined on a massage table and Battaglia explained more about the next steps. She would use a single-blade – hence the term "microblading" – and cut delicate lines to resemble hairs which she would then fill with pigment in the exact color we chose together.
Each brow took about 45 minutes to blade and, personally, I didn't find it painful. At most, it was uncomfortable and a bit sting-y at times. However, in all fairness, I have about a dozen body tattoos, so I am comfortable with the tattooing process. But in general, I wouldn't say it "hurts."
After the blading, Battaglia applied the pigment which set for about 15 minutes. I amused myself during this time by texting this photo to friends and family that said, "What do you think of my new eyebrows? Be honest."
After a little more grooming, the procedure was finished. Battaglia provided me with care instructions and salves and ointments to use during the healing process, which takes about a week.
"Give it 25 days before you make your final assessment," Battaglia says.
I will return to Tradecraft for my second appointment in two months during which she will "touch up" the brows if needed. And then I should be good to go for a few years – or longer. It is different for everyone, but as a person whose skin seems to retain ink like a boss, I have high expectations.
Battaglia warned me my brows – for the first few days - could initially appear too dark and less natural, but I loved them immediately. It's now a week later, and I am absolutely thrilled with my brand new eyebrows and have experienced zero pain, very little itchiness and minor scabbing.
As I was leaving the shop, Battaglia and I hugged, gave high fives and determined my hashtag of 2019 is #newyearnewbrows. Take that, '90s me!
Check out SheWolf services here.

Molly Snyder started writing and publishing her work at the age 10, when her community newspaper printed her poem, "The Unicorn." Since then, she's expanded beyond the subject of mythical creatures and written in many different mediums but, nearest and dearest to her heart, thousands of articles for OnMilwaukee.

Molly is a regular contributor to FOX6 News and numerous radio stations as well as the co-host of "Dandelions: A Podcast For Women." She's received five Milwaukee Press Club Awards, served as the Pfister Narrator and is the Wisconsin State Fair's Celebrity Cream Puff Eating Champion of 2019.