In December, I was offered the opportunity to get new eyebrows via the microblading – eyebrow tattoo – process with Elicia Battaglia of She Wolf and I jumped at the chance.
The initial appointment went extremely well – I finally loved the color and shape of my formerly light, scraggly eyebrows – and today I went back for my second session or "touch up" appointment.
After 90 days, my new brows faded slightly in two spots, which Battaglia re-bladed, but overall they held the shape and color extremely well. In short, my brows still look really good. So much so that I actually look back at photos of myself prior to December and feel a little sad for my old eyebrows.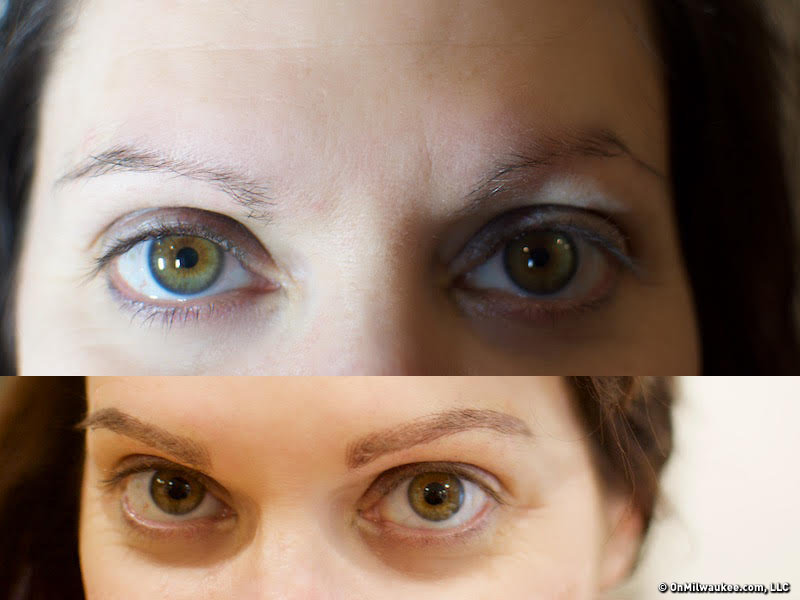 Microblading must be done by a licensed professional (because, remember, they are tattoos on your face). People, usually women, who purchase this service do so because they have over-plucked or just want thicker, fuller brows.
I fall into the "over plucker" category. You can read my whole story here, from the tragic tweezing of the '90s to my two decades of almost-bald brows to my recent lush recreations thanks to Battaglia. And yes, I have retired my tweezers.
Battaglia visits Milwaukee from California every three months to microblade Milwaukeeans at Tradecraft Tattoo and spend time with family. Check out more of her beautiful, detailed work via Instagram. And if you are unhappy with your present eyebrows, consider making an appointment. You won't regret it.

Molly Snyder started writing and publishing her work at the age 10, when her community newspaper printed her poem, "The Unicorn." Since then, she's expanded beyond the subject of mythical creatures and written in many different mediums but, nearest and dearest to her heart, thousands of articles for OnMilwaukee.

Molly is a regular contributor to FOX6 News and numerous radio stations as well as the co-host of "Dandelions: A Podcast For Women." She's received five Milwaukee Press Club Awards, served as the Pfister Narrator and is the Wisconsin State Fair's Celebrity Cream Puff Eating Champion of 2019.