"Bar Month" at OnMilwaukee is brought to you by Miller Brewing Company, calling Milwaukee home since 1855. For the entire month of March, we're serving up fun articles on bars, clubs and beverages – including guides, the latest trends, bar reviews, the results of our Best of Bars poll and more. Grab a designated driver and dive in!
In the summer of 2016, I stood on the vast roof of the old Pabst distribution building between 8th and 9th Streets and Highland and Juneau Avenues with Milwaukee Brewing Company's Jim McCabe and tried to imagine how this hulking, windowless building, at 1128 N. 9th St., might look as a public-facing brewery and taproom.
"I'm still marveling at it," says McCabe. "That there's this kind of space available right Downtown, where everything's starting to happen."
But not everyone had the ability to see a future for the 170,000-square foot building, erected by Pabst in 1976, a decade before the brewery suddenly closed.
"People thought it was nuts," McCabe admits. "Some still do. A lot of people (on the) first walk-through were wondering why the building wasn't demolished."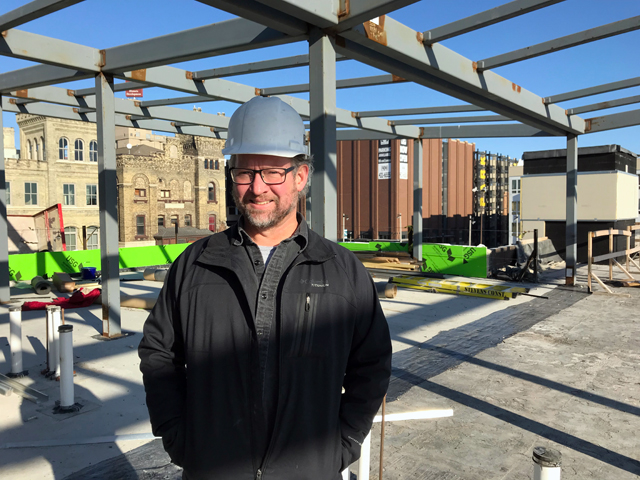 Ground was officially broken for the transformation last summer.
This week I returned and the difference is more than just noticeable. It's downright astonishing.
Formerly windowless walls a block long have had broad openings punched through and a skylight was added and now, the interior of the building is flooded with natural light. It's the exact opposite of what it once was.
Crews are working hard on a wide variety of jobs inside (and outside) the building.
The lower level has already been converted into a self-storage business, while an upper floor was created from concrete and steel and will serve as leasable office space, along with the north end of the main floor.
A huge cooler was built and its refrigeration system is being installed, and last week the first brewery equipment arrived and the brew house is beginning to take shape. By this time next year, the opening of the complex will already be old news.
"Memorial Day is probably when we're going to be able to make liquid in the brew house," says McCabe. "We're going to be able to do kegs. But the entire project, the office side and some of that stuff is looking more like mid-summer."
And the patio facing 9th Street?
"August, September. And some of the bar stuff is going to be a little behind that. We're going to miss some of the height of summer, but it's coming along nicely. Some of the delays have been weather-related. Some of it's just changes in design. But on the brewery side, it's rocking and rolling. We're still on that Memorial Day date."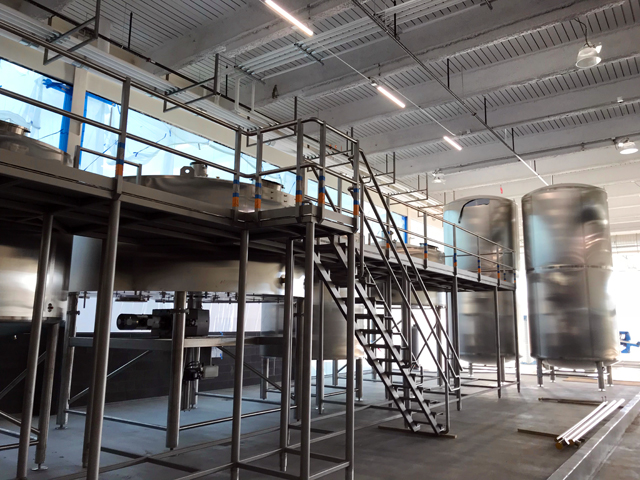 When the brewery – the equipment of which is being built by Sprinkman Brewing Systems in Waukesha – is complete, McCabe says it will be his dream brewhouse."It's very exciting," he says.
"Especially when you look at 2nd Street (at Milwaukee Brewing's current Walker's Point brewery) and how we kind of did the typical Frankenstein brewery where we got a lot of equipment from other places to get it going. When you get to design one exactly like it should be and specifically for our beers, it's pretty exciting."
At the moment, Milwaukee Brewing is making about 15,000 barrels of beer annually (including contract brews it makes for Sendik's to sell under its own label) but that capacity will change dramatically when the 9th Street brewery goes online.
"In terms of batch size, it's only a little bit larger, but because of the efficiency of the system, we'll be able to peak out here at about 70,000 barrels," McCabe says. "We're going to have about 20,000 barrels of capacity when we turn the switch this summer. It's not like you flip the switch and all of the sudden you're at 70.
"We definitely feel like with the climate in the industry we're in a cycle where the next five years will be bumpy and then we're kind of teeing up for that point a little further down the road."
Just above the main entrance is a deck that overlooks the public beer garden. It's for the leasable office space above and it's where McCabe starts our tour.
"I call that the fishbowl," he says. "That's an office above the entrance to the bar. That bar area actually spills right out to the outside area with an overhead door. Rinka Chung Architects did a great job, and they love their overhead doors.
"There's gonna be a free-flowing customer experience, but then that fishbowl up above are some prime office suites that include that little patio space. They have their own little private hangout area to enjoy their Friday afternoons looking down at all us plebes."
We go inside and check out the office space areas (some of which is pictured above), which are currently unfinished. McCabe is working with Scott Lurie on the project and having him on board changed McCabe's plans in a good way, the latter says. The office space is a way to help take some of the financial burden of the overall project off the brewery itself.
"Our original design before we got involved with Scott was we were just going to spread out over the entire 80,000 square feet and maybe get a couple of warehouse tenants in here to offset some costs. With Scott leading the charge this has evolved into a much more right-sized brewery space, but then a considerable investment in converting the building and doing all the glass that you can see as you walk by.
"It's a great business model. It's a significantly larger project than what we were able to conceive at the time. But I've loved this building forever, so it's great to see it have a higher use. Even more than putting a brewery back in, which is itself a great use."
McCabe says that the project is a $23 million one now including the brewery, the rooftop and the office space.
"We're talking about including a lot of stainless steel tanks, which is very atypical for an office project," McCabe says with a smile.
He says that there has been a lot of interest in the office space and much of it has been committed, though most not yet publicly announced.
The office tenants will share the use of a large common area that includes a lounge, kitchenette, fitness center and conference rooms.
Straight east from the main entrance is the main tasting room, which is lit by a long skylight added above. The skylight is, along with the windows, the most dramatic change to the building.
"This is another example of what we would've never contemplated for the building," McCabe says. "We were going to open this up without the skylight and have kind of an open alleyway that could be seasonal. But then we went for the full year-round skylight concept and it's pretty dramatic."
The tasting room is quite large and will offer views out toward the Milwaukee Downtown skyline and into the brewery thanks to a wall of windows. The tasting room also connects directly with the brewery – which has a small bar area of its own – via another overhead door.
The new brewery will, like the 2nd Street brewery, offer tours. But unlike the Walker's Point brewery, which only offers tours a couple days a week, 9th Street will have them every day. A mezzanine area is being erected for the tours, which will be able to look down into the entire brewhouse.
"When this is open, you're able to walk right into the brewery space," says McCabe. "We have our own tasting room bar inside the brewery, where we'll have probably some unique things and new offerings. This is where our tours will start and stop. Then the tour experience actually happens up on the mezzanine."
Up there, Milwaukee Brewing will also have some office space.
Across the building, along the new windows facing 8th Street, a series of stainless steel fermentation tanks will announce to the outside world that there's a brewery here. Nearby will be canning, bottling and packaging lines. At the south end of the building is the warehouse.
In this area, McCabe is installing some oversized memorabilia, too, including an old copper-covered weather vane that was formerly perched atop a nearby Pabst brewery building, the giant beer bottle created by Milwaukee Blacksmith for its television show a couple years ago and a giant neon Pabst sign that once stood at the Pabst stage area at Summerfest.
"It was actually in the basement here just rotting away," says McCabe. "It was going to get thrown away. In fact the contractor was pressuring us like, 'We're gonna get rid of that thing if you don't.' There's actually enough glass (tubing) in good shape to fix the clean side and get it going. So the tour guide will have the ability to flip the switch and turn it on. So it's something you have to go on the tour to see."
We head up to the roof via one of two new stairwells erected to access the huge area up there. A chunk of the available space has now been lost to the skylight, but there's plenty left to utilize and there will be tables spread all over.
Plus, there's a pergola-covered area near the 9th Street side and office tenants will get their own space up here, too.
The views – of the new arena, of the skyline, of nearby church steeples, of other Pabst complex buildings – are pretty amazing and this will likely be a hugely popular space, especially for events. But first, roof decking and safety railings must be erected.
But this huge project is really coming together and the fact that its timing coincides with the opening of the new arena is fortuitous.
"I'm excited about their concert booking and everything else," McCabe says. "You know for every Marquette game, people are already parking in this neighborhood and using it to access the Bradley Center, so it's not going to be a big deal to get people used to coming over here.
"We've also got a pretty good deal with that parking structure (across Juneau Avenue), so there will be a lot of synergy there."
As we head back downstairs, stopping to admire the skyline view out a window on one of the staircase landings – surely one of the best staircase window views in town – McCabe says, "if you reference some of your old pictures from when I took you through here when the floors were still wet and it was dank, it's hard to believe it's the same building."
He took the words right out of my mouth.
Born in Brooklyn, N.Y., where he lived until he was 17, Bobby received his BA-Mass Communications from UWM in 1989 and has lived in Walker's Point, Bay View, Enderis Park, South Milwaukee and on the East Side.
He has published three non-fiction books in Italy – including one about an event in Milwaukee history, which was published in the U.S. in autumn 2010. Four more books, all about Milwaukee, have been published by The History Press.
With his most recent band, The Yell Leaders, Bobby released four LPs and had a songs featured in episodes of TV's "Party of Five" and "Dawson's Creek," and films in Japan, South America and the U.S. The Yell Leaders were named the best unsigned band in their region by VH-1 as part of its Rock Across America 1998 Tour. Most recently, the band contributed tracks to a UK vinyl/CD tribute to the Redskins and collaborated on a track with Italian novelist Enrico Remmert.
He's produced three installments of the "OMCD" series of local music compilations for OnMilwaukee.com and in 2007 produced a CD of Italian music and poetry.
In 2005, he was awarded the City of Asti's (Italy) Journalism Prize for his work focusing on that area. He has also won awards from the Milwaukee Press Club.
He can be heard weekly on 88Nine Radio Milwaukee talking about his "Urban Spelunking" series of stories.