Have you stepped outside your comfort zone yet this year? I am always searching for a new destination or a new bar and restaurant that creates memorable experiences – especially with refreshing mocktails. So a thank you to Kenneth Murray for getting me to migrate to Kenosha and check out a local restaurant group and community favorite.
Grease & Honey Restaurants has become a staple in the Kenosha community thanks to the belief that the "best things in life are just a bit better after a hard days work and as they strive to not only provide the reward, but also to earn it." They are committed to creating an unique culinary and cocktail/mocktail experience for everyone, which is why Sazzy B is such a Kenosha destination.
"When it comes to our mocktails, we have created an inviting environment and try to add to that sensory experience," said bar manager Kurt Schrader. "We understand and welcome the growing demand for mocktails, and the Kenosha community has fully embraced it."
The creation of these seasonal mocktails derives from in-house made ingredients that can be seen and tasted throughout Sazzy B's menu. Each of these seasonal mocktails have been created with passion and expertise, and each sell for just $6.
Mirroring Sazzy B's Sundress cocktail, Due Date – named in honor of expecting mothers – brightens your aura through its deep floral and bright flavors, while the in-house lavender will soothe anyone's soul. My friend and I reminisced how it reminded us of a mojito while soaking up the sun on Simmons Island Beach or Eichelman Park or Pennoyer Park – but better. This mocktail is food friendly and it pairs well especially with Sazzy B's seasonal scallops and salads.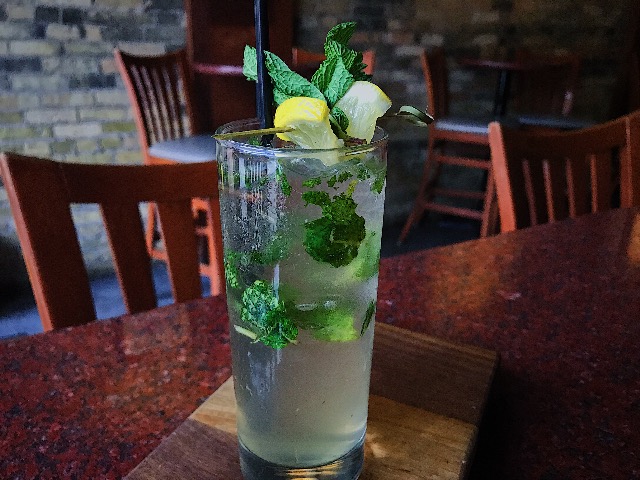 Migration Pattern defines what it means to head south. Mirroring Sazzy B's Besoms Borachas martini, this mocktail is the perfect drink for social outings – especially during the winter time – because it will rejuvenate your energy, a juice bomb waiting to explode filled with invograting flavors. My friend commented that it tasted like an Icee or sorbet, and I could not agree more.
Combining Schrader's love for winter and snowboarding, the almond milk infused Powder Day mocktail is the perfect drink after a day of winter activities. My friend compared the Powder Day to a lighter chocolate martini with a lemon twist and determined that it was by far her favorite drink because it was not creamy nor did it have a lot of sugar. It pairs well with Sazzy B's Cajun Chicken Pasta.
Weatherman's Promise forecasts into a multitude of flavors, going all over the place just like Wisconsin's weather. This mocktail is Schrader's favorite because he loves the winter and combination of flavors that this drink creates. For me, it tasted like an old school RC Cola but better and has hints of an Old Fashioned. This mocktail pairs well with the Sazzy B's steak.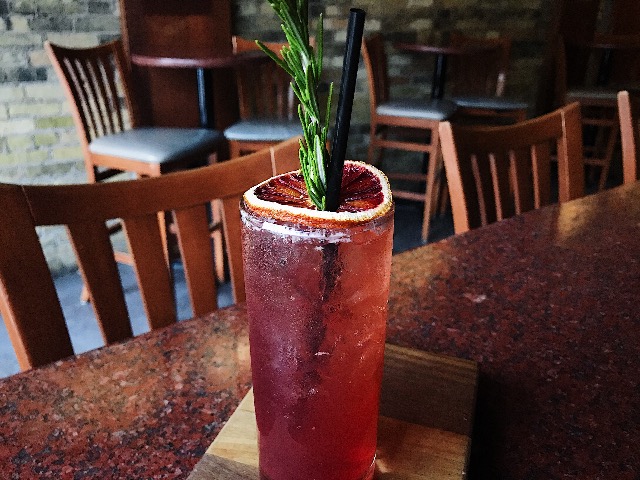 Due Date
1.5 oz Lavender Simple Syrup
1.5 oz Lemonade
4-6 Mint Leaves
Combine ingredients with ice. Shake and pour into a collins glass, unstrained. Fill with seltzer. Garnish with a mint bouquet and a lemon slice.
Migration Pattern
1 oz Mango Puree
1.5 oz Cranberry Juice
1 oz Pineapple Juice
1 oz House Sour
Combine ingredients with ice. Shake and double strain into a coupe glass. Garnish with a fresh orchid or a lime slice.
Powder Day
1 oz Almond Milk
1.5 oz Vanilla Bean Tea
1 oz Honey Simple Syrup
1 oz Lemon Juice
Combine ingredients with ice. Shake and double strain into a coupe glass. Garnish with a twist of lemon.
Weatherman's Promise
1 oz Cinnamon Plum Simple Syrup
1 oz Chai Tea Simple Syrup
Half stalk of rosemary, stripped
Combine ingredients with ice. Shake and double strain into a collins glass. Fill with equal parts ginger ale and tonic. Garnish with dehydrated blood orange and rosemary.
Sazzy B prides itself on being one of the most interesting restaurants in Kenosha, with an eclectic menu based on creativity and quality. Plan your next outing to Sazzy B in Kenosha; the ambiance is welcoming, the staff will go above and beyond to provide a memorable experience, and most importantly, the mocktails are not just your average drinks. They are top notch as they take you on an exploration of the Kenosha community and beyond.