"Bar Month" at OnMilwaukee is brought to you by Miller Brewing Company, calling Milwaukee home since 1855. For the entire month of March, we're serving up fun articles on bars, clubs and beverages – including guides, the latest trends, bar reviews, the results of our Best of Bars poll and more. Grab a designated driver and dive in!
For years, if you wanted to be left alone to wander, there was no better place than the ghost town that was the former Pabst Brewery site. No more. These days, the neighborhood is abuzz with constant activity.
And more is on the way, including the new Pabst microbrewery, the Eleven25 at Pabst student housing and the ongoing conversion of the old malt house at 1009 W. Juneau Ave. into residential units, to name just a few.
One of the most exciting projects already underway, however, is the conversion of part of the nearly 170,000-square foot Pabst shipping facility into the new home of MKE Brewing Co.
While the company will maintain its current 613 S. 2nd St. facility as a pilot/test brewery, the hulking, and rather foreboding, windowless former Pabst distribution center, 1131 N. 8th St., will become a magnet, rather than a repellent, for the burgeoning neighborhood.
MKE Brewing Co. is leasing 58,000 square feet of space in the building, which is now owned by SSL Milwaukee LLC. The building had previously been owned by Zilber Property Group.
Initially, MKE Brewing will use the space for warehousing and cold storage, but brewing operations, a tasting room and more is expected to be added by next year.
Other parts of the building are expected to be utilized as office space and, in the lower level, a self-storage business is already open.
"This thing is huge," says MKE Brewing Co. President and CEO Jim McCabe, as we stand in the lower level of the building – erected at a cost of $7 million in 1976 when Pabst was the third largest brewer in the country – in 2016, before construction began. Each of the two floors (plus the roof) has about two acres of nearly open space.
"There was a bunch of offices on one side for shipping and receiving, and then a whole pile of route trucks in here, too. It's amazing the scale of this place."
Conveyor belts used to run over 9th Street carrying packaged beer from Building 29 – currently being renovated into student housing – to this distribution center.
"Cased beer would come over on conveyors and upstairs it would get palletized upstairs and then sent right out on trucks," says McCabe. "There's a bunch of loading docks. This basement was for all the local route trucks, so there's all these big trench drains you could see in here."
You can still see the openings where the conveyors entered the building, and you can see traces of where they ran along the wall on the main floor.
"They used to bring all the side loader bay trucks in here from the local distributor, actually, which you can't do anymore," McCabe adds. "This would, at night, be filled with all these bay trucks, and there's a huge elevator that was ripped out in that corner that they'd bring the beer down and send it out to the city."
The building was such a hive of activity that 9th Street would be closed nightly to non-brewery traffic as the trucks moved in empty and drove off full.
Both floors had mezzanines that have been removed and there were two elevators, including a giant freight lift, that are also gone.
In the early part of the 20th century (see map below), Pabst owned pretty much the entire block and used it for beer case storage and the like.
In the late 19th century (see map at right), a half-dozen homes lined this section of 9th Street and William Gerlach's malt house operated behind them, along 8th Street, supplying a key ingredient for beer production.
"It's just amazing it's a two story structure of this magnitude sitting in Downtown Milwaukee," says McCabe, "because we've been looking for a good building forever. The developer's plan was to tear this thing down. They couldn't figure out what to do with it."
Well McCabe's got a plan. Downstairs, self-storage. But upstairs?
After repairs are made to the roof drains to stop water getting in, work will begin in earnest on converting the space (see photo below) into MKE Brewing Co.'s brewery, packaging, warehouse and distribution facilities.
There will also be some space that will sit fallow initially.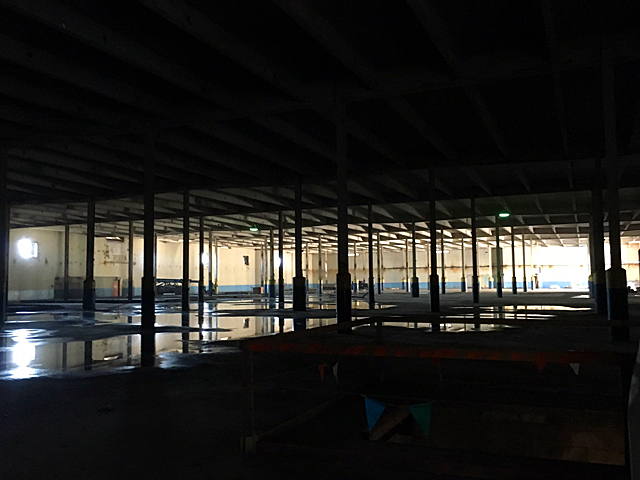 "We'll have room to grow," says McCabe, "we're not getting stuck again. This is the last brewery I'm building. There's about 25,000 square feet that's for the future. We'll probably just rent it for storage for now."
But most exciting for you and me?
"These five garage doors on this 9th Street side are going to be the access and patio entrance to the tasting room. We're standing where we'll be having a beer in a year. The brewery is right behind the tasting room. You'll be able see the brew house."
Rinka Chung Architecture is collaborating on the project.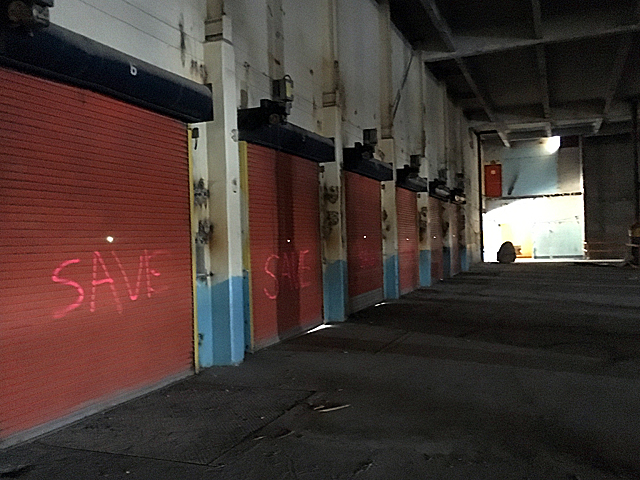 There will be a patio out on 9th Street, offering views of the gorgeous cream city brick Building 29 across the street, of Best Place and the old Jefferson School, as well as the iconic Pabst sign that lords over Juneau Avenue.
But, the patio with the best view will be another story up. On the two-acre roof, that affords views not only of the Pabst neighborhood, but also a fine panorama of the city, including the Downtown skyline. It's also a great place to get a close-up look at the progress on construction of the new Bucks arena complex across the street.
"We've got different layouts for the tasting room," says McCabe. "The tasting room, I think, is 4,500 to 5,000 square feet. We'll have that sorted out soon."
Work on the basics – including utilities, which had been disconnected – was set to begin imminently, according to McCabe, when I visited in summer 2016.
"Our plan is to have all of this nailed down and ready to go by Thanksgiving to be able to start tearing into this," he says. "We're making equipment decisions that we've been working on for a while, but we're making some of those commitments in the next month so that the equipment's ready to go by the time we get the space ready."
A January 2018 blog update, the major demolition work was complete and a number of floors and walls were complete. Additionally, "Skylight canopy bracing is completed and ready for glass installation the second week of January. The skylight canopy is low enough to allow views of Downtown from the west bar area. The temporary wood roof over the skylight's opening will be removed when the skylight is completed to let natural light into the workspace and future event space. The rooftop bar canopy was installed just before the New Year and will be a great location for locals to dine and relax in warmer months.
"Twenty-foot windows, spanning the floor to ceiling in the offices and brewery are completed, offering view of downtown and the adjacent historic Pabst brewery neighborhood. The west build-out and entrance has been framed and windows are being fabricated to complete the extensive exterior window package. The building will be fully enclosed by the end of January and crews will focus on restaurant and brewery."
The brewery is installing its brew house this week.
The brewery is expected to open by summer 2018.
With Best Place, Jackson's Blue Ribbon Pub and the Pabst microbrewery, The Brewery complex is primed to become a major nightlife destination rooted in Milwaukee's brewing tradition. McCabe's MKE Brewing Co. will be a key part of that re-foaming of the neighborhood.
Born in Brooklyn, N.Y., where he lived until he was 17, Bobby received his BA-Mass Communications from UWM in 1989 and has lived in Walker's Point, Bay View, Enderis Park, South Milwaukee and on the East Side.
He has published three non-fiction books in Italy – including one about an event in Milwaukee history, which was published in the U.S. in autumn 2010. Four more books, all about Milwaukee, have been published by The History Press.
With his most recent band, The Yell Leaders, Bobby released four LPs and had a songs featured in episodes of TV's "Party of Five" and "Dawson's Creek," and films in Japan, South America and the U.S. The Yell Leaders were named the best unsigned band in their region by VH-1 as part of its Rock Across America 1998 Tour. Most recently, the band contributed tracks to a UK vinyl/CD tribute to the Redskins and collaborated on a track with Italian novelist Enrico Remmert.
He's produced three installments of the "OMCD" series of local music compilations for OnMilwaukee.com and in 2007 produced a CD of Italian music and poetry.
In 2005, he was awarded the City of Asti's (Italy) Journalism Prize for his work focusing on that area. He has also won awards from the Milwaukee Press Club.
He can be heard weekly on 88Nine Radio Milwaukee talking about his "Urban Spelunking" series of stories.