Laurent Marin learned the art of tattooing by practicing on his own skin while growing up in Grenoble, France.
"This is not how I'd recommend to learn how to tattoo. An apprenticeship would be better, but not a lot of people had tattoos where I grew up. My dad had a couple, but mostly, the people with tattoos were the bad-ass people. Maybe I identified with them," says Marin.
Originally, Marin – who loved to draw since he was a child – tried to find someone to show him how to tattoo ("tatouage" in French), but when he couldn't find a mentor, he decided to teach himself. At first, he made his own tattoo machine but later bought one advertised in a magazine.
"One night I was in my bedroom tattooing myself and my brother walked in and asked what the hell I was doing. I told him I had no idea what the hell I was doing and told him to leave. But he stayed and watched the whole thing and when I was done – it was a Japanese mask on my leg – he said, 'Wow, that's pretty good. Can you do one on me?" says Marin.
Thus began what is now Marin's 15-year international tattooing career.
Marin opened a tattoo shop in Grenoble which he ran with a friend for a few years. However, during a visit to the United States, Marin met and fell in love with a woman. He returned to France, had a long-distance relationship, but eventually decided to get married.
Shortly after their wedding, the couple moved to Japan. However, Marin had visa difficulties and difficulties finding work in the country.
"Japanese tattoos are my favorite and I always wanted to go there, but it turns out the Japanese don't really like tattoos or foreigners," says Marin.
The couple returned to France and Marin went back to work at his tattoo shop – which was simply called "Tattoo" – until his wife became homesick. Marin agreed to move to the United States with her, closed up his France-based shop and came to Milwaukee in 2006. Marin and his wife later separated and divorced.
Marin found a job at a now-defunct tattoo shop but his work caught the attention of Adam Werther, owner of Adambomb, 2028 N. Martin Luther King Dr., and his employee at the time, Lane Turowski.
"They had seen some tattoos I did on customers of theirs and offered me a job," says Marin. "I worked at Adambomb for six or seven years. I learned a lot about art during that time."
Eventually, Turowski and Marin decided to open their own shop and, in January 2014, introduced Old Salt Tattooers, 2223 S. Kinnickinnic Ave. Marin – whose name means "sailor" in French – found the name in a naval dictionary and liked it for its old school tattoo connotation.
Old Salt does not have a prominent storefront sign nor are there sample tattoos – called "flash" – on the walls.
"This way, we don't get random people popping in, asking for stupid stuff," says Marin. "The people who come here are great. I love my clients – they are the best I've ever had. They know what they want, do their research, find us and then come in."
Marin and Turowski charge $120 an hour but will negotiate the price –especially with clients who want tattoos that require many hours of work. For such tattoos, Marin likes to work in spaced-out, three-hour increments but has tattooed for eight hours in a row.
About 98 percent of Old Salt tattoos are original drawings done by Marin, Turowski or an occasional guest artist. Although Marin does not specialize in one kind of tattoo style, he does a lot of cover-ups.
"It's challenging work, I like it," says Marin.
Most people come in for a cover-up because they got a tattoo when they were young and their tastes changed, they didn't think it through or the artist wasn't very good. Although Marin has covered up "name" tattoos before after a couple broke up, he doesn't necessarily warn against getting them.
"Yesterday I saw a sign that said 'tattoos last longer than romance' so it's good to be careful when getting a name tattoo, but life is about making mistakes and learning. If that's what you need to do to be a better person then why not," says Marin. "And if you need a cover up, come visit me."
Marin, who lives on the East Side, has no plans to return to France at this point and says he feels at home in Milwaukee.
"I like it here. I like the city, I like the people. Maybe one day I will get sick of the winter and move somewhere else, but at this point I plan to stay here as long as I can," he says.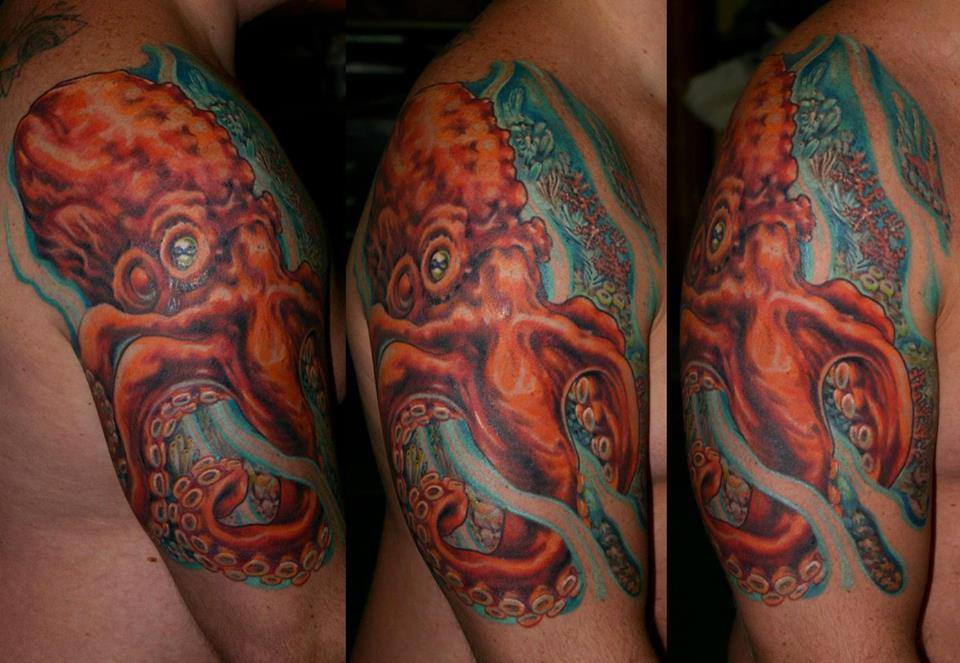 Molly Snyder started writing and publishing her work at the age 10, when her community newspaper printed her poem, "The Unicorn." Since then, she's expanded beyond the subject of mythical creatures and written in many different mediums but, nearest and dearest to her heart, thousands of articles for OnMilwaukee.

Molly is a regular contributor to FOX6 News and numerous radio stations as well as the co-host of "Dandelions: A Podcast For Women." She's received five Milwaukee Press Club Awards, served as the Pfister Narrator and is the Wisconsin State Fair's Celebrity Cream Puff Eating Champion of 2019.