Getting that long-abhorred tattoo removed of your college boyfriend's name or the Chinese characters that actually mean "flute wizard" is about to get easier than ever for Milwaukeeans.
On Tuesday, Nov. 27, Vamoose Tattoo Removal will open in, get this, the former Old Salt Tattoo space, 2223 S. Kinnickinnic Ave. (Old Salt, by the way, continues to thrive in its new location, 2665 S. Howell Ave.)
Co-owner Dr. Howard Bennett opened the original Vamoose Tattoo Removal in Chicago in 2013. He later opened two more locations – a second in Chicago and one in Gurnee Mills. This will be Milwaukee's first tattoo removal service of its kind. Historically, ink removal has been a side-service offered discreetly by plastic surgeons or dermatologists.
Bennett worked as an anesthesiologist for 27 years, but after getting married and having children wanted a profession with family-friendlier hours.
To remove tattoos, licensed physicians use high-tech lasers. Recently, Vamoose upgraded from nanosecond lasers to picosecond lasers, the fastest lasers currently available.
"The faster the lasers are, the faster the tattoo can be removed," says Bennett. "Ours are ridiculously fast."
There are many variables that factor into how much time and money it takes to remove a tattoo. Where the tattoo is located, what colors are in it and whether or not there is any scarring on the skin dictate the removal process.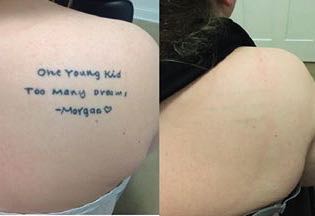 Black ink, according to Bennett, is the easiest to remove, whereas yellow is the most challenging. And tattoos located on parts of the body with the most blood flow like the shoulder and face will take less time than areas with less blood flow such as the foot.
People interested in removal should make an appointment for a free consultation to have the specifics for their particular tattoo evaluated and to receive a quote. As an introductory offer, Vamoose will offer the second treatment for free to anyone who commits to the procedure.
Bennett offers a guesstimate for a "credit-card sized tattoo." It takes approximately four to eight sessions to remove a tattoo of that size. Each laser session lasts about five minutes, costs $150 and must be spaced out six weeks apart.
So how does it work? According to Bennett, there are actually three lasers that focus on different colors which pass through the skin and shatters the pigment into microscopic particles that are then removed by the body's immune system.
Prior to the treatment, Bennett offers a topical anesthesia to numb the area. Whether or not it is painful to have a tattoo removed depends on its size and location as well as an individual's pain threshold.
"Everyone who has gotten a tattoo has already experienced some discomfort, and most people say getting it removed hurts about the same, maybe a little less," says Bennett.
People who know they are going to get a "cover up" tattoo over the old one sometimes opt for just a few treatments to lighten the tattoo before it's camouflaged by the new one.
The most commonly removed tattoos, according to Bennett, are the names of an ex, "wedding rings," hate symbols, gang symbols, outdated imagery like tribal designs and lower-back tats. "People sometimes get tattoos removed for jobs or the military," says Bennett. "We don't ask. We're completely non-judgmental."
Although Bennett does not have any tattoos himself – or at least he doesn't have any yet, he says – he respects the tattoo community and enjoys working within it. He regularly attends tattoo conventions and hosts annual fine art shows by tattoo artists.
Bennett believes that tattoo removal is a part of the tattoo community, not the antithesis.
"We've discovered an entirely new market," says Bennett. "And everyone is welcome."
To schedule a free consultation, go here.

Molly Snyder started writing and publishing her work at the age 10, when her community newspaper printed her poem, "The Unicorn." Since then, she's expanded beyond the subject of mythical creatures and written in many different mediums but, nearest and dearest to her heart, thousands of articles for OnMilwaukee.

Molly is a regular contributor to FOX6 News and numerous radio stations as well as the co-host of "Dandelions: A Podcast For Women." She's received five Milwaukee Press Club Awards, served as the Pfister Narrator and is the Wisconsin State Fair's Celebrity Cream Puff Eating Champion of 2019.