"Bar Month" at OnMilwaukee is back! For the entire month of March, we're serving up fun articles on bars, clubs and beverages – including guides, the latest trends, bar reviews, the results of our Best of Bars poll and more. Follow along with the #DrinkOnMke hashtag too. Grab a designated driver and dive in!
In this series, we'll be hiking the burger trail to find the latest, greatest and most delicious burgers in Milwaukee. Click here for an explanation of the criteria used to rate each burger. Where have we been? Check out the complete catalog of burger reviews here. And, if you enjoyed the addition of veggie burgers to the mix, you can look forward to more of those. I'll be adding at least one veggie burger review to the mix every month.
Club Charlies
320 E. Menomonee St.
(414) 763-8548
clubcharlies.com
As bars go, Club Charlies errs on the classy side with its vibrant red-hued walls, playful brightly colored art and bits of wisdom (in the form of quotes) strategically painted here and yon. Among them is the quip: "If you resolve to give up smoking, drinking and sex, you don't actually live longer, it just seems longer."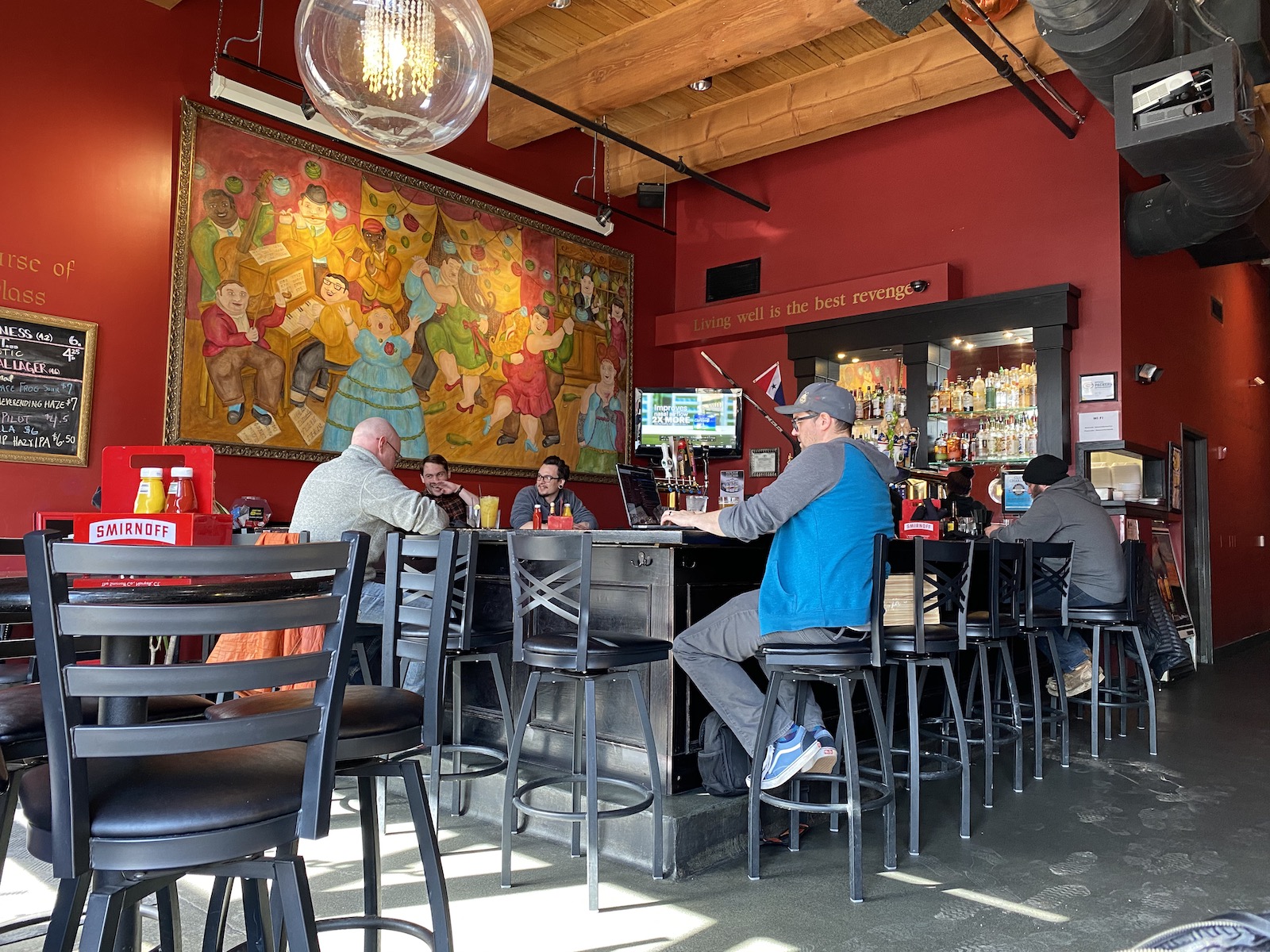 The bar attracts an eclectic crowd – including artists from nearby theaters, Third Ward residents and usually characters of all ages – making it an interesting spot to socialize, grab a beer or sit down for a casual meal.
On the menu, you'll find a host of burgers including six stuffed options ($12-14), the Charlie Burger featuring a half-pound beef and pork sausage patty ($12) and The Grumpy with blue cheese, grilled onions and horsey sauce ($13).
I opted for the Big Ebs, a half-pound burger stuffed with cheddar and onions and topped with cheddar, lettuce, tomato, pickles and 1,000 Island dressing ($12).
Presentation: 9
From the get-go, the Big Ebs begged to be eaten. Piled high with pickles onions, tomato and lettuce and dripping with Thousand Island dressing. It was messy, but alluring. It's as if it was calling: "Don't you want to get messy with me?" And yes, yes I did.
Bread/bun: 8
The sesame-seed-studded brioche bun was sweet and soft. It was well sized for the burger, providing a good bread-to-meat ratio. Its one downfall was that, although it appeared to be buttered, it wasn't evenly toasted across the width of the cut side. The edges were lightly browned, but the inner portion of the bun was exposed on both sides, leaving it to soak up the burger's greasy juices without the added strength and fortitude that toasting provides.
Burger: 10
The burger itself was a stuffed masterpiece. It was hand-pattied, giving it a slightly irregular shape and a nice loose pack that kept it juicy, even though it was cooked through. The exterior was beautifully caramelized and the meat itself was perfectly greasy and nicely seasoned.
It was also expertly filled -- nearly edge to edge -- with a combination of creamy melted cheese and just-cooked onions that still maintained a modicum of texture.
Stuffed burgers go one of two ways: they're either amazing or "just meh." This one wasn't disappointing in any way shape or form.
Toppings: 10
This burger was topped with ordinary items; but everything seemed to shine. The lettuce was fresh and ultra crisp, providing a fresh vibe and plenty of texture. The tomato, though not exceptional, was moderately tasty. So was the onion, which was sweet, crisp and applied moderately enough that it wasn't overpowering (though I did not escape the inevitable "onion breath" to follow). Meanwhile, the cheese was beautifully melted over the top of the burger, only adding to the patty's rich stuffing.
There a great tang from the Thousand Island dressing that gave the burger an ultra classic flavor. Meanwhile the pickles -- which were applied with a fairly heavy hand -- made everything pop. They helped to balance the richness of the meat and cheese, countering the umami with a little brightness magic, while lifting up the flavors overall.
Value: 8
At $12 for a half-pound stuffed burger, the Big Ebs isn't a slacker. It's juicy and delicious, offering what can only be described as a satisfying burger experience. And that's worth it to me every single time.
Total: 45/50
The Big Ebs is delicious, messy and classic in its flavor. It's also a good example of what a stuffed burger can be.
Club Charlies is open Monday through Saturday from 11 a.m. to 2 a.m. and Sunday from 10 a.m. to 2 a.m.
Lori Fredrich (Lo) is an eater, writer, wonderer, bon vivante, traveler, cook, gardener and girlwonder. Born and raised in the Milwaukee area, she has tried to leave many times, but seems to be drawn to this quirky city that smells of beer and alewives.
Some might say that she is a little obsessed with food. Lo would say she is A LOT obsessed with food. After all, she has been cooking, eating and enjoying food for decades and has no plans to retire anytime soon.
Lo's recipes and writing have been featured in a variety of publications including GO: Airtran Inflight Magazine, Cheese Connoisseur, Cooking Light, Edible Milwaukee, Milwaukee Magazine and the Milwaukee Journal Sentinel, as well as on the blog Go Bold with Butter, the web site Wisconsin Cheese Talk, and in the quarterly online magazine Grate. Pair. Share.