In this series, we'll be hiking the burger trail to find the latest, greatest and most delicious burgers in Milwaukee. Click here for an explanation of the criteria used to rate each burger. Where have we been? Check out the complete catalog of burger reviews here.
Northpoint Custard
2272 N. Lincoln Memorial Dr.
(414) 727-4886
bartolottas.com/northpoint-custard
There's little better than spending a hot summer day lollygagging along the Lake Michigan shoreline. Whether you're beaching it up at Bradford or just watching the waves crash against the rocks at one of the nearby parks, spending warm days at the lake is a Milwaukee tradition.
Inevitably, you'll get hungry. And if you haven't packed yourself a nice picnic lunch or dinner (here's some great ideas for your next summer picnic), you're likely to need sustenance. And that's where Northpoint Custard comes in handy.
There's nothing fancy about this walk-up stand. But you'll find burgers, hot dogs, BLT's and even a fried chicken sandwich, if you're so inclined. And you can top it all off with a shake, sundae or custard in a cone.
But you can also eat that burger or custard at a picnic table, on a nearby grassy knoll, or even on the rocks along the shoreline, if you're a bit more young and impetuous. And that's pretty priceless. I also feel like – somehow – it even makes the food you're eating taste a little bit better.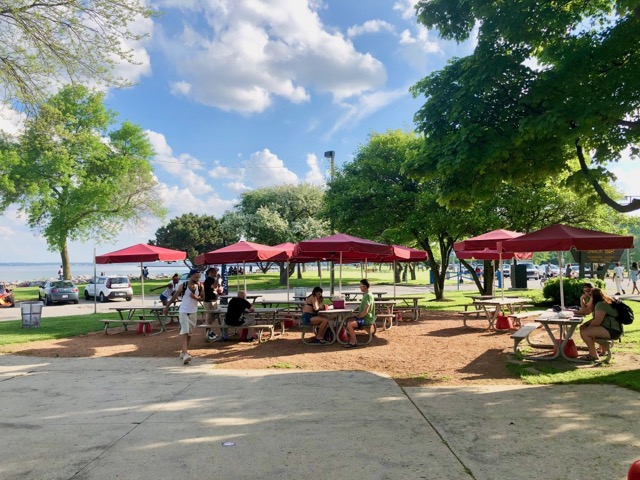 I took a trip last week to Northpoint, where I ordered The Burger, a quarter-pound char-grilled burger topped with ketchup, mustard, pickles and onions, lettuce and tomato on a toasted Sciortino's roll ($4.95 or $5.50 with choice of cheese; I ordered mine with fried onions and American cheese). Prefer to go meatless? Northpoint also serves Impossible Burgers ($8.95 or $9.50 with cheese). A big bag of fries (enough for two) will set you back an additional $3.50.
Presentation: 8
Let's call this burger what it is: fast food. Despite that – and that it comes wrapped in paper – it's an attractive burger that unpacks looking pretty fantastic. The bun is nicely toasted with that signature Sciortino's crust, the lettuce is beautifully frilly, the tomato a ruby red, and the cheese is nicely melted over the top of the burger.
Bread/bun: 6
Sciortino's makes a fine Italian roll. It's sturdy, with a nice crust on the exterior and a nice softness in the center. It was nicely toasted, offering a bit of crunch and a barrier against sogginess. However, it's also hefty; and in the end I found it to be too much bread for a single burger, even with a fair amount of toppings. My guess is that there would have been a better burger-to-bun ratio if I'd have ordered a double.
Burger: 5
Like most fast food patties, this burger is pretty basic. It's thin and pretty standardized in terms of shape. However, among its redeeming qualities, it had a nice charbroiled flavor (enough, really to obscure most of its beefiness), and it was well seasoned. In the end, it was about average for the genre.
Toppings: 7
The toppings exceeded my expectations overall. My American cheese was nicely melted and there was enough of it to offer the umami flavor that makes this cheese the star of many a great burger. Both the lettuce and tomato were ultra fresh with decent flavor and good texture. There was no lack of condiments (although I did feel mine was a bit heavy on the mustard). Unfortunately, mine came without onions. I'd ordered them (fried); but they didn't make it onto my bun. That was unfortunate, since I think they would have been a really nice addition.
Value: 7
Hey, it's a $5.50 burger that comes with a lovely lakefront view. There's very little to argue with here. And even though the french fries are a la carte, they're served in a generous quantity (and were pretty good).
Total: 33/50
If you're looking for a char-grilled burger and a great view of Lake Michigan, Northpoint isn't a bad bet at all. Be sure to add a bit of custard for the full experience.
Northpoint Custard is open seasonally. Hours are 11a.m. to 8 p.m., weather permitting.
Lori Fredrich (Lo) is an eater, writer, wonderer, bon vivante, traveler, cook, gardener and girlwonder. Born and raised in the Milwaukee area, she has tried to leave many times, but seems to be drawn to this quirky city that smells of beer and alewives.
Some might say that she is a little obsessed with food. Lo would say she is A LOT obsessed with food. After all, she has been cooking, eating and enjoying food for decades and has no plans to retire anytime soon.
Lo's recipes and writing have been featured in a variety of publications including GO: Airtran Inflight Magazine, Cheese Connoisseur, Cooking Light, Edible Milwaukee, Milwaukee Magazine and the Milwaukee Journal Sentinel, as well as on the blog Go Bold with Butter, the web site Wisconsin Cheese Talk, and in the quarterly online magazine Grate. Pair. Share.