Check in early and stay late during OnMilwaukee's "Hotel Week" sponsored by VISIT Milwaukee. The next seven days will be packed with stories about historic area hotels, reviews, history, food and drink, staycations and more. Find out what it's like to be a tourist in this town. (Chocolate on your pillow not included.)
Folks often turn to friends and acquaintances for advice when it comes to finding a great hotel, both here in Milwaukee and beyond. In that spirit, our editorial staffers share their favorite hometown hotels and great places to stay in cities all around the world.
Carolynn Buser
Content & Social Media Manager
After a recent stay at The Iron Horse Hotel it would be extremely hard for me to pick any other Milwaukee hotel that I've enjoyed more. Sexy, edgy and classy all at the same time is tough to beat – and the service was top notch from the valet gentlemen to check out. The small touches go a long way for me in a hotel and the Iron Horse has all of them covered. The dog friendly hotel even welcomes their canine guests with their own welcome board and water/food dishes – for real! The location is also in an area that I love and can only see it getting better in the future.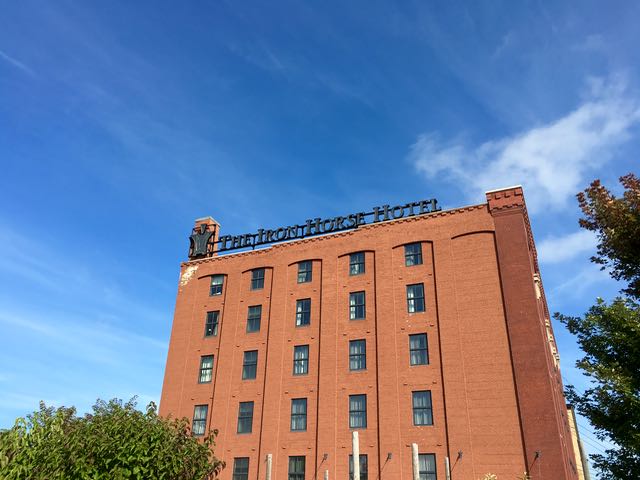 I've had some amazing stays at hotels such as The Kimpton in San Francisco, The Princeville in Kauai and The St. Regis in Aspen. But for me, The Drake in Chicago will always have a hold on my nostalgic heart. The Drake is a cultural hub, an institution, and you should definitely check it out. It is most certainly an absolutely beautiful land mark known for it's oppulence and beauty. The lobby itself is stunning and filled with brass, crystal and rich hard woods but the time to go see it is around the holiday season. Sure, there are no doubt better rooms to be had in Downtown Chicago but none will quite fill The Drake's shoes for me.
Jimmy Carlton
Staff writer
Despite being a native Milwaukeean, I've overnighted at a few local hotels over the years for reasons ranging from purposeful (my statewide soccer team stayed together at the Radisson North Shore for an area tournament to improve chemistry or something) to party-minded (staying across the street at The Ambassador is the most responsible way to experience The Rave – responsible being a relative term) to professional (OnMilwaukee put me up at the Hyatt Regency for this series). None of those is my favorite, though. That would be The Pfister, where I once mooched onto a night with an out-of-town friend visiting for work. I'm a sucker for Milwaukee history and, built in 1893 by the eponymous tannery-magnate family, The Pfister's got history. With its vast collection of Victorian art, classically luxurious rooms and general air of bygone grandeur, it feels like you're stepping back in time and staying during an era when Milwaukee was one of the country's foremost emerging cities. Plus, Blu's views make its cocktails worth their price.
Outside of Milwaukee, I'll go with a couple hotels in downtown Chicago that offer similar opportunities but with different amenities. The first is the Palmer House, a Hilton hotel located in the Loop. Just across Michigan Avenue from Millennium Park and the Art Institute and surrounded by theaters, the Palmer House offers an upscale experience at a modest price – at least by Chicago standards. But if the price isn't modest enough for you, I can also recommend the famous (or perhaps infamous at this point?) Congress Hotel, just a little further south on Michigan Avenue. Facing Grant Park, it gives you easy access to the Museum Campus and offers a nearby safe haven from Bears fans after the Packers win at Soldier Field. Like the opulent Pfister, the Congress was built in 1893 and claims rich history; unlike The Pfister, it hasn't been kept up at a five-star level of lavishness.
Lori Fredrich
Senior writer/food & dining
When it comes to hotels in Milwaukee, I'm notably ignorant. Despite a number of "staycations" I've taken in recent years, I've seldom settled in away in a hotel, choosing instead to stick to my comfortable bed at home. However, I've spent a good amount of time in hotel lobbies, conducting interviews and hanging out with local travelers. By default, I have a soft spot for The Pfister, where opulant decor and fireside seating in the main lobby and bar area always makes me feel as if I've traveled somewhere spectacular. I have particularly fond memories of interviewing Nigella Lawson there a while back, and I'm convinced the ambiance made the experience all the more enjoyable for both of us.
As for hotels outside of Milwaukee, I have a number of favorites. One is Hotel Andra in Seattle. It's location in the heart of downtown is a boon for travelers (like me) who want to explore the city on foot. It's a five-minute walk from a variety of destinations, including Pike Place Market and the tram to the Space Needle. It's also close to a host of eateries, including Palace Kitchen, where you must order the triple coconut pie, and Top Pot Donuts, where you can grab a coffee and some wi-fi, along with delicious fresh doughnuts. On top of everything, the hotel's staff goes above and beyond with their recommendations, including the best ways to get from one side of town to the other. The decor is modern (think: Scandinavian design), and the beds are extremely comfortable. Tom Douglas' Greek-inspired restaurant, Lola, is located just off the lobby. If you stop over for breakfast, which I'd recommend, try Tom's favorite breakfast, which always includes mouth-wateringly tender braised Mediterranean octopus, egg and toast, along with seasonal sides.
Molly Snyder
Senior writer
My favorite Milwaukee hotel is The Pfister – and not only because I served as The Pfister Narrator / writer-in-residence from 2013 to 2014. I am enamored by the opulence of the decor and the massive Victorian art collection as well as the history of the 1893-built hotel. When Guido Pfister envisioned The Pfister, he wanted to bring beauty to the masses – not just the rich – and to this day, his down-to-earth spirit remains a part of the culture. The hotel and the guests range from tuxedo-wearing to flip flop-sporting. I also really enjoy the Lobby Lounge, on the ground floor of the hotel. Especially when the gracious and talented Dr. Hollander is ticking the ivories.
My favorite hotel beyond Milwaukee is Hotel Monteleone in New Orleans. Located in the French Quarter for more than 125 years, it's the perfect blend of vintage decor and modern amenities. The rooms are spacious and feature large windows that reveal incredible views of the Mississippi River or iconic Royal Street. Best of all, The Carousel Bar is located on the ground floor of the hotel and features an French-style carousel from the 1940s that continuously rotates and can accommodate 25 people. There's something surreal about going for a slow spin on an ornate carousel inside a lounge while sipping a sazerac or mint julep.
Bobby Tanzilo
Managing editor
I always joke (though it's actually true) that I'm better at recommending Chicago hotels – I've stayed at quite a few – than hotels in Milwaukee, where I've spent the night in exactly one. So, from that standpoint, I'd have to say that the Potawatomi Hotel and Casino is my default favorite. However, from a historical perspective, I'd be hard pressed to pick a place more important, more landmark than The Pfister.
As for outside Milwaukee, I'm hedging with a three-way tie. The Peninsula Chicago is unlike any place I've ever stayed. Not only gorgeous and perfectly sited on North Michigan Avenue, The Peninsula has an incredible pool and service that goes above and beyond above and beyond. Just down the road a piece is The Langham, in Mies van der Rohe's landmark IBM building overlooking the Chicago River. What it lacks in lobby vibe is more than made up for in the incredible, incredible club lounge (pictured above). Finally, the Hotel Eclat in Beijing is in a mall, but don't let that stop you since these days most everything in Beijing is in a mall. A fabulous breakfast and daily cocktail hour are included in the price. The sleek, modern rooms have the best massage chairs I've ever experienced and an all-mod-cons bathroom with a heated and fully automated toilet seat/bidet.