You can find just about anything at the Wisconsin State Fair. Racing pigs. Deep-fried everything. Singing Elvis impersonators. Cute animal butts. A new hot tub to go with your new mop and garden hose. Rides upon rides. Music coming from every corner. Dogs and rabbits, both hurdling over obstacles like adorable four-legged Olympians. That deep-fried everything from before – but this time on a stick. And that's even before we get into the people-watching.
But there's one thing that can be tricky to find at the Fair: some calm and relaxation. We've listed a few of our favorite cozy Fair hideaways before, but here's another one to add to the list: the Miller Lite Sports Bar & Grill, a patio where you can find peace, as well as a party, all on one corner.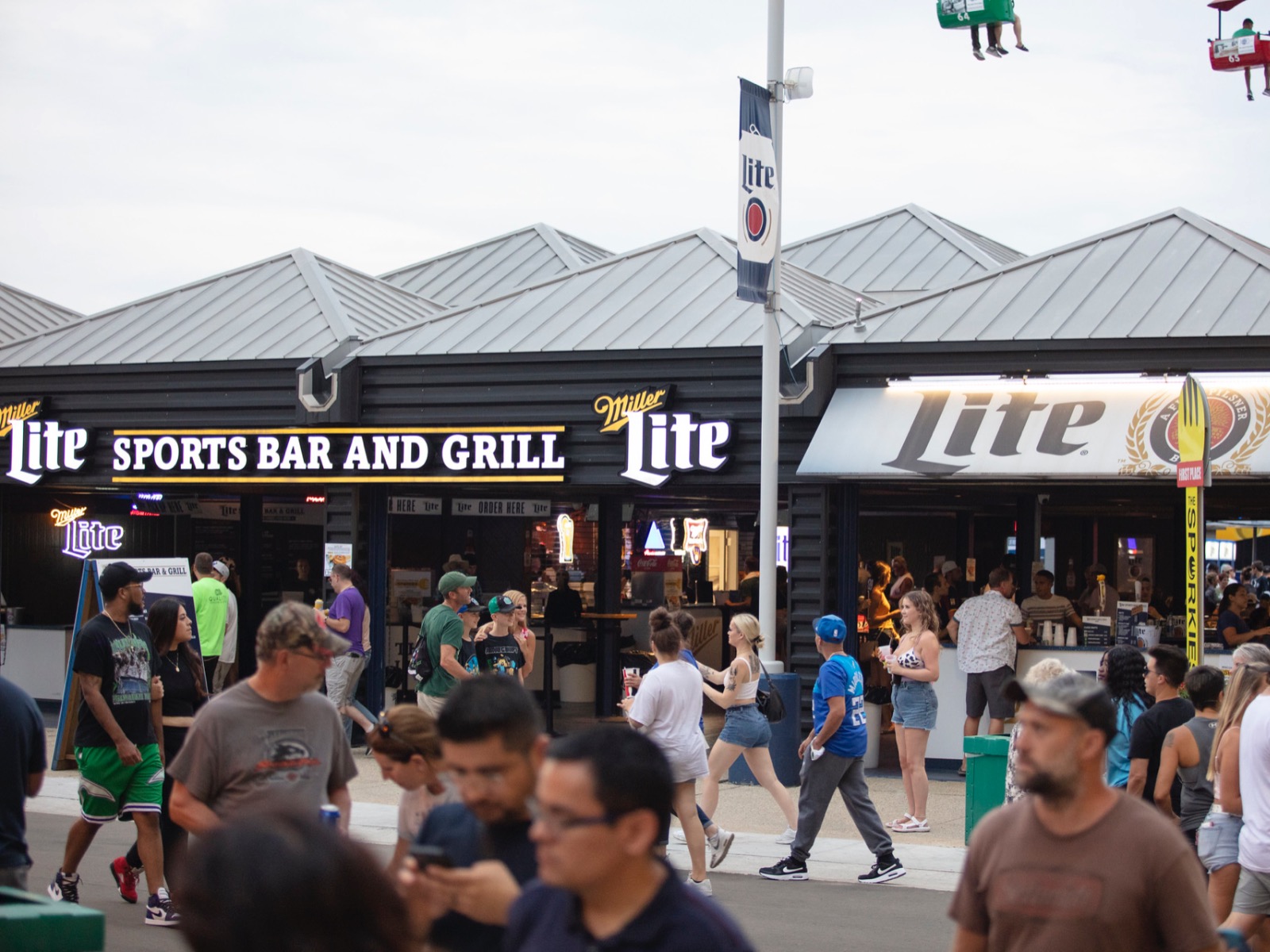 Despite being located on the corner of two fairly busy main drags – Grandstand Avenue and Second Street – the Miller Lite Sports Bar & Grill feels like its own universe away from hustle, bustle and sizzling sun as soon as you walk inside. Stepping under the dark blue roof, things seem to immediately settle down as you snag a beer from one of the spot's several taps and grab a spot to relax. There are plentiful tables both out in the open air or in the covered main area, plus a few standalone counters perfect for leaning.
Add in the surprisingly airy atmosphere – thanks to the spinning fans above and the breezes that circulate through the pavilion – and the bar makes for a wonderful spot to cool down and escape the sun and shouting just feet away.
If somehow you get bored of people-watching and playing State Fair bingo with the attendees milling around the corner, you can cast your eyes upward to the local sports décor inside each of the roof's fan alcoves. Just about each major sport in town gets a space – the Brewers, Bucks, Packers and even one for the Milwaukee Mile that looms right next door – with uniforms, iconic images, game-used baseballs, pennants and other memorabilia setting a pleasant sports bar atmosphere (complete with a few televisions with the day's big game on as well).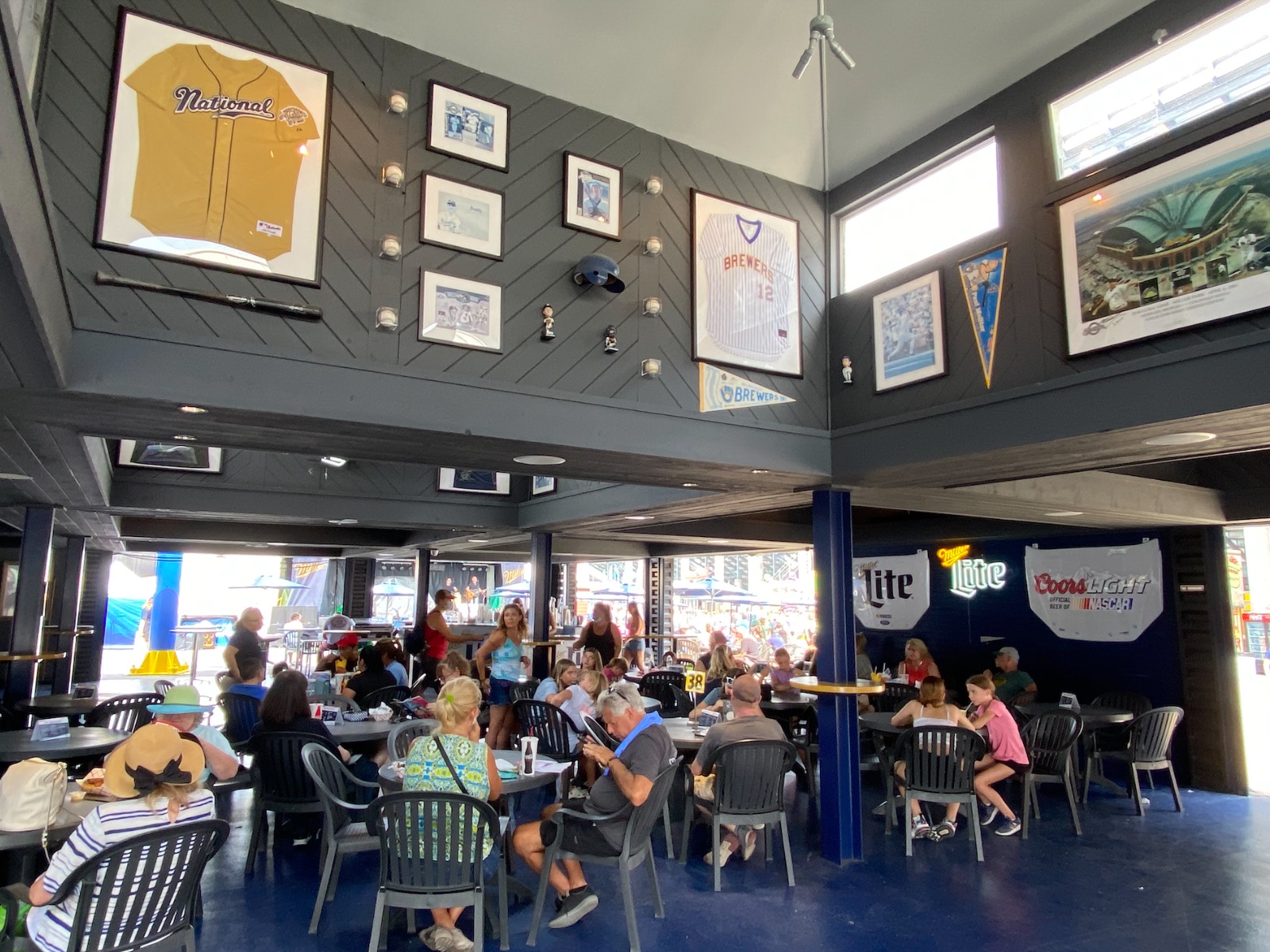 After hiking around in the heat, yelling your way down the Giant Slide and gobbling down some salty deep-fried creations, you'll probably require at least one drink, and what's better than a bar named after a beer? The drink menu comes loaded with favorites of all flavors, from – of course – Miller Lite and High Life to some of the brand's craftier options like Terrapin, Leinenkugel's and Blue Moon – all ready to be sipped in your shaded seat or pounded back on the patio.
Perhaps the most eye-catching menu elements at the Miller Lite Sports Bar & Grill, though, are the food options. The grill offers several bar-approved satisfying eats, from a Texas-style brisket sandwich to a classic burger to a broasted chicken entrée and two types of loaded taters, sweet and savory.
But you'd be shorting yourself on the complete State Fair experience if you didn't try out one of the patio's more inventive dishes, this year highlighted by the Sporkie first-place finisher: the Glazy Boy, smashing smoked pork loin, raspberry mustard, fontina cheese and jalapenos in between two whole grilled Grebe's doughnuts. (Grebe's also provides the uniquely sweet coating for the bar and grill's cruller-crusted chicken. Talk about making your dough stretch.)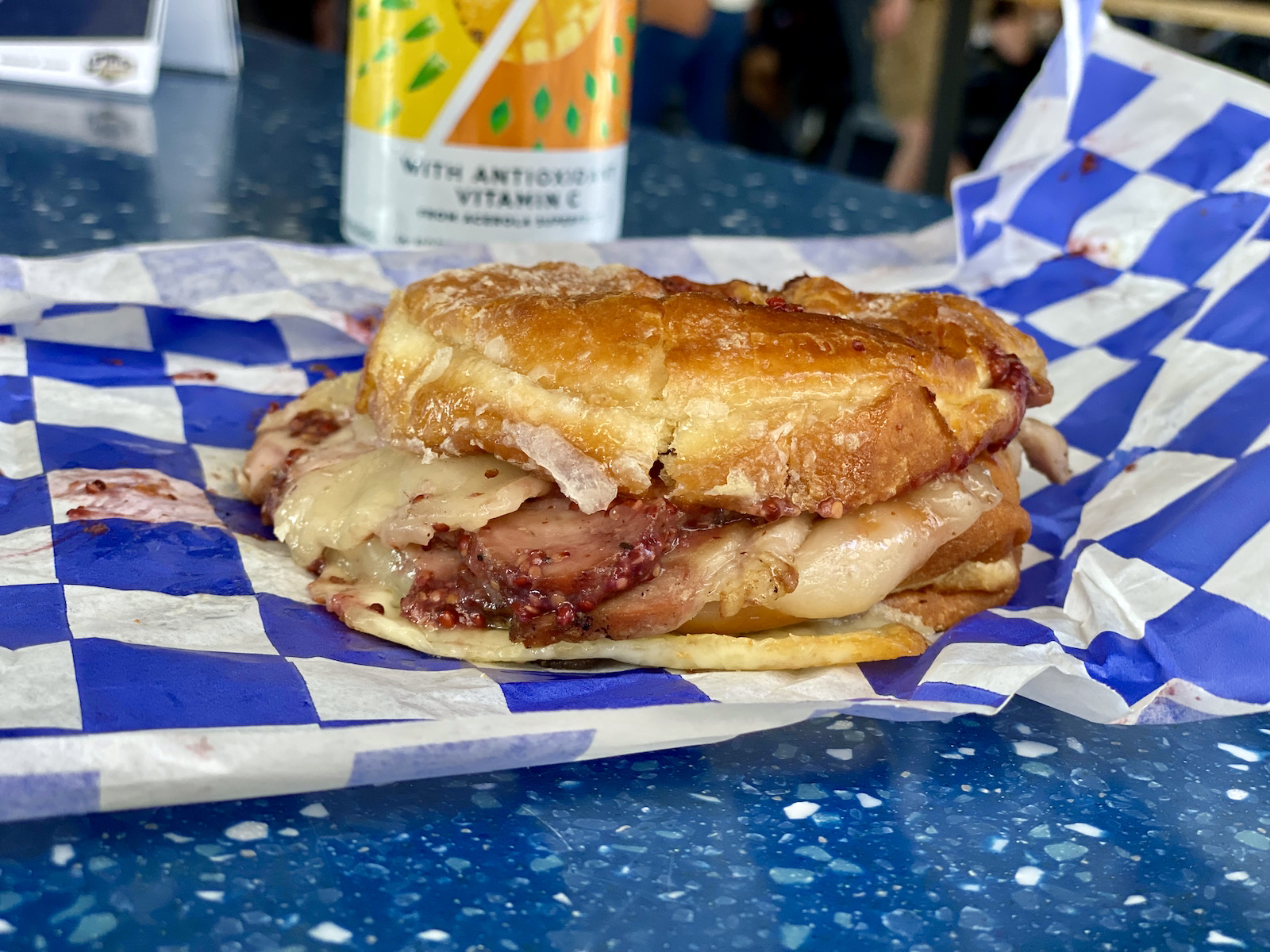 On paper, the Glazy Boy sound like an unholy Frankenstein of ingredients, afraid not of fire but of healthy arteries – and even when it arrives, it looks no less like a mess, pork, mustard and cheese gooping out the sides. (Pro-tip: The sandwich arrives in a paper pouch designing for eating upright, but lay the sandwich down horizontally to keep the stuffings from sliding out.)
But then you take a bite, and the Glazy Boy … turns out to be genius? Somehow these seemingly disparate ingredients come together into a pretty perfect bite in terms of flavor and texture – the spicy crunch of the jalapenos and acidic jolt of the raspberry mustard cutting through the chewy pork, fatty cheese and sweet cakey exterior. Even the glazed doughnuts prove their worth, the grilled glaze adding a satisfyingly tender bonus crispness to each chomp. Either somebody's a culinary mad genius in the back of the Miller Lite Sports Bar & Grill, or somebody got really lucky mixing these oddball fixings together – no matter the case, it's a worthy gold-medal winner.
You could work off that delicious demon by walking around the Fair grounds a little more – but why do that, when you can dance off your doughnut sandwich on the Miller Lite Sports Bar & Grill patio and stage area, featuring live music everyday and throughout the day. During my most recent afternoon visit, The Twintones helped set the perfect lazy afternoon light and chill vibes with their two-person harmony-rich arrangements. When the sun comes down and the stage lights come up, however, the relaxed midday atmosphere cranks up the volume, with other acts – such as local country favorites Bella Cain and Rebel Grace or its many high-quality cover/tribute acts – amping up the party on the patio and rocking the State Fair nights away.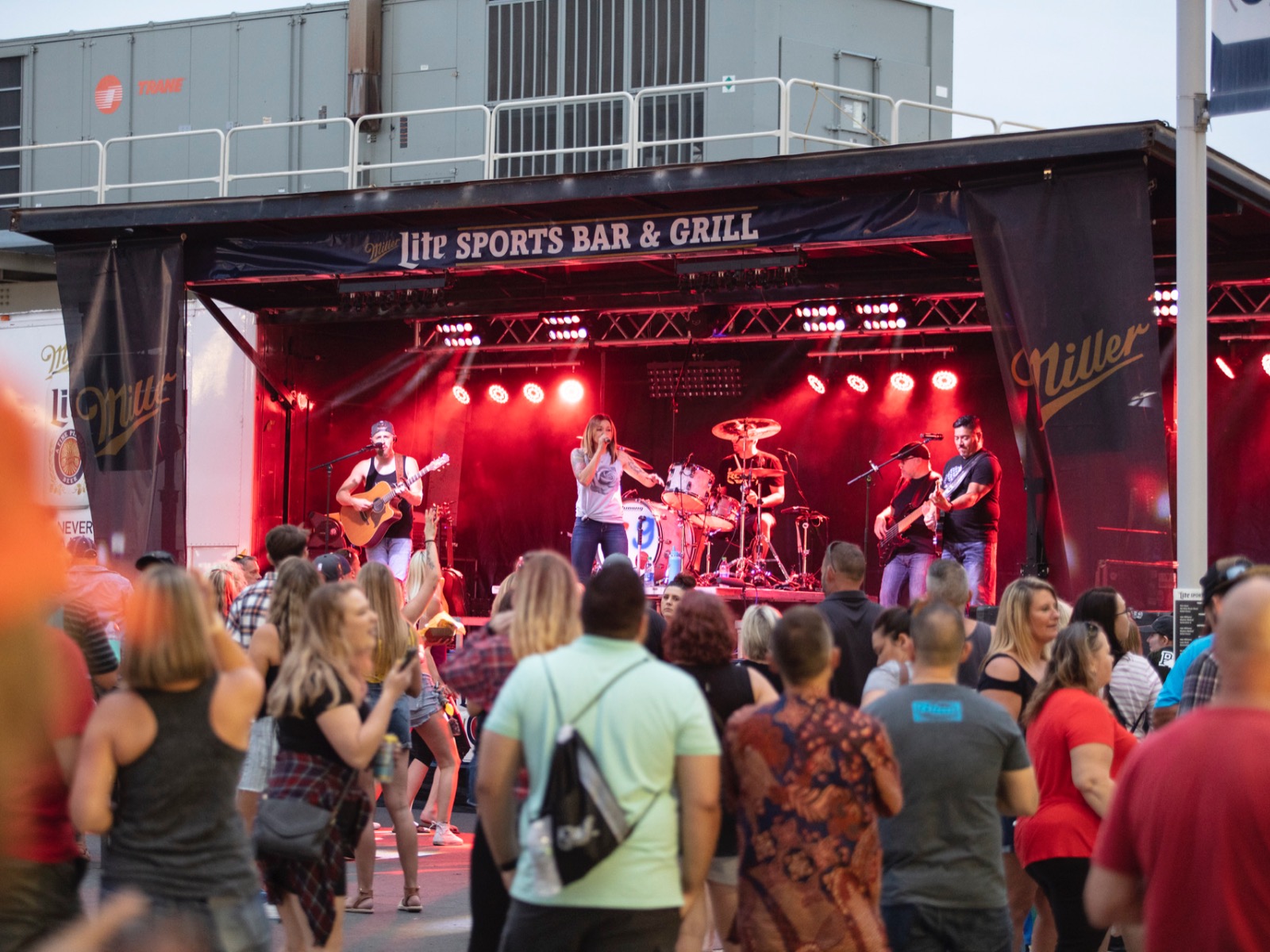 Add all of these elements together, and the Miller Lite Sports Bar & Grill is basically the entire Wisconsin State Fair experience – a little relaxed, a little riled up, a lot of beer and fatty food – all found at one cozy corner patio.
As much as it is a gigantic cliché to say that one has always had a passion for film, Matt Mueller has always had a passion for film. Whether it was bringing in the latest movie reviews for his first grade show-and-tell or writing film reviews for the St. Norbert College Times as a high school student, Matt is way too obsessed with movies for his own good.
When he's not writing about the latest blockbuster or talking much too glowingly about "Piranha 3D," Matt can probably be found watching literally any sport (minus cricket) or working at - get this - a local movie theater. Or watching a movie. Yeah, he's probably watching a movie.