Befitting a bar with a globe in its logo, the Nomad World Pub doesn't believe in borders.
The Nomad may technically call 1401 E. Brady St. home, but the Milwaukee bar scene staple constantly stretches far beyond that simple address. Even in its earliest days, as owner Mike Eitel tells it, the Nomad pressed against its limitations, becoming one of the first venues on Brady Street to introduce sidewalk seating to the strip, helping open up the bar while pushing out unsavory business at the intersection. Over the years, the bar's sprawled out even more dramatically – most memorably with fans pouring into the sidewalk, the street and the back patio over the years for its cheer-filled gatherings and watch parties for the World Cup, soccer finals, the Olympics and more, serving as a proto-Deer District tucked comfortably into the neighborhood.
But its most welcome push can be found out back with its gorgeous and relaxing outdoor patio.
First cleared out around 2016 and perfected over the years, the beer garden-like patio found behind Nomad is a bright, beautiful escape from the bustling main drag, with beaming colorful umbrella tables and seats spread around the space along with stools lined along its well-stocked outdoor bar. All the color, open air, remove from the commotion and breezy atmosphere bring a summery vibe to the outdoors space, ideally matching the energy of no matter what's happening within – a soothing beach-esque bungalow on calmer days, a festive jolt on game days or crowded nights.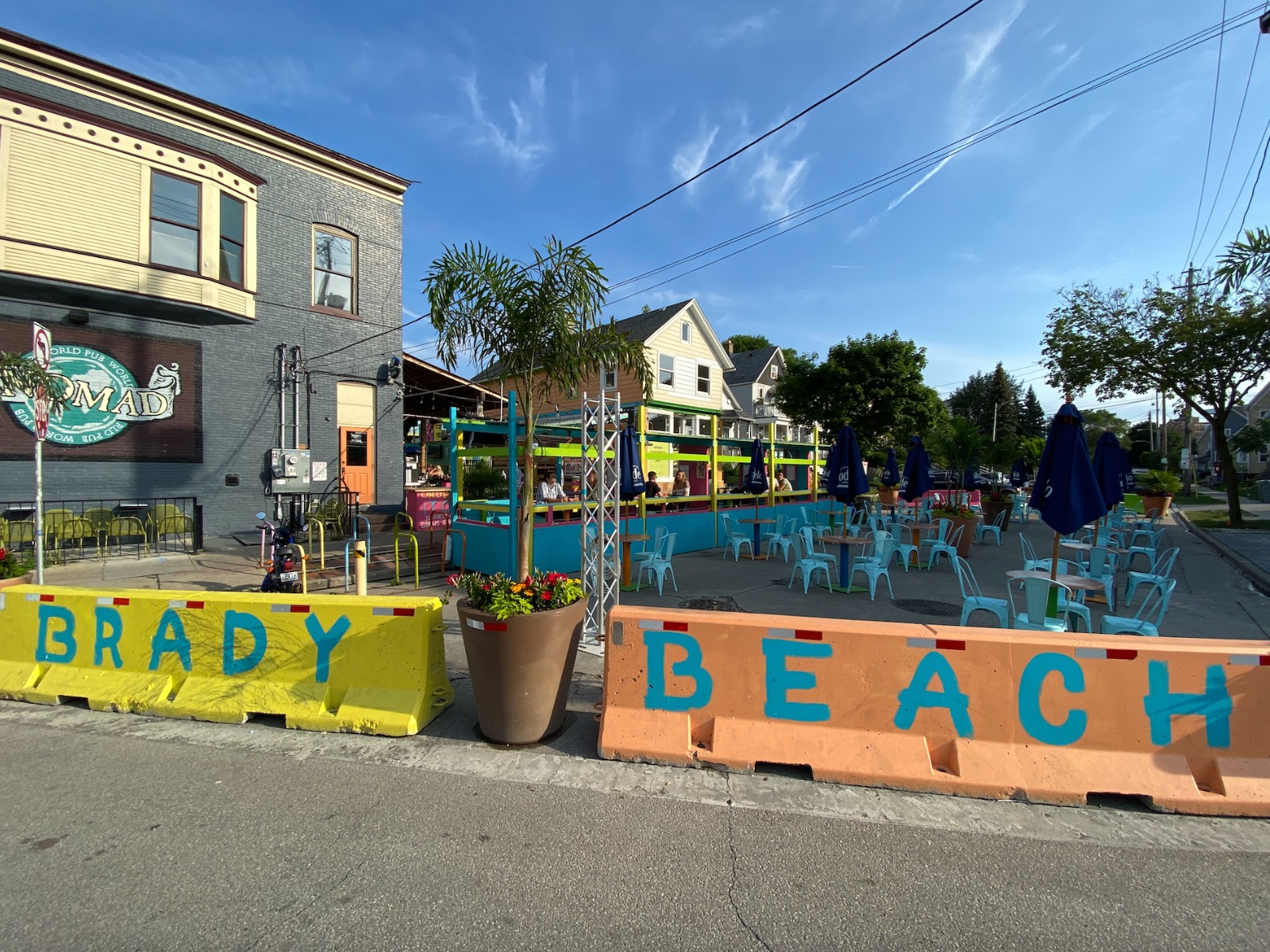 Those bright hues and even brighter vibes have leaked out onto North Warren Avenue, where Nomad has teamed up with Club Brady across the way to create "Brady Beach," spreading people out with colorful tables and a row of separated booths on a pavement paradise. In these (everybody say it together now) uncertain times, it's nice to have such a selection of options – inside, the patio space and the street beach.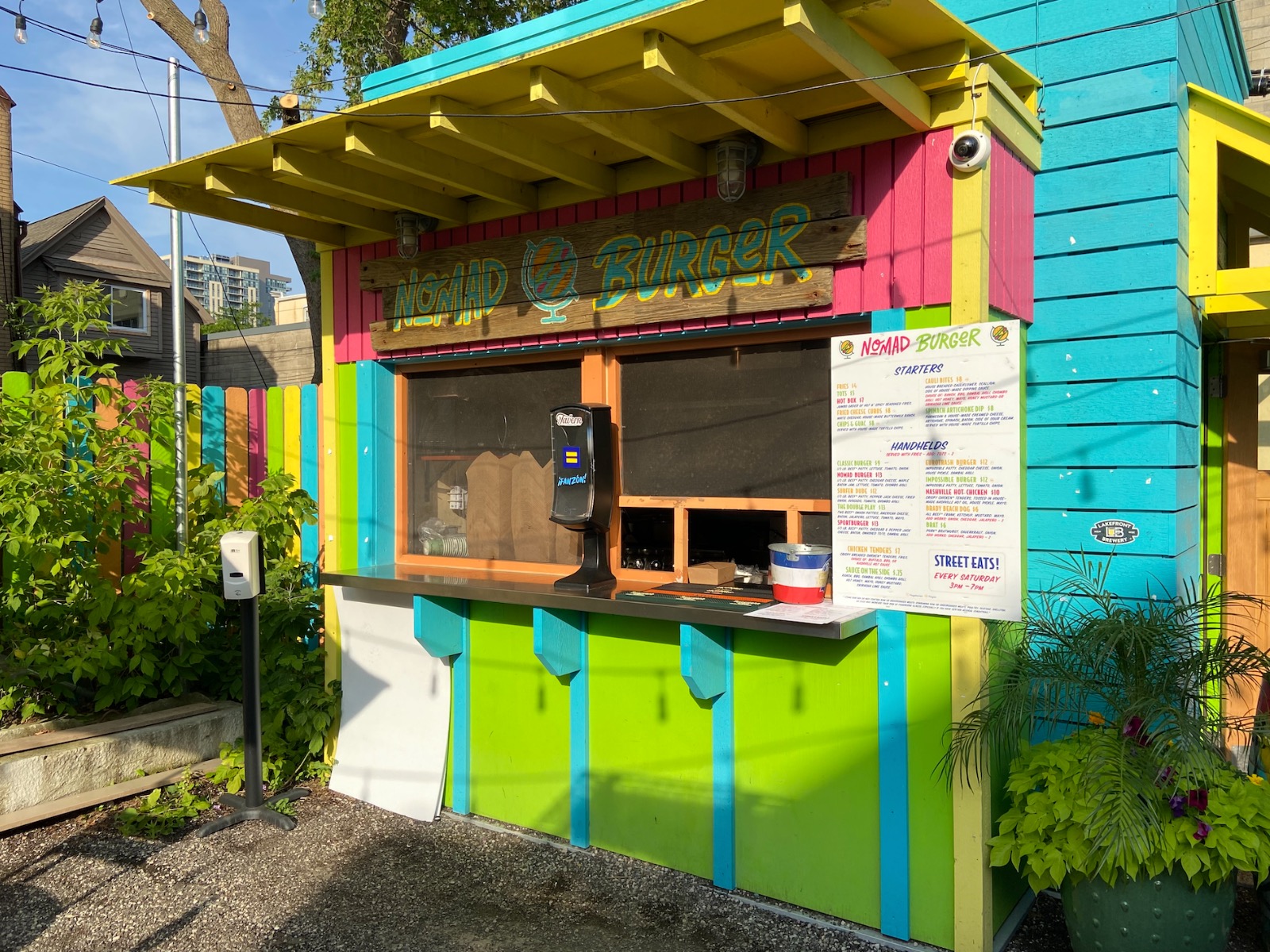 Along with its healthy supply of beer, seltzers and beyond – its beach-ready boozy slushes were a particular hit during my sunny visit – the Nomad patio added a tasty new option in recent years almost as eye-popping as the décor: Nomad Burger. First opening in 2018 as a pop-up during the World Cup, the tiny but tantalizing shack has graduated to a full-time regular at the end of the patio space, serving up assorted handheld bar eats – from a collection of burger options to sausages and a hot chicken sandwich – and other bar favorites. It's the ideal accompaniment for helping soak up the second half of a tight football match or merely soaking up a night out with friends.
Yes, change has been a regular at the Nomad World Pub – and will continue to, as the Brady Street bar will push its borders even further with a house in back soon becoming a coffee shop. But one thing hasn't changed at Nomad: the spirit of people gathering.
That's especially the case for big sporting events. When the world's eyes turn to sports, Milwaukee's eyes turn to the Nomad thanks to its global, all-colors feel. Vibrant, full-throated viewing parties have been a regular over the years; the World Cup, in particular, receives eye-catching treatment on Nomad's patio with crowds flowing onto the street, and the Euro finals earlier this month created quite the environment. ("It was awesome," said David, a bartender at Nomad during my recent visit. "A lot of yelling, a lot of screaming, a little bit of crying, a lot of happiness.")
Even just regular weekend mornings are electric (despite even the ungodliest of wakeup times) thanks to the bar and patio's love of soccer. According to David, Nomad used to be identified as a Tottenham bar but now it's further evolved into a welcoming space for everyone of all banners and teams, all cheering.
It doesn't need to be game day, however, to have a great day on the Nomad patio and to feel like you're at the cozy intersection of the world where borders don't exist.
During my most recent visit, I had a conversation with some out-of-state guys about college football and particularly the state of the SEC, followed by a hotly contested but thoughtful debate with a completely different stranger about the politics of the day. In the case of both conversations, we didn't agree on all points, but the Nomad patio sets up a stage too colorful and welcoming to host any bad vibes or halt the discussion.
All days are draws at the Nomad, but global events really are its calling card – perhaps because the bar and patio seem to invite the world. No wonder they're slowly yet surely taking it over.
As much as it is a gigantic cliché to say that one has always had a passion for film, Matt Mueller has always had a passion for film. Whether it was bringing in the latest movie reviews for his first grade show-and-tell or writing film reviews for the St. Norbert College Times as a high school student, Matt is way too obsessed with movies for his own good.
When he's not writing about the latest blockbuster or talking much too glowingly about "Piranha 3D," Matt can probably be found watching literally any sport (minus cricket) or working at - get this - a local movie theater. Or watching a movie. Yeah, he's probably watching a movie.