Check in early and stay late during OnMilwaukee's "Hotel Week" sponsored by VISIT Milwaukee. These seven days will be packed with stories about historic area hotels, reviews, history, food and drink, staycations and more. Find out what it's like to be a tourist in this town. (Chocolate on your pillow not included.)
For the many dozens of times I've visited the historic Pfister Hotel – for meetings, meals, weddings and drinks – until prepping for OnMilwaukee Hotel Week, I'd never spent an overnight at this Victorian masterpiece, much less even seen the inside of a room.
Cross that off my bucket list – and I didn't even have to meet a ghost to do it.
The Pfister, 424 E. Wisconsin Ave., is one of those rare Milwaukee hotels that holds two distinctions.
First, it's the place where celebrities, musicians and athletes stay when they're in town, and they all have forever. Second, it's a hotel that brings in non-guests for its many attractions, from Blu to the Lobby Bar to Mason Street Grill to its artists-in-residence and more. This is a place Milwaukeeans actually hang out – and mingle with the stars.
In other words, even at 123 years old – and it shows its age in both good and not-so-good ways – this world-class property is the envy of every hotel in Milwaukee. It's the Victorian gold standard to which everyone else can compare themselves.
And yet, with such a high bar for excellence set, it's not out of reach for savvy hotel shoppers. While you can spend a lot of money for a suite, you can also get into The Pfister – a AAA Four Diamond Award-winning property – for less than you might think.
The Pfister is certainly perceived to be the fanciest game in town, and with the largest Victorian art collection of any hotel in the world, it's not hard to see why. The king salon suites in the "historical" side of the property (in other words, not the 1960s tower) are stately and classic, to say the least. A sitting room/parlor opens up into a master bedroom with an open-concept granite bathroom and big Kohler hot tub. History oozes everywhere, from the wallpaper in the hallway to the artwork throughout.
The thing is, the rooms on the historic side feel kind of '90s, but I'm not sure if that's 1890s or 1990s. Of course, they have to feel 100 years old, because they are; but even though they're spotless and perfect, the detail level feels a touch dated, and not the way in which it's intended. Somehow – and I'm no architect – they could use a refresh that keeps their charm but brings them a little more up to date. I know, picky, right?
But the rooms are just one aspect of what makes The Pfister a Milwaukee gem. Starting from the bottom up, the adjoining Mason Street Grill is an excellent spot for lunch and dinner – during our stay, my wife ordered the swordfish, and I had the petit filet and Brussels sprouts – that's totally perfect at a reasonable price for Downtown Milwaukee.
Back inside The Pfister, you probably know about these amenities, because they're open to anyone: the lobby bar, the cafe, the artist in residence studio, the Well Spa – this is grand first floor that hearkens back to a grand time on the old Grand Avenue. Plus, it's where you'll do your celebrity sighting: you can read about my night with the '82 Brewers here, but on my visit this spring, I saw plenty of guests towering over 7 feet tall – definitely NBA players checking in.
If you've never been to a wedding or an event at The Pfister, you owe it yourself to stop off at the seventh floor. On a regular weekday night, it's empty. Just you and priceless paintings and sculptures. Spend some quality time walking around before you go all the way to the top – the 23rd floor – for Blu or the swimming pool.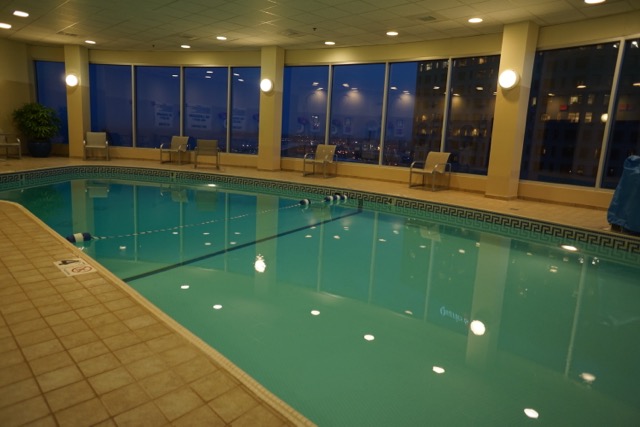 Both offer amazing views of the Milwaukee skyline, and Blu hasn't lost its swanky side in the several years it's operated as the city's most notable martini bar. With live music, a great happy hour and, of course, those free cashews, Blu feels as modern as the lobby feels classic.
I could go on, but I only spent one night at The Pfister. I didn't take afternoon tea, or grab a decadent breakfast at the cafe or Sunday brunch at The Rouge – at least not this time. But that's the thing: with its perfect Downtown location, you don't need to be an NBA superstar to take in this stuff, whether you're a guest or not. If you book through the hotel website, you might see prices floating around $200 per room this spring; but if you do your homework, you can spend way less. Or you can just come for the other stuff and enjoy it, too. It's all way too reasonable.
And finally, I was not visited by any ghosts – at least as far as I know. Legends say the old side of The Pfister, where I stayed, is haunted, and certain baseball teams won't stay there because of that. But unless my ghost was also sleeping soundly in a huge, comfortable king bed, I noticed nothing out of the ordinary.
Just a classic, gorgeous and sophisticated hotel mere blocks from my office. And one that I can't wait to visit again.
Andy is the founder and co-owner of OnMilwaukee.com. He returned to Milwaukee in 1996 after living on the East Coast for nine years, where he wrote for The Dallas Morning News Washington Bureau and worked in the White House Office of Communications. He was also Associate Editor of The GW Hatchet, his college newspaper at The George Washington University.
Before launching OnMilwaukee.com in 1998 at age 23, he worked in public relations for two Milwaukee firms, most of the time daydreaming about starting his own publication.
Hobbies include running when he finds the time, fixing the rust on his '75 MGB, mowing the lawn at his cottage in the Northwoods, and making an annual pilgrimage to Phoenix for Brewers Spring Training.