In honor of National Pie Day, from the OnMilwaukee archives, here's Molly Snyder's heartfelt argument for the power of pie.
Prior to writing this article, I searched the internet for a "national day" to justify posting this content. And, not surprisingly, I found one. Today is National Pie Day – a perfectly good reason to justify this post. (No way I was waiting until Nov. 27 for "National Pie In Your Face Day.") I'm just that stoked about pie – particularly eating pie in the summertime, something I personally didn't do very often until recently.
For me, pie was something I ate in the fall – apple – and around the holidays – pumpkin and pecan. Occasionally, I'd have a random slice of cherry pie if it was presented to me, but it wasn't something I sought out. However, over the years, my math-smitten son encouraged me to celebrate Pi Day/Pie Day on March 14 and consequently, I became aware of the pie options in my part of town. Enter Honeypie and, more recently, SmallPie.
I now need no math-nerd excuse to eat pie, and even prefer it over cake for celebratory occasions like birthdays. A friend told me she and her husband served wedding pie instead of wedding cake at their reception. Another friend went on a multi-state pie tour on her motorcycle.
This is what I am talking about: Pie is simply better than cake. And here are more reasons why:
1. Pie has a better story. If sourced, many pies were created from a family recipe like mom's apple pie or nana's pumpkin pie. (I'm yet to hear of a pie recipe from grandpa or Uncle Bill, but if you have one please let me know!)
2. Pie can't be made from a box. Anyone can make a Duncan Hines cake, but it's not as easy with pie. You don't necessarily have to bust out the rolling pin to make a pie, but you probably will, making pie more labor intensive and therefore providing the opportunity to fold in more love.
3. Pie doesn't need decorations or fanfare. Cakes are adorned with scripty messages, plastic pop culture figurines and sometimes even photographs, whereas pie is minimalist. You might get a lattice top if you're super lucky, but it's not necessary. Pie is unpretentious, and pie is perfect naked. Period.
4. Pie is a better vehicle for ice cream. If you're gonna top pie with something, it should be vanilla ice cream or frozen custard and when the pie is still warm. Cake can't even begin to rival this combo.
5. Pie has crust. Your mother was right, the crust is the best part. And cake does not (and should not EVER) have crust because that's just gross.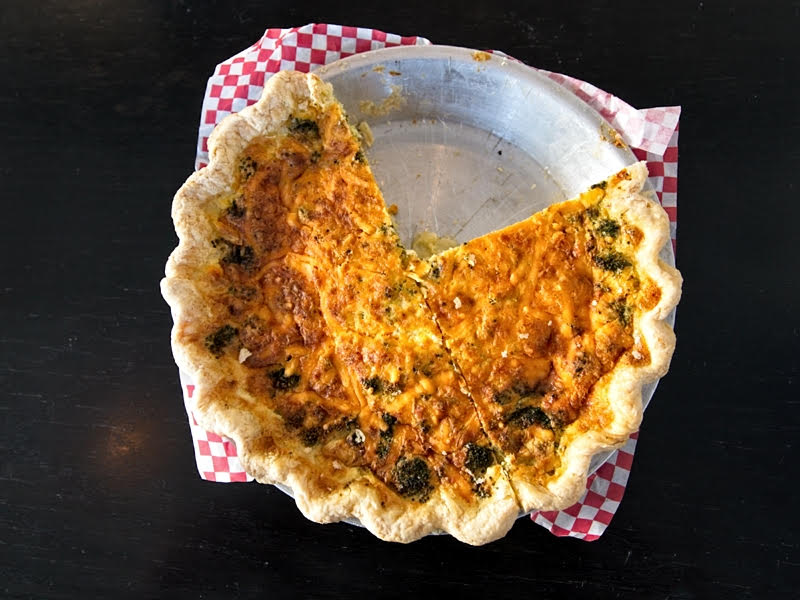 6. Pie is cooler and more romantic. Pie is associated with diner culture, forever revered and in-fashion. Coffee and pie provide the ideal closure to a late night a la an Edward Hopper painting and was the dessert of choice for the coolest of cool, Dale Cooper from "Twin Peaks" who once said "They've got a cherry pie that'll kill ya."
7. Pot pies / meat and veggie pies are delicious. Cake gets close with carrot cake, but will never pull off savory. And whereas pot pies are flaky and filling first courses, pot cake is nothing but illegal. Well, in Wisconsin anyway.
Love pie? Listen to this FoodCrush podcast featuring Valeri Lucks from Honeypie and SmallPie!
Molly Snyder grew up on Milwaukee's East Side and today, she lives in the Walker's Point neighborhood with her partner and two sons.
As a full time senior writer, editorial manager and self-described experience junkie, Molly has written thousands of articles about Milwaukee (and a few about New Orleans, Detroit, Indianapolis, Boston and various vacation spots in Wisconsin) that range in subject from where to get the best cup of coffee to an in-depth profile on the survivors of the iconic Norman apartment building that burned down in the '90s.
She also once got a colonic just to report on it, but that's enough on that.
Always told she had a "radio voice," Molly found herself as a regular contributor on FM102, 97WMYX and 1130WISN with her childhood radio favorite, Gene Mueller.
Molly's poetry, essays and articles appeared in many publications including USA Today, The Writer, The Sun Magazine and more. She has a collection of poetry, "Topless," and is slowly writing a memoir.
In 2009, Molly won a Milwaukee Press Club Award. She served as the Narrator / writer-in-residence at the Pfister Hotel from 2013-2014. She is also a story slam-winning storyteller who has performed with The Moth, Ex Fabula and Risk!
When she's not writing, interviewing or mom-ing, Molly teaches tarot card classes, gardens, sits in bars drinking Miller products and dreams of being in a punk band again.