Barely two months after buying the former Milwaukee Brewing Company's Brewery District facility, 1128 N. 9th St., Pilot Project swings open its doors to the public at 3 p.m. on Friday, Nov. 18.
The opening comes after a small media preview and a friends and family event last weekend, as well as a soft opening earlier this week.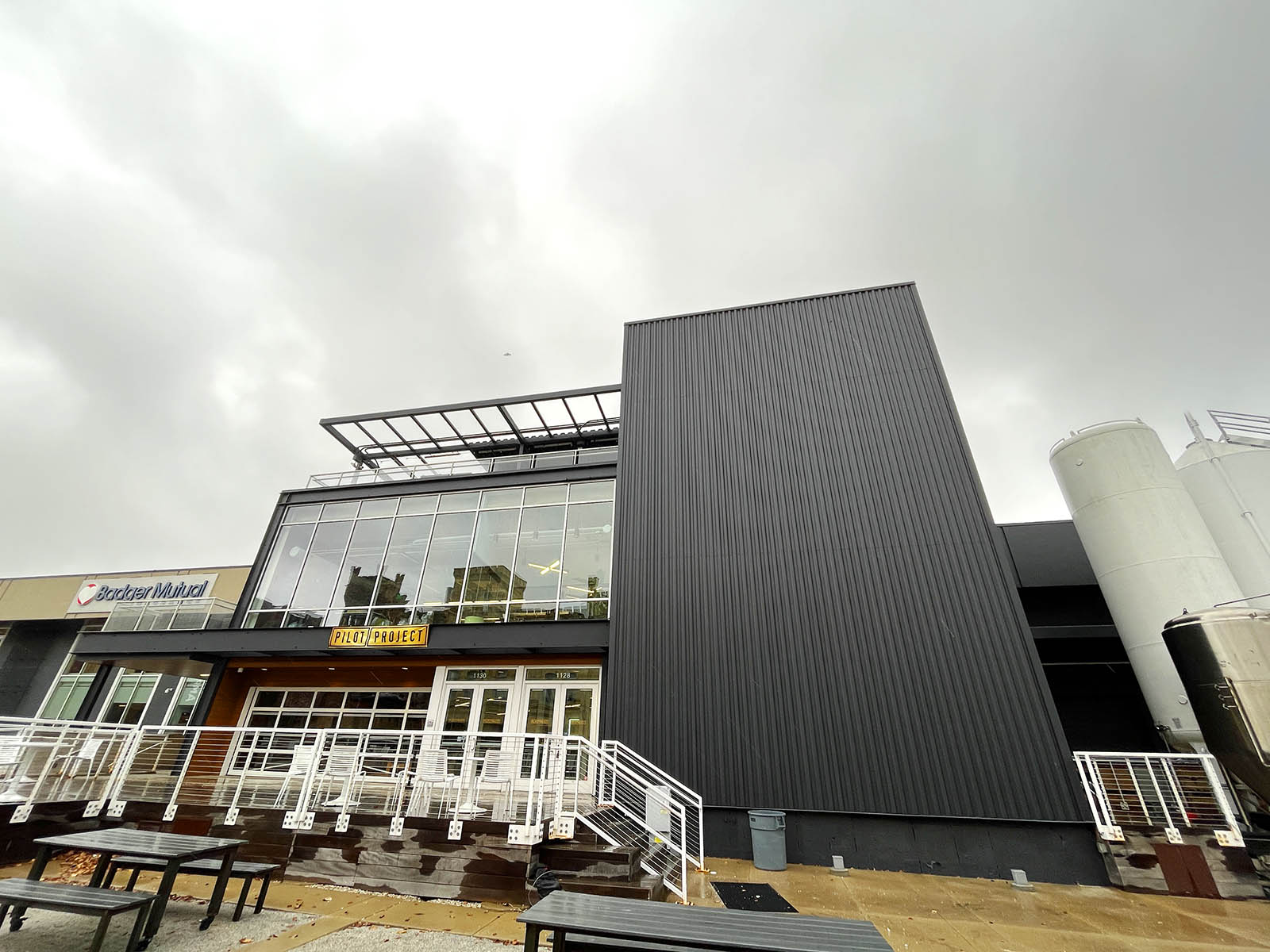 Outside, the change is immediately noticeable as the formerly white facade has been painted a matte black to match the exterior of the brewery's Chicago home.
Inside, the taproom changes inside are a little more subtle, but result in creating a different vibe in some spaces.
"We changed a lot, but a little at the same time," says co-founder (along with Jordan Radke) Dan Abel, as we approach the newly updated bar.
"Visually it looks drastically different, but it's still the same bar top, which was restained dark and with a completely different facade in the front.
"We restained everything," Abel adds, gesturing toward the long tables and benches in front of the bar.
"We brought in additional plants, swapped out the lighting, and built this ..."
Abel is talking about the long bent wood sculpture, called "White Horses," that hangs above the bar, running nearly its entire length. It was made by Chicago artist Paul Grill, who created another steam-bent wood sculpture that hangs behind the bar of Pilot Project's Logan Square taproom.
"This isn't actually done yet," he says. "Not everything is complete. I always think about how important water is in beverages (and), built out, this sculpture is meant to look like the top of the peak of a wave. That white (foam), they call that white horses, because it looks like white horses galloping. If you stand back, it's meant to look like the foam at the top of a wave."
At the low-ceilinged front part of the tasting room, booths have been replaced with tables and some more casual seating areas with sofas and greenery.
Abel says that this space, which opens to the skylit beer hall – and events space still further along – emphasizes multiple distinctive spaces.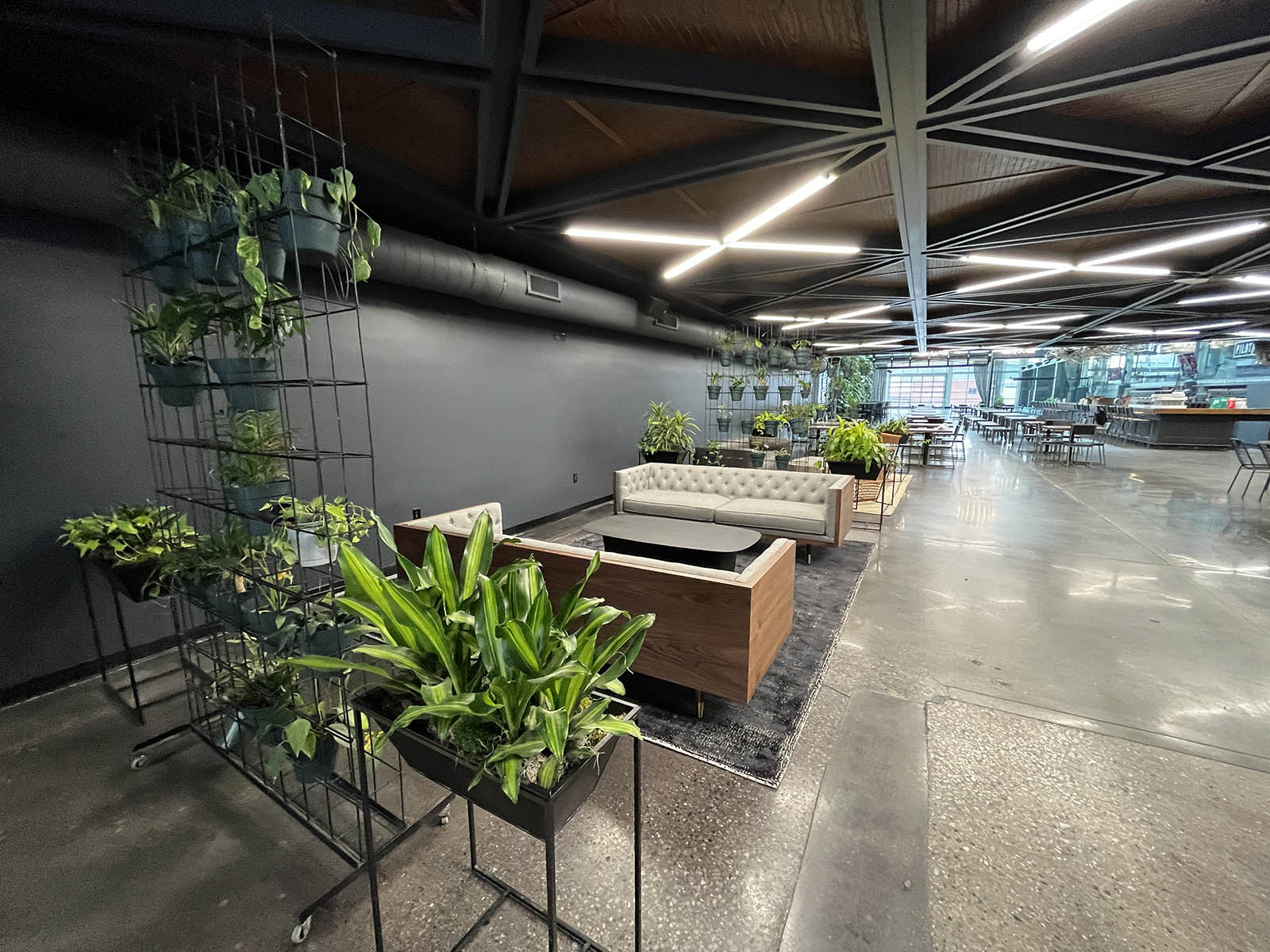 "The aspect that changed the most in all of it is just the vibe," says Abel. "This is very much your living room."
Some of the television screens have been removed from the taproom, too.
The event space will not change for now, in part because, as Abel told me when I visited him in Chicago, Pilot Project inherited an 18-month calendar of events that had been scheduled by previous occupant, F Street Hospitality, which operated the Bottle House 42.
In the space to the south, another bar area is being converted into a barrel room where Abel envisions rows of barrels on all sides, stacked four high, as beer ages in oak. At the moment there are a few empty barrels as indicators of what's to come.
"These barrels are just for visual effect," he says, "but there will be actual barrels filled with actual products that will line this entire area and make this a far more intimate space. I was calling it a barrel cathedral. But we've got to get there."
The bar in this area will become something of a beer lover's pleasure garden.
While the main taproom bar will be where Pilot Project pours what Abel calls its "everyday flagship" beers, this side bar will host more limited, unexpected things.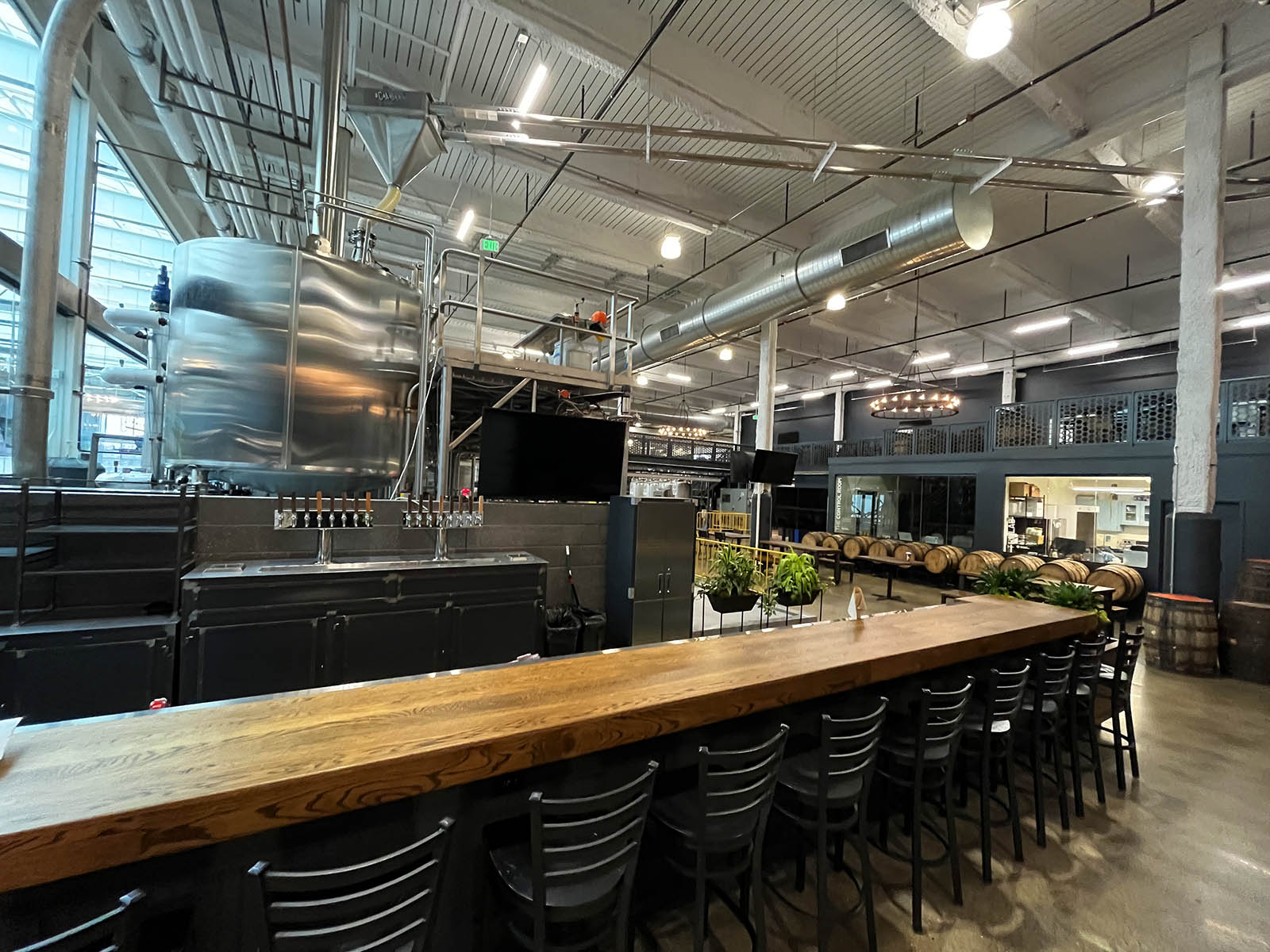 "Any rare beers or things that are a little left-of-center could go behind this bar," he says.
As we head up the steps to the mezzanine, I ask about the rooftop bar and Abel says that it is, of course, closed for winter.
That allows them time to focus on other things and work on the space later, closer to its spring reopening. But, he says, besides some paint and some minor details, that bar isn't likely to change much for now.
Abel says Pilot Project Milwaukee will – unlike the massively space-constrained Chicago brewhouse – offer tours, though not right away. He also expects that by spring there will be another bar finished and ready to go up in the mezzanine, where there is a temporary bar for now.
Perhaps the biggest changes and the ones folks are not likely to notice occurred in the brewhouse – which you can survey from above on the mezzanine. The entire system was reconfigured.
"Oh yeah, we beat it up," Abel says. "We completely decommissioned it and recommissioned it, but now it's running.
"We got our approval about two weeks ago and we've been double batching. We've been going crazy. Basically we're brewing around the clock. And so we are filling and we've filled up a lot of draft lines already.
In addition to serving as an incubator, brewing beer for numerous start-up brands, Pilot Project also brews and cans its own beer under the Brewer's Kitchen moniker.
"It is the same size, but it is more efficient," he says of the brewhouse. "So we can turn faster, we can purify or filter easier. It's literally the same brew house, but it's got new bells and whistles and it's capable of producing really whatever we want."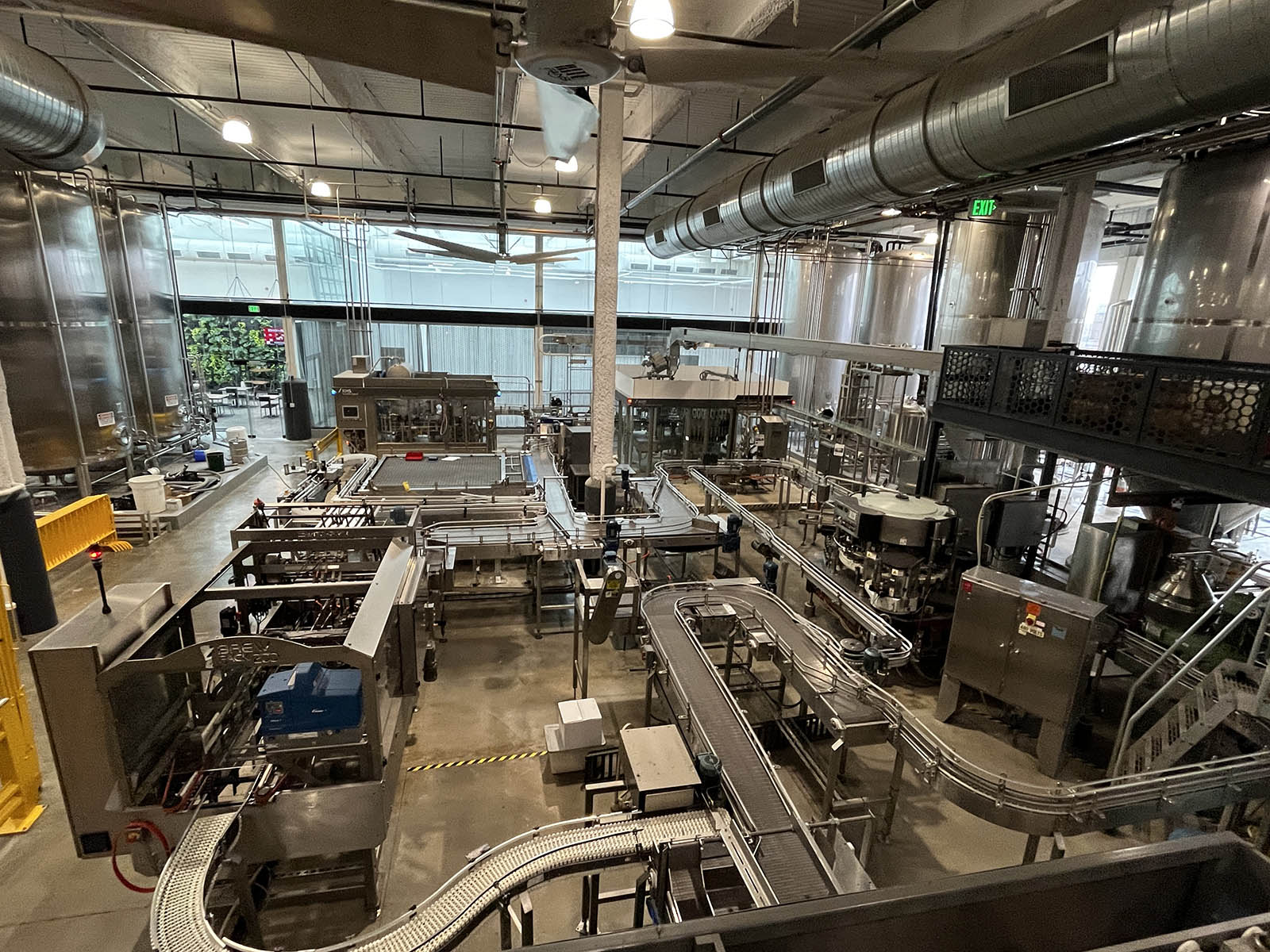 In spring, Abel expects to add tank capacity, which will be facilitated by removing the bottling line, which takes up a lot of floor space. Unlike Milwaukee Brewing Company, which packaged in both bottles and cans, Pilot Project will can all its beer.
"(Bottling) is a bit of an antiquated art form, though I do still have a soft spot for drinking out of bottles," says Abel. "But it's less sustainable and it's not as good for the products.
"Right now cans are getting easier to access and so they're cheaper, they're safer. You break a can, you just pull it off the line. You shatter a bottle, you've got to shut the entire line down. Who knows how long that takes to get it started again."
Lakefront, which has traditionally bottled much of its beer, is also switching entirely to cans, and Sprecher made the switch at the start of this year.
The bottling line is currently up for auction and is expected to be sold soon.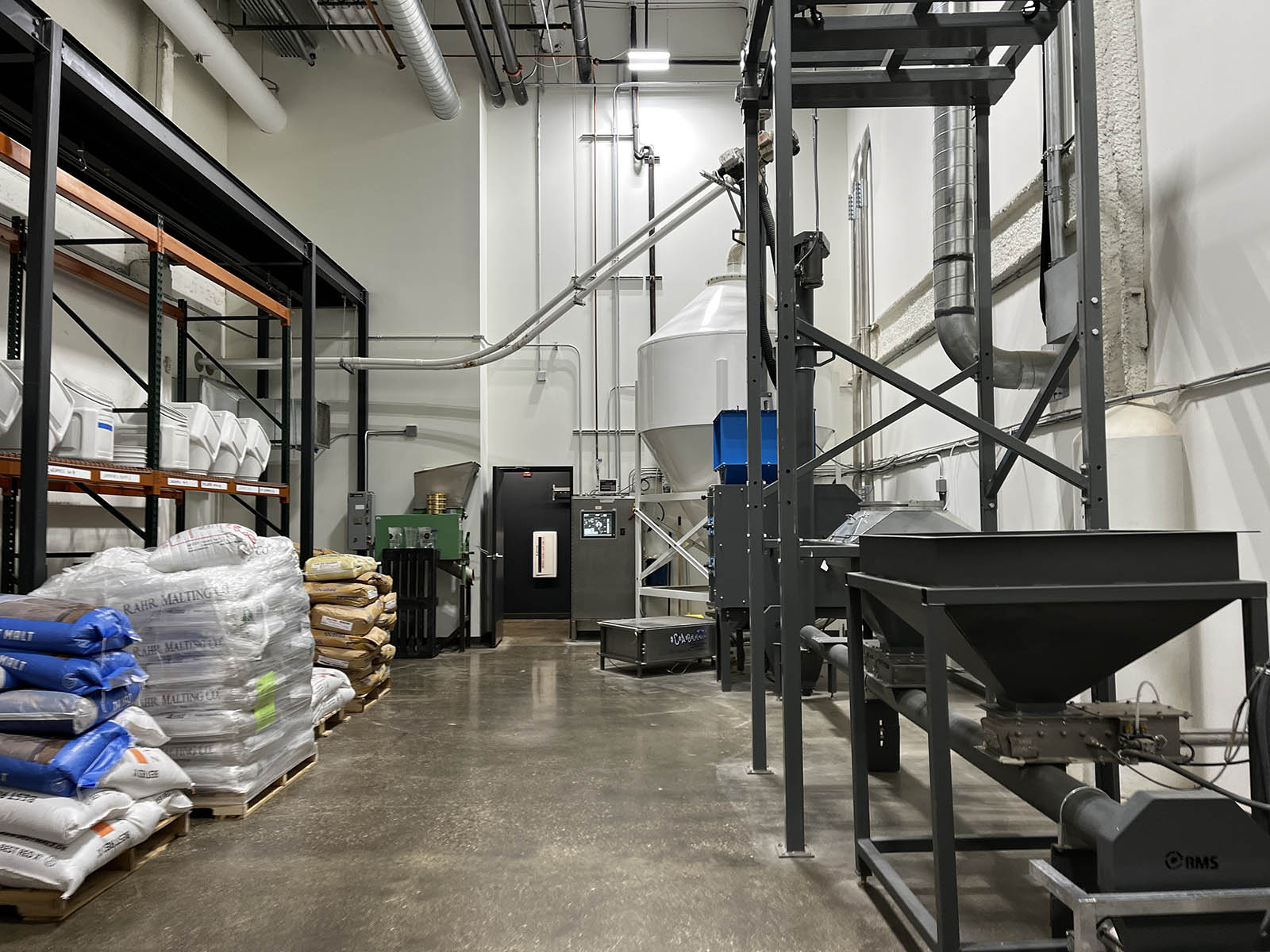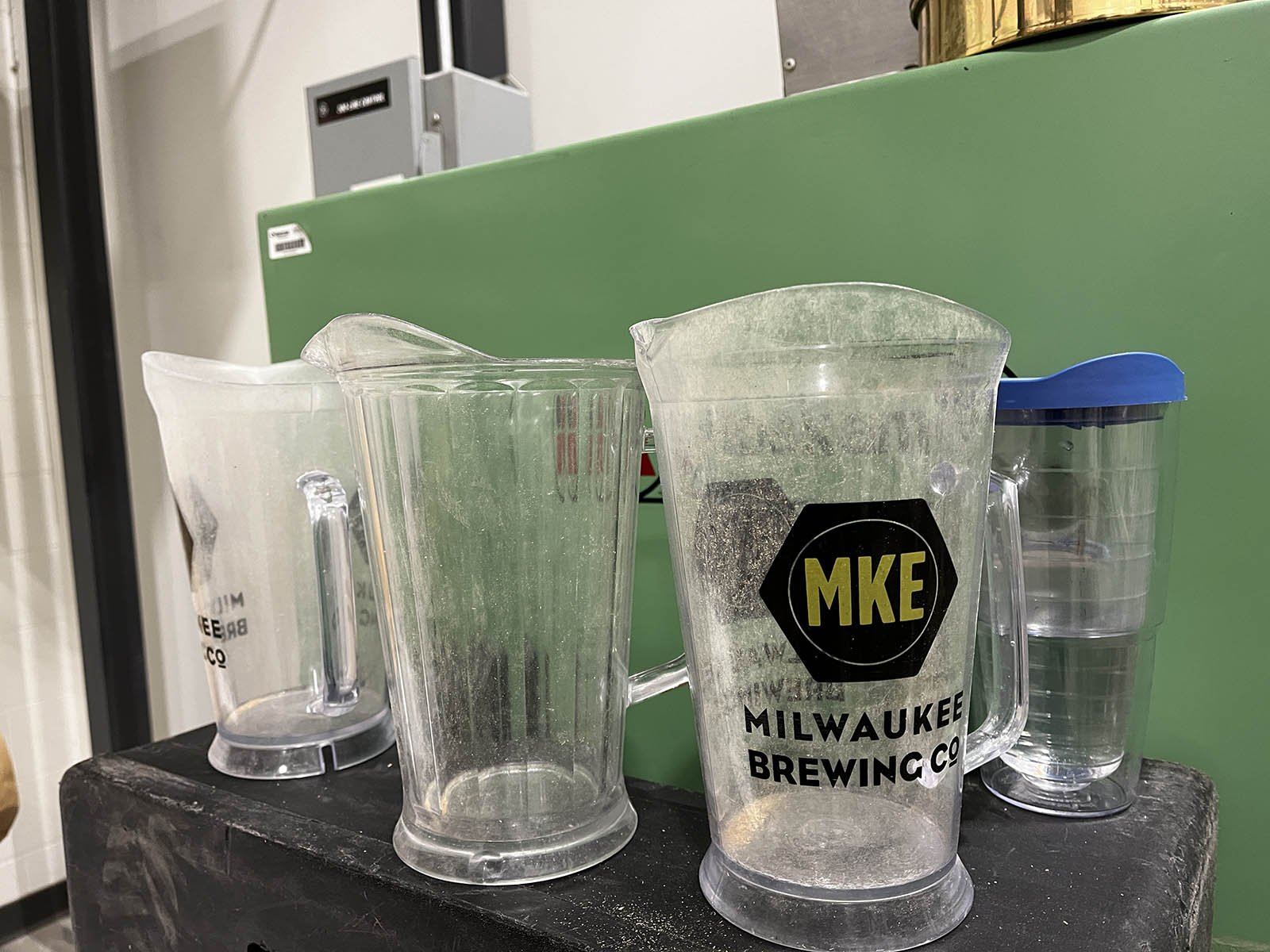 Pilot Project has some 60-barrel tanks acquired by Milwaukee Brewing Co. from Surly in Minneapolis that it will add to its array.
"We want to be able to graduate brands from 10 barrels to 240," he says. "We've got a lot of littles and a lot of bigs, and so we need some more tanks in that middle ground."
They will also create a large negative pressure room in the southeast corner of the building to be able to do wild beers, foeders and open fermentation without risking contamination in the main brewhouse.
The space is carved out already, but walls and ventilation out through the roof, etc., need to be added.
There are still little signs of Milwaukee Brewing Co. in the space, which opened in September 2018 in a former Pabst distribution center.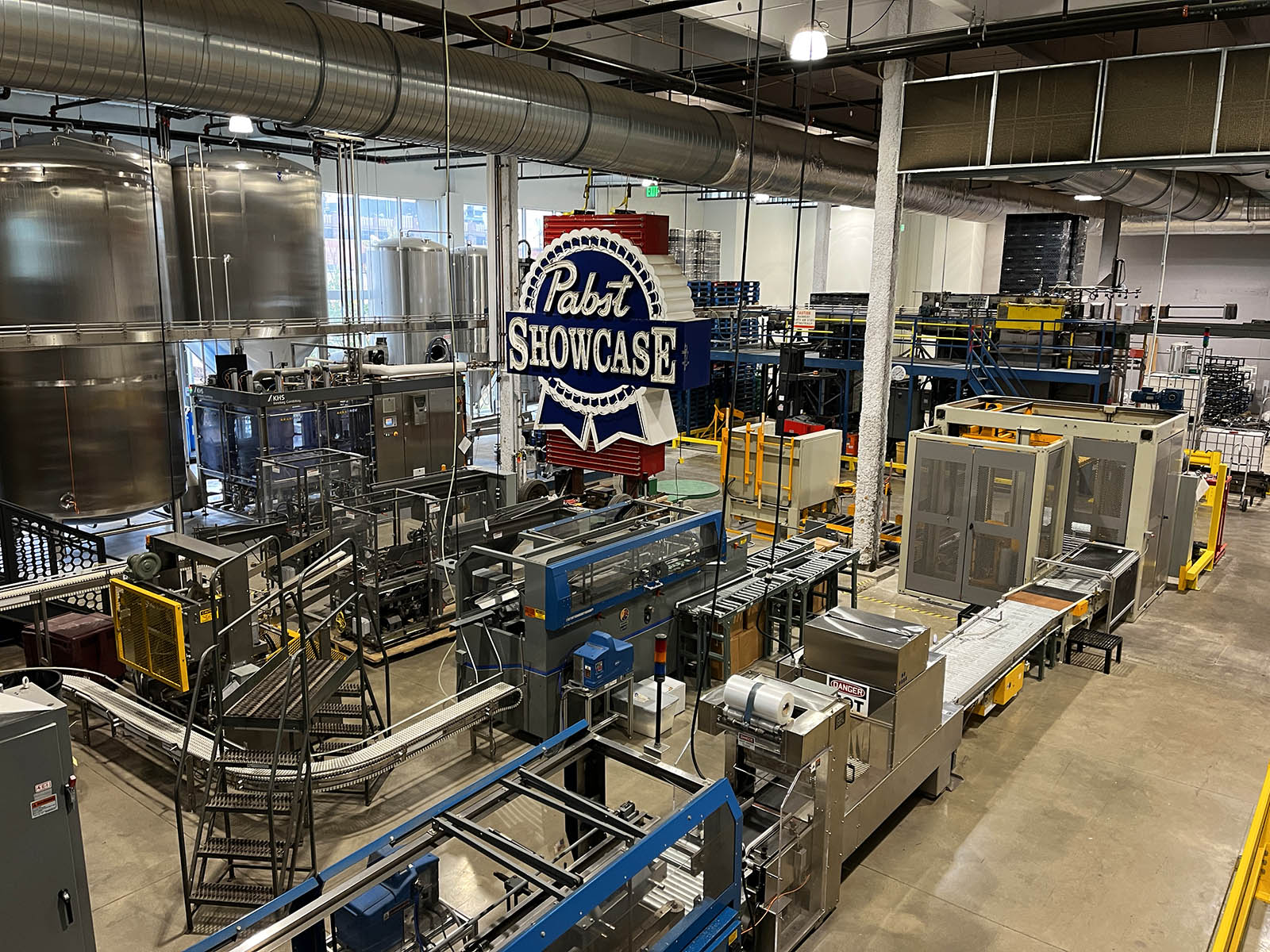 The brewer's six-sided logo design can still be seen on tanks outside, the Pabst Showcase sign from Summerfest so beloved by MKE's Jim McCabe still holds pride of place in the brewhouse and, when we enter the grain room, Abel points out some old Milwaukee Brewing Co.-branded pitchers in the corner.
"The Milwaukee Brewing Co. tenure was short lived, but it's still a really important piece of how we got here," says Abel. "Similarly, this is all started with Pabst. We want to honor that history."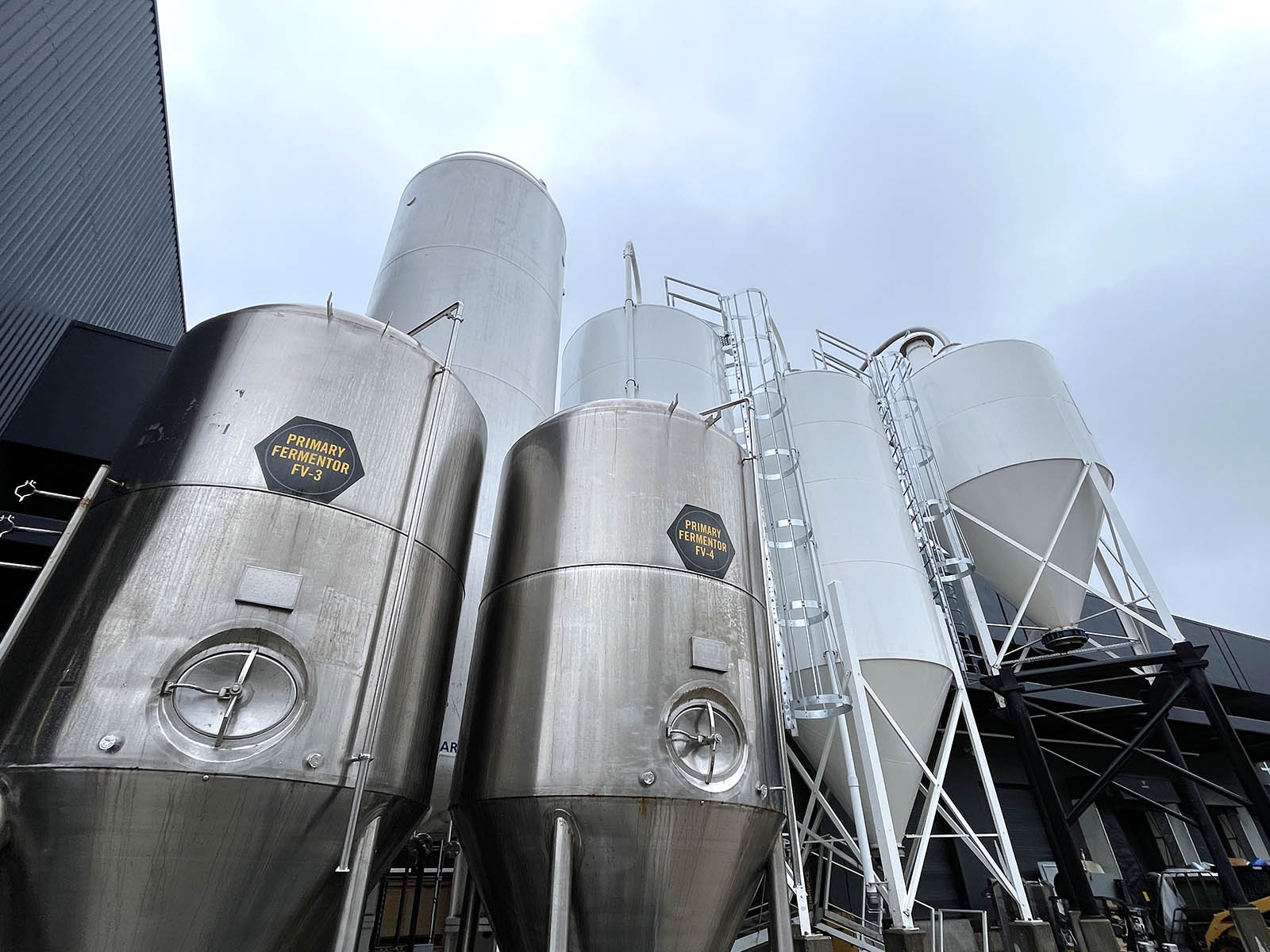 While Pilot Project bought the equipment and the lease on the facility, Eagle Park acquired the recipes and brands for Milwaukee Brewing Co. beer and it is being brewed, for now, at the Eagle Park facility in Muskego.
Hard as it may be to believe, Chicago's Gemma Foods, which recently signed on to serve food at Pilot Project in Milwaukee, will be up and running when the brewery opens on Friday.
"It's next level," says Abel. "Chef TQ (Tony Quartaro), is an animal. He's so smart. The food that he is producing, it's perfect for a brewery but it still blows your mind.
"It's the fluffiest cheese curds. It's fried fish, but really delicate. There's some really good ribs on the menu. A chicken parmesan sandwich. A spent grain pretzel."
Born in Brooklyn, N.Y., where he lived until he was 17, Bobby received his BA-Mass Communications from UWM in 1989 and has lived in Walker's Point, Bay View, Enderis Park, South Milwaukee and on the East Side.
He has published three non-fiction books in Italy – including one about an event in Milwaukee history, which was published in the U.S. in autumn 2010. Four more books, all about Milwaukee, have been published by The History Press.
With his most recent band, The Yell Leaders, Bobby released four LPs and had a songs featured in episodes of TV's "Party of Five" and "Dawson's Creek," and films in Japan, South America and the U.S. The Yell Leaders were named the best unsigned band in their region by VH-1 as part of its Rock Across America 1998 Tour. Most recently, the band contributed tracks to a UK vinyl/CD tribute to the Redskins and collaborated on a track with Italian novelist Enrico Remmert.
He's produced three installments of the "OMCD" series of local music compilations for OnMilwaukee.com and in 2007 produced a CD of Italian music and poetry.
In 2005, he was awarded the City of Asti's (Italy) Journalism Prize for his work focusing on that area. He has also won awards from the Milwaukee Press Club.
He can be heard weekly on 88Nine Radio Milwaukee talking about his "Urban Spelunking" series of stories.