When it opened in the fall of 1964, Sholes Junior High School was a modern schoolhouse outfitted to serve just under 1,200 7-9th grade students.
Today, that building at 4965 S. 20th St. not only houses 1,384 high schoolers, it does so with great results. In fact, the Ronald Reagan High School – which houses one of MPS' International Baccalaureate programs – was ranked the 16th best public high school in the state, above schools like Grafton, Nicolet and Tosa East.
The school, opened in 2003, is one of MPS' success stories, and it has achieved that in a building that was never designed to educate high school students.
But the students and staff will finally get some relief thanks to a new three-phase plan that breaks ground on Wednesday, Sept. 7 at 12:30 p.m. at the school.
The first phase, on which ground is being broken next week, will include a science wing addition with STEM labs, a gym addition including hardwood floor, bleachers, audio system, new team locker rooms, a lobby, concessions stands and bathrooms, as well as six outdoor tennis courts.
The architect is Foundation's Craig Eide, who has done other MPS work, including the 2016 additions at Fernwood and Maryland Avenue Montessori Schools.
This phase is being funded by a range of sources, including $9 million in ESSER (Elementary and Secondary School Emergency Relief) Funds, Milwaukee Recreation money, along with private donations from school fundraising efforts.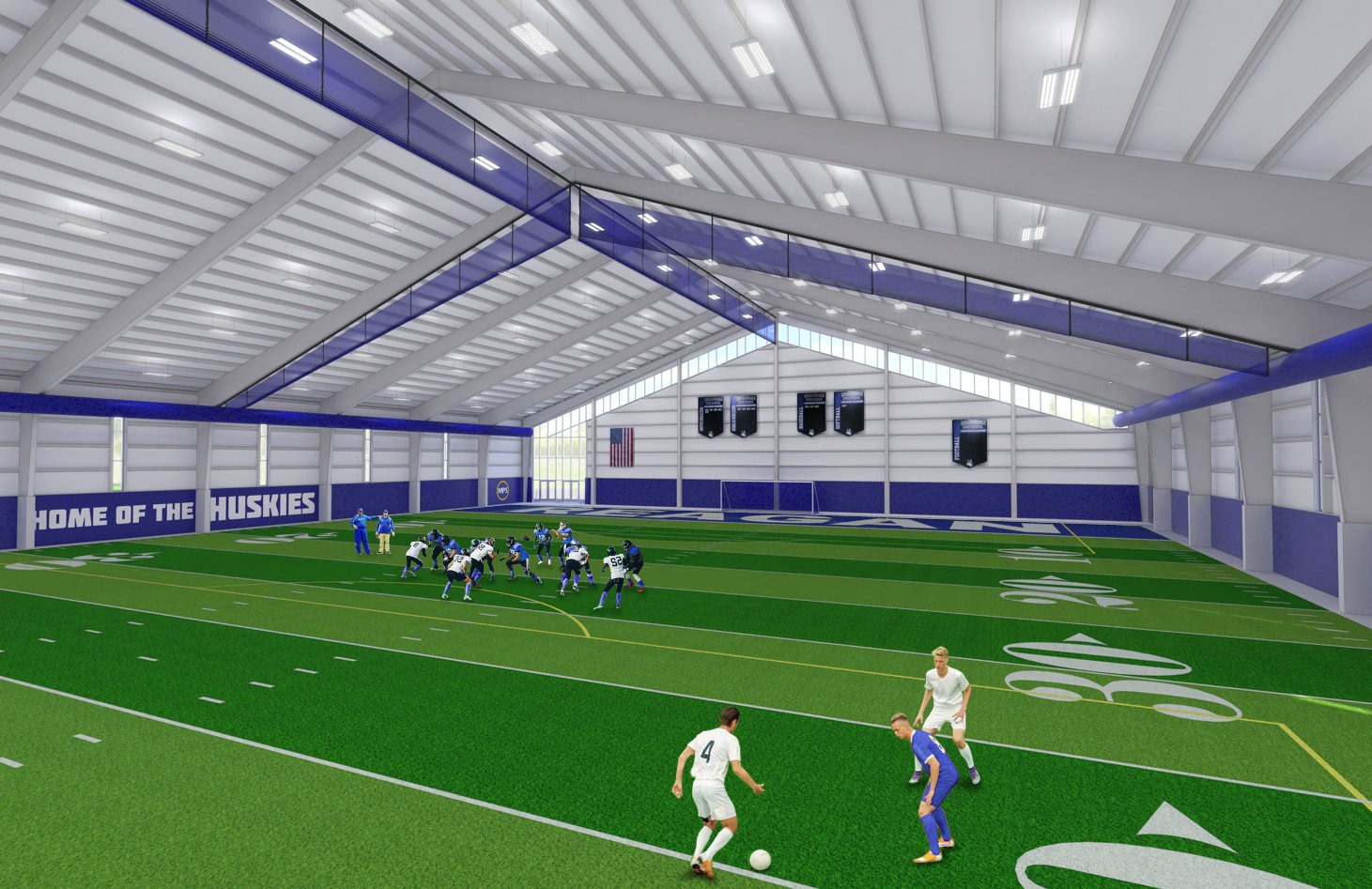 Fundraising by the school is currently underway for the second phase (fitness center addition, a soccer field and two additional tennis courts, storage space, parking lot and stormwater management) and phase three, which is the construction of a field house with a turf field.
The cost of all three phases is estimated at $22-25 million, according to MPS, which says that the school has raised $10 million.
"The new science wing will inspire more students to pursue STEM careers by allowing us to prepare them for university-level work," said Reagan science department chair Joshua Putnam, in an MPS release.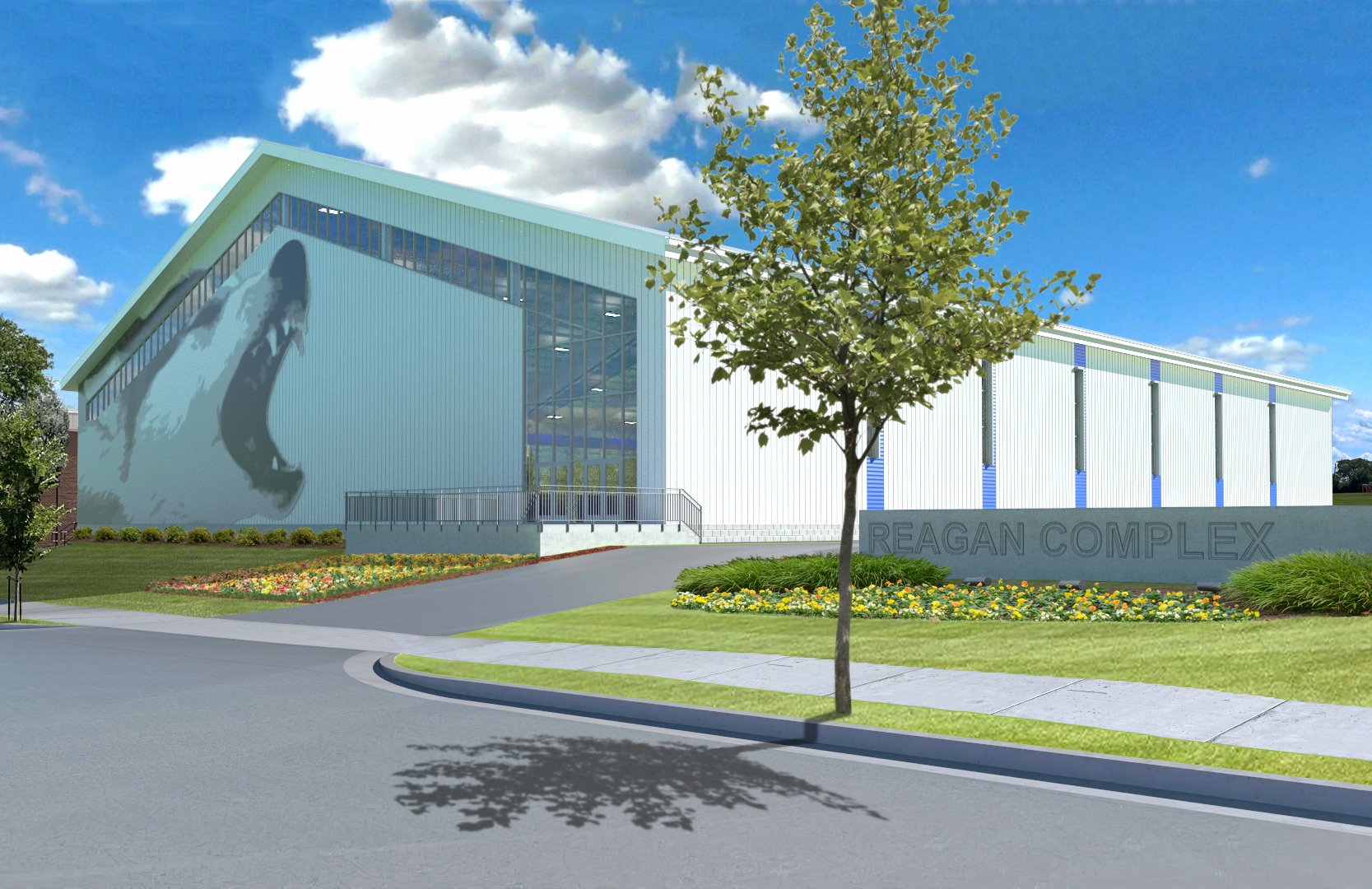 "High-quality facilities serving dedicated students is a formula for absolute success."
The district's own 2011 long range facilities and maintenance plan noted that the Reagan building was operating at 111 percent capacity.
Students at the school have learned to deal with narrow half lockers that don't fit the books, laptops and winter clothing required. They've learned, even during covid, to cram together at tables in a lunch room designed for kids 4-6 years younger.
Though there's been talk of a new building or a move over the years, Reagan is likely staying where it is. So when MPS asked schools to compile needs lists that could be considered for support with the more than $770 million in ESSER money authorized under American Rescue Plan (ARP) Act, Reagan asked for a gym with associated facilities like lockers, showers and a fitness room; four science labs; and a fieldhouse, because the site has no space to host prep sports or practices.
It should be noted that the same 2011 report that Reagan was over capacity also recognized the need for a gym ... 11 years ago.
In the meantime:
The school's golf team is bused to a park for practice, or practices on a simulator in a shed on the playground.
The football team practices on a softball diamond that is half the length of a proper field at a nearby elementary school.
Both boys and girls soccer teams practice on a sloping patch on the Reagan playground. Games are played at a rented facility and at other schools.
The baseball teams travel by bus to practices at Emigh Park and host "home" games at a rented County Park.
No Reagan tennis team has ever hosted a proper home match. The closest thing to that has been matches on rented courts at Zablocki Park that are shared with Alverno College.
The track and cross country teams run on sidewalks in the neighborhood, dodging pedestrians and cars backing out of driveways and crossing streets. The track team may be the only one in Wisconsin that doesn't run on an actual track until it competes in its first meet.
The swim teams used to be bused to South Division but now the swimmers must make their own way on the 5-mile trip for daily practices.
The boys basketball teams travel to Cudahy or another facility every day to practice.
The girls volleyball team practices in the current gym, which means the boys have to go elsewhere. They bus to South Milwaukee daily.
Wrestling practice takes place in the cafeteria, and cheerleaders practice in the corridor.
One softball team walks to Lowell School for practice, while another walks to nearby Cooper. Two more teams are bused to two separate practice locations. There's no storage for their equipment at any of these sites, so they have to carry it back and forth.
And this is not because there is no demand for sports.
In 2018-19, the most recent non-Covid year for which there are numbers, 35 kids played baseball on three teams; 46 boys played tennis on two teams; 110 girls played on five soccer teams and 81 kids were on two co-ed track and field teams.
Another 77 boys played soccer on four teams; 43 wrestled on two teams; and 58 played on two football teams.
And it's not just athletics where there is need. The school has long sought proper high school-appropriate science labs, too.
Hence the ESSER requests and this three-phase plan.
In addition to creating up-to-date science labs, these would allow for practice and game/meet facilities for the Reagan sports teams and would also finally create a space large enough for the school to host assemblies with its full student body.
In full disclosure, I am the parent of a student at Reagan, but not one that would benefit from these upgrades, which won't be completed during my kid's time there.
It is that rarest of creatures in American cities these days – a truly diverse school. At dismissal one sees students that hail from across Asia, the Middle East and from Africa. (Check out the diversity at nearby Garland. Your grandma's South Side has changed!) There is a large Latino representation, too, along with African-American and white students, too.
It is a welcoming place, with some incredible teachers – art teacher Mr. Chad remains one of my favorites anywhere – and the kind of guidance that works hard to make sure kids don't fall through the cracks.
It's the kind of place that the State of Wisconsin says exceeds expectations. The kind of place that ranks in the top 20 high schools in the state, according to a disinterested observer like U.S. News & World Report.
It's the kind of place that should have proper science labs, that should have locker rooms in a gym built for high schoolers. The kind of place where the girls soccer team shouldn't have to practice on a sloping "potato patch."
Reagan is a place like Grafton, Nicolet and Tosa East – even better if you believe U.S. News. The main difference? At those schools the kids have what they need to succeed, while at Reagan 16-, 17- and 18-year-olds are shoehorned into a space built for 12- and 13-year-olds.
"This expansion will allow our student athletes to train and compete year-round on campus, a luxury other schools take for granted," said Reagan Athletic Director Keith Mayer, in that MPS statement.
"We've always had amazing students doing incredible things here. This expansion will build off that foundation, catapulting our athletes to the next level."
Born in Brooklyn, N.Y., where he lived until he was 17, Bobby received his BA-Mass Communications from UWM in 1989 and has lived in Walker's Point, Bay View, Enderis Park, South Milwaukee and on the East Side.
He has published three non-fiction books in Italy – including one about an event in Milwaukee history, which was published in the U.S. in autumn 2010. Four more books, all about Milwaukee, have been published by The History Press.
With his most recent band, The Yell Leaders, Bobby released four LPs and had a songs featured in episodes of TV's "Party of Five" and "Dawson's Creek," and films in Japan, South America and the U.S. The Yell Leaders were named the best unsigned band in their region by VH-1 as part of its Rock Across America 1998 Tour. Most recently, the band contributed tracks to a UK vinyl/CD tribute to the Redskins and collaborated on a track with Italian novelist Enrico Remmert.
He's produced three installments of the "OMCD" series of local music compilations for OnMilwaukee.com and in 2007 produced a CD of Italian music and poetry.
In 2005, he was awarded the City of Asti's (Italy) Journalism Prize for his work focusing on that area. He has also won awards from the Milwaukee Press Club.
He can be heard weekly on 88Nine Radio Milwaukee talking about his "Urban Spelunking" series of stories.