Cedarburg is a town that was built on mills. In fact, the woolen mill that is now home to the Cedar Creek Winery was, for many years, the largest in the country, west of Philadelphia.
The tallest building in Downtown Cedarburg is the old grist mill, built in 1855 to replace one built along Cedar Creek a decade earlier, and in what is perhaps a beverage complement to the old woolen mill, this one is home to Rebellion Brewing, a craft brewery with one of the coolest patios around.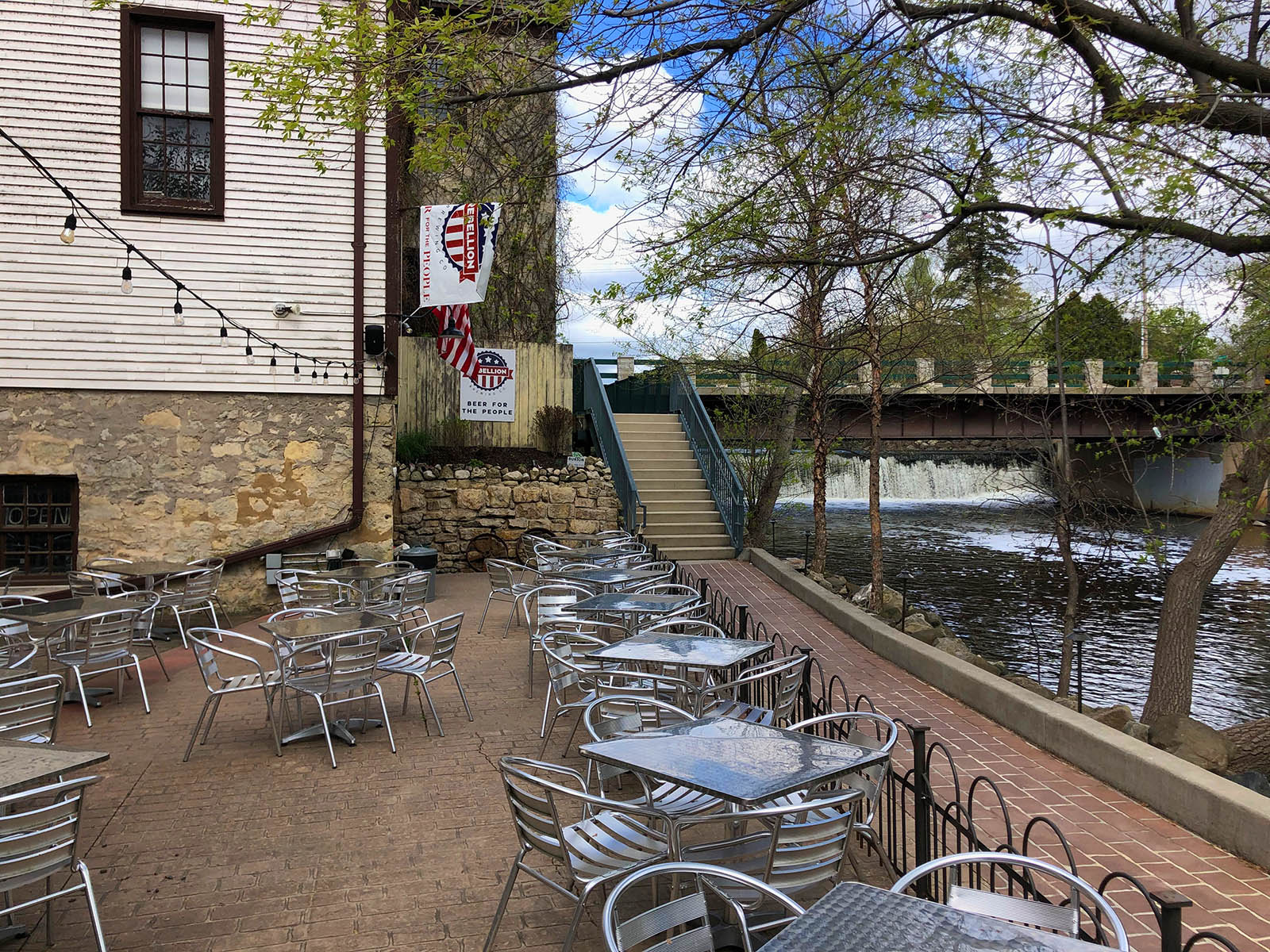 But don't blink or you might miss Rebellion, N57 W6172 Portland Rd., founded in 2018 by former home brewers Dale Georgeff and Rod Otto with Peter Olds in the former Silver Creek Brewery.
The entrance off Columbia Road, just a a block east of Washington Avenue, is down a flight of stairs and then through a gated space that once held the water wheel that drove the mill's equipment.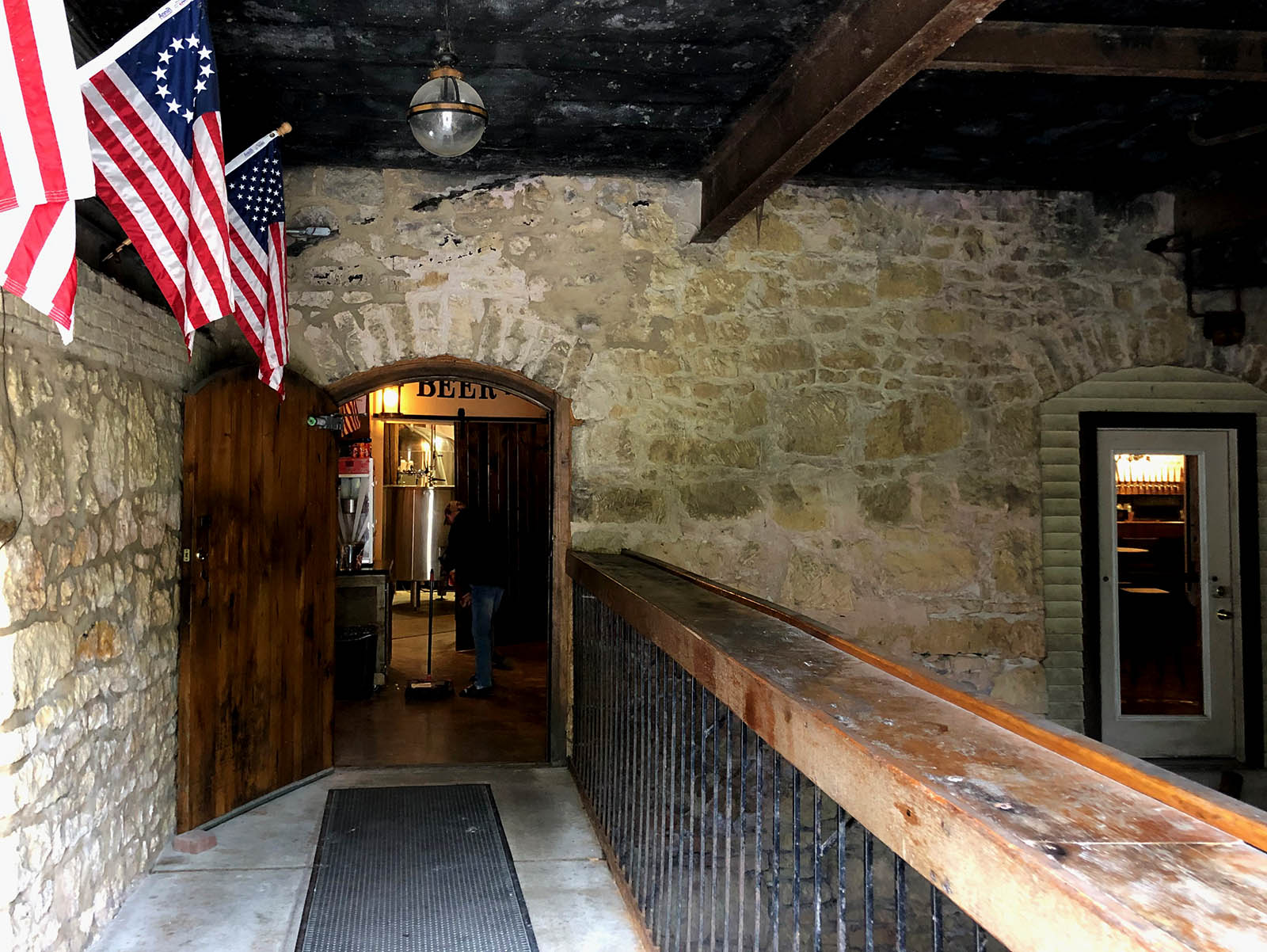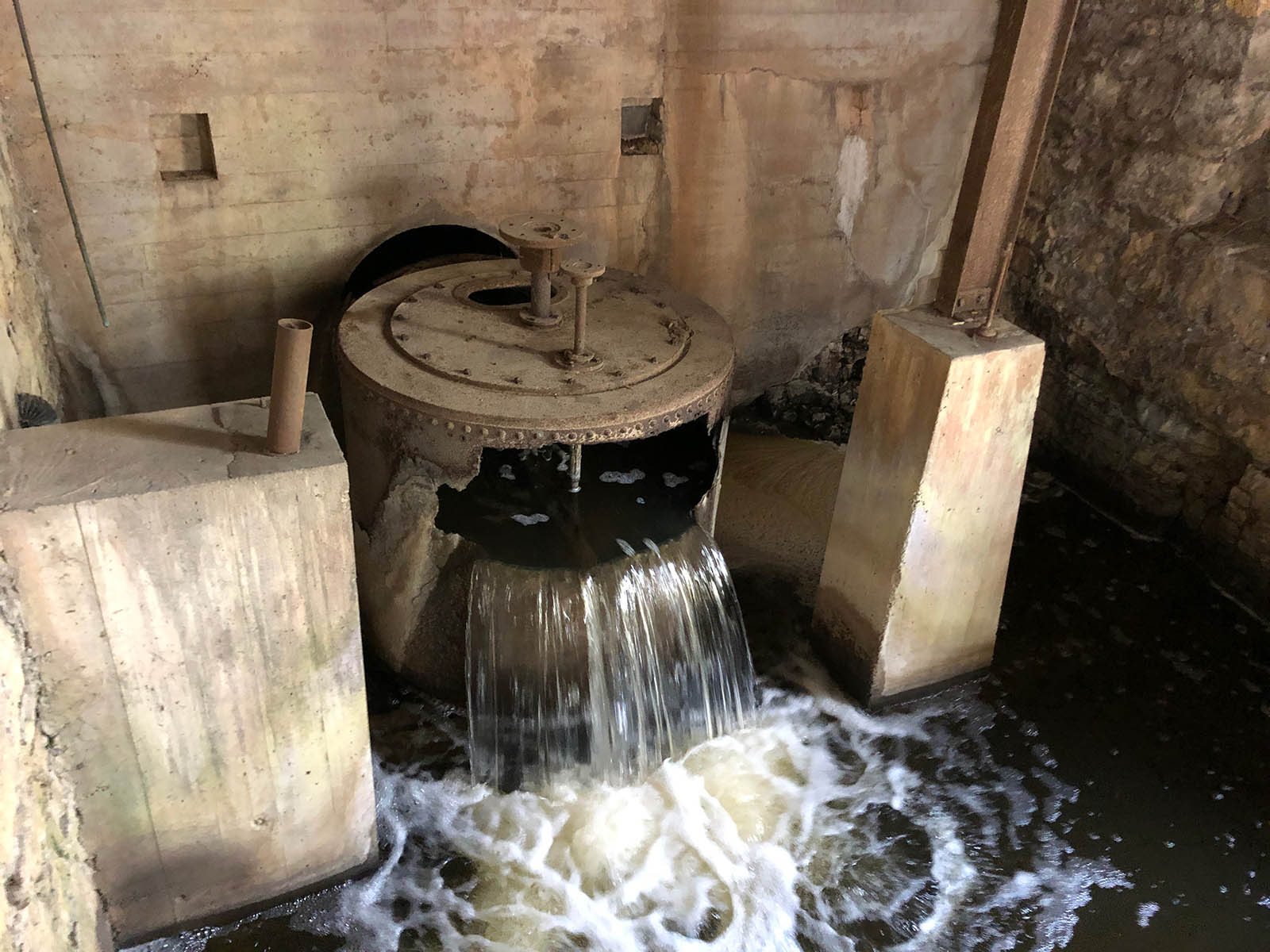 "That race pumped out about 50 horsepower in its day," he says. "It's huge. (The turbine) has since rusted through, so you've got some of the spill out from that now, but that ran a stone in here. You can see some of the mechanisms that come in, and they used to do 150 pounds of rye grist a day. That was massive."
The wheel is gone but the creek is still dammed for the mill and water still rushes through the old millrace, creating a loud but evocative entrance to the brewery. Just outside the door, the patio is nestled between the rushing creek and the millrace.
"It's really weird," says Georgeff, "the millrace comes under the building, goes under the road, and comes out across kitty corner from here. There used to be an old Baptist church, it comes out there. There was a ravine. Then it goes underground again, and it empties out under the sports field way on the other side. So why it didn't turn around and come back? I have no idea."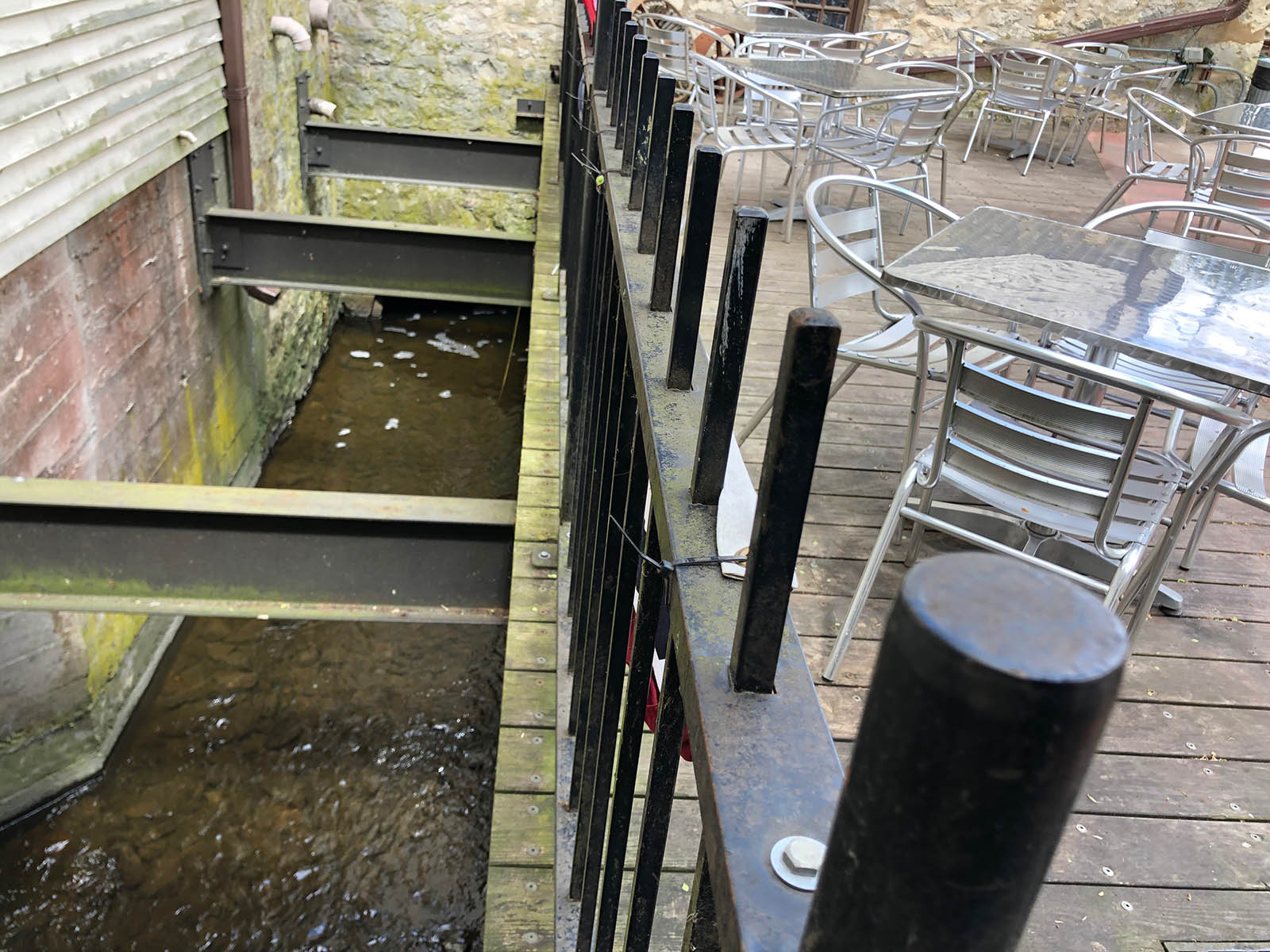 The mill building itself is solid. Occupying the lower level, Rebellion is the beneficiary of some solid construction. When you stop in, note that the bar is built between 12x12 square posts each made from a single log and nestled into two-foot-tall concrete piers.
If there's ever a tornado, I hope I'm in here, where there's beer and a fortress-like building with walls just shy of three feet thick!
"There's no record of how long it took to build it," says Georgeff. "They moved all this stuff by donkeys and wheelbarrows. Then they also, at the same time, built this race underneath here. It had to be all by hand that they built this."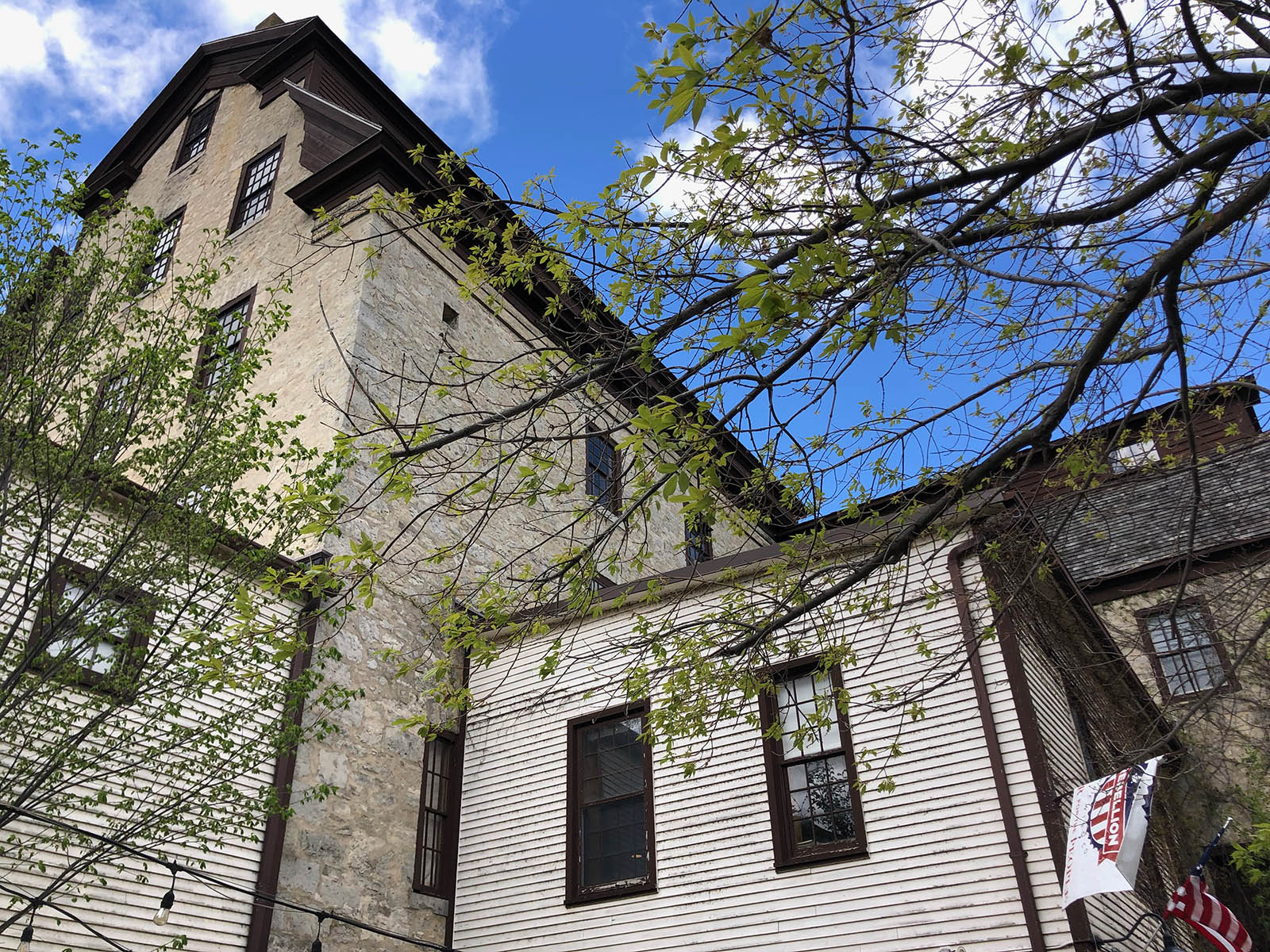 Georgeff, who grew up in Cedarburg remembers the mill era, however distant it might feel now.
"This was the first one built," he says. "There were a total of five, so they're all around the area. One of the more notable ones is the wool mill down on the end. That one actually up until about the early 1970s was one of the largest mills still running west of Philadelphia.
"I remember as a kid that used to hang their dyed yards of wool back there. You used to see them all the time. This (brewery space) had a dirt floor when I was a kid."
In those days this portion of the mill was vacant.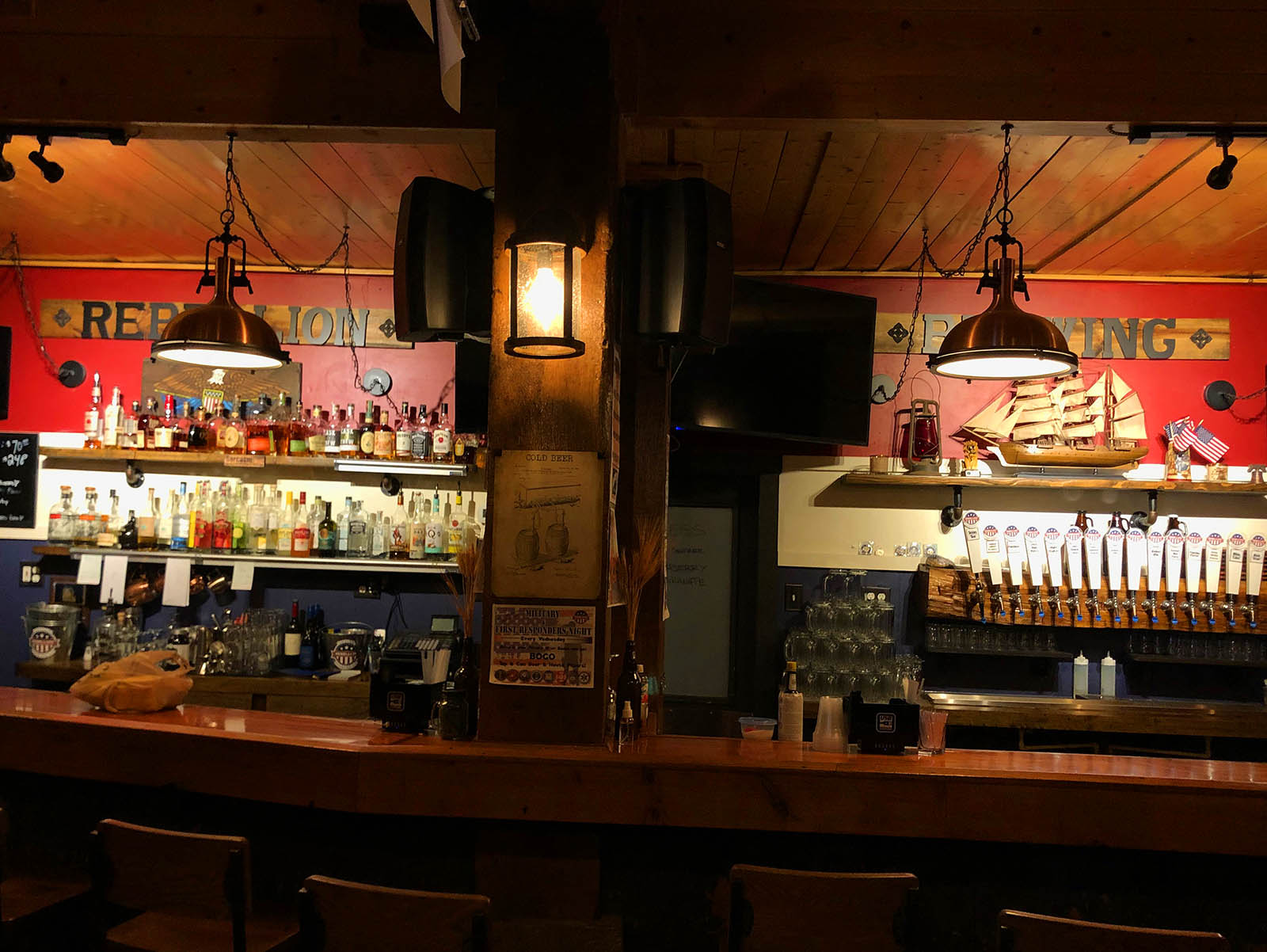 "Well, I wasn't supposed to be here, but we'd mess around the creek down here and fish, but there was no walk down here or anything like that. It was great fishing back then, too.
"It's still good. There're a lot people that fish in there," he adds of the space where the wheel once spun. The fish, he said, don't come in with the rushing water, but actually swim up the millrace against the current.
The mill was built by early settlers Frederick Hilgen and William Schroeder, who hired architect Burchard Weber to create the Greek Revival structure in 1855.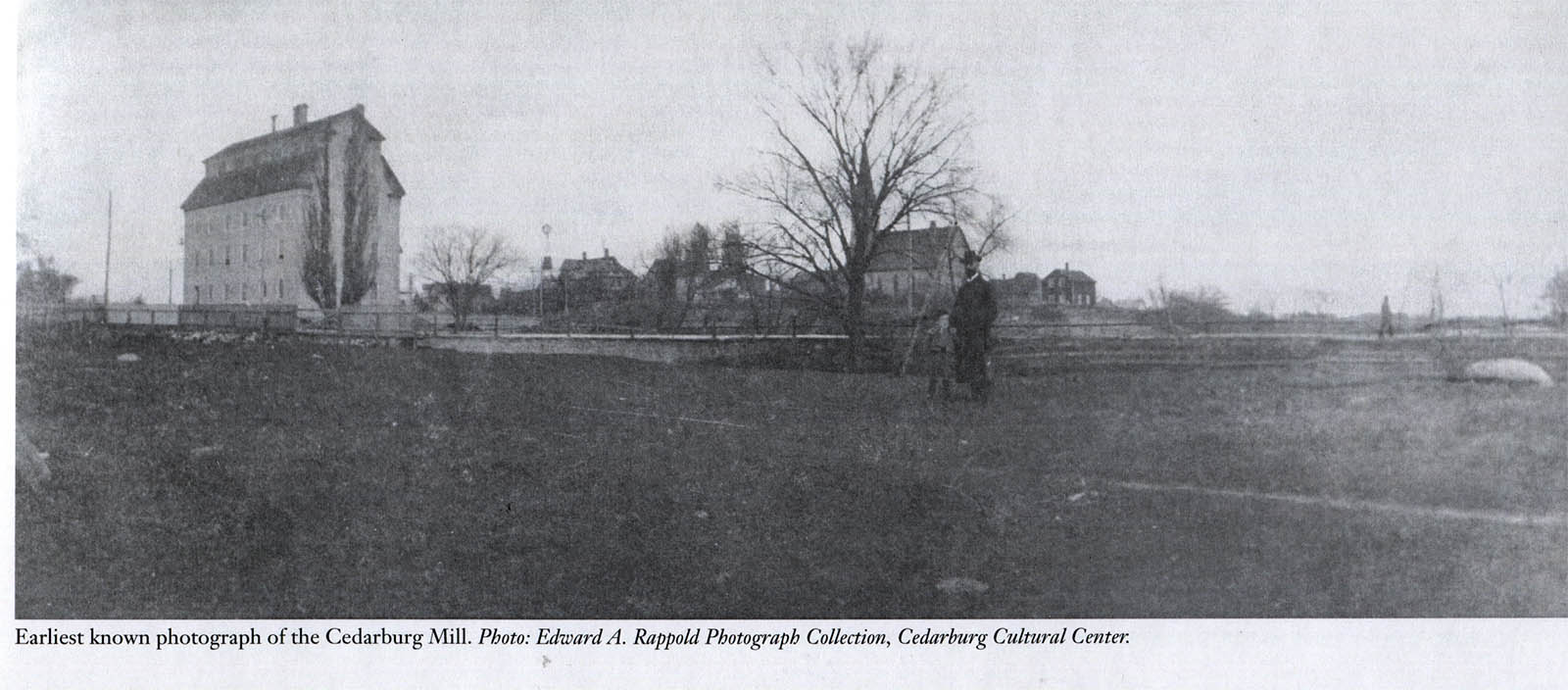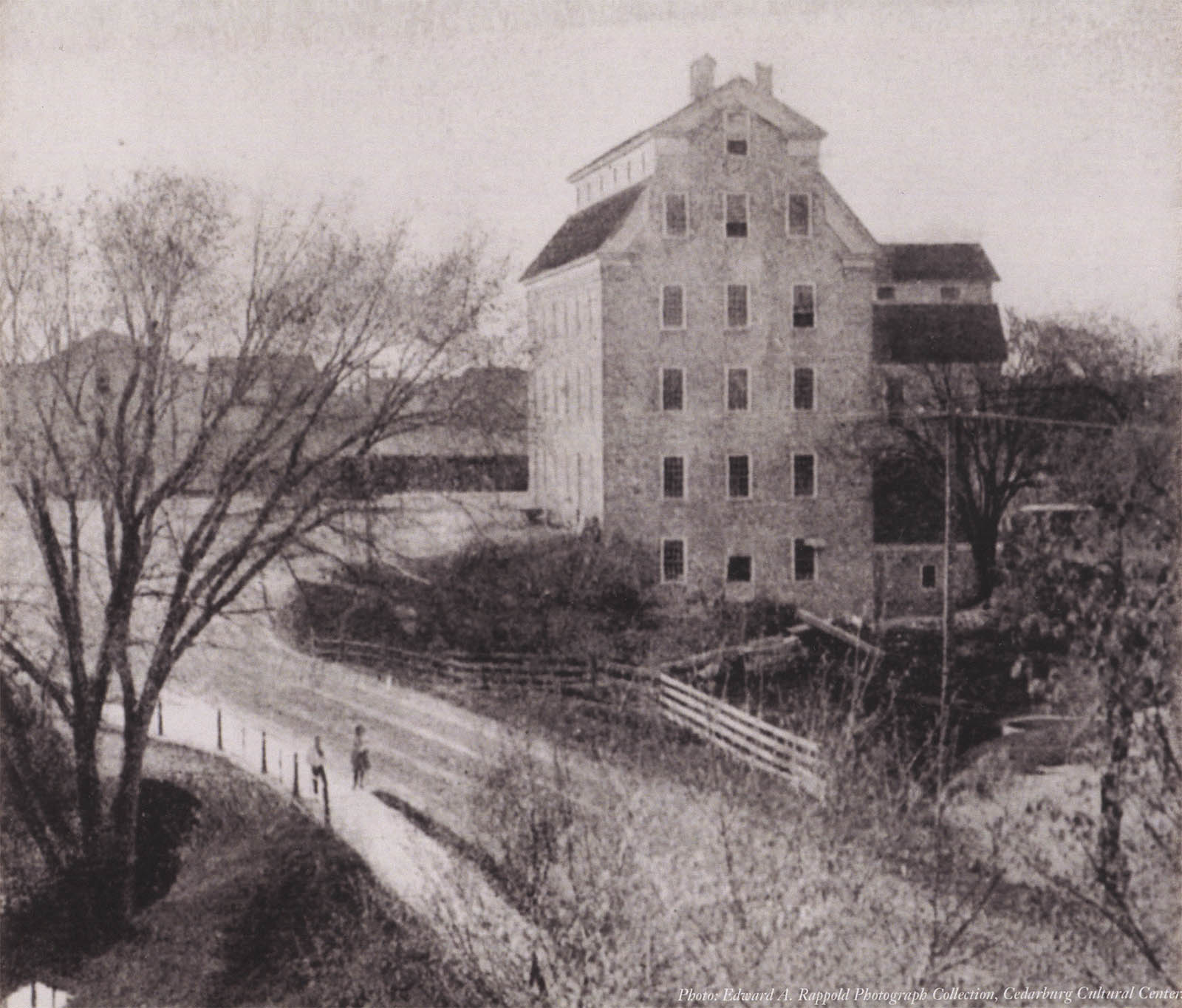 The limestone building cost $22,000 and at five stories must've been a massive leap forward from its log predecessor.
Hilgen and Schroeder dammed the creek and with Mother Nature's power were making 120 barrels of flour a day that was then sold in their store.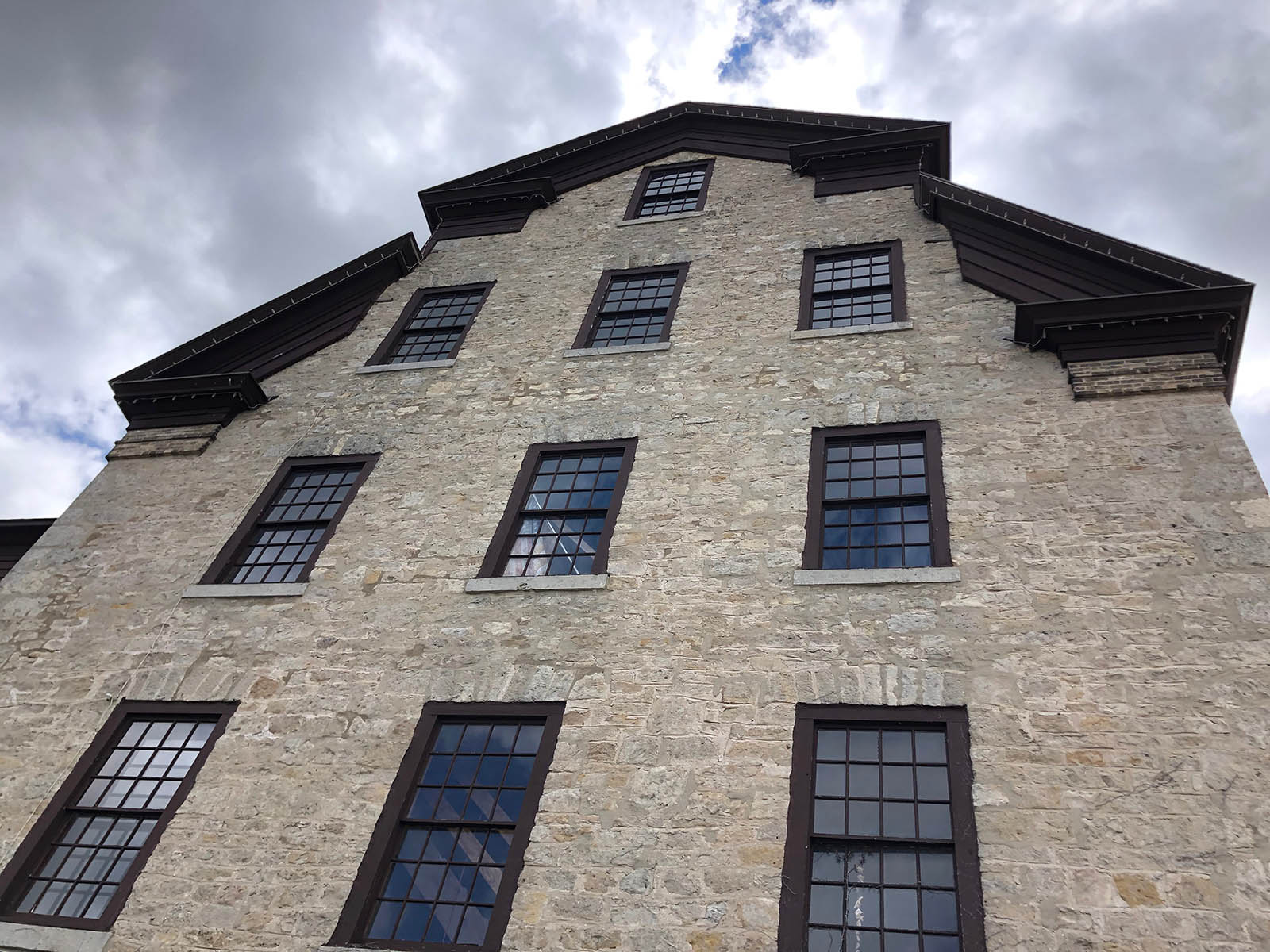 Hilgen would, with another partner, later build the woolen mill that's now the winery and later still, his son William, an architect, designed the Lincoln School in 1894 and the high school (now City Hall) in 1908.
These mills are listed on the National Register of Historic Places – as are the schools, too, as part of the Washington Avenue Historic District that runs five blocks south from the Cedar Creek Winery to St. Francis Borgia church and includes Columbia Avenue to the creek.
Speaking of the creek, in less sparkling news, for decades the creek and millpond suffered from being a sewer outflow, but the EPA began to dredge the millpond to clean it up in 1994 and wrapped up remediation of the millrace in 2016.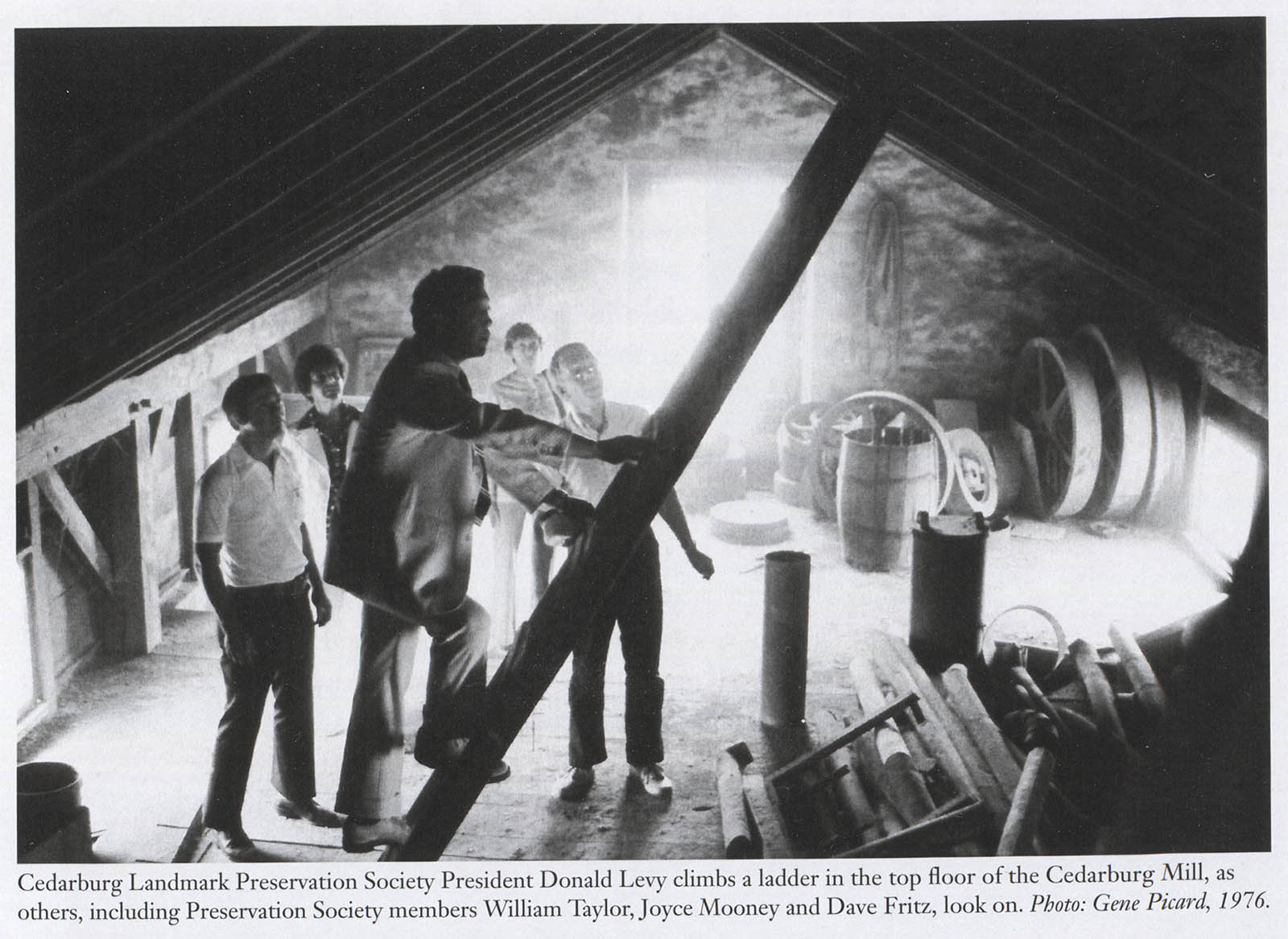 A feed store, with pet food and supplies, still occupies the building, which also houses the offices of the Groth Design Group architects.
After sitting vacant for many years, homebrewers Steve Venturini, Steve Roensch of and Todd Schneeberger converted the lower level into Silver Creek Brewing in 2000.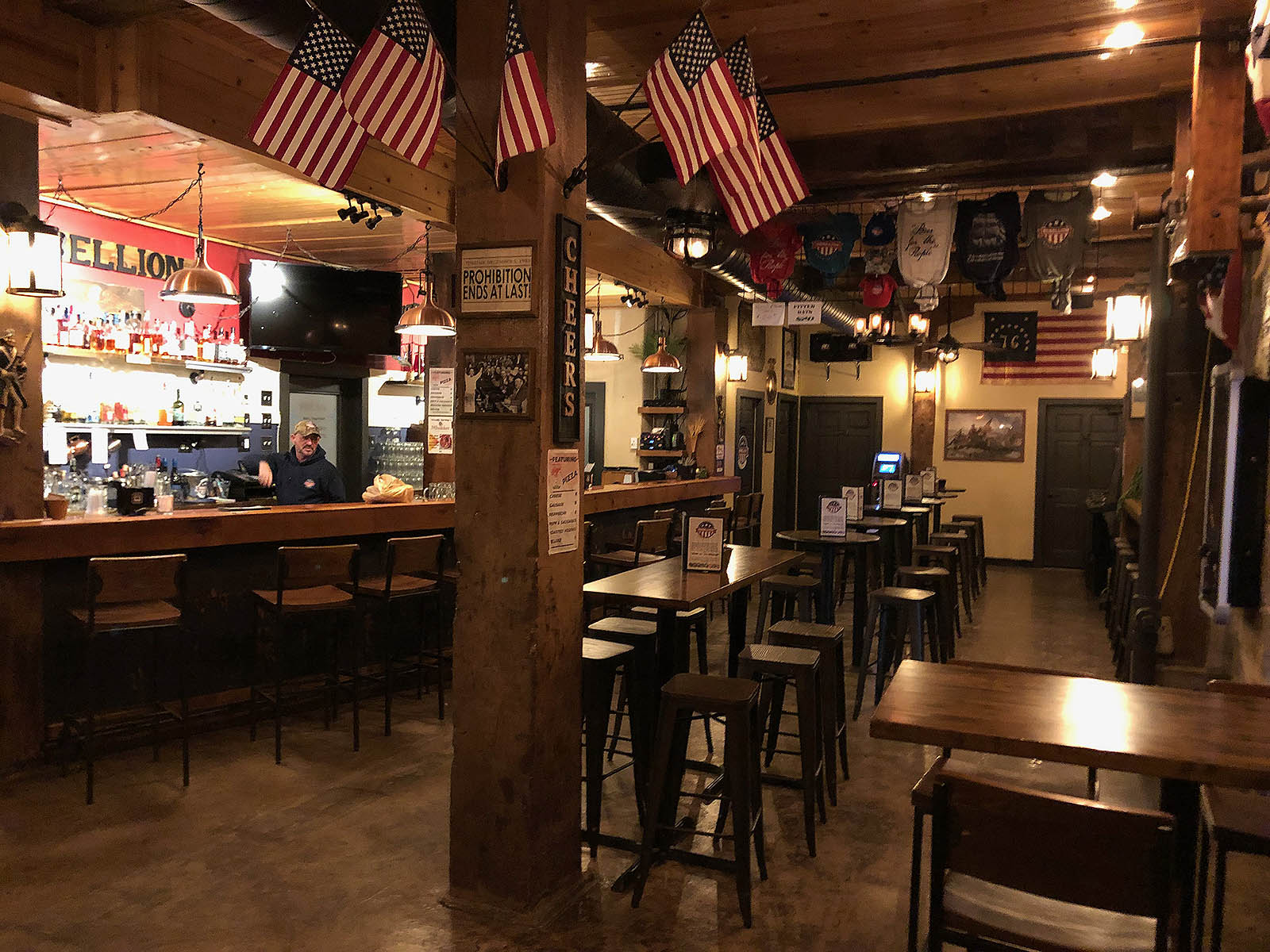 By 2018, it seems, they'd had enough.
"I think they just got tired," says Georgeff. "When we came in we redid everything, about a month in the boiler that was in here blew up, so we ended up having to fix that. I decided to put a new one in. How much could a boiler cost? $55,000!
Business has been good for Rebellion this past year and the brewery expanded, adding a new cooler and other equipment, says Georgeff.
"We could do about 3,600 gallons of beer a month now," he says. "About the last four months of the year, we, over the bar sold, about 5,200 gallons of beer."
The blonde root beer (pictured below) on which Georgeff holds a patent, also did well, selling about 13 half-barrels, glass by glass, at the bar.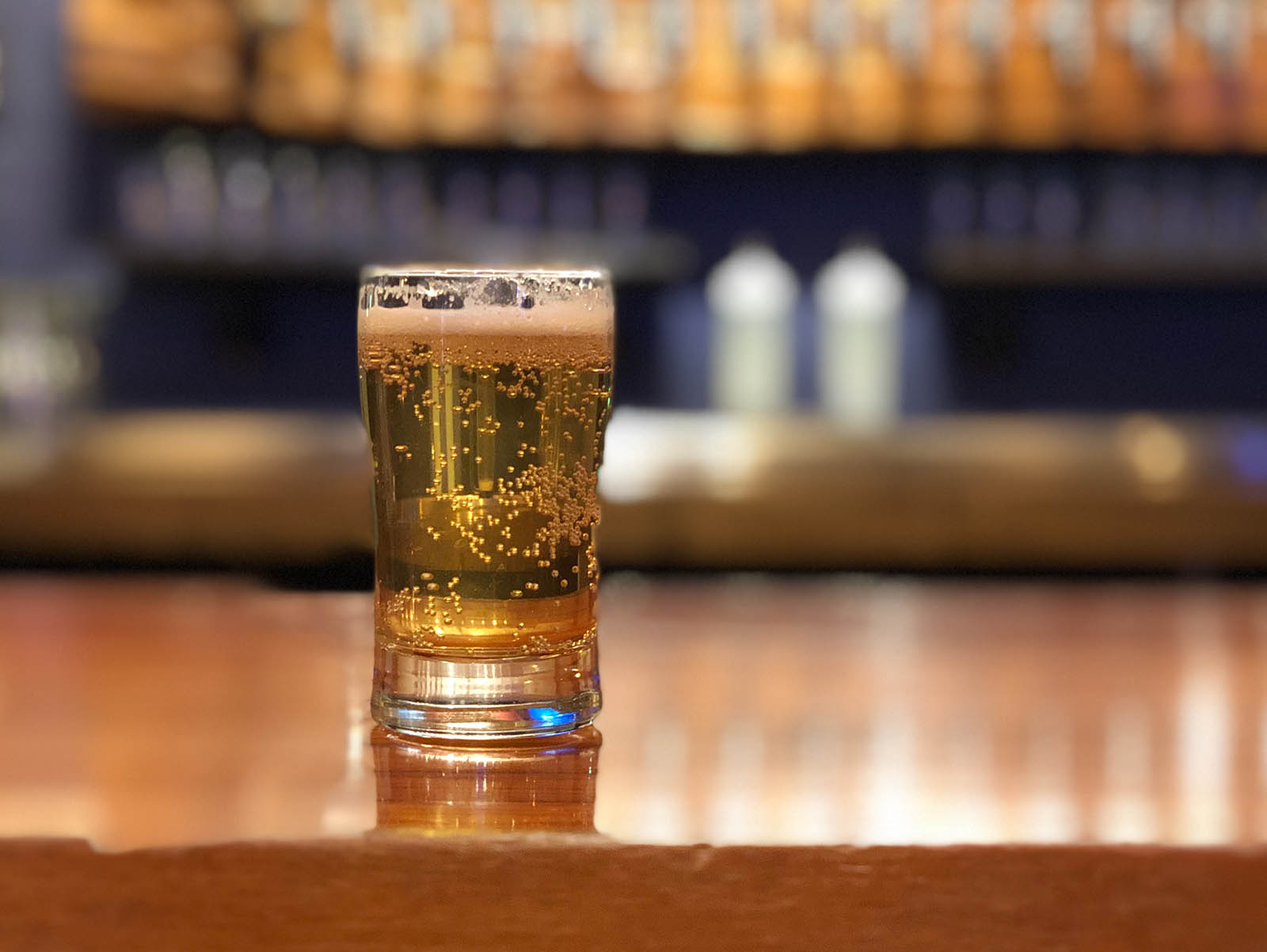 Though they're not yet packaging – they are talking to a mobile canner, however, and plan to self-distribute, at least initially – Rebellion beer is available at a few Cedarburg area bars and the root beer is also on tap at a few venues, including the new frozen custard and house-made sausage eatery around the cormer, called The Creamy Pig.
As the weather has taken a turn for the better, the patio has also done well.
"It is popular." says Georgoeff. "This summer it'll be berserk out there. It will be crazy. We have bands out there on the weekends, which we did last weekend, and it's just a fun venue. You've got the water going and a nice band out there.
As for the beer, Georgeff says Rebellion brews, "everything."
In addition to the blonde root beer, there is a range of lagers and IPAs on tap when I visit, as well as a porter, a stout, a shandy and some fruited brews, too.
But, says Georgeff, "we're into real traditional German stuff. I think we make one of the better Bavarian weiss' around. We make a lot of lagers, a lot of light beers. I'm after that 85 percent of people that think Miller's the best lager made. Those are the people that I'm serving. And it's working.
"People just want to come out, have a good beer and just relax a little bit. I think we've got a couple of beers that are that bridge beer, like a Coors Light, like a Miller Lite kind of thing. Our Blue Star lager, really light, it's about 3.7 percent, but we make it with rice. It's got that kind of flavor, but with the hops it's got a little more flavor."
There are 14 taps at Rebellion, plus they sell some packaged beer from other breweries, including the macros mentioned above.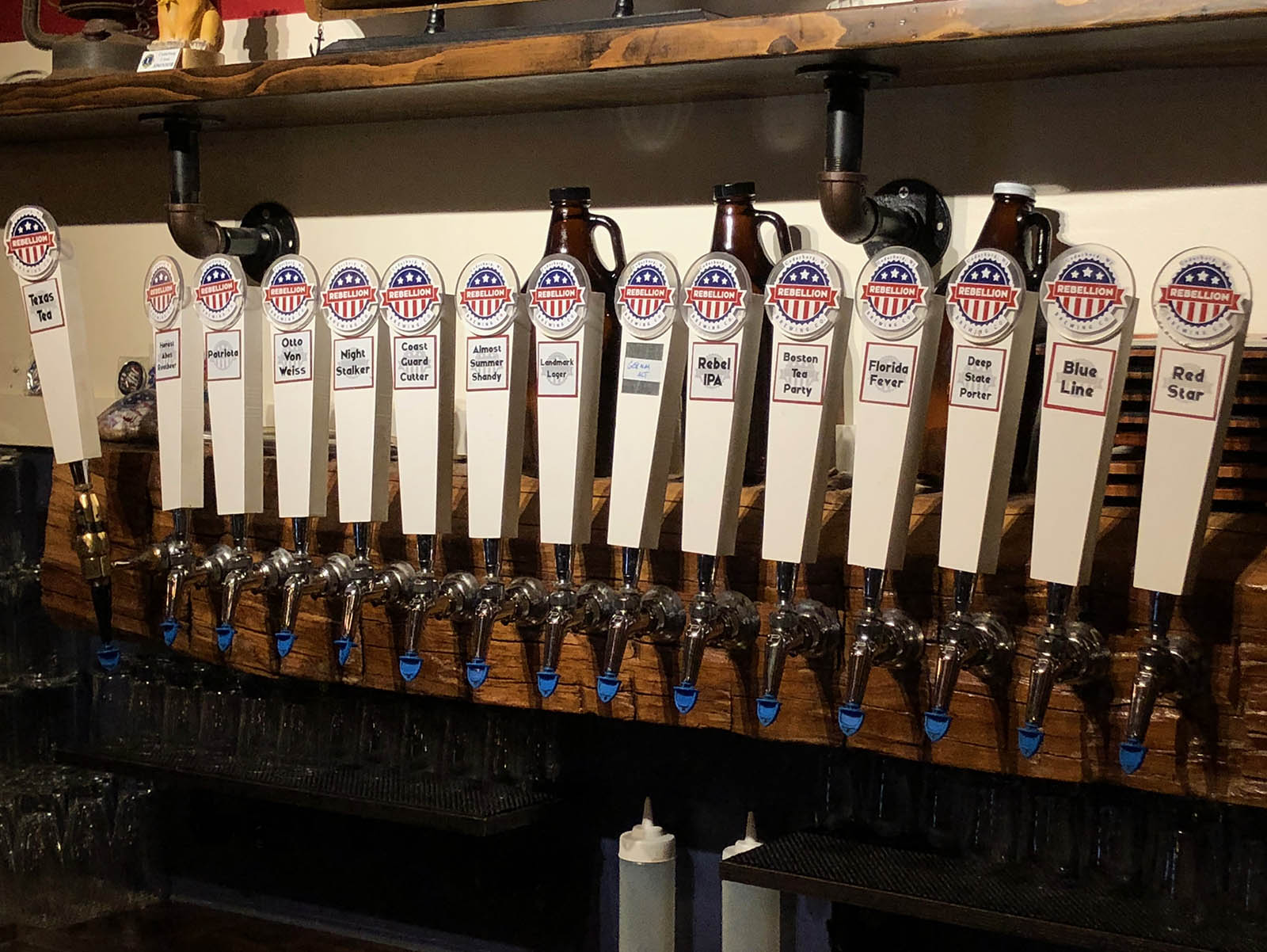 "Right now we do three constant IPAs," he says. "We've got our all day, which is our Rebel. Then we have our Independence. That's a hazy, and then we do a double also, but then I'll get weird. I made an English IPA last month that was a little bit more caramel-y than some.
"There's a few that'll be on all the time. Like our Texas Tea, which is a Guinness-style nitro stout, which is a little bit lighter, not as bitter as Guinness. Our Rebel is on all the time. I think this summer I'll probably run three IPA's all the time."
If you're feeling pecking, Rebellion serves Luigi's pizzas, Milwaukee Pretzels and a range of pickles that are made in-house.
So, if you want a crushable lager, some homemade pickles, some great root beer for the kids ... all on one of the coolest patios around, in the shadow of perhaps the most historic building in Cedarburg, Rebellion's got you covered.
Born in Brooklyn, N.Y., where he lived until he was 17, Bobby received his BA-Mass Communications from UWM in 1989 and has lived in Walker's Point, Bay View, Enderis Park, South Milwaukee and on the East Side.
He has published three non-fiction books in Italy – including one about an event in Milwaukee history, which was published in the U.S. in autumn 2010. Four more books, all about Milwaukee, have been published by The History Press.
With his most recent band, The Yell Leaders, Bobby released four LPs and had a songs featured in episodes of TV's "Party of Five" and "Dawson's Creek," and films in Japan, South America and the U.S. The Yell Leaders were named the best unsigned band in their region by VH-1 as part of its Rock Across America 1998 Tour. Most recently, the band contributed tracks to a UK vinyl/CD tribute to the Redskins and collaborated on a track with Italian novelist Enrico Remmert.
He's produced three installments of the "OMCD" series of local music compilations for OnMilwaukee.com and in 2007 produced a CD of Italian music and poetry.
In 2005, he was awarded the City of Asti's (Italy) Journalism Prize for his work focusing on that area. He has also won awards from the Milwaukee Press Club.
He can be heard weekly on 88Nine Radio Milwaukee talking about his "Urban Spelunking" series of stories.