With its set-back position on a busy corner, broad staircase, polychrome cornice decoration, classical pediment supported by six Corinthian columns and copper lantern-capped dome, the Carl Barkhausen-designed Second Church of Christ Scientist on 27th and Highland – now St. Luke Emanuel Missionary Baptist – is a striking building.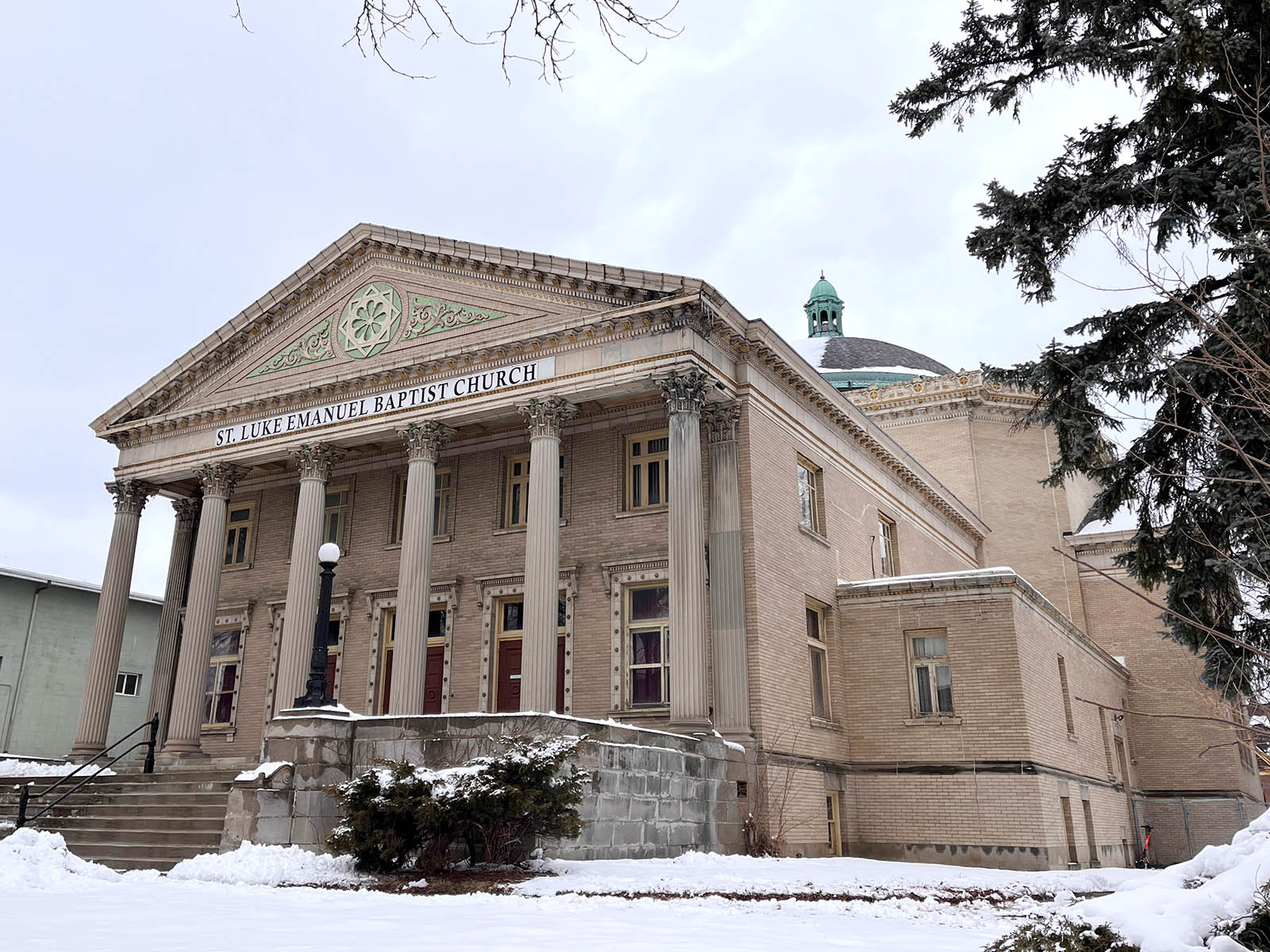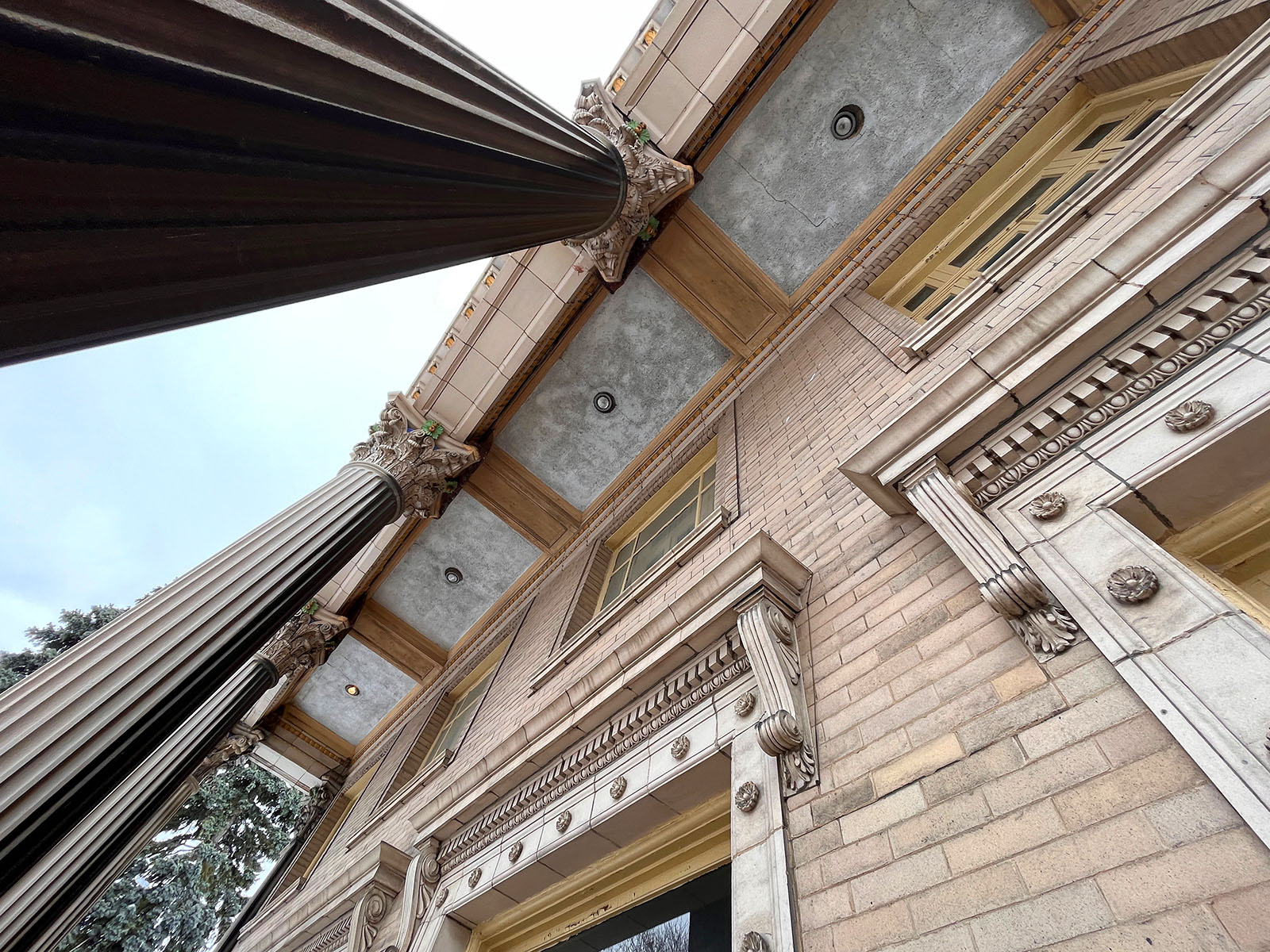 And, now, the building – which feels a bit like Milwaukee's own Pantheon and is a rather rare example of a Neoclassical-style church here – can be yours.
The 1913 building, 2722 W. Highland Blvd., was listed for sale on Friday, with an asking price of $200,000.
You can find the complete listing here.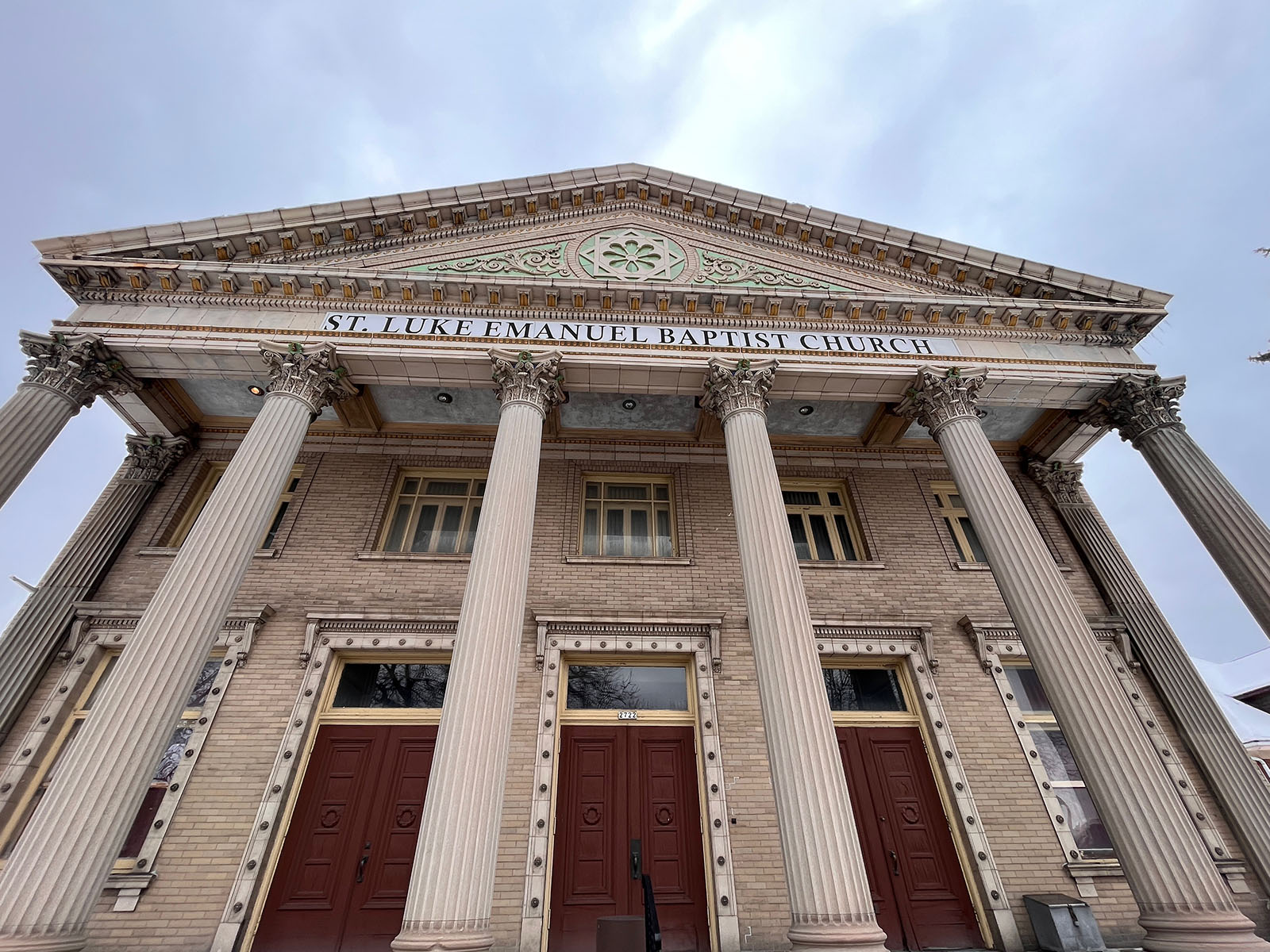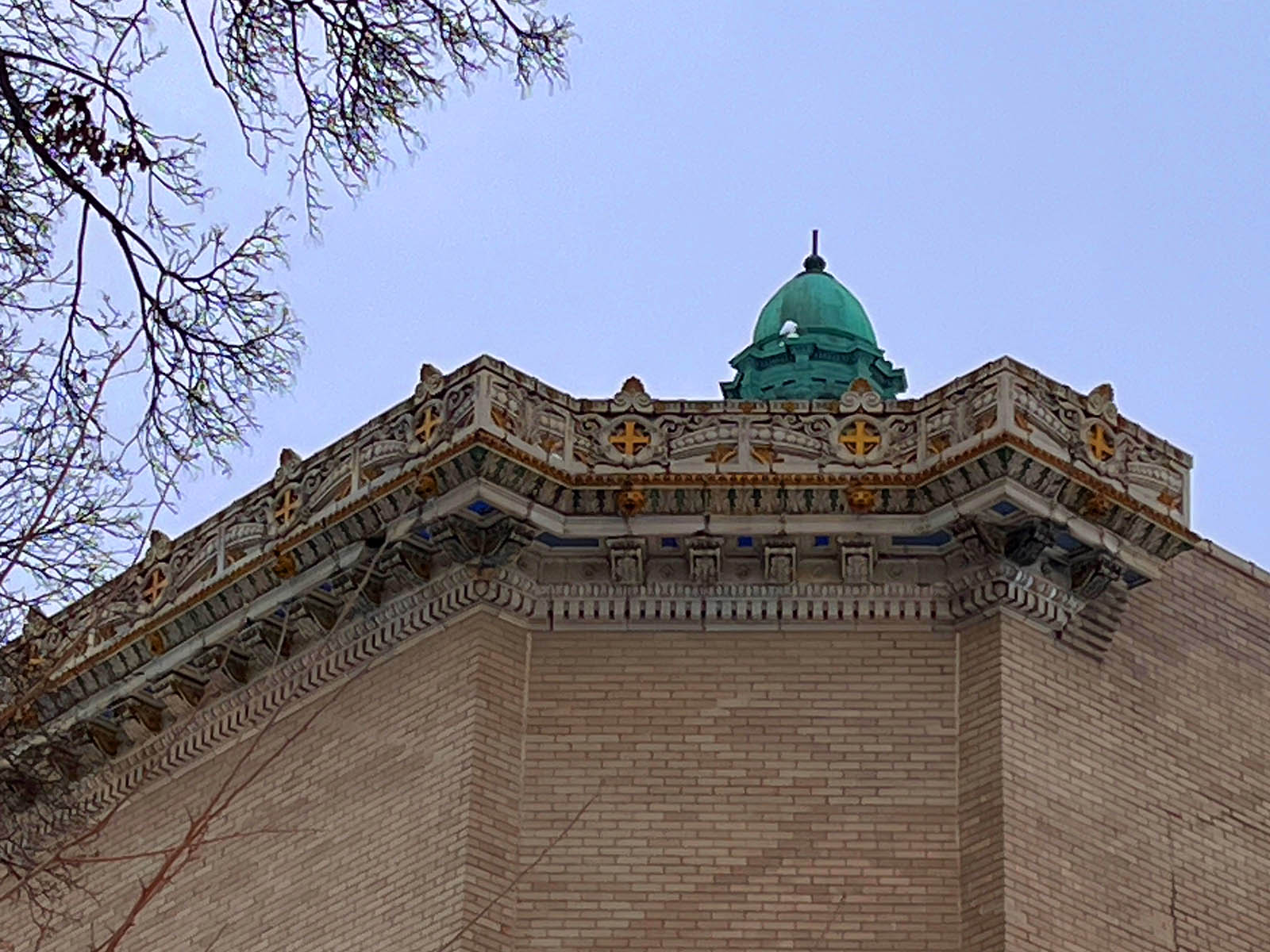 Built, as the name suggests, as home to one of the city's Milwaukee Christian Science congregations, the building has been owned by the St. Luke Emanuel Missionary Baptist Church since 1985.
While the church is striking on the outside, inside it is even more so, thanks to the leaded glass in the dome that allows bright light to rain down into the sanctuary, where a pair of narrow wings flank the space.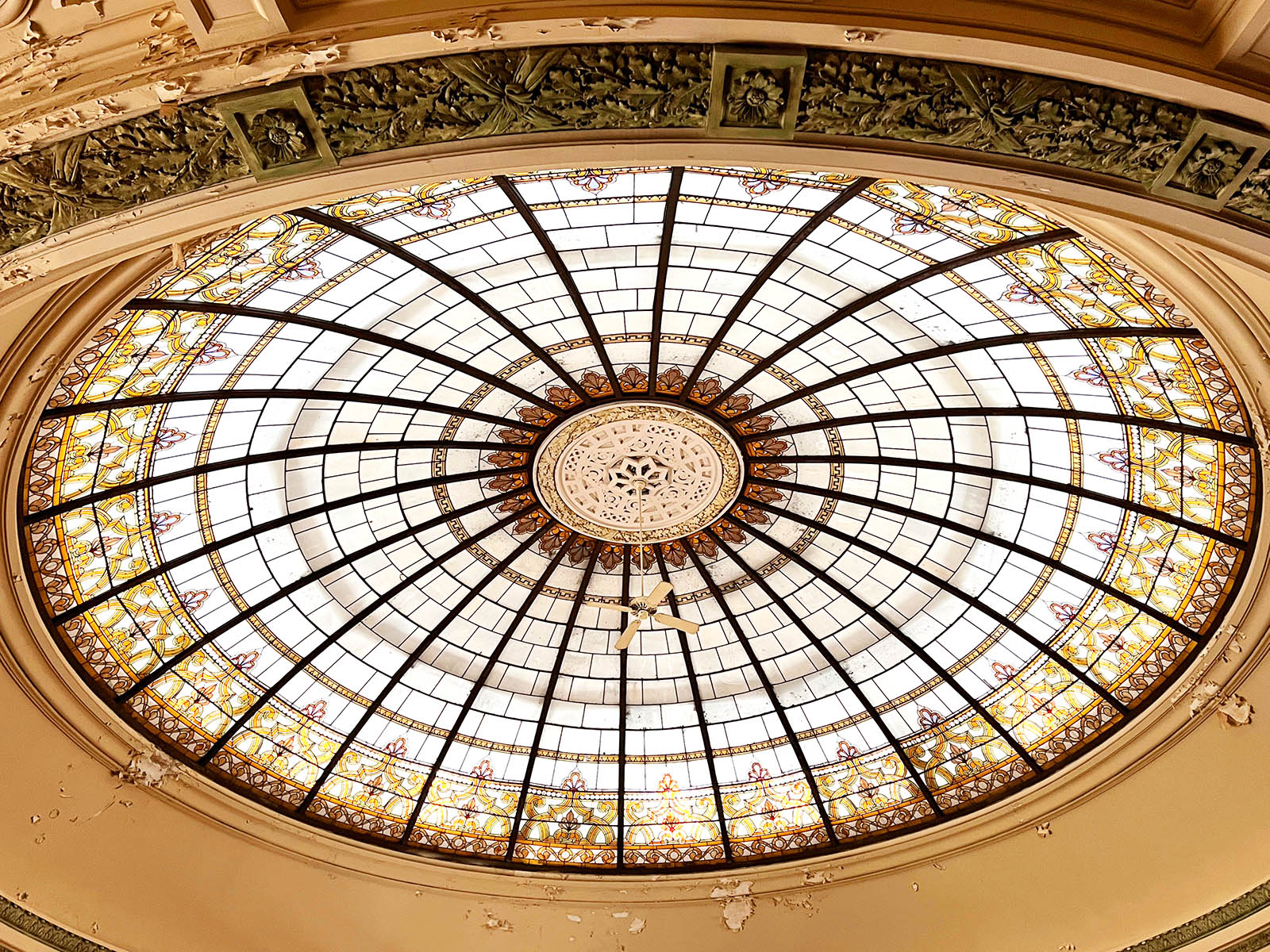 Each wing has a broad arch and within the exterior walls of each is a trio of arched windows.
With its tastefully simple and unadorned paint scheme, the lovely pattern of the dome glass really shines.
On the north wall, where the altar is situated, a coffered apse has an alcove on either side and pairs of Ionic columns. The space feels part classical Rome and part Arts & Crafts.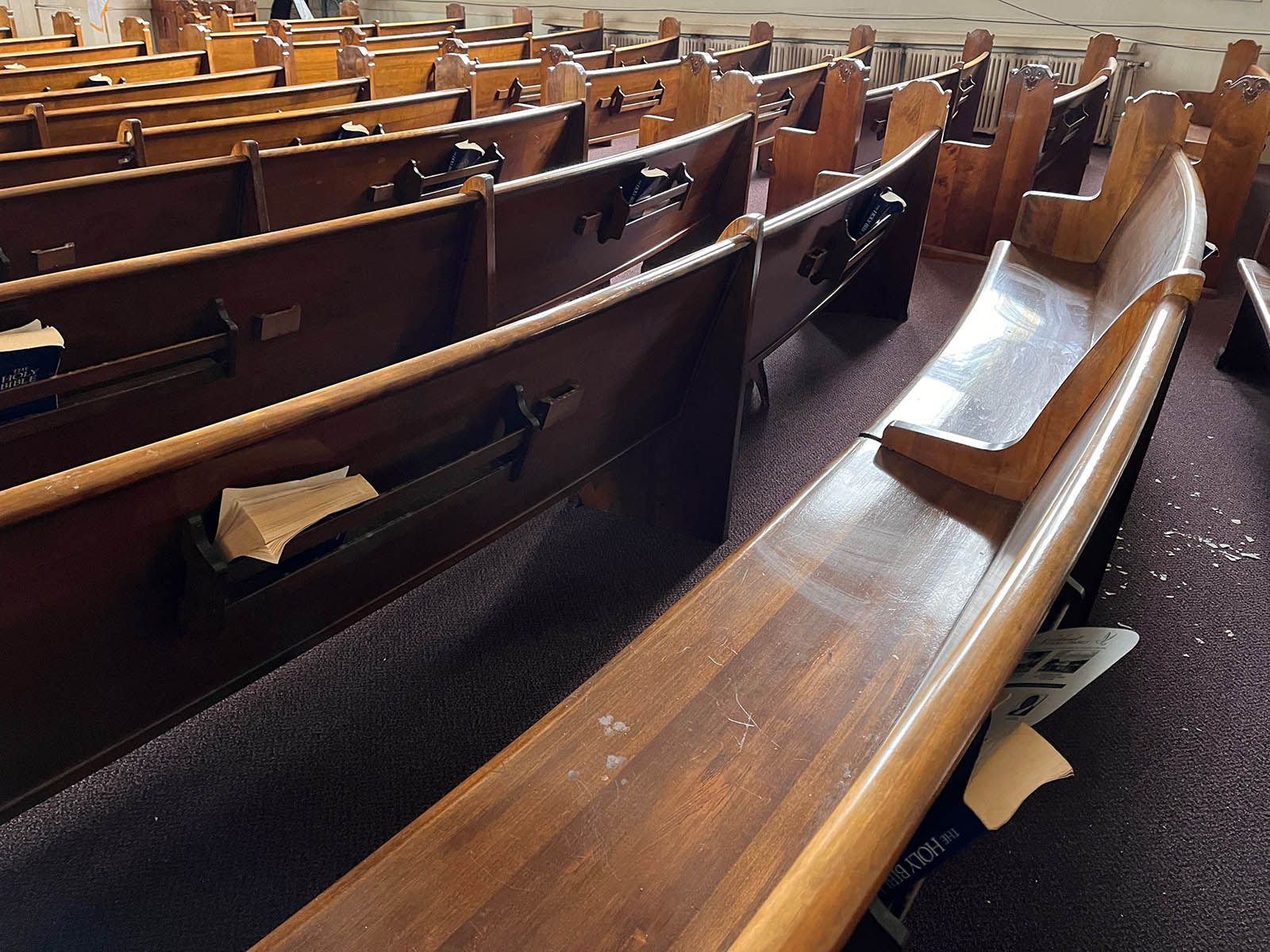 The Circassian walnut pews are arrayed outward in an arc toward the back, where doors lead out to the broad lobby with its exposed beam ceiling and, at either end, staircases leading to the deep choir loft, "board room" and offices.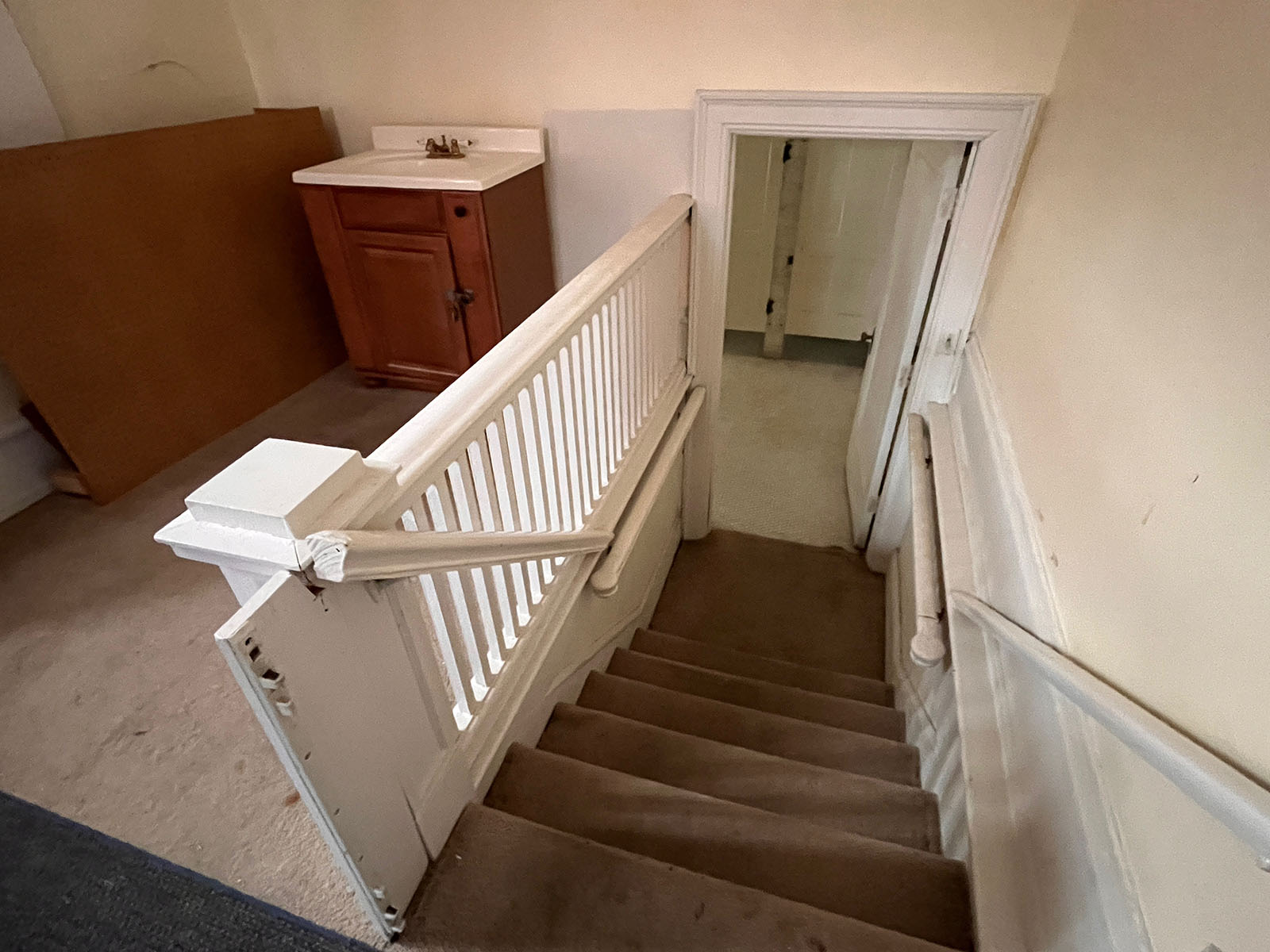 Also on either end of the tiled vestibule are men's and women's lounge areas with toilet rooms down short staircases (pictured just above).
Behind the altar are a number of offices and on the lower level there is a big open hall with a kitchen and some more offices and small rooms, some of which previously housed a day care.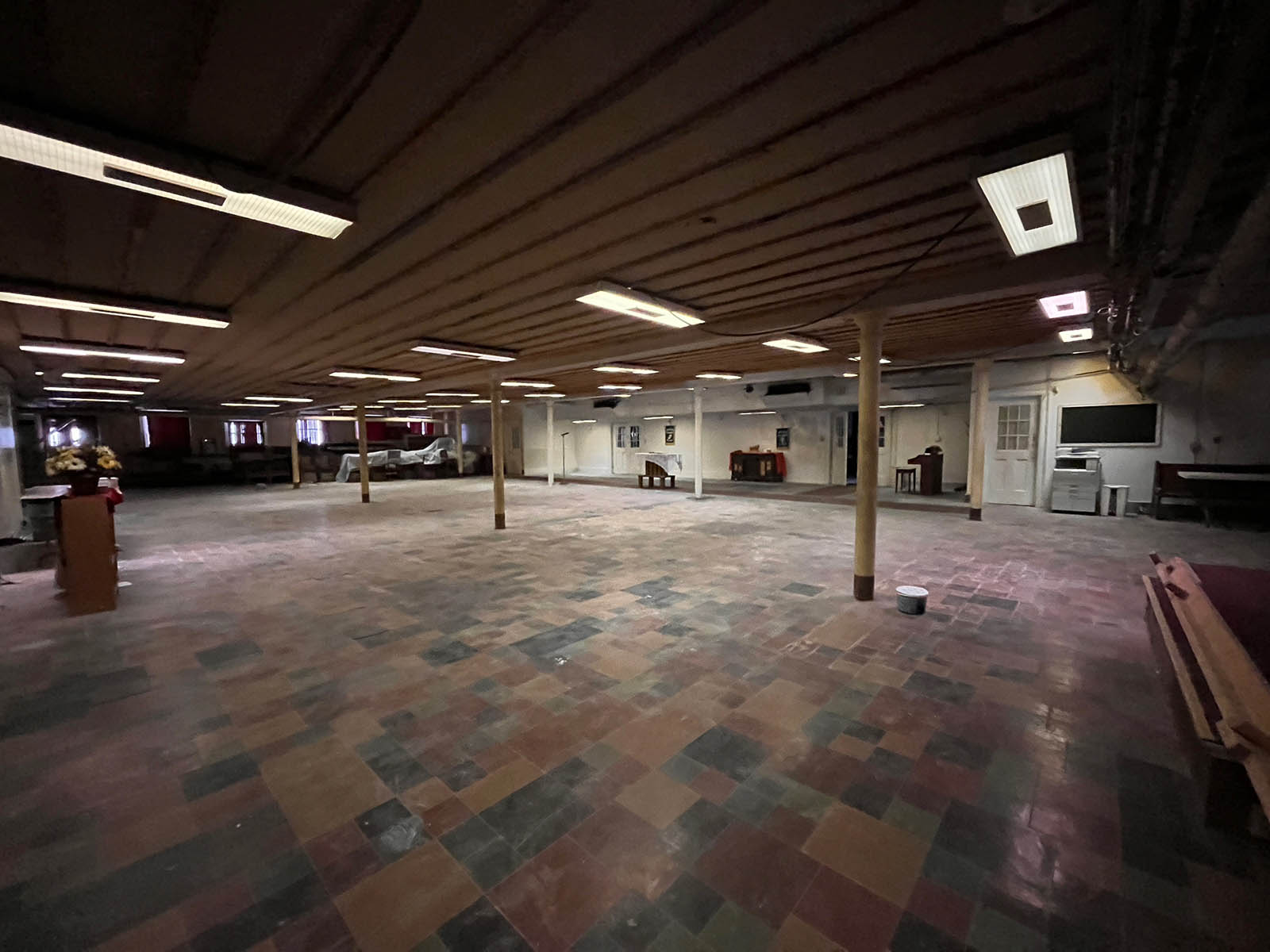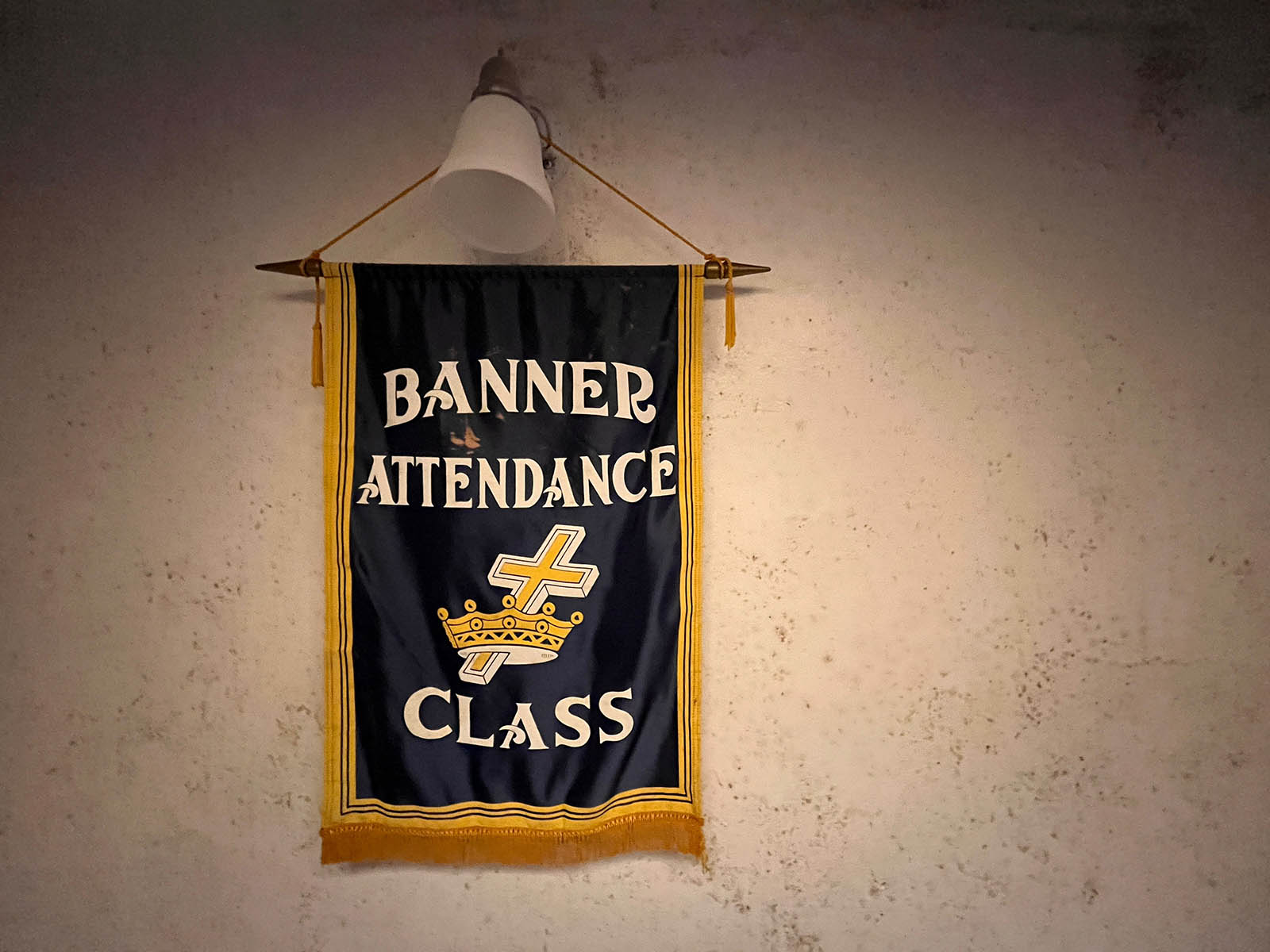 In a 1914 article in the Milwaukee Sentinel, architect Barkhausen explained his design, which had cost $135,000 to build.
"Basing its entire metaphysical structure on the teachings of the master Christian, it is but natural that these churches should be built in the style of that era," he wrote, "especially since the Grecian classic is and remains today the simplest and at the same time the most exalted form language of all time.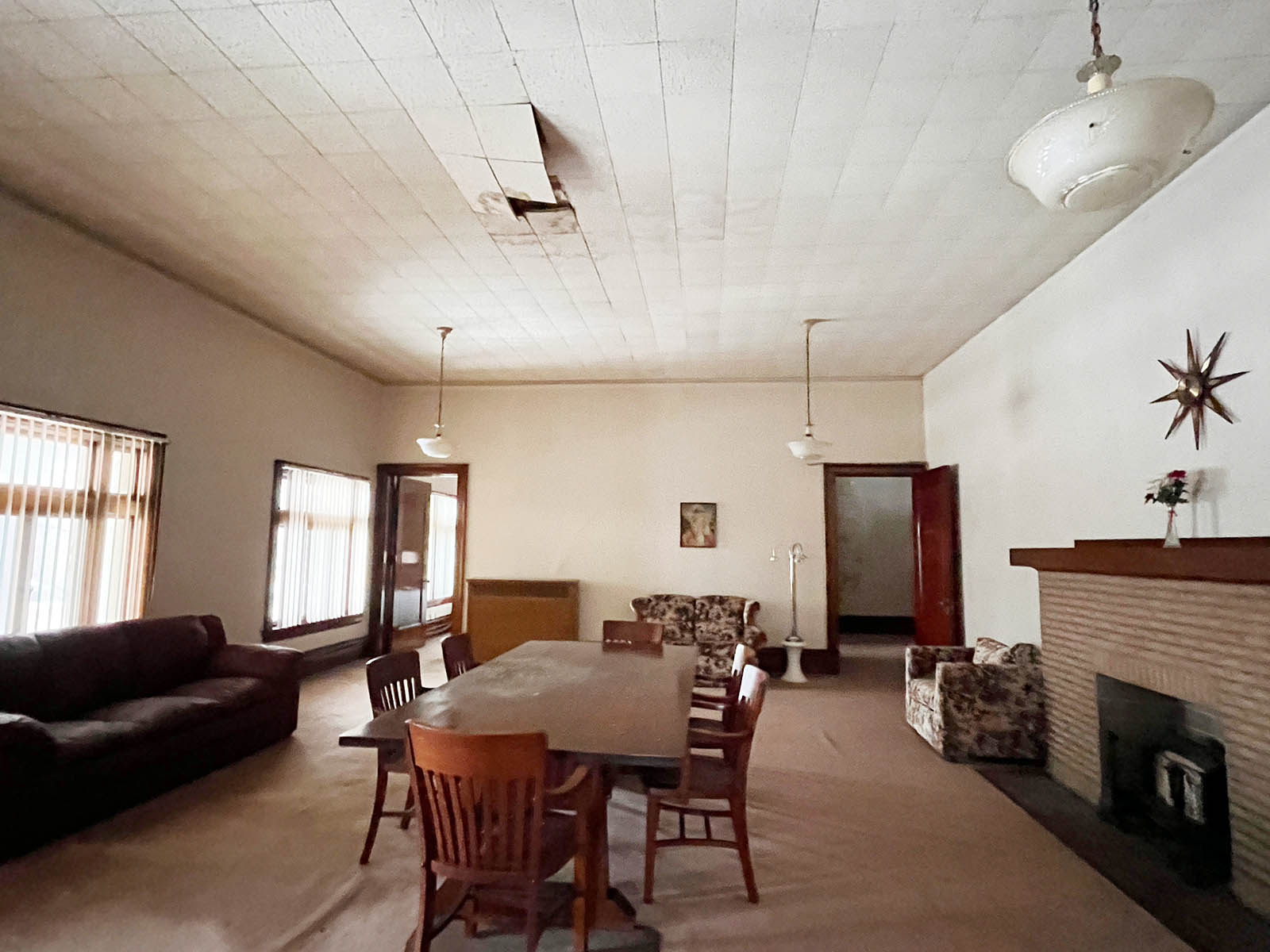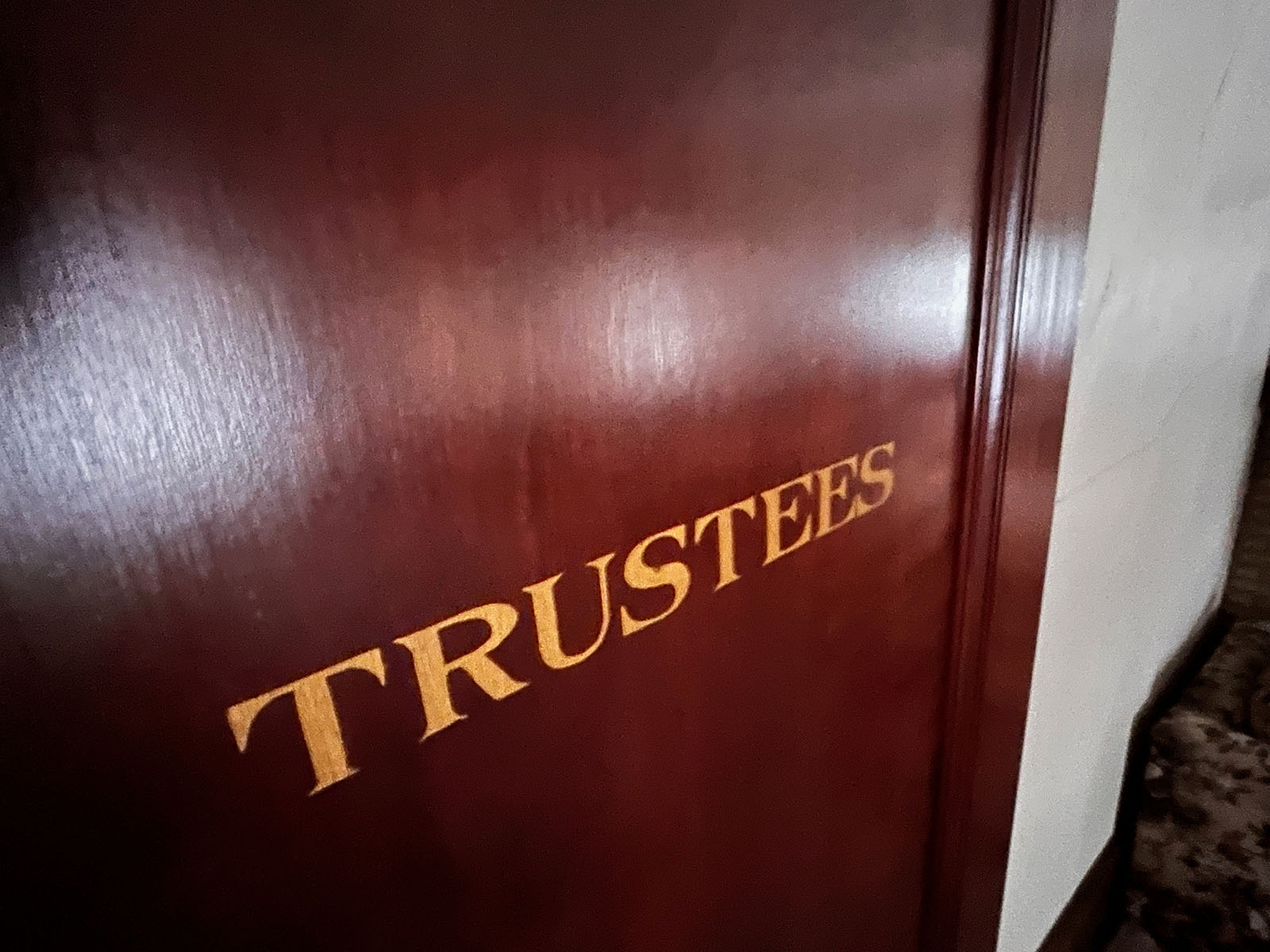 "Built in the ornate Grecian Corinthian style, it retains the best traditions of those early temples scattered throughout the orient. The design of this church is the result of most careful study.
"Brick and terra cotta were extensive used on the exterior, the materials being blended together by a liberal use of polychrome in cornices and gables. ... Wide approaches and a colonaded portico lend dignity to the entrance."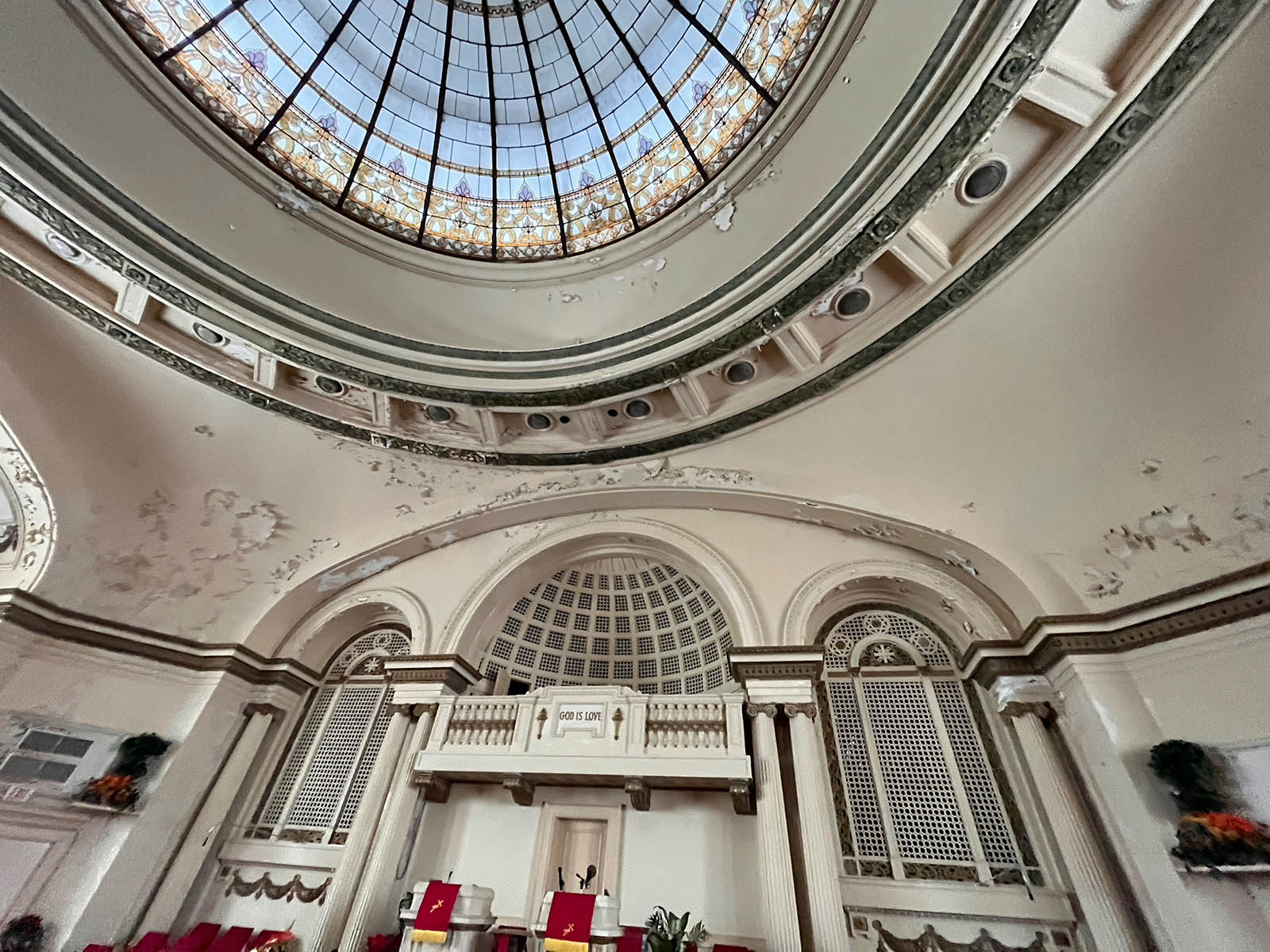 Barkhausen also described the interior of the auditorium, which could seat 1,450.
"It is about 90 feet square, built without columns, and it has always been a difficult problem to design a proper ceiling treatment for such a vast space as this, but in this instance it has been solved in a very satisfactory manner.
"The great interior dome has been constructed of glass and at night the auditorium will be lighted through this dome by a series of light units strung above the glass, eliminating all lighting fixtures and replacing, as it were, the celestial dome of the day.
"For this purpose a Belgian leaded glass has been imported which possesses a minimum degree of density and at the same time diffuses the light, thus overcoming some of the drawbacks of semi-indirect lighting installations."
Barkhausen brought a wealth of experience to the project.
Born in Thiensville in 1860, the son of German immigrants, he studied first at the German-English Academy. Then Barkenhausen went to Germany to study architecture first at a technical school and, at age 21, in Berlin, according to the landmark designation report for the church building, prepared by the city's Historic Preservation Commission.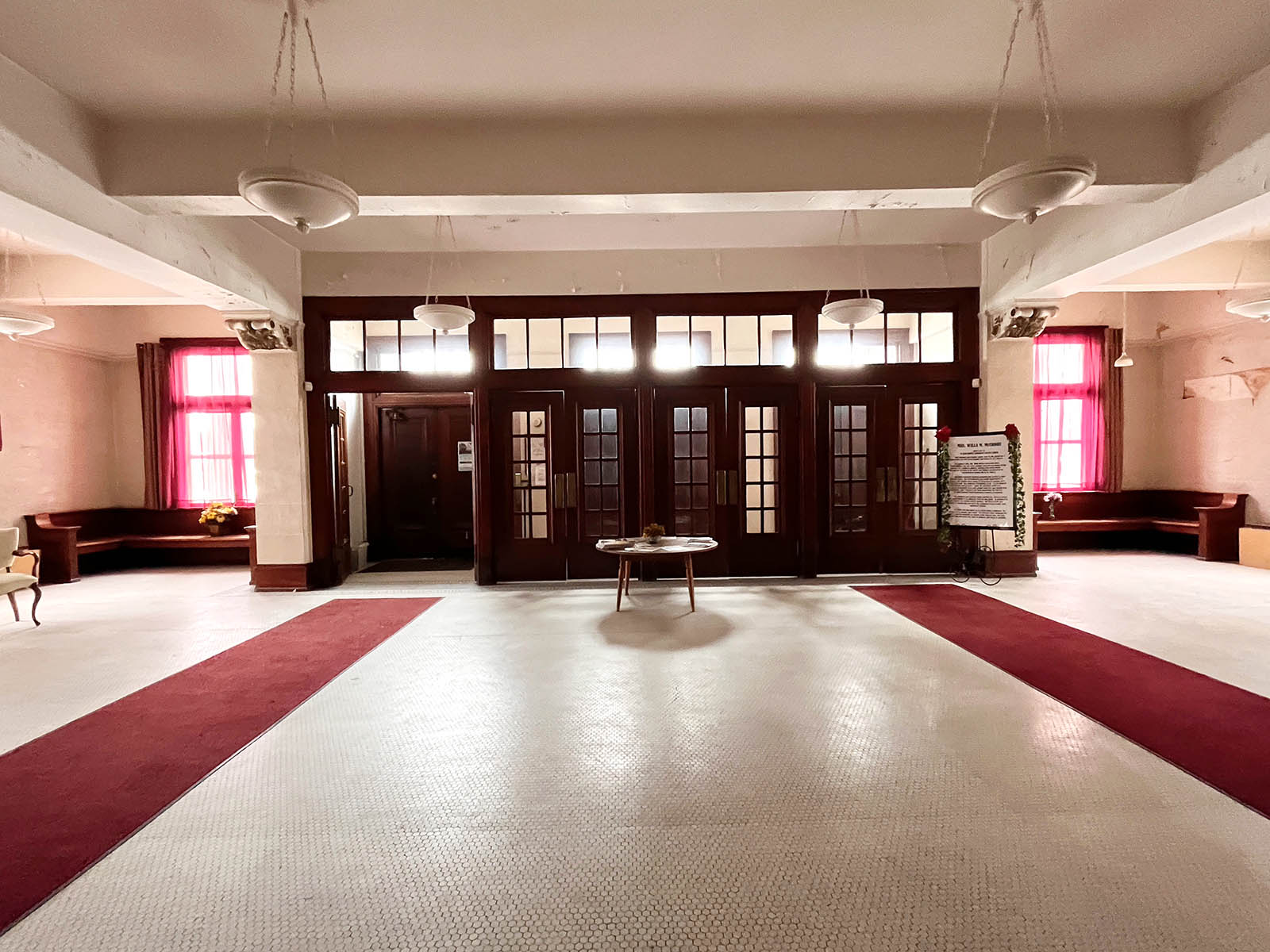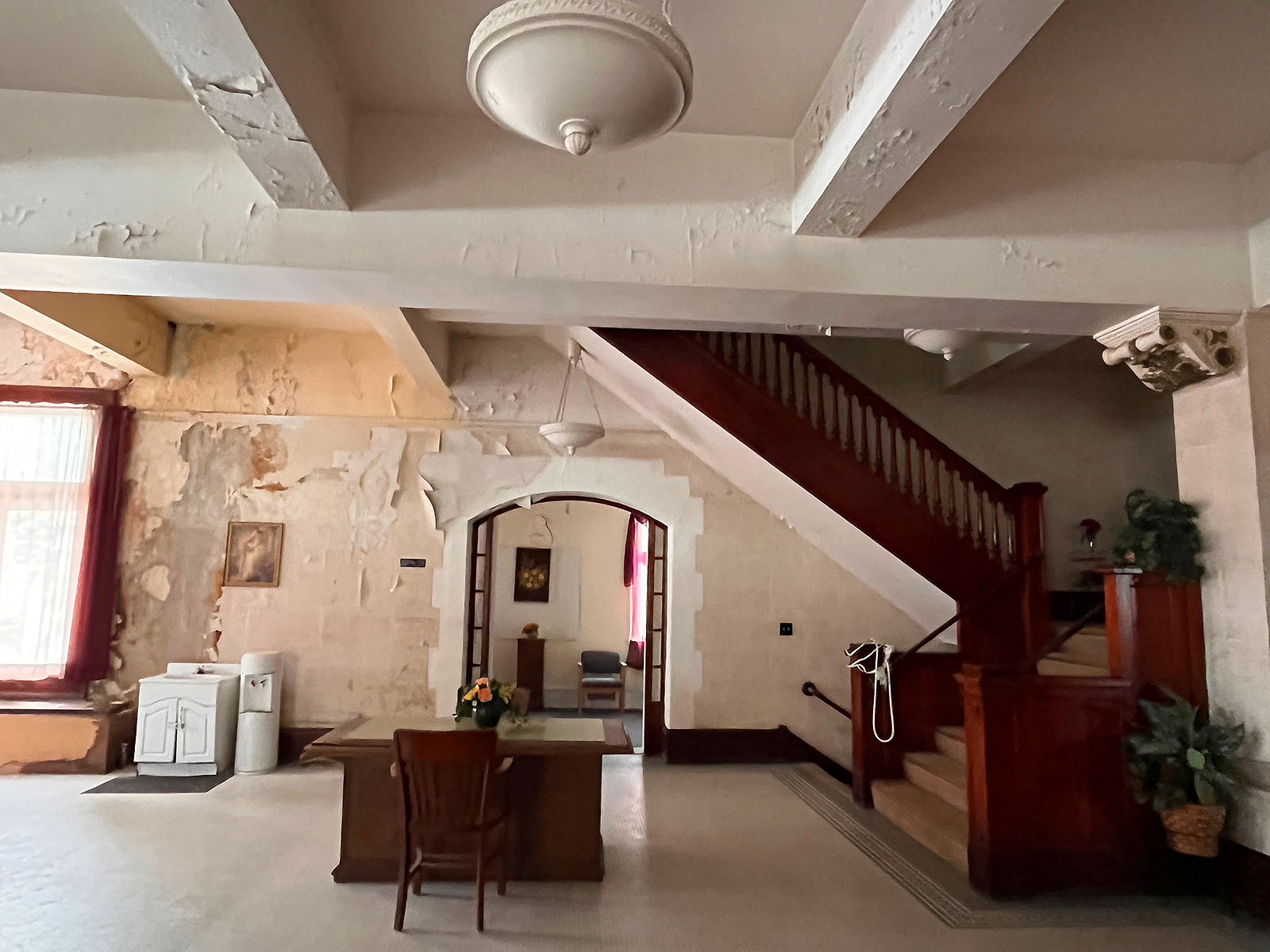 By 1863, Barkhausen was back in Milwaukee, where he took a job in landmark architect Edward Townsend Mix's practice, where he worked for five years, before leaving with colleague Charles D. Crane to open their own office.
Thanks to Barkhausen's study and experience in Germany, the firm became popular with Milwaukee's German elite and, either in partnership or alone, Barkhausen designed the Gettelman Mansion, Carpenter House and First German Methodist Church on Highland Boulevard; the Schuster Mansion on Wells; the Kern Mansion on Wahl Avenue and many other gems.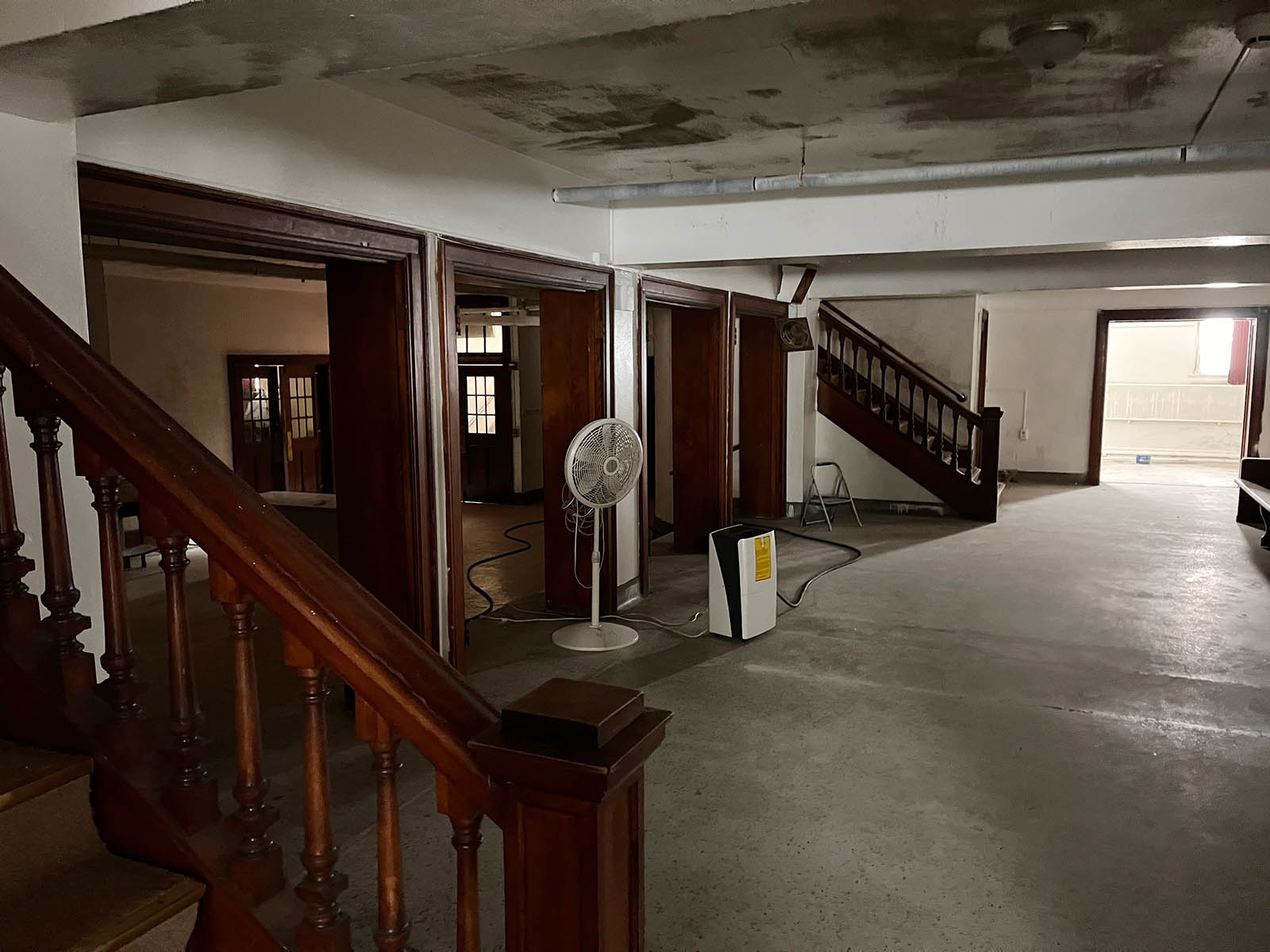 He and Crane also designed a new home for his alma mater, the German-English Academy, in 1890.
In 1903 – three years after the partnership with Crane ended – Barkhausen joined New York's skyscraper-building George A. Fullerton Construction Company, remaining out east for nearly a decade.
In 1912, he returned to Milwaukee, setting up his own practice (after a short resumption of his partnership with Crane). He received the commission for the Second Church of Christ, Scientist in early 1913 and ground was broken on the project in July 1913.
The first services were held on June 7, 1914.
Christian Science was founded in Massachusetts by Mary Baker Eddy after she, "experienced a miraculous physical healing," according to the city report.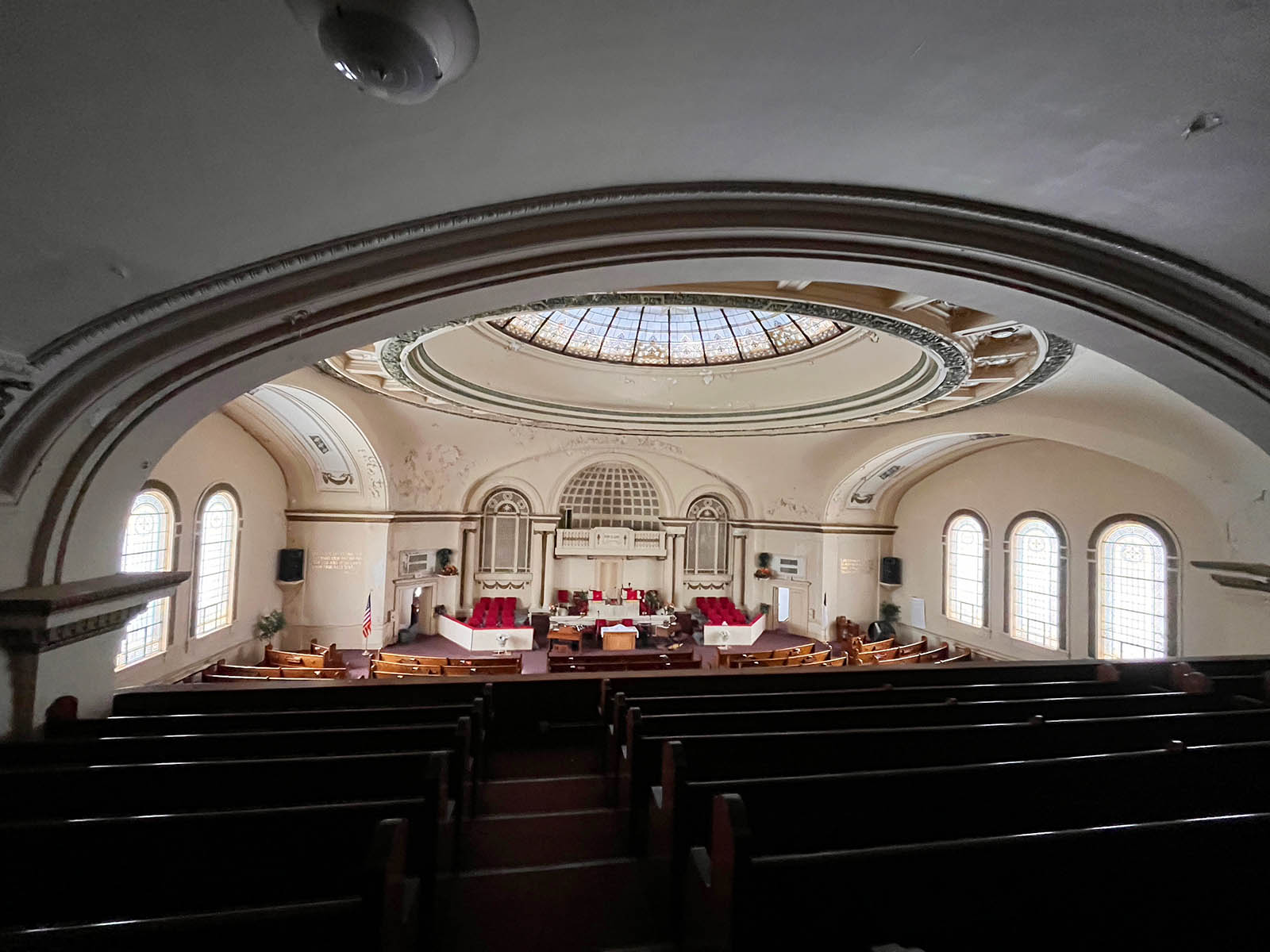 "In January of 1866, Mary Baker Eddy fell on ice, sustaining a severe injury considered by her attending doctor to be fatal. Her miraculous recovery was credited to her reading of and pondering a healing performed by Jesus."
The report adds that Milwaukee was an early adopter of Christian Science.
"The archives of the Mother Church in Boston ... state that Milwaukee was the first city after the original organizations were founded in Lynn and Boston Massachusetts to establish a Christian Scientist Association."
That came in 1883, when Milwaukee dentist Dr. Silas J. Sawyer and his wife, Jenny, were trained as metaphysical healers and teachers by Eddy. Returning to Milwaukee the following year, they launched the Wisconsin Metaphysical Institute in Sawyer's dental office. Later that year, they started the Christian Scientists Association of Wisconsin.
In 1889 that association became the Church of Christ, Scientist. A church, which still stands, was built in 1902 at 1036 N. Van Buren St.
A second church was founded in 1892 by two women who had also studied with Eddy, and the two congregations merged in 1904.
Two years later another "Second Church" began worshipping at the old Century Hall on Farwell Avenue, though it was later renamed the Fourth Church, though it then became the Third Church and built a church on Kenwood and Stowell, which also still stands.
Confused yet?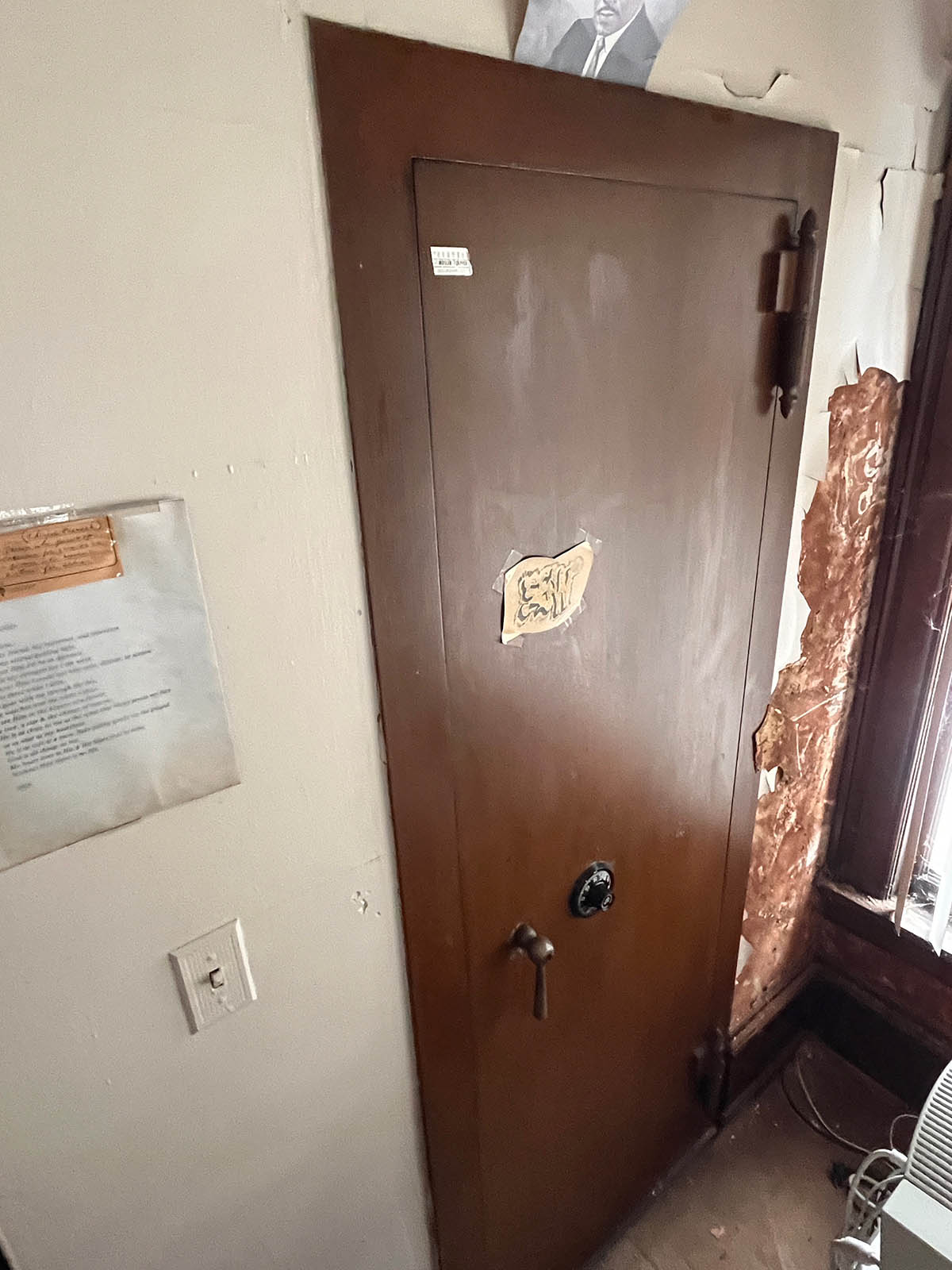 Well, the Second Church congregation that built the church we're discussing was not either of those. Instead, it was an offshoot of the First Church on Van Buren.
The congregation there had grown so large that it had begun using The Pabst Theater for its Sunday services as it started work on a new, larger church building on Prospect and Curtis, designed by Chicago's Solon Spencer Beman (who had designed Milwaukee's iconic Pabst Building on Water and Wisconsin).
(The church, which also survives, was later an events venue called Renaissance Place, the parking lot of which is currently being discussed as the site for a new apartment tower.)
That new East Side church burned just as it was nearing completion and had to be rebuilt, and by the time it opened, the designation report notes, it was already too small for the still-booming congregation.
Thus, the breakaway group raised $135,000 from other Christian Science congregations and set to work on its own building on the West Side.
Amazingly, within four years, it, too, was too small and three other congregations were formed out of it.
But that Christian Science boom wouldn't last.
"While once a denomination that had 4,035 members in Wisconsin in the mid-1920s according to the US Census Bureau, with thousands of non-members attending readings and lectures, Christian Science declined after World War II," the report notes. "Congregations by the 1980s often found themselves financially strapped by such large, substantial and costly to maintain structures as the one occupied by Second Church.
"Some congregations, as First Church on Prospect Avenue, continue to meet in smaller quarters after having sold off their large building. ... Some, like Second Church, voted to sell their building and continue meeting at a Grand Avenue Congregation Church."
In February 1985, the Highland Boulevard church building was sold for $225,000 to St. Luke Emanuel Missionary Baptist Church, which was founded on 12th Street around 1966 by Pastor Robert McCrory and his wife Willa.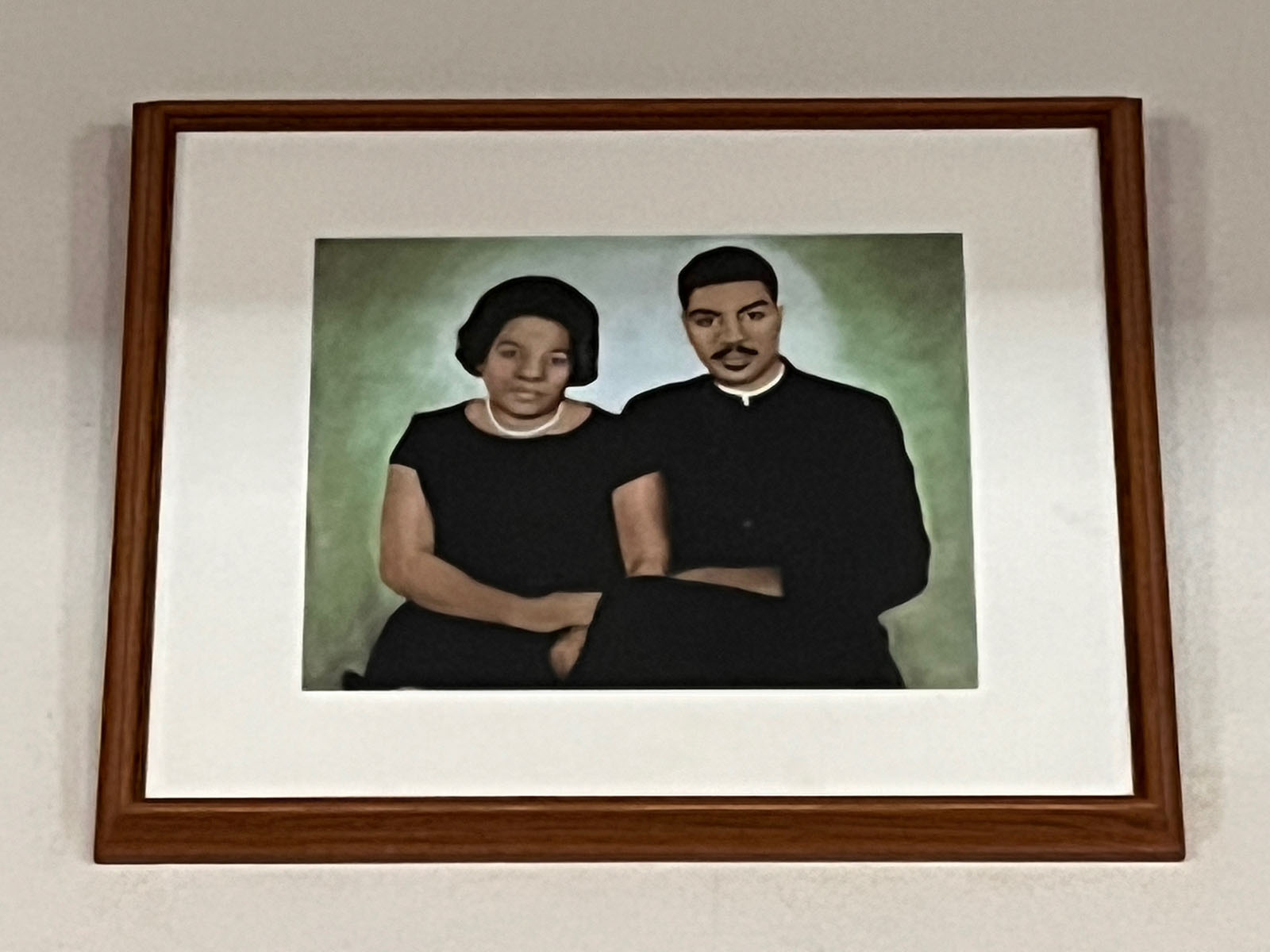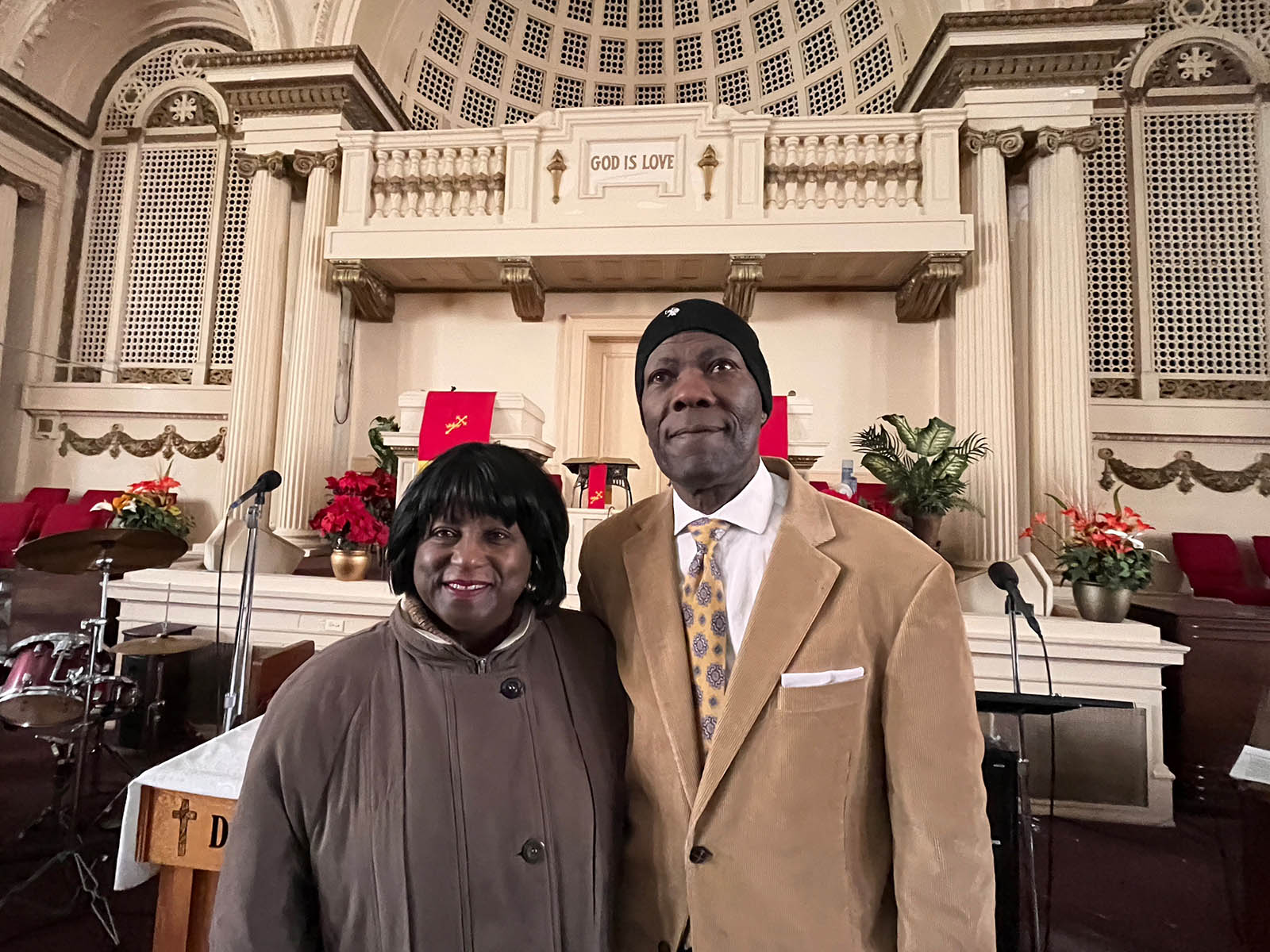 In 1971, it moved to 2614 W. Center St., where it remained until it purchased the former Second Church building.
Current pastor Robert McCrory – son of the founders – and his wife Evelyn, said that they held their last in-person service in the building on Oct. 31, 2021 and have been doing services via Facebook Live ever since.
The problem, said Pastor McCrory, is that the congregation has dwindled, especially after being hit hard by Covid, to perhaps 30 members, most of whom are elderly.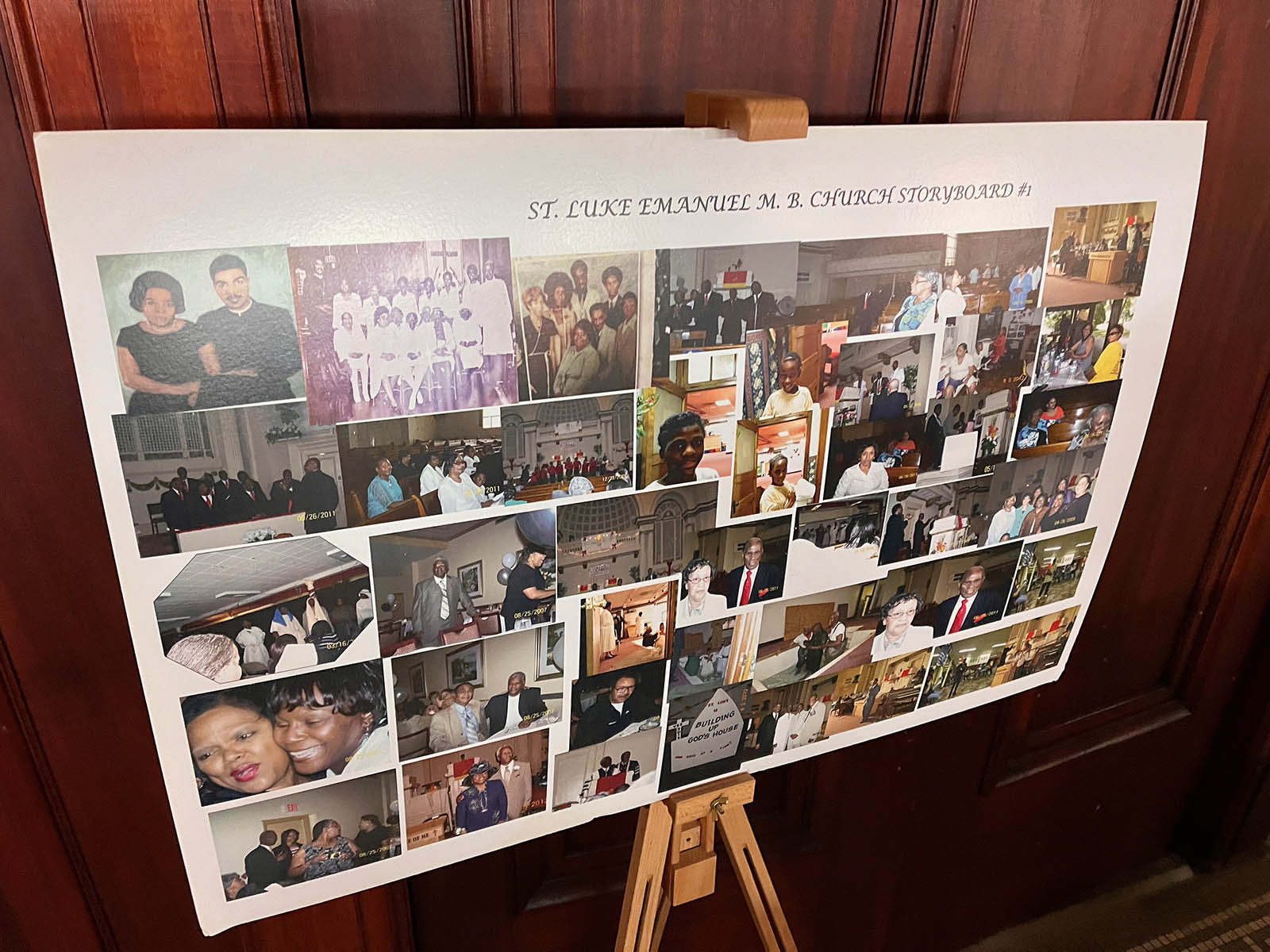 Now, he said, "this is too much building."
As it had for the Christian Scientists before them, the building has become again what the city report described as a, "large, substantial and costly to maintain structure."
The McCrorys have tried to secure grants to help keep up the building but, as I've noted in stories on other area churches (like this one), that is an uphill battle for a small congregation in a big, aging building.
For now, said Evelyn McCrory, they will continue to maintain a presence online while seeking a more right-sized home for St. Luke.
Thus, the building has been listed for sale. It has zero bedrooms, but lots of bathrooms, and is on a 33,212-square-foot lot.
Assessed at $175,000, it's currently off the property tax rolls, but a sale could change that, depending on the buyer and the building use.
When I stopped by on Monday, I passed prospective buyers on the way in and on the way out, and a developer I know was going to see it later in the day.
So, while it seems like finding a new congregation might be a stretch, there is definitely some interest in this beautiful landmark.
If you're interested in the property, you can contact realtor Josie Santiago.
Born in Brooklyn, N.Y., where he lived until he was 17, Bobby received his BA-Mass Communications from UWM in 1989 and has lived in Walker's Point, Bay View, Enderis Park, South Milwaukee and on the East Side.
He has published three non-fiction books in Italy – including one about an event in Milwaukee history, which was published in the U.S. in autumn 2010. Four more books, all about Milwaukee, have been published by The History Press.
With his most recent band, The Yell Leaders, Bobby released four LPs and had a songs featured in episodes of TV's "Party of Five" and "Dawson's Creek," and films in Japan, South America and the U.S. The Yell Leaders were named the best unsigned band in their region by VH-1 as part of its Rock Across America 1998 Tour. Most recently, the band contributed tracks to a UK vinyl/CD tribute to the Redskins and collaborated on a track with Italian novelist Enrico Remmert.
He's produced three installments of the "OMCD" series of local music compilations for OnMilwaukee.com and in 2007 produced a CD of Italian music and poetry.
In 2005, he was awarded the City of Asti's (Italy) Journalism Prize for his work focusing on that area. He has also won awards from the Milwaukee Press Club.
He can be heard weekly on 88Nine Radio Milwaukee talking about his "Urban Spelunking" series of stories.