For the 10th straight year, October is Dining Month on OnMilwaukee, presented by the restaurants of Potawatomi Hotel & Casino. All month, we're stuffed with restaurant reviews, dining guides, delectable features, chef profiles and unique articles on everything food, as well as voting for your "Best of Dining 2016."
Silver City, one of Milwaukee's most diverse neighborhoods, is home to some of the city's best Thai restaurants. It also offers Mexican, Laotian and American fare.
Silver City borders on West Pierce Street and West Greenfield Avenue between 31st and 38th Streets. It received its name in the late 19th century during a time when the area was filled with shops and taverns that people from the valley and beyond visited to spend their hard-earned money, aka "silver dollars."
Always vibrant and visually interesting, Silver City is a great destination when in the mood for "something new" – if it's not already a dining favorite.
Bamboo Restaurant
3427 W. National Ave., (414) 316-9023

Santana Tenhover, a native of Laos, opened Bamboo in 2014. The small, tidy and vibrant eatery offers traditional Laotian and Thai dishes all made from scratch – by Tenhover herself – and include gluten-free, MSG-free and vegan menu items. Highlights include pad Thai, Thai curry, barbecue pork pho and the chicken or pork larb, served with sticky rice.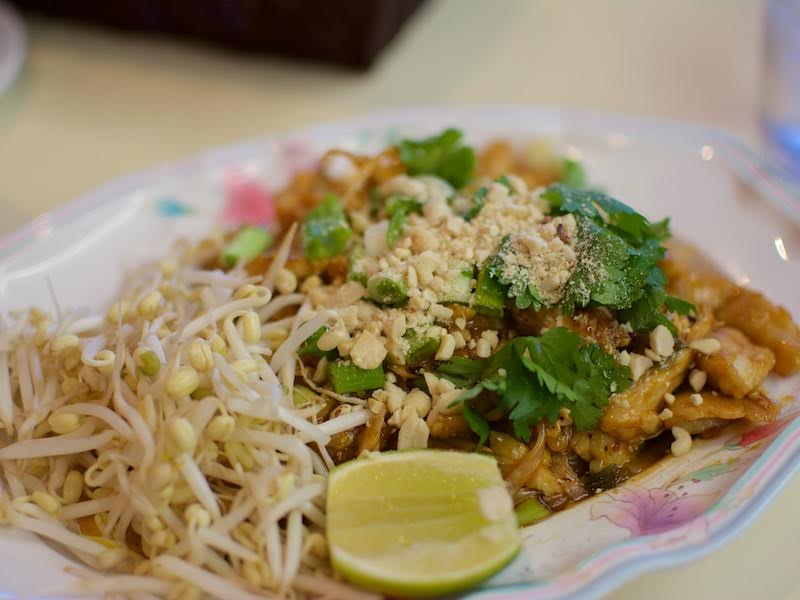 La Isla 

3500 W. National Ave., (414) 882-7003
La Isla offers a mix of traditional Puerto Rican and American foods, including tostones y ensalada (fried plantains and salad), Habichuelas Guisadas, Pollo Frito (pink bean stew with fried chicken) and a variety of sandwiches from a pastrami to a Cubano. The environment is simple and cheerful.
Chicken Palace
3433 W. National Ave., (414) 763-5775
It might have been more aptly named "pollo palace," not only because of the appealing alliteration, but because the menu is primarily Mexican. There's also a grilled chicken sandwich and multiple-piece chicken dinners.
Mamie's Tavern
3300 W. National Ave., (414) 643-1673
Mamie's is more of bar than restaurant, but offers a limited menu, including (very tasty) burgers served nightly until midnight, chili, soups, tacos on Wednesdays and $1 hot dogs on Mondays. Free popcorn is always available.
Thai Barbecue

3417 W. National Ave., (414) 647-0812

Since 2006, Thai Barbecue has served authentic regional northern and southern Thai cuisine. The massive menu features vegetarian, chicken, pork, beef, shrimp and seafood dishes, including the cryptically named "Perfect Stranger." White tablecloths and a plethora of Thai art and sculpture enhance the experience.
Thai Lotus
3800 W. National Ave., (414) 431-8489
A no-frills corner restaurant offering Thai and Chinese food including pla lad prig (deep fried tilapia topped with garlic, green peppers, onions, mushrooms and basil in a curry chili sauce) and classics like orange or sesame chicken. Thai Lotus does not serve liquor, but does have bubble tea, Thai tea, Thai coffee and smoothies on the drink menu.
Vientiane Noodle Shop

3422 W. National Ave., (414) 672-8440
Vientiane Noodle Shop is named after the owners' hometown in Laos located on the southern end of the country on the border with Thailand. This region shares many cultural, language and historic similarities between Laos and Thailand and the restaurant highlights these similarities through cuisine.

Molly Snyder started writing and publishing her work at the age 10, when her community newspaper printed her poem, "The Unicorn." Since then, she's expanded beyond the subject of mythical creatures and written in many different mediums but, nearest and dearest to her heart, thousands of articles for OnMilwaukee.

Molly is a regular contributor to FOX6 News and numerous radio stations as well as the co-host of "Dandelions: A Podcast For Women." She's received five Milwaukee Press Club Awards, served as the Pfister Narrator and is the Wisconsin State Fair's Celebrity Cream Puff Eating Champion of 2019.