'Tis Dining Month, the tastiest time of year! This means we're dishing up fun and fascinating food content throughout October. Dig in, Milwaukee!
With fall in full effect and temperatures dropping, it's time for the world's best food: soup. So every Saturday, broth buff Matt Mueller will showcase a different slurp-worthy spoonful around Brew City. Cheers!
Soup: famously pretty hot, right? But considering our harsh Wisconsin winters, sometimes hot alone won't cut it. Sometimes a tasty and steamy bowl requires something more to get the job done. Sometimes, it requires a little hell – hellfire, that is, in the form of Kawa's devilishly delicious hellfire ramen, serving as the perfect flame-blistered cure for the approaching cold (or for merely a rumbling stomach regardless of the forecast).
Found at 2321 N. Murray Ave. on the East Side, Kawa sure doesn't look like it holds the gates to hell, instead sleek and comfortable inside with a long, lovely bar area greeting you when you first walk in and a wide main dining room to your left filled with smooth wooden tables and a garage door front window perfect for making the open space feel even more open when the weather allows. (If you're craving even more air during your eating experience, Kawa also currently offers some outdoor seating.)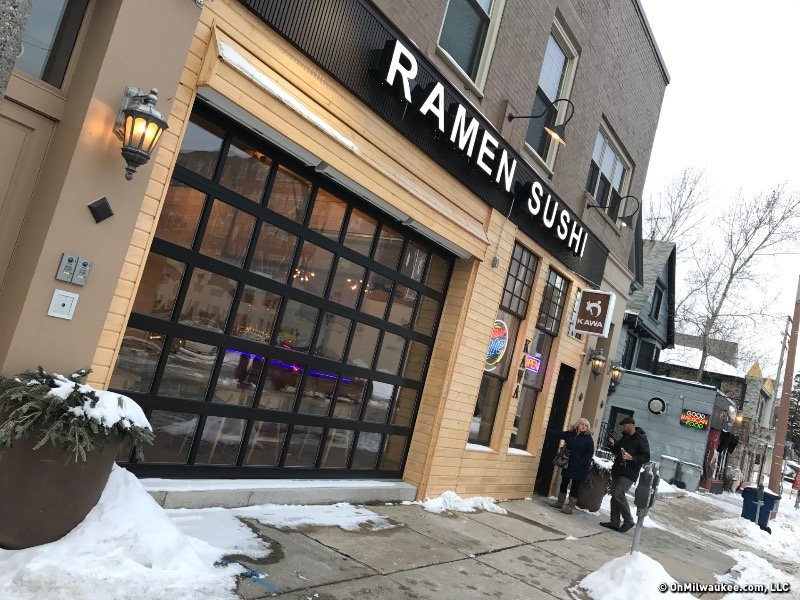 But while it looks pretty cool inside, you're likely there for something wonderfully warm – in particular a bowl of delicious soup.
The East Side restaurant's menu features a duo of udon noodle soups: a nebe noodle soup with shrimp and vegetable tempura as well as a seafood noodle soup starring shrimp, scallops, crab, clams and more. And while these are all surely delicious options, it's not called Kawa Udon Noodle Soup and Sushi. It's called Kawa Ramen and Sushi, so your eyes will almost certainly search for the brothy trinity of ramen bowls. There's the traditional tonkotsu ramen, the classic rich pork edition, as well as a slurp-worthy garlic miso ramen – but sometimes the cold weather requires reinforcements, and that's where the hellfire ramen comes into play.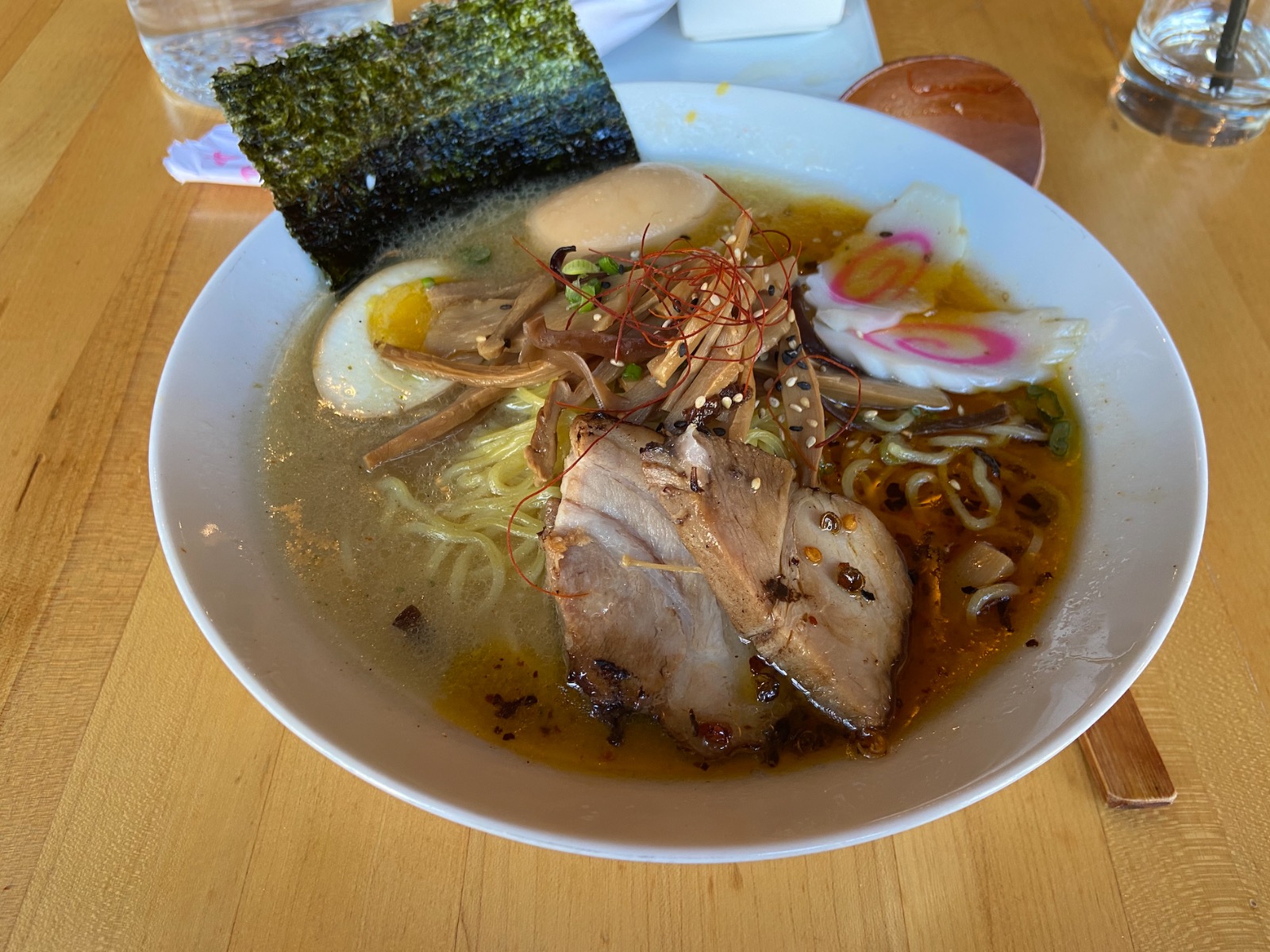 The hellfire ramen starts innocent enough with most of Kawa's classic tonkotsu ramen components: fatty torched pork belly, satisfyingly chewy black woodear mushrooms, crisp scallions, tenderly crunchy bamboo shoots, the bonus salty umami of the pink-swirled narutomaki fish cake and a soft-boiled egg for bonus fatty goodness, all submerged in their deeply flavorful pork broth. Then, however, Kawa cranks up the heat even more on this steamy comfort favorite by adding chili threads to the brew along with an extra splash of housemade chili oil – which you can get mild, spicy or extra spicy if you're willing to risk it. (Pro tip: Risk it. Even at its hottest, it's more soothing than scorching.)
The resulting hellfire ramen is utterly heavenly – all of the satisfying richness and porky flavor of a classic tonkotsu bowl, brightened up and made thrillingly refreshing and new thanks to the dose of invigorating chili oil glimmering on the broth's surface, just waiting to be stirred and mixed into the rest of the delicious ingredients. And even though it provides a tantalizing kick, the spiciness is ideally balanced, warming without overwhelming the rest of the ramen. The combination of familiar and fiery flavors soothe your mouth, belly and soul at all once, delivering a spicy sensation that no winter chill – much less hungry stomach – stands a chance against.
By the time you reach the bottom of the bowl, you'll be convinced that Kawa's hellfire ramen may not be a product of damnation – but it is damn scrumptuous.
As much as it is a gigantic cliché to say that one has always had a passion for film, Matt Mueller has always had a passion for film. Whether it was bringing in the latest movie reviews for his first grade show-and-tell or writing film reviews for the St. Norbert College Times as a high school student, Matt is way too obsessed with movies for his own good.
When he's not writing about the latest blockbuster or talking much too glowingly about "Piranha 3D," Matt can probably be found watching literally any sport (minus cricket) or working at - get this - a local movie theater. Or watching a movie. Yeah, he's probably watching a movie.