'Tis Dining Month, the tastiest time of year! This means we're dishing up fun and fascinating food content throughout October. Dig in, Milwaukee!
With fall in full effect and temperatures dropping, it's time for the world's best food: soup. So every Saturday, broth buff Matt Mueller will showcase a different slurp-worthy spoonful around Brew City. Cheers!
You may not recognize the name Loup – but you almost certainly recognize the shop's delicious soups.
For more than a decade, the Wisconsin Soup Company's been ladling out locally-sourced cups and quarts of brothy delight at farmers markets, grocery stores and other foodie locales around the area. Eventually the company's simmering stars became so popular that they were ready to crank up the temperature and boil up their hottest culinary creation yet: their own store.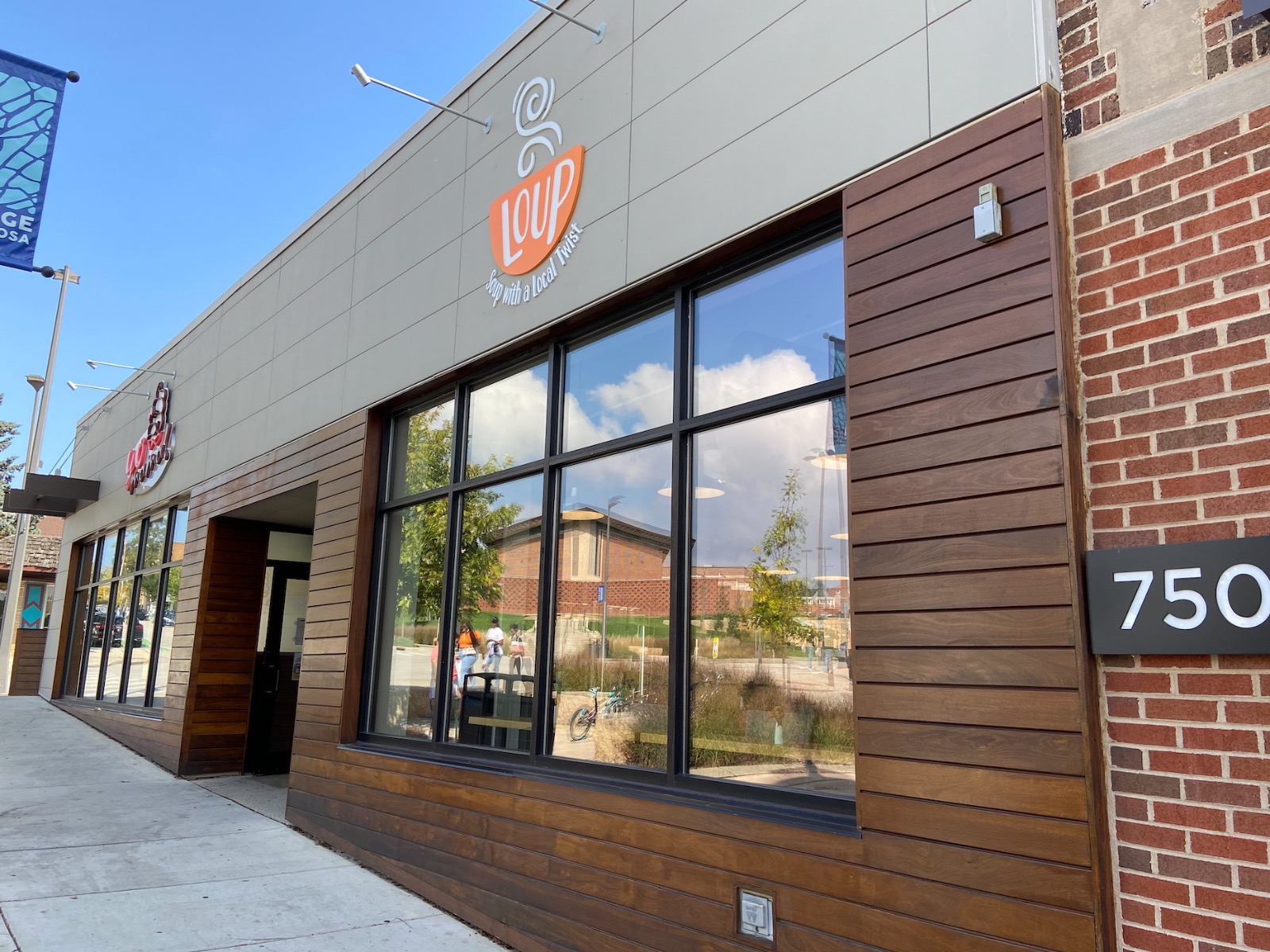 Lo and behold, Loup – a portmanteau of "local" and "soup" – was born, selling Wisconsin Soup Company's tasty Sconnie-based spoonfuls out of its Tosa Village spot at 7505 Harwood Avenue since late spring last year. And while its name may start with an unusual L, the cafe serves up plenty of W's.
The warmly sleek storefront offers a full menu of scrumptuous sandwich options – including an herb-crusted grilled cheese, a BLT, a classic ham and swiss, and more – and sweet baked desserts. But of course, the stars of the show at Loup are the soups, with the store offering both a rotating selection of steamy options fresh and ready behind the counter for dine-in or takeout, as well as a hefty collection of frozen quarts in a freezer available to take home, cook up on the stove and slurp up. (Heads up: The soups of the day can be tricky to find on their website, but you can find them all the daily updates on the soup choice dropdown menus after checking out any soup bar or sandwich option.)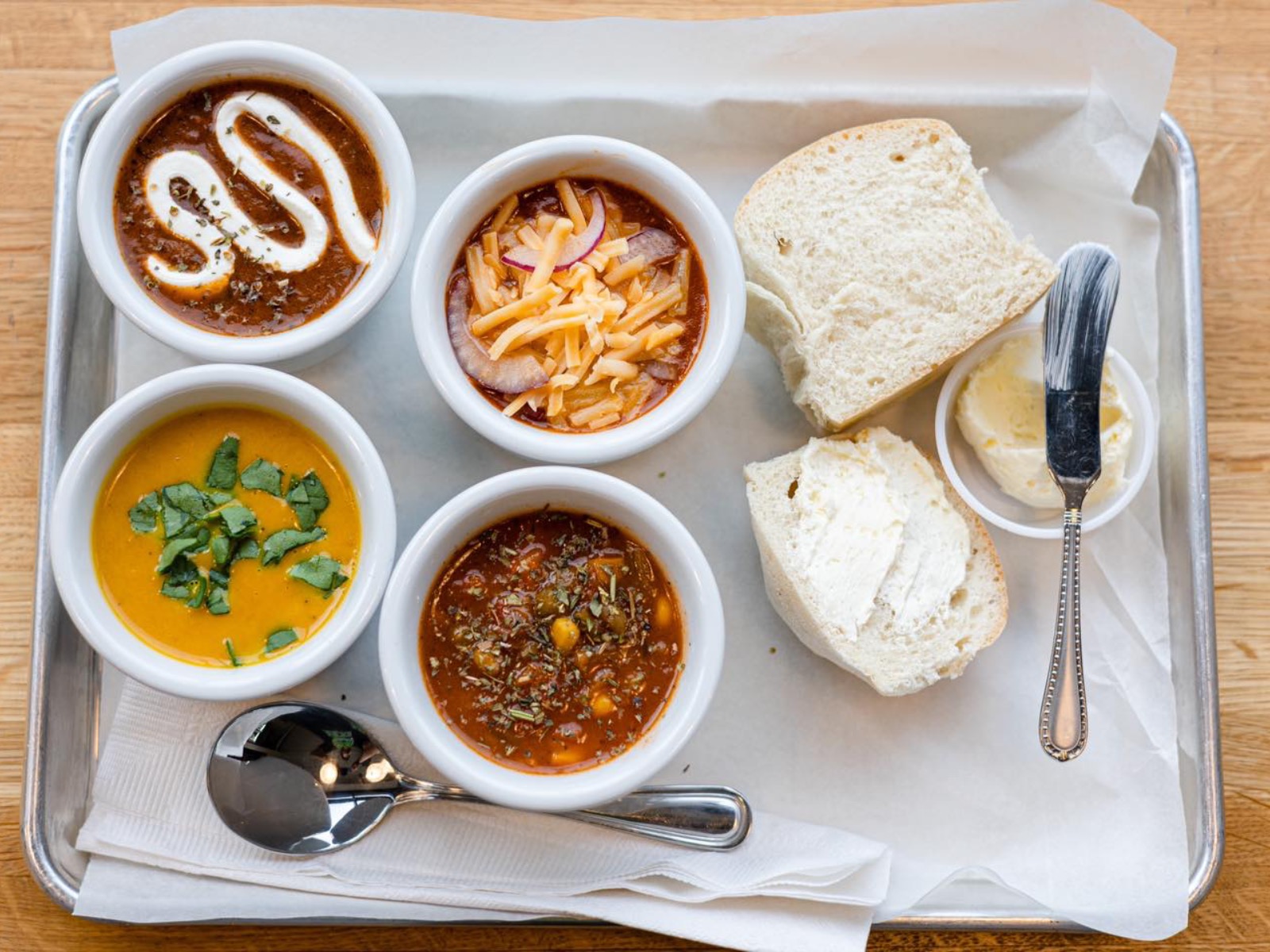 As you'd might imagine for a Wisconsin-based soup company that sources its ingredients from Wisconsin farms, its Wisconsin beer cheese soup is quite a winner. As predictable as that may be, though, the soup itself is rather unexpected – all the richness and flavor as you'd want but without the overwhelming density and heaviness that can turn some beer cheese soups into a slog. Brewed together with beef stock, various Sconnie cheeses and that blessed Badger State treat called Spotted Cow beer, the resulting broth is smooth and creamy with bright flavor instead of brutally filling – plus with a little bonus snap from the small chunks of onion, leak and potato wading throughout.
It's an addictive bowl, whether you're spooning it up or soaking it up with a slab of Loup's deliciously chewy bread.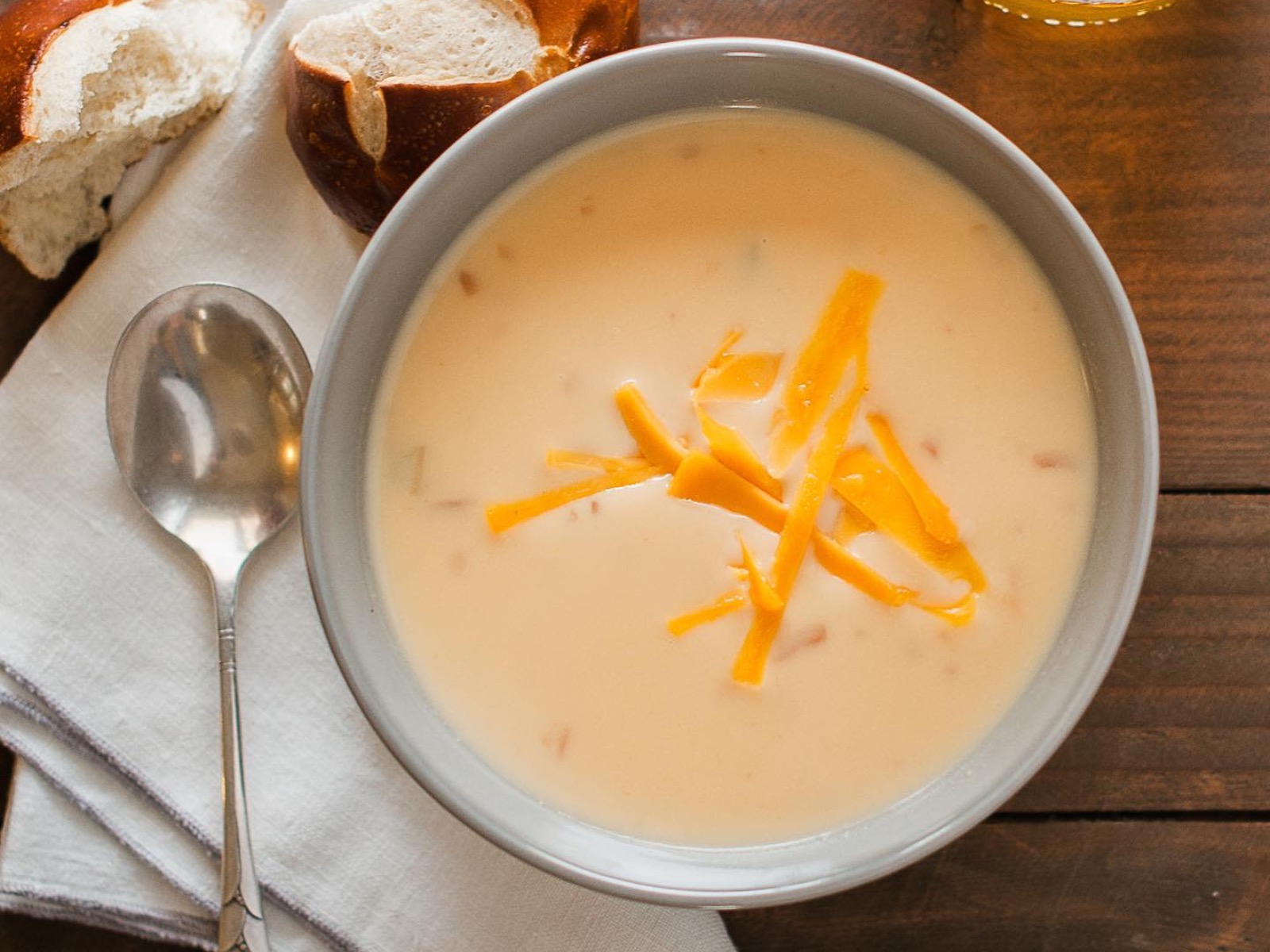 For another tasty classic, Loup also cooks up a very comforting bowl of chicken dumpling soup – whether you buy a fresh cup when it's behind the counter or snag a frozen tub to take home. I landed on the latter, and even after melting the frozen brick back into broth, the soup turned out wonderful; the rustic dumplings were thick and substantial, the veggies were perfectly cooked to a tender crisp and the broth was soothingly flavorful. It's a tasty and cozily old fashioned soup just begging for a chilly day to heat up – though it was just as enjoyable on my unseasonably warm fall day too.
And that's just two of the Tosa storefront's delectable options – so loop around to Loup and find your own favorites. Because what better way to brace yourself for the Wisconsin winter than some Wisconsin soup.
Loup is open for in-person and carryout dining Monday through Friday, 11 a.m. until 7 p.m., as well as Saturday and Sunday from 11 a.m. until 3 p.m. For more information – including soups of the day – visit Loup's website.
As much as it is a gigantic cliché to say that one has always had a passion for film, Matt Mueller has always had a passion for film. Whether it was bringing in the latest movie reviews for his first grade show-and-tell or writing film reviews for the St. Norbert College Times as a high school student, Matt is way too obsessed with movies for his own good.
When he's not writing about the latest blockbuster or talking much too glowingly about "Piranha 3D," Matt can probably be found watching literally any sport (minus cricket) or working at - get this - a local movie theater. Or watching a movie. Yeah, he's probably watching a movie.