'Tis Dining Month, the tastiest time of year! This means we're dishing up fun and fascinating food content throughout October. Dig in, Milwaukee!
With fall in full effect and temperatures dropping, it's time for the world's best food: soup. So every Saturday, broth buff Matt Mueller will showcase a different slurp-worthy spoonful around Brew City. Cheers!
When Momo Mee, 110 E. Greenfield Ave., opened in the Harbor District back in late 2018, the star of the show was the restaurant's xiao long bao, or soup dumplings. With their particular eating procedure, trendy status, relative rarity in the Milwaukee dining scene and flair for the deliciously dramatic, the eye-catching and mouth-watering bundles of discreetly steaming broth quickly captured everyone's attention on the authentic pan-Asian menu.
But while broth served in a bowl may not be as exciting as broth served in a bao, it would be a shame to overlook Momo Mee's stellar noodle soup options.
The menu at Momo Mee – which fittingly translates to "dumpling" and "noodle" – features a number of soup options, from three types of ramen (miso, tonkotsu and shiitake) to a bright tom yum soup and a soothingly spicy jjamppong. You can't go wrong with any of these authentic elixirs, but when it comes to my bowl of choice at Momo Mee, I always go with the Szechuan beef noodle soup.
A full workout for all your taste buds, a bowl of this brew comes filled with deliciously chewy wheat noodles, tender and meaty slices of braised beef and the crunchy, punchy bite of bok choy – all blissfully bathing in a beef stock broth that's both deep yet sharp thanks to the uniquely prickly and numbing spice sensation of Szechuan peppercorns. It's truly a bowl that's the best of both worlds, filling and refreshing, soothing your soul and sparking your senses at the same time – like a static-charged blanket, but for your tongue.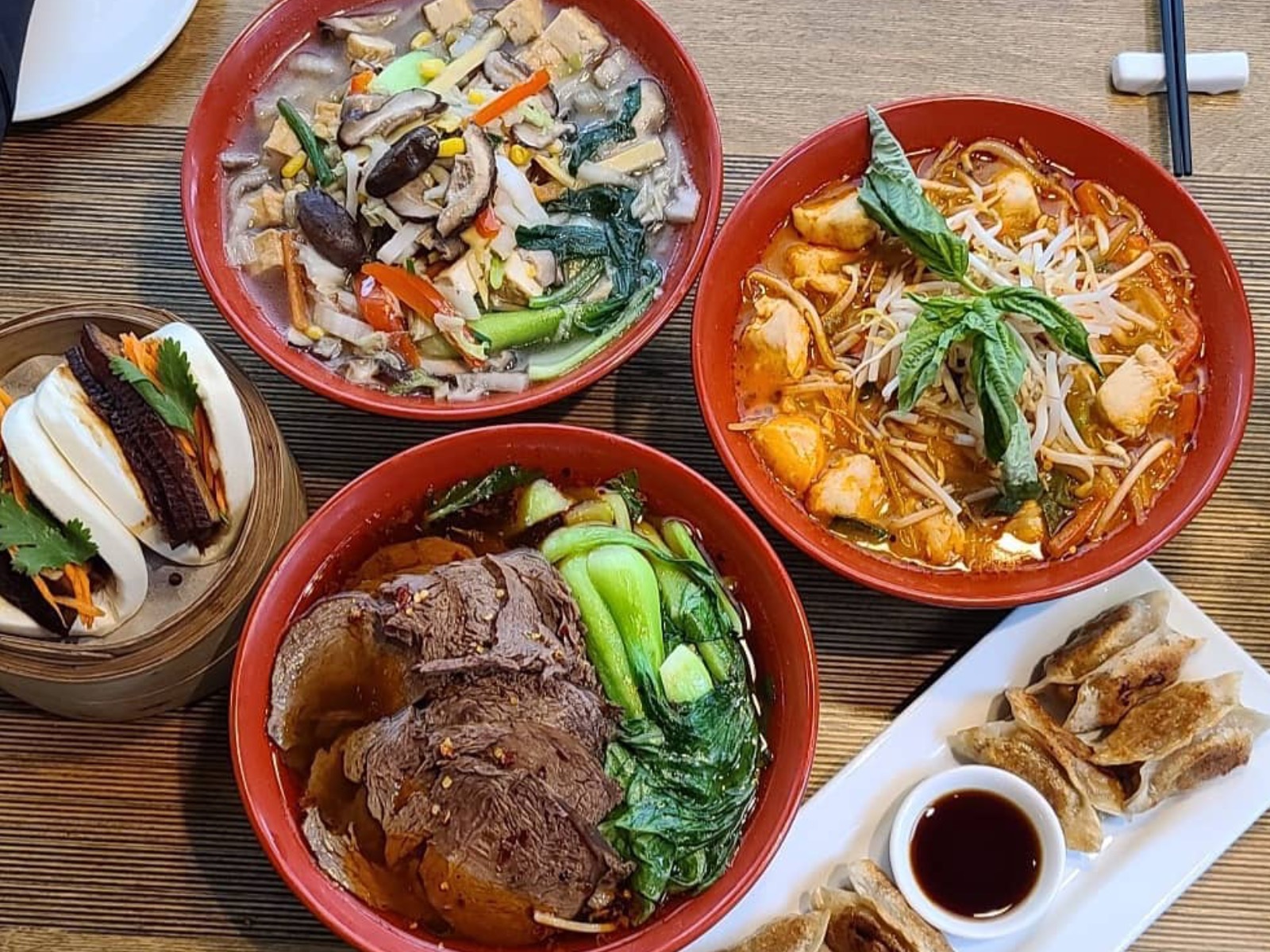 And here's maybe the wildest part: I've never actually eaten it in person at Momo Mee.
I first tried the Szechuan beef noodle soup during the pandemic, ordering a bowl (as well as some of their equally outstanding and electric Szechuan spicy wontons, but I'll save my rave about those for perhaps a Hump Day dumplings column) for carry-out – and returning many times after to get a fresh hit. The dish comes in two separate containers – one with the broth, the other with the ingredients ready to stew – so when you arrive home, combine the two into one pot on your stove, give it a quick stir with maybe a quick hit of heat in case it was a long drive back and discover glorious soup satisfaction each time.
And if it tastes that good recombobulated together sitting in front of my television in my apartment, imagine how excellent it tastes fresh from the kitchen and served in their warm hospitable Harbor District home (which offers both indoor and outdoor patio seating).
I look forward to not having to imagine that scenario and actually experiencing it sometime sooner than later. But whether here, there or anywhere, Momo Mee's Szechuan beef noodle soup is one kick-bud bowl of broth.
Momo Mee is open for in-person and carryout dining Monday through Saturday, 11 a.m. until 10 p.m., as well as Sunday from noon until 8 p.m. For more information, visit Momo Mee's website.
As much as it is a gigantic cliché to say that one has always had a passion for film, Matt Mueller has always had a passion for film. Whether it was bringing in the latest movie reviews for his first grade show-and-tell or writing film reviews for the St. Norbert College Times as a high school student, Matt is way too obsessed with movies for his own good.
When he's not writing about the latest blockbuster or talking much too glowingly about "Piranha 3D," Matt can probably be found watching literally any sport (minus cricket) or working at - get this - a local movie theater. Or watching a movie. Yeah, he's probably watching a movie.