We've looked at the early days of Mayfair, Capitol Court and the Grand Avenue Malls, but Southgate was the granddaddy of them all (and of the mall, at least here).
Opened in 1951 and enduring until 1999, Southgate on 27th Street, north of Morgan Avenue, was the city's first foray into this new mode of shopping and for a time it burned brightly.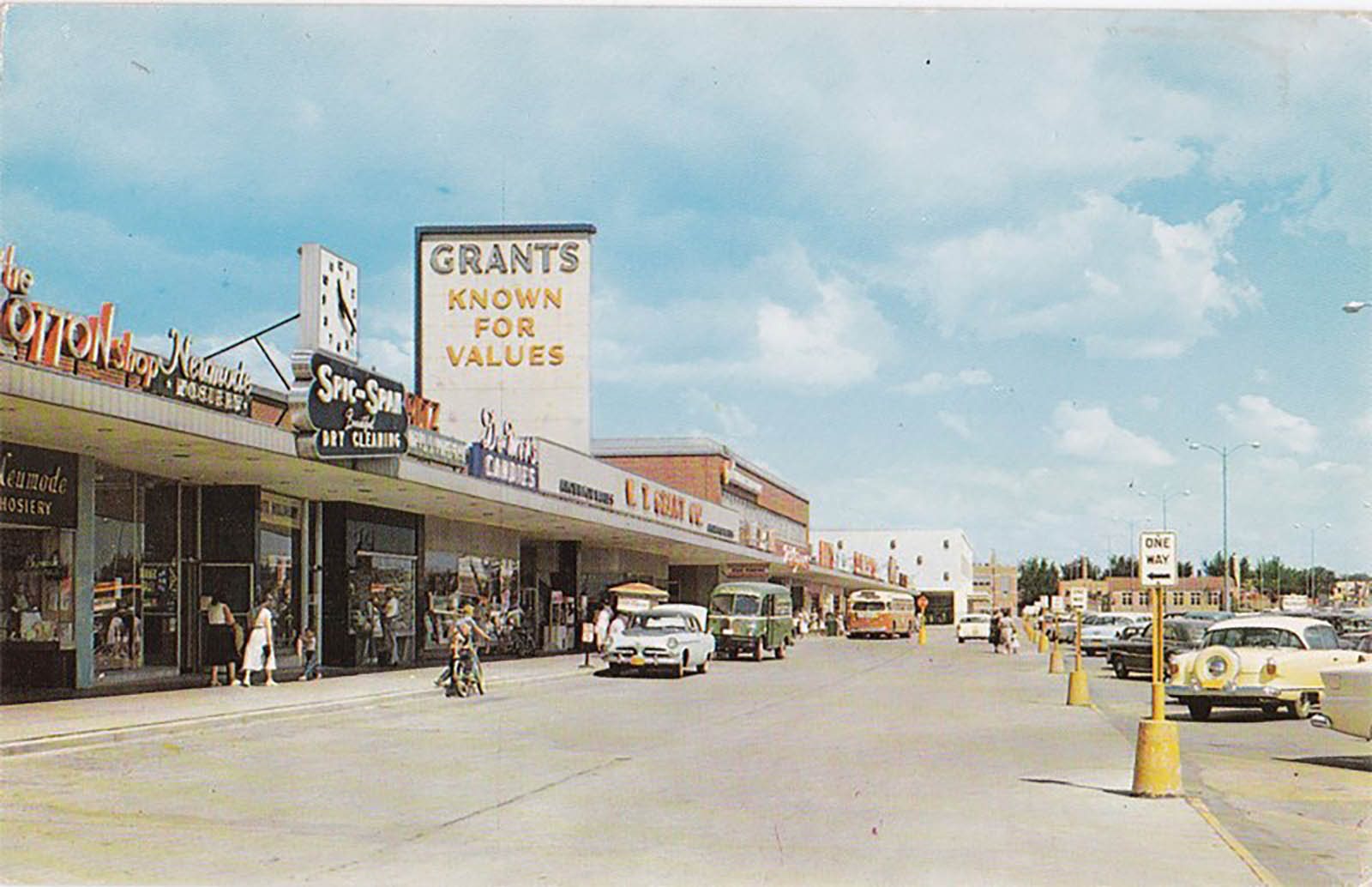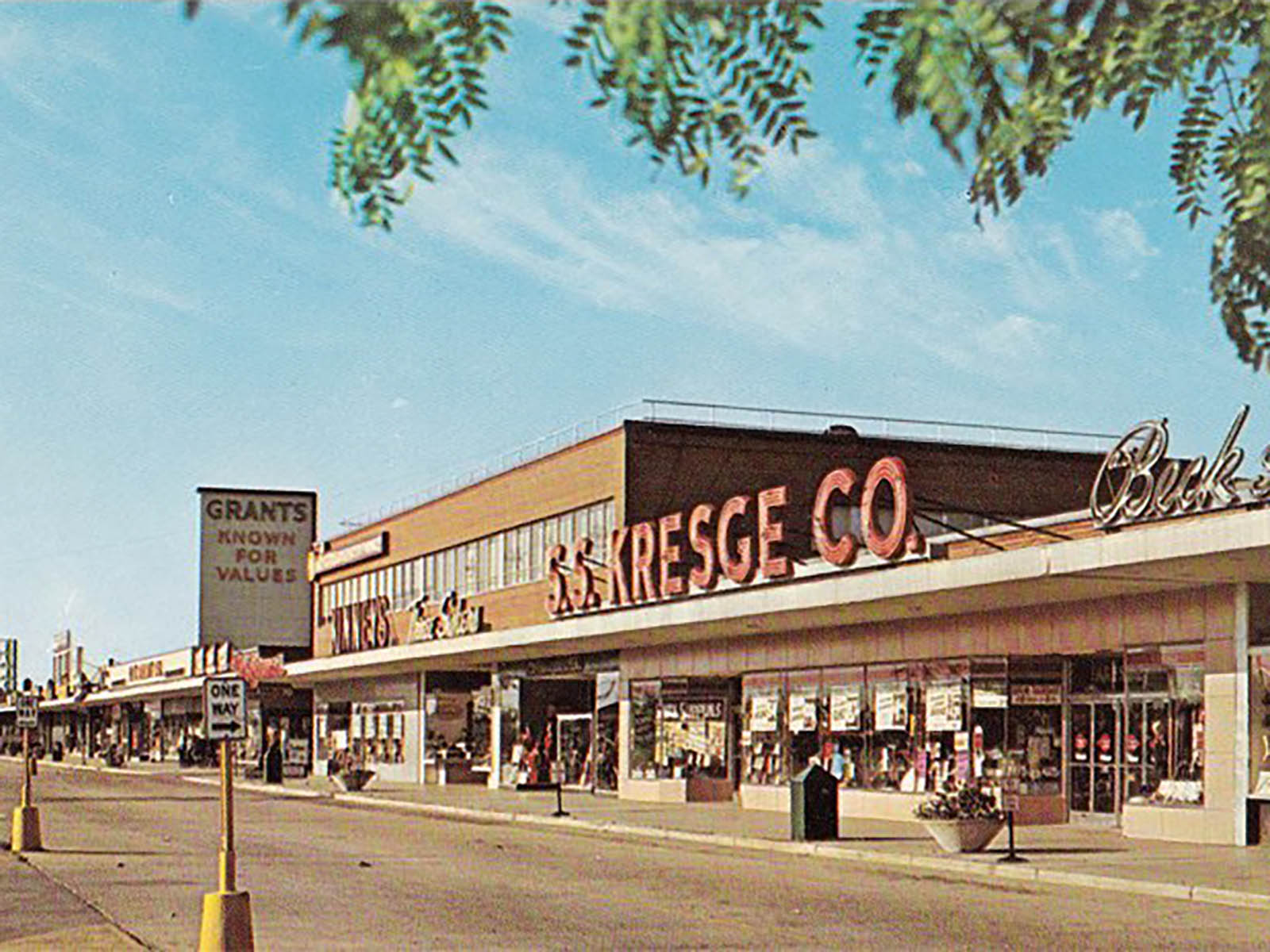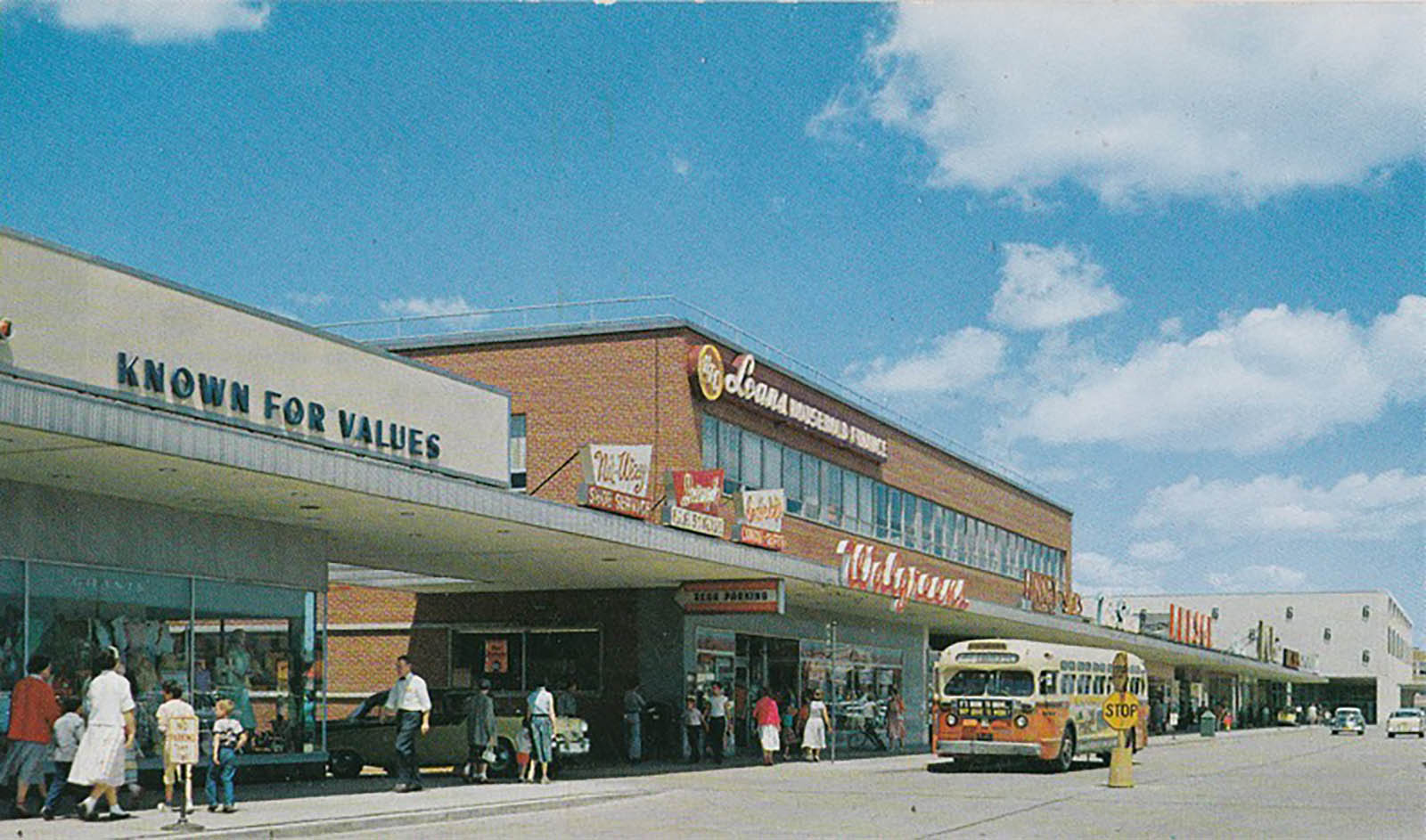 Malt and real estate magnate Kurtis Froedtert was the pioneer, announcing in 1949 that he planned a trio of shopping centers, beginning with Southgate and then moving on to Westgate and Northgate.
Starting on South 27th Street was a natural because it is Highway 41 which, in pre-interstate days, was a major thoroughfare, connecting downtown Miami with the Upper Peninsula and points between.
In 1951, if you were headed to Chicago, for example, you took 41. Thus, it was a heavily traveled road by residents, visitors and those passing through.
Upon the announcement of the three malls – Westgate and Northgate would become Mayfair and Bayshore, respectively – Froedtert said, "The Milwaukee shopper will be able to make a single, free-parking stop at the South 27th Street center and do all of her day's shopping, comfortably and conveniently, without worrying about her car, the weather outside or carrying her purchases around with her."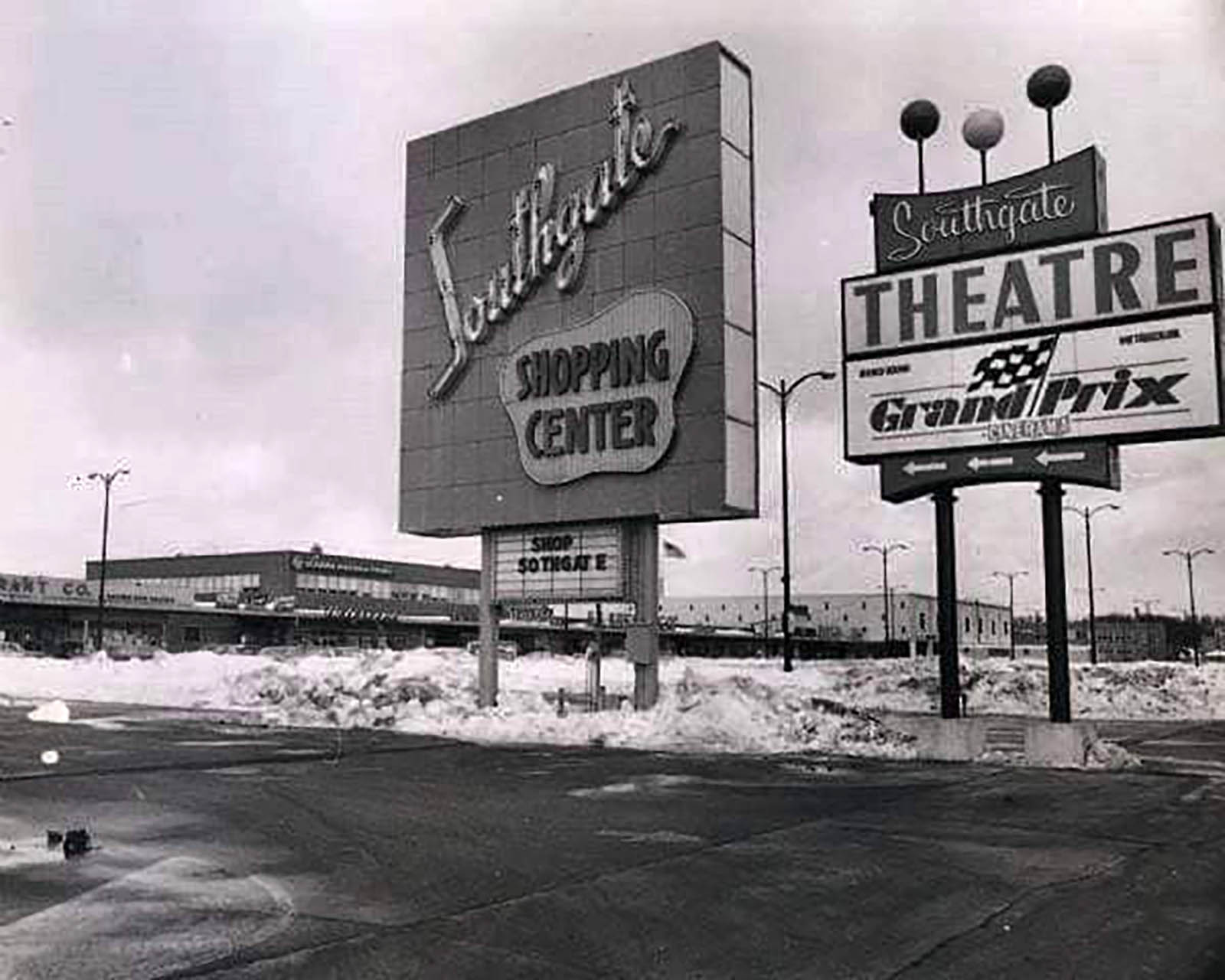 Construction on the roughly $2.5 million outdoor shopping center began in 1950 and almost immediately, developers and relators were using the future mall in advertising properties on the growing south side.
Despite work being halted by a strike and picket lines that same year, the construction resumed and the mall was complete in 1951 and a week before the grand opening, Froedtert, while sharing some details of his plans for Westgate, told the media that he already had plans to expand Southgate, adding 250,000 more square feet of space.
He could read the mood.
On the day of the grand opening, Sept. 20, 1951, more than 60,000 showed up, traffic snarling 27th Street.
The mood was festive with polka bands, Native American dancers, a visit by Alice in Dairyland, fireworks and an attempt by Dayton, Ohio pole-standing Richard "Dixie" Blandy, who planned to set a record for pole-standing on a 12-inch rubber disc atop a 50-foot pole.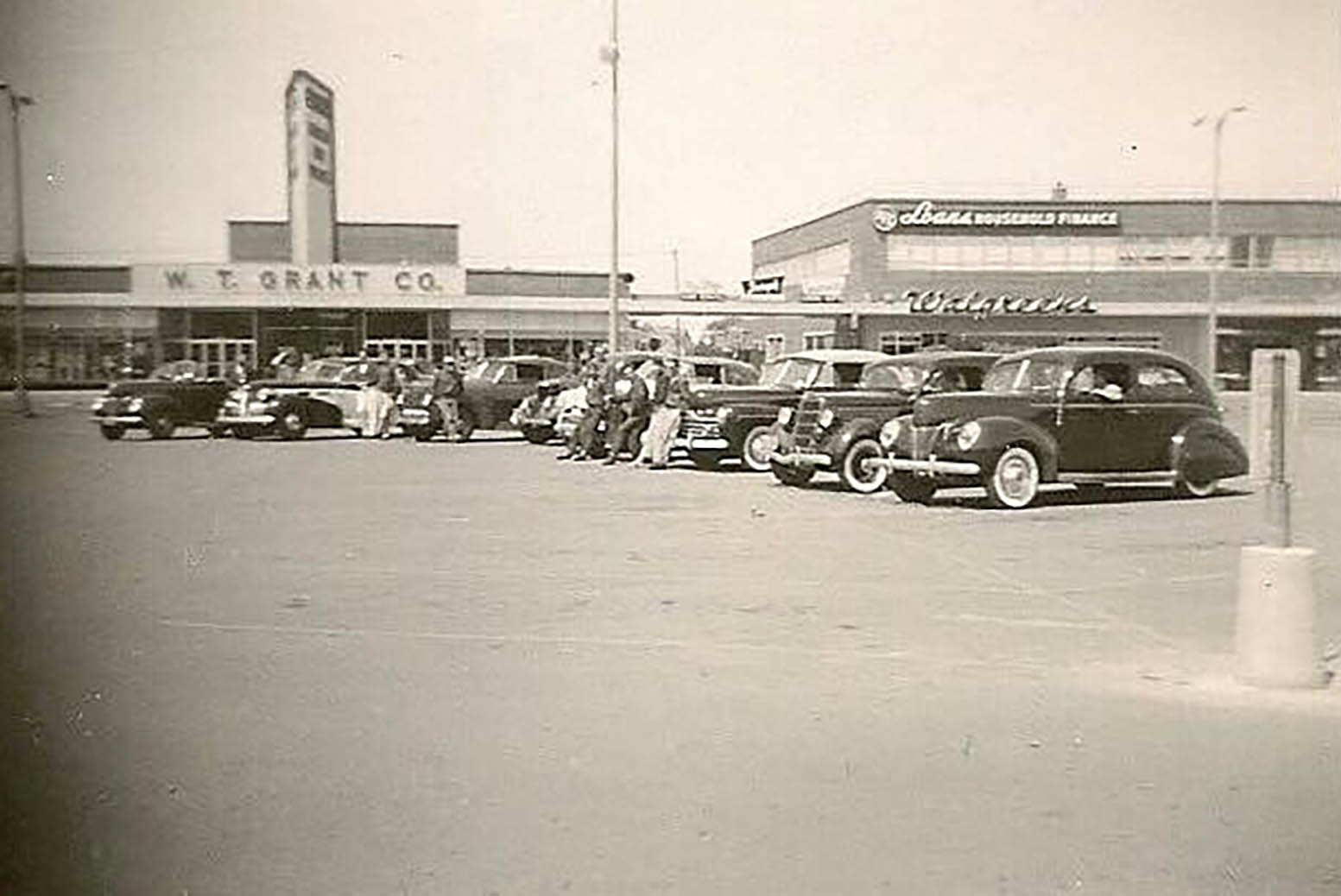 Blandy already had the record – six days and six nights – standing atop a five-inch disc. Apparently, Blandy was the only one keeping track, however, so it's unclear how "official" this whole record business was. Anyway, such endurance contests were deemed by Froedtert's team to be illegal in Wisconsin so it wasn't promoting any record-setting attempts.
Although he weighed a slight 124 pounds, Blandy told one newspaper reporter, "By the fourth day it feels as though I weigh 200 and it is hard on my feet."
Also hard one one's feet? Visiting the vast array of stores on tap at the new mall: Kresge's, Krambo, W.T. Grant, Samsons TV & Appliance, Royal Baking Co., H.T. Grossman's, Household Finance, Luber's Green Market, Ritz Hat Shop, Spic & Span cleaners, Mrs. Stevens' Candies, Kinney Shoes, Badger Paint and Hardware and soon after, Howard Johnson's and Southgate National Bank.
Bitker-Gerner clothing store closed its Broadway store Downtown to open at Southgate, illustrating how the mall's success would come at a cost for shopping districts like Downtown, North 3rd Street and Mitchell Street.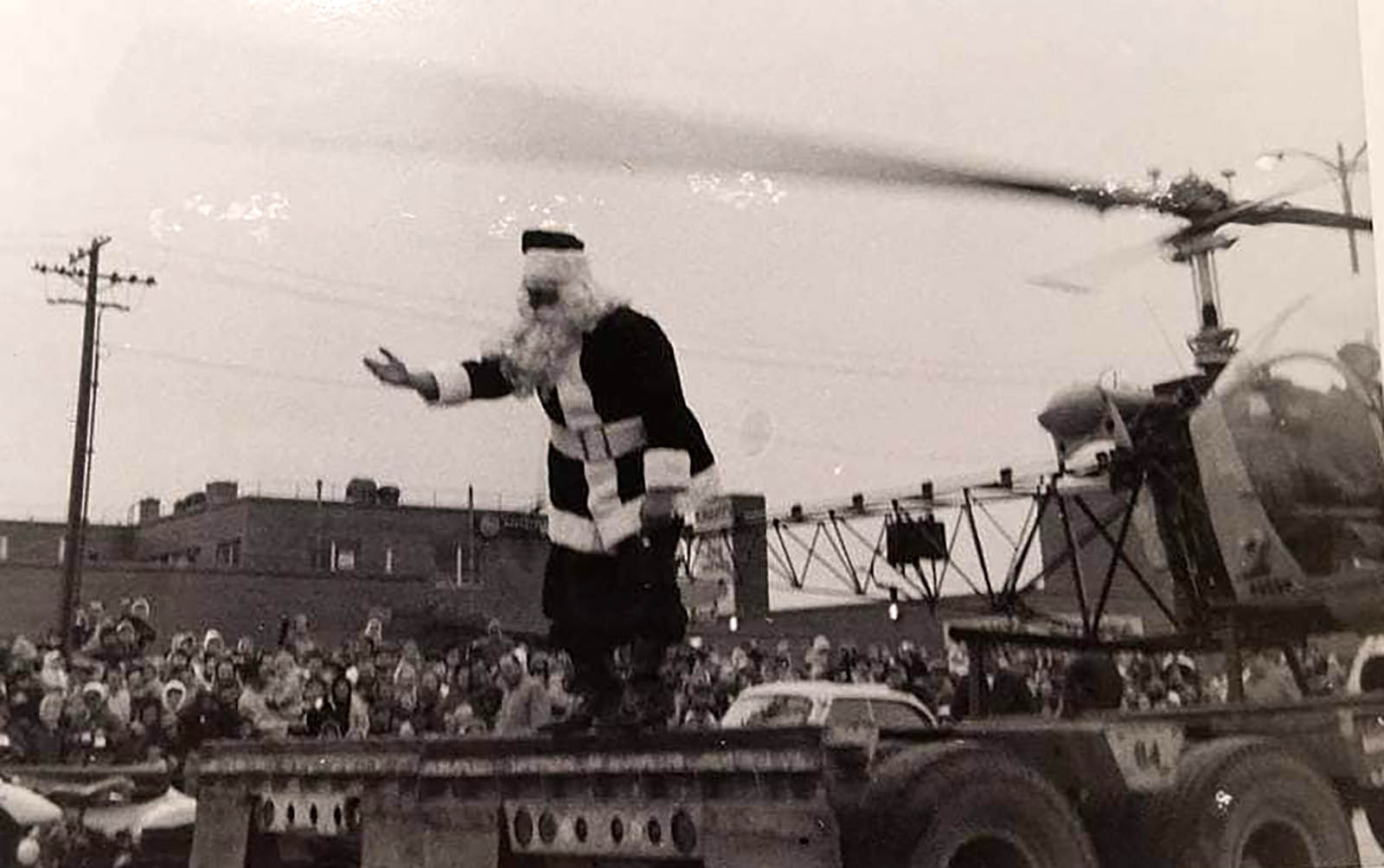 And popular it was. The year after it opened, demand was so strong that most stores expanded their hours to 9 p.m. Many Milwaukeeans recall shopping there with their parents and some even remember the arrival of Santa by helicopter.
By the time Gimbels opened in 1954, the mall was doing more than $35 million in sales.
In 1955, 14 more stores opened in 80,000 square feet of new space. Bitker-Gerner and Krambo grew bigger and Midwest Tire & Auto, Orville Harris Barber Shop, Heinemann's Restaurant, The Cotton Shop, Neumode Hosiery, Janzer's Church Goods, Stones Jewelers and Orson's Camera Center opened.
The glory days endured through the 1960s, though the development the mall spawned along 27th Street – including the arrival of Point Loomis – cut into business. But the 1970 opening of Southridge hit much harder.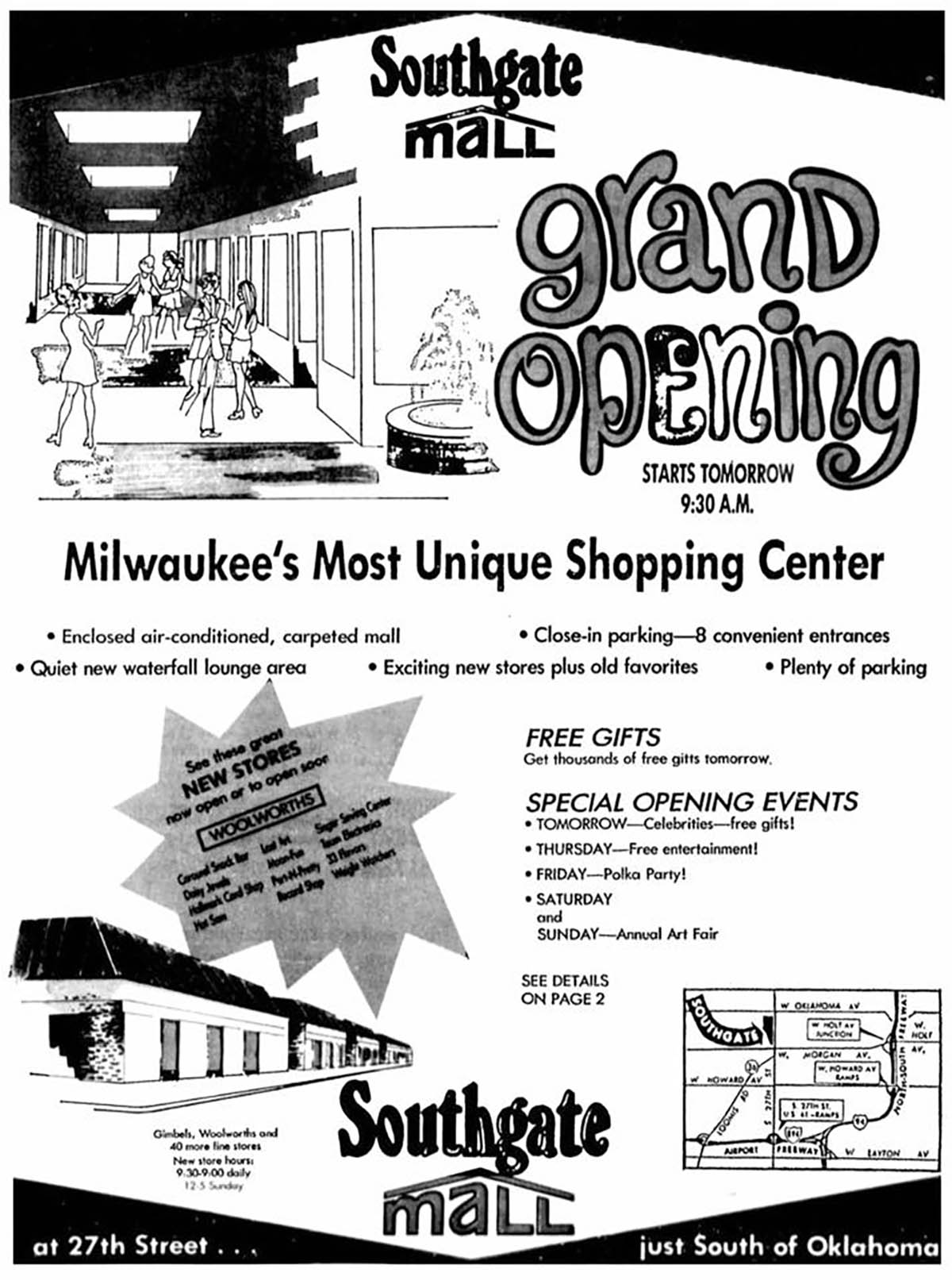 That led the mall's owners to spend $1.5 million to enclose Southgate, adding air conditioning, carpeting, a central water feature with a waterfall and pond and a whole new row of shops on the other flank of the now-covered main corridor.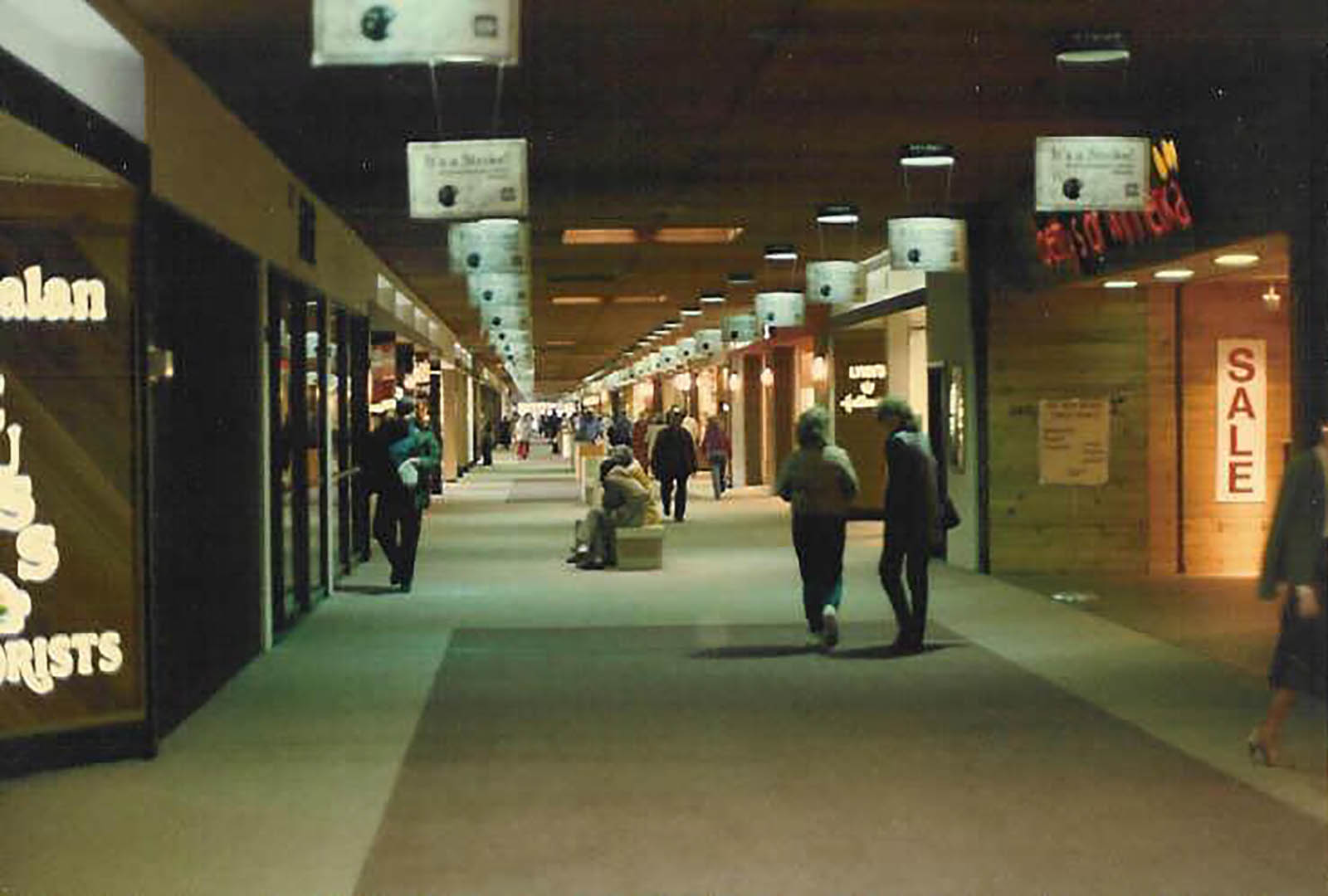 The mall had grown to 450,000 square feet.
And this is the Southgate I remember from visits to my grandparents: visits to Walgreens, Woolworths and, especially, to 1812 Overture on the south end.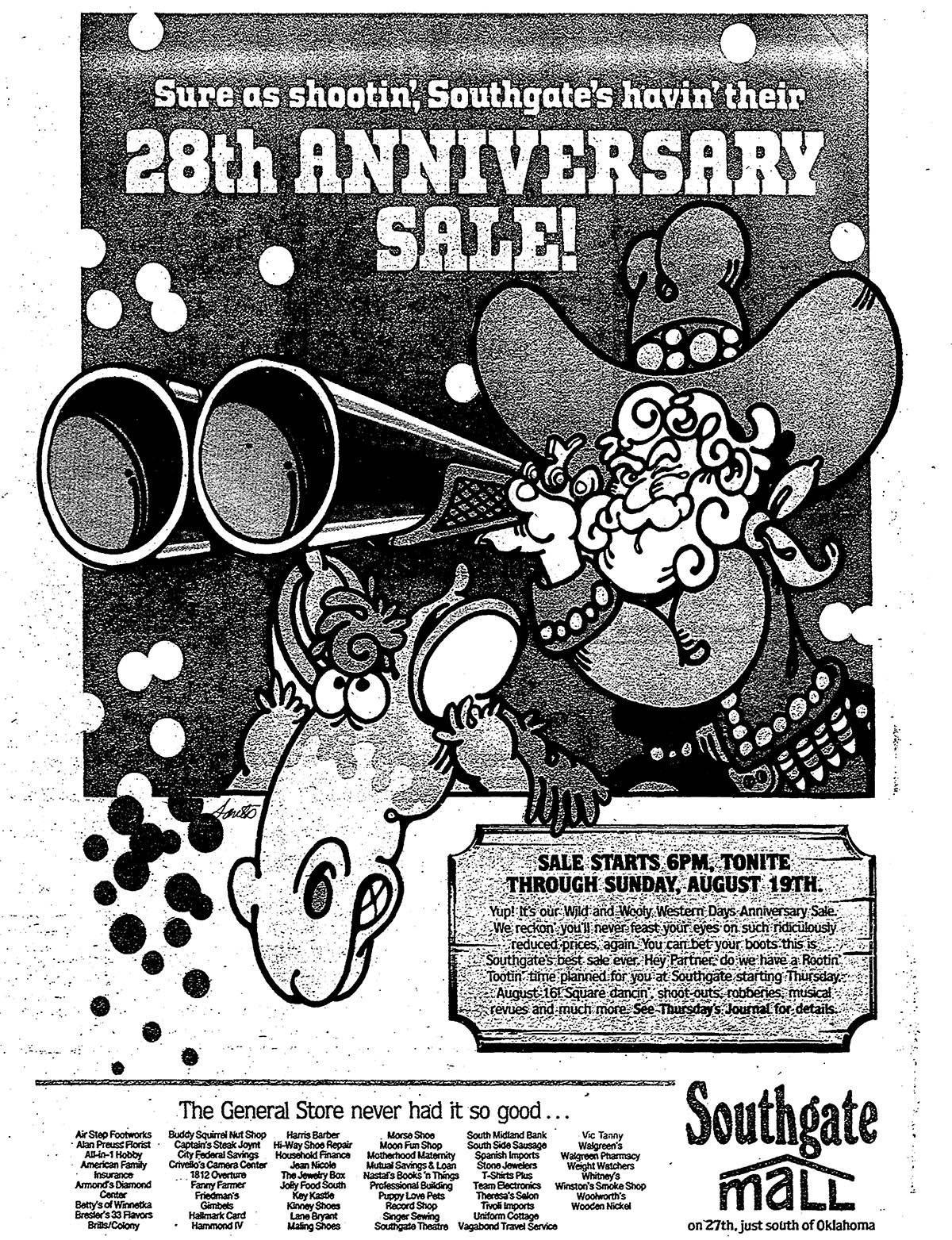 But by the mid-1980s, the area was ringed with malls and Grand Avenue had opened Downtown, too. When Gimbels closed in 1986, Southgate took a big hit, although Boston Store took over the location.
In 1990, Southgate was sold a the new owners spent $3 million on renovations. In 1993, the same year a new cinema replaced the one opened in 1964, Boston Store filed for bankruptcy and closed its store there and the writing was on the wall.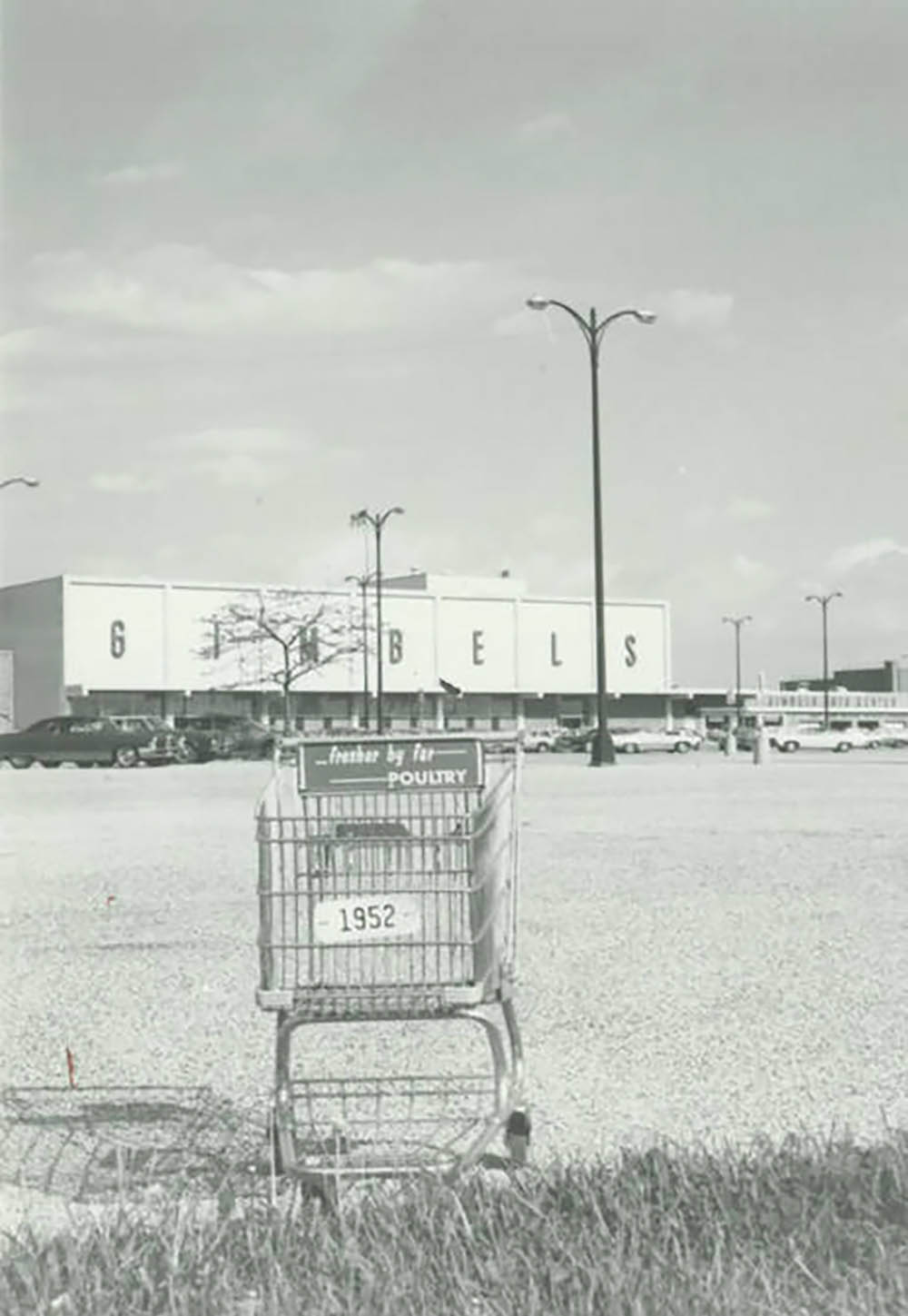 In 1998, Walmart announced plans to build a store on the site – which was a sign of the retail times – and after that plan was approved by the city, Southgate was demolished in 1999. In 2000, the Walmart opened.
Southgate became a beloved and bittersweet memory.
Special thanks to Adam Levin for help with images.
Born in Brooklyn, N.Y., where he lived until he was 17, Bobby received his BA-Mass Communications from UWM in 1989 and has lived in Walker's Point, Bay View, Enderis Park, South Milwaukee and on the East Side.
He has published three non-fiction books in Italy – including one about an event in Milwaukee history, which was published in the U.S. in autumn 2010. Four more books, all about Milwaukee, have been published by The History Press.
With his most recent band, The Yell Leaders, Bobby released four LPs and had a songs featured in episodes of TV's "Party of Five" and "Dawson's Creek," and films in Japan, South America and the U.S. The Yell Leaders were named the best unsigned band in their region by VH-1 as part of its Rock Across America 1998 Tour. Most recently, the band contributed tracks to a UK vinyl/CD tribute to the Redskins and collaborated on a track with Italian novelist Enrico Remmert.
He's produced three installments of the "OMCD" series of local music compilations for OnMilwaukee.com and in 2007 produced a CD of Italian music and poetry.
In 2005, he was awarded the City of Asti's (Italy) Journalism Prize for his work focusing on that area. He has also won awards from the Milwaukee Press Club.
He can be heard weekly on 88Nine Radio Milwaukee talking about his "Urban Spelunking" series of stories.