Check in early and stay late during OnMilwaukee's "Hotel Week" sponsored by VISIT Milwaukee. The next seven days will be packed with stories about historic area hotels, reviews, history, food and drink, staycations and more. Find out what it's like to be a tourist in this town (chocolate on your pillow not included).
Being sick sucks. Maybe the only thing that sucks more is being sick away from the comfort of your own home.
These are facts of life that I sadly know all too well, as they made up most of the mental notes I took during my recent OnMilwaukee Hotel Week stay at The Astor Hotel, 924 E. Juneau Ave. Indeed, in a truly enchanting twist of fate, I unfortunately booked my stay blissfully unaware my guts would choose that night to get their revenge on me for 26 years of what most would call questionable dietary habits – nothing that could be blamed on The Astor.
In fact, while I writhed in bodily distress on the couch before moving to the bed to writhe in bodily distress some more, in between thoughts of "Whyyyyy?!" and "Oh god, is this the part where an alien chest-bursts out of me," I also thought that, for a night doomed to be uncomfortable, I felt oddly comfortable.
Despite being surrounded by the unfamiliar, I felt like I was cozily at home – and that's a pretty important and impressive achievement for a hotel, especially when a guest's guts are actively staging a violent coup against him.
Part of that warmth comes from the feeling of being surrounded by history, by an integral thread in the tapestry of Milwaukee's past. Proudly labeled on the U.S. National Register of Historic Places, The Astor was originally built all the way back in 1920 by real estate developer Oscar Brachman for the local hotel tycoon and Marquette University dormitory namesake Walter Schroeder, who also opened the Schroeder Hotel (now known as the Hilton Wisconsin City Center building) along with several other hotels throughout Wisconsin – plus a few in Minnesota and Michigan – during the same decade.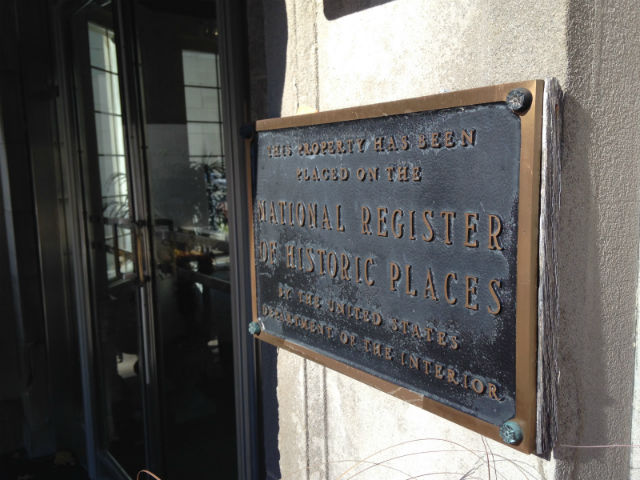 Additions and upgrades, such as a rotunda at the back entrance and a hotel-exclusive parking lot built in the late '90s, came along as well over the years; but The Astor's history is still impossible to miss. The names of key Milwaukee historical figures, such as Solomon Juneau and George Walker, grace the door frames of a few of the hotel's many gathering spaces, and the bones of the building – and the especially ambiance inside – survives on, maintaining its grand old-fashioned charm.
Just first stepping into The Astor, it's hard not to feel you've taken a step back in time. Classic retro tunes delicately fill the lobby – no easy feat considering the spacious size of the reception area. Two lovely yet unshowy skylights of stained glass help light the area, filled with old treasures like a charming antique grandfather clock and several paintings from renowned Wisconsin impressionist Francesco Spicuzza – some even older than the building holding them.
That's all just in the lobby as well. Touring around The Astor (at a different time when my body wasn't behaving like it was inspired by a David Cronenberg movie) I got to take a peak at the hotel's numerous comfortable meeting spaces – including its gorgeous, and unsurprisingly in-demand, ballroom area.
Even dressed down, the wide yet intimate space is impressive, lit by some lovely chandeliers and large, sunny windows. There are plenty of beautiful details to find, from the wooden edging of some mirrors to an entrance with a shiny chandelier dangling from a painted blue sky ceiling.
The real treat, however, might be the ballroom's side lounge, the Rotunda Room, which has a breathtaking stained glass dome and a rather regal staircase leading to what is now a mostly unused bridal suite. Still, the whole area is a burst of old school class and detail in a hotel that's never lacking for either.
Those intriguing retro details extend to the actual rooms themselves – or, actually, the doors. Typically, the only thing notable about a hotel room's door is its ability to keep people out, but at The Astor, the doors add a lot of character thanks to the fact that they're still the old dry cleaning doors – where there's a second smaller door where one would, back in the day, put clothes for the hotel service to take and return all cleaned – complete with an actual key.
The room itself was more standard and sparse in terms of décor, but not so much in terms of size. It was very spacious, complete with a living area, bedroom, two closets, a small room for ironing (sure!), a dining area and a complete kitchen outfitted with a fridge, stove and multiple dishes.
It felt more like an apartment than a hotel room, which makes sense as, in addition to hotel stays, The Astor also offers Downtown apartments for rent. Even if it was far from flashy, the room offered everything one might need and beyond – which, in my sad case, was a comfy couch, a cozy bed, lots of water and a glass to drink it out of... plus a TV to help anesthetize the pain.
Actually, there were two TVs – one in the living area and one in the bedroom – but the latter's cable unfortunately didn't work. Indeed, some of the details were lacking a bit on my stay: The Kleenex boxes in the room were stuffed to the point of messiness, an attempt to call the front desk went straight-up unanswered (though considering my sick delirium, there's a chance I may have misread the instructions and accidentally prank-called some random room instead), and some well-traveled areas, like the hallways and elevators, appeared worn.
But for all the occasional places where the details were a detriment, my mind keeps finding itself drawn, instead, to the details I loved, the ones that added charm to my night. The funky hotel room doors. The golden retro mailbox. The glorious details of the ballroom space. Even some of the areas that were worn – like the wooden accents in the lobby, possibly wounds from a deadly fire in 1935 – gave the hotel character.
And I think that, even more so than the fully outfitted room, made the stay feel so homey, that it wasn't some completely sanitized, feature-less, slick-to-the-point-of-slipping-out-of-mind hotel. This is a hotel that's seen things, that wears its history on its sleeve, that has texture. It's a place that's been lived in, and there's something oddly comforting about that.
And now that I'm back at 100 percent (knocks on all the wood in his apartment) I kind of can't wait to experience it again.
As much as it is a gigantic cliché to say that one has always had a passion for film, Matt Mueller has always had a passion for film. Whether it was bringing in the latest movie reviews for his first grade show-and-tell or writing film reviews for the St. Norbert College Times as a high school student, Matt is way too obsessed with movies for his own good.
When he's not writing about the latest blockbuster or talking much too glowingly about "Piranha 3D," Matt can probably be found watching literally any sport (minus cricket) or working at - get this - a local movie theater. Or watching a movie. Yeah, he's probably watching a movie.