Tim Schneider's business model is "get shit fixed."
But now, Schneider, the owner of the classic motorcycle repair garage, The Shop, needs help getting his own shit fixed.
Schneider was recently diagnosed with a cancer called Multiple Myeloma. Eventually, it will damage his immune system, kidneys, blood and bones. It's incurable, but treatment can bring the cancer into remission and improve his quality of life.
It's also extremely expensive to treat, and while the small business owner has health insurance, his out-of-pocket expenses and inability to do the hands-on motorcycle wizardry he's know for, are only adding to Schneider's burden.
So, Schneider's friends, led by Evan Barnes, are stepping up. They've created a GoFundMe page, and in just a few days, they have raised almost $35,000 to assist in his out-of-pocket expenses. But they need to raise more.
"It's not often a friend reaches out to ask for help, especially someone who would give his last dollar to help someone in need," says Barnes. "The outpouring of offers from people to help Tim with not only his finances, but meals, lawn care, snow removal, rides to appointments, are blowing me away. I've talked to so many loving, caring and generous people who are so concerned for Tim's well-being."
Still, it's not the kind of assistance that Schneider is used to asking for.
"Contrary to what people might think, I'm actually a very private person and have a hard time asking anything from anyone in all aspects of life," says Schneider, 51. "With that said, I am completely speechless and moved beyond words over the outpouring of love and support."
Schneider says The Shop is still up and running, and his staff is stepping up to pick up the slack. But moving forward will be a heavy lift.
In 2016, Schneider moved The Shop to its new larger location (he previously leased in Hide House) at 1905 13th Ave. in South Milwaukee, which includes a second story for retail area. He only works on Japanese and European bikes, and vintage motorcycle owners know that he is the guy to see when it's time for repair. Wait times can be long, but Schneider always has had a knack for sneaking people when they're stranded without their bike.
While Schneider has been a fixture on the vintage bike scene for decades, he's more than just a motorcycle enthusiast. He camps with his dog into his vintage VW bus and takes in Shakespeare at American Players Theater.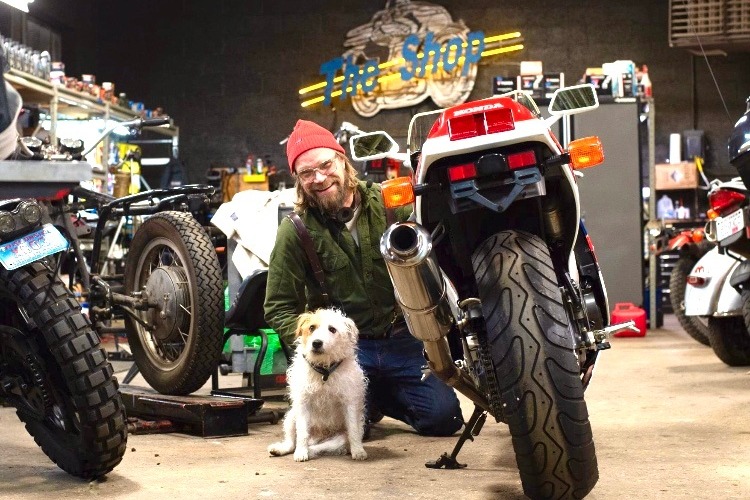 He's also a friend.
"Tim is a private and independent guy at home but really pours out his heart and helps a lot of folks in the community," says Barnes, who has known Schneider for years.
Scott Johnson, co-owner of Fuel Cafe, BelAir Cantina, Balzac, Hi Hat and more, considers Schneider one of his best friends. They raced bikes together and founded Rockerbox in 2003. "We were inseparable for years, and it's really tough to see him hurting," he says.
"Tim and I met at Fuel in 1994, through a shared love of motorcycles. He had found a box of parts at a rummage sale, which turned out to be a somewhat complete but unassembled 1950s Zundapp, an obscure German brand. He reassembled and restored it to showroom condition, and that was his first bike. He's an absolute genius with motorcycles, design and fabrication."
And everyone talks about Schneider's laugh – which, as a customer of The Shop, myself, I've heard in person.
"One big wish I have beyond all else is to hear Tim's big, loud laugh," says Barnes.
Says Johnson, "He's got a relentless spirit to learn and innovate, but even more importantly, an infectious laugh and effervescent sense of humor. He's one of the good ones."
Schneider says he's humbled with the Milwaukee's show of support.
"The only way I know how to respond to all of this generosity is to be strong, hold my head up high and move forward in repairing my health. I will do my absolute best on behalf of all of you. Thank you."
The key to improving the prognosis of someone battling Multiple Myeloma is getting treatment early, so time is of the essence in this campaign. If you'd like to make a donation to support Schneider, visit his GoFundMe page here.
Andy is the president, publisher and founder of OnMilwaukee. He returned to Milwaukee in 1996 after living on the East Coast for nine years, where he wrote for The Dallas Morning News Washington Bureau and worked in the White House Office of Communications. He was also Associate Editor of The GW Hatchet, his college newspaper at The George Washington University.
Before launching OnMilwaukee.com in 1998 at age 23, he worked in public relations for two Milwaukee firms, most of the time daydreaming about starting his own publication.
Hobbies include running when he finds the time, fixing the rust on his '75 MGB, mowing the lawn at his cottage in the Northwoods, and making an annual pilgrimage to Phoenix for Brewers Spring Training.