When Charles Bailey wanted to open a second Kinn Guesthouse, he sought a downtown location. What he got was a beautiful historic building in an area that's currently sparking with activity.
The building, at 600 N. Broadway, was built in the 1860s.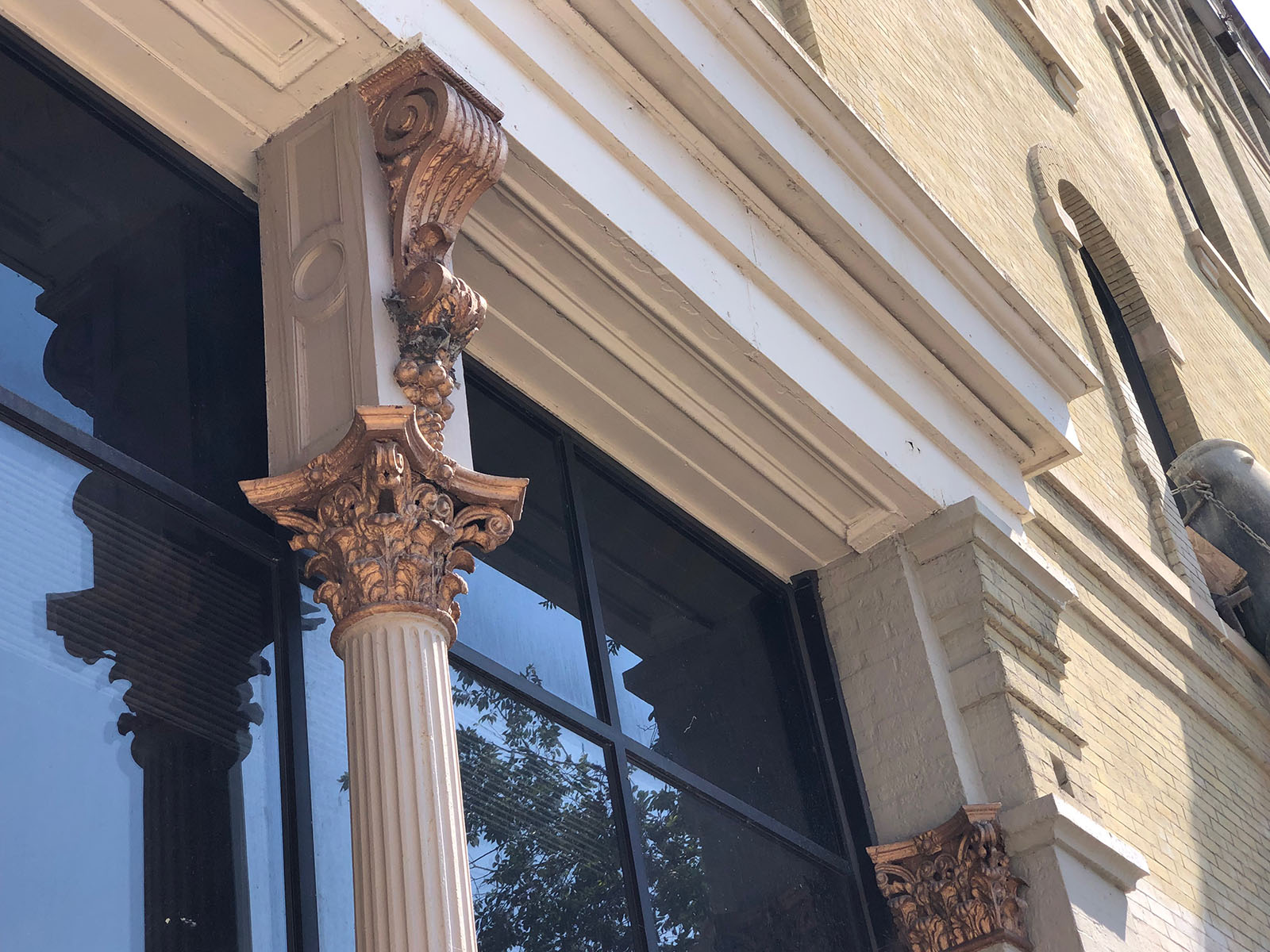 Nearby, there's the new Huron office building – with a Tupelo Honey restaurant opening inside soon – across the street and just south, the new Central Standard Distillery.
Ground has been broken on the whopping Couture development a couple blocks east, a new tower has been announced for a Third Ward site a few blocks southwest.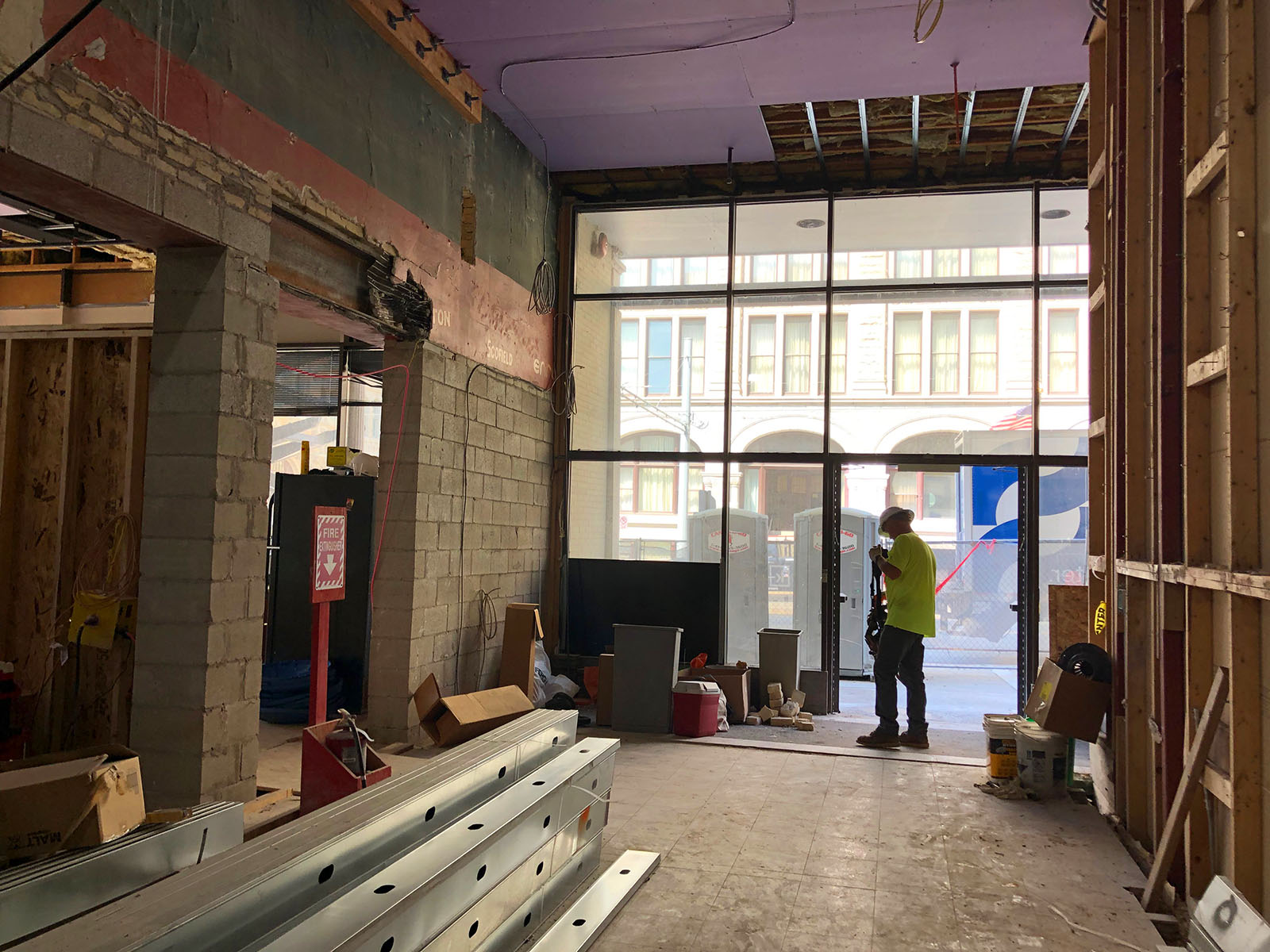 Plus, The Hop runs right past the Broadway side of the building and there's a giant full block ripe for development right outside the future hotel's windows.
"I knew that (stuff) was going up," says owner Charles Bailey. "There's no question about it, that definitely helped. But I'd have bought this building anyway. I love the location. To me there's a lot of development value.
"We're a half a block from probably the most expensive real estate in the city," he says, gazing out toward the Public Market and the Third Ward beyond. "This kind of property would never be available in Chicago.
"This to me feels like the equivalent of buying at Michigan and Ontario. I'm perfectly satisfied with what we paid for it. We probably paid a little more than we could have but I'm totally fine with it. And the market's totally bounced back so I'm not terribly worried about it."
When it opens – completion is slated for early December with an eye toward a (tentative) March launch – the new Kinn Hotel will have 31 rooms, including accessible guest rooms and pet-friendly ones, too.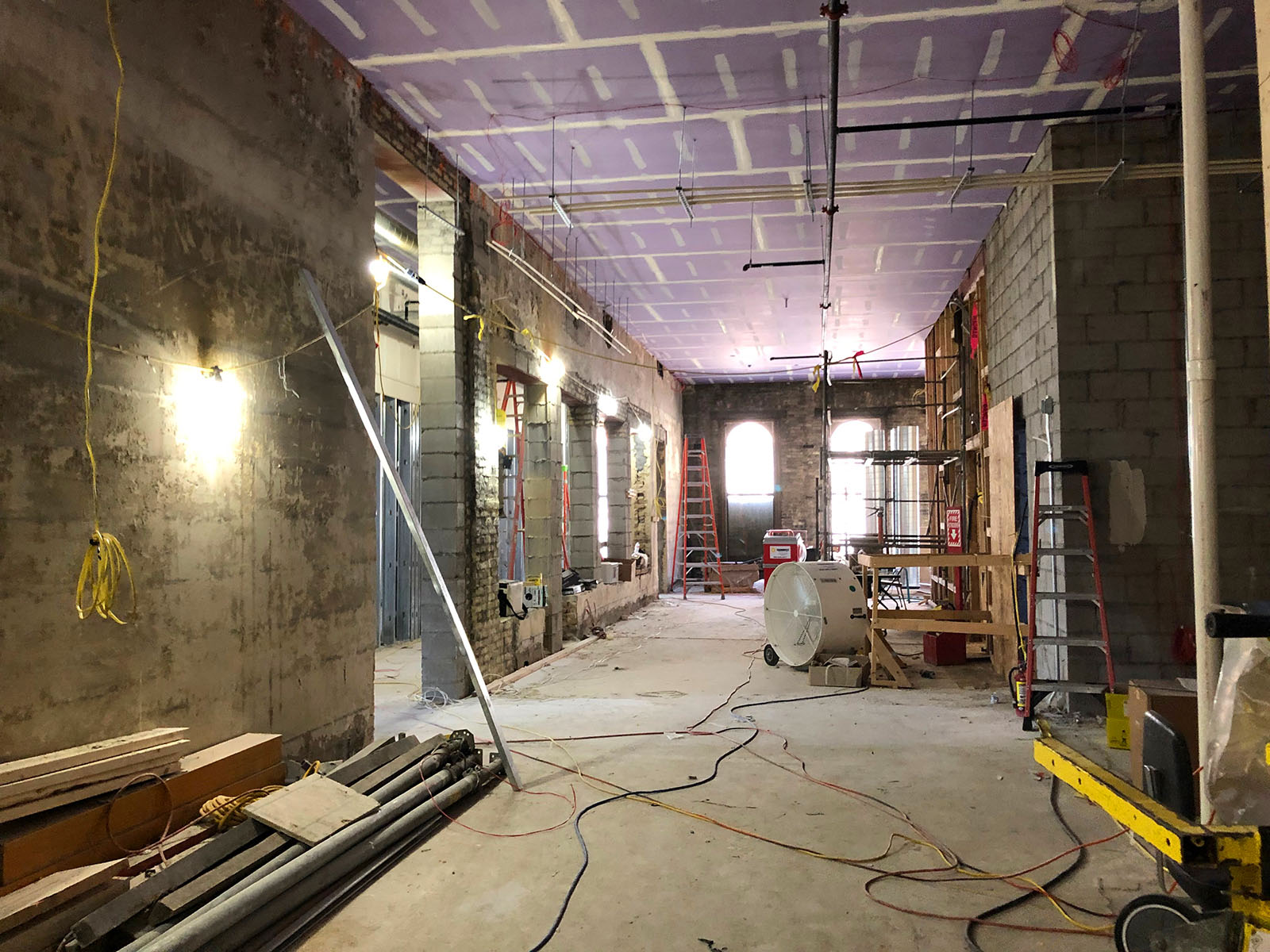 There will be a 2,000-square-foot lobby restaurant and a 6,000-square-foot rooftop space.
Like the first Kinn – opened in an 1895 Bay View building in 2017 – this new one, designed by Vetter Architects, will feature shared kitchens in 1,200-square-foot common areas on each of the upper floors, where there will also be a small meeting room. Guests will also have access to laundry facilities.
The amenities make Kinn a sort of upscale hostel, with everything you need for long-term stays or even quick visits, but with private rooms and less of a gap-year backpacking trek vibe.
"This suits my way of doing a hotel perfectly, but the big hotels would never consider a building like this," he says, noting that the north building has no windows on either of its long sides.
But that space is perfect for elevator shaft, stairwell, back of house and common areas which can be up front, where tall windows overlook Broadway.
There are four rooms on the first floor and nine each on the three upper floors.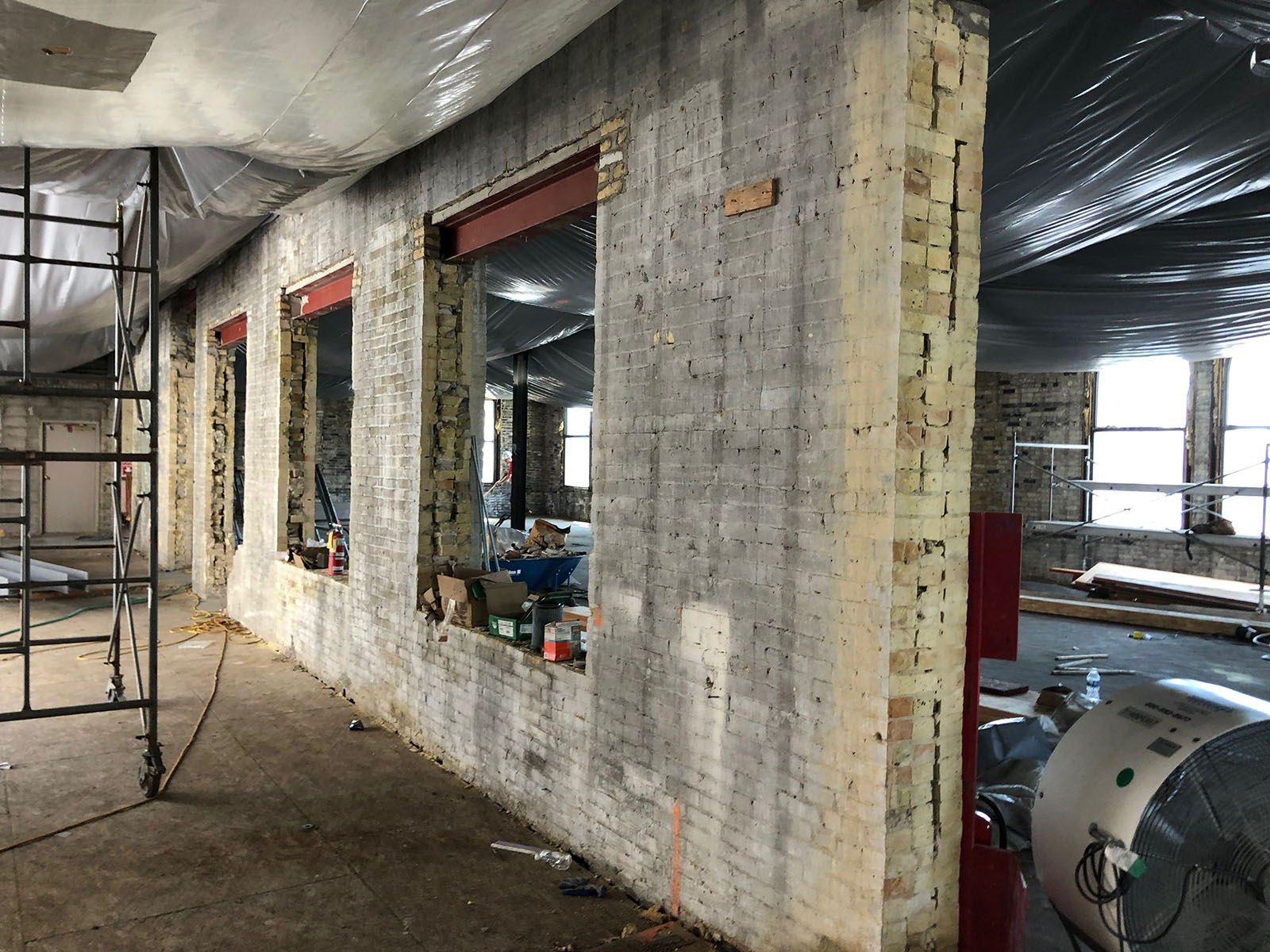 The corner rooms along Michigan Street are especially nice, with tall windows that offer views over landmarks like the Mackie and Loyalty Buildings and out toward the Huron and Milwaukee Public Market.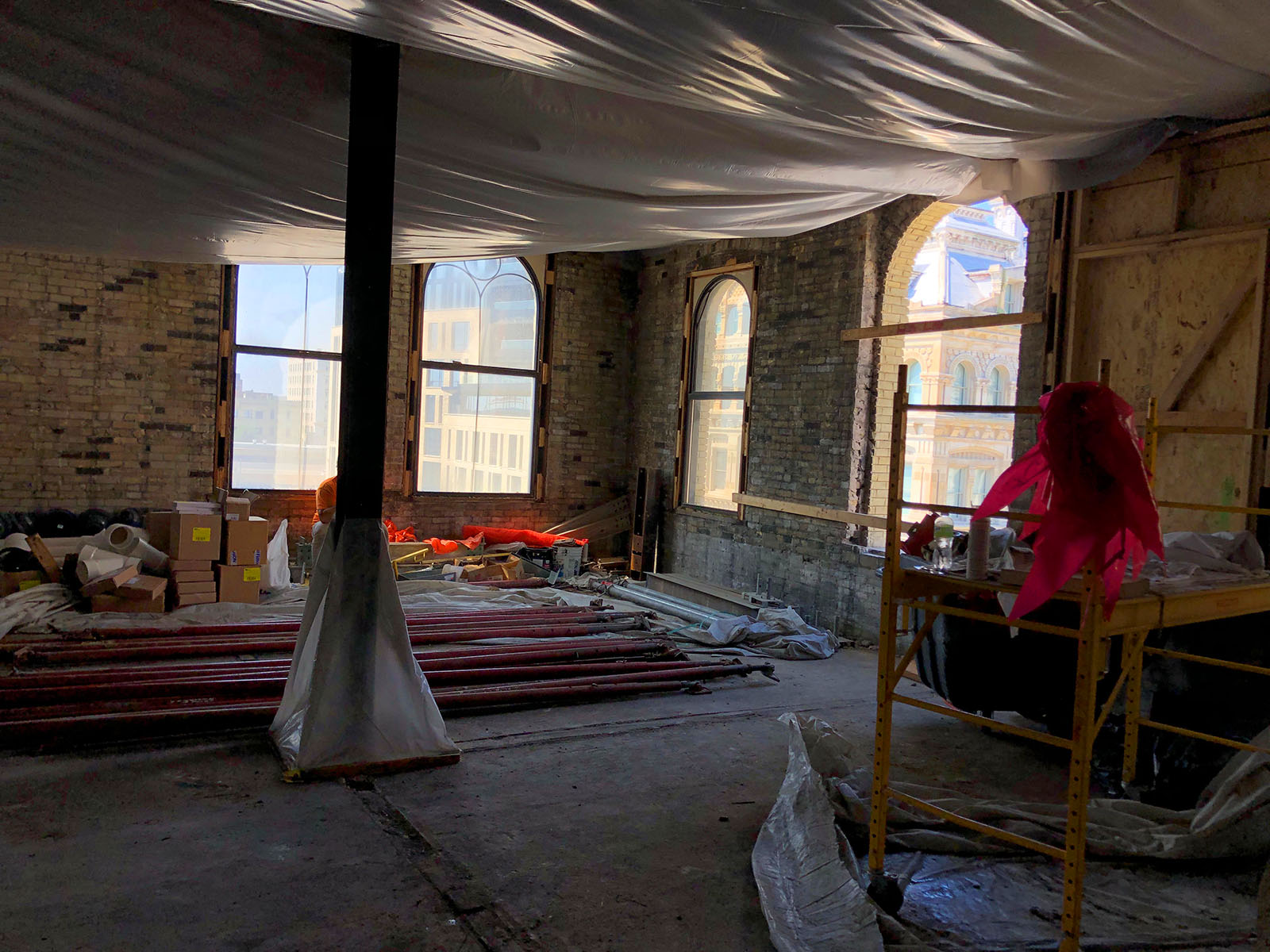 After a trying year during the pandemic, Bailey says business is back to booming in Bay View.
"What's been really big for us in Bay View is booking out the whole place," he says. "What we'll do with this one is divide out in fours. You can book out the whole floor for yourself and be segregated from everyone else. You could have a family or a wedding party or whatever and it would be your own.
"We're seeing tons of interest in wedding parties already. So we'll probaby start releasing rooms for March now and as we get closer to finishing I'll see what the timing looks like and release rooms earlier than that if possible."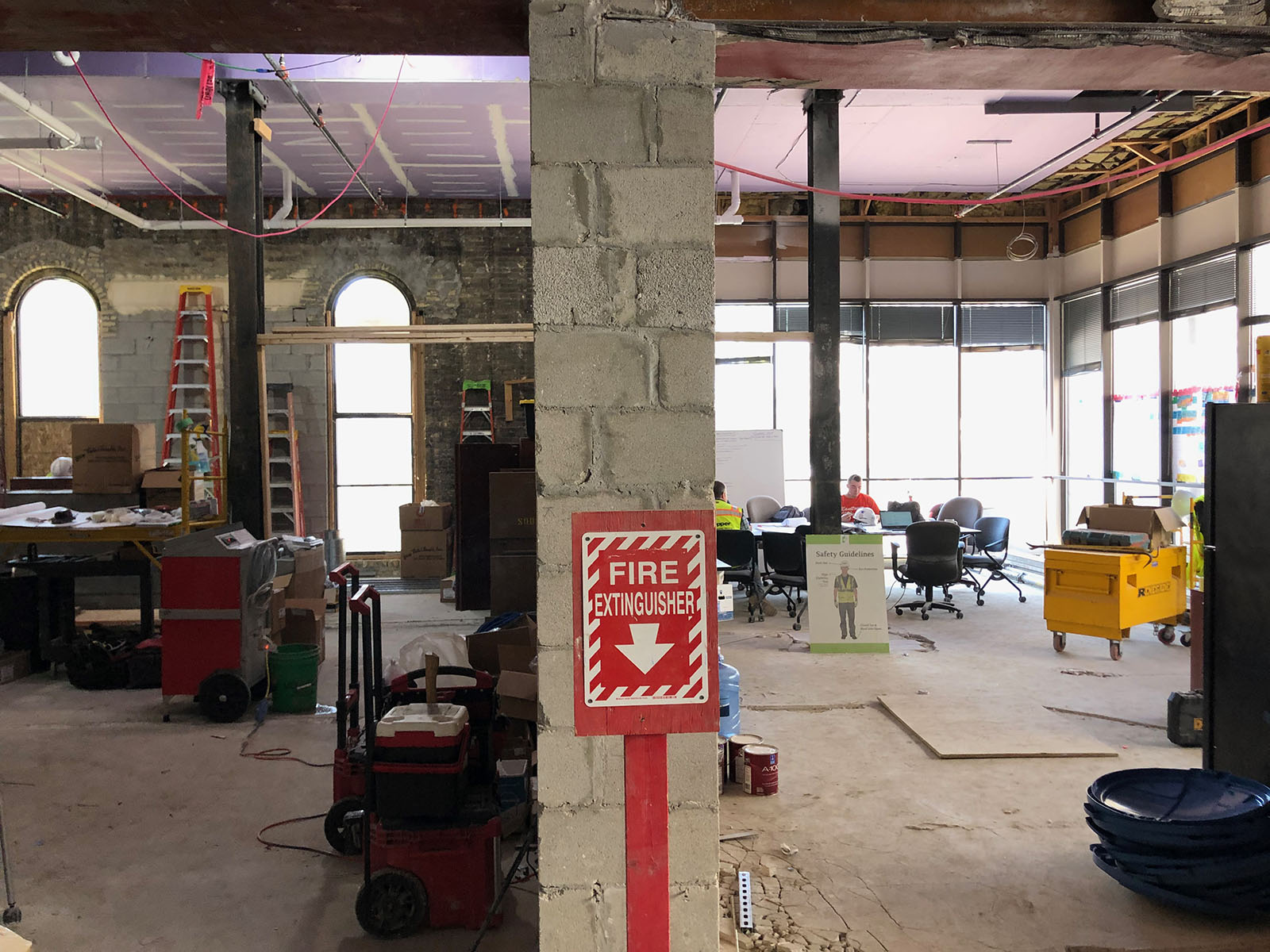 A little history
The new hotel occupies a pair of attached buildings that were built in two stages, starting in 1868 on the corner of Broadway and Michigan and following with an addition to the north eight years later.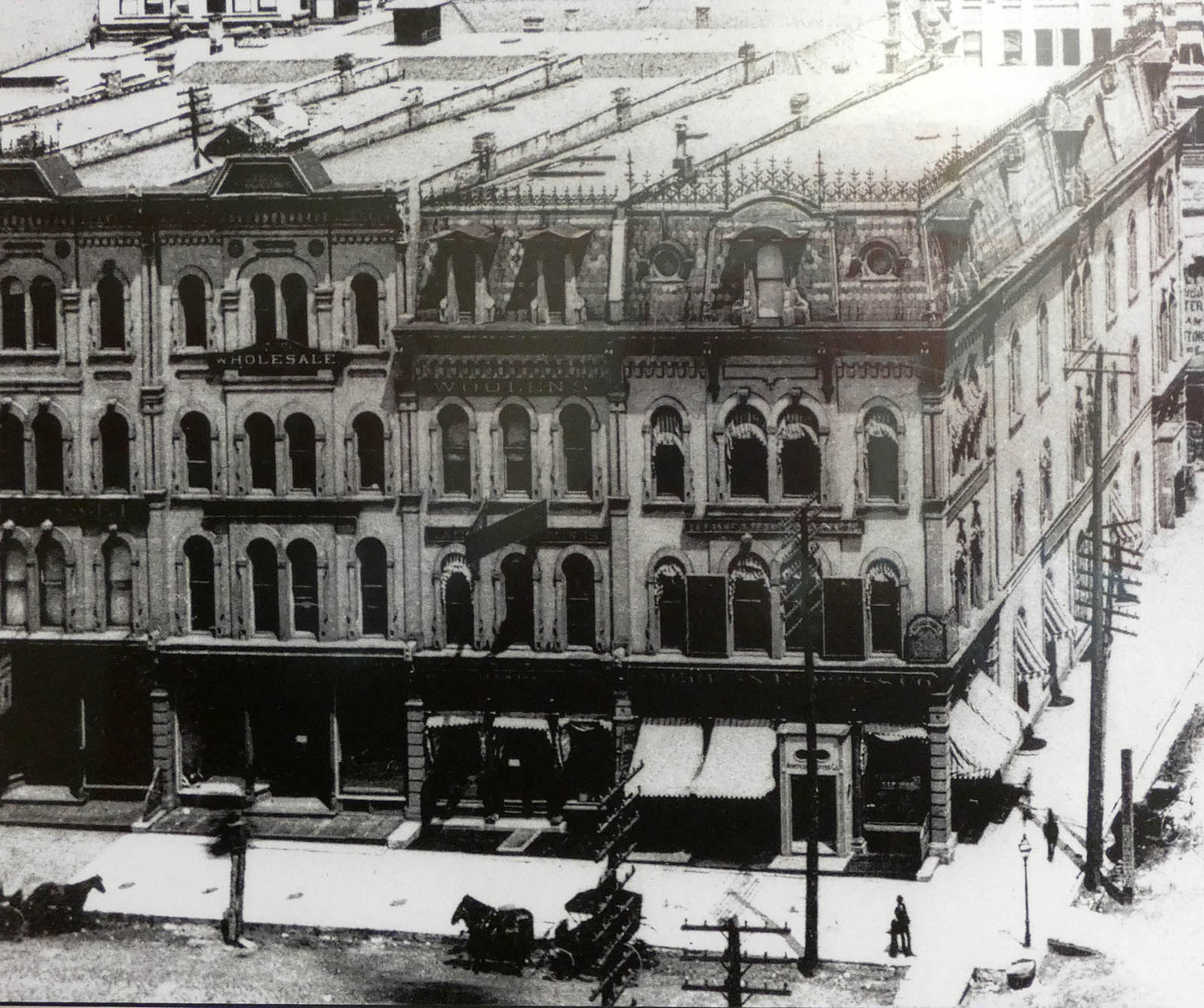 It's easy to spot the two distinct portions of the building as they have different window arrangements.
Originally, these Italianate structures were topped with an ornate French mansard roof that was removed in the 1890s and replaced with a full floor matching the lower ones.
The cream city brick building with iron storefronts was called the Lawrence Block (booklovers can insert their own joke here) because it was built by an investment group helmed by Judah Lawrence.
According to a city landmark designation report, "The original building was a mansard-roofed, four-story, speculative, retail and loft-manufacturing structure with seven storefronts and three floors of offices and manufacturing space above.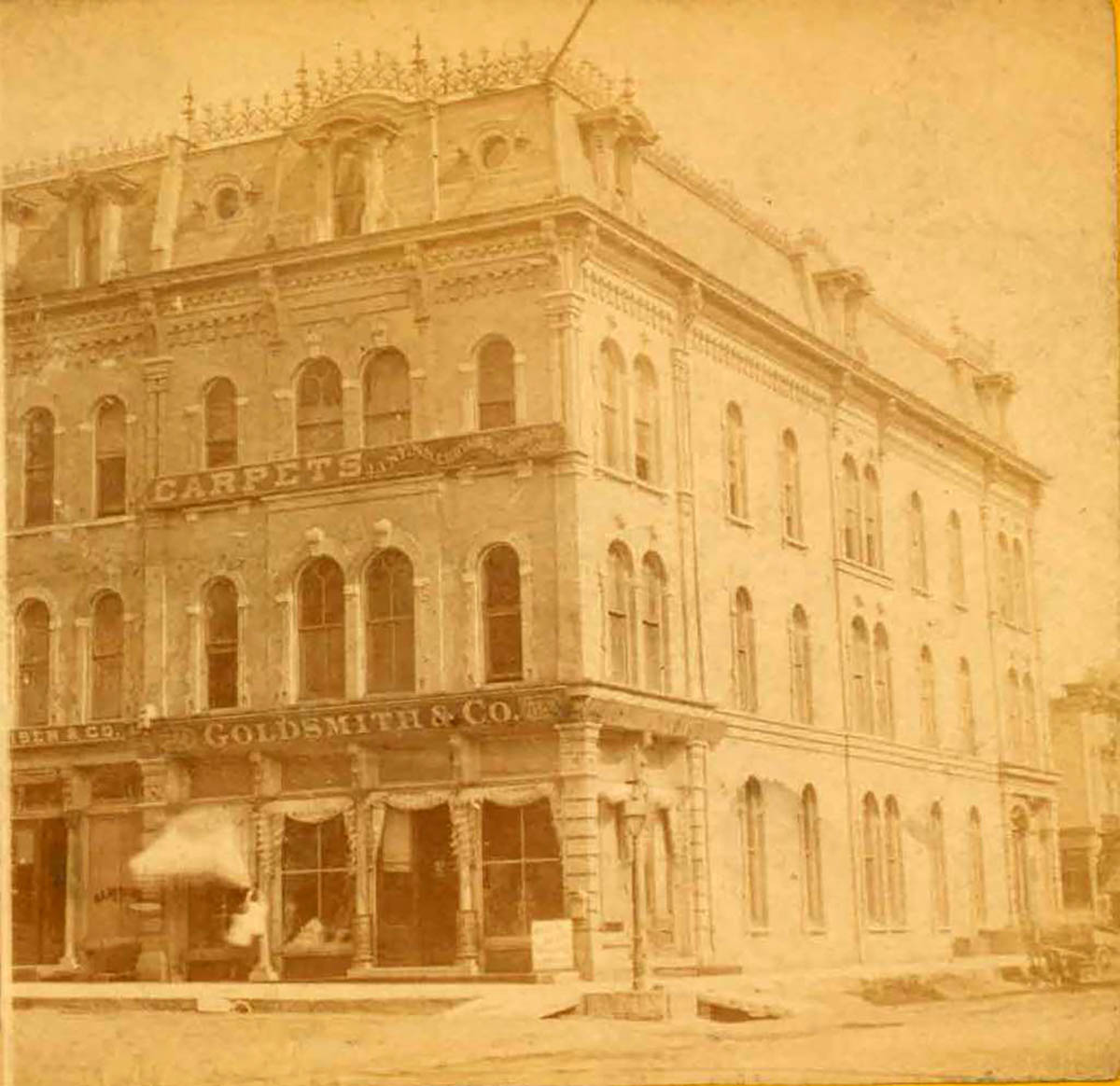 "It was built at a time when Broadway (then know as Main Street) was becoming a commercially important extension of the city's main retailing area on North Water Street. The Birchard and Follansbee Block (323-31 E. Wisconsin Ave.) and the Noonan Block (307 E. Wisconsin Ave.), which had been built the previous year, had encouragedthe further commercialization of this block of Broadway.
"The whole building was occupied by a variety of tenants including commission merchants, express companies, crockery merchants, but most numerously by garment manufacturers and milliners."
The nomination papers for the National Register of Historic Places add a bit more detail.
"In the district (which was known as the city's financial hub), the Lawrence Building was one of the largest buildings constructed for wholesale purposes. It housed primarily wholesalers that dealt in clothing, caps, hats, furs, notions and crockery. The most extensive business carried out there was millinery.
"The Lawrence Building provided professional offices, mostly occupied by commission merchants and manufacturing space for numerous milliners."
When it was built, the Lawrence Block faced the Newhall House Hotel across the street, which burned in a horrific, deadly fire in 1883. After the blaze, the Loyalty Building was erected in its place.
For many years, beginning in the 1870s, the building was home to American Express and the company's steamship ticket offices. These offices were still there in 1927.
At the same time, Joseph Goldsmith sold carpets and other items from the building and Henry Eisen was a clothing wholesaler based there.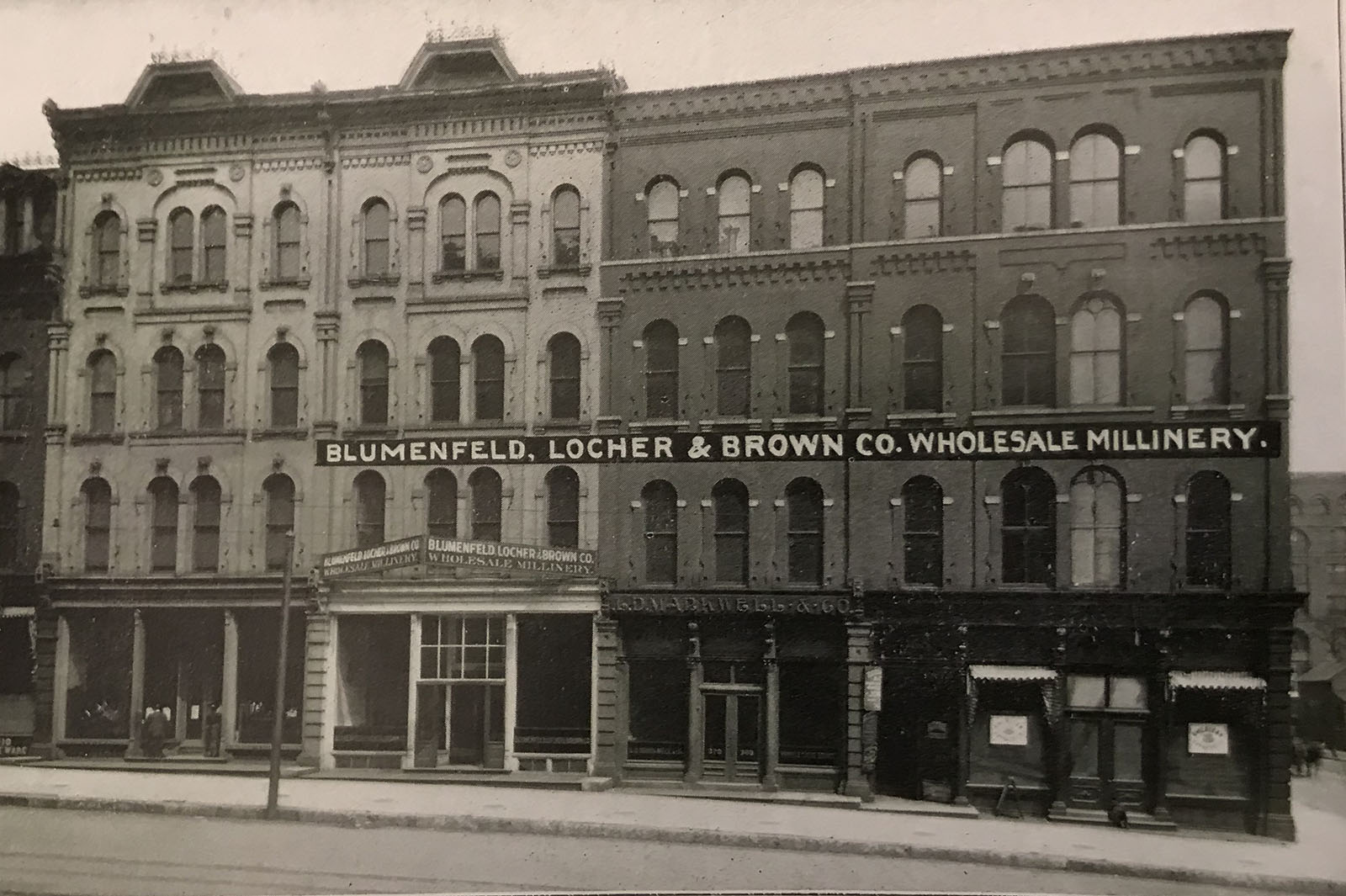 By the turn of the 20th century Blumenfeld, Locher & Brown wholesale millinery occupied the block, remaining there until the early 1910s.
By the teens, Roemer Drug Co., which sold wholesale drugs and physicians supplies, had moved into the northern of the two spaces.
Frank J. Roemer, born in Bellaire, Ohio, opened the business in 1898 on 4th and Wisconsin and later moved to Water Street. In 1912, he moved into the Lawrence Block, where he was also affiliated with Parke Davis Drug Co.
Suffering from poor health, Roemer moved west, settling in Los Angeles in 1937 but continued to run his Milwaukee business from afar.
His Oconomowoc estate was purchased and donated to the city for Fowler Lake Park.
The building's third floor – its more recent renovations stripped out – has a couple areas with many names written on the walls and there are at least two stenciled "Roemer Drug Co." signs among the handwriting.
By the 1930s, Hooker Glass and Paint occupied the corner building and would also remain for many years.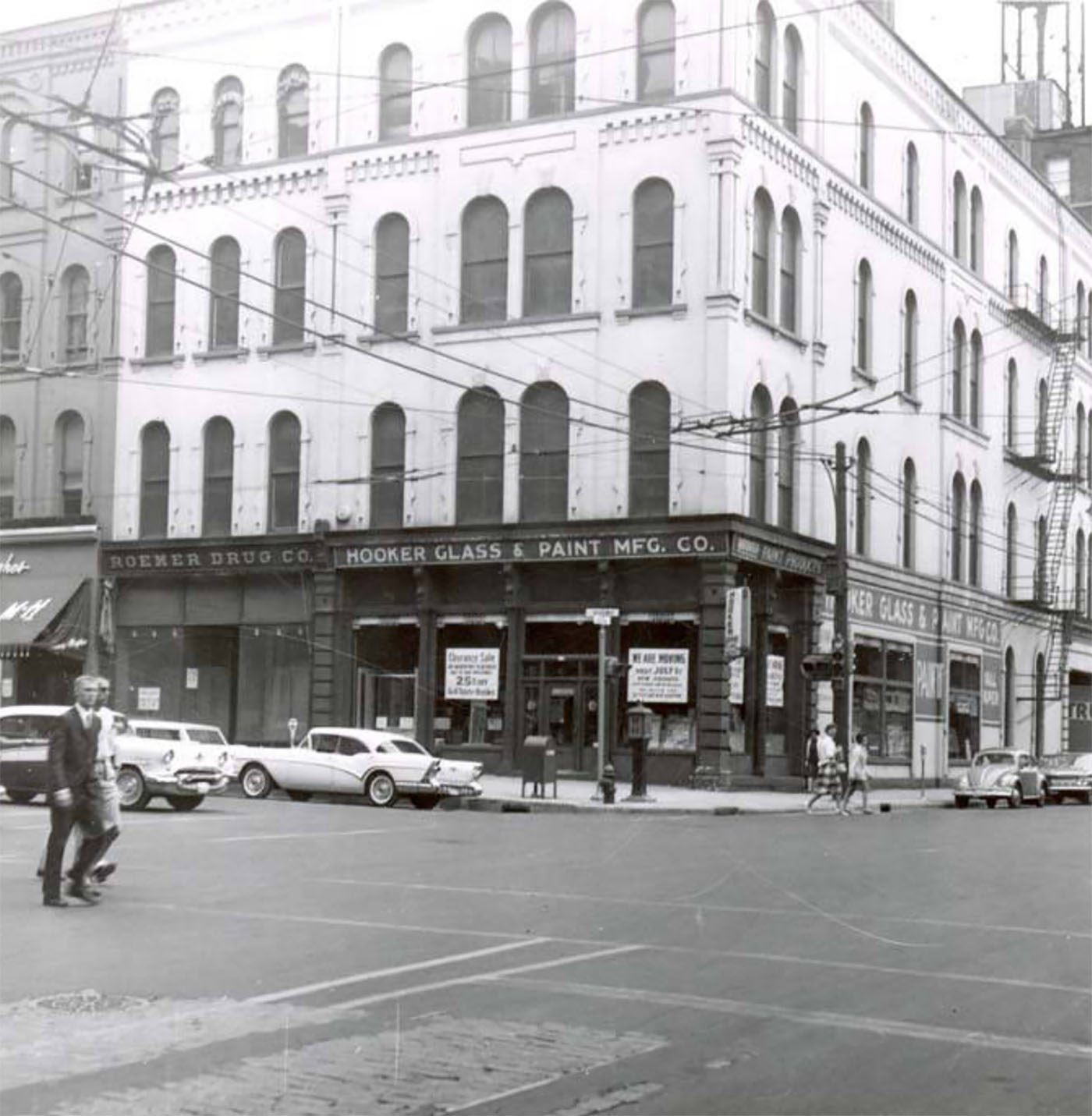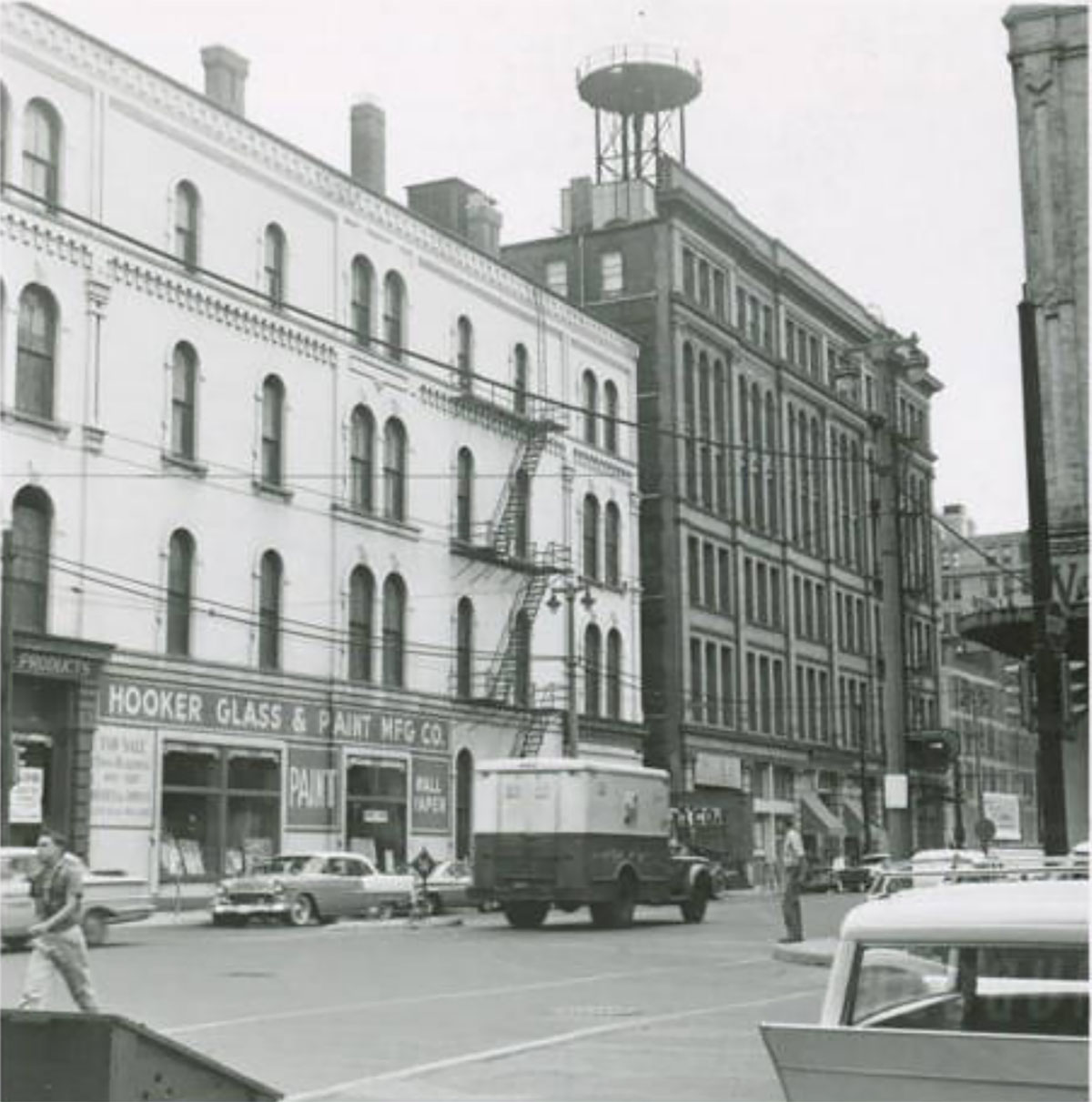 However, by the mid-1960s, city directories reported the buildings to be vacant, a status that endured into the early 1970s.
In 1973, Arenson's tailoring supplies – founded in 1900 – occupied space there and Spangenberg's office supplies had warehouse space in the building.
In the late 1970s and into the mid-1980s Kahn's Clothing Outlet occupied the north storefront and the stripped walls revealed decor from that era, with names and logos of then-popular designers – like Jordache and Oscar de la Renta – painted in a long row around the space.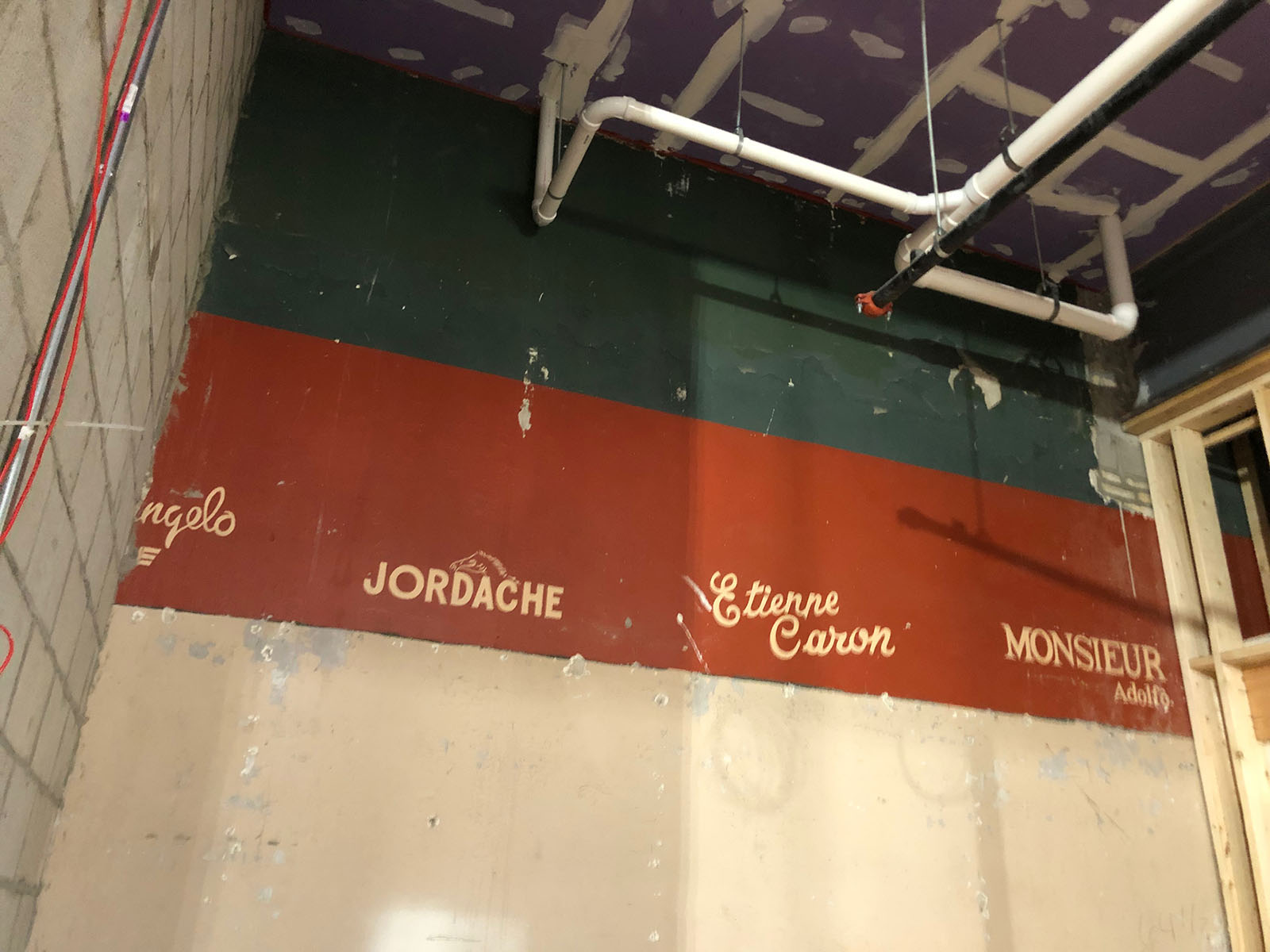 After that, the building was renovated into office space that was primarily used by a variety of law firms, but also an insurance company, a title company, an ad agency and a building maintenance company.
The building's current state
Work is well underway on the new hotel, with interior demo complete and framing of walls already taking place on the first two floors.
Joe Policht of Pepper Construction says that work started in the basement and is working its way upward, but that's not completely true (though it is for the framing of walls) because a fifth floor penthouse with event space is already well underway.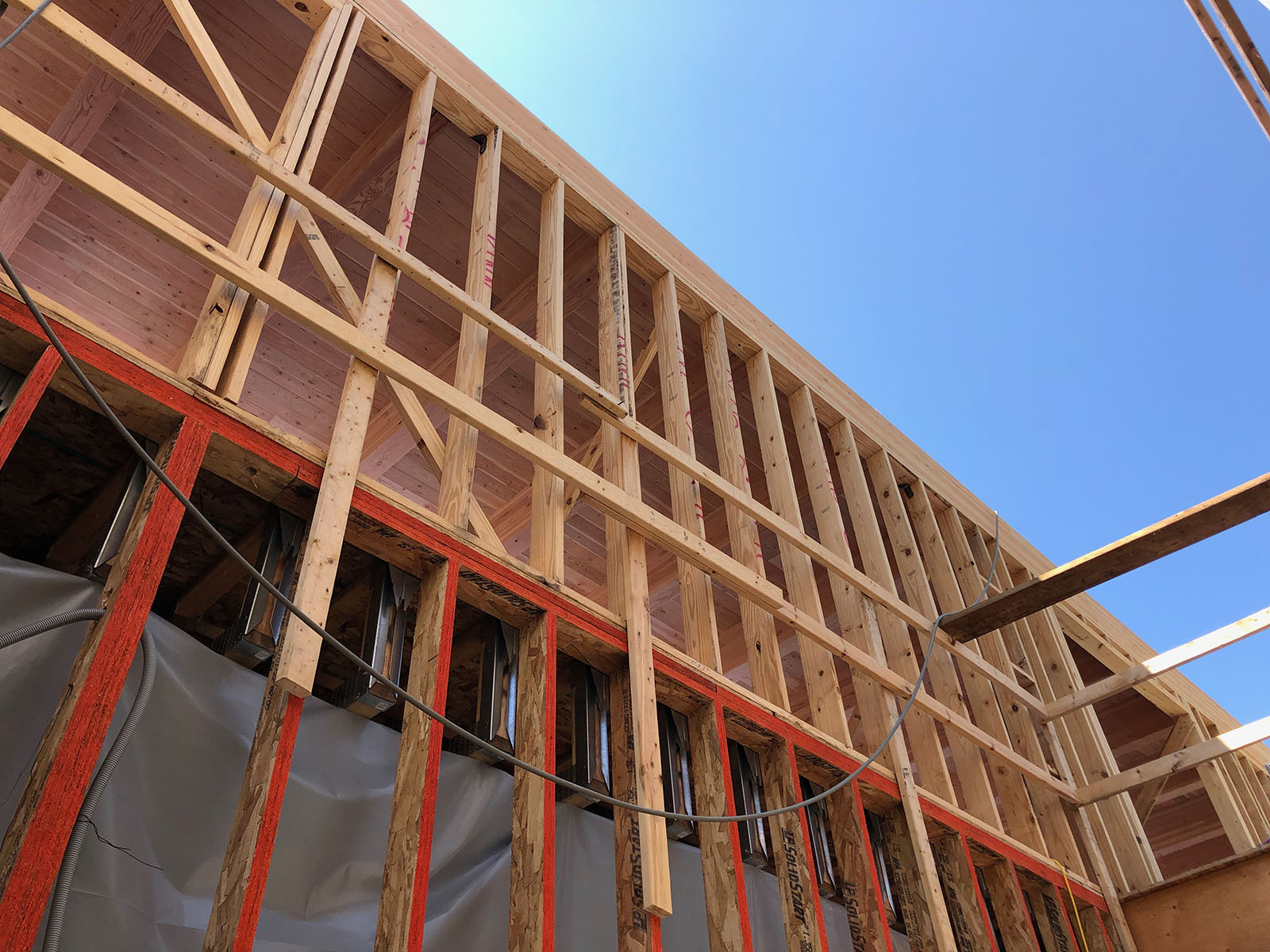 "Pepper has been amazing," says Bailey, who built out the Bay View Kinn himself. "Just awesome, these guys are absolute professionals. They are so good at what they do."
I was thrilled to get a chance to visit at this stage because the interior demo has uncovered things like that Roemer-era handwriting and signage, as well as the remnants of a paper poster pasted to the north wall on the fourth floor that shows – in color – a drawing of the Exposition Building, designed by Walter Holbrook during his tenure with Edward Townsend Mix, that burned in 1905 and was replaced by the Milwaukee Auditorium (now the Miller High Life Theatre).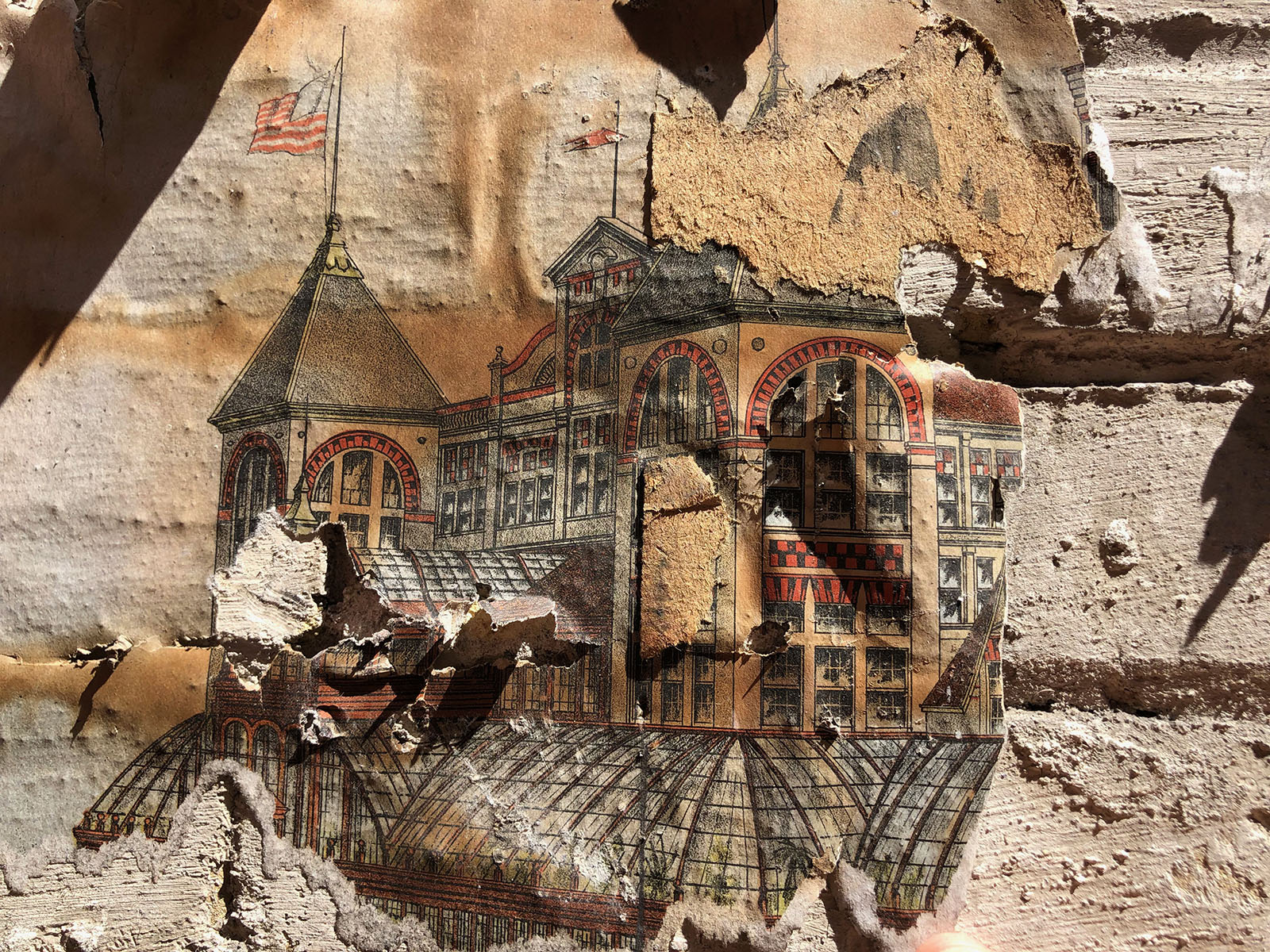 Alas, so little of the poster is left that it's impossible to date it or tell what it was advertising.
Down in the basement, there's a doorway that will soon be sealed up that leads to a dark corridor beneath the Broadway sidewalk (pictured below). Five small barrel-vaulted rooms are accessed by this hallway and its unclear what their purpose was.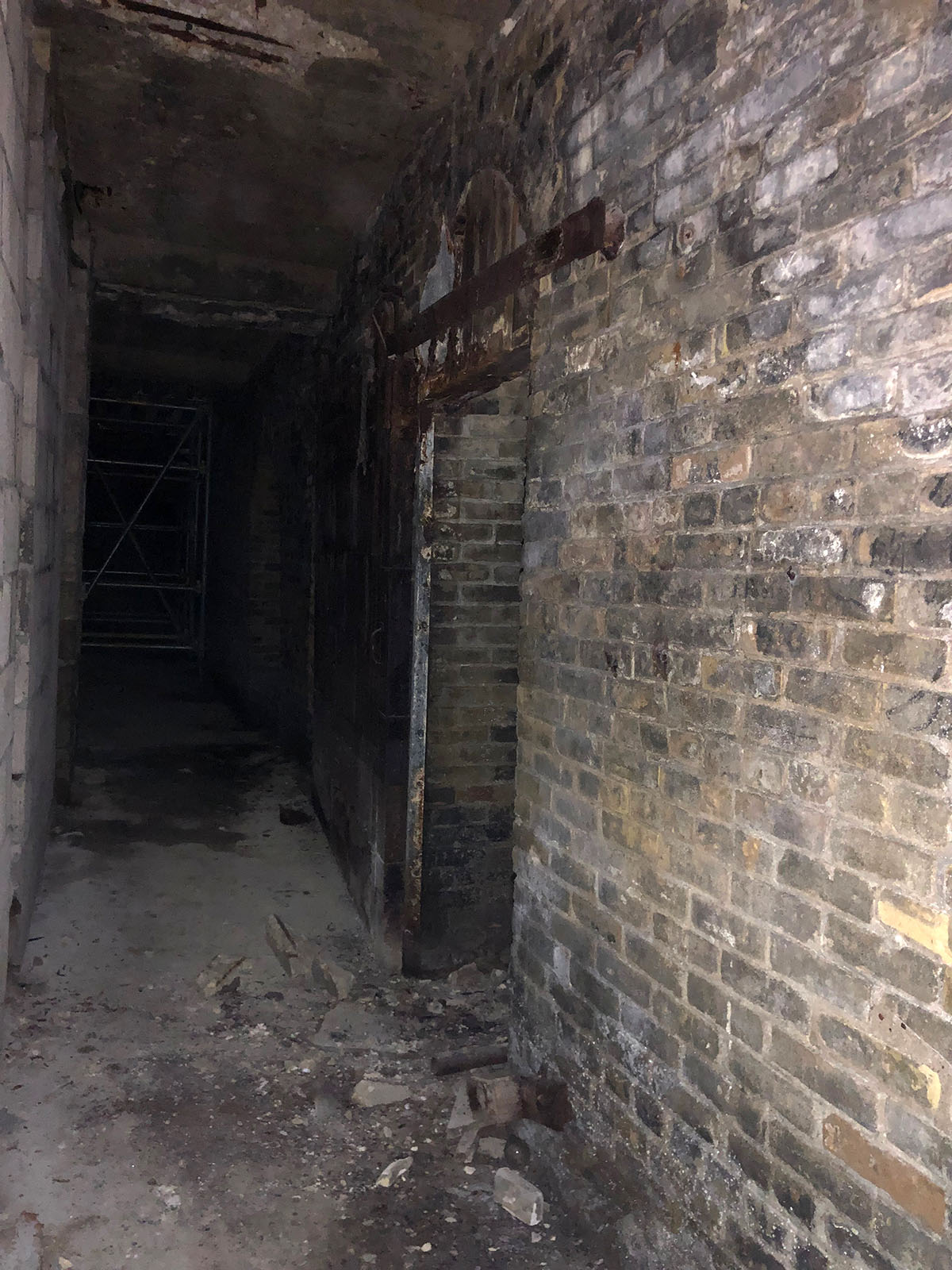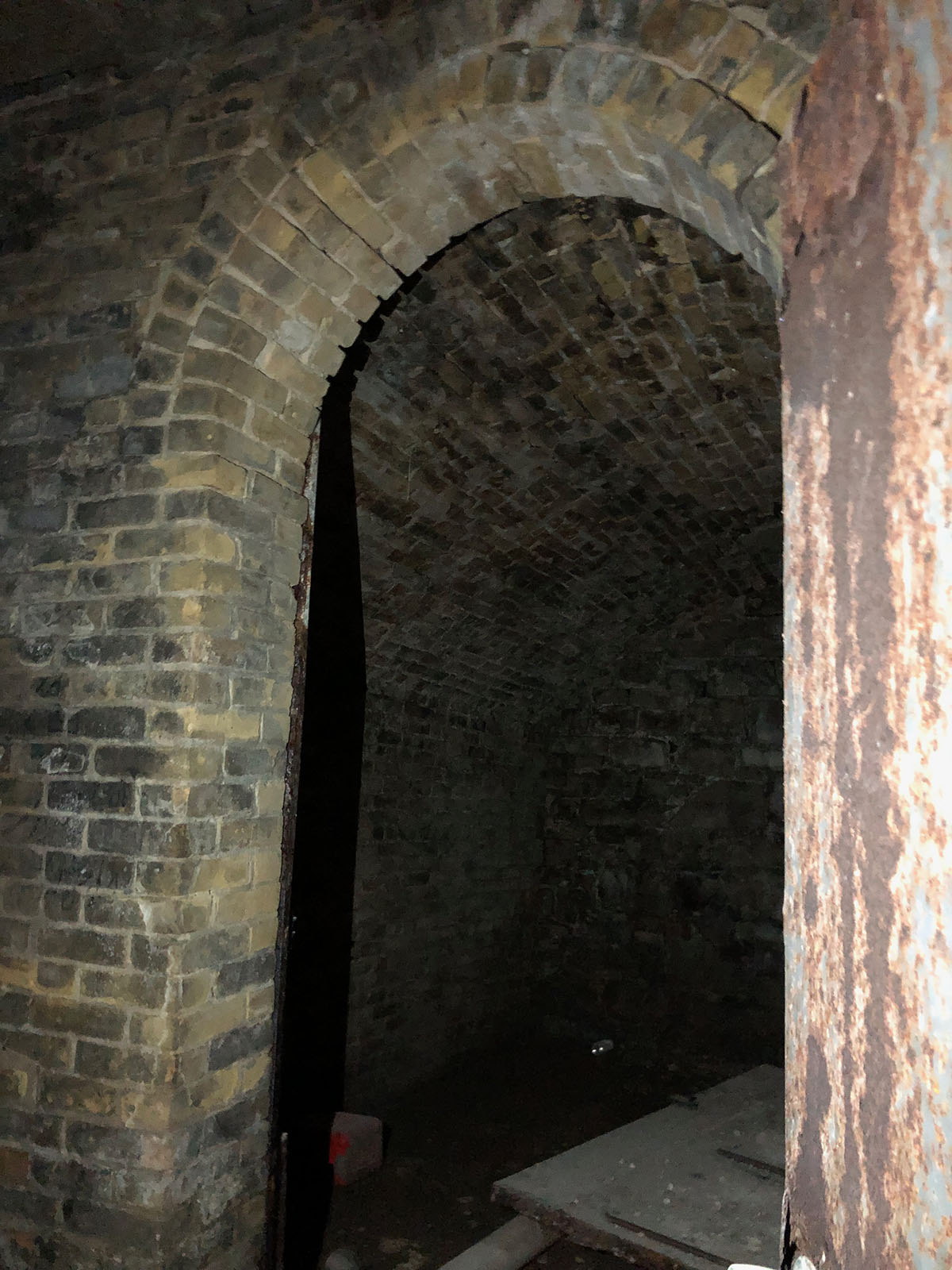 It appears that there were openings at the top of at least some of the space and while We Energies said it had no record of these spaces being theirs, it was suggested that one or more could've housed boilers while the others may have been coal rooms.
Whatever their purpose, their arched brick doorways and vaulted ceilings are evocative and fascinating and I'm glad I got a peek before the door is shut for good. (Though I should note that the hall and spaces are not being touched. They will remain as they are behind the door.)
Fortunately, not everything that's been uncovered will be recovered.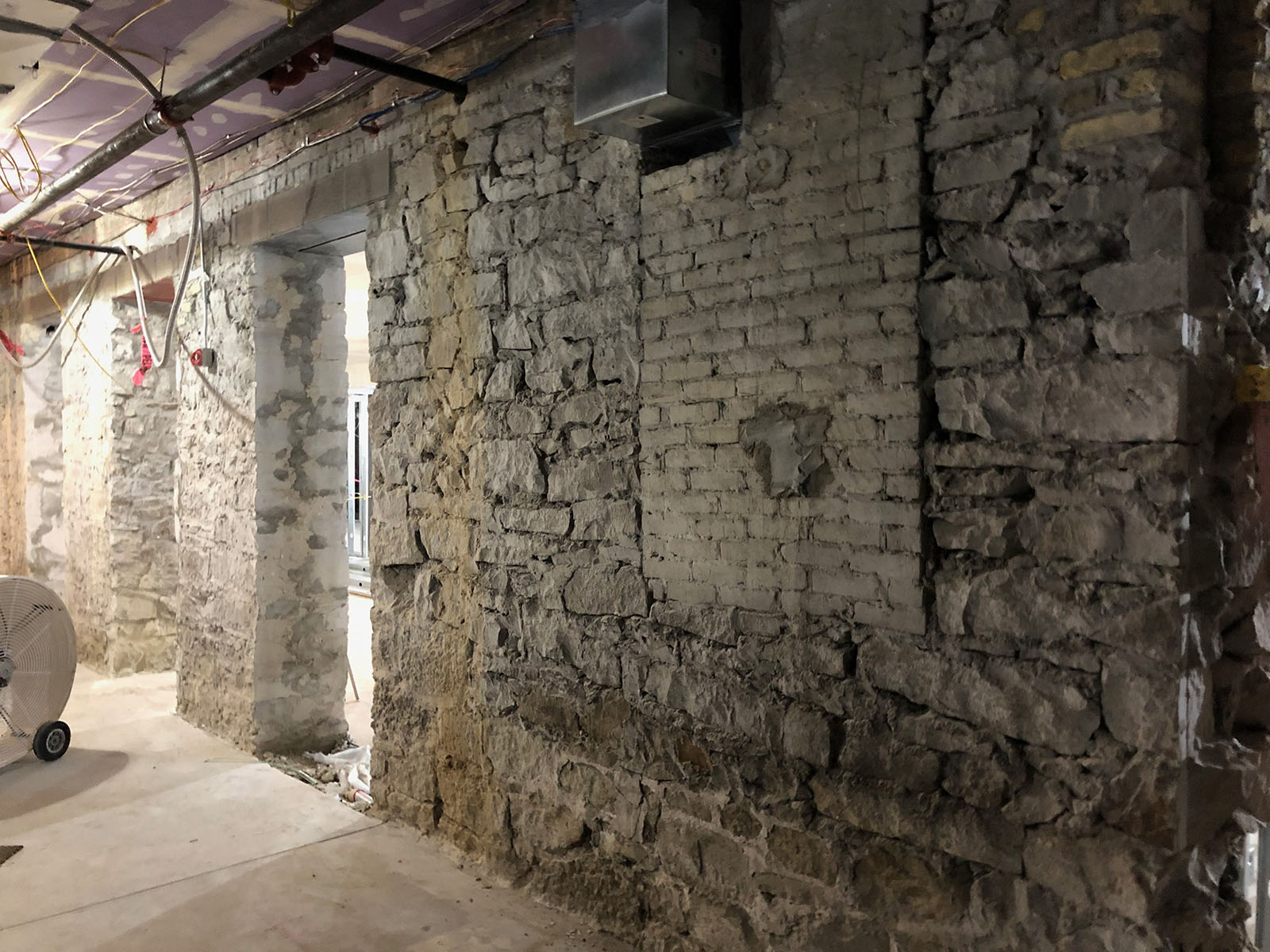 Beautiful stone walls in the basement (pictured above) will remain for guests to enjoy, as will some cream city brick walls on the floors above.
When I tell Teri Weinen, project manager at Pepper Construction, how thrilled I am to see the paint being removed from the exterior walls, she encourages me to say that to Bailey, who had planned to repaint the brick but had a change of heart when he saw how beautiful it looks.
"It costs a little more upfront," he says, "though not all that much more, and if we repainted, we'd have to keep repainting it. I've been getting a lot of calls, some from people I don't even know, telling me how much they love the way the (uncovered) brick looks."
Add me to the list.
(Stay tuned as I will revisit when the hotel is ready to open for a first look at the finished project.)
Born in Brooklyn, N.Y., where he lived until he was 17, Bobby received his BA-Mass Communications from UWM in 1989 and has lived in Walker's Point, Bay View, Enderis Park, South Milwaukee and on the East Side.
He has published three non-fiction books in Italy – including one about an event in Milwaukee history, which was published in the U.S. in autumn 2010. Four more books, all about Milwaukee, have been published by The History Press.
With his most recent band, The Yell Leaders, Bobby released four LPs and had a songs featured in episodes of TV's "Party of Five" and "Dawson's Creek," and films in Japan, South America and the U.S. The Yell Leaders were named the best unsigned band in their region by VH-1 as part of its Rock Across America 1998 Tour. Most recently, the band contributed tracks to a UK vinyl/CD tribute to the Redskins and collaborated on a track with Italian novelist Enrico Remmert.
He's produced three installments of the "OMCD" series of local music compilations for OnMilwaukee.com and in 2007 produced a CD of Italian music and poetry.
In 2005, he was awarded the City of Asti's (Italy) Journalism Prize for his work focusing on that area. He has also won awards from the Milwaukee Press Club.
He can be heard weekly on 88Nine Radio Milwaukee talking about his "Urban Spelunking" series of stories.