A question that I get asked a lot is, "which is Milwaukee's oldest house?"
And believe it or not, it's a somewhat complicated one. It would appear that the oldest is the George W. Brown House at 8774 W. Lisbon Ave., built around 1848.
But we don't have solid evidence for that date and it's possible it's not quite that old.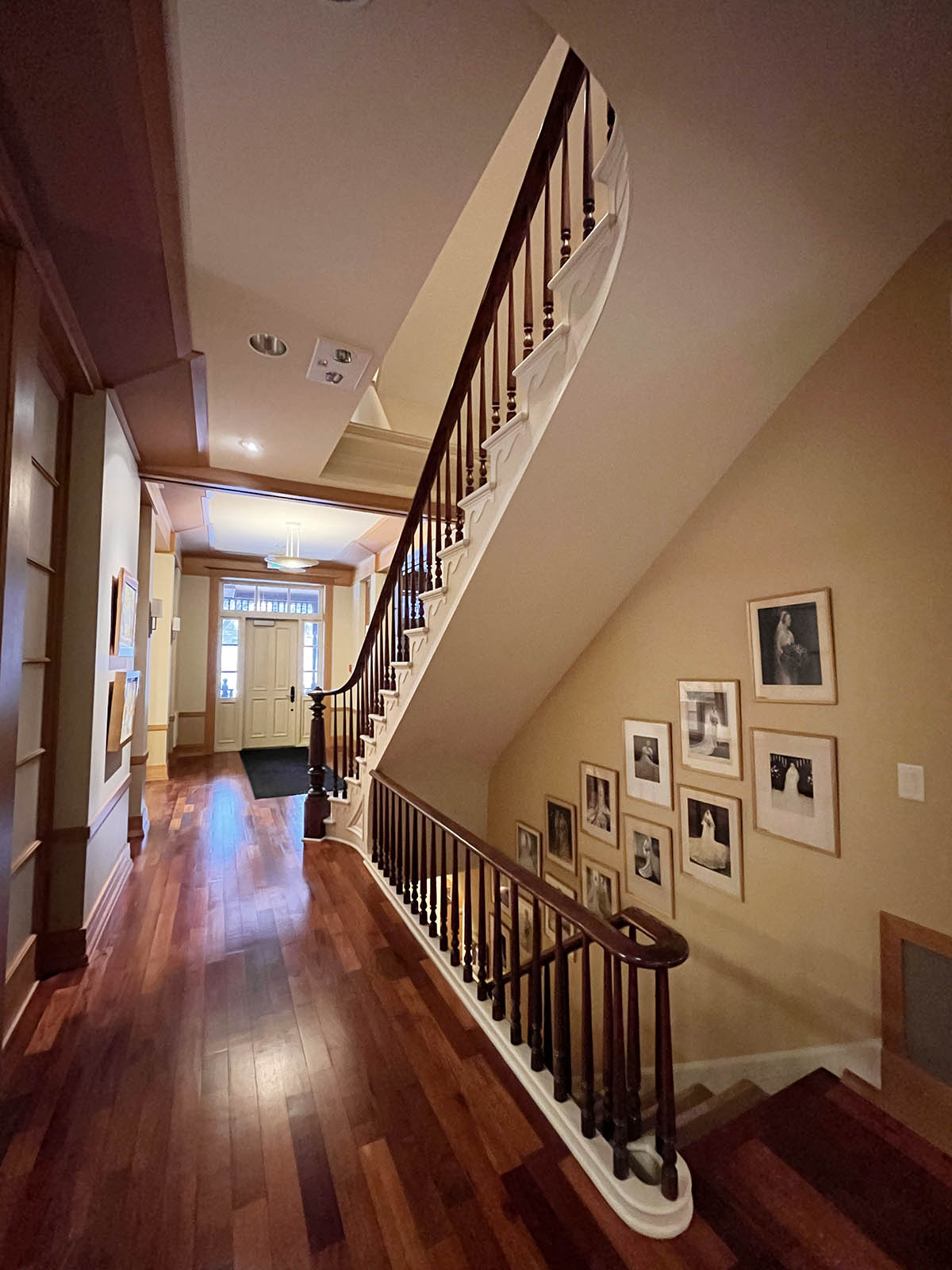 Then, what of the Benjamin Church House, built on 4th and Court Streets in 1843? It's long since been moved to Shorewood.
There's the Daniel Newhall Rowhouse in Walker's Point, and this tavern, both dating to 1850, which has been heavily altered, and by the time you get to 1852, there's the George Augustus Tiffany House on Jefferson Street, and the James S. Brown Double House at 1122 N. Astor St.
And – as I skillfully (or artlessly) attempt to avoid the initial question once again – it is the latter house that we're discussing today.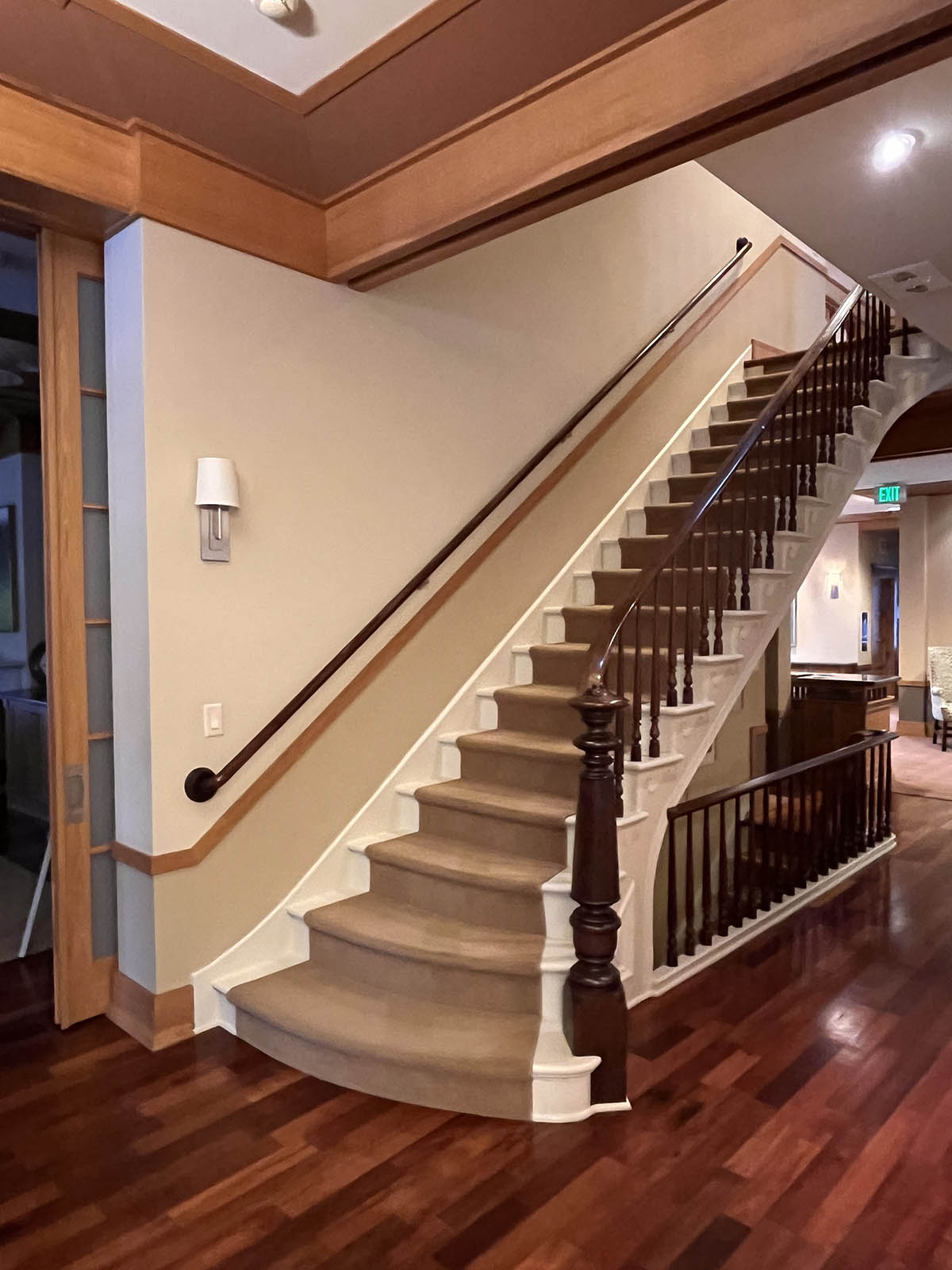 Known as Brown's Folly when it was built – for having been situated "so far" away from the city – "beyond the limits of possible buildings," as Russell Zimmermann quoted in his "Magnificent Milwaukee" book – the structure has seen some changes and a variety of uses, but it remains one of very few Federal Style buildings left in the city.
In fact, when the City of Milwaukee's Historic Preservation Commission prepared a report on Brown's Folly as part of a 1986 effort to designate it as a local landmark when there were fears the double house would be razed, the report called it, "significant as one of only four surviving examples of the Federal Style left in Milwaukee."
Once a popular building style in the city, it – along with the 1858 Abel Decker Double House in Walker's Point – is one of the last to maintain that demeanor. A third, the Newhall Double House previously mentioned, has been stripped inside and out. (The fourth example in the report is the now-long-demolished 1853 Gipfel Union Brewery that stood near 4th and Juneau.)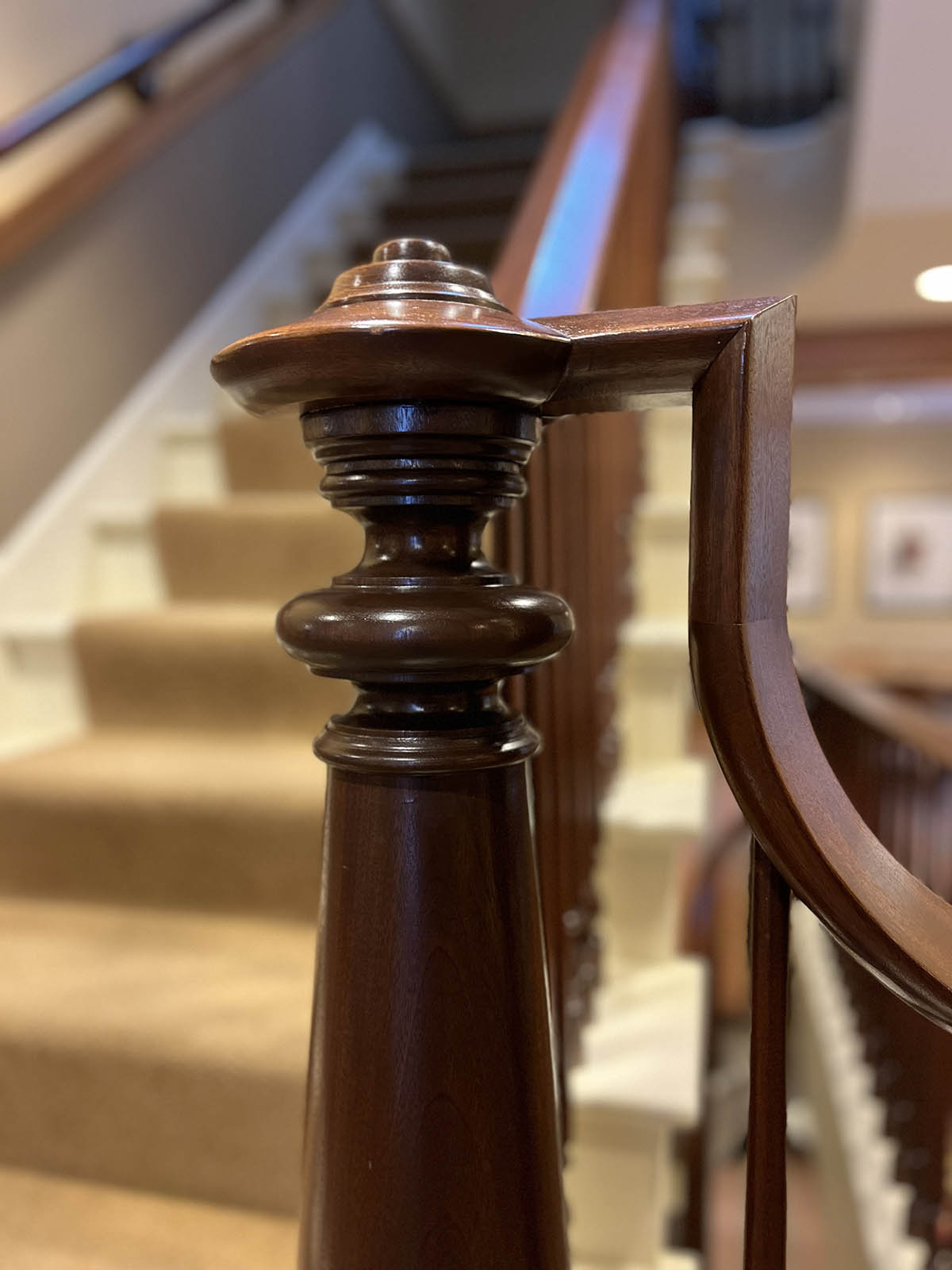 The report notes that the Federal Style here was most often used in commercial buildings, row houses and double houses.
This example, built for future mayor James S. Brown, sat alone on its block – and indeed in much of the area – until the late 1860s. While some may have thought Brown a bit kooky for choosing the site, the house soon found itself in the extremely desirable Yankee Hill neighborhood. Later, to the south, were the soaring Immanuel Presbyterian Church (1873), designed by Edward Townsend Mix and to the east Mix's own home (1868), as well as many other now landmark structures.
Part of the reason for the delay in development in the area was that, unlike today, waterfront property – be it adjacent to a river, ocean or lake – was not in demand.
Being situated on a bluff near Lake Michigan in winter with little to block the wind was not a sought-after experience.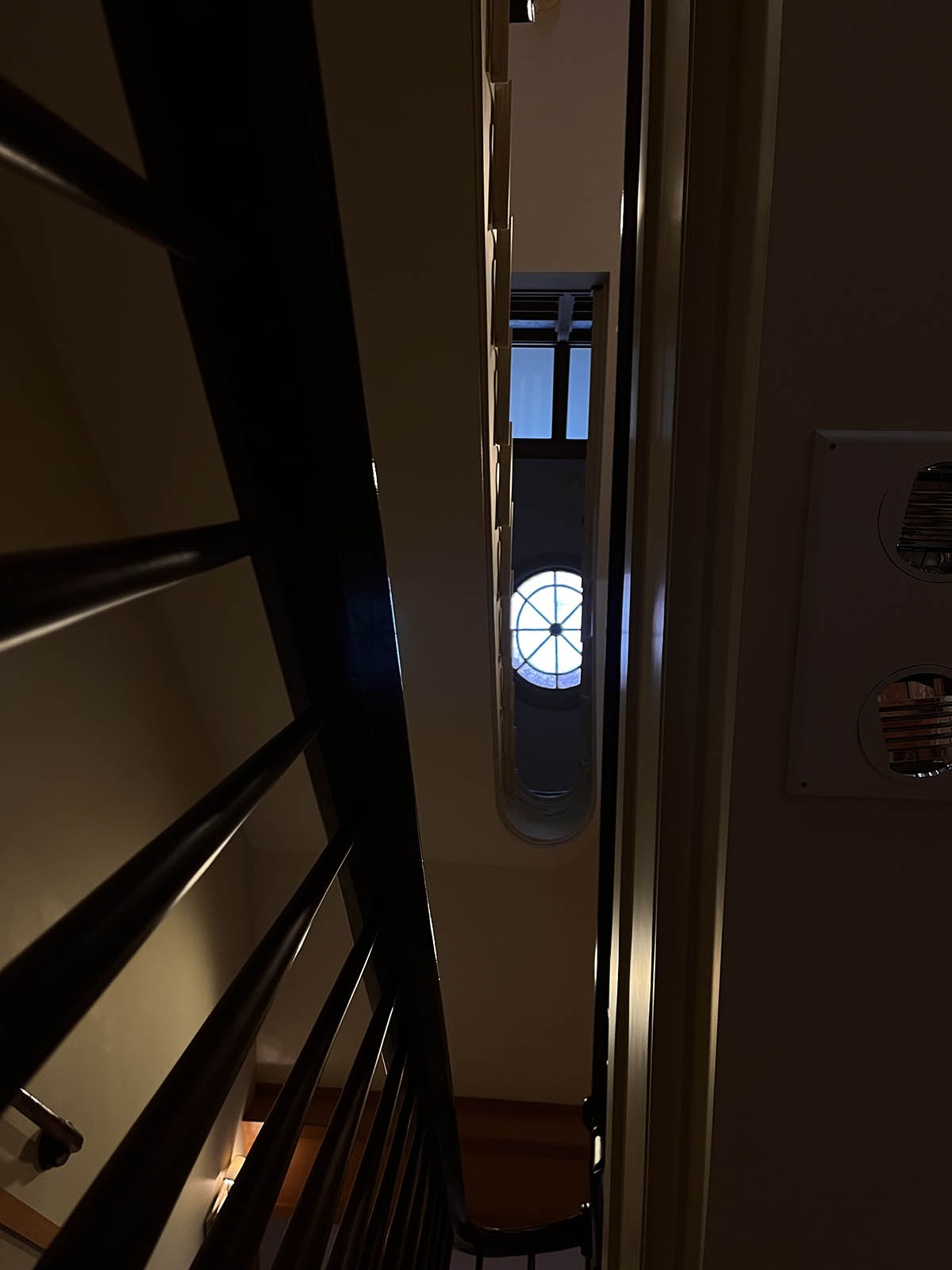 That, much to the chagrin of early speculator Parker Charles Cole, who had purchased a swath of land hoping to create a fashionable lake-view neighborhood with a park, according to Zimmermann, "to surpass the famous Bay of Naples."
That never happened and Brown bought his lot from Cole, apparently in 1850 (based on a mortgage). By 1852, he'd built his double house and lived in the south half and rented out the north half.
Like many of the Yankees from whom the neighborhood earned its sobriquet, Brown was born out east – in Hampton, Maine in 1824. In 1840, he went west to Cincinnati and studied law and was admitted to the bar when he was just 19.
The following year, he pushed further west to Milwaukee where he went into partnership with James Halliday and Thomas L. Ogden. He was elected town attorney at the dawn of 1846, before Milwaukee even had a city charter, and served as county D.A. later the same year.
In 1848 he became the first attorney general for the new State of Wisconsin, serving two years.
Thus, by the time he built his home, Brown was a well-known and well-respected jurist.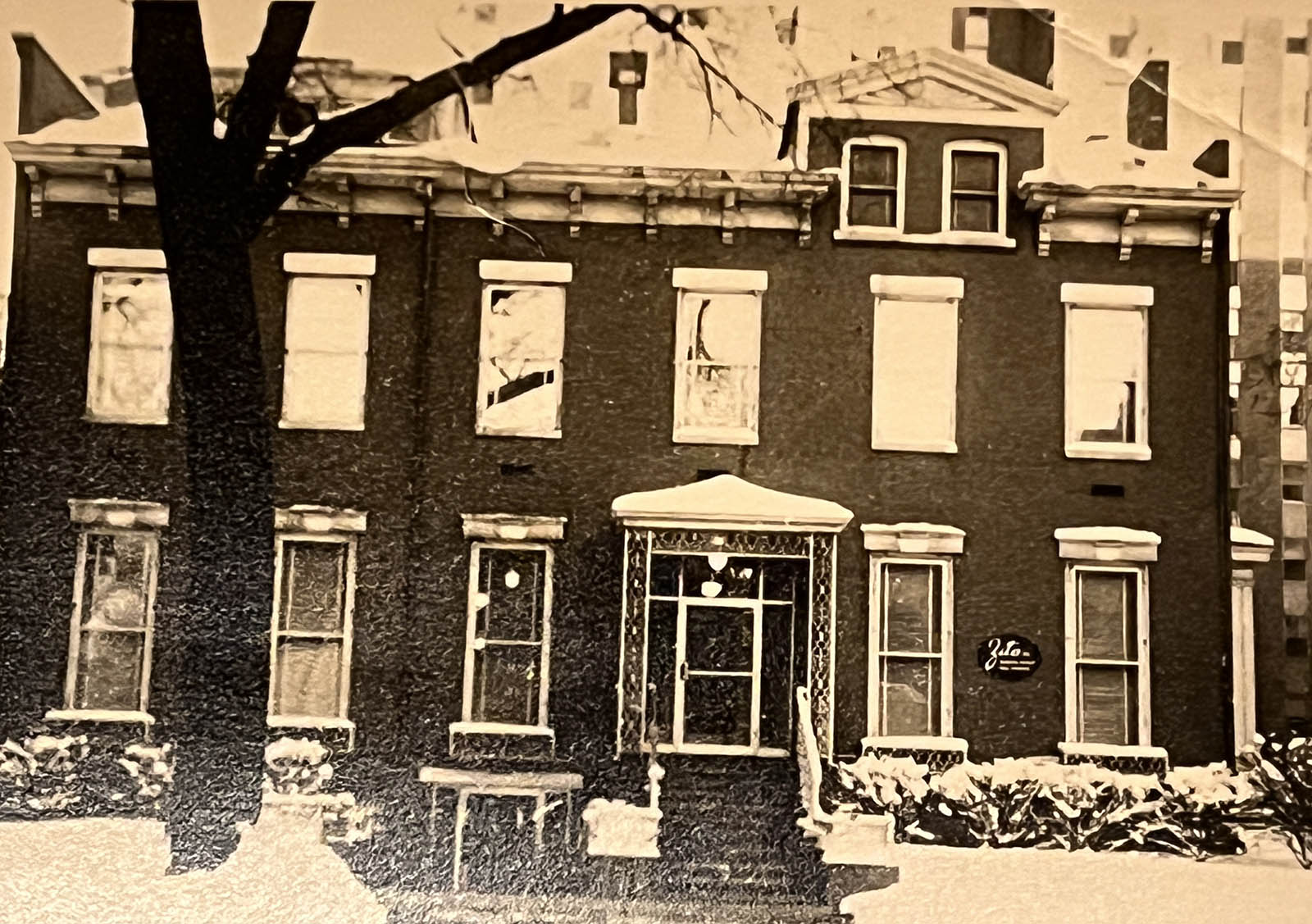 The city report shares that legal historian John Berryman quoted Moses M. Strong, about 20 years after Brown's death, that, "Mr. Brown was far more than an ordinary lawyer. ... (It was) within the truth to say that so long as he continued in active practice he had few equals in his profession within the limits of Wisconsin.
"His education, scholastic and legal, was excellent. He possessed bright intellect and sparkling genius, and had great versatility of powers. As an advocate before a jury he was logical and persuasive. He convinced by his argument and persuaded by his eloquence, which oftentimes was of a high order. His cases were always well prepared, and he was always careful and painstaking in all his professional business. In the supreme court, in which he had an extensive practice, his briefs were always clear and comprehensive, and presented the points of the case and the arguments in support of them in a forcible and logical manner."
In May 1855, Brown sold the north half of the house to Charles Wendt. A few weeks later, he also abandoned the single life and married Elizabeth Shepard, with whom he had two sons, Clarence Shepard Brown and James P. Brown.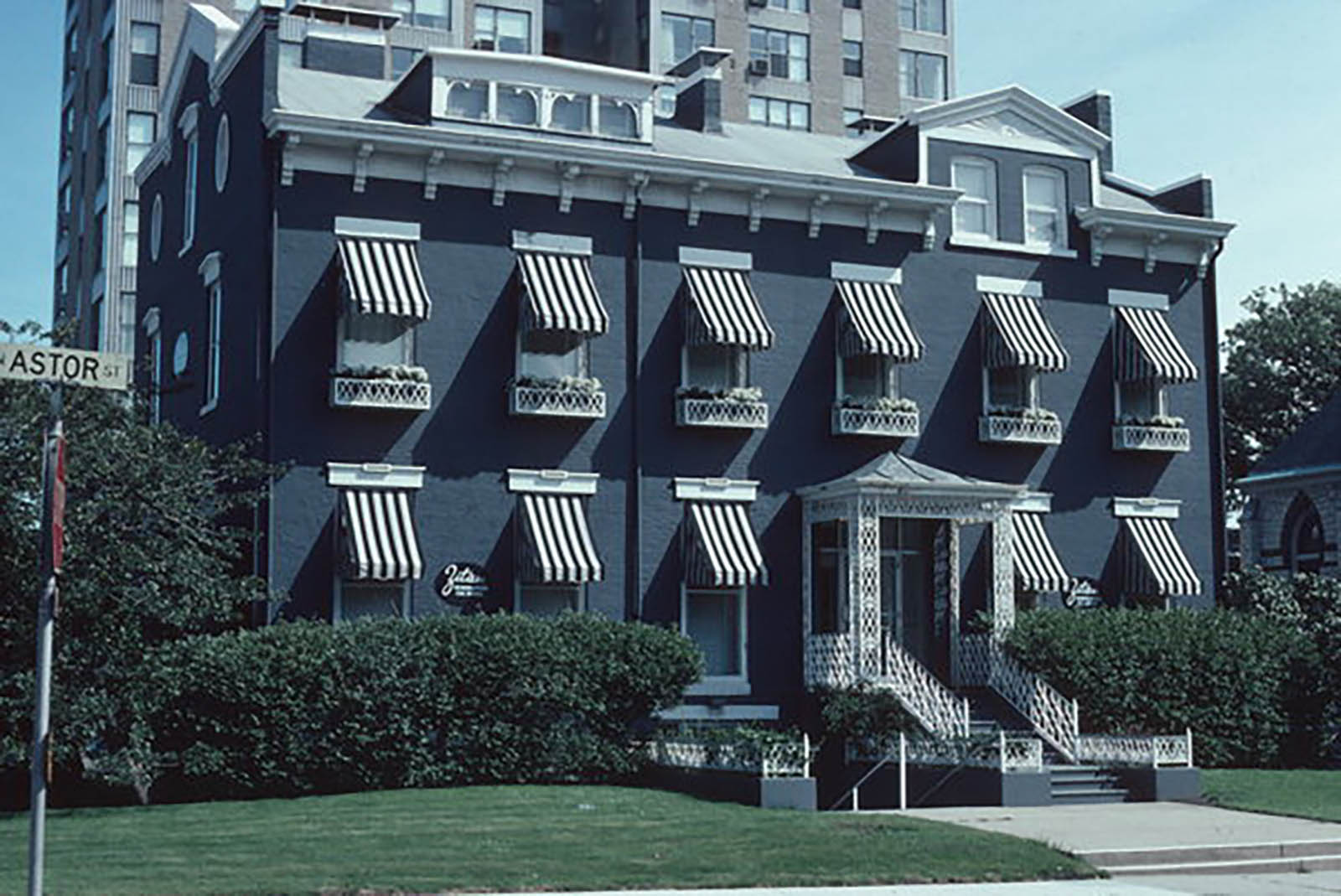 Active in politics, the talk of the town in 1858 was Brown's nomination for mayor, as well as a Congressional run. At the same time, he was working with fellow Milwaukee Bar Association members to start a law school and library, an effort that was not successful.
It was during this busy year that someone burned down Brown's barn and woodshed, and attempted to incinerate the house, too. If it was an effort to scare Brown away from politics, it did not work and three years later, Brown was elected the 11th mayor of the City of Milwaukee.
Perhaps spurred on by the arson incident, it was under Brown's watch that Milwaukee got its first paid firefighters and bought its first steam fire engine.
Opting not to run for a second term, Brown got himself elected to Congress instead and in 1863, he sold his south half of the double house to Theophilus Baker.
Brown's wife died in 1863, and he remarried, to Emily J. Stitson, of Bangor, Maine, in 1865.
Just a few months earlier his congressional term, which had become controversial due to Brown's opposition to the war, leading some to brand him disloyal to the Union, had expired.
A year later, he ran again, but lost.
His health on the wane, Brown traveled west, then lived in Dresden for a time before traveling through Europe and then New England. He died in Chicago in 1878 and a funeral was held in his Milwaukee home, which he had maintained not far from his old double house. He was buried at Forest Home Cemetery.
The ownership of the Astor Street house changed numerous times.
Wendt didn't own the north half very long, selling it a year after he bought it to attorney Ellis Worthington and his wife Gertrude, who remained 10 years, until 1866.
By then, a wooden addition at the back had extended the house to the east. Another would go a couple yards still further east.
Commission and freight agent Edwin Pridham and his wife were next, staying until around 1872. They sold to real estate agent Charles Schley and his wife Harriet, whose family would continue to inhabit the north half until 1926, when the building ceased to be exclusively a residence.
Schley, who had come to Milwaukee from Baltimore, had been in partnership with his neighbor Mix for a time.
The Schleys solidified the building's wooden rear extensions with masonry and added the mansard roof.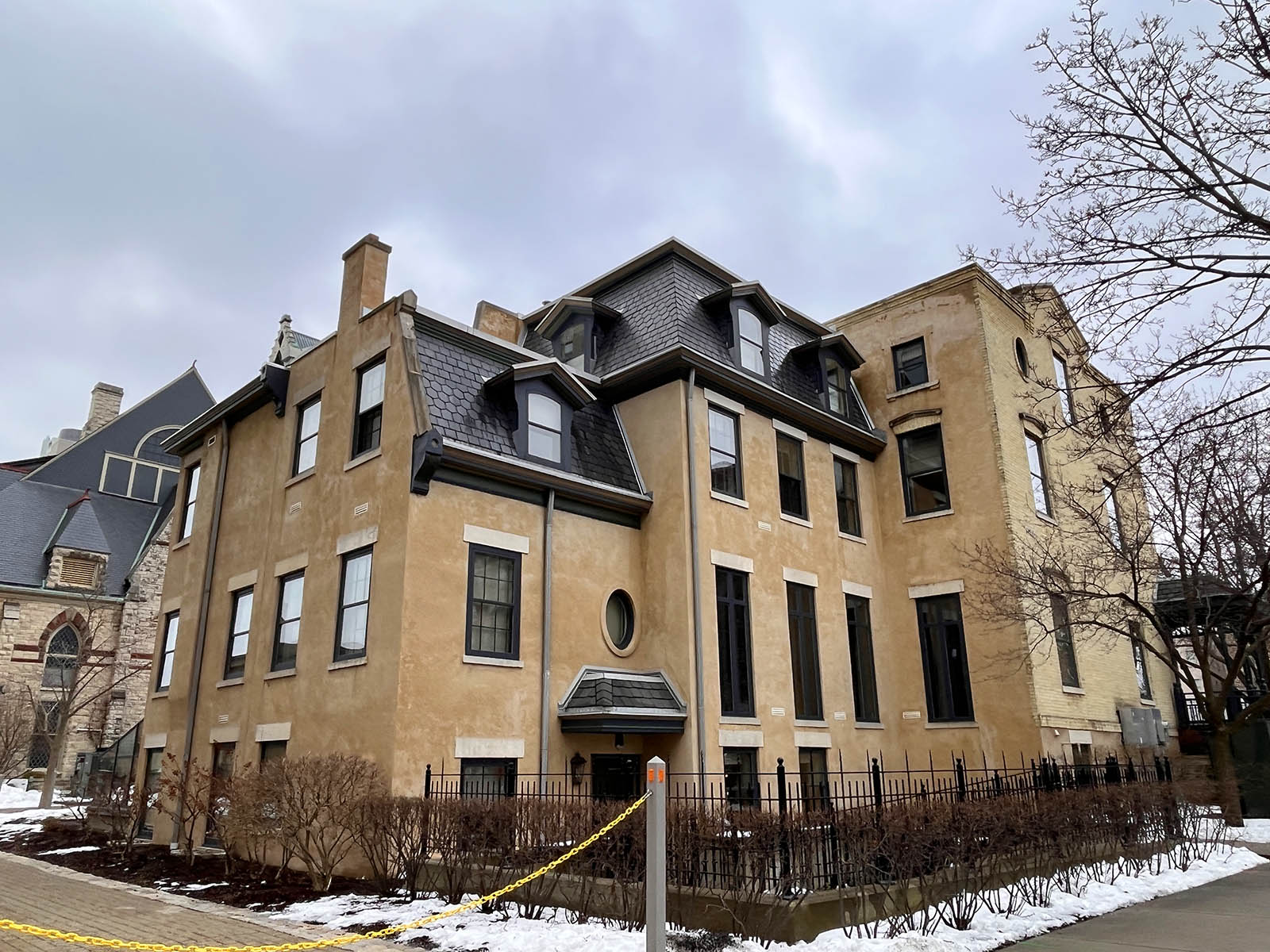 Meanwhile, back in Brown's former south half, Baker sold to entrepreneur bookseller and coffee dealer Samuel Sherman (of Jewett & Sherman) in 1866 and he sold to Riverius P. Elmore, a coal and building materials merchant two years later.
Albert Conro bought him out in 1882, but did not live there, instead renting it out.
Early in the new century Winfield and Julia Cameron bought the south half and stayed until 1927.
According to historian John Eastberg, in the 1920s, thanks to changes in city codes, many former mansions and homes were being converted to business uses, including shops and restaurants. The double house became one of them when Mrs. Gertrude Lee took over the south half of the double house for her Zita's dress shop.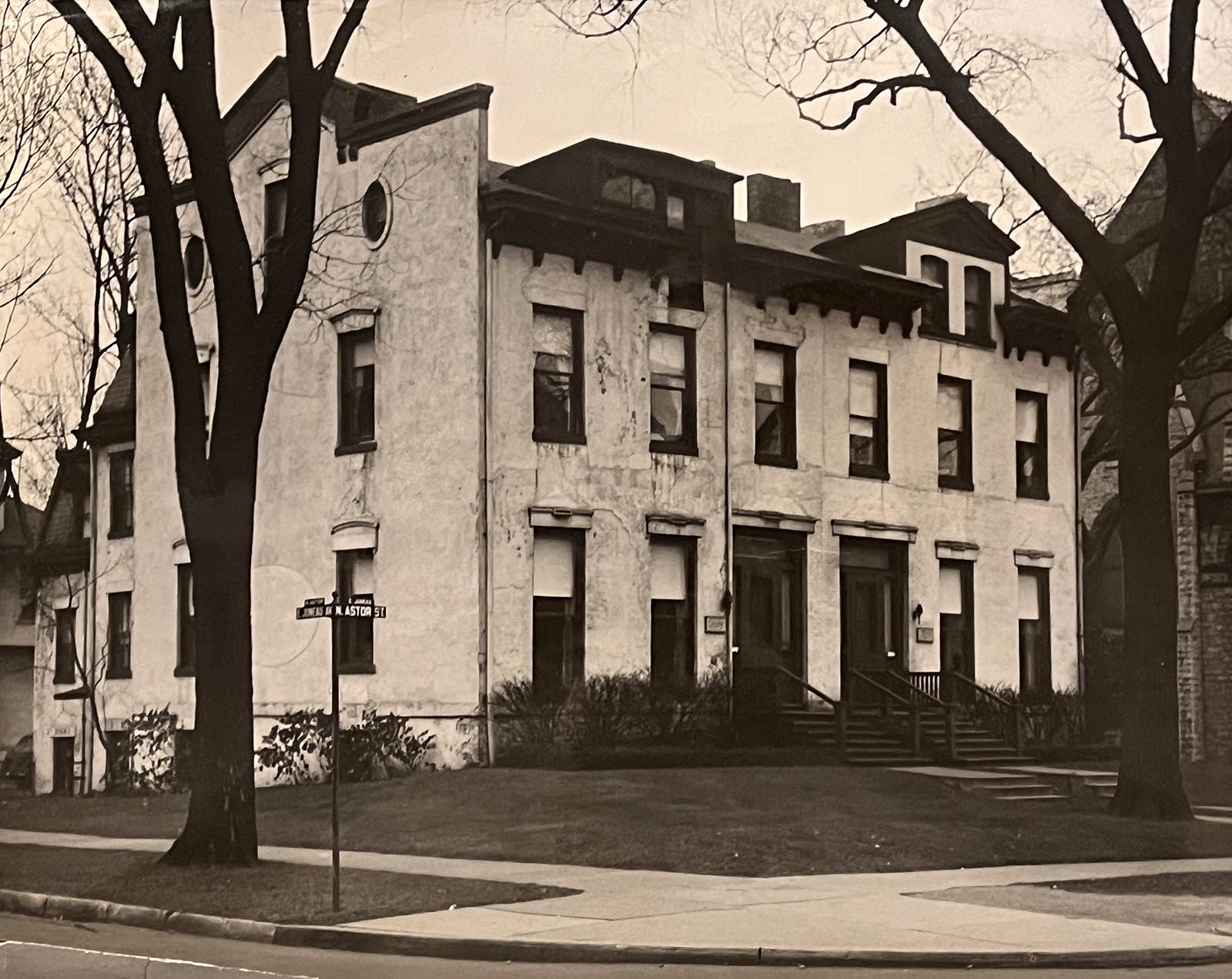 The north half was occupied by the Bright Shawl Tea Room and Gift Shop, though, over time, that side would house a variety of businesses, including, noted the city report, "an infants' apparel shop, William Quigley, Inc. of Chicago, a decorating and antique furniture business, Globe Trotter Travel Bureau and another interior decorator.
"The basement shop, with its entrance on Juneau Avenue, had a shoeshine parlor, flower shop and dry cleaning business. Building inspectors also indicate that the upper living areas were being run as a rooming house."
Zita's, however, was in for the long haul in the south side.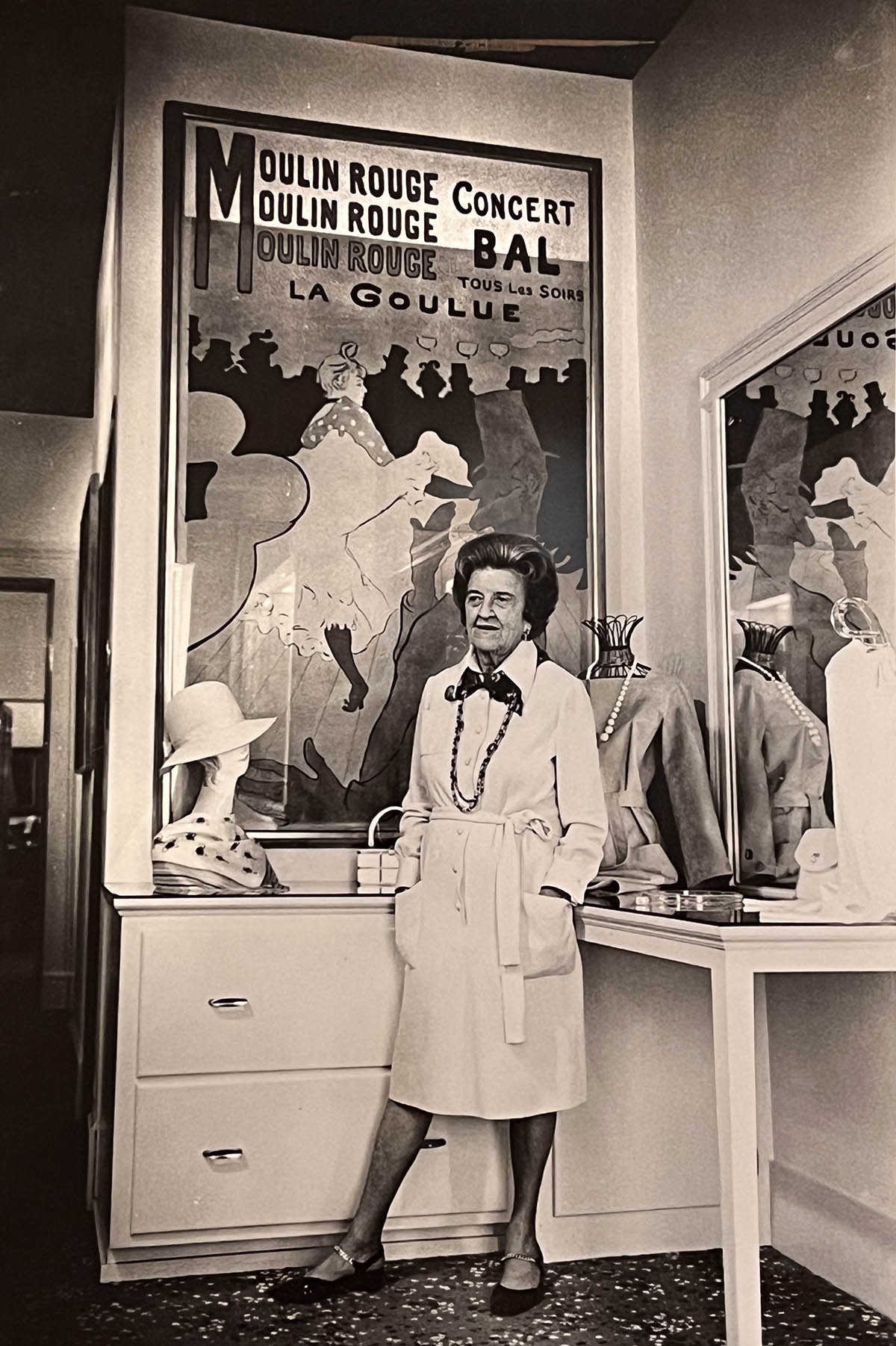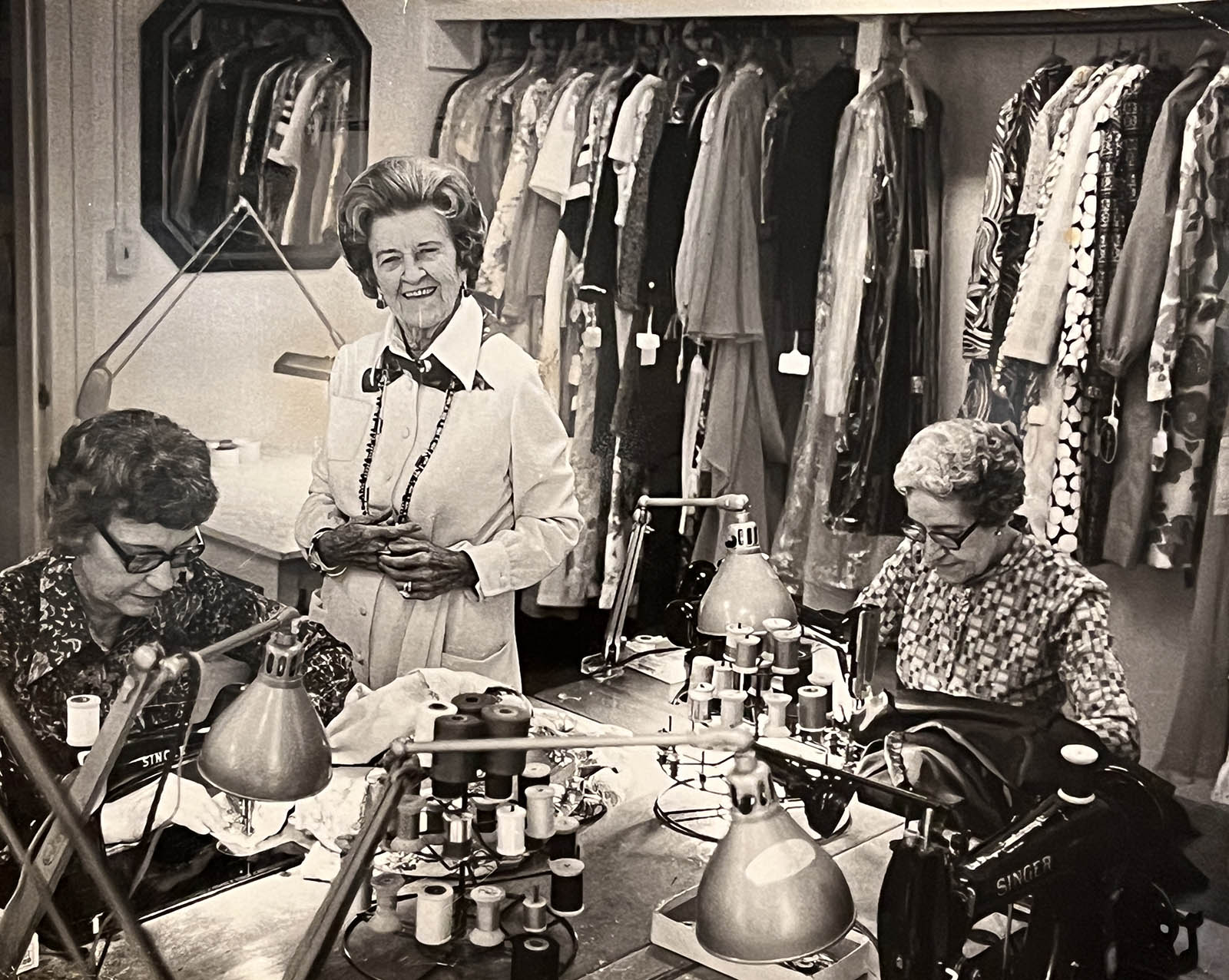 In 1947, devoted customer Peg Bradley (whose husband Harry was cofounder of Allen-Bradley), became general manager of Zita's and later she bought the business and the Bradley Foundation came to own both sides of the double house.
"She had an intensely personal sense of style and a passion for high fashion so pronounced that she and Harry bought Zita's, a center of haute couture in Milwaukee," wrote John Gurda in "The Bradley Legacy: Lynde and Harry Bradley, Their Company and Their Foundation."
The Bradleys would operate three other clothing stores, too.
"Peg would bring Oscar De La Renta and other internationally famous designers to Milwaukee and do these amazing fashion shows and they would come here," says Eastberg of Bradley, who, of course, was one of the premier art collectors in the city.
Her Bradley Collection is one of the highlights of the Milwaukee Art Museum, where she maintained a secret "apartment" for entertaining.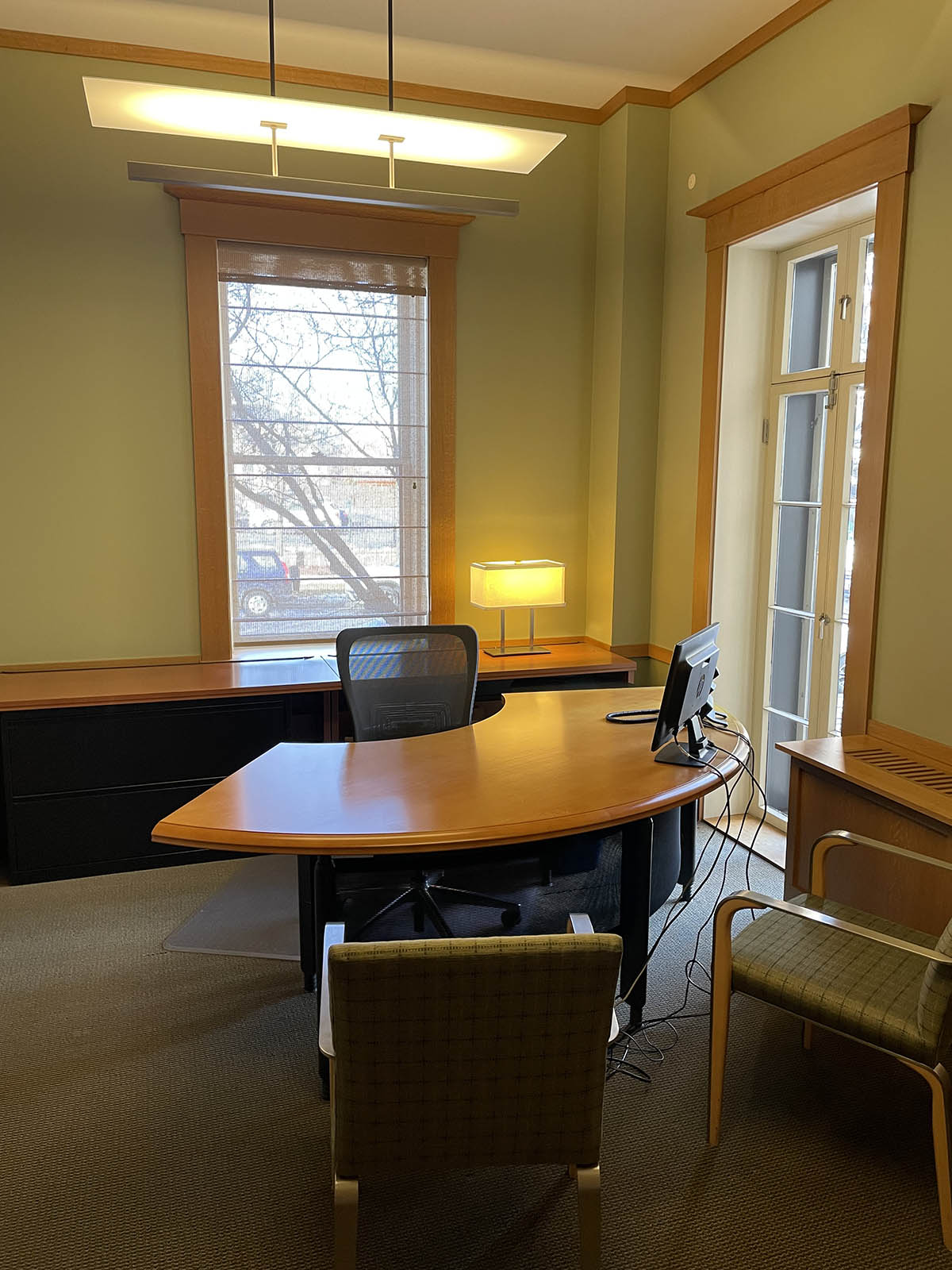 "This was (also) her place to come," adds Eastberg. "It was her passion.
"One of the offices here is where she had her office. She would display artwork. It was this merging of fashion with the aesthetics of art."
"Zita's was the place to go for wedding dresses," adds building manager Karl Dickson. "I've talked to a lot of people that say, 'oh, I got my wedding dress there'."
Dickson says the two main floors served as the retail area, with the third floor home to the alterations department. The basement – which at an earlier time housed salt water trays to preserve the oysters that the Schleys had shipped via train from the East Coast – served as storage.
According to Dickson, Bradley's daughter Jane later took over.
"When Jane died, the business was sitting in the estate and they just could not find a buyer for it," he says. "It had kind of passed it's time, so at that point they shut down the Zita's business and were left with this beautiful building."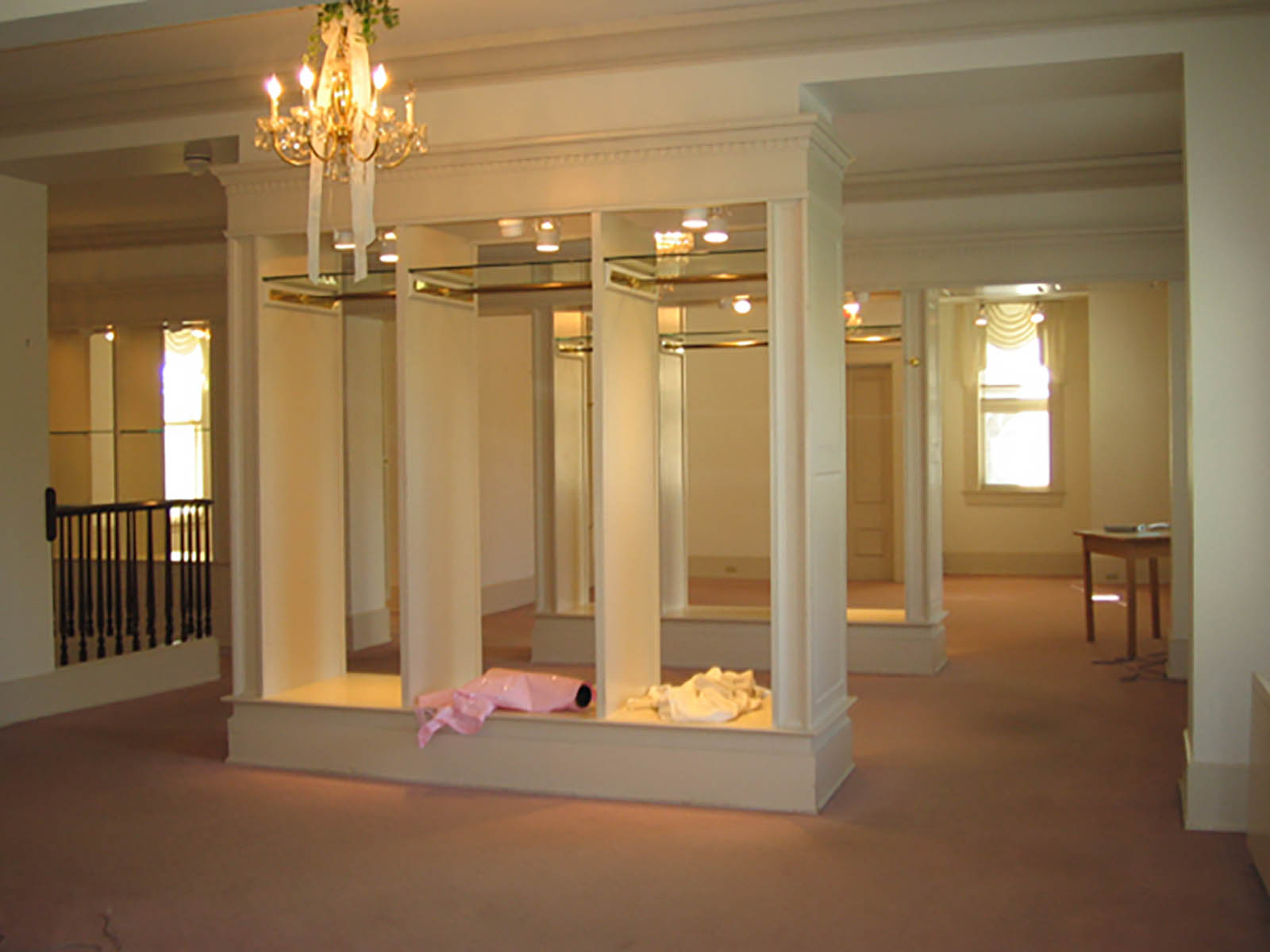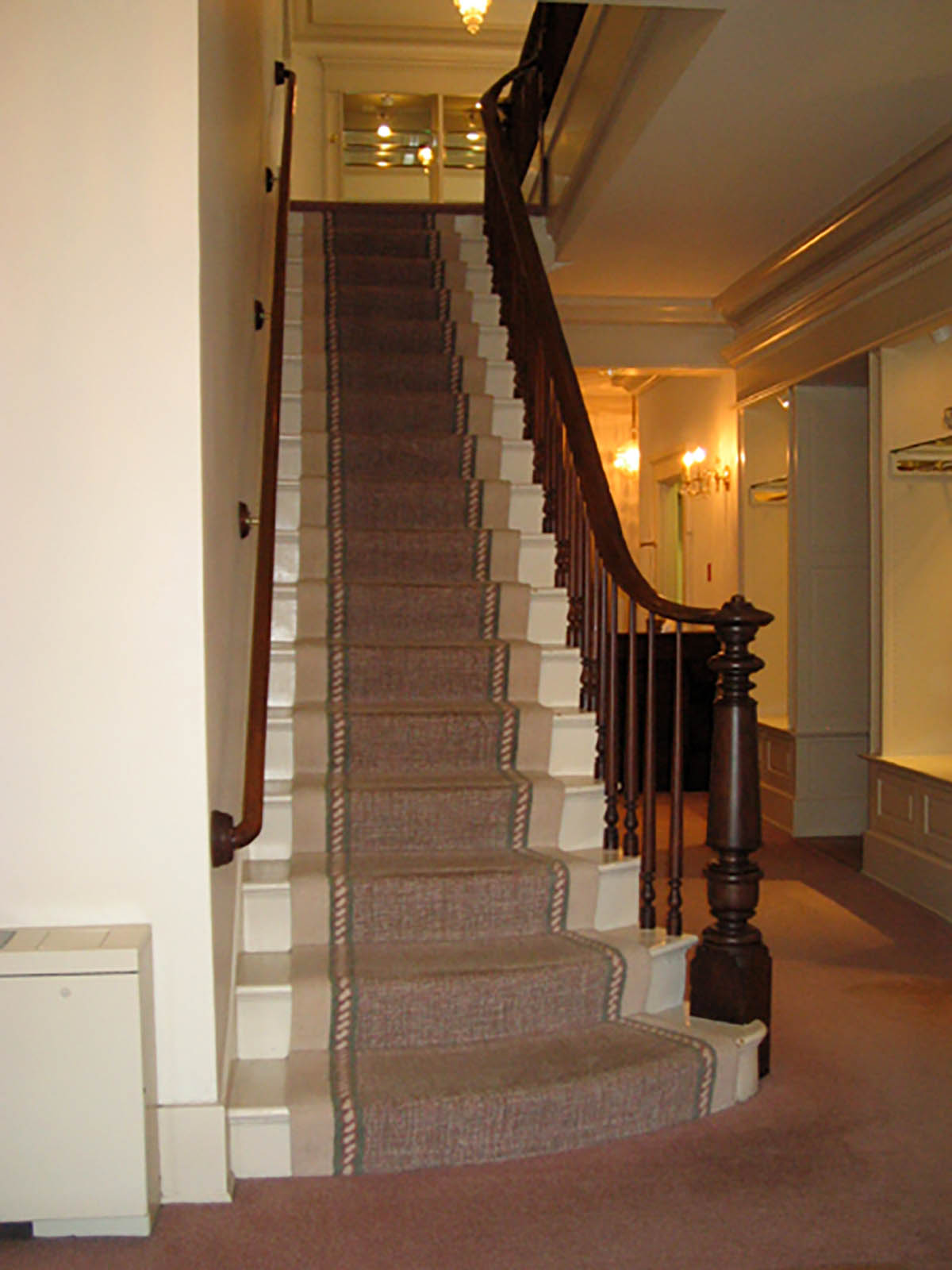 That's when the current owners purchased it – in 2004 – and set to work restoring and renovating it, something that turned out to be a lengthier process than expected.
"The building looked to be in OK shape, but as soon as we started deconstructing it, taking the paint off the front, we realized how bad the building was," Dickson recalls.
"The contractor at one point said the paint on the outside of the building was basically holding everything together. We have pictures of the brick work with no mortar in between."
And so, the building ended up being almost completely gutted. The entire west facade had to be dismantled and rebuilt brick by brick.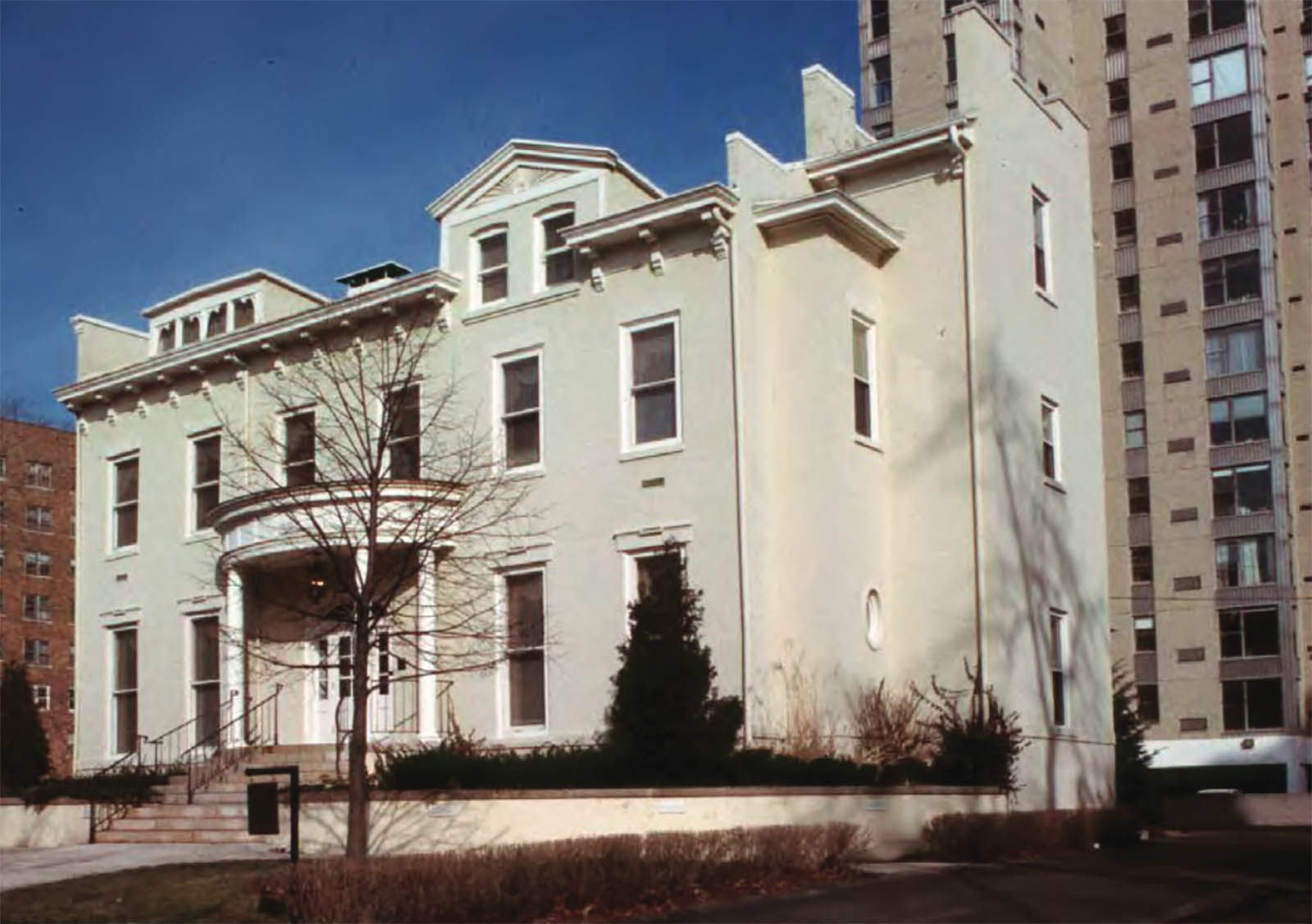 A curved porch added in a 1992 renovation was replaced with the gorgeous larger iteration you see today, which attempts to recreate, at least in style, how a porch would've look in the late 1800s.
The cream city brick was preserved, paint-free, and a wheelchair lift was replaced with an accessible ramp.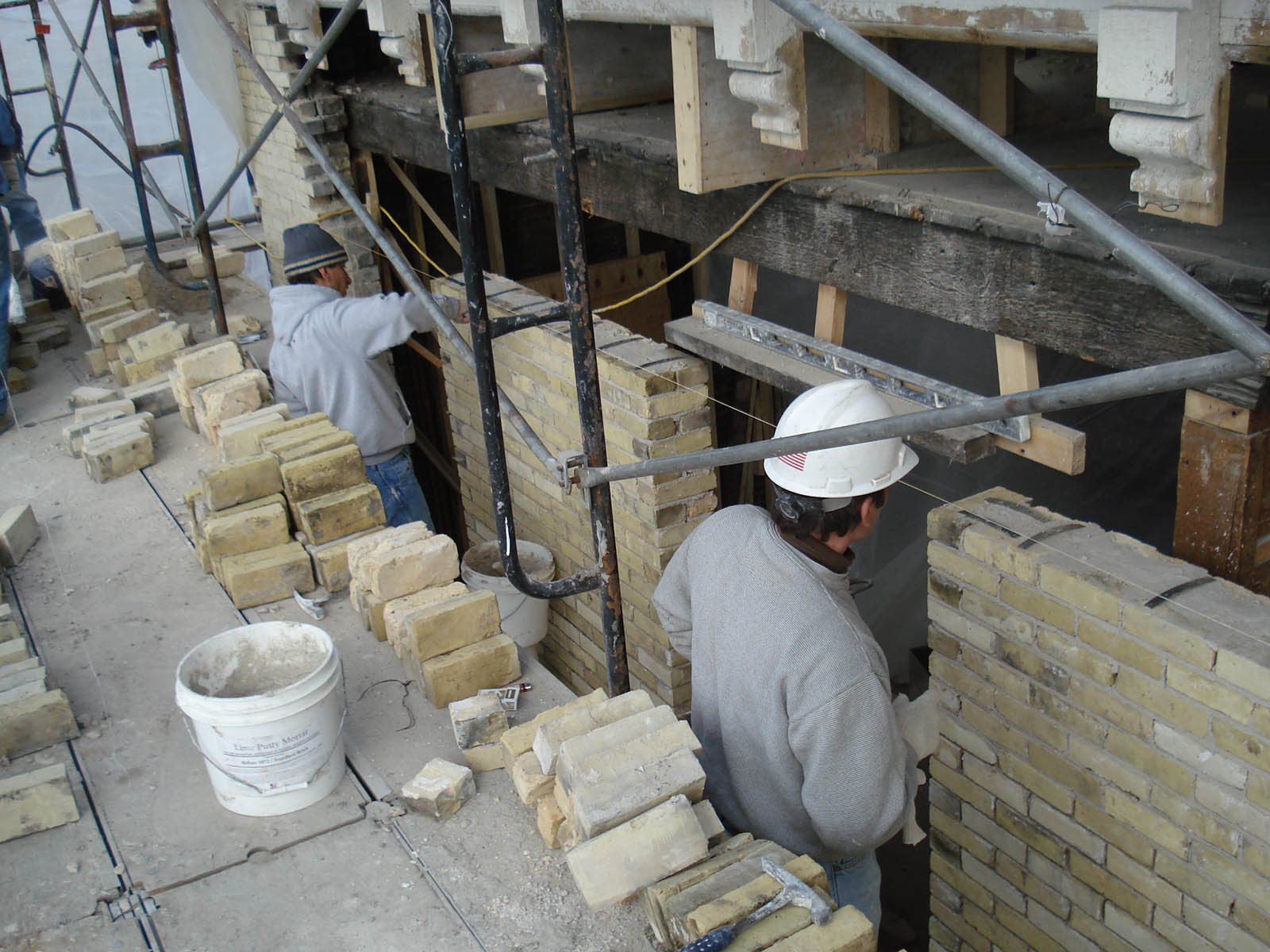 Inside, the basic layout of the residences has been maintained, though one of the two staircases – redundant once the two sides were joined – was replaced with an elevator.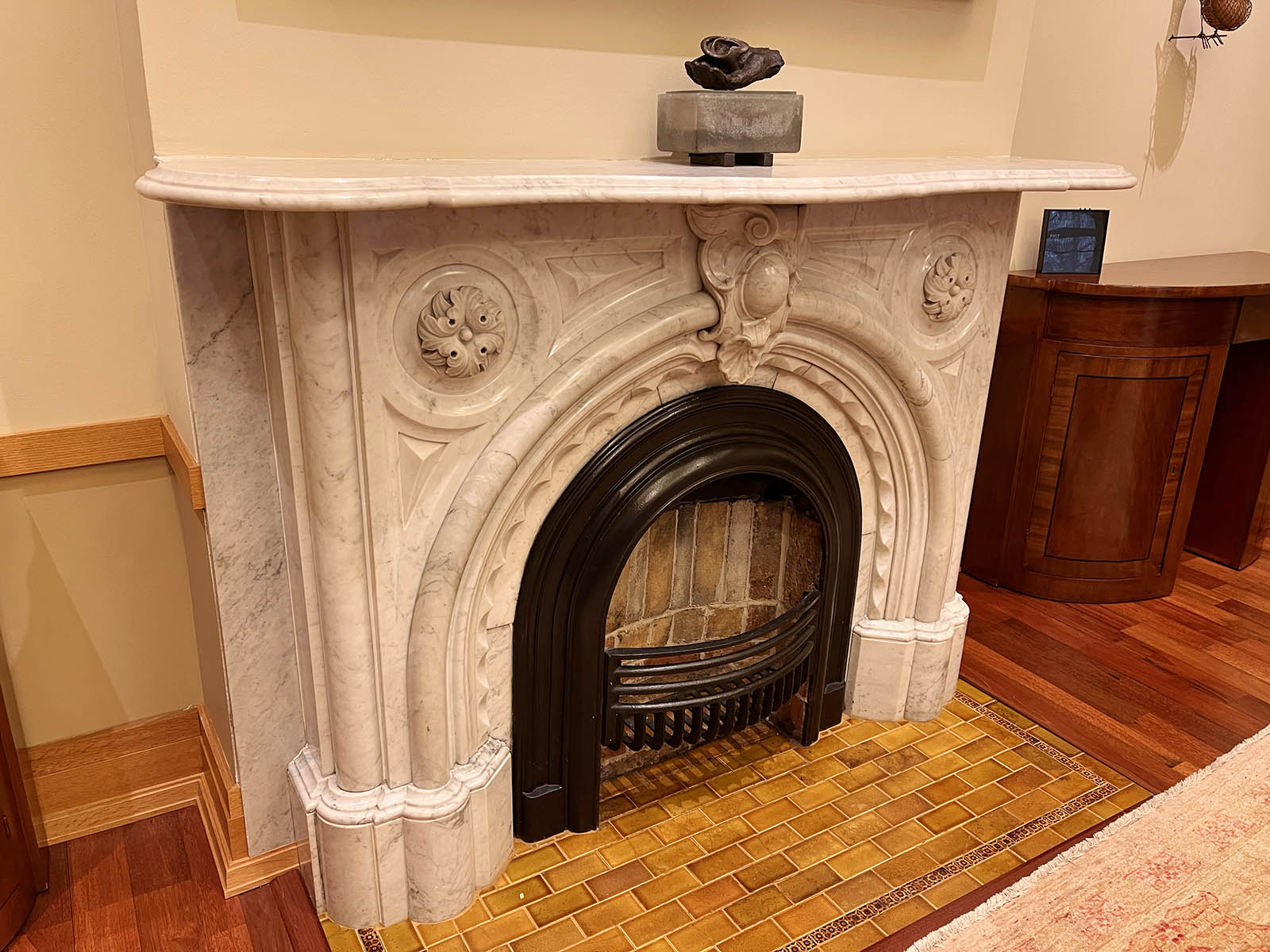 Original marble fireplace surrounds remain in place and in at least one room, a fireplace discovered behind a plaster wall was left exposed, its cream city brick simply beautiful.
In the parlor of the south house, the fireplace has stunning Victorian era tile in front of it.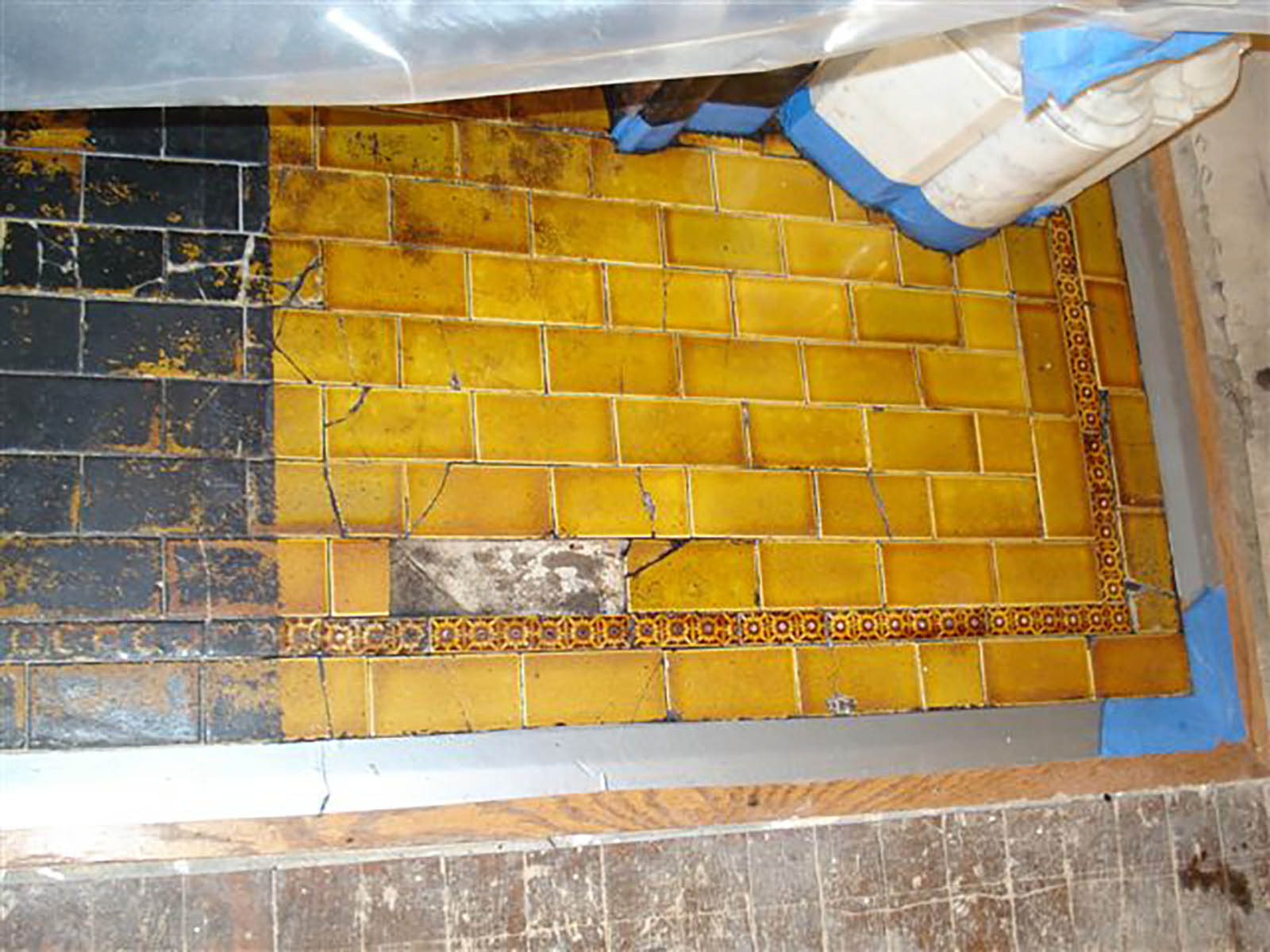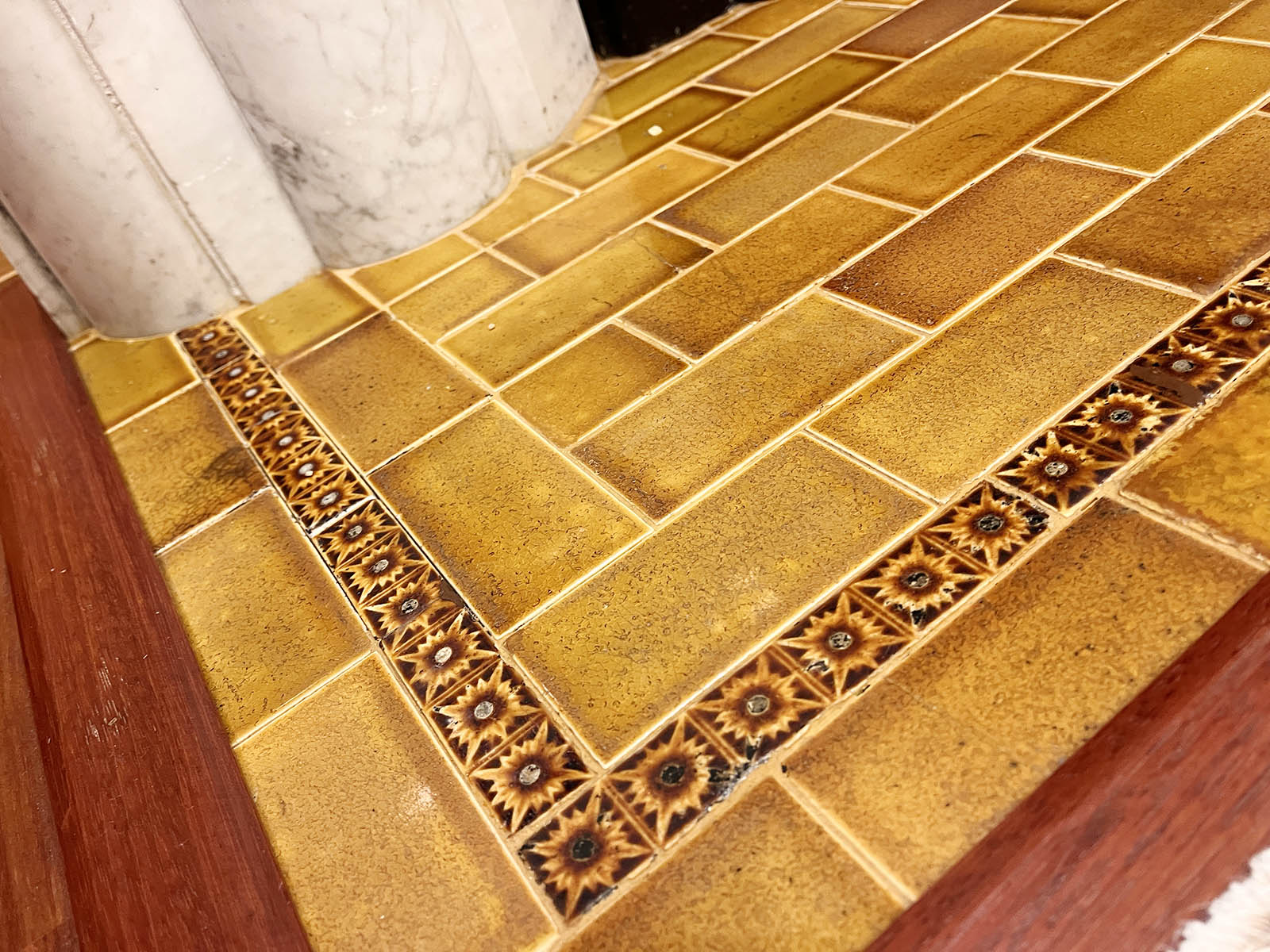 An artisan was brought in to remove each tile and clean and restore the work to its original glory.
"We were fortunate to have some amazing craftsmen working on this," says Dickson.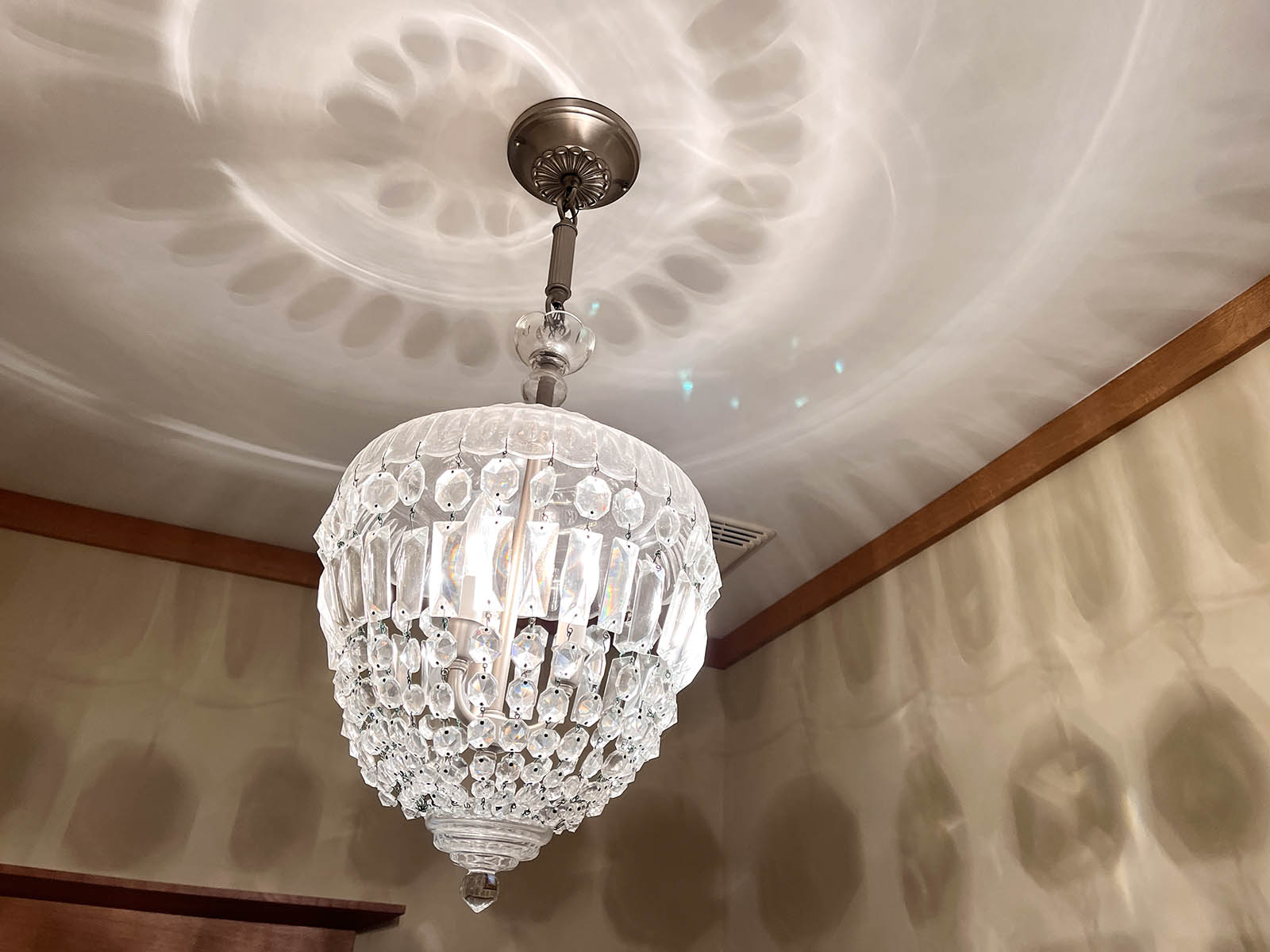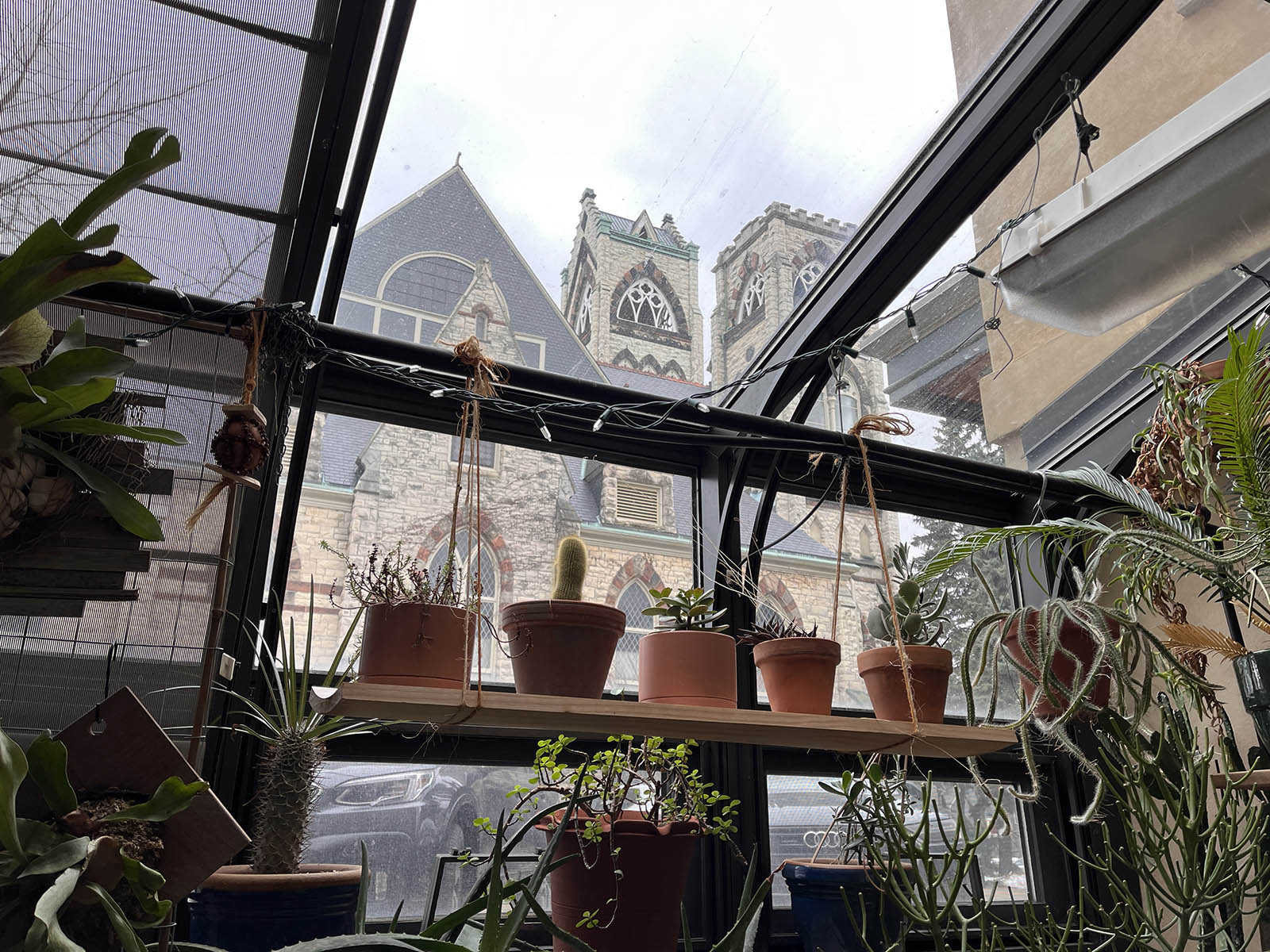 Some vintage light fixtures were also saved and put back in service.
The remaining staircase is a thing of beauty and a small greenhouse at the back – added by the current owners, who use the building as office space – sends a sweet scent wafting through.
On the first floor, hardwood floors were fashioned from old South American railroad ties.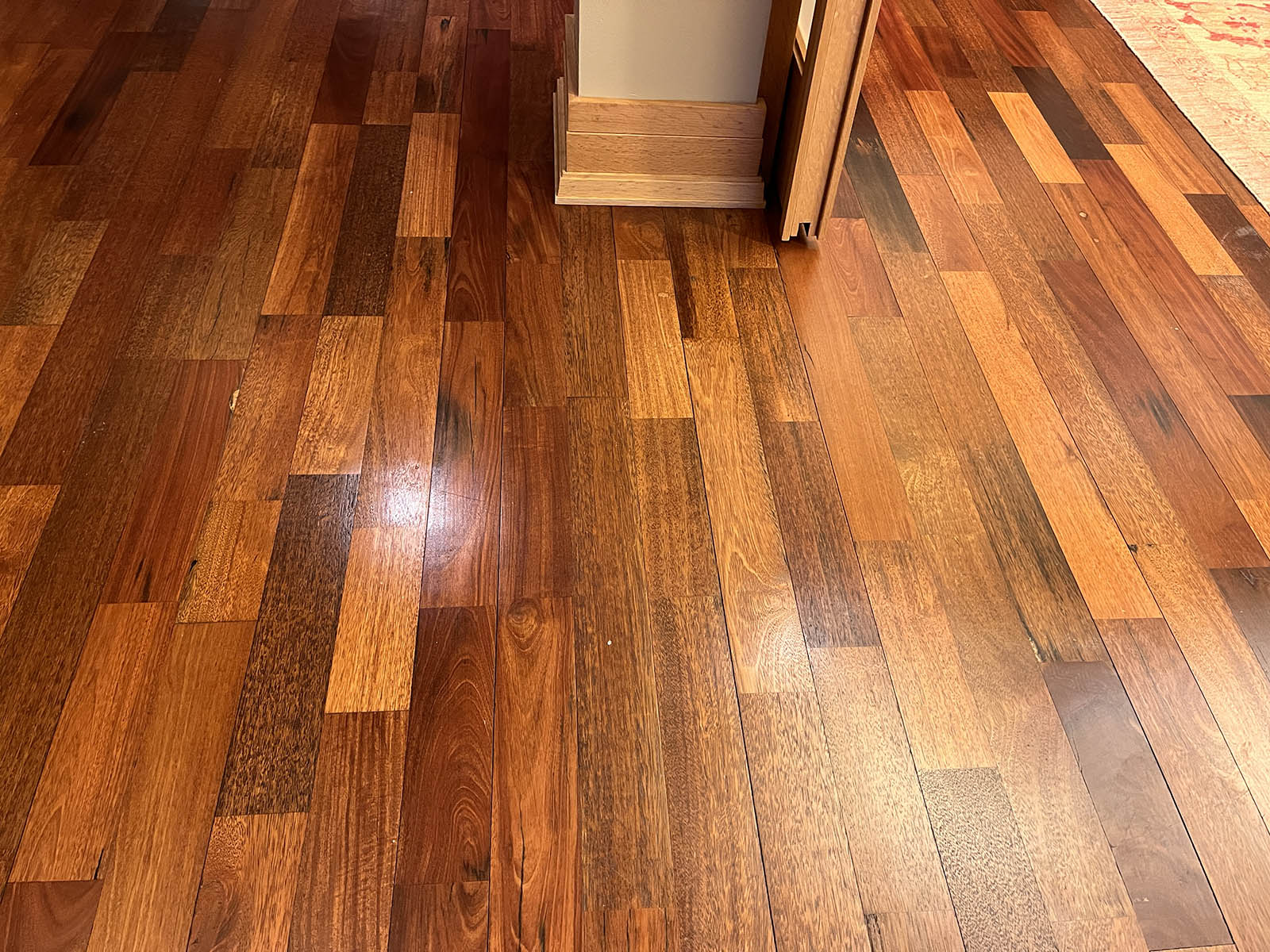 One of the best things inside today is an array of photographs that line the wall down the stairs to the lower level, where four more walls are covered with the framed images of brides in the dresses they purchased across the decades at Zita's.
"We found these cardboard boxes full of these pictures," says Dickson. "We've identified some names, whether they were written on the back of the photo or people have come in here and said, 'Hey, that's my mom, or that's my grandma,' and then we were able to add the name tag to it."
The oldest photos start at the top of the stairs and they move forward through time as you descend.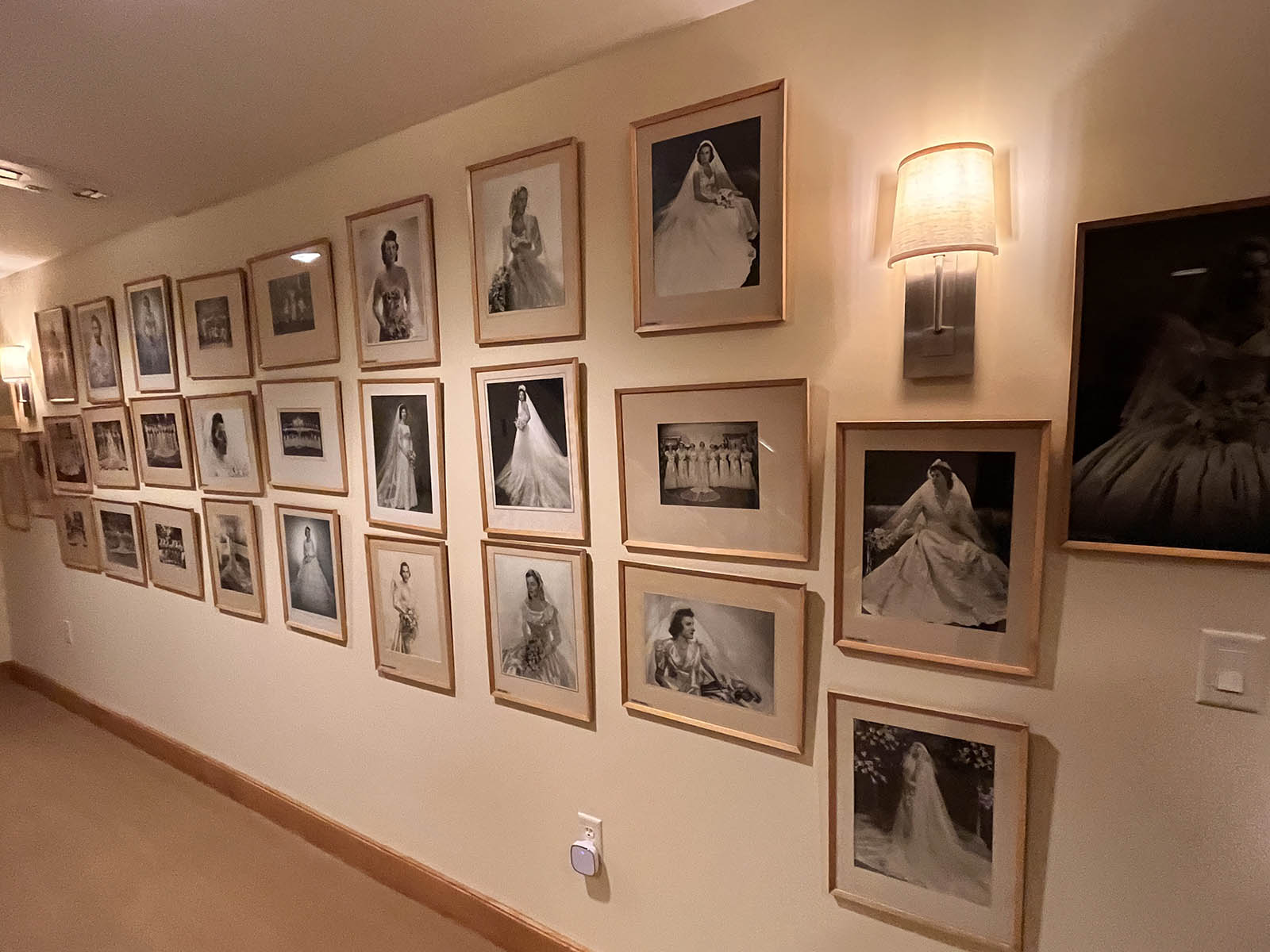 Some of the photos are clearly taken elsewhere but many of them were shot in this very building.
Glancing at some of the photos, I can see the gray and white marble fireplace where we had just been sitting for a chat.
This display is a beautiful testament to the many lives Zita and this building touched over the decades.
(Except as noted, vintage photographs courtesy of Telluris.)
Born in Brooklyn, N.Y., where he lived until he was 17, Bobby received his BA-Mass Communications from UWM in 1989 and has lived in Walker's Point, Bay View, Enderis Park, South Milwaukee and on the East Side.
He has published three non-fiction books in Italy – including one about an event in Milwaukee history, which was published in the U.S. in autumn 2010. Four more books, all about Milwaukee, have been published by The History Press.
With his most recent band, The Yell Leaders, Bobby released four LPs and had a songs featured in episodes of TV's "Party of Five" and "Dawson's Creek," and films in Japan, South America and the U.S. The Yell Leaders were named the best unsigned band in their region by VH-1 as part of its Rock Across America 1998 Tour. Most recently, the band contributed tracks to a UK vinyl/CD tribute to the Redskins and collaborated on a track with Italian novelist Enrico Remmert.
He's produced three installments of the "OMCD" series of local music compilations for OnMilwaukee.com and in 2007 produced a CD of Italian music and poetry.
In 2005, he was awarded the City of Asti's (Italy) Journalism Prize for his work focusing on that area. He has also won awards from the Milwaukee Press Club.
He can be heard weekly on 88Nine Radio Milwaukee talking about his "Urban Spelunking" series of stories.