Welcome to #WeWant, a weekly selection of the stuff OnMilwaukee editors and staffers love. This week we cover all things games!
Slot cars have come a long way since those Tyco sets that mostly left the card flying off the track or stopped motionless on a strand of carpet. This new police chase set from Max Traxxx (that's a lot of x's), for example, is the kind of toy that 9-year-old me would drool over. The tracks glow in the dark, but the cool part is that the Mustang and Camaro leave glow trails as they pass by at speeds of 500 mph – to scale, obviously. You get 36 feet of glow-in-the-dark track, four dual corners, a lane changer, X-BLOX construction brix and a skill jump. It's pricey at $120, but unlike slot cars of yore, this isn't a one-play-then-throw-away toy. – Andy Tarnoff

Game of Thrones might be the best borrowed-theme board game out there. It's spot-on to the story of the series (books > TV) and requires all the diplomacy, military power, resource management, and planning that a struggle for a kingdom requires. Play as one of the six major houses (Stark, Baratheon, Lannister, Martell, Greyjoy, or Tyrell) on a campaign to rule the seven kingdoms of Westeros. The only drawback is playing time. Given the complexity of the game, new players tend to take a long time to make decisions, so you'll need to play it a few times before you get down the box's estimated three-hour mark. It might be a bit much if you're new to board games or Game of Thrones, but it's an absolute must-play if you're into either one.
Games can be a great way to spend time with your kids while teach them problem solving, strategy, and fair play. Sushi Go! is a great example. It's a sushi-themed game themed around building your dinner. Pass cards around and collect nigiri, tempura, maki and sashimi cards. Use the chopsticks to take two cards or add wasabi for extra points. Don't forget dessert! The meal consists of three courses, but collect puddings throughout the game to cash in points at the end. It's an excellent introduction to card drafting that's super quick (under 30 minutes) and easy to play. The cards are cute and sized for small hands, which makes it a great game to play as a family.

This is a strategy game that takes place during the biggest period of European colonization. It's a game of skill and luck that requires players to expand their colonial control while forming alliances, waging wars, and managing public unrest. Fighting can be a little random, leaving it up to a strange combination of dice rolls, but players can attempt to mitigate losses by acquiring special tokens that help with army training or boat building, or simply by sicking some pirates on their enemies.
Alliances can change as the game progresses, so players must decide how much they're willing to help their partners; they could soon become enemies.
The rulebook is pretty small, but due to the high amount of variation in these special abilities, it's wise to keep a cheat sheet on hand. (There is also a 21 page FAQ to sort out the finer points) The first couple of games can tend to run a bit long as players get their legs, but once everything is familiar enough, the game rounds move at pace. It's a highly variable game that requires quick thinking and a flexible strategy. Recommended for ages 13 and up.
Dungeon Lords is a light-hearted worker placement board game (or maybe boardS game, due to the number of playing mats involved) that pits you against other dungeon masters in an attempt to build the best possible dungeon. The more you whip your minions, the more productive they will be. But as your dungeon moves up on the evil-o-meter, you'll start to attract bigger and stronger heroes who will want to take you down. It's up to you to find the right combination of minions, monsters, happiness, and notoriety.
Because of the number of boards and phases involved, the early learning curve can feel a bit overwhelming, but thankfully there are markers to help figure out where you are in a turn, and once the game gets moving, it runs like a well oiled machine.
It's colorful and fun and has a gaggle of great looking monsters, traps, minions and paladins, and offers variations on strategy that will keep the game fresh. Recommended for ages 12 and above.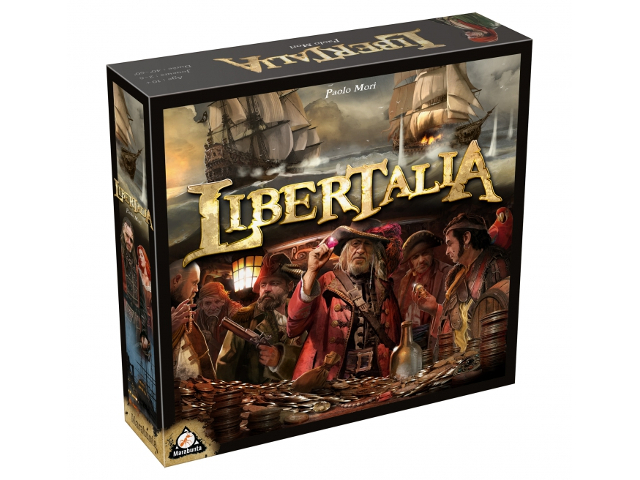 Libertalia brings players on a high-seas pirating adventure. Each turn, players send a crew member aboard to split up the day's booty. Some crew members get good pickings, others pick later but have better benefits. Libertalia is easy to play and goes at a good pace so no one's idle for very long (and no one slows the game down with analysis paralysis). Everyone gets the same randomly selected crew to choose from, and since you use only 18 of the 30 possible, each game is much different than the last. It's fun, easy, and has great re-playability. If you're looking for a place to jump into gaming, this is it.